Affiliate Disclosure: AmmoCave.com sometimes gets paid for listings, through sponsors or affiliate programs like Lucky Gunner, Optics Planet, Brownells, Cabelas, Academy Sports & Outdoors, Rainier Arms, Palmetto State Armory, Sportsman's Guide, Ammo.com, Ammo Man, Primary Arms, MidWayUsa, Amazon, eBay, etс. Clicking a link helps keep AmmoCave.com free, at no extra cost to you!
Authors: Each article is verified by AmmoCave's expert team. Professional hunters, firearm trainers, gunsmiths, and gun experts write the articles. AmmoCave Team independently researches, tests, reviews, and uses recommendations from our community of gun owners. We may earn commissions from shopping links.
Note: The views and opinions expressed in this article are those of the authors and do not necessarily reflect any agency's official policy or position. The articles are for informational purposes only, share your opinions about Best AR 9 Lower Receiver 2023 in the comments and join the discussions. Let's share 💬 our ammo & gun experiences together!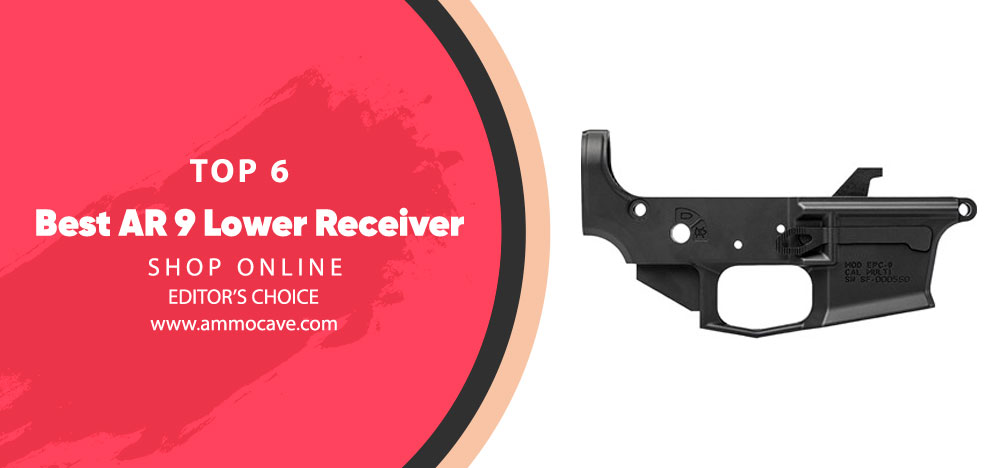 What is AR 9 Lower Receiver? 🤔
It is the part of the firearm that houses all other components and allows for movement when firing a round. The lower receiver typically consists of an aluminium alloy forging, with internal parts made from high-strength steel, stainless steel or polymer.
Our Top Pick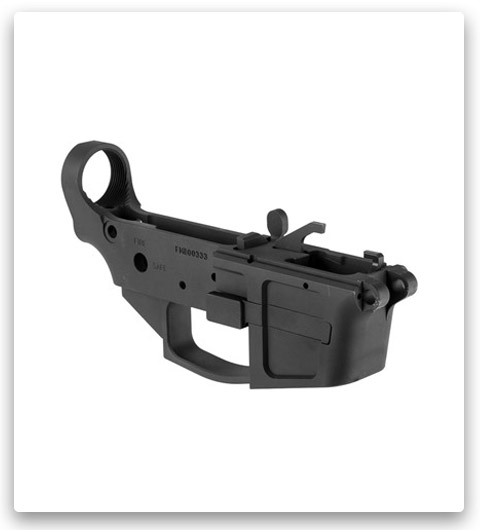 Foxtrot Mike Products Billet Lower Receiver Stripped
Begin constructing your pistol-caliber carbine today with the Mike-9 Billet Lower Receiver. Manufactured in the USA and backed by a lifetime warranty, these stripped lowers are machined from 7075-T6 billet aluminum and have an all black finish. Not only that, but they're compatible with 9mm Glock style magazines, plus feature last round bolt hold open functionality as well. Start building yours now - you won't regret it!
Buy Now On Brownells
If you click this link and make a purchase, we earn a commission at no additional cost to you.
Features 🔥
🎯 Material – It can be made from various materials such as aluminium, polymer, or steel, with each offering its own set of benefits.
💥 Aluminum Receivers are lightweight yet strong enough for most AR 9 applications. Their strength and light weight make them an ideal option for those who want a durable AR 9 platform without adding extra weight to the rifle. They are also relatively easy to install since they usually come with pre-drilled holes for mounting components like triggers, grips, and magazine releases.
💥 Polymer Receivers offer an even greater reduction in weight compared to their aluminium counterparts. While still strong enough for most AR 9 applications, these lower receivers often have fewer features than aluminium lowers and do not require any drilling for mounting points.
💥 Steel Receivers are some of the toughest available on the market today. These lower offer superior strength and durability when compared to other materials like aluminium or polymer; however, they can add quite a bit of unnecessary weight to your AR 9 rifle if you're not careful.
🎯 Finish -the receivers come with a variety of finishes that all offer different advantages and disadvantages depending on your specific needs.
💥 Anodizing provides a hard protective coating that is both corrosion and wear-resistant. Anodizing also gives a nice-looking matte black finish.
💥 Cerakote is a ceramic-based product applied as a thin-film coating for Lower Receivers. It's designed to provide improved durability, chemical resistance, lubricity, and corrosion protection with any AR build you may have in mind.
💥 DuraBake is another type of finish that provides enhanced corrosion resistance as well as abrasion resistance against wear and tear from regular use. DuraBake also offers chemical protection.
💥 Polymer finishes are applied by dipping the receiver in a polyurethane material giving it a slightly glossy look. Polymer finishes are lightweight and generally provide good protection against wear and tear.
🎯 Size – to accommodate AR-9 magazines, the lower receiver must be designed with a broad enough magazine well. An AR-9 lower should also have sufficient room for all other components such as triggers, handguards, stocks, etc., so it should measure at least 8″ in length. The width of the AR-9 lower receiver will depend on its intended application and can vary from 1/2″ up to 3/4″.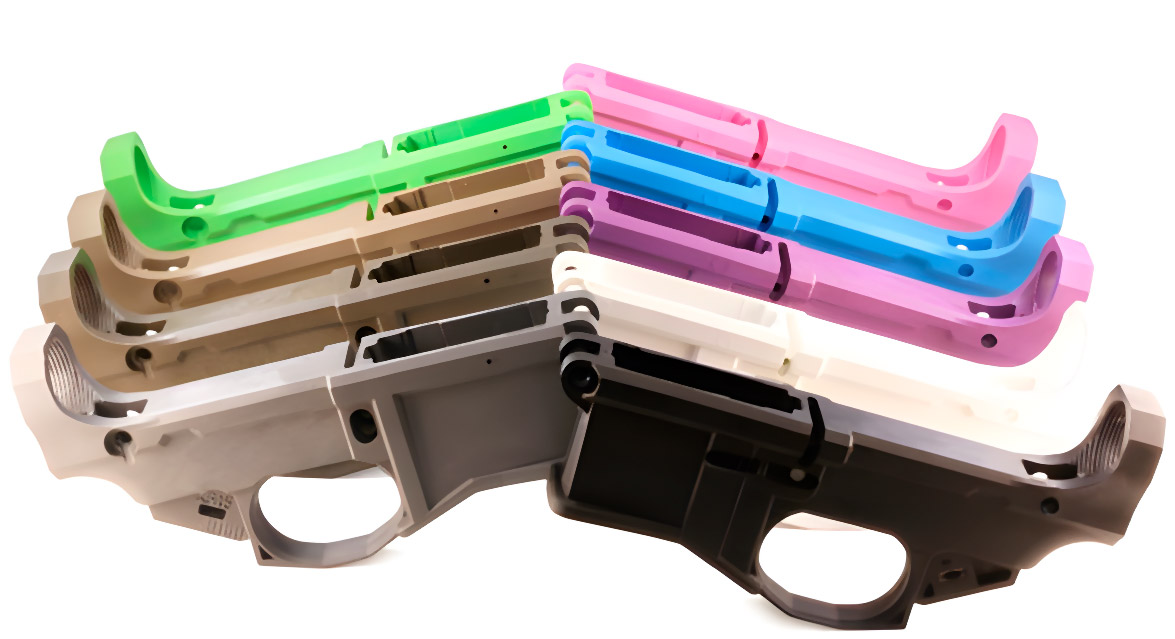 Cleaning Guide 🚿
🟨 Begin by removing any furniture or components such as stock, handguards or grips that may interfere with cleaning.
🟨 Next, use a stiff brush to carefully brush out any carbon deposits that build up on the inside of the lower receiver or around any internal parts. If necessary, you can also use a solvent to help break down carbon deposits more quickly and thoroughly.
🟨 Now it's time to clean out any debris such as dust or dirt that may have accumulated within its cavities over time. To do this you should use a compressed air canister (or air compressor) and blow out any debris not removed by brushing earlier.
🟨 You should then finish off by wiping down all interior surfaces with a clean cloth which will help keep dust and other particles from settling into hard-to-reach areas within your AR 9 lower receiver in the future.
🟨 After that you can move on to reassembling your AR 9 lower; however, before doing so it's important that you lubricate all interior surfaces with a quality guns oil – this will help protect against rust as well as ensure optimal operation when firing round through it later on down the line.
🟨 Additionally, if you wish to add additional protection against corrosion you could always spray some WD-40 into the inner parts of your AR 9 Lower Receiver prior to reassembly – this can provide further protection against moisture damage in humid climates.
We believe this video can be helpful for you 📺
Best 💣 AR 9 Lower Receiver Review
1# Ke Arms LLC KE-9 Billet Stripped Lower Receiver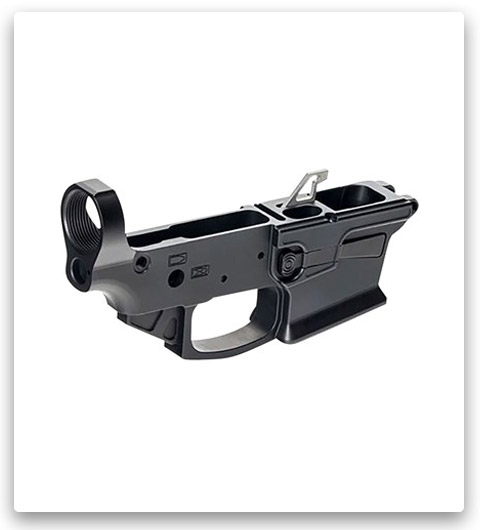 If you're planning to build a pistol-caliber carbine, the KE Arms KE-9 Billet Stripped Lower Receiver is the perfect foundation for your project. This receiver is designed specifically for 9mm PCCs, and it's set up to accept all of today's OEM and aftermarket Glock-style magazines. Each KE Arms KE-9 Lower Receiver is machined from 7075 billet aluminum at the company's facility. The receivers are held to tight tolerances within military specifications, so they're compatible with all mil-spec 9mm upper receivers and components. For enhanced durability, the receivers have a Class 2 hard-anodized finish in black. The KE Arms KE-9 Billet Stripped Lower Receiver comes with the magazine catch and ejector installed. With this high-quality receiver, you'll be well on your way to building a top-performing pistol-caliber carbine.
2# Foxtrot Mike Products Billet Lower Receiver Stripped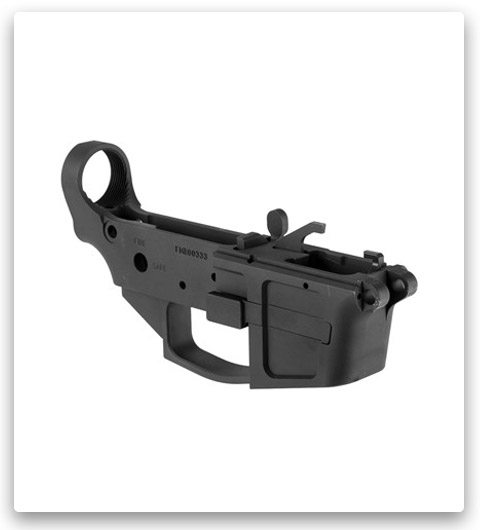 Looking to build something unique? Why not a pistol-caliber carbine designed to take Glock pistol magazines? The Mike-9 Billet Lower Receiver is the perfect starting point for your PCC build. These stripped lowers are machined from 7075-T6 billet aluminum and feature an all-black finish. Compatible with all 9mm Glock-style magazines, they also come with last-round bolt hold-open. Plus, they're made in the USA and covered under a lifetime warranty. So why wait? Start building your very own pistol-caliber carbine today!
3# Foxtrot Mike Products Ar-15 Mike-9 Complete Billet Rifle Lower Receiver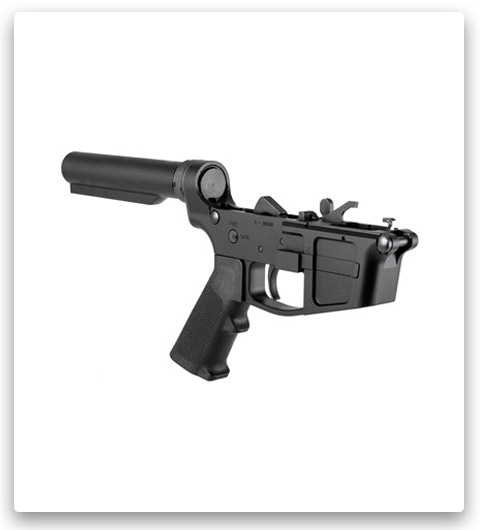 Introducing the brand new AR-15 Mike-9 Complete Billet Rifle Lower Receiver from Foxtrot Mike Products! This amazing product comes standard with a Lower Parts Kit and Foxtrot Mike's patented Last Round Bolt Hold Open feature, making it a must-have for any serious AR-15 enthusiast. The Mil-spec GI trigger group and S.S. .308 Carbine recoil spring make this lower receiver one of the most reliable and durable on the market today. The 6-position carbine buffer tube and 6.5 oz heavy buffer provide a smooth shooting experience, while the hard Milspec Type coating on the lower receiver protects it from wear and tear. Don't miss your chance to get your hands on this incredible product!
4# Aero Precision EPC 9 Lower Receiver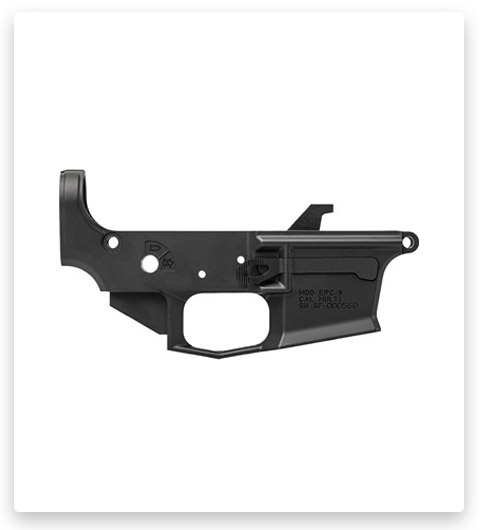 Looking for a sleek and stylish lower receiver for your next pistol caliber build? Look no further than the Aero Precision EPC 9 Lower Receiver. This custom-designed enhanced forging is machined from 7075-T6 Aluminum and boasts several functional features that are sure to simplify the assembly process for the at-home builder. The EPC-9 Lower Receiver features a threaded bolt catch pin for easy installation, an integrated enlarged trigger guard to remove any risk of breaking off trigger guard tabs, and a flared magazine well for quick and easy reloads. Plus, all the proprietary components come pre-installed from the factory! With a standard AR15 takedown/pivot pin lug pattern, the EPC-9 Lower Receiver is a great option for anyone looking for quality and function.
5# KE Arms LLC KP-9 Complete Lower Receiver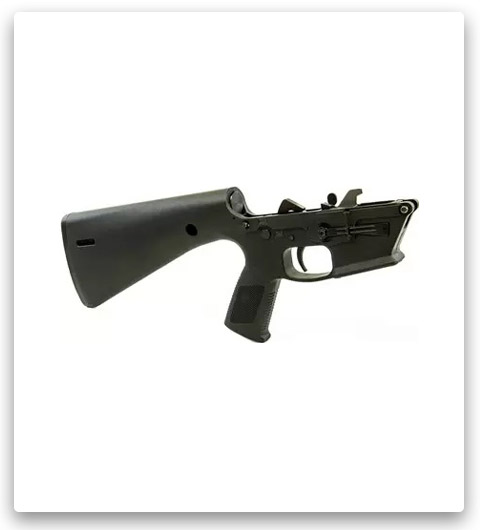 The KE Arms KP-9 Complete Lower Receiver is a monolithic polymer 9 mm Glock Mag Compatible AR15 style receiver made from an injection molded 30% glass-filled nylon incorporating the buttstock, buffer tube, pistol grip, and trigger into the receiver design as integral components. This manufacturing process offers several advantages, such as lighter weight compared to similarly configured receivers, and lower cost to similarly configured receivers.  The KE Arms KP-9 Complete Lower Receiver is compatible with the most common 9 mm AR15 uppers and lower parts kits and is compatible with Glock 17 and 19 Magazines. The KP-9 also features a flared mag well to make reloads under stress easier to perform, as well as an A1 Length 13" Length of Pull (LOP) Buttstock to fit a wide range of shooters. The KP-9 is also equipped with MLOK Slots at the rear of the stock for sling attachment points, or run a strap through it for simple sling attachment.
6# Ghost Firearms Vital Upper Receiver
Need a personalized touch for your AR-15? The Ghost Firearms Vital Upper Receiver, Pistol Lower Parts Kit, 9mm 9×19 Para, 7.5in, Pistol, Light HBAR Barrel, 1-10 Twist, 7in M-LOK Freefloat Handguard is perfect for anyone looking to upgrade their shooting experience. These high-quality lower parts from Ghost Firearms are made from tough and durable materials, so you can expect a long lifespan of use. With a variety of customization options available, you can easily create the perfect rifle for your needs.
How to install AR 9 Lower Receiver 📖❓
❗ To complete the installation, you'll need a vice and a small set of tools such as pliers, a hammer, and screwdrivers. It's also beneficial to have a few AR-specific tools available, like AR-specific wrenches and AR pin punches.
❗ Before beginning the installation make sure you have all the necessary components included in the package. Generally, this will include items such as pins, trigger guard assemblies, safety levers, and other parts related to ARs.
To begin installing your AR 9 Lower Receiver:
🔰 Securely mount it in your vice with its top facing up towards you. Make sure that your vice is gripping the receiver firmly but not too tightly so that it doesn't damage or distort any of its components.
🔰 Install the trigger guard assembly by first placing it over the receiver; then aligning the pins on either side with the corresponding holes on each side of the receiver; then press them into place using pliers or hammers.
🔰 Once secure, install any additional lower receiver parts (e.g., safety lever and detent springs). Use AR-specific wrenches or pin punches for this step as needed for best results.
🔰 Attach any aftermarket parts/accessories as required following their specific instructions/ guidelines from their manufacturers/vendors (e.g., sights and other components).
🔰 Finally test fire and evaluate your Lower Receiver with live rounds to ensure proper performance before use in regular shooting activities. This step is crucial for ensuring safe use!
Please watch this video to learn more information 📺
FAQ ❓
Conclusion 🙂
There are many different types and models on the market today. Picking the right one can be difficult, but our buyer's guide will help make it easier for you. In this guide, we have reviewed some of the items on the market and given you a few tips on how to pick the right one for your needs. We hope you find this information helpful! 🤩💥