Affiliate Disclosure: AmmoCave.com sometimes gets paid for listings, through sponsors or affiliate programs like Lucky Gunner, Optics Planet, Brownells, Cabelas, Academy Sports & Outdoors, Rainier Arms, Palmetto State Armory, Sportsman's Guide, Ammo.com, Ammo Man, Primary Arms, MidWayUsa, Amazon, eBay, etс. Clicking a link helps keep AmmoCave.com free, at no extra cost to you!
Authors: Each article is verified by AmmoCave's expert team. Professional hunters, firearm trainers, gunsmiths, and gun experts write the articles. AmmoCave Team independently researches, tests, reviews, and uses recommendations from our community of gun owners. We may earn commissions from shopping links.
Note: The views and opinions expressed in this article are those of the authors and do not necessarily reflect any agency's official policy or position. The articles are for informational purposes only, share your opinions about Best Lower Receiver 2023 in the comments and join the discussions. Let's share 💬 our ammo & gun experiences together!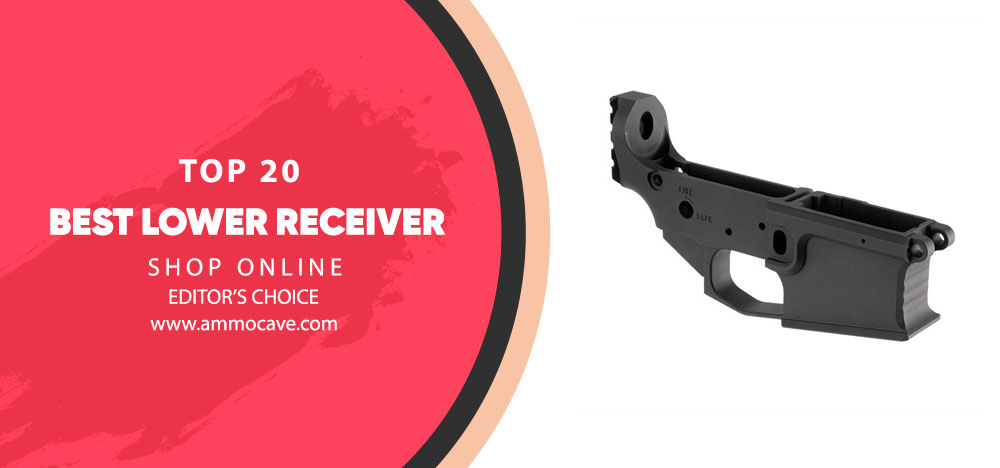 What is a Lower Receiver? 💡
It is the part of a firearm that houses the trigger assembly and magazine port, as well as other essential parts. It is usually made of aluminium alloy or polymer and is the only part considered to be a "firearm" by federal law.
Our Top Pick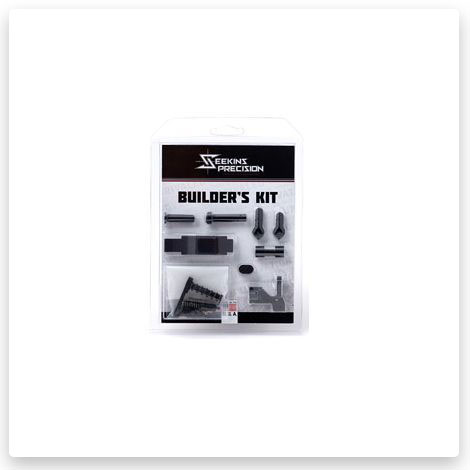 Seekins Precision Lower Receiver Parts Kit
Seeking Precision's Enhanced Builders Kit offers the best of all worlds to hunters and shooters looking for the highest quality, easy assembly and customization in their firearm. This complete package includes a Seekins Precision lower receiver and all pins, springs and parts you need for quick assembly and end-to-end compatibility with any AR15 platform. The black zeroing color provides an unbeatable look on your rifle that is sure to do provide durability and accuracy from start to finish. Whether you are a hunter or shooter, the Seekins Precision Enhanced Builders Kit is perfect for creating the firearm of your dreams from robust construction materials, outstanding craftsmanship, easy customization options and reliable performance.
Buy Now On OpticsPlanet
If you click this link and make a purchase, we earn a commission at no additional cost to you.
Lower Receiver Components 🔔
🧷 1. Receiver Body: This is the main component of the lower receiver. It is typically made from aluminium and is either forged or billet. Forged receivers are stronger and more durable, while billet receivers are more aesthetically pleasing.
🧷 2. Trigger Assembly: The trigger assembly is responsible for firing the gun. It consists of a trigger, hammer, disconnector, and trigger spring. The quality of the trigger assembly is crucial for accurate shooting.
🧷 3. Magazine Well: The magazine well is part of the receiver that holds the magazine. It is important to choose a receiver with a well-designed magazine well to ensure quick and easy magazine changes.
🧷 4. Bolt Catch: The bolt catch is located on the side of the receiver and is used to hold the bolt open after the last round is fired. It is important to choose a receiver with a well-designed bolt catch to ensure that it functions properly.
🧷 5. Buffer Tube: The buffer tube is located at the rear of the receiver and is used to connect the lower receiver to the upper receiver. It also houses the recoil buffer and spring. There are two types of buffer tubes, mil-spec, and commercial. Mil-spec is the more common of the two and is compatible with a wider range of stocks.
🧷 6. Pistol Grip: The pistol grip is part of the receiver that the shooter holds onto. It is essential to select a grip that is comfortable and fits your hand properly.
🧷 7. Safety Selector: The safety selector is located on the side of the receiver and is used to engage and disengage the safety. A well-designed safety selector is crucial for safe shooting.
Types 🌐
🎯 1. Forged Lower Receivers:
They are the most commonly used type of lower receiver.
They are typically made from aluminium and are created through a process of shaping and forming the material under high heat and pressure.
Forged receivers are known for their strength and durability, making them a popular choice for both beginners and seasoned gun owners alike.
🎯 2. Billet Lower Receivers:
They are machined from a solid block of aluminium, rather than being formed under heat and pressure like forged receivers.
This type of receiver is often chosen for its unique appearance, with many manufacturers offering elaborate designs and custom engravings.
However, they can be more expensive than forged receivers, and they may not offer any real functional advantage over other types.
🎯 3. Polymer Lower Receivers:
They are made from a type of plastic material and are becoming more popular in the firearms industry.
They offer several advantages over aluminium receivers, including lighter weight and greater resistance to impact and corrosion.
However, they are not as strong as aluminium and may not be able to withstand extended use or heavy recoil.
🎯 4. Hybrid Lower Receivers:
This a newer type of receiver that combines the strength of forged aluminium with the lightweight properties of the polymer.
These receivers often feature polymer construction at the front of the receiver and aluminium construction at the rear.
This combination provides the best of both worlds, with added durability and strength where it is needed most.

TOP 20 AR Lower Receiver For The Money 💸
1# Brownells Stripped Lower Receiver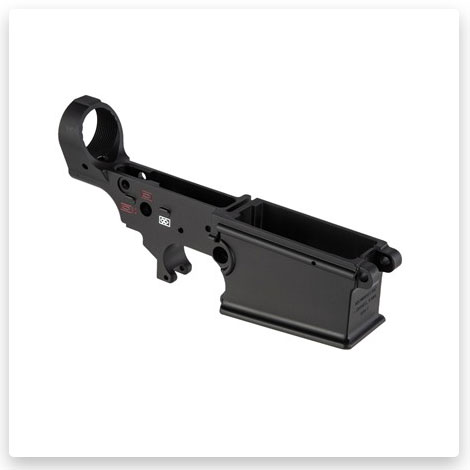 Brownells Stripped Lower Receiver is the perfect selection for any hunter or shooter looking to build an authentic and accurate semi-automatic rifle. This lower receiver, machined from original HK417® forging out of Germany, has been crafted by Primary Weapons Systems with precise attention to detail to provide an unparalleled level of accuracy. Featuring classic contours and selector markings inspired by HK417®; you won't find a more realistic lower receiver anywhere else. Each receiver also features color-filled pictogram markings and FFL information machined on the front of the magazine well for added durability and longevity. Finally, each receiver is treated with matte black Type III anodizing for superior protection against rust and corrosion, ensuring your receiver will remain beautiful for years to come. With Brownells Stripped Lower Receiver, you can be confident that you are selecting the highest quality product on the market to complete any semi-automatic rifle build.
2# Brownells – Brn-180m Lower Receiver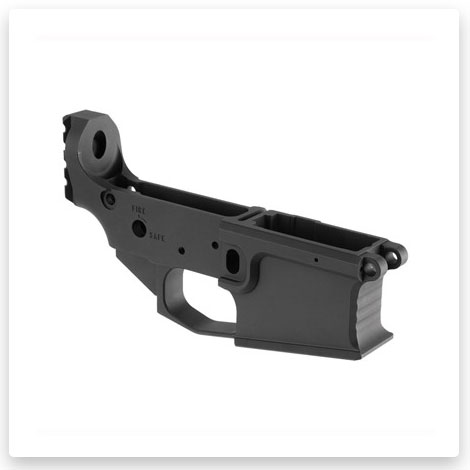 The BRN-180M Lower Receiver is specifically designed to be compatible with the BRN-180 Uppers, Mil-Spec lowers parts and triggers to present this line's full potential. The BRN-180M proprietary-designed Lowers don't fit standard AR-15 upper receivers. These aluminum (7075 T-6) Lower Receivers with a hard-anodized finish don't have the traditional-receiver extension threads but are equipped with a milled 1913 Picatinny rail section for stocks or braces attachment (as for the Sig Sauer MCX). They come with an integral oversized trigger guard, a unique threaded bolt catch pin, and a captive set screw for the takedown pin detent spring. A tiny Allen wrench is needed to install the rear takedown pin.
3# KE Arms Stripped Lower Receivers Polymer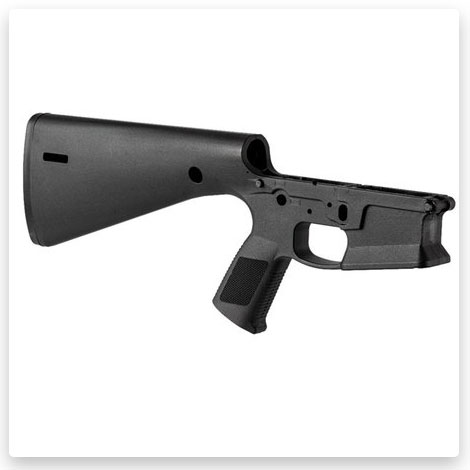 If you're looking for a stripped lower receiver that gives you everything you need to assemble a rifle, look no further than KE Arms Stripped Lower Receivers Polymer. Our stripped lowers offer durability and performance whether you're shooting at the range or hunting game in the wilderness. These receivers feature a standard mil-spec fire control group, cassette-style match triggers, flared mag wells, pre-drilled mounts for QD sockets, and slots at the rear of the stock for sling attachment. As our tests have shown the selectors are specially designed to load from the top with our recommended mil-spec selector or ambi selector making them easier to remove. Choose from black and flat dark earth versions to give your firearm an even more precise look. Everyone from professional hunters to casual shooters will appreciate KE Arms Stripped Lower Receivers Polymer for their accuracy and dependability when purchasing parts for their firearms.
4# Fightlite Industries – Scr Lower Receiver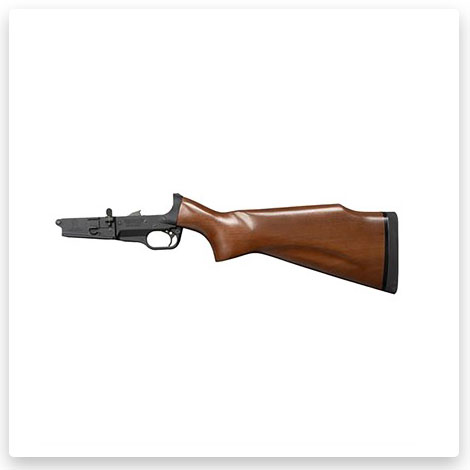 Introducing the Fightlite Industries – SCR Lower Receiver, manufactured in the USA and backed by a "Forever Guarantee". With this revolutionary SCR Lower Receiver, you get form and function that lasts a lifetime. It is built to be dependable, durable, and reliable for hunters and shooters who demand precision and accuracy. This complete SCR lower receiver assembly includes your choice of wood buttstocks so you can customize the appearance to your preferences. It also fits perfectly with standard AR-15-type receivers for compatibility with the components you know and love. And inside the box, you'll find an operator's manual plus a bolt catch, an SCR® Bolt Carrier, a strut and a dowel pin – so you have all of the necessary parts at your fingertips. Be prepared with performance that armourers trust: Fightlight Industries – SCR Lower Receiver.
5# Brownells – BRN-10 Lower Receiver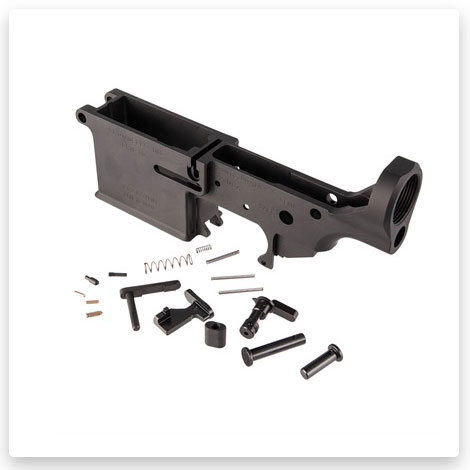 The Brownells – Brn-10 Lower Receiver is now available. Output Language Code: EN This revolutionary receiver is perfect for the serious shooter looking to build out a unique AR-10 clone firearm. Expertly machined from 7075-T6 aluminium and anodized matt black, this receiver offers superior quality and structural integrity. It's also compatible with standard AR-15/308 buffer tubes and stocks, as well as common AR-15 trigger components, giving you flexible customization options for your lower receiver. And it's designed exclusively for the BRN-10 upper receiver – guaranteeing a precise, secure fit without fail. For all your hunting and shooting needs, don't settle for any lower receiver – upgrade to the Brownells – Brn 10 Lower Receiver today!
6# Brownells BRN-4 Stripped Lower Receiver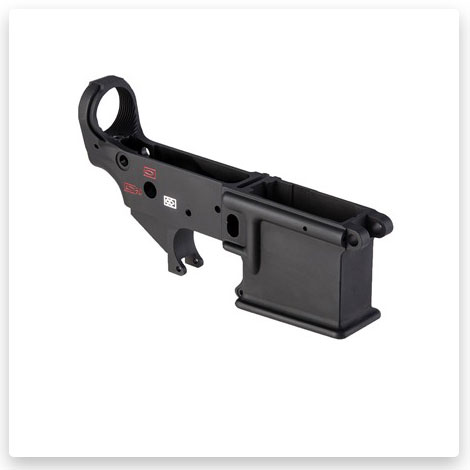 The Brownells BRN-4 Stripped Lower Receiver is a precise and dependable upgrade option for your AR-15 build. Made out of 7075 T6 aluminium forging, it provides excellent strength and durability. The stripped lower receiver has been precision machined to ensure a perfect fit with all "mil-spec" AR-15 components. The matte black, Type III hard coat military-grade anodized finish provides added protection against wear and tear while also offering exquisite style and elegance. Ideal for shooters and hunters, the Brownells Stripped M4 Lower Receiver ensures that you get the highest quality forged material ready to use in your next build. Using this product, our team found that durable enough to withstand any atmosphere, this 7075 T6 aluminium forging will stand up against years of wear and tear so you can depend on its reliability during every hunt or shooting range practice session. With the Brownells BRN-4 Stripped Lower Receiver, you can be sure that you have the perfect starting point for any AR-15 build.
7# Knights Armament – SR-15 Lower Receiver Stripped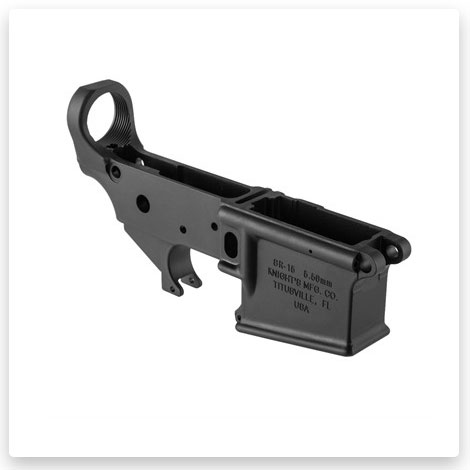 If you're an avid hunter or shooter in search of a genuine Stoner-style AR-15 build, look no further than the Knight's Armament SR-15 Stripped Lower Receiver. This fully machined and milled military-spec lower receiver is designed to accept all standard mil-spec lower parts kits, making it the perfect starting point for your AR project. Crafted from battle-proven 7075-T6 aluminium, the SR-15 has been treated with a hard-anodized finish for maximum durability and longevity. Don't settle for anything less than reliability and dependability; trust Knight's Armament for your serious shooting needs and requirements. Order now.
8# Brownells Brn-180 Stripped Lower Receiver Forged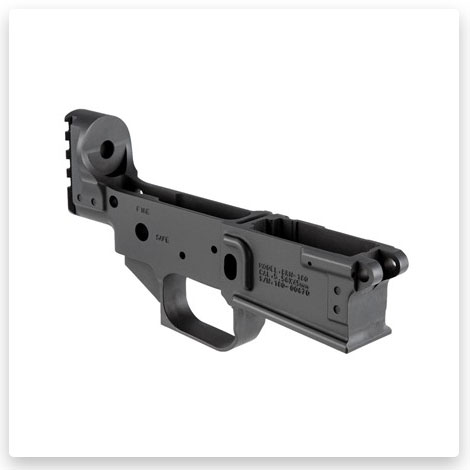 The Brownells BRN-180 Lower Receiver is a forged lower with all the right visual lines, integrates features of modern AR-15 lower, and feeds from USGI STANAG style mags. The aluminum (7075) forgings with the cosmetic 'weld' marks meet the standards of modern AR-15 lowers' construction. The BRN-180 uses standard Mil-Spec AR-15 lower parts kits. The BRN-180 rear comes with a 1913 Picatinny rail section, instead of the unnecessary AR-15 buffer tube threads.
9# 17 Design And Manufacturing Forged Lower Receiver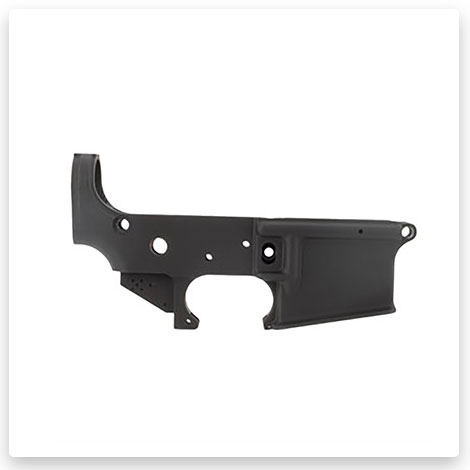 The 17 Design & Manufacturing AR15 Stripped Forged Lower Receiver is the perfect choice for anyone looking to build an AR15 from the ground up. Crafted from superior quality 7075-T6 aluminium and black hard coat anodized for durability and corrosion resistance, this forging provides a strong foundation on which you can create your ultimate shooting experience. Measuring to exacting mil-spec dimensions, this lower parts kit will accept all standard AR15 components with ease, ensuring a seamless build experience as well as interchangeability and reliability of parts. If you're in the market for a receiver that will provide unparalleled quality, look no further – 17 Design & Manufacturing has you covered. This product must be purchased by someone 18 years of age or older with valid proof of age, so assure sure to check your local state laws before ordering. when it comes to assembling your dream rifle, this Lower Receiver is second to none!
10# James Madison Tactical – 308 80% Lower Receiver W/Jig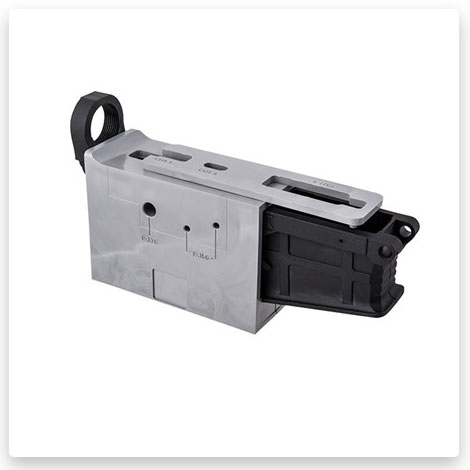 Get ready to experience absolute precision when you choose the James Madison Tactical .308 80% Lower Receiver W/Jig. Developed with incredible accuracy and strength in mind, every lower receiver is crafted with current finite element structural analysis for long-term performance. Each piece of the JMT .308 lower is designed using a specialized blend of polymers and fibres with added reinforcements in high-stress areas. As a result, users can enjoy improved strength, stability and durability over traditional aluminium models. Based on our observations the JMT 80% lower also provides advantages such as lightweight portability and ease of installation. Not only will you be able to build a better firearm, but doing so in less time than ever before. Hunters and shooters alike will benefit from the superior craftsmanship that goes into every one of these products. Built to withstand any type of terrain or weather conditions, trust in JMT for peak reliability and accuracy for your next shoot or hunt. Invest in your ultimate adventure with James Madison Tactical's .308 80% Lower Receiver W/Jig today!
11# San Tan Tactical Lower Receiver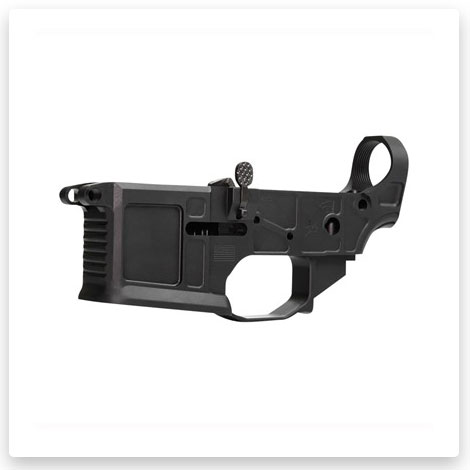 Experience convenience, reliability and accuracy with the San Tan Tactical Lower Receiver. This revolutionary product is exactly what left-handed shooters have always been looking for. No more spending hundreds of dollars on accessories to make a right-handed platform work for you. This lower receiver comes ready to go with all the features you need for precise manoeuvres and satisfying performance in the field at your disposal. The STT-15 is designed from the ground up with the goal of making a weapon that fits your South Paw form perfectly. This highly customizable platform features an ambidextrous magazine release, bolt catch, safety selector and built-in extended trigger guard for comfortable and reliable use in any position. And it's machined from high-grade 7075 T6 billet aluminium for added durability and strength. The end result is an upper/lower combination that provides unmatched comfort, control, precision and accuracy in operation—making it optimal for hunters or competitive shooters alike! Why settle for anything less? With the San Tan Tactical Lower Receiver, you'll achieve expert results quickly and conveniently every time. Upgrade your firing experience today!
12# Brownells Blemished Lower Receiver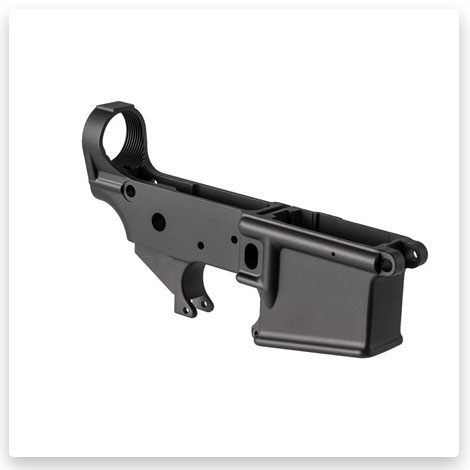 Take on any hunting or shooting endeavour with the confidence of using a Brownells Blemished Lower Receiver. Constructed from high-grade 7075 aluminium, this AR-18/AR-180 platform provides an upgrade over its steel predecessor that is sure to give any shooter the advantage when aiming for any target. With a bolt-on Picatinny rail, it has the same function as its integrally machined version and comes with all the expected visual cues found on other modern AR-15 lower receivers. For those on a budget who still want superior performance in all their applications, this is the perfect choice with its combination of quality construction and cost efficiency. Look no further than the Brownells Blemished Lower Receiver to ensure your shooting experiences are always up to your expectations!
13# Wilson Combat Lower Receiver Small Parts Kit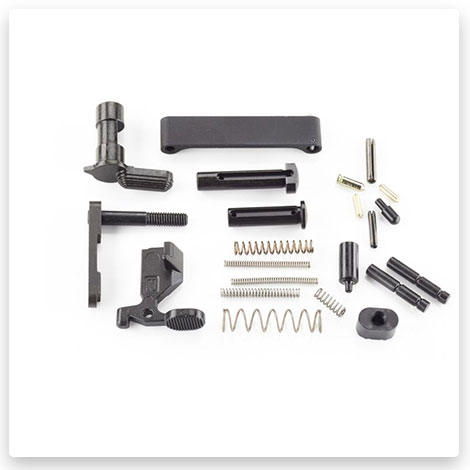 With the Wilson Combat Lower Receiver Small Parts Kit, you can enjoy professional results and make sure your AR10/15 rifle meets Military Specifications. It contains all the commonly used parts to complete a custom billet rifle, the same parts used in their shop. Each piece is made from durable steel and aluminium of the highest quality, including a Checkered Bullet Proof Bolt Release and Bolt Catch Plunger. Plus it includes a right-hand safety selector so you get everything you need with one purchase. Hunters and Shooters will appreciate the convenience of this top-notch small-parts kit as they balance value with performance to build their own custom AR10/15 rifles.
14# CMC Triggers Complete Lower Receiver Parts Kit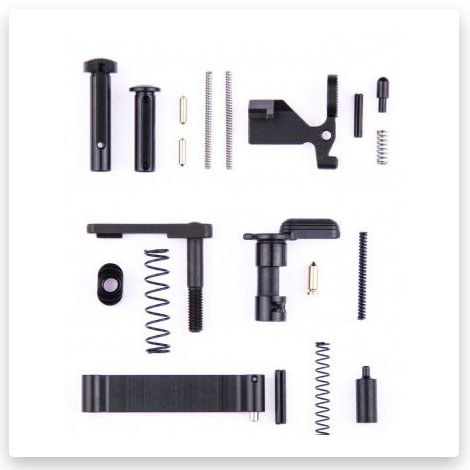 The CMC Triggers Complete Lower Receiver Parts Kit for AR-15 is the perfect solution for anyone looking to complete the build of their rifle in one easy purchase. All parts included meet or exceed MIL-SPEC requirements, giving you high quality and reliability on every round fired. This kit features a black finish on all components made from hardened steel and comes with various parts including detents, springs, pins, catches, guards, and more. Fire control group and grip are NOT included; everything else needed to complete your lower receiver is. Whether you're hunting or shooting at competitions, this kit has everything necessary to get your rifle up to peak performance. Get ready for your next successful trip with this Lower Receiver Parts Kit for AR-15!
15# CMMG Lower Reciever Parts Kit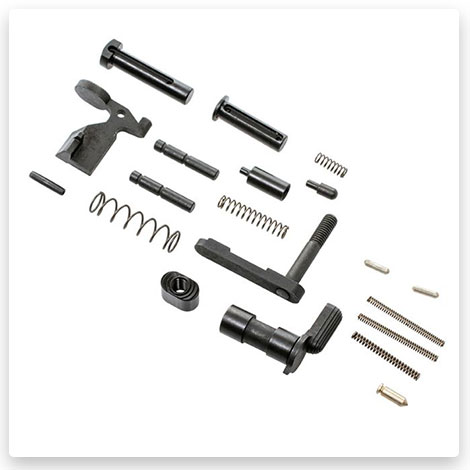 For the serious hunter or shooter, CMMG's AR-15 Lower Receiver Parts Kit offers the best possible performance for your next AR-15 build. With uncompromising quality meeting and exceeding mil-spec standards, this kit is an essential component when looking to customize your rifle. The kit includes a black finish and is universally compatible with any rifle buttstock kit, allowing you to modify your weapon to match whatever specific shooting needs you may have. With years of extensive research and expertise behind every part, CMMG prides itself in offering you the highest quality part for outstanding precision and accuracy with each shot. So don't settle for anything less than the best – count on CMMG's AR-15 Lower Receiver Parts Kit for long-lasting durability and reliable performance.
16# Luth-AR Lower Receiver Parts Kit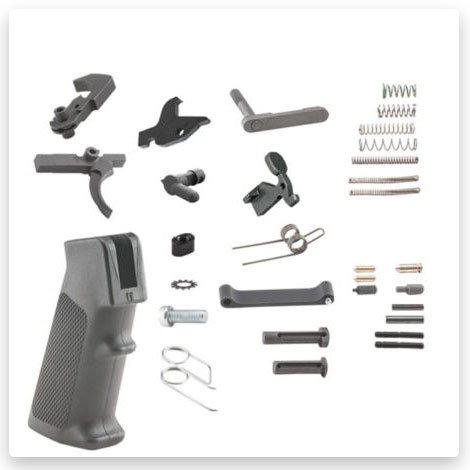 Choose quality and superior materials with Luth-AR's Lower Receiver Parts Kit. This top-of-the-line collection is crafted with the highest-grade 17-4 SST and Mil-Spec steel components, heat treated to compliance with Mil-Spec drawings. No corners have been cut here — you can trust that all of your parts come from specialized factories, creating a reliable standard for any shooter. What sets this kit apart is its impeccable craftsmanship, designed for ar platform guns for the hunter or shooter who wants perfection in their weapon. Don't skimp on quality — trust Luth-AR's Lower Receiver Parts Kit and make sure your gun is equipped to perform at its best every time.
17# Strike Industries AR Enhanced Lower Receiver Parts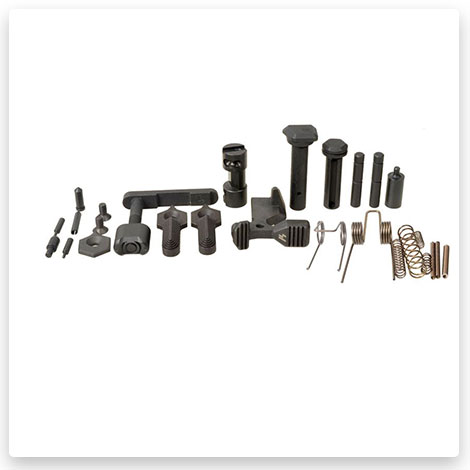 The Strike Industries AR Enhanced Lower Receiver Part Kit is the perfect choice for a custom rifle build. This kit includes many standard parts as well as some of Strike Industries' proprietary enhanced parts, all crafted carefully for a great fit, feel, and function. And what makes this LPK unique is that it does not include commonly upgraded parts such as the trigger, hammer, disconnect, and grip, leaving you with the flexibility to select which ones best suit your needs. Whether you're a hunter or a competitive shooter, you'll have consistent excellence with intermittent touches of customization when you choose the Strike Industries AR Enhanced Lower Receiver Part Set.
18# Seekins Precision Lower Receiver Parts Kit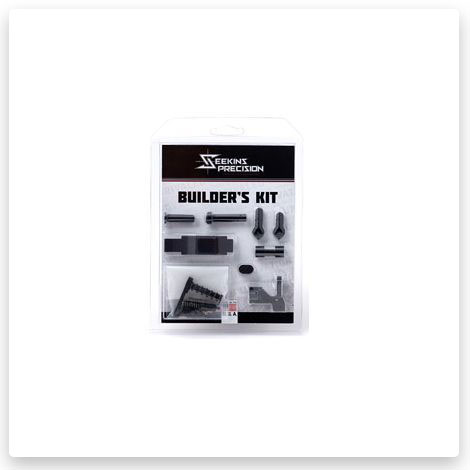 The Seekins Precision Lower Receiver Parts Kit is the perfect choice for hunters and shooters. This kit features all of the essential components needed to assemble a high-quality AR-15 lower receiver. From magazine catch springs to triggers and trigger guards, this kit covers it all. Every part is made from premium materials by Seekins Precision, guaranteeing durability. And each component is black in colour so you can create a classic look for your firearm. Get your Seekins Precision Lower Receiver Parts Kit today and upgrade your AR-15!
19# DELTAC AR-15 Lower Receiver Spring Kits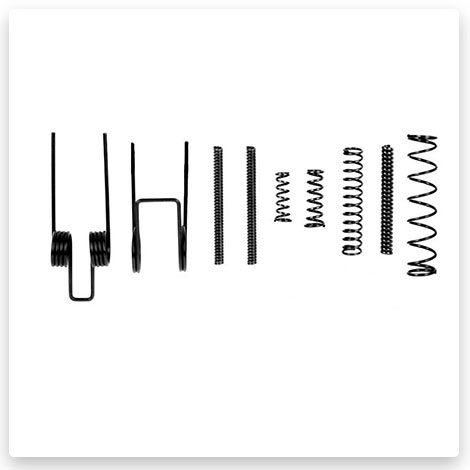 Make sure your AR-15 rifle is ready for anything with the DELTAC Lower Receiver Spring Kit. This kit houses all the commonly used springs that are essential for proper firearm maintenance. The kit ensures your weapon is functioning at its highest level and provides you with a primary replacement source in case of emergency, thus avoiding any long waiting period due to mailing delays. With Tungsten Buffer Weights included in the kit, you can fine-tune your bolt speed for reliable and optimal performance during hunting expeditions or shooting practice, giving you an edge over the competition. Whether you're an experienced gunsmith or just a recreational shooter, having this Lower Receiver Spring Kit on hand can make all the difference when it comes to enjoyment and safety in the field.
20# Strike Industries AR Lower Receiver Pin Kit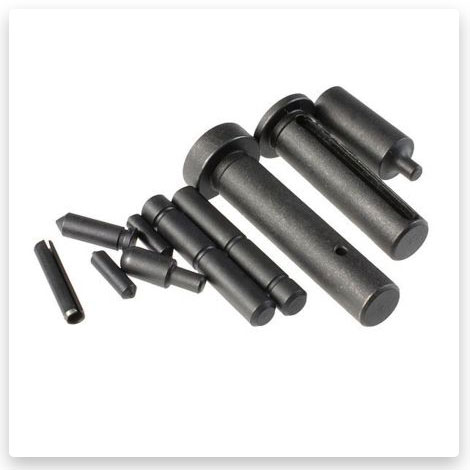 Strike Industries' AR Lower Receiver Pin Kit is the perfect way to restock and upgrade your equipment. The kit contains an extensive selection of pins and other components that are compatible with industry standards, ensuring you'll have the perfect parts to assemble or maintain your lower receiver. The kit features a robust matte black finish that won't reflect light, allowing you to trust it on even the most challenging hunts. This reliable piece of gear offers unbeatable strength and longevity, so it's perfect for those who take their shooting seriously. Perfect for hunters and shooters, the Strike Industries AR Pin Kit is an essential choice for any well-equipped lower receiver setup. Be sure to secure yours today!
Installation 🔊
✅ 1. Gather all the necessary tools and components. You'll need a hammer, roll pin punches, a torque wrench, an AR-15 lower vice block, the lower receiver itself, the lower parts kit, and the pistol grip.
✅ 2. Align the bolt catch with the slot in the receiver and insert the roll pin using a roll pin punch. It's recommended to use a hammer to tap the pin in place gently.
✅ 3. Install the trigger guard by gently pushing the pins in through the receiver's lower holes. If necessary, use pliers or a punch to align the pins precisely.
✅ 4. Place the AR-15 lower vise block into the magazine well and tighten it securely.
✅ 5. Install the lower parts kit by following the manufacturer's instructions regarding the trigger, hammer, and other parts.
✅ 6. Attach the pistol grip to the receiver with the supplied screw and washer. Some AR-15s require a grip screw and nut, which should be included in the lower parts kit.
✅ 7. Torque the grip screw to the manufacturer's specifications using a torque wrench.
✅ ❗ 8. Make sure all the pins and components are seated correctly and securely.
✅ 9. Remove the AR-15 lower vice block and inspect the receiver for any visible defects or damage.
✅ 10. Test the rifle's function and safety by cycling the bolt carrier group and checking the trigger pull.
Watch this video to find more information 💻
FAQ ⚡
Conclusion 💥
Finding the best lower receiver depends on your individual needs and preferences. It is important to consider factors such as price point, quality of material used in construction, compatibility with other components of your firearm system, and any additional features you may be interested in for added customization options. Armed with this information about receivers and our reviews of some popular models available today, you should now have a better idea of which one will work best for you. So get out there and start building the ultimate rifle setup! 🔥
Tags: #best ar 15 lower receiver / #best lower receiver / #best quality 80 lower receiver / #best 308 lower receiver / #best ar lower receiver for the money