Affiliate Disclosure: AmmoCave.com sometimes gets paid for listings, through sponsors or affiliate programs like Lucky Gunner, Optics Planet, Brownells, Cabelas, Academy Sports & Outdoors, Rainier Arms, Palmetto State Armory, Sportsman's Guide, Ammo.com, Ammo Man, Primary Arms, MidWayUsa, Amazon, eBay, etс. Clicking a link helps keep AmmoCave.com free, at no extra cost to you!
Authors: Each article is verified by AmmoCave's expert team. Professional hunters, firearm trainers, gunsmiths, and gun experts write the articles. AmmoCave Team independently researches, tests, reviews, and uses recommendations from our community of gun owners. We may earn commissions from shopping links.
Note: The views and opinions expressed in this article are those of the authors and do not necessarily reflect any agency's official policy or position. The articles are for informational purposes only, share your opinions about Best Lower Receiver 2023 in the comments and join the discussions. Let's share 💬 our ammo & gun experiences together!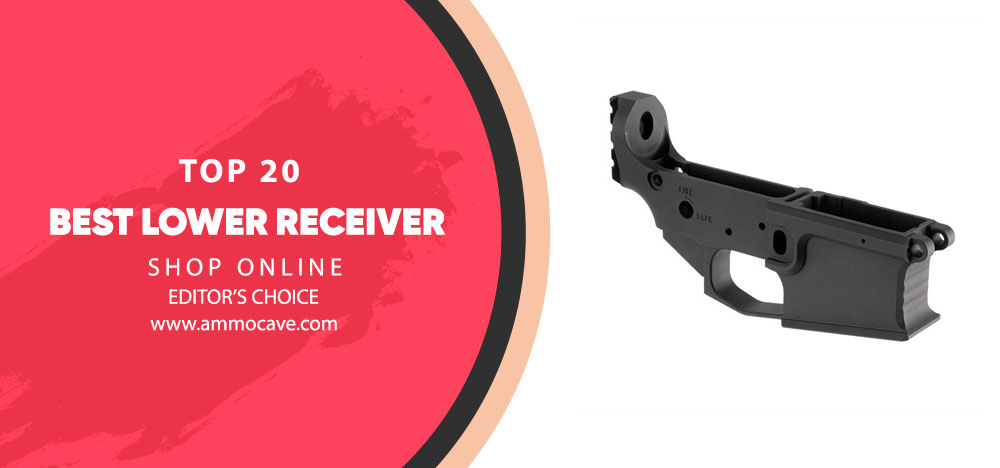 Upgrading the rifle with an AR Lower Receiver is good for making a custom build.
Why do we need an AR Lower Receiver?
Reliable Lower Receivers allow shooters to enhance the quality of their shooting experience.
Best Pick
BROWNELLS STRIPPED LOWER RECEIVER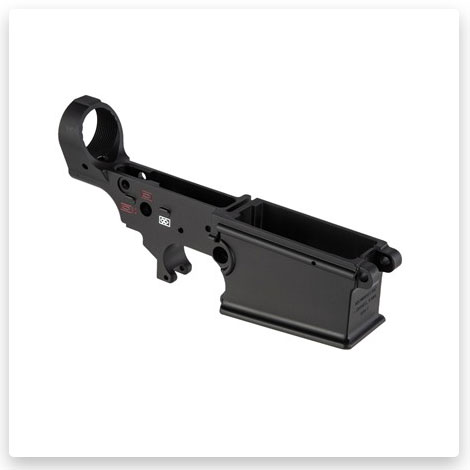 The Forged Lower Receiver is the first-class Lower with snug-fitting. All parts are crafted under spec and assembled perfectly.
TOP 20 Best AR Lower Receiver For The Money
#1 BROWNELLS STRIPPED LOWER RECEIVER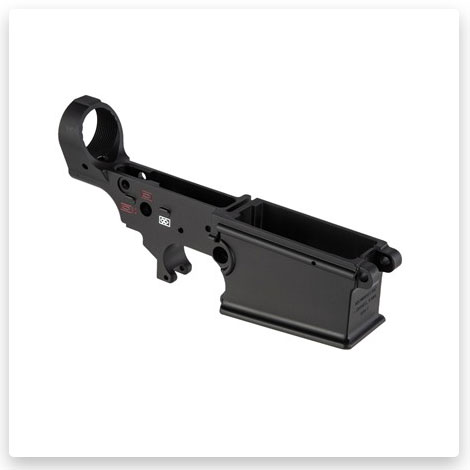 The Lower Receiver is machined from original German HK417 forging, and anodized with a matte black, Type III.
#2 BROWNELLS – BRN-180M LOWER RECEIVER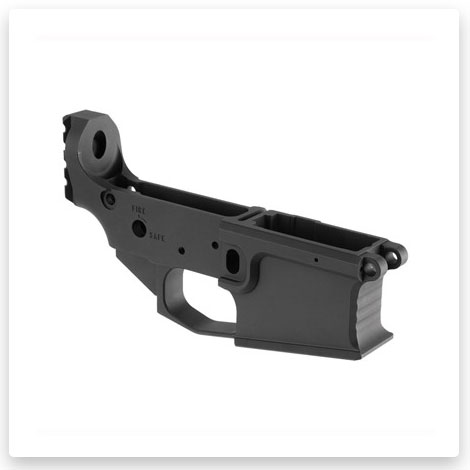 The BRN-180M Lower Receiver is specifically designed to be compatible with the BRN-180 Uppers, Mil-Spec lowers parts and triggers to present this line's full potential.The BRN-180M proprietary-designed Lowers don't fit standard AR-15 upper receivers.
These aluminum (7075 T-6) Lower Receivers with a hard-anodized finish don't have the traditional-receiver extension threads but are equipped with a milled 1913 Picatinny rail section for stocks or braces attachment (as for the Sig Sauer MCX). They come with an integral oversized trigger guard, a unique threaded bolt catch pin, and a captive set screw for the takedown pin detent spring. A tiny Allen wrench is needed to install the rear takedown pin.
#3 KE ARMS STRIPPED LOWER RECEIVERS POLYMER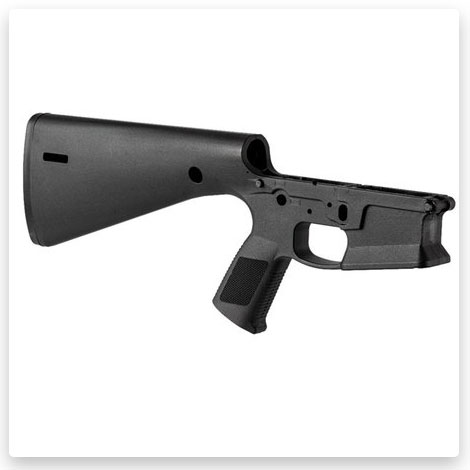 The KP-15 lower receivers can be paired up with 9mm blowback systems with a minimum buffer weight of 5.4 oz (carbine).
#4 FIGHTLITE INDUSTRIES – SCR LOWER RECEIVER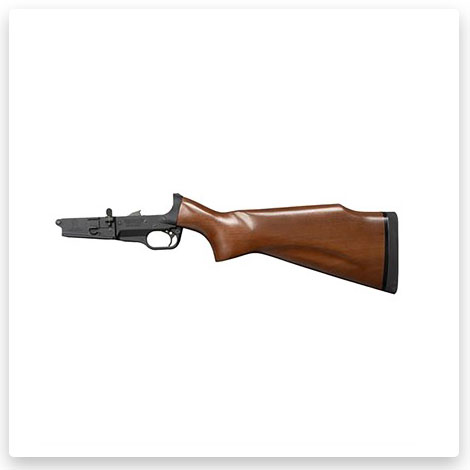 The SCR Lower Receiver is a Complete Assembly, which comes with wood buttstock with four finishes of choice: Nutmag, Forest Camo, Walnut, and Pepper. The Lowers are compatible with standard AR-15-type upper receivers. The SCR Lowers consist of Bolt Catch, wood buttstock, Bolt Carrier, Strut & Dowel Pin.
#5 BROWNELLS – BRN-10 LOWER RECEIVER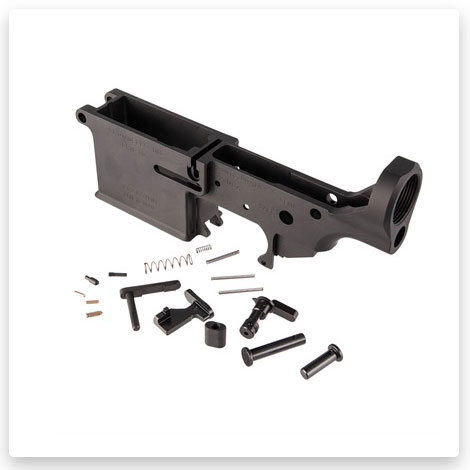 The BRN-10 Aluminum (7075-T6) Lower Receiver allows building out a unique AR-10 clone, including the proprietary components, such as the takedown pins, magazine release, and safety selector. The buffer tube fits any standard AR-15/308 buffer tube and stock. The BRN-10 Lower Receiver is only compatible with the BRN-10 Upper Receiver, but not with other 308 pattern receivers.
#6 BROWNELLS BRN-4 STRIPPED LOWER RECEIVER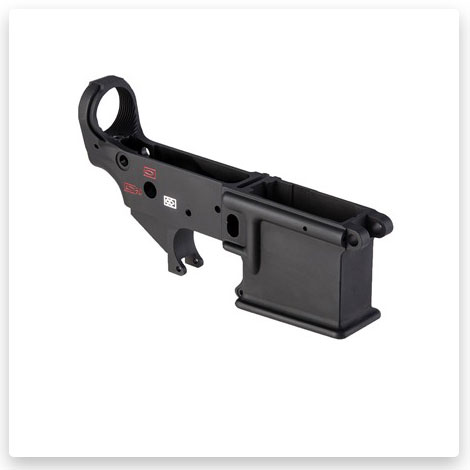 \
#7 KNIGHTS ARMAMENT – SR-15 LOWER RECEIVER STRIPPED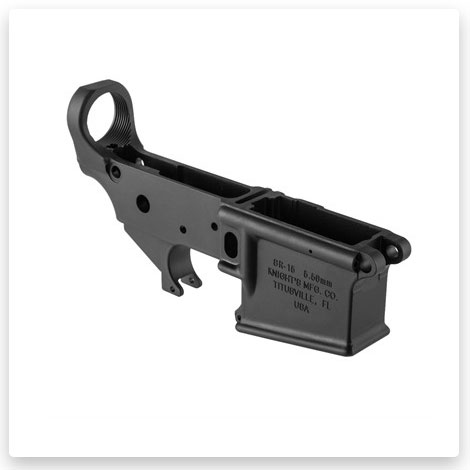 #8 BROWNELLS BRN-180 STRIPPED LOWER RECEIVER FORGED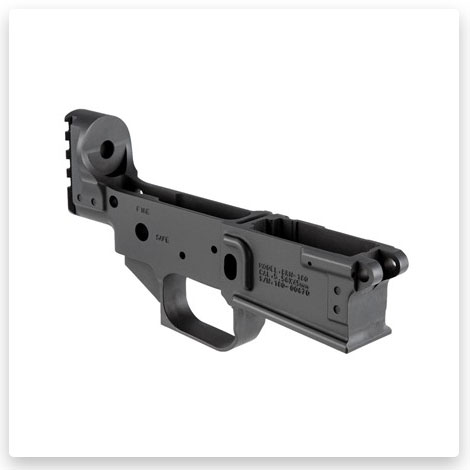 The Brownells BRN-180 Lower Receiver is a forged lower with all the right visual lines, integrates features of modern AR-15 lower, and feeds from USGI STANAG style mags. The aluminum (7075) forgings with the cosmetic 'weld' marks meet the standards of modern AR-15 lowers' construction. The BRN-180 uses standard Mil-Spec AR-15 lower parts kits. The BRN-180 rear comes with a 1913 Picatinny rail section, instead of the unnecessary AR-15 buffer tube threads.
#9 17 DESIGN AND MANUFACTURING FORGED LOWER RECEIVER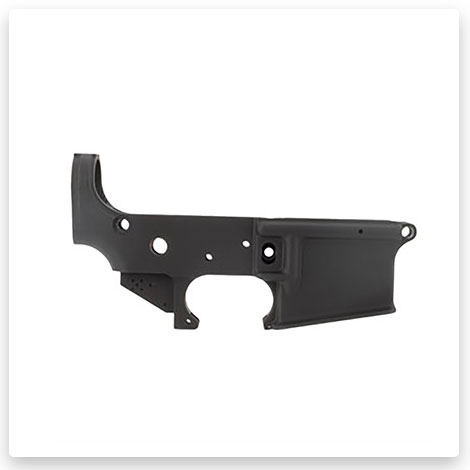 The Stripped Forged Lowers with the base for AR15 build is machined from Aluminum (7075-T6) to mil-spec dimensions and Black hard-coat anodized.
#10 JAMES MADISON TACTICAL – 308 80% LOWER RECEIVER W/JIG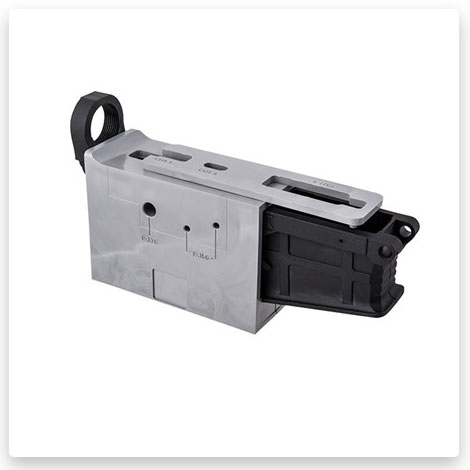 #11 SAN TAN TACTICAL LOWER RECEIVER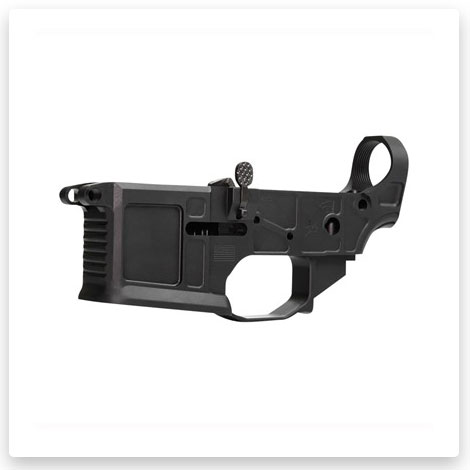 #12 BROWNELLS BLEMISHED LOWER RECEIVER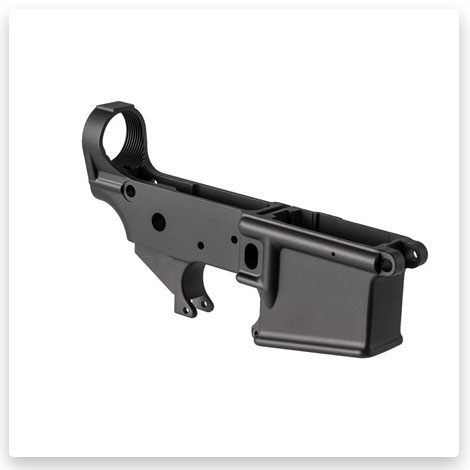 #13 Wilson Combat Lower Receiver Small Parts Kit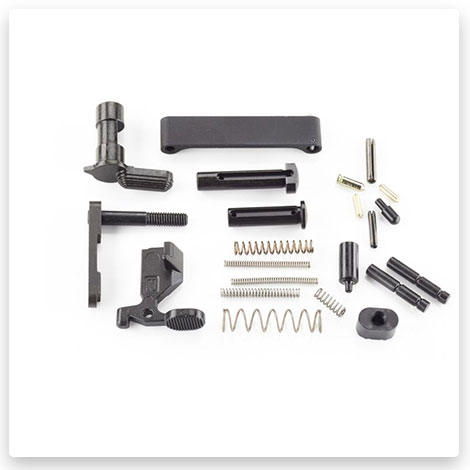 These lower parts for AR rifles meet Military Specifications. The kit comes with a right-hand Semi-auto safety selector, but without fire control parts (Trigger, Hammer, Springs, Disconnector).The lower receiver consists of Bolt Catch (its Plunger, Roll Pin, and Spring); Magazine Catch (it's Spring and Button); Pivot and Takedown pins; 2x Pivot/Takedown detents and their springs; Safety Detent, its Spring, Trigger Guard (Aluminum GI) and its Roll Pin; 2x Trigger/Hammer Pins.
#14 CMC Triggers Complete Lower Receiver Parts Kit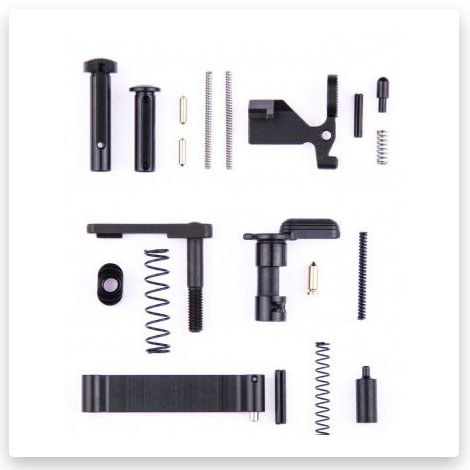 The kit is crafted from high-quality steel. It consists of a Safety detent with Spring, Buffer Retainer with Spring, Mag Release Button with Spring, Buffer Retainer, Bolt Catch Plunger with Spring, Bolt Catch, Trigger Guard, Trigger Guard Roll Pin, Take, Roll Pin, Safety, Mag Release. The Fire control group and grip aren't included.
#15 CMMG Lower Reciever Parts Kit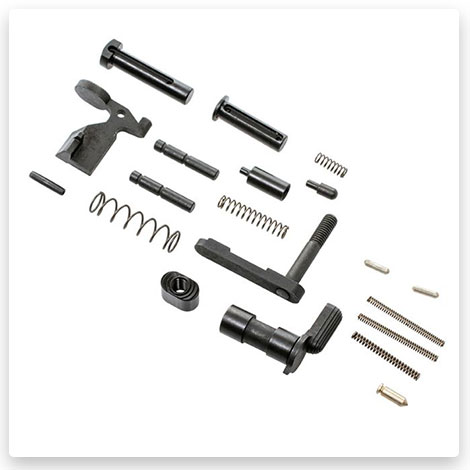 The 3 models differ in price and completeness: the cheapest and the most expensive models consist of the same accessories, additionally to which the first one includes only Safety selector, the second one – Ambidextrous Selector, Disconnect with Spring, Hammer with Spring, Lock Washer, Pistol Grip with Screw, Trigger with Spring, Trigger Guard Assembly, and Trigger Guard Pivot Spring Pin.
The third model kit comes with such parts as A2 Grip, Bolt Catch with Plunger, Roll Pin, and Spring; Buffer Retainer with Pin and Spring; Detent Spring, Disconnector Spring, Grips Screw & Washer; Hammer with Spring; Magazine Catch with Spring; Magazine Release Button, Pivot Pin, Rear TakeDown Pin; Safety selector with Detent and Spring; Takedown Pin Detent, Trigger with Spring, Trigger Guard.
#16 Luth-AR Lower Receiver Parts Kit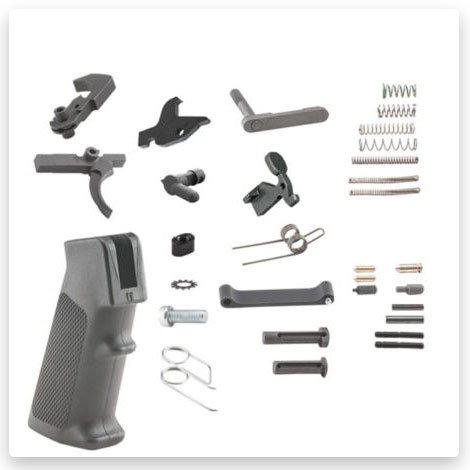 These AR15 Lower Parts are DPMS patterns, helping to improve shooting skills. There are two models available, depending on the used gun model (AR-15 or AR-10) and cartridge (5.56x45mm NATO or .308 Winchester). The kit includes Buffer Retainer with Spring; Trigger Guard with Pin; Selector/Safety; Bolt Catch with Spring, Buffer (Plunger), and Roll Pin; Magazine catch with Aluminum Button; 2x Detent Spring; 2x Takedown Detent; Mag Catch with Buttstock Plunger Spring; Front Pivot Pin; Disconnector, AR15; Trigger AR15 with Spring; A2 Pistol Grip with Bolt, Lock Washer; Selector/Ejector Spring; Detent (Selector); Hammer/Trigger pin; Rear Takedown Pin; Disconnector Spring; Hammer AR15, Mil-Spec with J-Spring.
#17 Strike Industries AR Enhanced Lower Receiver Parts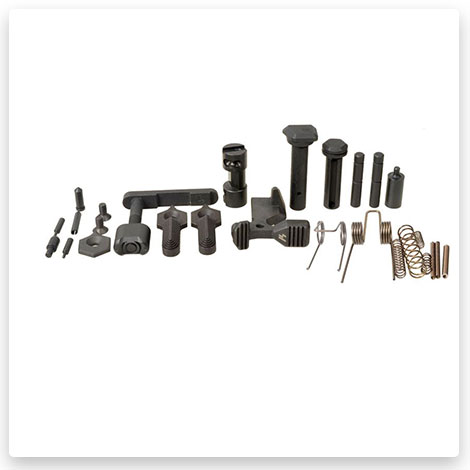 The AR15 Lower kit consists of some standard and proprietary enhanced parts, coming without such commonly-upgraded components as the trigger, disconnect, hammer, and grip. The LRPLT Lower Receiver is made in Taiwan.
#18 Seekins Precision Lower Receiver Parts Kit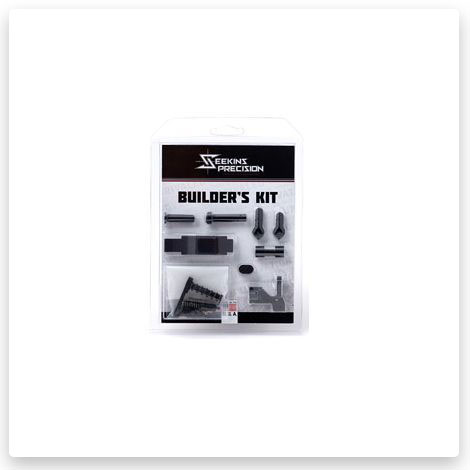 This SP ambidextrous kit includes the pins and springs for AR15 lower receivers.
#19 DELTAC AR-15 Lower Receiver Spring Kits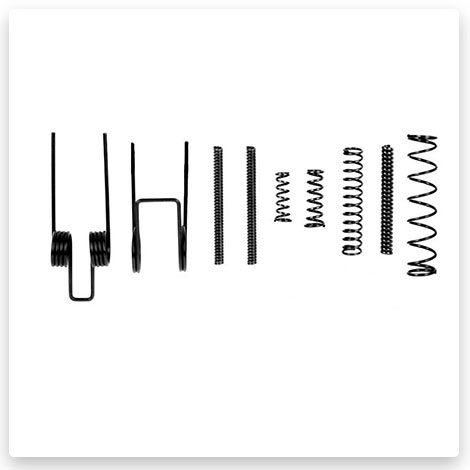 The AR-15 Lower Receiver Spring Kit consists of the Commonly-used ones, coming in handy to replace worn springs.
#20 Strike Industries AR Lower Receiver Pin Kit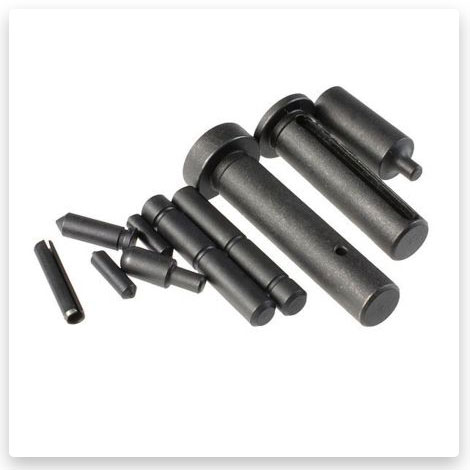 The SI AR Lower Receiver Pin Kit integratesTakedown and Pivot pins with their detents; pins for Hammer, Trigger, Buffer Retainer, and Bolt catch roll; Bolt catch plunger and Safety detent.
Conclusion
Among a wide range of AR Lower Receivers on the market, checking the completeness before ordering the kit is dull, but necessary, if you want to make your custom AR build.
Tags: #best ar 15 lower receiver / #best lower receiver / #best quality 80 lower receiver / #best 308 lower receiver / #best ar lower receiver for the money