Affiliate Disclosure: AmmoCave.com sometimes gets paid for listings, through sponsors or affiliate programs like Lucky Gunner, Optics Planet, Brownells, Cabelas, Academy Sports & Outdoors, Rainier Arms, Palmetto State Armory, Sportsman's Guide, Ammo.com, Ammo Man, Primary Arms, MidWayUsa, Amazon, eBay, etс. Clicking a link helps keep AmmoCave.com free, at no extra cost to you!
Authors: Each article is verified by AmmoCave's expert team. Professional hunters, firearm trainers, gunsmiths, and gun experts write the articles. AmmoCave Team independently researches, tests, reviews, and uses recommendations from our community of gun owners. We may earn commissions from shopping links.
Note: The views and opinions expressed in this article are those of the authors and do not necessarily reflect any agency's official policy or position. The articles are for informational purposes only, share your opinions about Best 308 Lower Receiver 2023 in the comments and join the discussions. Let's share 💬 our ammo & gun experiences together!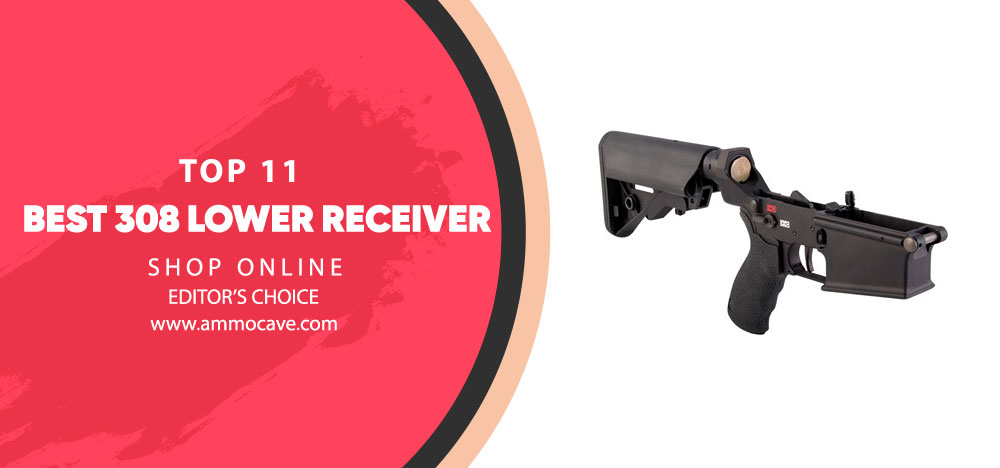 What is 308 Lower Receiver? 💡
It is a critical component of a rifle chambered in the .308 Winchester or 7.62x51mm NATO calibres. This part, also known as the lower receiver assembly or lower, is the foundation of the rifle and houses the trigger, magazine well, and other essential parts. The lower receiver is typically made of aluminium or polymer and is essential for the safe and reliable function of the rifle.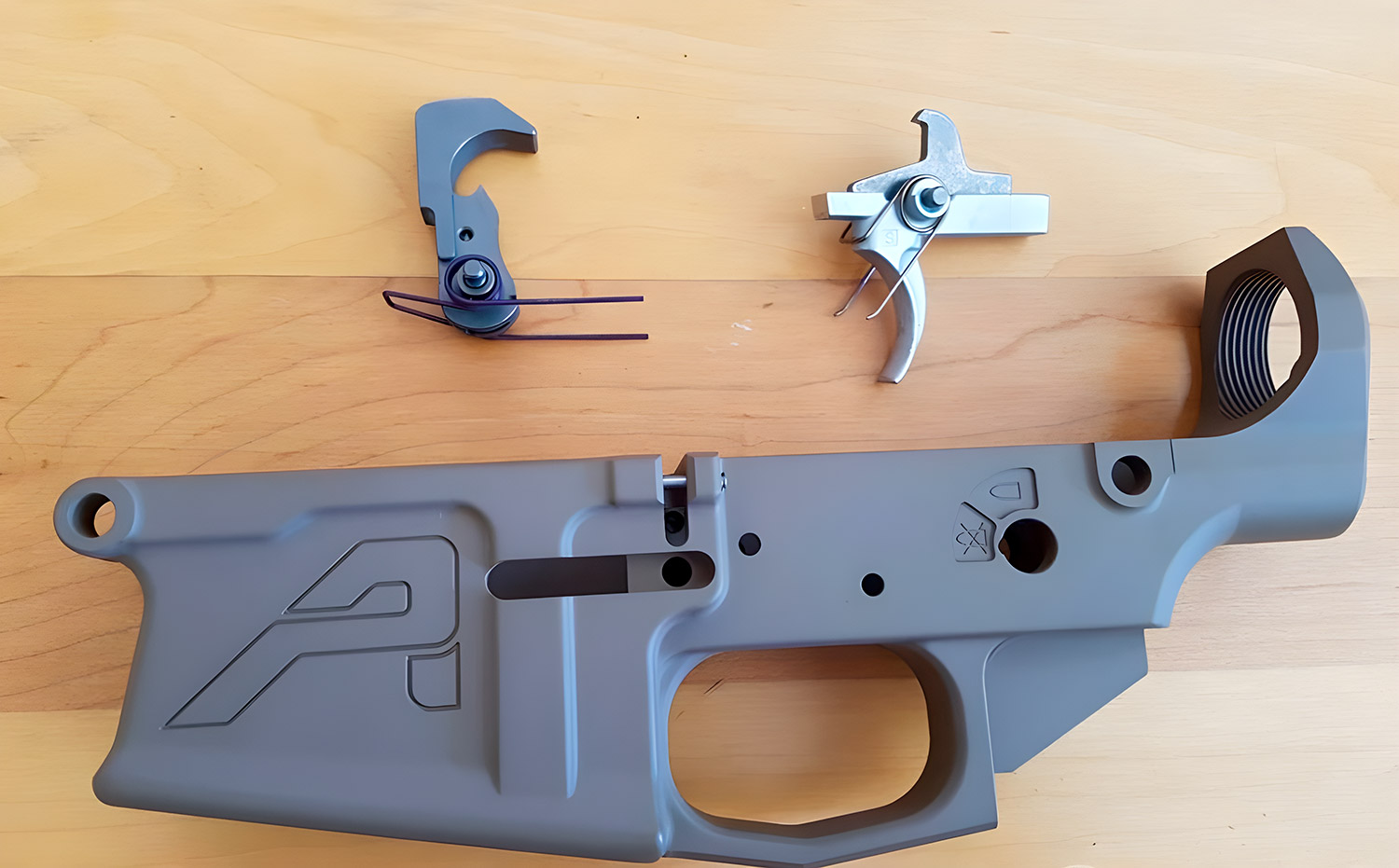 Features 💎
🌐 One of the most important features to consider is the material used.
The most common materials used for lower receivers are aluminium and polymer.
Aluminum is a popular choice because it's lightweight, durable, and can withstand high temperatures.
Polymer, on the other hand, is lighter but not as strong as aluminium. It's important to note that some polymer lower receivers may be reinforced with metal inserts to increase their durability.
🌐 Another feature to consider is the style of the lower receiver. There are two main styles: billet and forged.
🌐 It's also important to consider the compatibility of the lower receiver with other components of your AR-10 build. Make sure that the lower receiver is compatible with the upper receiver you plan to use, as well as the buffer tube and other parts.
🌐 Finally, it's important to consider the brand and reputation of the manufacturer. Look for a reputable manufacturer that has a history of producing high-quality components.
Our Top Pick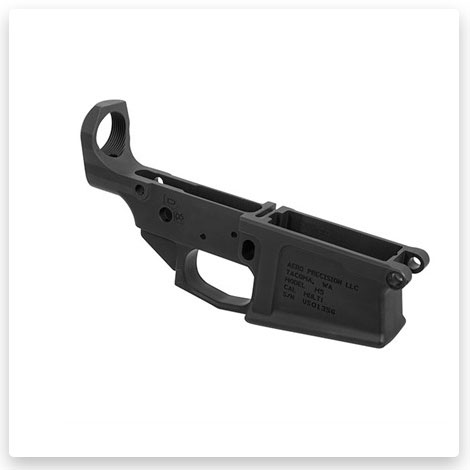 Aero Precision 308 Lower Receiver
The M5 Mil-spec Lower Receivers allow customizing 308 AR assemblies with perfect alignment. The bolt catch is threaded for a screw pin, so a roll pin isn't needed.
Buy Now On Brownells
If you click this link and make a purchase, we earn a commission at no additional cost to you.
Types 🚦
🎯 1. Forged 308 Lower Receivers: Forged lower receivers are made through a process of hammering or stamping. The result is a durable and strong receiver. Because of their solid and dependable construction, forged lower receivers are the most popular type of 308 lower receivers on the market.
⚡ One of the main benefits of forged lower receivers is that they are generally affordable compared to other types of lower receivers. Since they are made from a single piece of material, they also tend to be more consistent and accurate.
🎯 2. Billet 308 Lower Receivers: Billet lower receivers are machined from a solid block of aluminium. This process allows for more intricate designs and greater customization. Billet receivers also tend to be lighter in weight than forged receivers. However, due to their higher cost, billet receivers are not as commonly used as forged receivers.
⚡ One of the main advantages of billet receivers is that they offer greater design flexibility, allowing for more intricate designs and personalization options. They also tend to be more precise in their measurements, which can result in a better fit and function for your rifle.
🎯 3. Polymer 308 Lower Receivers: Polymer lower receivers are a relatively new addition to the market. They are made from polymer or composite materials that are lightweight and durable. Polymer receivers tend to be more affordable than forged or billet receivers.
⚡ One of the main advantages of polymer receivers is their lightweight design, which can make your rifle easier to handle and carry. They are also less prone to rust and corrosion compared to metal receivers. However, they may not be as durable as other types of receivers and can be more flexible, which can impact accuracy.
Best 💣 308 Lower Receiver
1# Lewis Machine & Tool 308 Lower Receiver Stripped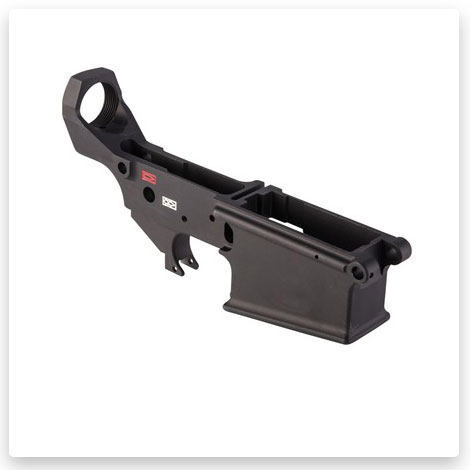 The Lewis Machine & Tool .308 MWS Lower Receiver Stripped is the perfect foundation for your next AR-308 build. Carefully forged from 7075-T6 aluminium, this lower receiver is sturdy and durable, offering long-lasting wear resistance, even in harsh environments. The hard coat anodized finish offers extra protection against damage and corrosion, giving hunters and shooters added peace of mind when out in the field. As our tests have shown that it features cutouts for an LMT ambidextrous magazine release in order to accommodate left- or right-handed shooters who need quick access to their magazines. Additionally, it features Mil-Spec .154 trigger pins – perfect for use with AR-15 triggers – and encourages using them along with full power hammer springs to ensure consistent ignition of .308 primers. Designed with ergonomics in mind, this stripped lower receiver should definitely be considered when building up your next high-performance rifle.
2# Lewis Machine & Tool 308 Lower Receiver Complete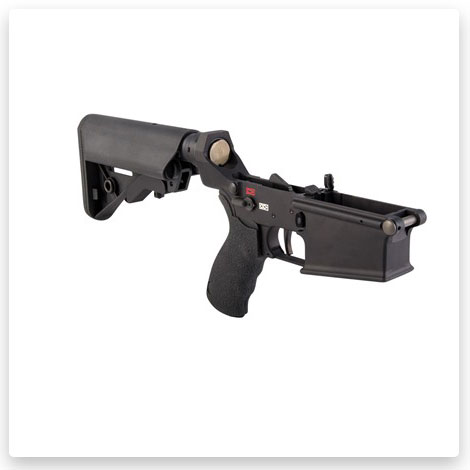 Experience the reliability and precision of Lewis Machine & Tool's 308 Lower Receiver Complete. This forged 7075-T6 aluminium is durably constructed for years of hard use and abuse, with a hard coat anodized black finish that ensures longevity. Featuring fully integrated ambidextrous controls, this lower receiver uses an SR-25 pattern and includes a SOPMOD carbine stock to aid in controlling your firearm. Our analysis of this product showed that it is perfect for building a .308 Win, 6.5 Creedmoor, or other large frame calibres, you can only guarantee integration when using Lewis Machine & Tool's uppers. Get supreme accuracy if and when it counts the most with the Lewis Machine & Tool 308 Lower Receiver Complete.
3# Aero Precision 308 Lower Receiver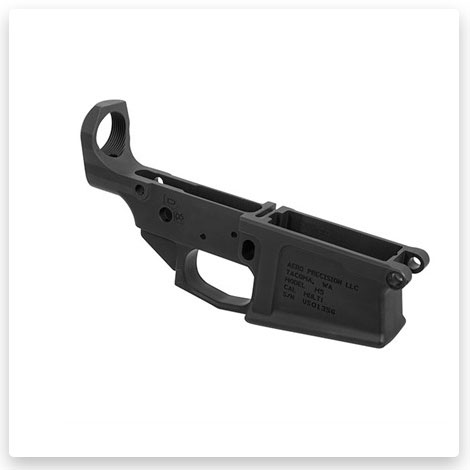 The M5 308 Lower Receiver features top-notch Mil-spec dimensions and coating for proper parts interface. The Lower Receiver integrates trigger guard and selector markings function with 45, 60, or 90-degree safety selectors, the rear takedown pin detent hole is threaded 4-40 for a set screw to retain the takedown pin. The Lower is made from Aluminum (7075-T6) and covered with a Matte Black hard-coat anodized Mil (8625, Type 3, Class 2).
4# Polymer80 308 80% Lower Receiver With Jig Polymer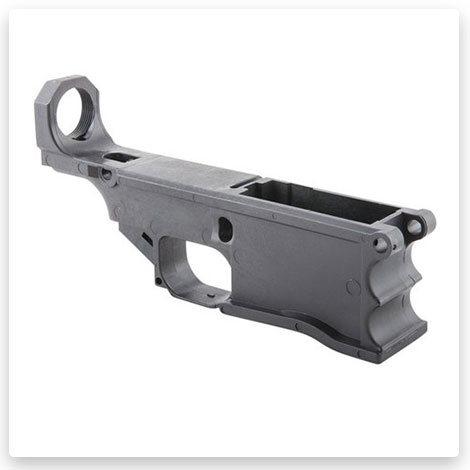 The world of AR-10s and .308 AR-15s just got a lot lighter. Introducing the Polymer80 308 80% Lower Receiver With Jig, the lightest DPMS platform lower on the market. This game-changing innovation weighs in at less than half a pound, proving that you don't necessarily have to sacrifice weight to get performance and versatility. Based on our observations this polymer lower is made from weapons-grade material, meaning it will stand up to whatever conditions you put it through. The perfect choice for hunters and shooters alike, this connector kit includes all the necessary components to finish your build fast and reliably: The upper receiver parts kit, trigger guard, hardware for assembly, jig system with step-by-step directions, and even helpful instruction manual. With easy installation and easy customization at your fingertips, you can customize your weapon quickly so it's as powerful as possible – or keep it lightweight for maximum performance in any environment. Add some of the AR industry's most innovative features to your own build today – with Polymer80 308 80% Lower Receiver With Jig!
5# Cross machine tool co.,308 stripped billet receiver set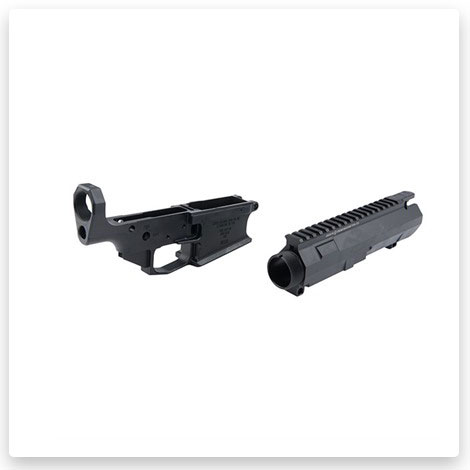 This combination of the lower and upper receiver is great for assembling an AR-style .308 rifle. The Billet Aluminum (7075 T6) Receiver set integrates standard DPMS type .308 lower components, charging handle, bolt carrier group, dust cover, takedown pin, detent spring, and retention screw but it comes without a forward assist. The upper receiver is compatible with DPMS high-profile style .308 handguards. The Ultra flared mag well on the lower is wire EDM cut to accept P-Mags. There are .154-in (3.9mm) diameter triggers and hammer pin holes in the lower.
6# Brownells Stripped Lower Receiver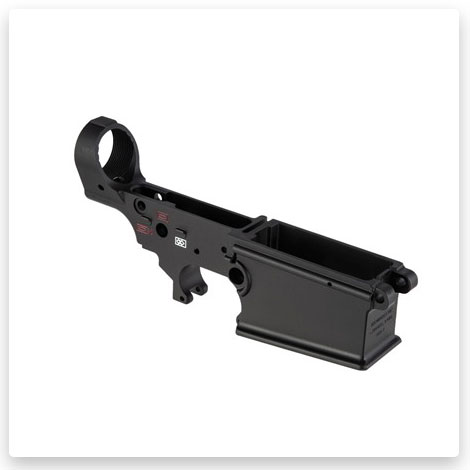 Ready for a serious upgrade to your gun collection? Look no further than the BROWNELLS STRIPPED LOWER RECEIVER. This machined-from-forging lower receiver is one of a kind and perfect for shooting enthusiasts and experienced hunters alike. Using the original HK417® forging out of Germany, Brownells and Primary Weapons Systems have built this product to stay true to the classic contours of the HK417®. The pictogram markings are colour filled, promising a durable finish and easy readability, while FFL information is machined onto the front magazine well. Matte black Type III anodizing completes the look, making sure it stands up to any environment you take it into. Whether you're at the range or in the field, trust your upgrade with BROWNELLS STRIPPED LOWER RECEIVER.
7# Aero Precision Carbine Complete Lower Receiver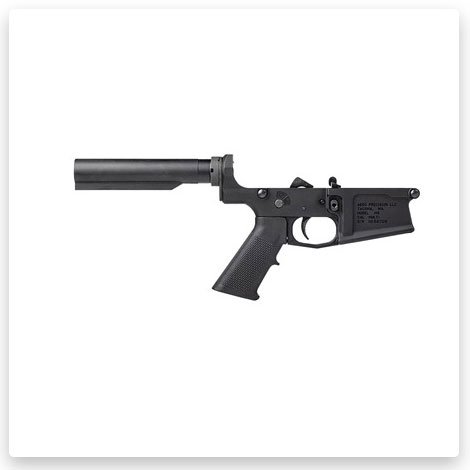 If you're in the market for a superior AR 308 lower receiver, then look no further! The Aero Precision Carbine Complete Lower Receiver is your best option, with its advanced features and quality construction. Enjoy a maximum performance in the field or at the range with standard AR 308 components and magazines that slot into this precision-made lower receiver. Detailing such as the rear takedown pin detent hole being threaded for a 4-40 set screw, the Bolt catch is threaded for a screw pin (no roll pin needed) and the integrated trigger guard offers remarkable accuracy and reliability. To top it off, the selector markings work with 45, 60 or 90-degree safety selectors—including Battle Arms Development short throw safety selectors—but will work with any standard selector. You can even avoid any gap when using aftermarket pistol grips thanks to this ready-to-go model. Included are an Aero Precision M5 Lower Receiver, an A2 Grip, a lower parts kit, receiver extension, .308 carbine buffer and spring—all preinstalled for your convenience. Keep in mind that you'll need to purchase a stock separately so you can get exactly what you want without spending more than necessary on your initial purchase. Don't settle for anything less than extraordinary—the Aero Precision Carbine Complete Lower Receiver is everything you're looking for and more!
8# James Madison Tactical 308 80% Lower Receiver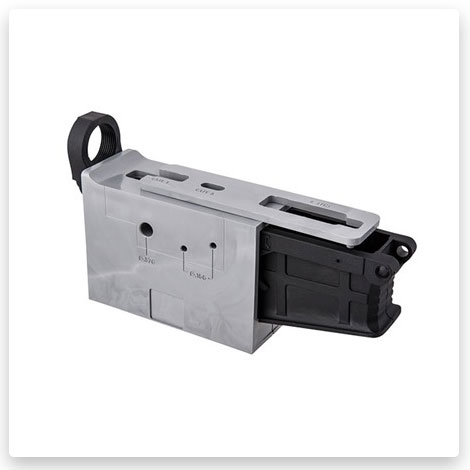 Introducing the James Madison Tactical 308 80% Lower Receiver – the highest-performing and most reliable polymer lower receiver available on the market today! Engineered and manufactured right here in the USA, this groundbreaking lower receiver is a must-have for hunters, shooters, and anyone looking to upgrade their gear. The JMT .308 80% lower uses a hybrid formula of state-of-the-art polymers and reinforced fibres for superior strength and durability. Plus, owner satisfaction is guaranteed as it is engineered to mil-spec tolerances and is virtually impervious to corrosion that can sometimes be associated with aluminium receivers. With this kind of long-term high performance, you know your investment will go far. Don't hesitate! Get your hands on the James Madison Tactical 308 80% Lower Receiver today, and experience state-of-the-art technology at its best!
9# Brownells Lower Receiver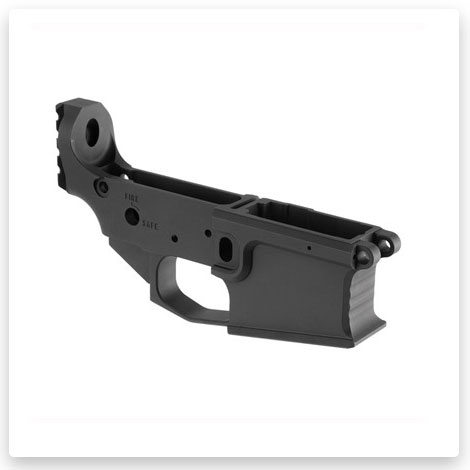 These BRN-180M Lower Receivers are paired up with the BRN-180 gas piston bufferless upper receivers, but because of the proprietary design, they won't operate with standard AR-15 upper receivers, which need a buffer tube, buffer, spring, and BCG. The lower comes with an integral oversized trigger guard, a threaded bolt catch pin, upper tension screw, a generous Magwell flare, and milled in 1913 Picatinny rail section for stocks' or braces' mounting (as the line for the Sig Sauer MCX), but without the traditional receiver extension threads, and an ambidextrous safety selector. This Receiver is constructed from billet 7075 T-6 aluminium with a hard-anodized finish.
10# Brownells Stripped The Lower Receiver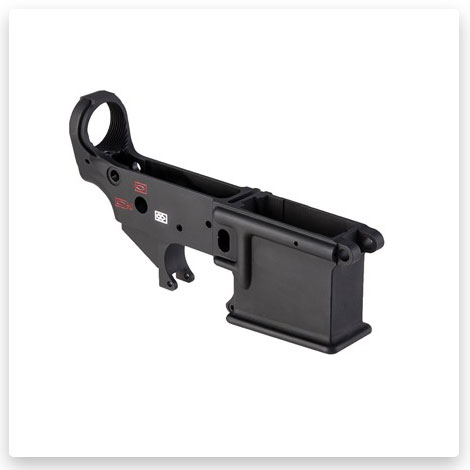 No AR-15 build is complete without the perfect foundation, and the Brownells M4 Stripped Lower Receiver provides just that. At 7075 T6 aluminium, this forging has been precision machined to exact measurements and offers compatibility with a variety of "mil-spec" AR-15 components. With its emphasis on quality over bells and whistles, this product is ideal for hunters and shooters who enjoy the peace of mind that comes with having strength, durability and reliability in their firearms. When you opt for this stripped lower receiver you can rest easy knowing your latest build project will be one that stands up to whatever the elements throw at it – and passes your expectations along the way.
11# UTG Pro AR308 Receiver Extension Tube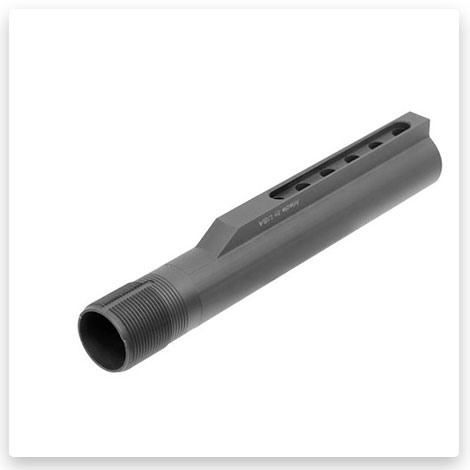 The UTG Pro AR308 Receiver Extension Tube is your ideal choice for .308 rifles that comply with the Mil-spec requirements, such as the AR Platform. Crafted with Aircraft Grade Aluminum and finished with a matte black anodizing in Mil-spec, Type III Hardcoat Class II, this tube provides exceptional strength and durability to handle any situation without fail. With six adjustable positions ranging from 8.5″- 11″, you can easily customize your shooting stance to find the perfect fit for your style. Additionally, every component of this extension tube complies with 922R regulations for added peace of mind when out on the range or field. When you need performance, reliability and quality craftsmanship to store away those long-distance shots accurately, look no further than the UTG Pro AR308 Receiver Extension Tube.
Installation 🎲
🧷 1. Clean the Lower Receiver: Before beginning installation, make sure to clean the receiver thoroughly. This will remove any dirt, debris or oils that may impede the installation process.
🧷 2. Gather Tools: You will need a few tools to install the lower receiver. These include an armourer wrench, hammer, roll pin punch set and a vice block.
🧷 3. Install Trigger Guard: Begin by installing the trigger guard. Place it into the proper location on the lower receiver and secure it with the provided screws.
🧷 4. Install Buffer Tube: Next, install the buffer tube into the lower receiver. Use a vice block to secure the receiver in place and tighten the castle nut on the buffer tube. Use the armourer wrench to ensure a tight fit.
🧷 5. Install Butt Stock: Once the buffer tube is installed, the butt stock can be attached. Line up the attachment pins and push them into place.
🧷 6. Install Magazine Catch and Bolt Catch: The magazine catch and bolt catch can now be installed. Take care to ensure they are properly aligned and secure.
🧷 7. Install Trigger Group: Now is the time to install the trigger group. Follow manufacturer instructions for proper installation and functionality.
🧷 8. Install Pistol Grip: Lastly, install the pistol grip onto the lower receiver. Be sure to tighten the screw so it does not come loose during firing.
Watch this video to find more information💻
FAQ 🔊
Conclusion 📢
We hope this article has helped you learn more about the best 308 Lower Receiver on the market. Whether you're looking for something lightweight, reliable and affordable or a higher-end model with all of the bells and whistles, there is an option available to fit your needs. Be sure to factor in compatibility when selecting a lower receiver as some are only compatible with certain rifles while others can be used across multiple models. With our buyer's guide in hand, we trust that you now have enough information to make an informed decision when purchasing a new item. Good luck! 😎
Tags: #best 308 lower receiver / #best ar 308 lower receiver / #best 308 stripped lower receiver / #best .308 lower receiver / #best ar lower receiver for 308