Affiliate Disclosure: AmmoCave.com sometimes gets paid for listings, through sponsors or affiliate programs like Lucky Gunner, Optics Planet, Brownells, Cabelas, Academy Sports & Outdoors, Rainier Arms, Palmetto State Armory, Sportsman's Guide, Ammo.com, Ammo Man, Primary Arms, MidWayUsa, Amazon, eBay, etс. Clicking a link helps keep AmmoCave.com free, at no extra cost to you!
Authors: Each article is verified by AmmoCave's expert team. Professional hunters, firearm trainers, gunsmiths, and gun experts write the articles. AmmoCave Team independently researches, tests, reviews, and uses recommendations from our community of gun owners. We may earn commissions from shopping links.
Note: The views and opinions expressed in this article are those of the authors and do not necessarily reflect any agency's official policy or position. The articles are for informational purposes only, share your opinions about Best AR-15 Lower Receiver 2023 in the comments and join the discussions. Let's share 💬 our ammo & gun experiences together!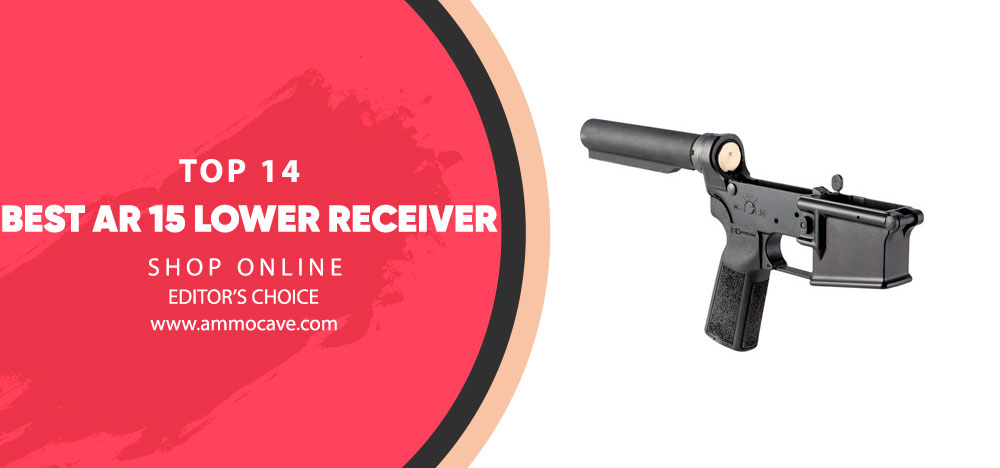 What is AR 15 Lower Receiver? 😏
It is the foundation of any AR-15 rifle build. It's a metal component that provides the housing for all other parts of the gun and is often thought of as a frame or receiver.
Here is the video about the general information regards choosing AR-15 lower receiver 💻
Our Top Pick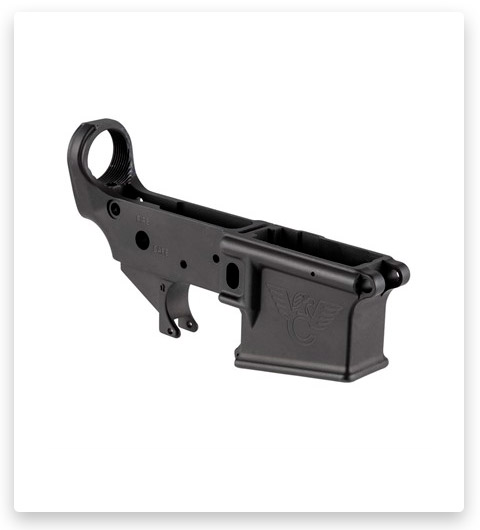 Wilson Combat - AR-15 Forged Lower Receiver
This cutting-edge product is designed with longevity in mind. It's resistant to wear and tear and its exterior finish helps protect against corrosion and water damage in extreme environments. It's also easy to install so you can quickly get your build up and running as soon as possible.
Buy Now On Brownells
If you click this link and make a purchase, we earn a commission at no additional cost to you.
Features 💡
🔰 One key feature to consider is whether or not the lower receiver is forged or billet. Forged receivers are more common amongst most manufacturers and are generally preferred by rifle builders due to their strength and durability. This type of receiver has been stamped from sheet metal under great force to form its shape. On the other hand, billet receivers are cut from solid blocks of aluminium, providing a higher level of craftsmanship for those looking for a personalized look.
🔰 Another feature to consider is compatibility with different trigger parts. Most commonly referred to as mil-spec, this indicates whether or not certain parts will fit within your lower receiver's housing without any modifications or special tools needed. Many aftermarket triggers often require modification in order to fit inside non-mil-spec receivers. However, some manufacturers have developed modernized versions that do not require additional modifications in order to be compatible with most aftermarket triggers on the market today.
🔰 In addition, you'll need to consider if you want multi-calibre capability with your lower receiver. There are some models which allow for easy conversion between different calibres by simply changing out components such as bolt carrier groups and magazine catch as well as other parts depending on the calibre chosen. With this option available, you can build one rifle that will conveniently switch calibres depending on your needs with the minimal additional effort required from you as the builder/shooter.
🔰 Finally it's beneficial to consider how much customization you would like on your lower receiver itself. There are many options available ranging from simple engraving options up to full custom cerakote finishes in almost any colour imaginable – allowing users to truly express themselves through their guns with unique designs while still maintaining structural integrity thanks to modern manufacturing processes and coatings technologies used today!
Please watch this video to learn more information📺
Benefits 🔥
📣 Durability and longevity. Lower receivers are made from high-grade aluminium, often with additional reinforcements and hard coat anodizing for extra strength. This makes them much more robust than other components, such as upper receivers or handguards, so you can rest assured that your rifle will remain durable even after high-volume firing sessions or harsh environmental conditions.
📣 In terms of customization potential, no part offers as much variety as the lower receiver. Much like its upper counterpart, there are countless different styles available on the market ranging from basic mil-spec designs to heavily customized units with unique colours and patterns. Best of all, many companies offer matching sets that allow users to mix and match components across different models for maximum flexibility when customizing their rifles. Furthermore, certain model variations come equipped with features such as integral trigger guards for improved safety during use or integrated stock adapters for easy conversion between fixed and collapsible stocks.
📣 Finally, another benefit is its compatibility with parts from various manufacturers. With most parts having adopted standardized dimensions over time it has become easier than ever before to source compatible components from a variety of sources rather than relying on just one manufacturer's catalogue.
Our Top Pick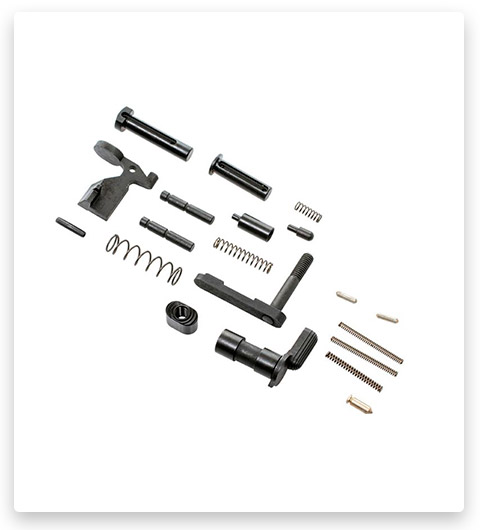 CMMG, Inc AR-15 Lower Reciever Parts Kit
This kit provides the fundamentals of what you need to create your AR except for the commonly upgraded bits - trigger guard, fire control group and pistol grip. Don't worry, though: all parts meet or exceed mil-spec giving your build optimal performance and reliability.
Buy Now On OpticsPlanet
If you click this link and make a purchase, we earn a commission at no additional cost to you.
Types 📢
⌛ The most common type is forged lower receivers. They are created by compressing and shaping a single block of heated aluminium or another metal alloy under intense pressure. This process creates a strong and durable lower receiver with precise tolerances that ensure an improved fit and function compared to standard plastic or composite models.
⌛ Billet lower receivers are also popular because they are machined from a single block of aluminium, creating precise tolerances for superior fit and function. Polymer lower receivers offer improved strength and durability compared to traditional aluminium lowers and are often lighter in weight as well.
⌛ The stripped lower receiver is an important component of any AR-15 build since it's the foundation upon which all other components will be built. A stripped lower includes only the basic parts needed to finish out your rifle—the fire control group (trigger, hammer, disconnector), safety selector switch, magazine release button, buttstock interface system (buffer tube) and pistol grip threading. As such, it offers a great starting point for customizing your own AR-15 rifle with aftermarket parts.
Each type has its advantages and disadvantages depending on what you're looking for in your rifle build. Considerations include strength/durability versus weight savings; customization options; cost; accuracy; fitment compatibility; overall look/aesthetic appeal; ease of installation/assembly; available accessories; and more. Research carefully before selecting the Receiver that best fits your needs!
Watching this video will result in unferstanding of lower receiver types 📺
Best AR 15 Lower Receiver Review
#1 Wilson Combat Lower Receiver Billet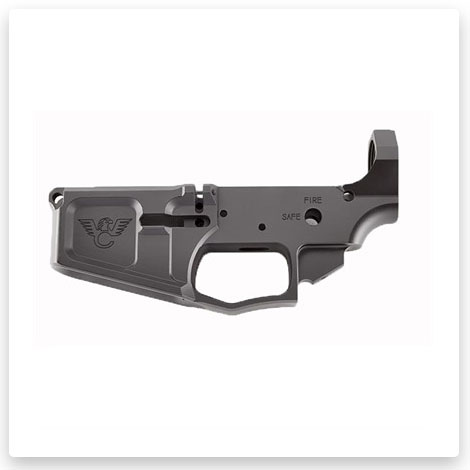 Are you looking for an upgrade to your AR-15 lower build? Look no further than the Wilson Combat Lower Receiver Billet! Crafted from premium-grade materials, this precision-engineered billet receiver is designed for the most demanding shooters and offers impeccable performance when paired with standard or Billlet-AR upper receivers. Built to withstand any situation, the world-renowned Wilson Combat Lower Receiver Billet stands out above all others due to its intense hand-prepping process that results in a flawless surface finish every time. Boasting an oversized EDM machined mag well, integral trigger guard, precision threaded receiver and reamed pin holes and hex screw bolt catch retention, this incredible lower beauty will ensure smooth reloads and rapid target acquisition whether on the range or in a competition. Take your rifle build game to the next level with the untouchable quality of the Wilson Combat Lower Receiver Billet!
#2 Wilson Combat Lower Receiver Forged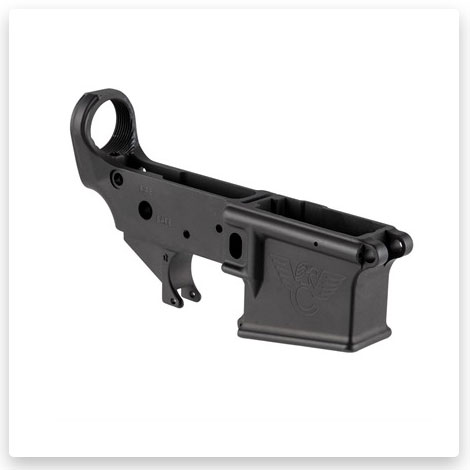 If you aspire to own the most extraordinary AR-15 rifle, start with a Wilson Combat lower receiver. Build your dream gun on this foundational piece and watch it come alive! This forged lower is designed to give you lasting quality; marks, pitting and machine marks are inevitable but don't worry because this won't affect the functionality. Don't settle for anything less than excellence when it comes to building your dream weapon. With immense strength, durability and accuracy, the Wilson Combat lower receiver is an essential item for anyone looking to craft a gun that outperforms all others. Nothing else compares mus to its bullet-proof construction and perfect fit for all your AR accessories. Now's your chance to build something that truly stands out from the crowd – make sure you start with a high-quality Wilson Combat lower receiver. Let us help you bring your vision of greatness into reality!
#3 17 Design And Manufacturing Billet Lower Receiver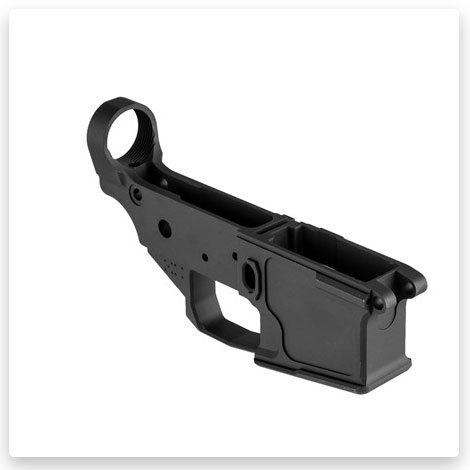 The Stripped Billet Lower Receiver is machined to mil-spec dimensions and operates well with standard AR15 parts. The Upper tensioning screw ensures fine-tuning. Wider angles of flared mag well angles give a more flared feel without increasing the width/footprint of the lower receiver.
#4 Silencerco Billet Lower Receiver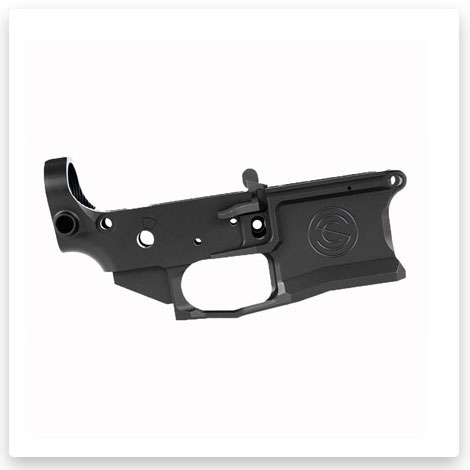 The receiver features Sling Cups at the rear, an inner ambidextrous anti-rotation QD, 45 to 90-degree fire selector window for short-throw fire selectors. The lower comes with the mounting pin, spring, detent for the Ambi bolt release, and Rear tension bolt hole (but the bolt isn't included). The AR-15 Billet Receiver is manufactured from Aluminum (7075) with a Type 3 Hard Coat Anodized finish.
#5 Sons Of Liberty Gun Works Lower Receiver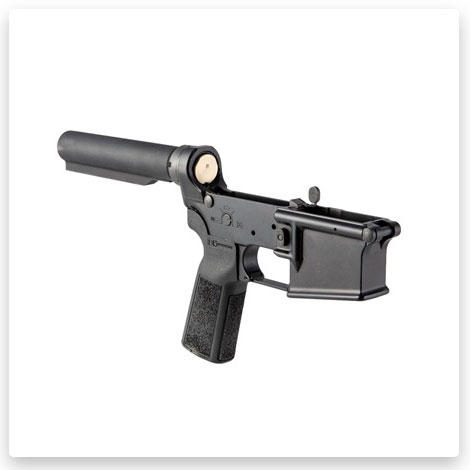 The AR-15 'Semi-Complete' Lower Receivers don't include the stock and trigger, as these parts are the most replaceable ones according to the shooters' preferences. The Lowers are available with either the Rebellious Stripes or Angry Patriot roll marks, completed with Take Down Pins, Carbine Buffer Tube Assembly, B5 P23 Grip, Installed Bolt, and Magazine Releases. The Angry Patriot comes without a safety selector or FGC.
#6 V Seven Weapon Systems Lower Receiver Lithium Aluminum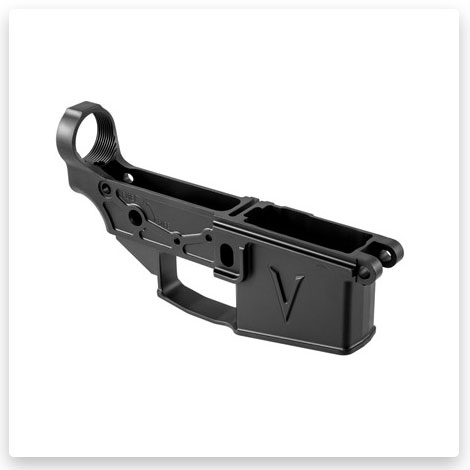 V Seven Weapon Systems Lower Receiver Lithium Aluminum
Get serious when it comes to building your AR with the V Seven Weapon Systems Lower Receiver Lithium Aluminum! This receiver combines strength and lightness, ensuring that whatever build you create is optimally designed for accuracy and effectiveness. With a higher corrosion resistance than 7075 T6, the power of this receiver will last even longer compared to other AR components. Plus, this lower receiver is compatible with all Mil-Spec parts, so you'll have an easy time assembling your dream rifle. And best of all, V Seven stands behind its products with a limited lifetime warranty and proudly produces them right here in the U.S.A. Don't settle for anything less than superior – get the V Seven Weapon Systems Lower Receiver Lithium Aluminum today and make sure your long-distance shots are always on point!
#7 Anderson Manufacturing 80% Lower Receiver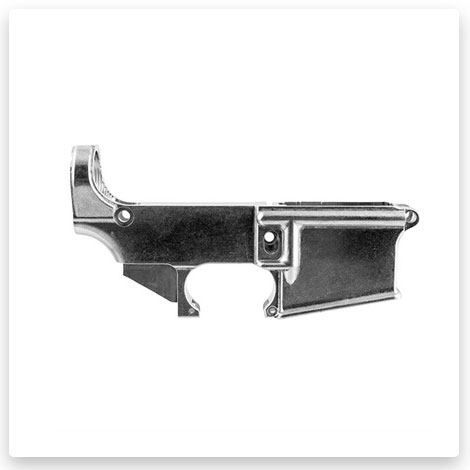 Looking for a durable and reliable lower receiver for your next rifle build? Look no further than the Anderson Manufacturing 80% Lower Receiver! This amazing product is constructed from 7075 aluminium, fully anodized – making it both durable and attractive. Plus, since it is an 80% receiver – there's no FFL required, so you can get to building your custom rifle in no time! Anderson Manufacturing's exceptional product line also makes it easy to take advantage of any discounts they might offer, allowing you to find exactly what you need at an unbelievable price. With Anderson Manufacturing's low prices and high-quality product lines, you can source anything you need right away. Put this amazing and reliable lower receiver into your next build today and get ready to fire up some fun on the range!
#8 V Seven Weapon Lower Receiver Enlightened Aluminum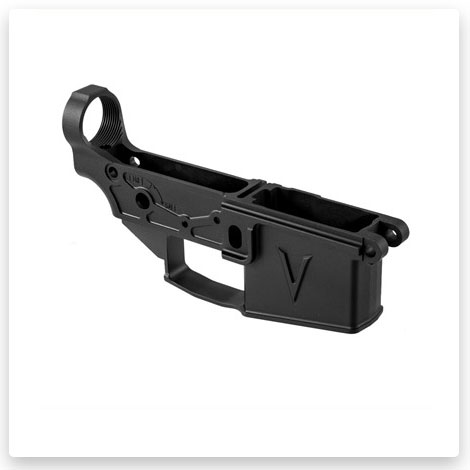 Introducing the amazing V Seven Weapon Lower Receiver Enlightened Aluminum – now on the market and ready to take your gun assembly to the next level! Nowhere else can you find a billet AR-15 Lower Receiver that is constructed from premium aluminium and treated with a Hardcoat Anodizing for superior durability. Plus, its low-profile design ensures the highest accuracy level possible when shooting.
#9 Stag Arms Stripped Lower Receiver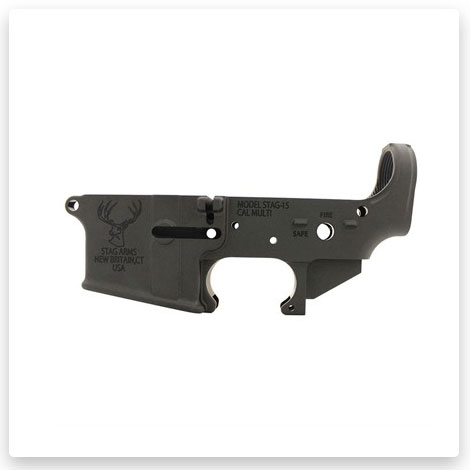 Start your AR15 build from the ground up with Stag Arms Stripped Lower Receiver! Built to strict Mil-Spec standards and designed for compatibility with standard mil-spec parts, this lower receiver will become the foundation for a dependable and powerful rifle. Constructed from 7075 forgings and precision machined for guaranteed fit and finish, Stag Arms Stripped Lower Receiver stands tall in the tradition of cutting-edge performance that comes with every rifle made by Stag Arms. Hard anodized to increase resistance to wear, our stripped lower receiver is sure to stand the test of time while adding rugged style to any firearm. Make no compromises in quality when starting your build. Get Stag Arms Stripped Lower Receiver today!
#10 Spikes Tactical Stripped Lower Receiver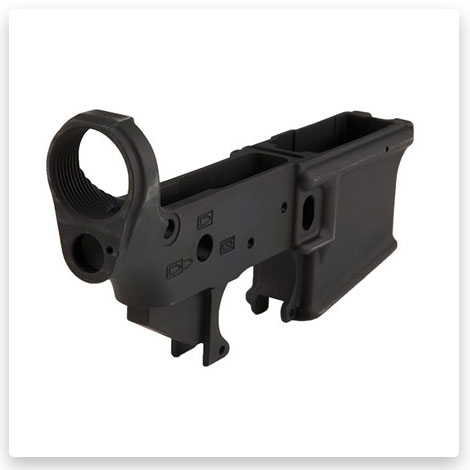 Introducing the Spikes Tactical Stripped Lower Receiver, the perfect base for your custom AR-style rifle build. Expertly crafted with 7075-T6 aluminium, it is designed to withstand regular use and abuse in even the most hostile environments. Making sure you have the utmost confidence in your weapon build, we've included MIL-A-8625F Type III Class 2 Hard Coat Anodized Finish for superior durability and long-lasting protection against wear and tear. The Spikes Tactical Stripped Lower Receiver offers robust construction with high-quality materials to give you a dependable platform for all of your shooting needs. Get yours today and take advantage of our unbeatable prices!
#11 CMC Triggers Complete Lower Receiver Parts Kit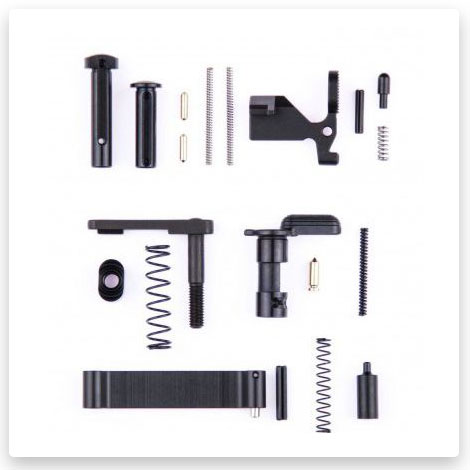 For the dedicated marksman who demands serious performance, look no further than the CMC Triggers Complete Lower Receiver Parts Kit for AR-15. This package provides you with superior parts and unrivalled quality, making it your ideal choice for any shooting application. This rugged and reliable black steel components kit includes all essential MIL-SPEC parts to complete an AR-15 lower receiver, except for the fire control group and grip. Included in the pack are a safety detent, safety detent spring, buffer retainer, mag release spring, mag release button, buffer retainer spring, bolt catch spring, bolt catch plunger, bolt catch, trigger guard, trigger guard roll pin, take roll pin, safety and mag release – all meeting or exceeding MILSPEC standards. Experience a level of precision accuracy found only with CMC Triggers.
#12 CMMG, Inc AR-15 Lower Reciever Parts Kit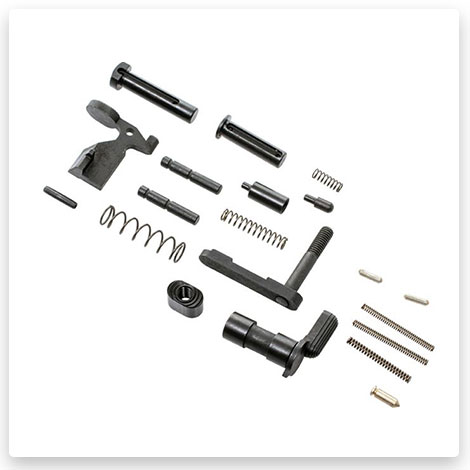 CMMG, Inc. This kit offers everything you need to build an outstanding lower group without sacrificing quality and reliability. It includes all of the necessary components to assemble a complete and fully functional lower, with the exception of the frequently upgraded trigger guard, fire control group, and pistol grip. Every part is precision manufactured to meet or exceed mil-spec standards; this means that these parts are reliable in any situation, no matter how extreme. The AR-15 Lower Reciever Parts Kit from CMMG, Inc ensures that your AR-15 is built to last – get yours today for lasting performance you can trust!
#13 Aero Precision AR-15 Lower Parts Kit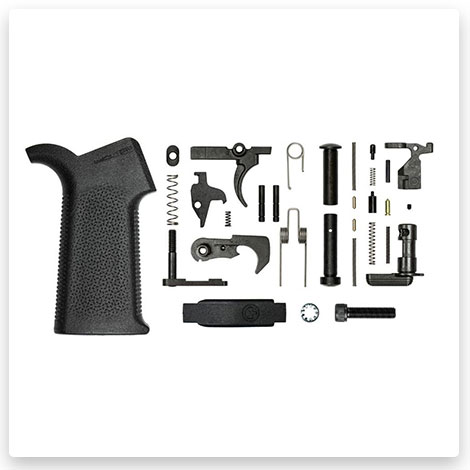 The Mil-spec Lower Parts Kit is outfitted with a versatile Magpul MOE Grip and Magpul MOE Trigger Guard, allowing it to assemble an AR15 Gen 2 build. The kit consists of a takedown and Pivot Pin, Detent, and Spring, Bolt Catch with Buffer, Roll Pin, Spring, Magazine Catch Body with Button and Spring, Buffer Retainer with Spring, Safety Selector with Spring and Detent, 4-40 Set Screw (for threaded takedown pin detent hole), Hammer with Spring, Trigger with Spring, Trigger/Hammer Pins, Disconnector with Spring.
#14 Aero Precision AR-15 Magpul MOE SL Lower Parts Kit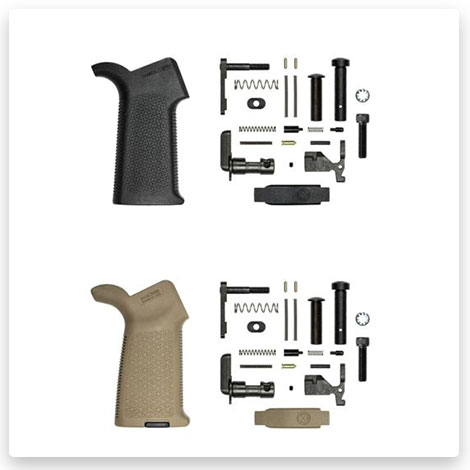 If you're looking for a sturdy and reliable AR-15 Lower Parts kit, then the Aero Precision AR-15 Magpul MOE SL Lower Parts Kit is an ideal choice. This long-lasting kit is designed to assemble the Aero Precision AR15 Gen 2 Lower Receiver or any similar mil-spec lower receiver. It offers an incredible range of versatility, with options ranging from the trusted mil-spec Fire Control group to an upgraded trigger in our MINUS FGC offering. Plus, you can choose between black or FDE (Flat Dark Earth) options, as well as a Magpul MOE SL Grip and Trigger Guard. Unlike other models, this specific part kit does NOT include a fire control group — so keep that in mind when ordering your parts. But no matter your needs, you can depend on the Aero Precision Arms Magpul MOE SL Lower Parts Kit for smooth performance and reliable assembly year after year.
FAQ 😎
Conclusion🤩
While choosing AR Lower Receivers, check the quality of finish, completeness (what is included or not), reviews about missing parts (rare cases or frequent ones), and compatibility with AR builds. Usually, detents and springs are quite the same, while magazine releases and safety selectors can vary a bit.😀🧡
Tags: #best ar 15 lower receiver / #best lower receiver ar 15 / #best ar 15 lower receiver for the money / #best lower receiver for ar 15 / #best ar-15 lower receiver