Affiliate Disclosure: AmmoCave.com sometimes gets paid for listings, through sponsors or affiliate programs like Lucky Gunner, Optics Planet, Brownells, Cabelas, Academy Sports & Outdoors, Rainier Arms, Palmetto State Armory, Sportsman's Guide, Ammo.com, Ammo Man, Primary Arms, MidWayUsa, Amazon, eBay, etс. Clicking a link helps keep AmmoCave.com free, at no extra cost to you!
Authors: Each article is verified by AmmoCave's expert team. Professional hunters, firearm trainers, gunsmiths, and gun experts write the articles. AmmoCave Team independently researches, tests, reviews, and uses recommendations from our community of gun owners. We may earn commissions from shopping links.
Note: The views and opinions expressed in this article are those of the authors and do not necessarily reflect any agency's official policy or position. The articles are for informational purposes only, share your opinions about Best 5.56 Ammo in the comments and join the discussions. Let's share 💬 our ammo & gun experiences together!
Do you own a rifle in 5.56x45mm caliber? If so, you'll want to make sure you're using the best ammo available. In this post, we'll take a look at the top-rated rounds for use in 5.56 rifles. Each one has been thoroughly tested and proven to be accurate and reliable. So if you're looking for some new ammo to try, these would be a great place to start. Let's get started!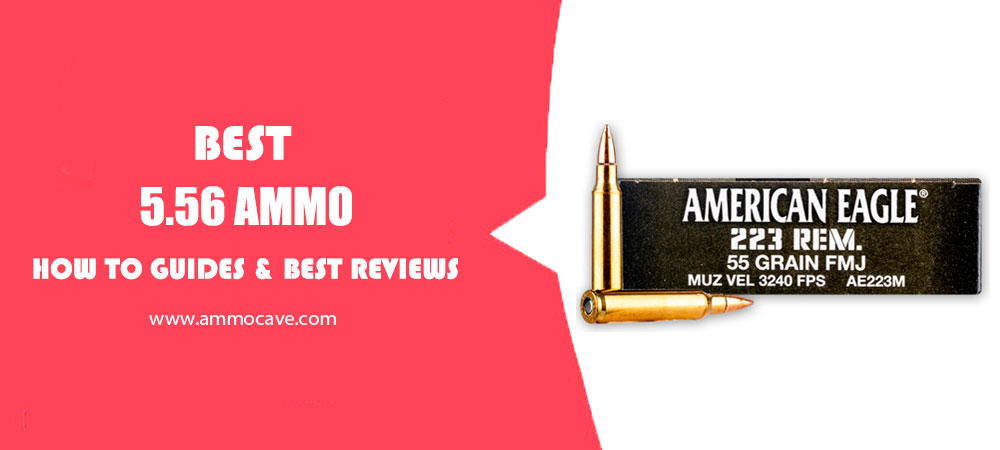 Best 5.56 Ammo Reviews
#1 223 Rem – 55 Grain FMJBT – Federal American Eagle Military Grade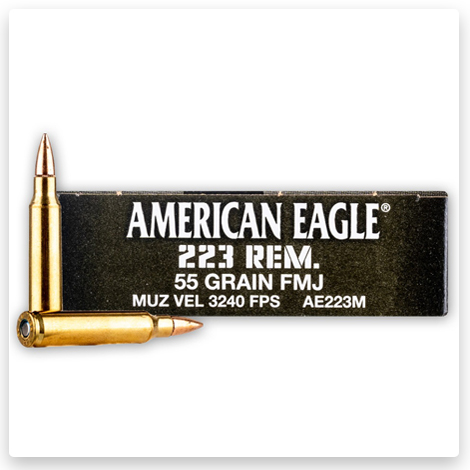 Searching for a reliable, accurate, and affordable round of .223 ammunition for your AR-15 rifle? Check out the Federal American Eagle's military-grade 23 Rem – 55 Grain FMJBT. This specialized military-grade ammunition is perfect for range training, target practice, or plinking. Each round is comprised of a 55-grain full metal jacket boat tail bullet, boxer-primed brass casing, and is non-corrosive. With a muzzle velocity of 3240 feet per second and muzzle energy of 1282 ft-lbs, this .223 Remington ammo provides consistent, powerful performance.
FAQ
What grain 556 ammo should I use?
The 5.56 NATO cartridge is a rifle ammunition caliber used in a variety of firearms, including AR-15 rifles. 5.56mm ammo refers to the diameter of the bullet, which is 5.56 millimeters, or .223 inches. If you're looking for 5.56 target ammo or 5.56 hunting ammo, you'll want to choose the right bullet weight for your needs. The most common 5.56 ammunition bullet weights are 55 grain and 62 grain, but you can also find 5.56 ammunition in heavier 77 and 80-grain bullet weights.
What's the difference between 5.56 and .223?
The 5.56 NATO and .223 Remington cartridges are very similar, but there are some important differences to be aware of. First off, 5.56 NATO ammunition is loaded to a higher pressure than .223 Remington ammunition. This means that 5.56 NATO barrels and chambers are built to withstand these higher pressures, while.223 Remington barrels and chambers may not be. 5.56 NATO is also often loaded with heavier bullet weights than .223 Remington, so 5.56 NATO rifles may have different twist rates than .223 Remington rifles.
What is the best 5.56 ammo for plinking?
The best 5.56 ammo for plinking (target practice) is usually going to be the cheapest 5.56 ammo you can find. Since you're just shooting at targets, you don't need to worry about choosing the perfect self-defense or hunting ammunition. Just pick up some cheap 5.56 FMJ (full metal jacket) rounds and get to shooting!
What are the different types of 5.56 ammo?
5.56x45mm NATO rounds are available in a variety of different types, each designed for a specific purpose. The most common 5.56 ammo types are:
Full metal jacket (FMJ): FMJ 5.56 rounds are the most common type of ammo used by shooters for range training and plinking (shooting at targets for practice). FMJ 5.56 rounds are also often used by varmint hunters for pest control.
Hollow point (HP): HP 5.56 rounds are designed for self-defense and hunting applications. Hollow point 5.56mm bullets expand upon impact, creating a larger wound channel and increasing the chances of stopping an attacker or taking down a big game animal with one shot.
Match grade: Match grade 5.56x45mm NATO rounds are designed for use in competition shooting. These rounds typically feature more precise manufacturing and higher quality components than standard 5.56 ammo, resulting in more consistent accuracy.
What are the benefits of 5.56 ammo?
5.56x45mm NATO is a versatile round that can be used for a variety of different applications. The 5.56mm caliber is relatively small and light, making it well suited for use in AR-15 rifles and other lightweight firearms. 5.56mm NATO rounds also have relatively low recoil, making them easy to control for shooters of all experience levels. Additionally, 5.56x45mm NATO ammunition is widely available and relatively affordable.
Conclusion
5.56 ammo is a type of ammunition that is used in AR-15 rifles and other firearms. It is available in both commercial and military versions. The 5.56 NATO cartridge has a higher muzzle velocity and energy than the .223 Remington cartridge. 5.56 ammo can be used for sport shooting, hunting, or self-defense purposes. In this article, we have reviewed some of the best 5.56 ammo on the market to help you make an informed purchase decision. Thanks for reading!