Affiliate Disclosure: AmmoCave.com sometimes gets paid for listings, through sponsors or affiliate programs like Lucky Gunner, Optics Planet, Brownells, Cabelas, Academy Sports & Outdoors, Rainier Arms, Palmetto State Armory, Sportsman's Guide, Ammo.com, Ammo Man, Primary Arms, MidWayUsa, Amazon, eBay, etс. Clicking a link helps keep AmmoCave.com free, at no extra cost to you!
Authors: Each article is verified by AmmoCave's expert team. Professional hunters, firearm trainers, gunsmiths, and gun experts write the articles. AmmoCave Team independently researches, tests, reviews, and uses recommendations from our community of gun owners. We may earn commissions from shopping links.
Note: The views and opinions expressed in this article are those of the authors and do not necessarily reflect any agency's official policy or position. The articles are for informational purposes only, share your opinions about Best 10mm Suppressor 2023 in the comments and join the discussions. Let's share 💬 our ammo & gun experiences together!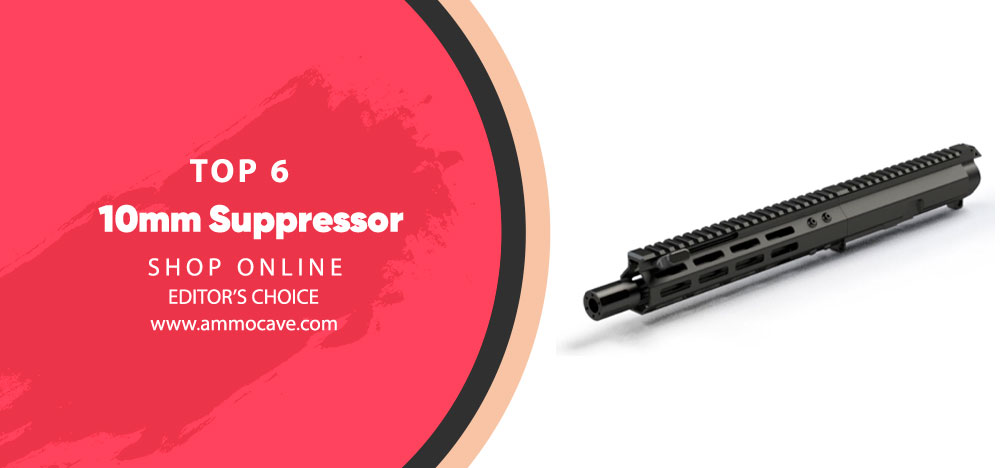 What is a 10mm Suppressor? 🧐
It is a type of muzzle device designed to reduce the sound and recoil of a firearm. It does this by trapping expanding gases from the gun's barrel at the end of it, reducing their volume before they are released away from the shooter.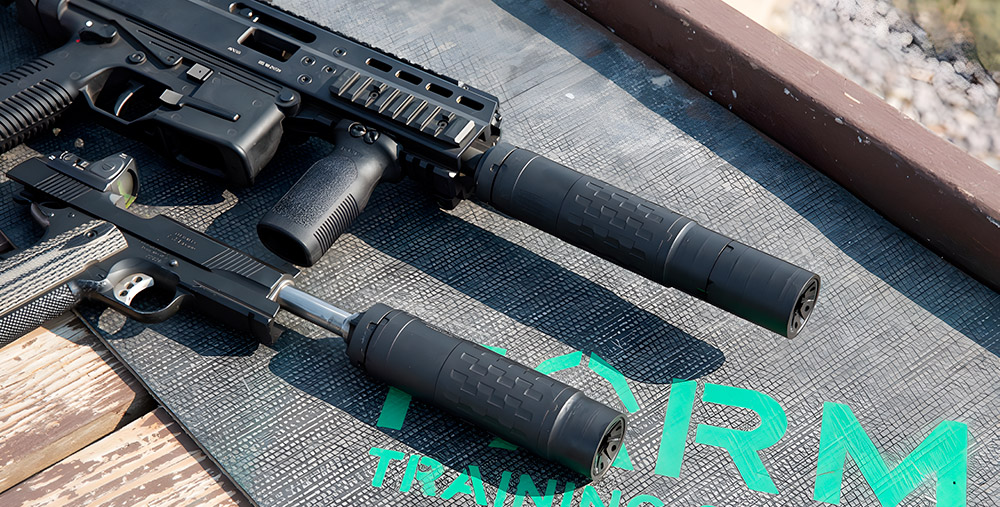 Features 💡
10mm suppressors are an essential accessory for firearms enthusiasts who want to reduce the noise level of their firearms. They offer a range of features:
✅ The material of a suppressor can make a significant difference to its overall performance. They are made of durable materials like stainless steel or titanium and offer greater strength, durability, and heat resistance than suppressors made from less robust materials.
✅ The construction quality can also impact its performance. Suppressors with thicker and longer tubes offer better noise reduction and recoil reduction.
✅ The length and weight have a direct impact on its portability and handling. Longer suppressors offer greater noise reduction, but they can be challenging to carry and maneuver. Conversely, shorter suppressors are more portable, but they may not provide as much noise reduction. Suppressor weight is also an important factor to consider, as it can affect the firearm's balance and accuracy.
✅ A mounting system of suppressor must be compatible with the firearm it is designed for. Threaded suppressors have a threaded adapter that screws directly onto the firearm barrel, while quick-release suppressors use a lever or latch system to attach and detach the suppressor easily.
Our Top Pick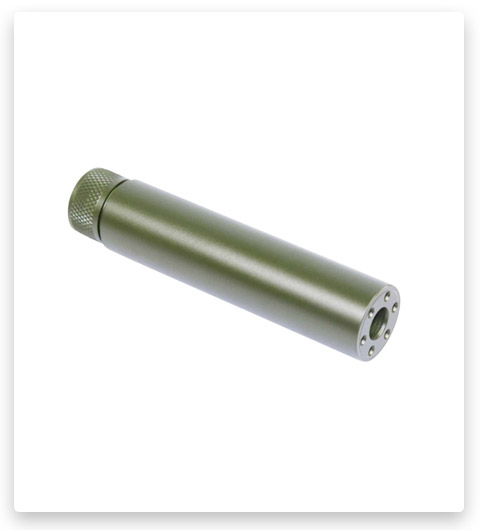 Guntec USA AR-15 Fake Suppressor
It is made from T6 aluminum for a strong and lightweight build. With a 5.5-inch total length, this fake suppressor is perfect for extending the barrel length of your national match AR platform rifle. The 1/2 x 28 thread means it easily fits onto your gun and comes with military-style laser engravings and markings. With an impressive 8.3 oz weight, you will enjoy stability in your shooting and accuracy every time!
Buy Now On OpticsPlanet
If you click this link and make a purchase, we earn a commission at no additional cost to you.
Benefits 🔥
The use of a suppressor has become increasingly popular among gun enthusiasts due to the added benefits it provides.
❇️ The most obvious benefit of using it is the decrease in noise levels. Suppressors work by capturing and diverting the gases produced by the firing of a bullet. This gas diversion reduces the noise level during the discharge, making the firing process quieter and less damaging to your hearing.
❇️ The second benefit is that it reduces the recoil of the firearm. The additional weight of the suppressor on the barrel absorbs some of the recoil energy, making the firearm easier to handle and more comfortable to shoot.
❇️ It can also help improve the accuracy of your shots. The added weight of the suppressor can make the firearm more stable, especially during rapid-fire shooting.
❇️ They also work to reduce the amount of muzzle flash produced during firing. This reduction in muzzle flash can provide a clear view of your target, even in low-light conditions.
❇️ The use of such devices can increase the stealth of your firearm. It reduces the noise and flash produced during firing and can prevent detection by those who may be nearby.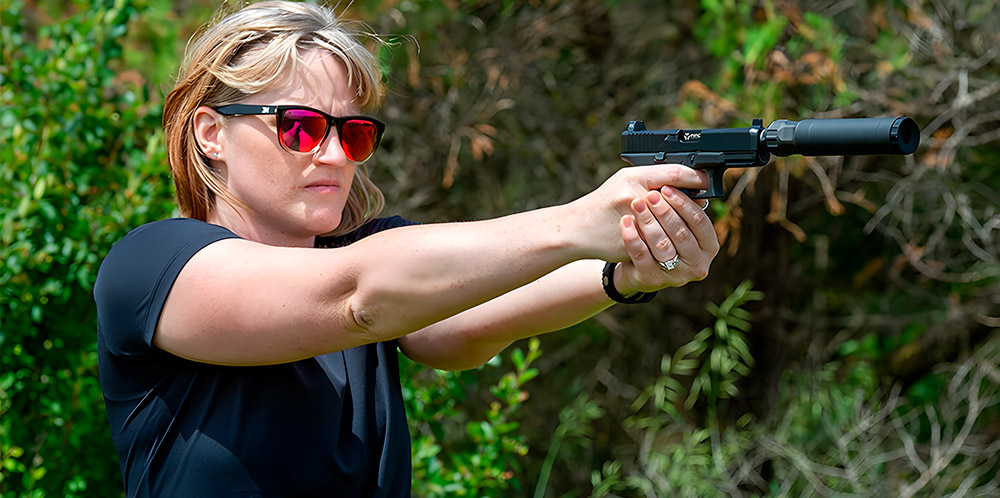 What is the best caliber for a suppressor? 🤔
The answer to this question depends on your intended use and the type of firearm you plan on using with the suppressor. 🎯 If you plan on shooting a range of calibers, then a multi-caliber suppressor may be the best option for you.
➡️ The 10mm is one of the most popular calibers for suppressors due to its versatility, reliability, and ability to reduce a lot of muzzle flash.
➡️ This makes it an ideal choice for use with handguns, rifles, and shotguns alike.
Our Selection 6 Best 🚀 10mm Suppressor
| Image | Product | Brand | |
| --- | --- | --- | --- |
| | Guntec USA AR-15 5.5in Fake Suppressor | Guntec USA | |
| | SilencerCo Threaded Barrel HK VP9 AC1549 | SilencerCo | |
| | Griffin Armament Glock Barrel 9mm Luger | Griffin Armament | |
| | Lantac 01GBG19THSS Glock 19 9mm Luger Stainless Steel | Lantac | |
| | FM Products Glock 9mm AR Forward Charging Builder Kit | FM Products | |
| | FM Products Glock Style 9mm AR Rear Charging Builder Kit | FM Products | |
1# Guntec USA AR-15 Fake Suppressor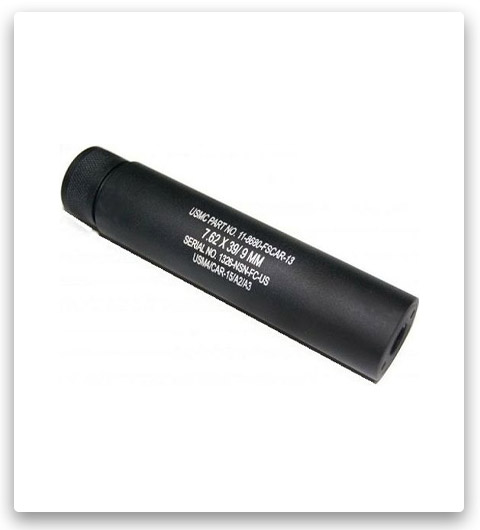 The Guntec AR-15 Fake Suppressor is the perfect way to extend the length of your barrel while waiting for your ATF approval to come through. This high-quality suppressor is made from T6 aluminum and features military-style markings. It's also laser engraved for a sleek, finished look. This suppressor functions as a barrel shroud and adds an extra level of protection to your firearm. It's a must-have for any AR-15 owner.
2# SilencerCo Threaded Barrel For HK VP9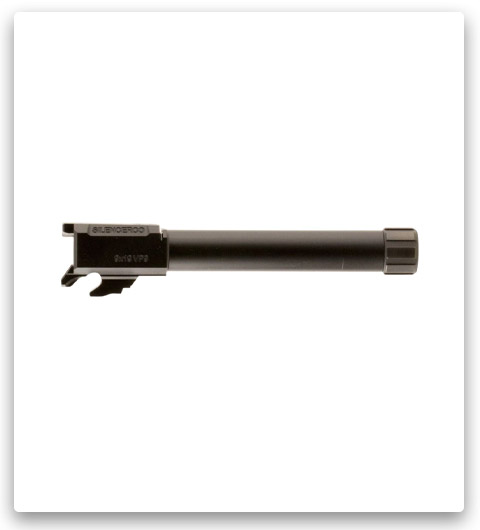 Searching for an upgrade to your Heckler & Koch VP9? Check out the SilencerCo AC1549 Threaded Barrel! This replacement barrel is made from 416R stainless steel and features a black finish. It also has a 1/2″ x 28 thread pattern, making it compatible with a wide range of accessories. Plus, the Twist Rate of 1-10 makes it perfect for use with 9mm Luger cartridges. Get superior performance out of your VP9 with the SilencerCo AC1549 Threaded Barrel!
3# Griffin Armament Glock Barrel 9mm Luger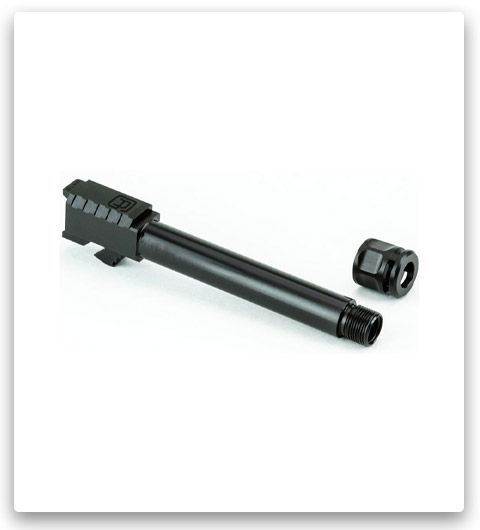 Do you want a Glock barrel that will give you the ultimate drop-in match performance? Then you need the Griffin Armament ATM (Advanced Threaded Match) Barrel! This barrel is billet machined from 416R stainless steel to exacting tolerances and features 5-axis machining that positions all critical dimensions on the breech. The hand-polished chambers also ensure optimal reliability with a wide range of ammunition types. And because it's designed with concealed carry users in mind, this barrel also gives you the ability to attach accessories and suppressors. So don't settle for anything less than the best – get your Griffin Armament ATM Barrel today!
4# Lantac Glock 19 9mm Luger Match Grade Barrel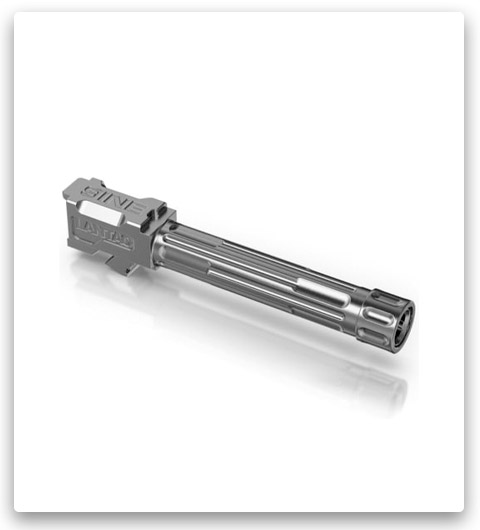 Lantac's Glock 19 9mm Luger Match Grade Barrel is the perfect upgrade for your firearm. The barrels are precision machined from certified pre-hardened 416R chromium stainless steel to extremely tight tolerances and exacting details. This high-quality steel is renowned for its corrosion resistance, machinability, and high tensile strength – making it the perfect choice for match-grade barrel manufacturing. So if you're searching for improved performance from your Glock 19, look no further than Lantac's stainless steel match-grade barrel!
5# FM Products Glock Style 9mm AR Forward Charging Builder Kit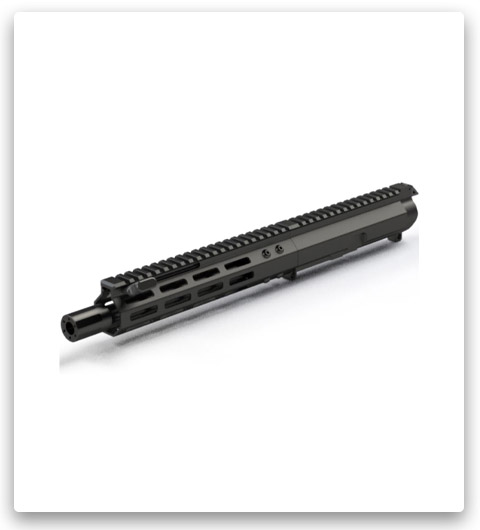 Are you searching for a reliable and easy-to-assemble 9mm PCC? Pay attention to the Foxtrot Mike Products Glock style 9mm AR forward charging builder kit! This comprehensive kit includes everything you need to build a top-tier 9mm PCC, less the serialized lower receiver. For starters, the traditional M4 charging handle has been replaced by an ambidextrous, nonreciprocating forward charging handle. Plus, the monolithic design has been achieved with a proprietary interlock between the upper and handguard. And last but not least, the slim-line handguard is fully compatible with M-LOK accessories, so you can customize your weapon to suit your specific needs. Order your Foxtrot Mike Products Glock style 9mm AR forward charging builder kit today!
6# FM Products Glock Style 9mm AR Rear Charging Builder Kit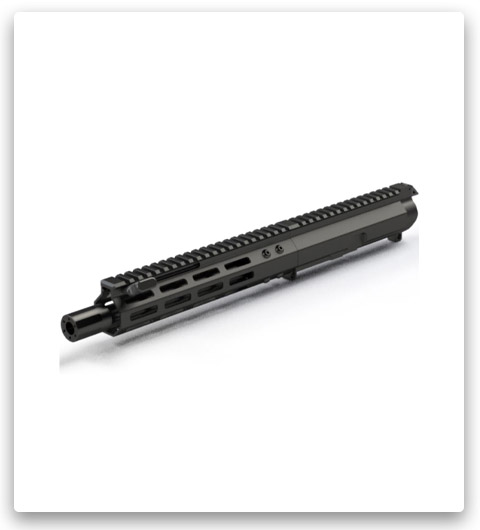 Wish to get a reliable and accurate 9mm PCC? Look no further than the FM Products Glock style 9mm AR Build Kits. These kits give you everything you need to complete a quality build, minus the serialized lower receiver. The monolithic style has been achieved with a proprietary interlock between the upper and handguard. The slim-line handguard is M-LOK compatible with your favorite accessories. Included in the kit is a complete 9mm bolt, a heavy buffer, a .308 buffer spring, and more. Assembling your Glock-fed P.C.C. has never been easier!
How to choose? 🔍
When it comes to choosing the best 10mm suppressor for your needs, there are several factors to consider: budget, noise reduction, size, and weight. Each of these can have a significant impact on your decision-making process.
💣 Budget: The cost range from $200 to more than $2,000 depending on their features and capabilities. It's important to factor in the price when making your decision about which one is right for you.
💣 Noise Reduction: One of the most important aspects of any suppressor is its ability to reduce noise levels. Take into consideration how much sound reduction you need, as well as how loud the firearm will be with or without a suppressor.
💣 Size and Weight: Size and weight are also important factors to consider when making your decision. Smaller and lighter models provide greater portability, while larger ones tend to reduce sound more effectively.
😉 Finally, it's important to remember that the suppressor for you may not be the same as for someone else.
FAQ🤠
Conclusion 😊
10mm suppressors come in all shapes and sizes. It can be tough to determine which one is the best for your needs. We have put together this comprehensive suppressor buyer's guide to help you make an informed decision about which product is right for you. We've included some of the top-rated products on the market, as well as tips on how to choose the right one for your needs. Good luck! 🙂👍