Affiliate Disclosure: AmmoCave.com sometimes gets paid for listings, through sponsors or affiliate programs like Lucky Gunner, Optics Planet, Brownells, Cabelas, Academy Sports & Outdoors, Rainier Arms, Palmetto State Armory, Sportsman's Guide, Ammo.com, Ammo Man, Primary Arms, MidWayUsa, Amazon, eBay, etс. Clicking a link helps keep AmmoCave.com free, at no extra cost to you!
Authors: Each article is verified by AmmoCave's expert team. Professional hunters, firearm trainers, gunsmiths, and gun experts write the articles. AmmoCave Team independently researches, tests, reviews, and uses recommendations from our community of gun owners. We may earn commissions from shopping links.
Note: The views and opinions expressed in this article are those of the authors and do not necessarily reflect any agency's official policy or position. The articles are for informational purposes only, share your opinions about Best Portable Target Stands 2023 in the comments and join the discussions. Let's share 💬 our ammo & gun experiences together!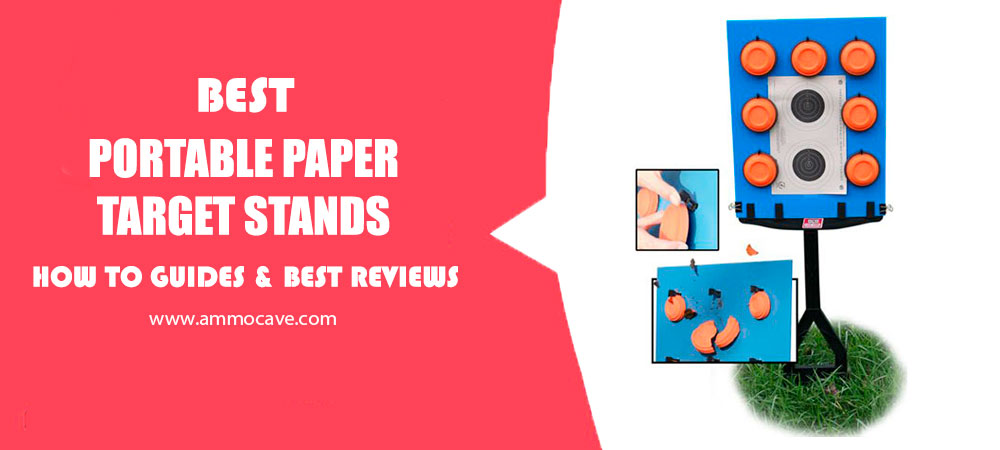 What is portable paper target stands for? 🤔
They are a convenient and cost-effective way to take your shooting practice or sport-hunting skills with you. They are lightweight and easy to assemble, offering stability and durability for long-term use.

Features 💥
Portable paper target stands are designed to securely hold the target in place while remaining lightweight and easy to move. 
🔷 They are constructed from sturdy materials, such as aluminum or steel, to ensure durability.
🔷 They should also feature adjustable height settings so you can adjust the distance at which you practice.
🔷 Additionally, look for a stand that has foldable legs for easy storage and transport.
🔷 Some models also offer adjustable tension straps to keep the target firmly in place.
🔷Most models come with a carrying bag for convenience, allowing you to take your target stand with you wherever you go.
Our Top Pick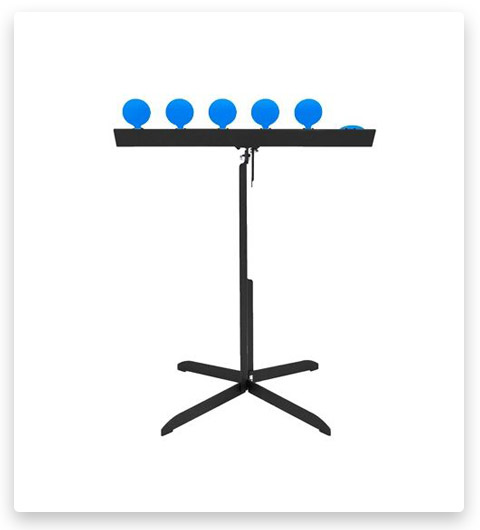 Action Target Rimfire Plate Rack Target Stand
It is an affordable solution to enhance your target shooting experience. Train like the pros with a reactive rimfire plate rack system that provides instant visual feedback and reinforces accurate shots. Constructed with six 4-paddles made of 1/4 AR500 armor steel, this target will stand up to rugged use while providing years of service. Designed with a convenient no-weld design, the targets can be easily reset by pulling on the cable attached to the reset lever.
Buy Now On OpticsPlanet
If you click this link and make a purchase, we earn a commission at no additional cost to you.
Benefits 🔥
Portable paper target stands to provide a sturdy, convenient way to set up paper targets with ease. 
❇️ They are lightweight and easy to transport and assemble, allowing shooters to practice at home or on the range without having to worry about setting up cumbersome target frames.
❇️ Such target stands also allow for quick and easy setup of multiple targets in various configurations for more complex shooting drills.
❇️ Best of all, these stands are designed to extend the life of paper targets by preventing damage from moisture and wind.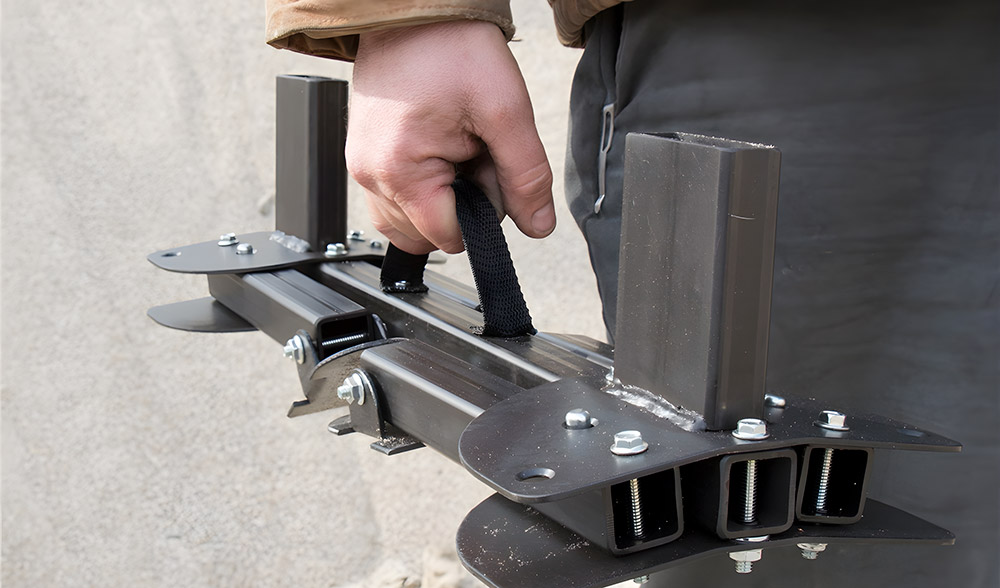 ⚙️How to set up it?⚙️
Setting up a portable paper target stand is easy to do.
🛠️ You will need the following items: two 2x4s, four bolts, and nuts, a staple gun or other fastening material, and paper targets.
🔰 Start by cutting each of the 2x4s into two equal pieces using a saw or power tool.
🔰 Place one piece onto the ground and then slide the second piece on top of it in an 'L' shape. 
🔰 Secure the two pieces together with bolts and nuts from underneath.
🔰 Now use your fastening material (staples or glue) to attach paper targets on both sides of the frame.
🔰 Make sure that they are secure enough so they won't move after being shot at.
🔰 Finally, you can add additional features such as a target board or sandbags for extra stability.
Top 16 🚀 Portable Target Stands
1# Do-All Outdoors Reset Target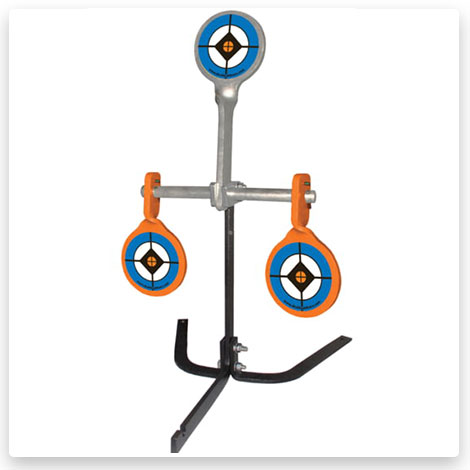 These Do-All Outdoors Reset Targets are perfect for shooters of all levels looking to sharpen their skills. The easy-to-see targets are great for getting quick and accurate shots, while the resetting feature allows for quick and easy target practice. Made with heavy-duty steel, these targets are built to last, and the automatic resetting feature ensures that you can keep your shooting practice going as long as you like. Plus, the stabilizing ground spikes keep the targets firmly in place, ensuring a safe and fun shooting experience for everyone.
2# MTM Target Stand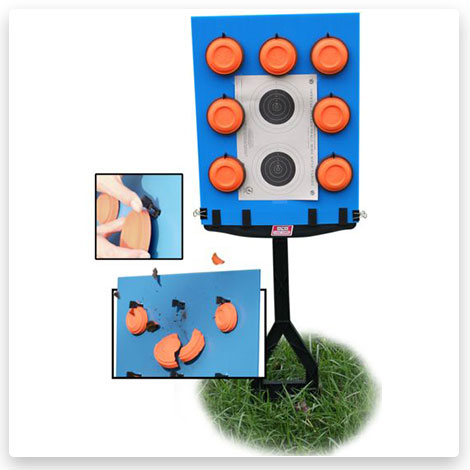 The MTM Target Stand is a great way to improve your shooting skills. With this stand, you can practice your aim with nine clay targets at a time. The easy-load feature makes it quick and simple to set up, and the bird board backer is made of tough extruded plastic to withstand plenty of wear and tear. So whether you're a beginner or a seasoned marksman, the MTM Target Stand is a great choice for any shooter.
3# Action Target Rimfire Plate Rack Stand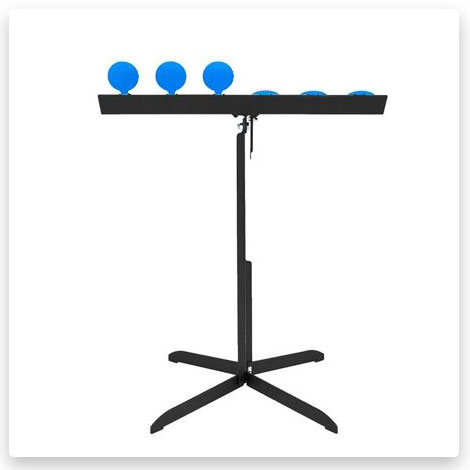 The Rimfire Plate Rack Stand features six 4 paddles made of 1/4 AR500 armor steel. These paddles fall when hit, providing instant visual feedback and reinforcing accurate shots. And when all the targets have been knocked down, they can be easily reset by pulling the 30 cables attached to the reset lever – no welding required! Get the most out of your shooting practice with the Action Target Rimfire Plate Rack Stand.
4# Action Target PT Torso Target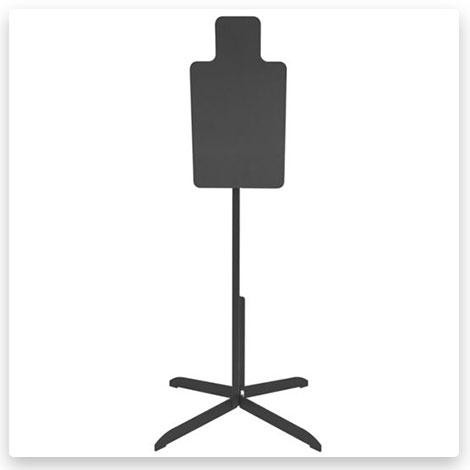 The Action Target PT Torso Target is the perfect foundation for law enforcement and personal defense training. Made of through-hardened AR550 armor steel, the PT Torso has a perfectly flat shooting surface with no exposed bolts, clamps, or brackets making it perfect for tactical handgun drills or rifle training from appropriate distances. The PT Torso is a great tool for accuracy and speed drills because the immediate feedback of clanging steel reinforces good shooting habits. Get the most out of your training with the Action Target PT Torso Target.
5#  Legion Targets Legion Ultimate Rimfire Kit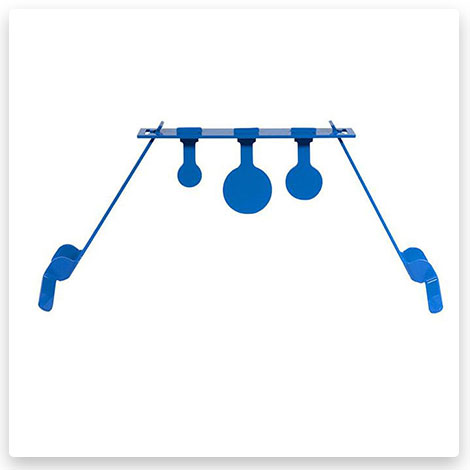 The Legion Ultimate Rimfire Target is the perfect choice for versatile and portable target practice. Constructed from 1/4″ A36 steel, the Legion Ultimate Rimfire Target is designed for use with 22lr ammunition. The system requires no tools for assembly and can be easily set up and taken down by one person. Whether you're shooting steel plates, clay pigeons, or paper targets, the Legion Ultimate Rimfire Target has you covered. Get yours today and see what all the buzz is about!
6# Caldwell Ultra Portable Target Stand Kit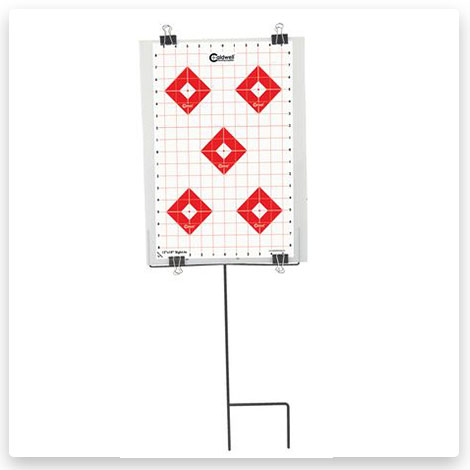 Searching for an all-in-one target stand kit that's easy to transport? Look at the Caldwell Ultra Portable Target Stand Kit! This compact setup includes a stand, backer clamps, and targets, all in one handy package. The stand, clamps, and backer are reusable and easy to assemble, making this an ideal choice for sighting in or patterning. With 8 silhouette targets and 8 high contrast sight-in targets included, the Caldwell Ultra Portable Target Stand Kit has everything you need for a successful day at the range.
7# GlenDel Crossbow Buck Target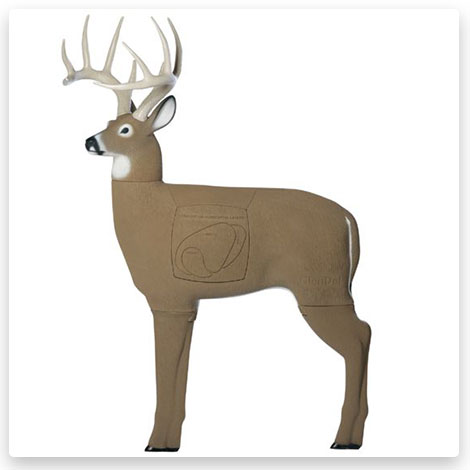 The GlenDel Crossbow Buck Target is the perfect target for those who want to practice their aim with a compound, crossbow, or longbow. This target features open-layered poly-fusion technology, which makes arrow removal easier and extends the target's life. The body size of the GlenDel Crossbow Buck Target is equivalent to that of a 200lb. live weight deer, and it offers 5 times the insert-shooting surface of comparable 3-D deer targets. This brown target also has a height of 56in.
8# Oncore Targets Standing Deer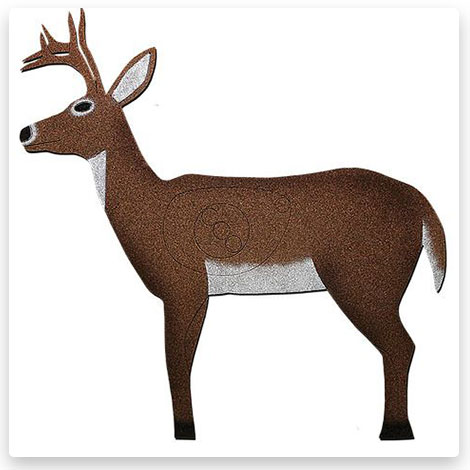 The Oncore Targets Standing Deer is a top-of-the-line archery target that is perfect for both indoor and outdoor use. This target is made from 5/8″ premium self-healing foam, which offers unsurpassed durability, and features a center score ring that sustains 100's shots. The Oncore Targets Standing Deer also has Universal Score Rings which make it easy to keep track of your shooting progress. This target is precision sculpted and hand-painted for an authentic look and comes with mounting hardware so you can attach it to any safe backstop.
9# Legion Targets Rocking Rabbit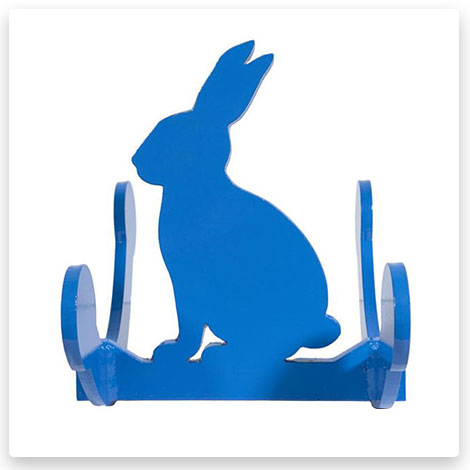 The Legion Targets Rocking Rabbit is a one-of-a-kind product that provides shooters with the opportunity to practice their skills on a still target. This target is made entirely out of 3/8″ AR500 steel, which is incredibly durable and can withstand repeated shots. The Rocking Rabbit features five different steel target surfaces, so you can enjoy hours of shooting fun. This product is perfect for anyone who wants to improve their shooting accuracy and have a blast doing it. Order your Legion Targets Rocking Rabbit today!
10# Highwild Adjustable Target Stand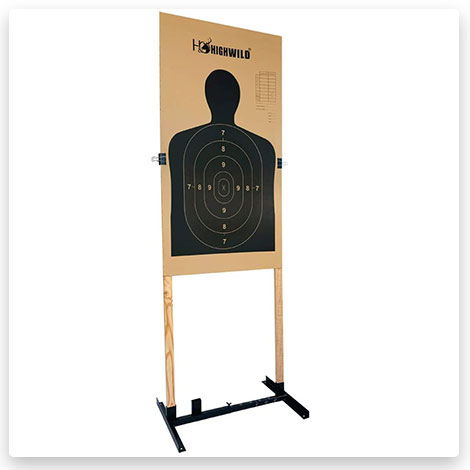 The Highwild Adjustable Target Stand is the innovative answer to your paper target needs. It's easy and quick to set up, making it a great choice for anyone looking for an efficient way to practice their shot. This versatile stand is compatible with 8-24 inch wide paper or cardboard targets, making it perfect for a variety of uses. It also features powder-coated steel construction for durability, as well as clear-width markings on the base for easy reference. Get yours today and see why so many people love this versatile and durable target stand!
11# Splatterburst Polymer Target Stand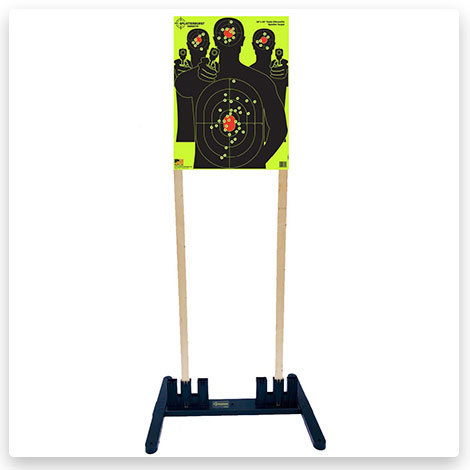 The Splatterburst Polymer Target Stand is the perfect choice for sportsmen, firearms trainers, gun ranges, law enforcement, military, and competition. The durable polymer is better than wood and safer and lighter than metal. The shoot-through self-sealing properties make it the perfect choice for your target needs. The vertical sticks are held securely with the patented design. No more shimming or thumb screws are required to hold vertical uprights secure. This lightweight but steady stand is a must-have for your target needs.
12# Highwild Steel Target Stand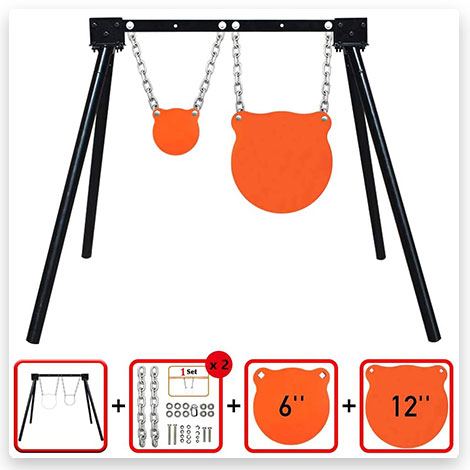 The Highwild Steel Target Stand is the perfect way to get the most out of your shooting practice. With quick and easy assembly, all parts can be replaced separately, making it a great choice for shooters of all skill levels. The 5/16″ 30-proof chain mounting kit is designed for durability, while the 3/8″ AR500 steel shooting target with surface powder coat finish is laser cut from the whole AR500 steel plate in Highwild's factory. You'll also get two chain mounting kits and six 12″ gong targets to get you started.
13# Highwild Target Stand System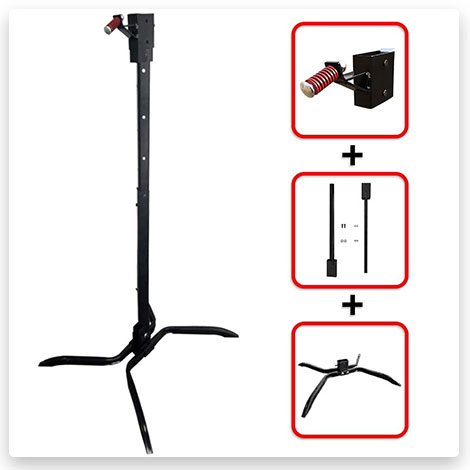 The Highwild Target Stand System is the ideal choice for a high-quality target stand system that allows you to alter the height of your stand. With its adjustable steel post, you can easily build five different heights of the stand, from 43″ to 67″. And the target hanger holds your target at a 15-degree angle, helping to deflect shrapnel to the ground. Plus, the four-leg stand provides extra stability. So you know it's built to last. Order your Highwild Target Stand System today and get ready to take your shooting to the next level!
14# Caldwell Ultimate Target Stand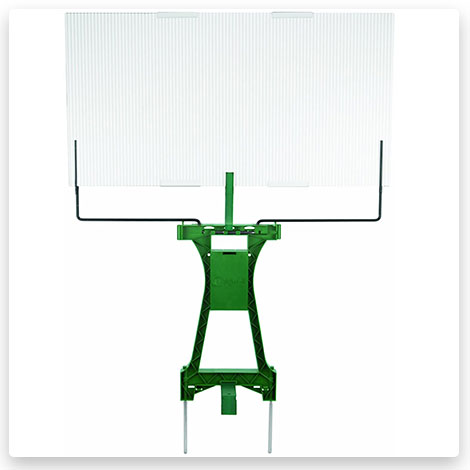 The Caldwell Ultimate Target Stand is the perfect solution for all your shooting needs. With its durable all-weather design and user-friendly features, this target stand is sure to make your shooting experience more enjoyable. The modular frame design collapses down, making it easy to transport and store. The base of the stand is open, allowing you to drive the molded-in spikes into the ground for added stability. Whether you're a novice shooter or an experienced marksman, the Caldwell Ultimate Target Stand is the perfect choice for all your shooting needs.
15# Allen Company Double Target Stand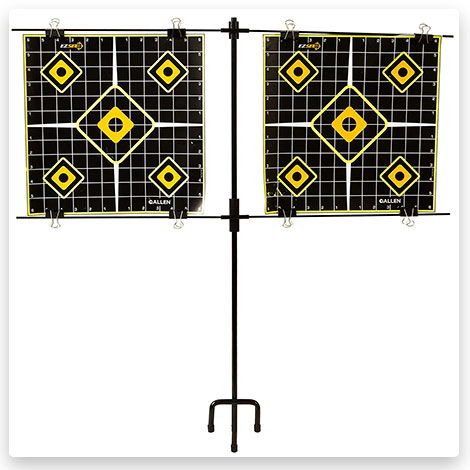 The Allen Company Double Target Stand is the perfect solution for anyone who wants to be able to set up and take down their targets quickly and easily. This sturdy stand can accommodate two targets up to 14 inches wide and can be used with either the ground stake or the compatible Allen Shooting Gallery system. No other target mounting system is as versatile and scalable as the EZ-Aim Custom Target System! So get out there and start shooting with the Allen Company Double Target Stand today!
16# Tactical Target Stands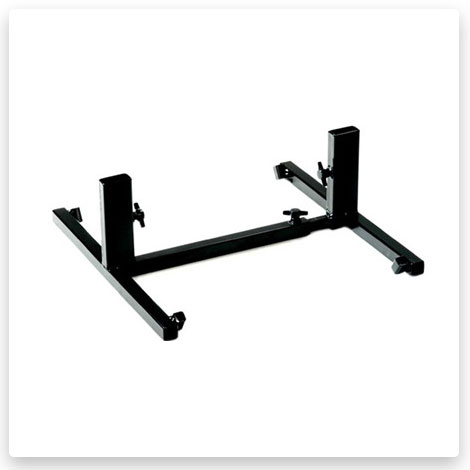 If you need easy-to-use, rock-solid target stands the Tactical Target Stand is the right solution. This heavy-duty stand is made in the USA from 14 gauge steel and powder-coated for durability. It's designed to accommodate 1″ x 2″ furring strips for anchoring targets, and includes set screws for securing the strips in place. The width of the stand is adjustable, so you can customize it to your shooting needs. So if you're looking for a top-quality, durable target stand that will give you years of use, pick up a Tactical Target Stand today!
How to make target stands? 🛠️
🤠 Making your own portable paper target stands is a great way to save money and still get the most out of target shooting. With a few simple tools and materials, you can make your quality target stand that you can take anywhere! 
🚨 The basic components of any target stand are two legs, a top bar, and some fastening hardware like screws or nuts & bolts.
➡️ Once you've decided on your materials, it's time to cut them to size and assemble your stand.
➡️ Start by measuring and cutting two legs that are about four feet long each.
➡️ Next, measure out a top bar and cut it so that it will fit between the legs when they are positioned at a 90-degree angle.
➡️ Once everything is cut to size, use your screws or fasteners of choice to attach the top bar securely to the legs.
➡️ Finally, place something heavy at the base of each leg like concrete blocks or bags of sand for stability before attaching your paper target onto the top bar with some tacks or clamps!
FAQ 🧐
Conclusion 😊
Now that you have seen the top picks for the best portable target stands, it is time to decide which one is right for you. Consider your needs and budget when making your decision. All of these stands will do a great job of helping you improve your accuracy while shooting, but some are more versatile than others. No matter which stands you choose, we hope that this buyer's guide has helped make your decision easier and that you enjoy improved accuracy while shooting! 🤠🎯
Tags: #best portable target stands / #portable target stands / #portable shooting target stands / #portable target stands plans / #portable pistol target stands / #steel target stands