Affiliate Disclosure: AmmoCave.com sometimes gets paid for listings, through sponsors or affiliate programs like Lucky Gunner, Optics Planet, Brownells, Cabelas, Academy Sports & Outdoors, Rainier Arms, Palmetto State Armory, Sportsman's Guide, Ammo.com, Ammo Man, Primary Arms, MidWayUsa, Amazon, eBay, etс. Clicking a link helps keep AmmoCave.com free, at no extra cost to you!
Authors: Each article is verified by AmmoCave's expert team. Professional hunters, firearm trainers, gunsmiths, and gun experts write the articles. AmmoCave Team independently researches, tests, reviews, and uses recommendations from our community of gun owners. We may earn commissions from shopping links.
Note: The views and opinions expressed in this article are those of the authors and do not necessarily reflect any agency's official policy or position. The articles are for informational purposes only, share your opinions about Best BCG For 300 Blackout 2023 in the comments and join the discussions. Let's share 💬 our ammo & gun experiences together!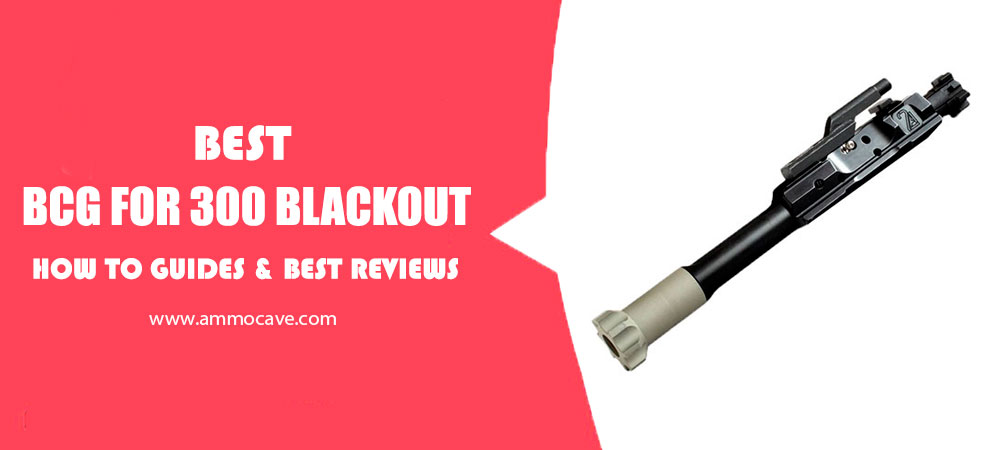 What is BCG? 🤨
It stands for bolt carrier group, which is a critical part of a rifle. Without the BCG, the gun will not function correctly and may even fail. 
✅ A BCG specifically designed for 300 Blackout rounds offers a much higher level of performance than general AR-15 BCGs since it is tuned to work with this caliber of ammunition.
Our Top Pick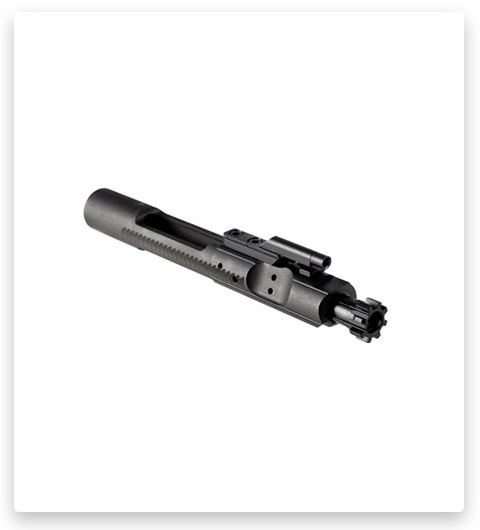 Brownells Mil-Spec MP Bolt Carrier Group
It is machined from steel and hardened to ensure proper function in either semi-auto or full-auto ARs. Furthermore, an installed extractor with a red o-ring spring prevents any wear and tear from excessive firing cycles. Finally, the parts feature a matte black mil-spec finish for ultimate discretion in any situation.
Buy Now On Brownells
If you click this link and make a purchase, we earn a commission at no additional cost to you.
Features ✨
Some of the key features are bolt and carrier design, coatings, craftsmanship, and durability.
✴️ The bolt is an important part of any BCG for 300 Blackout. The bolt should be machined from steel or better, with components such as the extractor being made from S7 tool steel if possible.
✴️ Feature chrome lining in the bolt and carrier group will ensure that the BCG is corrosion-resistant and will last for many years.
✴️ Many BCGs come with various types of coating, from nitride to nickel boron and more. While each type of coating offers its pros and cons, it is important to choose a BCG which has been treated with an effective coating to protect it against wear and tear over time.
Benefits 💥
When it comes to choosing the best BCG, many benefits should be taken into consideration.
❇️ It is designed to provide enhanced durability and performance in your firearm, making it a great choice for shooting situations where accuracy and reliability are paramount.
❇️ Improved wear resistance, better gas system performance, and increased buffer life are some of the advantages that come with selecting.
❇️ In addition, it also helps to reduce recoil, allowing shooters to remain on target during longer shooting sessions or competitions.
❇️ Furthermore, BCG ensures compatibility with any compatible rifle platform and ammunition type, making them an ideal choice for shooters.
What types? 🤠
☑️ Standard Mil-Spec BCGs provide reliable performance in extreme conditions. They consist of steel which allows for easy maintenance and durability under harsh shooting conditions. Furthermore, they are generally affordable and will serve you reliably without breaking the bank.
☑️ Enhanced BCGS offer enhanced reliability due to their machined components that fit with tighter tolerances. They feature stainless steel components and are generally more expensive than the standard due to their improved performance.
☑️ Lightweight BCGs have the advantage of being much lighter than standard. This makes them ideal for shooters who need a lightweight and reliable BCG.
☑️ Nickel Boron Coated BCGs offers enhanced corrosion resistance, smoother operation, and easier cleaning compared to other options. The coating on these BCGs also helps keep fouling from building up in the firearm, which can reduce the need for frequent cleanings.
☑️ Titanium Nitride Coated BCGs are the most durable option on the market. These BCGs have a coating that is much harder and more resistant to wear than standard. This makes them ideal for shooters who need an ultra-durable BCG that can last through thousands of rounds of shooting without needing replacement.
Top 14 🎯 BCG For 300 Blackout
1# Anderson Manufacturing AR-15 Upper Receiver Assembly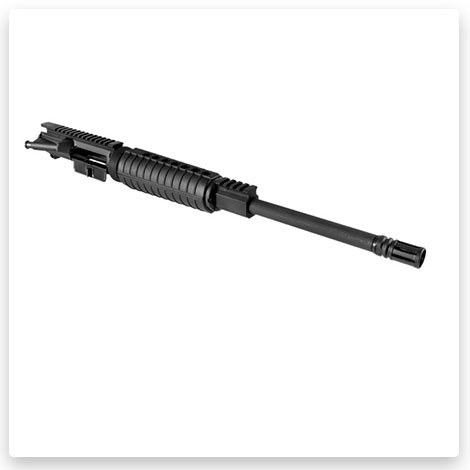 The Anderson Manufacturing 300 Blackout Complete Upper Receiver is a great option for those looking to quickly and easily build or change an existing AR-15 to shoot the popular 300 Blackout round. Featuring a 16" barrel with a 1:8 twist rate and Type 3 Hard Anodized – Black finish, the barrel utilizes a carbine length gas system with a .125 gas port and 5/8-24 threads with a 308 A2 Flash Hider. Additionally, the Upper Receiver comes without a bolt carrier group or charging handle, allowing you to select your choice of components to complete the assembly.
2# 2A Armament AR-15 Bolt Carrier Group Lightweight Adjustable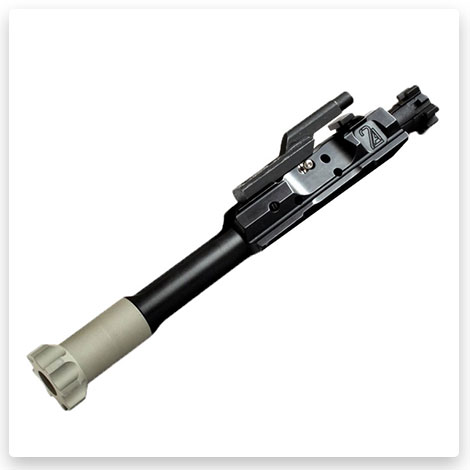 Looking to tune your AR-15's gas system without the need for an adjustable gas block? Then check out the 2A Armament Regulated Bolt Carrier! This lightweight carrier comes with a gas regulating gate built into the carrier itself, allowing you to tune your gas system with ease. The RBC has infinite adjustment from fully open, to fully closed on the regulating gate, and can be tuned to most combinations of buffers, springs, suppressors, and barrel lengths. Plus, the RBC is fully adjustable through the port door and doesn't require the firearm to be broken down for adjustment.
3# Brownells  AR 15 Bolt Carrier Group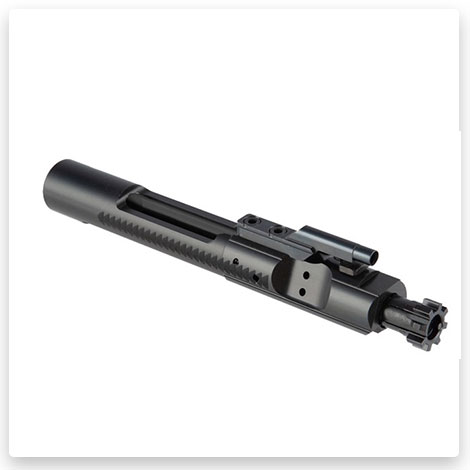 Brownells has just what you need to upgrade or finish your build – the AR-15 Bolt Carrier Group. This ready-to-roll BCG is built for dependable operation in any AR-15 chambered in 5.56 NATO, .223 Remington, or 300 Blackout. The Brownells AR-15 Bolt-Carrier Group features a bolt machined from 9310 tool steel and heat-treated for durability. The carrier is machined from 8620 hardened steel and finished with a nitride coating for smoother operation and increased wear resistance. Every bolt is magnetic-particle inspected and features a torqued-and-staked gas key.
4# Rubber City Armory Bolt Carrier Group Titanium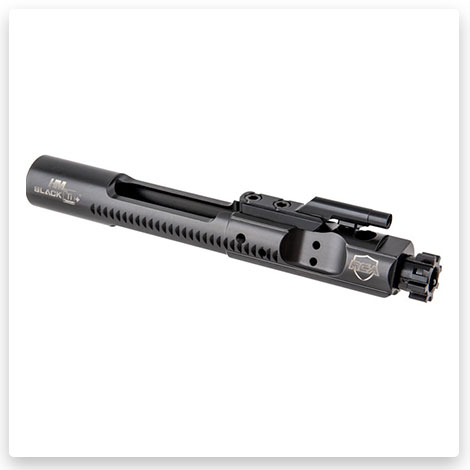 If you need a top-of-the-line bolt carrier group that won't weigh you down, the Rubber City Armory Titanium Bolt Carrier Group is a faultless choice. This BCG features a titanium carrier and is coated with a proprietary aerospace nitride, making it incredibly durable and wear-resistant. Additionally, the bolt is made from 9310 steel and the gas key is properly staked and torqued, ensuring proper function. At just 7.8 ounces, this BCG is significantly lighter than traditional models, making it ideal for reducing felt recoil. Whether you're a competitive shooter or simply want the best possible performance from your AR-15, the Rubber City Armory Titanium Bolt Carrier Group is the perfect upgrade.
5# Brownells Semi-Auto Chrome Bolt Carrier Groups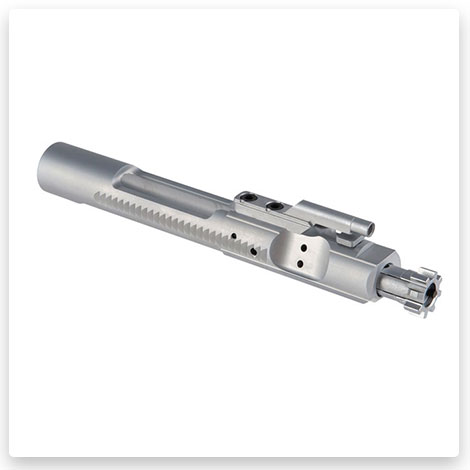 The Brownells AR-15 Chrome Bolt Carrier Groups are a great option to finish off your build. Each of these groups features a bolt machined from 9130 tool steel sitting inside of a carrier machined from durable 8620 hardened steel. Both of these essential components, as well as the extractor, gas key, and cam pin, are all plated with chrome to protect against corrosion, as well as offer a slick, low-friction surface for smoother operation and easier cleaning.
6# Odin Works Bolt Carrier Group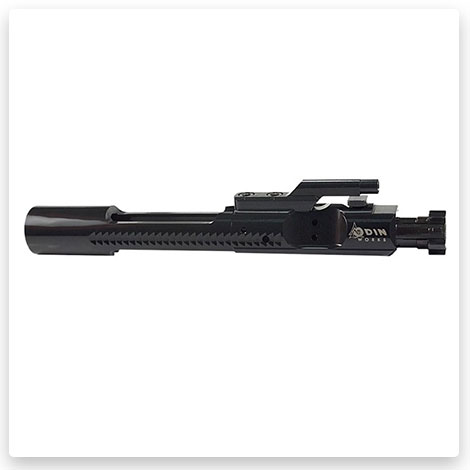 The Odin Works Inc. Bolt Carrier Group is perfect for those searching to make their ARs run right. This black-nitride finished bolt carrier group is designed for use with traditional AR cartridges that share the 5.56 NATO case head. The bolt-carrier group is treated with a black-nitride finish across all metal surfaces, which provides a low-friction surface that doesn't require as much lube to run properly as phosphate-coated bolt-carrier groups. This carrier group is a great choice for those who want a durable, reliable, and low-maintenance option for their AR-15.
7# Bravo Company Bolt Carrier Group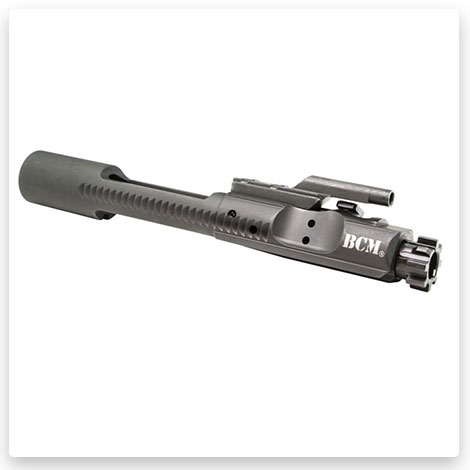 Require a top-quality bolt carrier group for your AR15, M16, or M4? Check out the Bravo Company Bolt Carrier Group. This BCG is fully assembled and features a parkerized exterior and chrome-lined inside carrier. It's machined to USGI specifications and includes the proper Mil-Spec gas key. The gas key is chrome lined and heat treated per GI specifications, and is secured to the carrier via USGI domestic mfg Grade 8 fasteners. The bolt assembly is machined from the correct Mil-Spec Carpenter No. 158 steel, shot peened for increased strength, and features a tool steel machined extractor and ejector. The BCM Extractor Spring ensures the reliable function of your weapon. Don't settle for less than the best – get the Bravo Company Bolt Carrier Group!
8# Brownells M16 Mil-Spec MP Bolt Carrier Group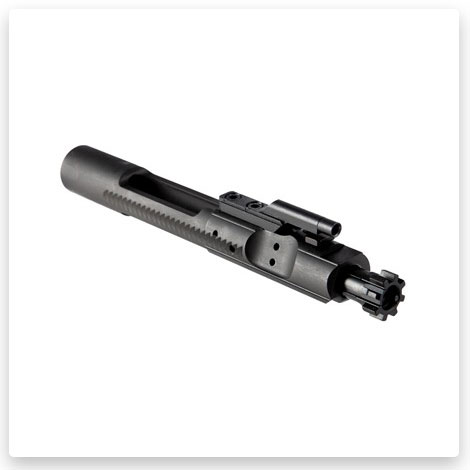 The Brownells M16 Mil-Spec MP Bolt Carrier Group is a fully assembled BCG that includes the bolt, bolt carrier, gas key, firing pin, cam pin, and firing pin retaining pin. Every bolt is magnetic particle inspected (MPI) and machined from Carpenter 158 steel. Following machining, the bolt is heat treated and shot peened. The installed extractor includes a red o-ring with a spring. The M16 Bolt Carrier is machined from 8620 steel and hardened. The interior of the bolt carrier and carrier key is chrome lined on the M16 Phosphate Bolt Carrier Group only. The M16 Bolt Carrier will function in semi-auto or full-auto AR-15/M16 rifles. The gas key screws are properly torqued and staked. The bolt and bolt carrier features a matte black mil-spec finish.
9# D.S. Arms M16 Bolt Carrier Group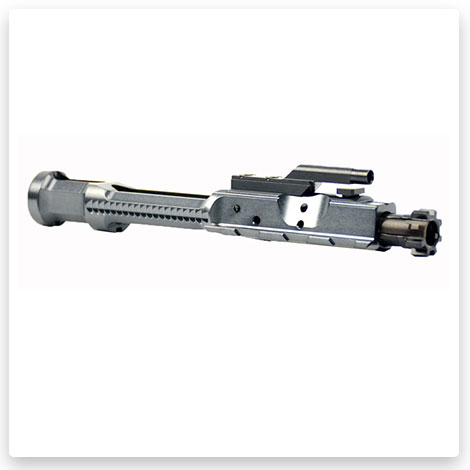 The D.S. Arms M16 Bolt Carrier Group is a flawless upgrade for your AR15 or M16 rifle. They took their standard Mil-Spec bolt carrier group and upgraded with real-world no-nonsense features that make sense, not just make it flashy! First and foremost, they looked to their roots in the FAL Battle Rifle and incorporated L1A1 style sand cuts on all of the load-bearing surfaces of the carrier. These sand cuts allow any sand, dirt, or debris that may have gotten into the action to easily be cycled out. DS Arms machines these assemblies using the latest manufacturing techniques, materials, and finishes. The carrier is machined from 7075 T-6 Aluminum and the bolt is MPI 9310 material.
10# D.S. Arms M16 Bolt Carrier Group Sand Cut Low Mas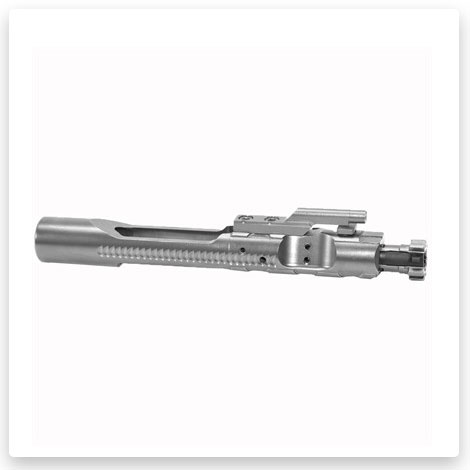 When it comes to M16 bolt carrier groups, DS Arms is at the top of the game. Their ESC – Enhanced Sand Cut complete bolt carrier group is designed for optimal function and durability. They've incorporated L1A1 style sand cuts on all load-bearing surfaces of the carrier, so any sand, dirt, or debris that gets into the action can easily be cycled out. Plus, the nickel Teflon finish provides an extra level of protection against corrosion and wear. If you need a top-quality bolt carrier group that will stand up to the most demanding conditions, pay attention to DS Arms.
11# Radical Firearms Blackout Upper Assembly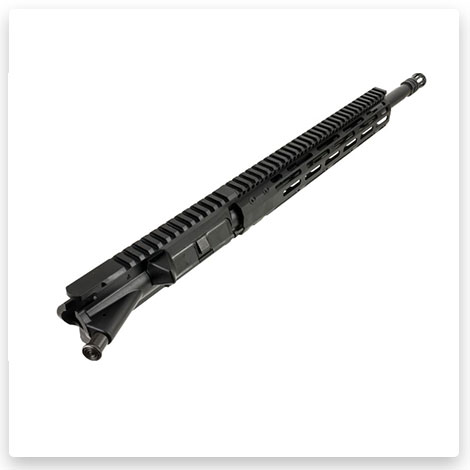 The Radical Firearms 300 AAC Blackout Upper Assembly is an ideal choice for anyone wishing for a top-quality, drop-in receiver that is ready to be mounted on any Mil-Spec AR-15 lower receiver. These AR15 Upper Receivers from Radical Firearms feature a forward assist for increased accuracy and a faster cool-down time. With an ejection port door, the Radical Firearms 16 in. Blackout Upper Assembly easily drops into any firearm without the need for a gunsmith. The Radical Firearms Upper Receiver Assembly is a fully mil-spec compliant receiver that provides a high-quality upper for any level budget or shooter.
12# Aero Precision Complete Upper Receiver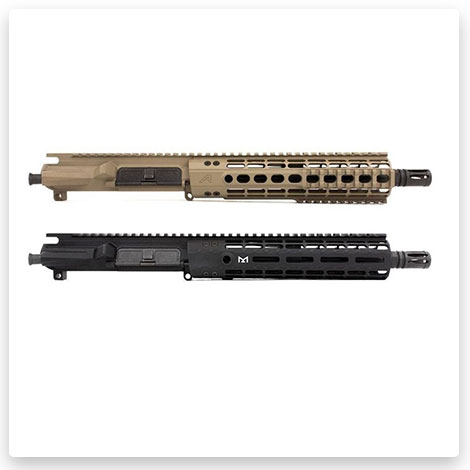 Want to purchase a top-quality complete upper receiver? Note the Aero Precision Complete Upper Receiver – it comes with the Quantum Handguard for superior performance. Key features include built-in anti-rotation tabs, a removable 4-slot Picatinny rail section for the front sight, and a 7-mounting surface for accessories. It's perfect for your next AR-15 build. Order today!
13# Aero Precision Handguard Complete Upper Receiver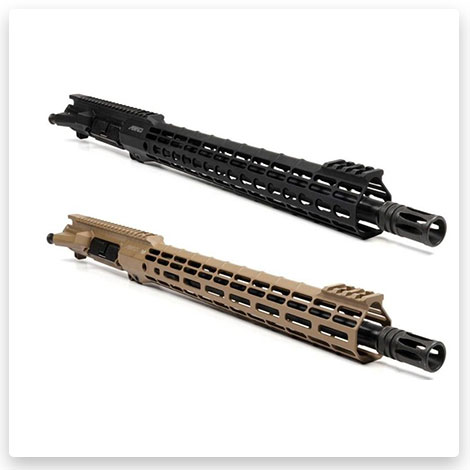 The Aero Precision M4E1 Threaded 16in .300 Blackout w/ Atlas S-One Handguard Complete Upper Receiver is the perfect addition to your lightweight build. The proprietary ATLAS attachment system is a durable and dependable mounting platform, maintaining a slim profile while still providing the strength and stability customers have grown to love from Aero Precision handguards.
14# Aero Precision Blackout Barrel Complete Upper Receiver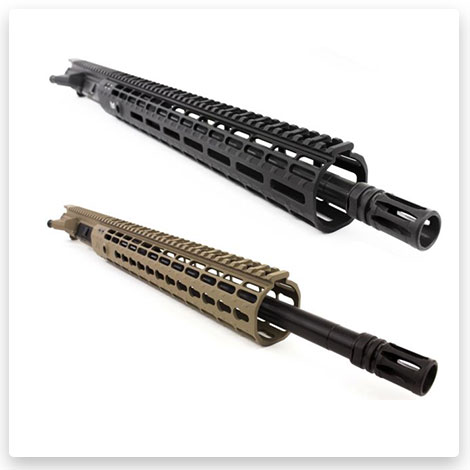 Would you like to upgrade to your AR-15? Think about the Aero Precision M4E1! This bad boy is equipped with a CMV medium profile barrel and Gen 2 Enhanced free-float handguards. You'll love the fit and finish of this upper receiver, and it's compatible with standard AR15/M4 components. It's also been MPI and HP tested for your safety. Get more power and accuracy out of your rifle with this sweet upgrade!
How to clean? 🛠️
A bolt carrier group (BCG) is an integral part of the firearm. As such, it needs to be kept in top condition for optimal performance. To ensure that your BCG is always running at its best, regular cleaning and maintenance should be carried out.
📌 To clean your BCG, you will need a few items: solvent, lubricant, a toothbrush or bore brush, cotton swabs/patches, and any other tools necessary for disassembling your BCG. 
➡️ Start by removing all parts from the BCG – buffer tube assembly and charging handle– then wipe down with the solvent and toothbrush/bore brush to remove dirt and debris.
➡️ Once all visible residue has been removed, apply a thin layer of lubricant to all surfaces before reassembling.
➡️ When reassembling, ensure that all screws and pins are tightened to the correct torque specifications and that all gas rings are replaced with new ones if necessary.
➡️ Once everything is back in place, wipe down any excess lube with a dry rag. This will help keep your BCG in top condition for many years to come.
FAQ 🧐
Conclusion 🙂
BCG For 300 Blackout is a great choice for anyone looking to purchase a BCG. They are important parts of any AR-15 build and choosing the right one can be difficult. We hope that this article has helped you make an informed decision about the best bolt carrier group for your needs. Thanks for reading! ❤️‍ 🔥
Tags: #best bcg for 300 blackout / #best bcg for 300 blackout sbr / #best bcg for 300 blackout suppressed / #best bcg for pistol 300 blackout / #best bcg for subsonic 300 blackout