Affiliate Disclosure: AmmoCave.com sometimes gets paid for listings, through sponsors or affiliate programs like Lucky Gunner, Optics Planet, Brownells, Cabelas, Academy Sports & Outdoors, Rainier Arms, Palmetto State Armory, Sportsman's Guide, Ammo.com, Ammo Man, Primary Arms, MidWayUsa, Amazon, eBay, etс. Clicking a link helps keep AmmoCave.com free, at no extra cost to you!
Authors: Each article is verified by AmmoCave's expert team. Professional hunters, firearm trainers, gunsmiths, and gun experts write the articles. AmmoCave Team independently researches, tests, reviews, and uses recommendations from our community of gun owners. We may earn commissions from shopping links.
Note: The views and opinions expressed in this article are those of the authors and do not necessarily reflect any agency's official policy or position. The articles are for informational purposes only, share your opinions about Best Bolt Carrier Group Coating 2023 in the comments and join the discussions. Let's share 💬 our ammo & gun experiences together!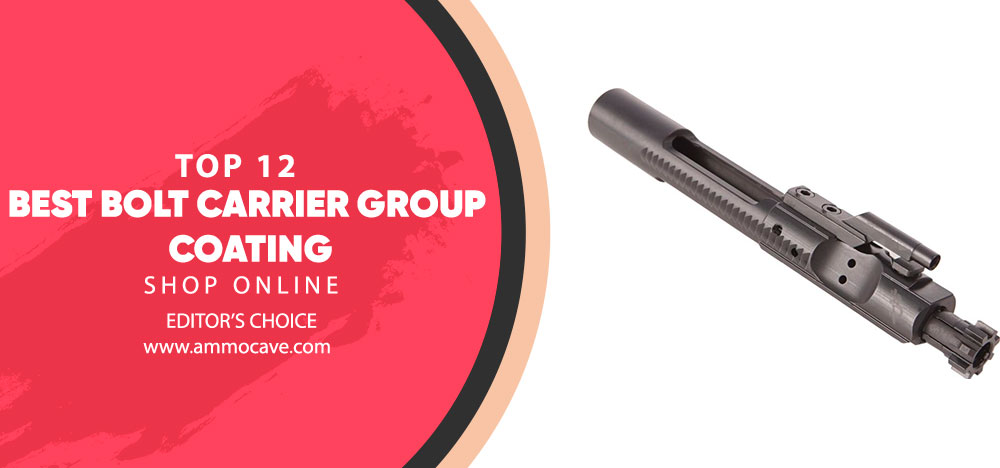 What is bolt carrier group coating? 🤔
It is a protective finish that prevents oxidation and wears on the BCG of your rifle or pistol. It helps to keep moving parts lubricated, thereby improving their performance and overall life span. There are several different types of coatings available, each with its specific benefits.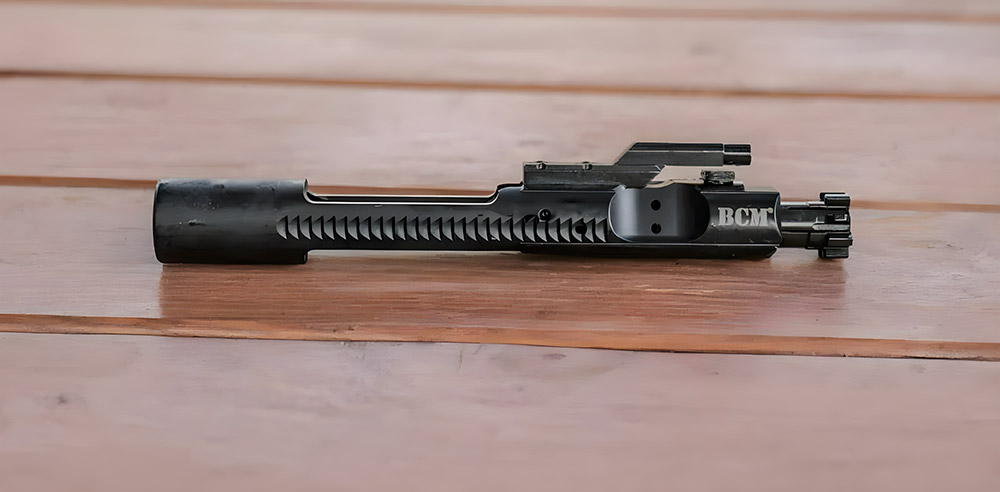 Features 😉
Bolt carrier group (BCG) coatings are an essential part of any firearm, providing protection from the elements and ensuring optimal performance. The type of coating you choose for your BCG can have a significant impact on the durability and reliability of the firearm. There are a variety of features that need to be taken into: 
🔶 The most important feature is corrosion protection, which helps protect the BCG from rust and other corrosive elements that can damage the firearm.
🔶 Additionally, some coatings provide lubricity, which reduces friction between moving parts and minimizes wear and tear on your firearm.
➡️ Other features include:
🔶 Hardness, which makes your firearm more durable;
🔶 Adhesion strength, which ensures the coating remains firmly attached to the metal surface;
🔶 Impact resistance, which prevents chipping or cracking;
🔶 Abrasion resistance, which helps prevent scratches and scuffs;
🔶 Chemical resistance for protection against cleaners and solvents;
🔶 Heat resistance for protection against extreme temperatures and thermal conductivity for improved accuracy.
Our Top Pick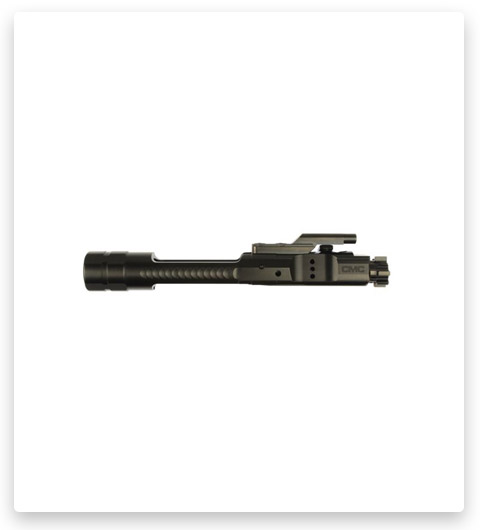 CMC Triggers Enhanced AR Bolt Carrier Group
This BCG is designed for shooters who expect nothing but the best performance in their weapons. Manufactured with the highest quality components, this improved bolt carrier assembly offers enhanced reliability and reduced friction to ensure maximum performance. Featuring a flared rear designed to prevent carrier tilt, case-hardened steel, hardened gas key and properly staked fasteners that won't back out, you'll have increased stability during recoil and smoother extraction when shooting short-barreled rifles or suppressed firearms.
Buy Now On OpticsPlanet
If you click this link and make a purchase, we earn a commission at no additional cost to you.
Benefits 🔥
❇️ Bolt carrier group (BCG) coating is a form of protective coating applied to the BCG's surface that offers superior protection against wear and tear.
❇️ The coating also reduces friction and improves functioning, helping to ensure smooth and reliable operation with every shot.
❇️ It can also help improve accuracy by reducing group-to-group variation in velocities and pressures when firing multiple rounds through different rifles and barrels.
❇️ The added lubricity provided by coating can also reduce stress on other parts of your firearm as well as make them easier to clean.
❇️ By reducing the amount of fouling that accumulates inside the firearm during shooting sessions, can increase overall performance and efficiency while decreasing cleaning time.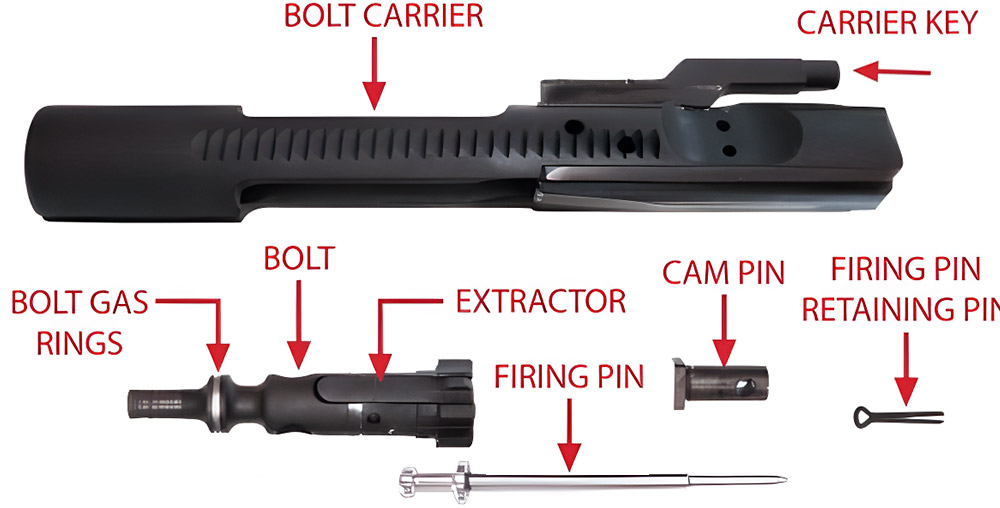 ⚙️How does it work?⚙️
Bolt carrier groups (BCGs) are the core components of an AR-15, and they serve a critical role in maintaining proper functioning.
🛠️ A BCG is composed of several key parts: the bolt, the carrier, the gas rings, and the firing pin.
👍 When assembled correctly, these components work together to cycle rounds through your rifle, allowing it to fire accurately and reliably.
➡️ The most common type of BCG coating is phosphate, which is applied to steel parts using electrochemical processes like anodizing or chemical bath deposition. Phosphate creates a hard surface that helps resist rust and abrasion while providing some lubricity properties.
Top 12 🎯 Bolt Carrier Group Coating / Best Coating For Bolt Carrier Group
1# Lantac Enhanced Full Auto Style Bolt Carrier Group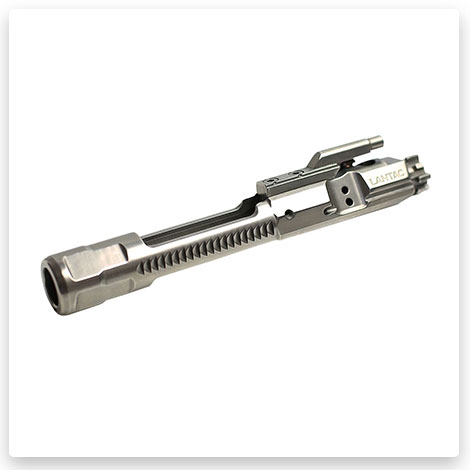 The Lantac Auto E-BCG is a high-quality, precision-machined bolt carrier group that offers increased mass and lock time for your favorite auto rifle. It is made from 8620 steel and coated with NiB electroless nickel boron with advanced UCT EXO for ultimate lubricity and smoother operation. This bolt carrier group has a unique shape with forward porting that allows the upper receiver to run with less pressurization and runs cooler and cleaner with a flatter energy pulse. It is 100% in spec and makes your suppressed gun a lot more pleasant to shoot.
2# Bootleg Mil Spec AR-15 Carrier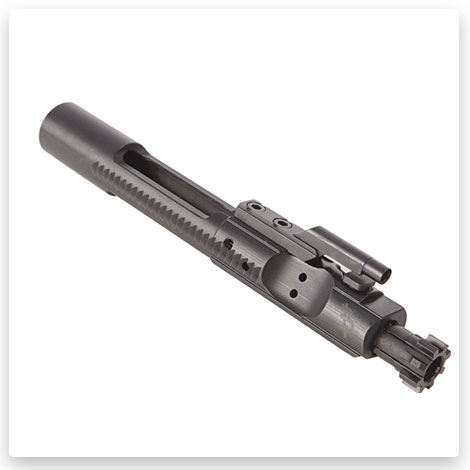 Searching for a high-quality AR-15 MilSpec Carrier? Look at the Bootleg AR-15 MilSpec Carrier. This carrier is machined from 4140 and features a Mil-Spec configuration that uses all standard Mil-Spec parts. The gas key is staked, and the carrier includes a 5.56 phosphate complete bolt assembly. The nitride coating on the carrier and other parts provides superior durability and a clean look. This carrier is fully auto-rated, meaning it's made of tough materials that can withstand rough use. Order your Bootleg AR-15 MilSpec Carrier today!
3# WMD Guns NiB-X Coating Bolt Carrier Group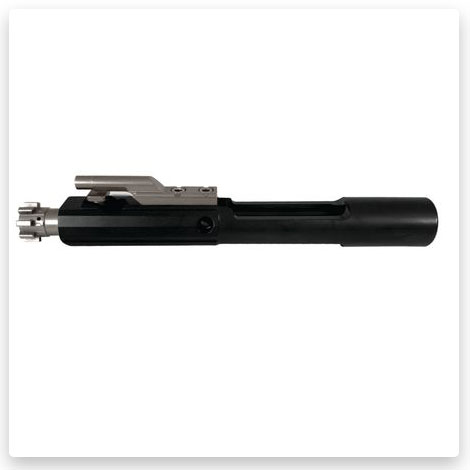 Introducing the WMD Guns NiB-X Coating Bolt Carrier Group! This top-of-the-line product features a nickel boron coating that is harder than melonite, nickel Teflon, and hard chrome. With a Rockwell hardness of 72, this product is built to last. The environment-resistant coating provides superior corrosion protection, while the lubricious coating reduces friction for a smoother operation. The bolt carrier group is also easier to clean and requires less maintenance overall. For the ultimate in performance and durability, trust the WMD Guns NiB-X Coating Bolt Carrier Group.
4# Next Level Armament Bolt Carrier Group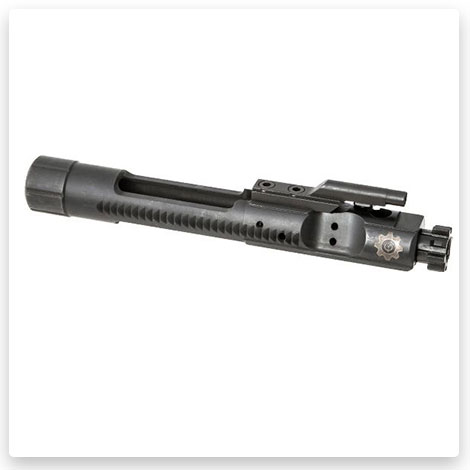 Searching for an upgraded bolt carrier group for your AR-15 or M16? Next Level Armament has you covered with their Enhanced Bolt Carrier Group. This BCG is precision machined from 4140ph steel to aerospace tolerances for improved function and durability. It features an expanded rear diameter for smooth cycling in the buffer tube as well as machined extractors for reliable extraction. So if you need a top-quality bolt carrier group that will improve the performance of your rifle, look at the Next Level Armament Enhanced Bolt Carrier Group.
5# Aero Precision AR15 6.5 Grendel Bolt Carrier Group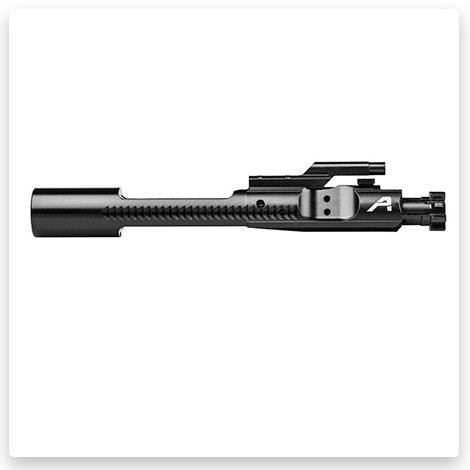 Are you want to upgrade the bolt in your AR platform rifle? If so, consider the Aero Precision 6.5 Grendel Bolt Carrier Group in black nitride. The 6.5 Grendel bolt is made from Carpenter tool steel, which is known for its durability and long-lasting performance. This bolt carrier group would be a great fit for several different types of users, including those who are building an AR from scratch or upgrading an existing rifle. Whether you're searching for a high-quality replacement bolt carrier group or you're trying to put together a precision AR-15 for competition shooting, the Aero Precision 6.5 Grendel Bolt Carrier Group in Black Nitride is an excellent choice.
6# Stern Defense SD BU45 .45 ACP Bolt Carrier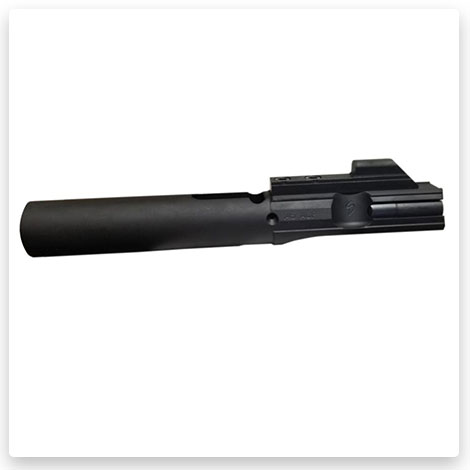 The Stern Defense SD BU45 .45 ACP Bolt Carrier is a top-quality product that is made with 8620 AISI steel and boasts a Melonite finish. This bolt carrier fits into Mil-Spec and Glock-pattern upper receivers and is fully compatible with standard AR15/M16 charging handles. It comes with all sub-components installed, including the firing pin/spring/retaining pin, extractor, and extractor spring. Compatible with single-stage short reset triggers. Compatible with the Law Folding Tactical Stock.
7# Faxon Firearms Gunner Light Weight Bolt Carrier Group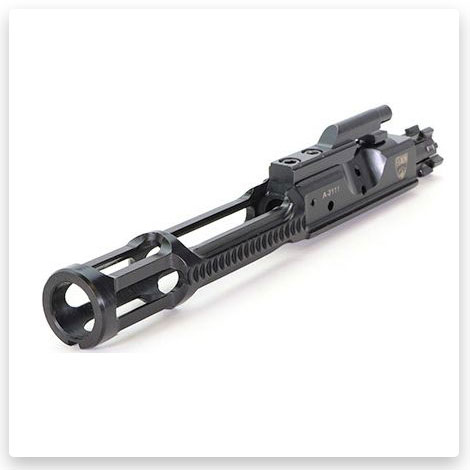 Looking to build a superior rifle for the range or hunting grounds? The Faxon Firearms 5.56/300BLK Gunner Light Weight Bolt Carrier Group is a high-quality choice that will elevate your rifle's performance. These Bolt Carrier Groups from Faxon Firearms are constructed from the best materials available and are Superfinished for reduced friction and fouling. This results in smoother operation with every use. Get the edge you need on the competition by equipping your rifle with the Faxon Firearms 5.56/300BLK Gunner Light Weight Mil-Spec Bolt Carrier Group.
8# CMC Triggers Enhanced AR Bolt Carrier Group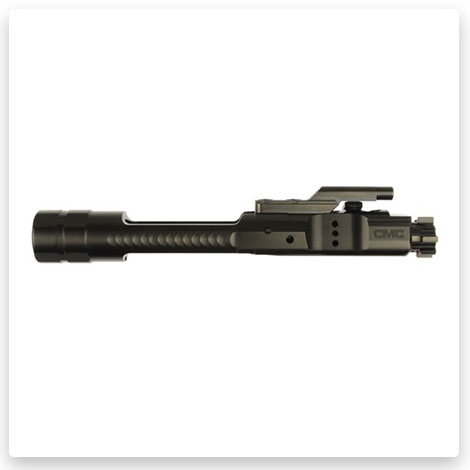 This Enhanced AR Bolt Carrier Group is designed to reduce carrier tilt and increase reliability, making it the perfect choice for your next build or upgrade. Made from case-hardened steel, our bolt carrier group is built to withstand even the most intense shooting sessions. The three forward ports are enlarged to allow overpressure to escape, and the increased mass ensures proper gas pressures and extraction, even when shooting suppressed or short-barreled rifles. Don't settle for anything less than the best – trust CMC Triggers for all of your firearms needs.
9# JP Enterprises Stainless LMOS carrier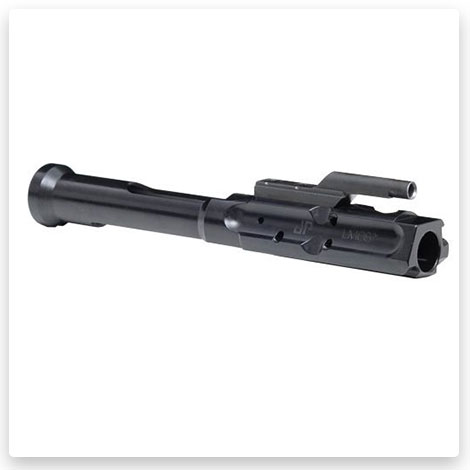 Looking for a top-notch bolt carrier group? Check out the JP Enterprises Stainless LMOS Carrier with QPQ! Machined from 416 stainless steel and finished with JP's QPQ hard coating process, this BCG is built to last. Plus, it comes with a staked carrier key installed for added security. The black chrome finish is not only beautiful but also matches the JP bolts perfectly. Note that this BCG does not include serrations for a forward assist, but does include a dust cover notch. Get your hands on this high-quality BCG today and see the difference it makes at the range!
10# Forward Controls Design AR-15 Bolt Carrier Group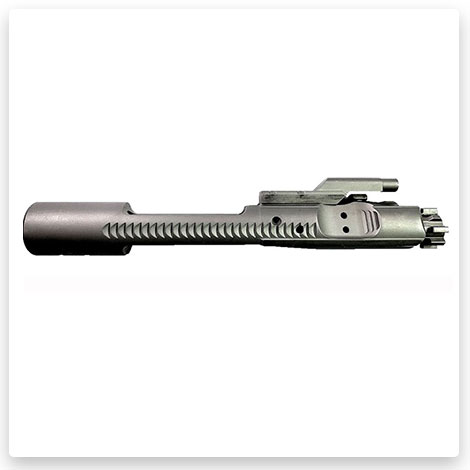 Welcome to our listing for the SBCG AR-15 Bolt Carrier Group. This bolt carrier group is a slight modification to the standard bolt carrier, designed for ergonomic compatibility with slick-side upper receivers and those without a forward assist. The carrier still has forward assist pawl notches, making it compatible with forward assist equipped uppers. The serrated surface machined into the concave area (forward of the gas vents of the carrier) facilitates silent bolt closing on upper receivers without a forward assist. If you need a top-quality, well-designed, and reliable bolt carrier group, the SBCG is an excellent choice.
11# Faxon Firearms AR-15 Full-Mass Bolt Carrier Group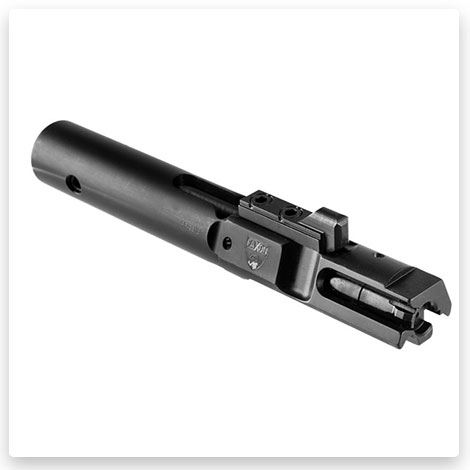 This BCG is machined from a single billet of mil-spec carbon steel and features an integral gas key that is machined as part of the carrier – meaning there are no fasteners to worry about working loose. The Faxon 9mm BCG is also designed to be compatible with lower receivers that use Colt-style stick mags and those configured for Glock pistol mags. And because it has the correct shroud length to trip the auto sear on full-auto rifles, there's no impact on function for semi-autos. So if you want a top-of-the-line bolt carrier group that will provide superb reliability and long service life, choosing the Faxon Firearms 9mm AR-15 Full-Mass Bolt/Carrier Group is a smart choice.
12# Stern Defense, LLC – M16 9mm Bolt For Glock And Colt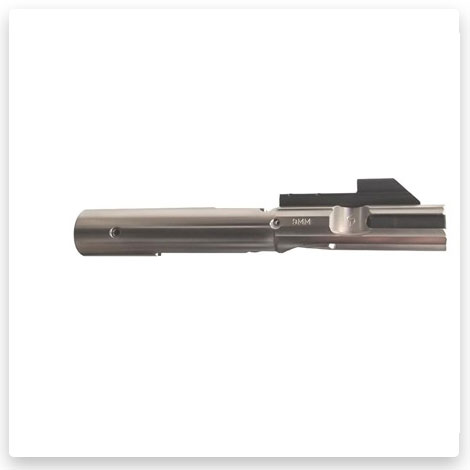 The Stern Defense 9mm Bolt is the perfect choice for your next AR-15 build. This high-quality bolt is compatible with both Colt SMG and Glock magazines and is fully compatible with standard AR15/M16 charging handles. The Melonite or Nickel-Boron/Melonite hybrid finish provides a tough, durable finish that will stand up to even the most demanding applications. The Stern Defense 9mm Bolt also incorporates a design that caters to single-stage triggers with short resets, making it the perfect choice for competition or tactical use. Made in the USA.
💡What makes a great BCG?💡
The most important factor to consider when selecting a Bolt carrier group (BCG) coating is durability.
🔍 Additionally, you want to ensure the coating isn't prone to flaking or peeling off in high-wear areas.
🔍 In addition to durability, it's also important to note that some coatings are designed specifically for use with AR-15 rifles while others may not be as well suited.
🧐 When looking at different BCGs, consider the following factors:
🔰 Type of coating. There are a variety of different coatings available such as black oxide, Cerakote, KG GunKote, and Nickel Boron.
🔰 Cost. Consider your budget when selecting a coating and factor in any additional costs associated with installation or maintenance.
🔰 Compatibility with ammunition types. Some BCGs may not work with certain types of ammunition due to their design or material composition.
FAQ 😎
Conclusion 😊
When it comes to the best bolt carrier group coatings, there are a lot of options on the market. In this buyer's guide, we've outlined some of the best-rated BCG coatings and what you need to look for when making your purchase. We've also included some tips on how to care for your new coating so that you can get the most out of your investment. Thanks for reading! 🥰❤️‍🔥
Tags: #best bolt carrier group coating / #best coating for bolt carrier group / #what is the best coating for ar-15 bolt carrier group / #which bolt carrier group coating is best / #best ar 15 bolt carrier group