Affiliate Disclosure: AmmoCave.com sometimes gets paid for listings, through sponsors or affiliate programs like Lucky Gunner, Optics Planet, Brownells, Cabelas, Academy Sports & Outdoors, Rainier Arms, Palmetto State Armory, Sportsman's Guide, Ammo.com, Ammo Man, Primary Arms, MidWayUsa, Amazon, eBay, etс. Clicking a link helps keep AmmoCave.com free, at no extra cost to you!
Authors: Each article is verified by AmmoCave's expert team. Professional hunters, firearm trainers, gunsmiths, and gun experts write the articles. AmmoCave Team independently researches, tests, reviews, and uses recommendations from our community of gun owners. We may earn commissions from shopping links.
Note: The views and opinions expressed in this article are those of the authors and do not necessarily reflect any agency's official policy or position. The articles are for informational purposes only, share your opinions about Best Rifle Scope 2023 in the comments and join the discussions. Let's share 💬 our ammo & gun experiences together!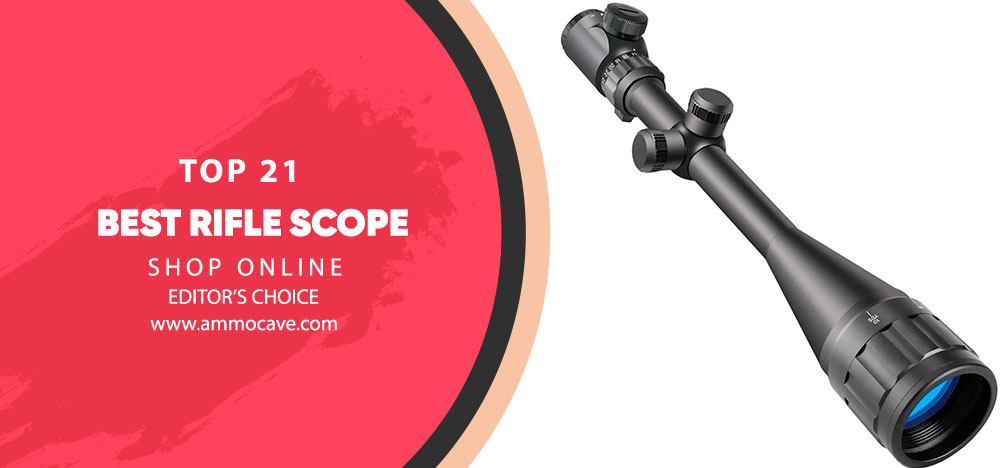 What is Rifle Scope? 🔭
It is a sighting device that is used to help aim and accurately fire a rifle. It typically consists of an optical refracting telescope mounted onto the rifle, with adjustable magnification power and objective lens diameter, allowing the user to better target their shots with greater precision.
Watch this video to find more information💻
Features 💡
🔎 1. Magnification: A higher magnification range allows shooters to see their target more clearly and accurately at longer distances.
🔎 2. Reticle: The reticle, or crosshair, is the aiming reference inside the scope that helps align shots. Different reticles offer varying degrees of complexity and accuracy, from simple duplex reticles to more advanced illuminated ones with MOA (minute of angle) hash marks for precise adjustments at long ranges.
🔎 3. Eye Relief: It is the distance between the shooter's eye and the eyepiece on the scope where a full field of view can be seen without straining or discomforting the shooter's eyes. Most rifle scopes have an eye relief of 3-4 inches, although some offer as much as 4-5 inches for comfort during recoil with heavier calibres.
🔎4. Parallax Adjustment: This feature helps eliminate parallax error which occurs when a target image appears off-centre even when it's perfectly aligned in the scope's reticle due to optical distortion at long distances. Scopes with adjustable parallax settings allow greater accuracy by eliminating this distortion while shooting at extended ranges and can be adjusted to match different ranges depending on ammunition type and distance from the target.
🔎5. Focal Plane Position: There are two types of focal planes in rifle scopes – the first focal plane (FFP) and the second focal plane (SFP). FFP scopes keep their reticles true regardless of magnification power, while SFP scopes only present accurate measurements of windage and elevation hash marks at maximum magnification power setting.
🔎6. Tube Diameter: The tube diameter is measured in inches and determines how wide the objective lens can be, which then affects how much light can enter into it for better visibility in dark environments such as nighttime hunting or tactical operations. Common tube diameters include one inch, 30 mm and 34 mm sizes; bigger tubes provide more space for larger lenses which results in improved performance in low light conditions but typically adds extra weight onto the scope itself as well as your firearm's overall weight profile.
🔎7. Turret Adjustments: Turrets are dials located on top or side of your scope that allow you to adjust its elevation (up/down) and windage (left/right) settings according to distance and environmental conditions such as wind velocity or temperature changes. They also help compensate bullet drop over long distances so you hit your mark with pinpoint accuracy no matter what type of ammunition you use or the intended range you shoot from.
🔎8. Optical Coating: Optical coating applied by manufacturers serves two purposes – reduce glare caused by sunlight reflecting off lens surfaces, as well as increase light transmission levels inside the tube so the shooter can acquire clear images even during dawn/dusk hours when lighting is poor.
Our Top Pick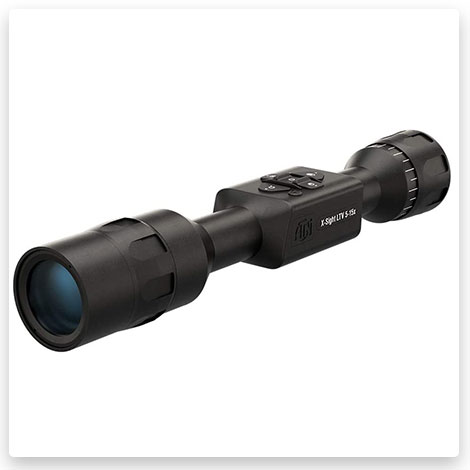 TheOpticGuru Ultra Light Day & Night Vision Rifle Scope
The ATN X-Sight scopes are now powered by the innovative ATN Obsidian LT Core, which is designed to consume less power and fit into a small, ergonomic package. These scopes provide clear images during the day and reliable performance at night. The latest model has fewer features, providing a straightforward and affordable experience for consumers.
Buy Now On Amazon
If you click this link and make a purchase, we earn a commission at no additional cost to you.
Types 🧲
🔭 Red dot scopes feature an illuminated reticle projected onto the lens that is used to aim at a target.
This type of scope is great for close-range shooting such as hunting or target practice and provides quick target acquisition with minimal eye strain.
However, they cannot be used for long-range shooting due to their limited magnification capabilities.
🔭 Prismatic (reflex) scopes utilize a prism system to reflect the image from the objective lens back into view via two angled mirrors that are connected together with prisms.
This type of scope is popular among hunters who need a lightweight but accurate option for short-to-medium ranges as well as sports shooters because it eliminates parallax error which can cause inaccurate shots at longer distances.
Additionally, prismatic scopes are more durable than other types and require less maintenance over time due to their internal seal design which prevents dust and dirt from entering the interior components.
🔭 Holographic scopes offer a different approach when it comes to aiming using an illuminated reticle projected onto the glass lens that appears three-dimensional.
This allows for faster target acquisition and greater accuracy in comparison to other types of optics since you don't have to line up your sights in order for them to be accurate like other optics require.
Holographic sights are popular among tactical shooters who often require rapid target acquisition in low-light conditions or dynamic environments like home defence situations where speed is critical.
🔭 Variable magnification scopes allow you to adjust the level of magnification according to your needs for any given situation and provide crystal-clear images in all light conditions.
Hunters usually prefer variable magnification because it gives them flexibility when targeting games from both short and long distances while competitive shooters generally prefer higher levels of magnification so they can shoot accurately from further away without needing to switch out optics between stages or matches.
🔭 Fixed power scopes offer a fixed level of magnification but come with lenses that provide excellent clarity regardless of lighting conditions or environmental factors like wind or rain which makes them perfect for hunting in any location as well as precision shooting competitions where accuracy is paramount above all else.
🔭 Night vision scopes use infrared illumination technology (either active or passive) along with various optical filters in order to amplify ambient light so you can see clearly even when there's no moonlight available or when targets are hidden in shadows created by foliage or trees during dawn or dusk hours when game animals tend to be most active due to changing hunting patterns triggered by natural instincts found within specific species populations throughout certain regions
Best Rifle Scope Review 💣
1# Bushnell Banner Dusk & Dawn Multi-X Reticle Riflescope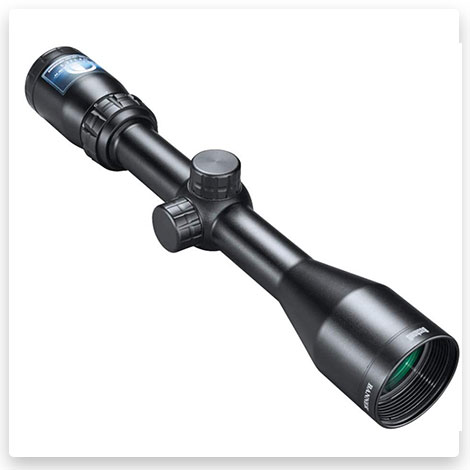 The rifle scope that opens this chart is equipped with the Multi-X reticle, providing a traditional sight image. The Multi-X crosshair reticle on the second focal plane (SFP) is easy to see even in the dark and dawn, allowing you to swiftly and easily acquire your target, making it a simple yet effective low-light utility. This hunting scope offers a sharp, clear image with completely multi-coated lenses and a waterproof build that minimizes fogging. It's perfect for hunting in low-light situations like twilight and morning. A fast-focus eyepiece allows you to adapt the reticle to your eye rapidly, allowing you to zero in on your target with pinpoint accuracy. The windage and elevation turrets may be changed, but they're capped to protect them from bumps and heavy use.
2# theOpticGuru Ultra Light Day & Night Vision Rifle Scope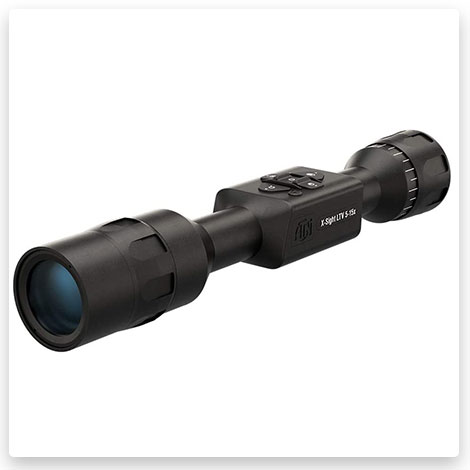 The ATN X-Sight scopes use the new ATN Obsidian LT Core, which is innovative and designed to consume less power in a small and ergonomic scope. The scope provides clear and vivid images during the day and excellent nighttime performance. This model has fewer features than other models, but it offers an affordable and uncomplicated experience. The battery life is 10+ hours, which allows you to record HD footage, hunt at night and get your target quickly. You can use the standard 30 mm rings to mount it on any platform.
3# Sig Sauer  Whiskey3 Riflescope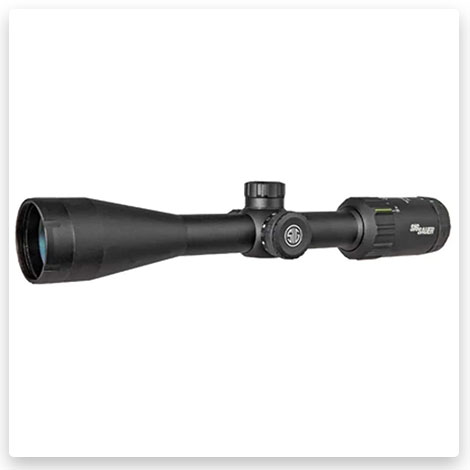 The Sig Sauer Whiskey3 Rifle Scope is a dependable and long-lasting choice for hunters and shooters looking to take their game to the next level. With a 3x optical zoom provided in a second focal plane (SFP) design, along with multiple reticle options, you'll have the accuracy and precision you need to hit your target every time. The low dispersion (LD) glass and European-style eyepiece further enhance this scope, providing industry-leading levels of clarity for all situations. As our tests have shown it's completely waterproof (IPX-7 rated, which means it can be submerged up to one meter), so you never have to worry about weather conditions or environmental hazards compromising your vision. Get reliable, world-class performance that won't let you down by investing in the Sig Sauer Whiskey3 rifle scope today.
4# CVLIFE Hunting Rifle Scope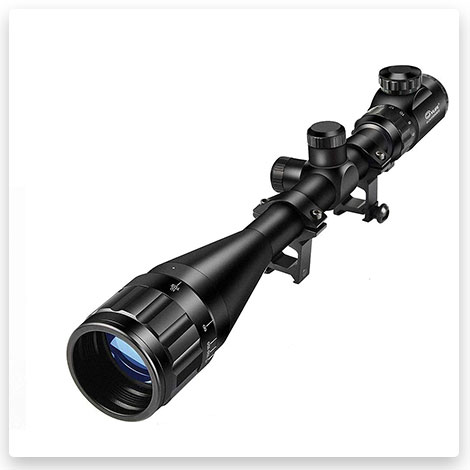 The next model has a completely multi-coated lens that transmits more than 95% of light, as well as an eyepiece with a dioptric adjustment lens that eliminates the majority of picture aberration. For users who are nearsighted or farsighted and do not need glasses, adjustable oculars deliver clear vision. Windage and elevation adjustments are crisp, constant, and accurate with well-designed and manufactured turrets; they are quick to modify, and the caps may be removed to reset the zero. It's also quite simple to install since it fits any standard 20 mm Picatinny or Weaver rail.
5# Vortex Optics Crossfire Tube Riflescopes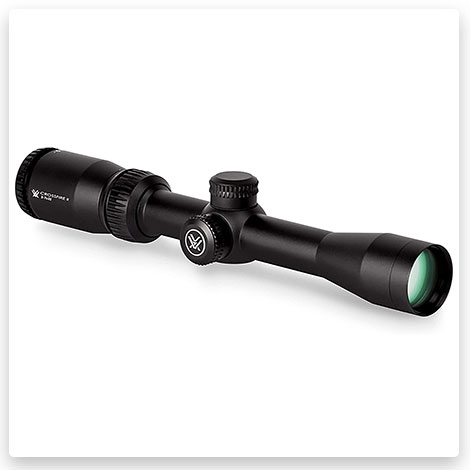 If you're a hunter or shooter looking for an optimal and efficient experience, then the Vortex Optics Crossfire Tube Riflescope is perfect for you. This 2-7×32 Crossfire II riflescope is outfitted with a Dead-Hold BDC reticle, offering you easy sighting at varying distances. With its long eye relief and ultra-forgiving eye box, quickly getting the sight of your target won't be an issue. Plus its fast-focus eyepiece lets you adjust the reticle with ease. The anti-reflective, fully multi-coated lenses deliver bright and clear views while its capped reset turrets let you easily make Finger Adjustable MOA clicks that can be reset to zero afterwards. Make sure to check out this reliable item today to get the most out of your hunting or shooting experience.
6# ATN X-Sight-4k Pro Edition Smart Hunting Rifle Scope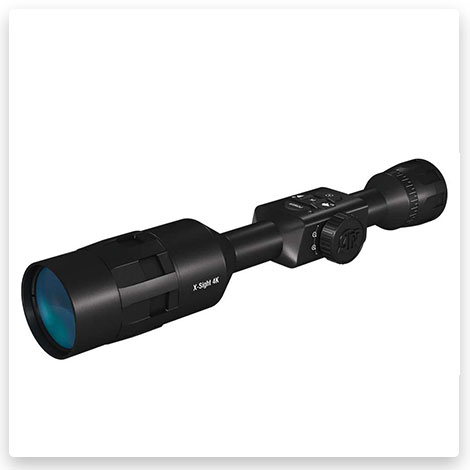 The X-Sight company's latest breakthrough is this scope. The X-Sight smoothly combines cutting-edge technology with a more classic scope design to give you the best of both worlds. This model delivers unparalleled picture performance with the newest Smart features that one has come to expect from an ATN scope, thanks to a Dual Core CPU and a low light 4K sensor. Using this product, our team found that it has the same appearance and feels like a classic optical. Rings for mounting are standard. There is a lot of eye relief here. High-resolution and fast-loading video. When zooming, there is no pixelation.
7# SNIPER MT4-16X50AOL Hunting Rifle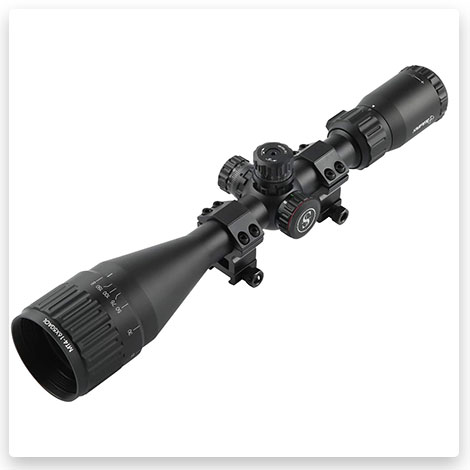 Introducing the SNIPER MT4-16X50AOL hunting rifle – the ultimate in long-range accuracy and precision. Featuring superior multi-coated lenses for reduced glare, maximum light transmission, and a crystal-clear image from edge to edge. The Mil-Dot reticle is illuminated in red, green and blue, making taking aim in low-light conditions easier than ever. Our QTA turrets with 1/4″ MOA click value allow for precise windage and elevation adjustments with every shot. This rifle is 100% waterproof and fog proof thanks to our nitrogen purging process and an o-ring sealed scope body. Plus it comes ready to use with a sunshade and mount included! Enhance your accuracy at any range with this state-of-the-art hunting rifle today!
8# Pinty Rifle Scope Sunshade Tube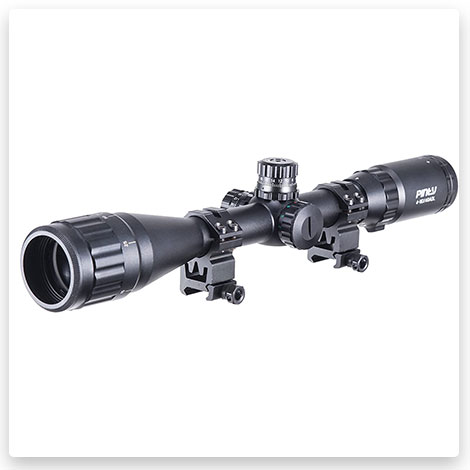 For a reliable and superior quality rifle scope, the Pinty is what you should choose. Boasting unsurpassed light transmission and unbeatable optical clarity, you are sure to hit your target accurately. The innovative 1/4 MOA windage, elevation and zero locking functions provide increased accuracy and precision. Our research has shown that the fully multi-coated lenses guarantee maximum protection against any weather conditions, including water, and fog and are shockproof. Enjoy an optimal performance in any hunting or shooting situation courtesy of the durable one-piece body tube and premium quality picatinny mounts that easily mount onto any standard 20mm rails. To make your purchase even more worthwhile, Pinty includes two flip-up covers, mounts and a sunshade tube with your rifle scope – truly unbeatable value for money! With the Pinty Rifle Scope Sunshade Tube, get ready for an excellent gunsight experience!
9# OMMO 3-9X40 Rifle Scope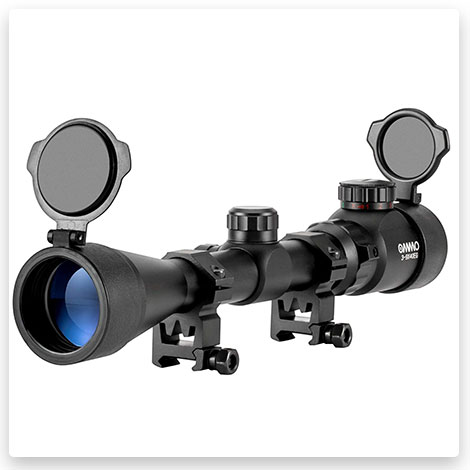 The OMMO 3-9X40 Rifle Scope is the perfect tool for taking down those long-range targets. With its 5-level brightness and green and red illuminations, you'll be able to accurately and confidently line up your shots with unbeatable clarity. You'll appreciate the wide field of view from 14′ to 25′ at 100 yards, as well as the windage and elevation click value of 1/4 MOA 1/4″ at 100 yards. As a testament to its reliable performance, it is nitrogen filled and waterproof and fog-proof which ensures that your scope will work consistently in any environment. Its aircraft-grade aluminium body means you won't have to worry about damage from drops or rough use. Hunters, shooters, and competitive athletes: get the best accuracy at mid to long-range when you choose OMMO!
10# Beileshi 6-24X50mm AOEG Optics Hunting Rifle Scope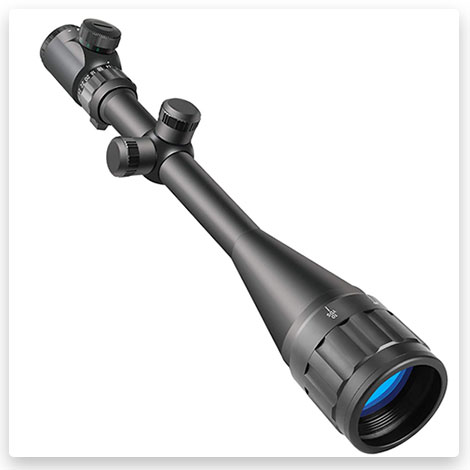 The Beileshi 6-24X50mm AOEG Optics Hunting Rifle Scope is the perfect companion for any hunter or shooter. It has magnification of 6-24X and a 50mm objective lens, making it suitable for close to mid-range or long-range shooting. With its rangefinder reticle with 5 levels of illumination in green and red colour, diopter adjustable fast focus eyepiece and adjustable objective (AO) lens, you'll have superior accuracy on every shot. The etched reticle on the glass ensures the reticle won't fall apart and the heavy-duty scope ring mounts are designed specifically to fit .79(20mm) rails only. Additionally, this scope is made of aerospace aluminium alloy which features shockproof, waterproof and fog-proof capabilities – ensuring that your scope will stay intact no matter how extreme it gets out there. The Beileshi 6-24X50mm AOEG Optics Hunting Rifle Scope includes 2x ring mounts, a CR2032 battery and a lens cover making it ready to go into action right away!
11# Monstrum 3-9×40 AO Rifle Scope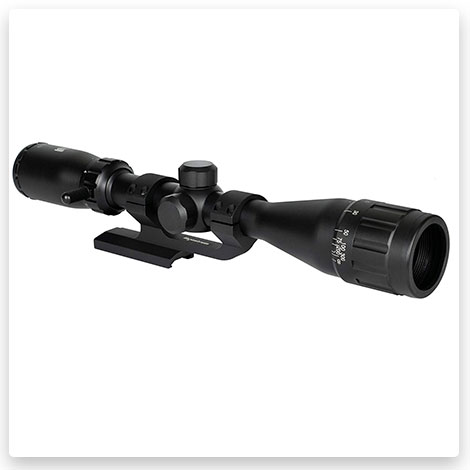 Looking for the ultimate accuracy and precision when targeting a long distance away? The Monstrum 3-9×40 AO Rifle Scope has you covered. With adjustable 3-9 times magnification, you can target far off distances of up to 600 yards and beyond with increased clarity and focus thanks to the adjustable objective lens (AO). Made using aircraft grade 6061 aluminum, this scope is lightweight yet strong and features a sealed nitrogen-charged tube for resistance to water and fog. Feel secure when adjusting windage and elevation with the precision 1/4 MOA/click locking turrets. And don't forget the package includes high profile Picatinny/Weaver scope rings and set of flip-up lens covers for added convenience in storage. All in all, the Monstrum 3-9×40 AO Rifle Scope offers serious hunters and shooters accurate shooting capabilities every time.
12# ATN ThOR Thermal Smart HD Rifle Scope
ATN's ThOR Thermal Smart HD Rifle Scope is the perfect device for the serious hunter or shooter. This ultra-sensitive scope uses a Gen 4 384×288 thermal sensor to provide top-quality imaging for a more successful experience in the field. With video recording capabilities on a MicroSD card, you can easily share your hunts with family and friends. Plus, this scope comes with wifi (for streaming, gallery and control) and Bluetooth 4.1 compatibility so you can use it with an iOS or Android device. Our findings show that the 3D GS7 gyroscope provides superior stabilization when zoomed in for an accurate shot every time. A 3D accelerometer and magnetometer are also onboard along with an E-Compass for orientation tracking in all directions. You'll never be without the details when using ThOR's Smooth Zoom feature or GeoTagging functionality courtesy of built-in GPS technology. Lastly, there's no need to worry if something goes wrong – this Rifle Scope comes with a comprehensive 3-year limited warranty as well. For hunters and shooters who want superior accuracy and performance at every outing, look no further than ATN's ThOR Thermal Smart HD Rifle Scope!
13# Trijicon 4×32 ACOG ECOS Riflescope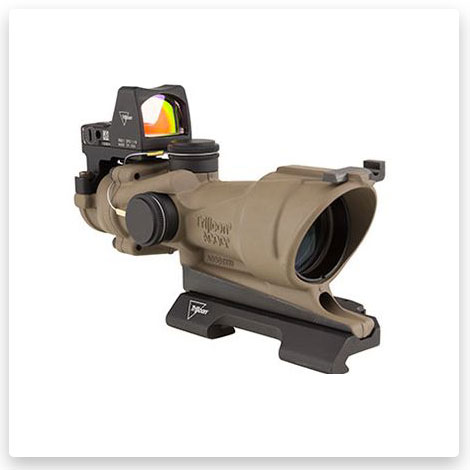 With its incredible scope, you'll be able to easily transition from a long-range engagement to a close-quarters encounter. Because the ECOS incorporates external windage and height adjusters, it doesn't require any tools for windage or elevation changes. The scope is waterproof up to 11 meters, so it can withstand hard outdoor conditions. This optic's forged aluminium casing guarantees that it can withstand demanding missions without impeding your movement. At any time of day, strong fibre optic and tritium lighting provide a bright targeting point on the battlefield.
14# Leupold FX-II 4x28mm Handgun Rifle Scope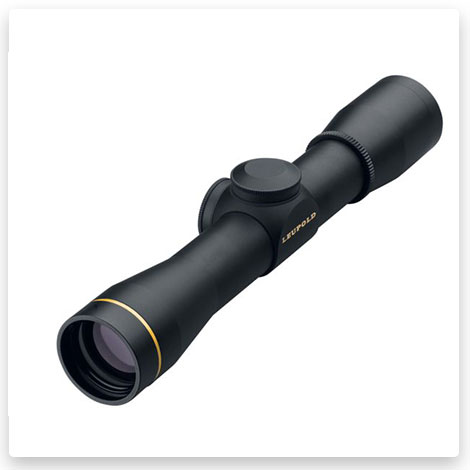 Discover ultimate precision with the Leupold FX-II 4x28mm Handgun Rifle Scope. Perfect for hunters and shooters, this rugged scope will help you improve your accuracy in any condition. The ultra-lightweight tube is 100% waterproof and fogproof so you don't have to worry about the weather and its ability to keep up with you in the field. With the key feature of the Twilight Light Management System, images are sharp, clear and vivid whatever the conditions, helping you make long-range shots with greater precision – even when it's not light outside. And with additional features like a manual adjustable parallax, fast focus eyepiece and 3:1 zoom ratio, you can customize this scope to get exactly what you need out of the shot. The Leupold FX-II 4x28mm Handgun Rifle Scope is sure to be just what you need for precision hunting and shooting performance.
15# Sightmark M1A 2.5x20mm Riflescope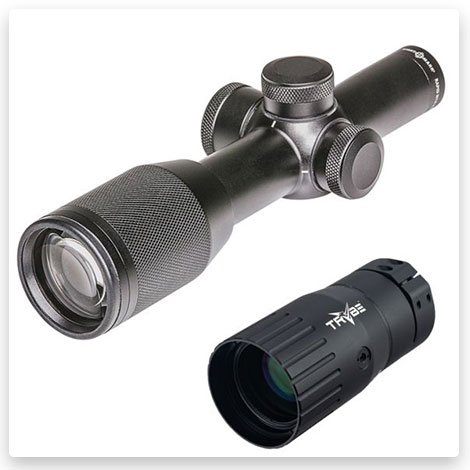 With the Sightmark rifle sight, you can hit your target faster and more precisely than ever before. The finely etched duplex reticle on this model from SightMark provides for sharper and more precise zeroing in on your target as well as a greater center mass sighting. The scope is suitable for hunting in low-light, twilight, and no-light circumstances, with ten brightness levels. Thanks to the scratch-resistant lens coating, you'll have a wider field of view. The Sightmark scope is waterproof, fog-proof, and shockproof, so it can take a battering and keep running.
16# SightMark Core SX 4x32mm Compact Rimfire Riflescope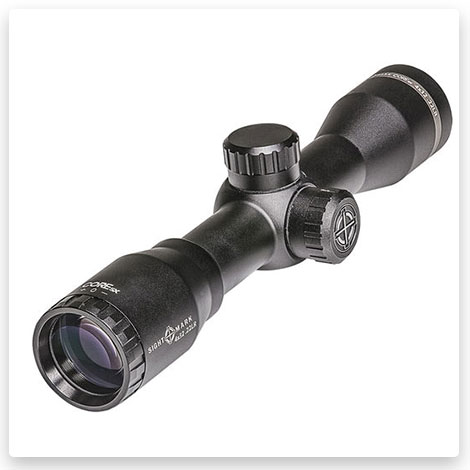 The SightMark Core SX 4x32mm Compact Rimfire Riflescope is an essential tool for the serious hunter and shooter. Boasting a lightweight and ergonomic design, this riflescope helps to make precision target shooting, small game hunting and recreational plinking more reliable. A 4x fixed magnification ideal for spotting targets from extended distances combined with capped, resettable turrets make this rifle scope a powerful ally for every hunt or shooting match. It is also perfect when fitted to crossbows, pistols, shotguns and rimfire rifles. Get ready to take your aim to new heights with the help of SightMark's specialized hunting optics!
17# Burris – Scout Rifle Scope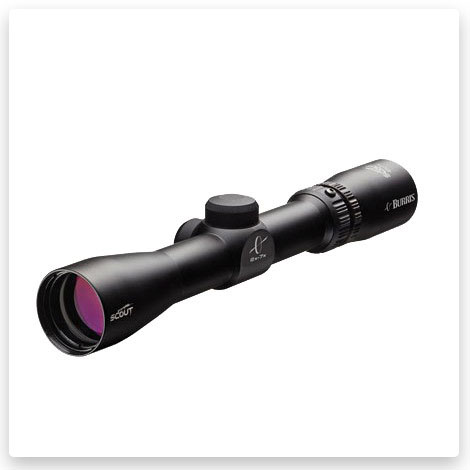 For the dedicated hunter and shooter, the Burris 2x-7x Scout Rifle Scope provides the ideal combination of options and features to ensure accuracy and precision in any situation. Featuring a variable power from 2x through 7x magnification, this scope combines bright, clear, fully-multi coated optics for quick target acquisition with low mounting capabilities for versatility and ease of use. With intermediate eye relief designed for scout rifles in particular, hunters can put this scope to use for tactical or home defense purposes as well as ranch guns or plinking. Moreover, with 7x magnification you'll get improved accuracy at increased distances and lower light conditions thanks to its inherent Ballistic Plex Reticle technology. For more than two decades Burris has been the recognized leader in scope technology – let this finely-crafted model help you take your game to the next level.
18# US Optics, Inc – Ts-12x 3-12x52mm Rifle Scope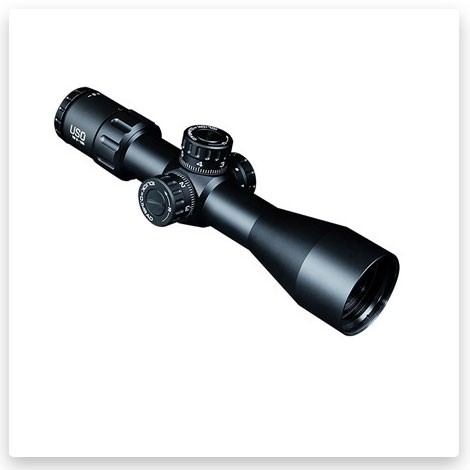 Exploit the versatile performance and reliable accuracy of the Us Optics, Inc TS-12X 3-12x52mm Riflescope. This lightweight and compact scope offers multiple features and upgrades to help your shooting power reach unmatched levels. From its powerful 52mm objective lens to its 30mm tube, you'll never miss your target again with the TS-12X. With a Rapid Focus Diopter, adjust from 3 to 12x quickly and easily while utilizing Tactical Locking Elevation and Windage Turrets for accurate aiming in extreme conditions. The First Focal Plane Triplex Reticle or MIL Hunting Reticle will help you get on target faster, whether it be in competition or hunting. Plus, a convenient parallax adjustment gives you even greater accuracy ranging from 10yds to Infinity so all your shots are perfectly precise. Make sure you're ready for whatever comes your way with USO TS-12X 3-12x52mm Riflescope today!
19# Leupold – Mark 5hd 3.6-18x44mm Rifle Scope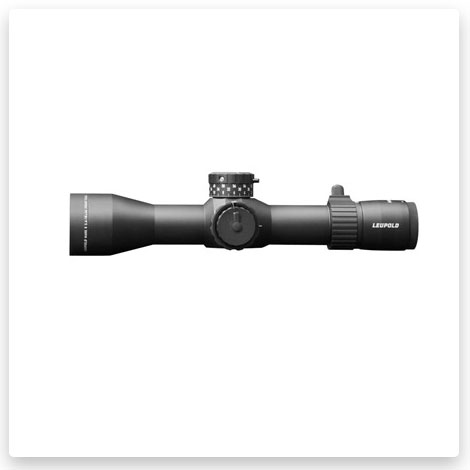 You'll notice the difference when you pick up this scope: it's up to 20 ounces lighter than comparable scopes in its class. It has the Combat Competition Hunter reticle's excellent edge-to-edge clarity, extreme low-light performance, and adaptability. The Mark 5HD was designed to maximize the performance of the newest long-range rifles and ammunition, with three rotations of elevation adjustment. More tactile, audible click adjustments, bigger numerals, and a high-speed throw lever are all meant to help you send precise fire downrange faster.
20# Vortex Optics – Strike Eagle 1-8x24mm Rifle Scope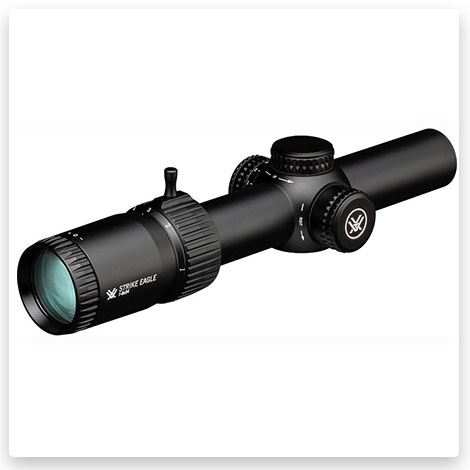 The Strike Eagle has been redesigned to include even more features, making it ideal for budget-conscious shooters who want a scope that looks as beautiful as it performs. On the low end, a genuine 1x adjusts to a broad range of settings, allowing shooters to engage targets quickly from point-blank to long ranges. A glass-etched, lighted AR-BDC3 reticle, which assists with quick shooting at close and long ranges while offering holdover and ranging references from 0-650 yards, is included to optimize that versatility. In addition, a threaded throw lever makes setting magnification even faster, shot after shot.
21# Nightforce – Atacr 7-35x56mm F1 Rifle Scope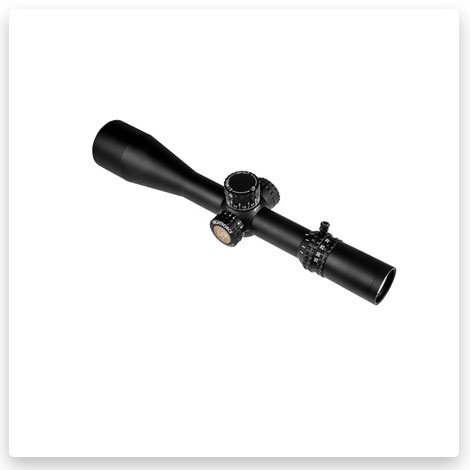 Even when you need to ratchet up the magnification, this powerful version of the Advanced TACtical Riflescope delivers an extraordinarily broad field of view over its extended magnification range, making the target both easy to detect and easy to hit. A first focal plane reticle guarantees pinpoint range calculations and quick hold-off adjustments with this sight. The completely multi-coated, low-dispersion ED glass from Nightforce allows for more than 90% light transmission, sharp pictures, superb contrast, and vibrant color.
Maintenance 🧺
✅ When cleaning the scope, start by removing any dirt or debris from its exterior with a soft cloth.
Then use a cotton swab dipped in rubbing alcohol to gently wipe away any residue from the lenses and body of the scope.
After that, apply lens cleaner specifically designed for lenses and then buff with a microfiber cloth.
⭕ Be careful not to use too much pressure when wiping the lens as this can cause scratches to appear over time.
Once all surfaces are clean, you can reassemble the rifle scope and mount it on your weapon.
✅ You should also inspect your scope regularly for signs of wear or damage such as loose screws, frayed wires, scratches on lenses or dust building up inside the tubes.
If any of these issues are present, they will need to be addressed immediately in order to prevent further damage or improper functioning of your rifle scope.
✅ When not in use, it is also important to store your rifle scope correctly so as not to damage any of its components including its lenses and seals.
Do not store the riflescope in direct sunlight or near strong magnetic fields as these can affect its accuracy over time.
Instead, keep it stored in a cool dry place away from extreme temperatures and humidity levels which could have an adverse effect on its performance if exposed for extended periods of time.
Please watch this video to learn more information 📺
FAQ 📣🔭
Conclusion ⏰
We have covered all the important aspects of choosing a rifle scope. We discussed different types and features to look for in order to make an informed decision when selecting your next rifle scope purchase. With our extensive product reviews and useful tips, you should now be able to find the best scope that fits your needs perfectly. Whether you are looking for something with more advanced capabilities or just basic functionality, there is sure to be one out there that will meet your requirements. Don't forget that quality always comes first so don't settle for anything less than what you deserve! Happy hunting! 😎🧭
Tags: #best rifle scope / #best air rifle scope / #best rifle scope for the money / #best rifle scope under 500 / #best budget rifle scope