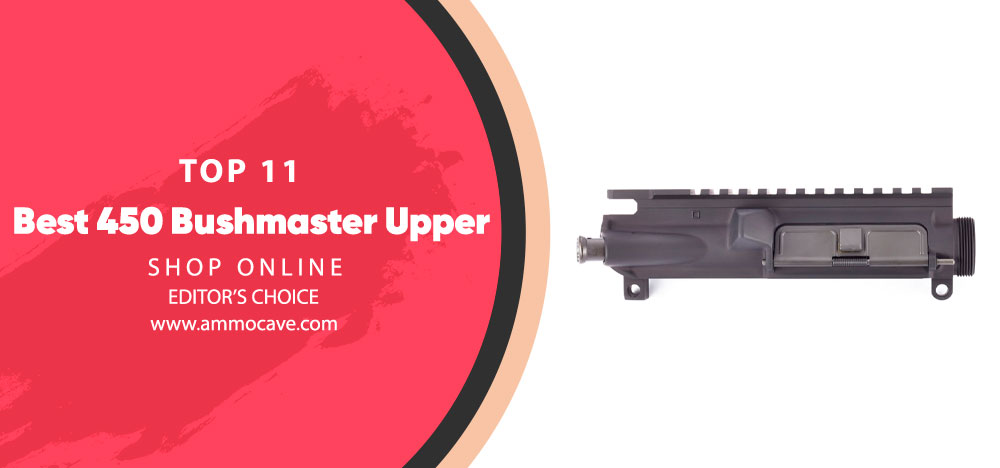 Our Selection 11 Best 450 Bushmaster Upper
| Image | Product | Brand | |
| --- | --- | --- | --- |
| | Radical Firearms Complete Upper .450 Bushmaster | Radical Firearms | |
| | Failzero Fail Zero Bolt Carrier Group .450 Bushmaster Ar-15 | Failzero | |
| | GLFA AR-15 Complete Upper .450 Bushmaster LJ450BUSHSS | GLFA | |
| | Brenton USA Stalker Carbon Hunter .450 Bushmaster Upper Receiver | Brenton USA | |
| | GLFA AR-15 Complete Upper .450 Bushmaster LJ450BUSH | GLFA | |
| | Wilson Combat Upper Receiver | Wilson Combat | |
| | Glfa Ar-15 Complete Upper .450 Bushmaster LJ450BUSHK | Glfa | |
| | Brenton USA Ranger Carbon Hunter .450 Bushmaster Upper Receiver | Brenton USA | |
| | Radical Firearms 450 MHR Complete Upper Receiver | Radical Firearms | |
| | Next Level Armament 450 Bushmaster Complete Upper NLX501 | Next Level Armament | |
| | American Tactical Imports AR-15 Complete Upper | American Tactical Imports | |
A .450 Bushmaster is constructed as an AR-15-friendly round with a good down-range performance and energy, appropriate for hunting. With the .450 Bushmaster, you can shoot down the game fast and humanely at 200 to 300 yards. The firing efficacy depends on proper barrel length: from a 16 inch to a 20-inch length is the best choice. The upper receiver is attached to the barrel and the forend, coming with the bolt carrier group, receiver frame, charging handle, forward assist, and dust covers.
Why do we need 450 Bushmaster upper?
Start building your rifle with the upper receiver, which is needed to protect the important internal parts. The upper allows enhancing the firearm accuracy even more than the lower receiver because the fired round or the loaded bullet operates in the upper one. The general performance and completed rifle weight depend on the upper as well.
Reliable upper receivers are usually forged or completely machined, including mounting rails for accessories. After upgrading the upper receiver, using an existing lower one, an AR-15 chambered for .450 Bushmaster will ensure dependable functioning.
Best Pick
GLFA AR-15 Complete Upper .450 Bushmaster 18in, NP3 LJ450BUSH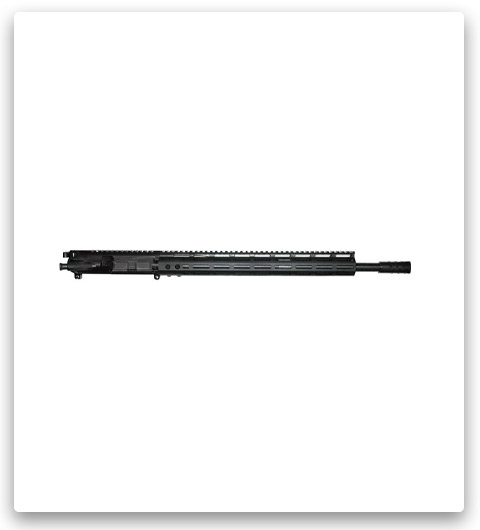 The A3 flattop upper receivers provide rifles with stability and better control while firing.
Premium quality materials and superb parts are used for these complete uppers. The muzzle brake mitigates the recoil significantly.
#1 Radical Firearms Complete Upper Assembly .450 Bushmaster, 15in MHR, Single Ramp, Box, 4 models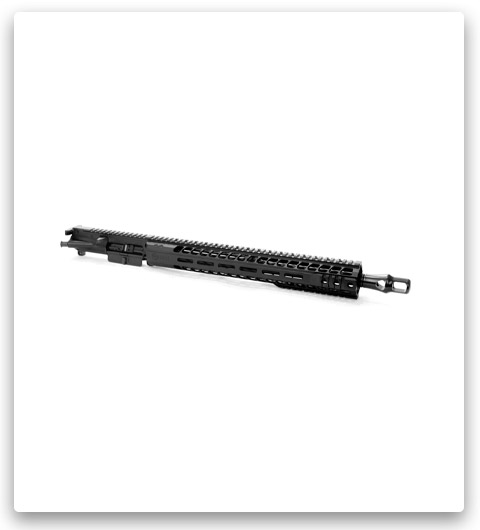 The Upper Assembly consists of an upper receiver, 450 Bushmaster 16-in Steel barrel (4140V) and magazine, Single Feed Ramp, custom ejection port door, RF Dimpled forward assist, barrel nut, dust cover, shell deflector, Panzer 5/8×32 muzzle brake, .936 in Micro Gas Block with Stainless carbine-length gas tube, MIL-STD charging handle, and staked bolt carrier group. This 15-in First-Gen Hybrid Rail System (FHR) upper is outfitted with the M-LOK fasteners on the sides and bottom, and the Picatinny rails at the fore-end to install optics, lights, lasers, bipods, and other accessories to equip the rifle with all needed.
#2 Failzero Fail Zero Bolt Carrier Group .450 Bushmaster Ar-15 FZ45001NH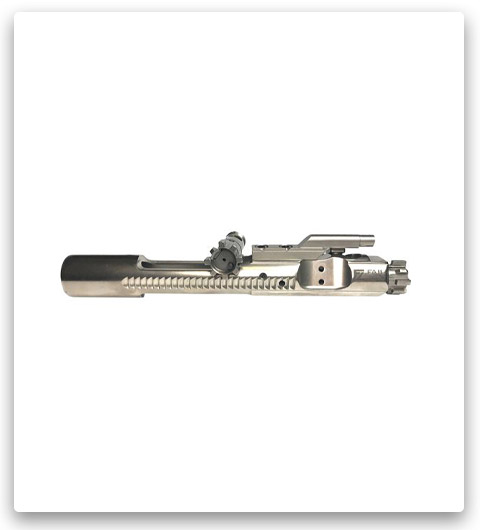 This AR-15 complete bolt carrier group will operate for both 450 Bushmaster and 458 SOCOM. The Bolt Carrier Group is made from Steel, Exo nickel boron treated and covered with a classic finish. The long-lasting and reliable parts are used in the BCG construction.
The drop-in install system is suitable for most Mil-spec .450 Bushmaster upper receivers.
#3 GLFA AR-15 Complete Upper .450 Bushmaster 18in, S/S LJ450BUSHSS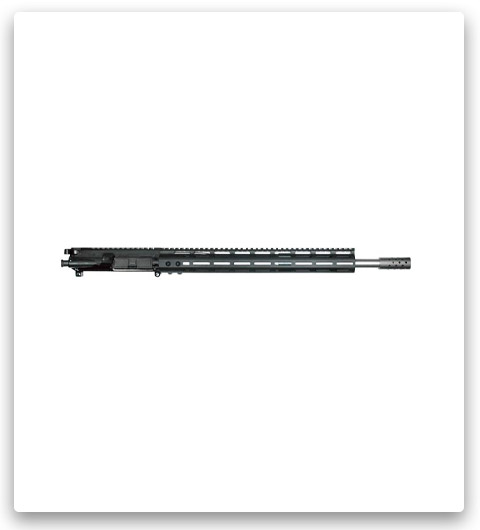 The .450 Bushmaster Uppers with 1:24 in Twist include an 18-in Barrel (416 SST) with a big bore stainless steel muzzle brake, which allows keeping the shooter on the aim, providing the hunting rifle with its high efficiency. The AR15 Complete Upper receiver is equipped with M4 feed ramps, a floating M-LOK handguard to ensure easy optics and accessories installation. The Uppers are crafted from Aluminum and stainless steel with Black Matte Finish.
#4 Brenton USA Stalker Carbon Hunter 18-Inch .450 Bushmaster Upper Receiver, 4 models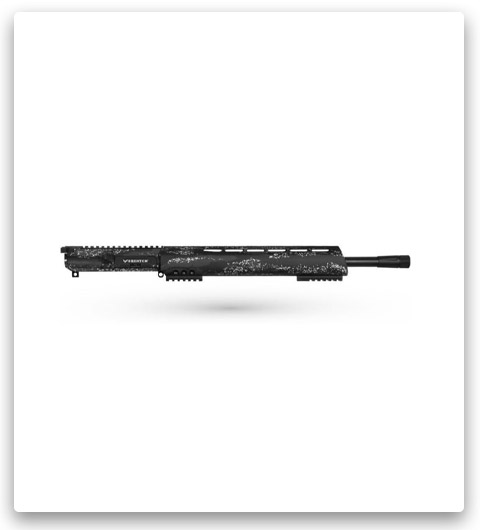 The Upper Receivers for Brenton USA rifles are outfitted with Performance Grade Medium Hunter Profile Barrel (416R Stainless Steel) with 1-24 Twist Rate, M-LOK attachment, HuntSize Charge Handle, Threaded Muzzle, Thread Protector (11/16×24), Carbon Fiber RealFeel Handguard, Bi-Pod/Sling Mount, Tripod Mount. The manufacturer guarantees the complete uppers are crafted from only reliable field-proven HuntSpec materials (Forged HuntPort Upper, Black Nitride Protective Barrel Finish, Nickel Boron BCG Coating), and compliance with all manufacturing processes.
#5 GLFA AR-15 Complete Upper .450 Bushmaster 18in, NP3 LJ450BUSH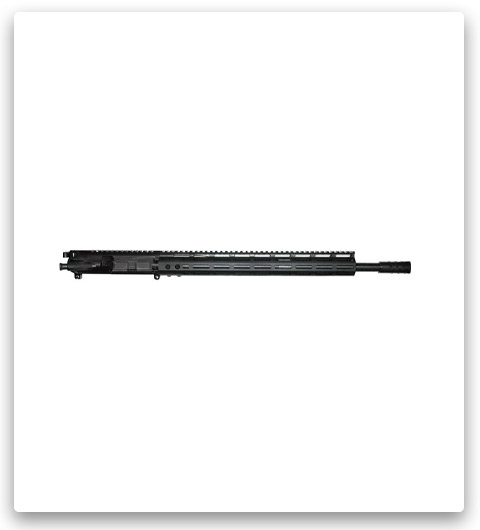 The A3 flattop upper receivers with a big bore muzzle brake (with 11/16 in X 24 in Muzzle Threads), 15-in floating M-LOK handguard, M4 feed ramps ensure rifle stability and better control while firing. The 18-in barrel (with a 1:24 in twist) is precision machined from chrome-moly (4150 CMV), covered with Nitride. The Complete Upper Receiver is made of Aluminum and Steel with Black Matte Finish. The .450 Bushmaster AR uppers are designed for the standard AR-15 lower receivers, so they operate well with the standard spring and buffer.
#6 Wilson Combat Upper Receiver, 4 models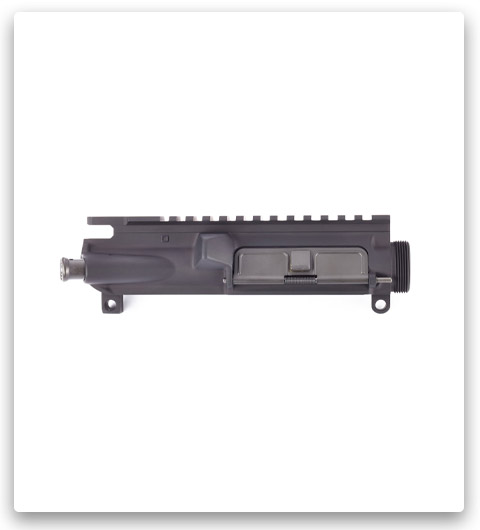 The Wilson Combat offers 4 models of Upper Receivers: three are chambered for 5.56x45mm NATO, and one is for .458 SOCOM (stipped), which is suitable for .450 Bushmaster as well. The forged uppers are assembled, and the mil-spec models are stripped. The 458 SOCOM cartridge features the practical ballistics of the .45-70 in an AR platform rifle to shoot 250 to 600 grain .458 caliber rounds (in a lightweight, controlled shell). The uppers for the .458 SOCOM consist of the specific bolt, barrel, an adjustable gas block, extra power action spring, and straight gas tube for a standard dependability upgrade. The Lancer 20 round 5.56 magazine will be optimal for 7 SOCOM rounds, or the 30 round 5.56 mags – for 9 SOCOM rounds.
#7 Glfa Ar-15 Complete Upper .450 Bushmaster 18″ Keymod LJ450BUSHK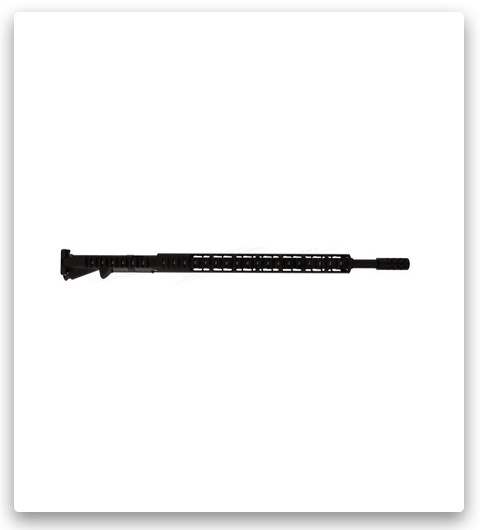 The Great Lakes Firearms and Ammunition, LLC used rigid and long-lasting materials to manufacture the complete AR-15 uppers, chambered for .450 Bushmaster, to provide reliable rifle performance. This upper receiver is integrated with an 18-in barrel. The upper assembly is crafted from 4150 CMV Steel with Black Nitride coating.
#8 Brenton USA Ranger Carbon Hunter 22-Inch .450 Bushmaster Upper Receiver, 4 models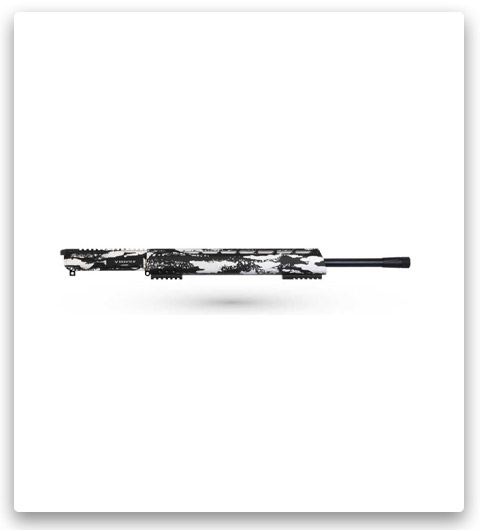 This complete upper assembly is manufactured from Forged metal for HuntPort Upper; Stainless Steel (416R) with Black Nitride Protective Finish for Barrel; Carbon Fiber for Handguard; and Nickel Boron Coating for BCG. There are 4 upper models available in such colors: Foliage MarbleKote, Snow MarbleKote, Harvest MarbleKote, Midnight MarbleKote. The Upper Receivers is designed for Brenton USA Ranger Carbon Hunter rifles, coming with Performance Grade Barrel, M-LOK attachment, HuntSize Charge Handle, Threaded Muzzle, Thread Protector (11/16×24), RealFeel Handguard, and Mounts (Bi-Pod/Sling and Tripod).
#9 Radical Firearms 16in, 450 MHR Complete Upper Receiver Group CFU9.5-450BUSH-7MHR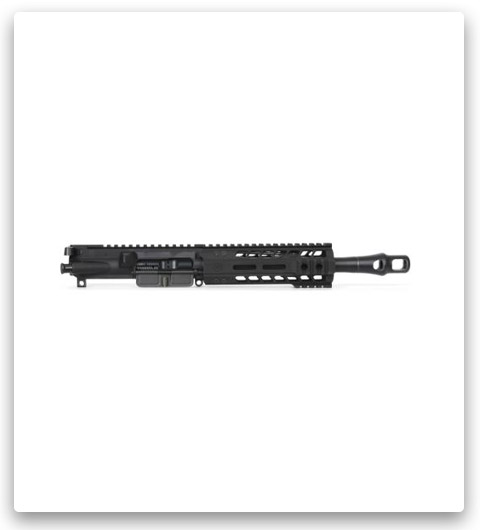 The Upper Receiver Group is equipped with a 16-in barrel, 7-in Handguard, Panzer Brake (Muzzle Device), and Pistol-Length Gas System. The Complete uppers are covered with Black Mil-Spec.
#10 Next Level Armament 450 Bushmaster Complete Upper NLX501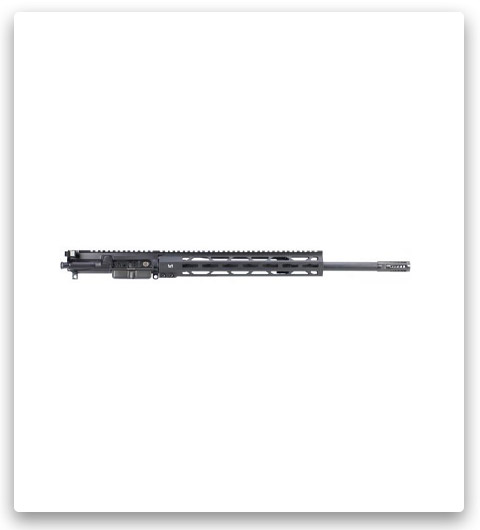 The Next Level Armament, taking into account the 450 Bushmaster bullet growing popularity and AR15 shooters' needs in an upper for hunting, developed complete forged upper receivers with dependable components to ensure great accuracy and range for these large caliber rounds. The uppers are manufactured from Aluminum (7015), and Steel (4140) with Black Nitride finish in specialized factories. The upper assembly consists of NLA 13-in M-Lok handguard with 16-in barrel (or 15-in M-Lok handguard with 18-in barrel), muzzle brake, NLA billet low profile gas block, Tromix 18-in mid-gas (or 16-in carbine gas), 5-Round magazine, Ambidextrous Charging Handle, Heavy Duty spring, Bolt Carrier with DLC finish, Tromix .450 BM Bolt.
#11 American Tactical Imports AR-15 Complete Upper, ATI15MS450BM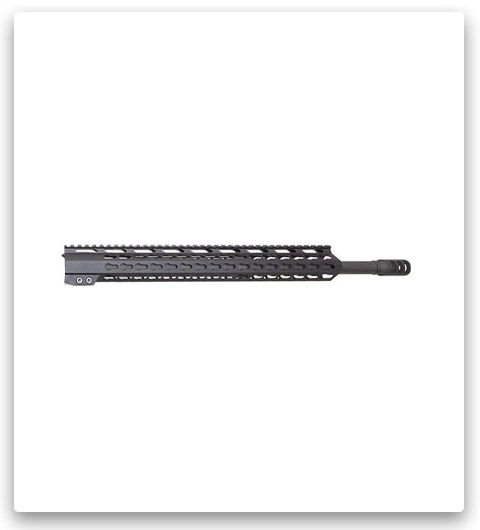 This upper receiver is designed for AR-15 with KeyMOD Gun Rail. The upper receiver comes with a 16-in barrel with 1:24 twist, a 5/8×32 compensator (not a flash hider), a Nitride bolt carrier group, a carbine length gas system, and a 15-in Keymod rail.
FAQ
Conclusion
While searching a 450 Bushmaster upper, pay attention to its twist rate, barrel length, material, and construction durability (forged metal is stronger than machined or cast one), and ease of installation (friendly customization, enough space for optics), and whether included Forward Assist, which helps prevent cycling malfunctions.
There are two builds with different types of barrel, handguard, and gas blocks installation: a striped one with included forward assist and ejection port cover ensures weight and speed, while the assembled one for an SPR (special purpose rifle) provides more accuracy.
The longer the barrel, the more the round's velocity, although the best length option for a .450 Bushmaster barrel is from 16 to 20 inches to ensure a softer shot, and with a dependable chamber to deliver more precision.