Affiliate Disclosure: AmmoCave.com sometimes gets paid for listings, through sponsors or affiliate programs like Lucky Gunner, Optics Planet, Brownells, Cabelas, Academy Sports & Outdoors, Rainier Arms, Palmetto State Armory, Sportsman's Guide, Ammo.com, Ammo Man, Primary Arms, MidWayUsa, Amazon, eBay, etс. Clicking a link helps keep AmmoCave.com free, at no extra cost to you!
Authors: Each article is verified by AmmoCave's expert team. Professional hunters, firearm trainers, gunsmiths, and gun experts write the articles. AmmoCave Team independently researches, tests, reviews, and uses recommendations from our community of gun owners. We may earn commissions from shopping links.
Note: The views and opinions expressed in this article are those of the authors and do not necessarily reflect any agency's official policy or position. The articles are for informational purposes only, share your opinions about Best 50 Cal Ammo in the comments and join the discussions. Let's share 💬 our ammo & gun experiences together!
The 50 caliber ammo is definitely one of the most powerful rounds on the market. It offers great stopping power and can be used for a variety of purposes. With that in mind, it's important to know what the best 50 caliber ammo is so that you can make sure you're using the best possible round for your needs. In this article, we'll take a look at some of the top-rated 50-caliber ammo options and discuss what makes them stand out from the competition. So, if you're looking for some new ammunition to try out in your 50 cal gun, be sure to read on!

Best 50 Cal Ammo Reviews
1# 50 Cal BMG – 750 Grain A-Max Match – Hornady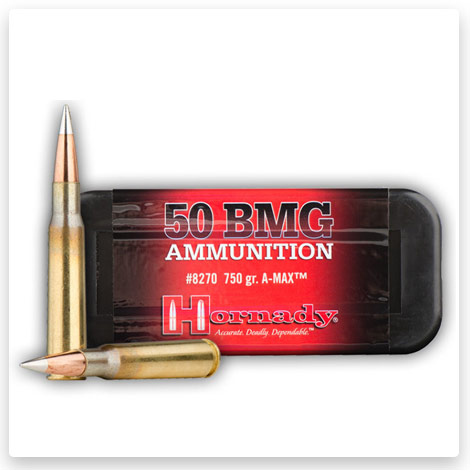 Looking for a top-performing round for your next shooting competition? Look no further than Hornady's 50 Cal BMG – 750 Grain A-Max Match rounds. These massive 750-grain rounds are incredibly accurate and have amazing trajectories – making them perfect for long-range shooting. Each round is loaded into a boxer primed brass casing that is re-loadable, making this an economical choice for shooters who like to reload their own ammunition. With 100 rounds in each case, you'll have plenty of ammo on hand to hit your target time after time. Pick up a case of Hornady's 50 Cal BMG – 750 Grain A-Max Match rounds today and be ready to compete with the best of the best.
2# 50 BMG – 660 Grain FMJ M33 – Lake City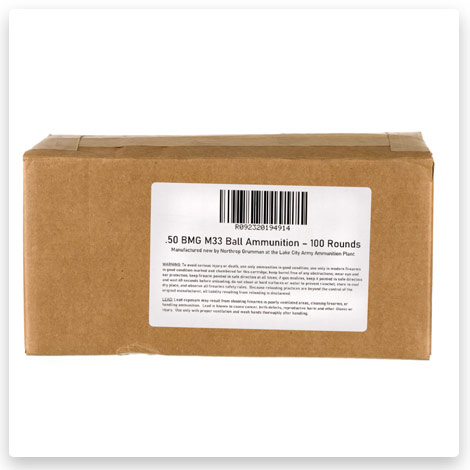 Looking for a heavy-duty cartridge for your big 50 caliber rifle? Look no further than the 660 Grain FMJ M33 from Lake City. This dish-shaped full metal jacketed projectile is perfect for target practice or training exercises.
With a steel core, this bullet is magnetic and thus can be easily retrieved after shooting. It also packs a powerful punch, with over 12,000 ft-lbs of muzzle energy. So whether you're looking to up your game at the range or need some extra protection in the wild, the 50 BMG from Lake City has you covered.
4# 50 Cal BMG – 660 Grain FMJBT – PMC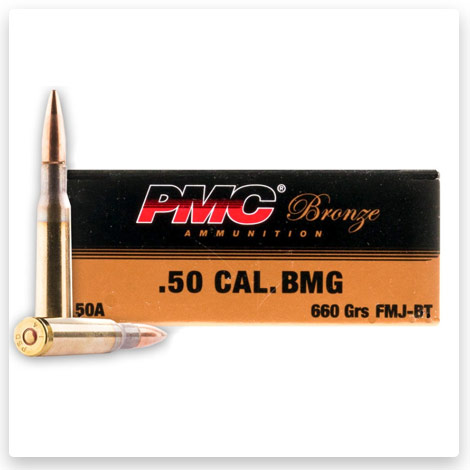 Looking for an affordable, high-quality round for target practice or range training? Look no further than the 50 Cal BMG from PMC. This newly manufactured ammunition is precision made and designed for excellent long-range accuracy. The boat-tail bullet provides improved accuracy at extended ranges, while the boxer-primed brass casing is reloadable for added value. Don't miss your chance to get your hands on this great deal – order today!
FAQ
What are the different 50 Cal rounds?
There are many 50 Cal rounds available on the market. Each of these rounds has its own unique features, so it is important to do your research before purchasing 50 Cal ammo.
How far can a 50 Cal shoot accurately?
A 50 caliber rifle can shoot accurately up to 1,000 yards.
Can anything stop a 50 cal bullet?
The answer is yes, but it takes something pretty impressive. A 50 cal bullet can be stopped by a thick metal plate or a layer of concrete. If it's traveling fast enough, it might even be stopped by another layer of metal or concrete. So, if you're ever faced with a 50 cal bullet, don't worry – there's plenty that can stop it.
Conclusion
When it comes to finding the best 50 cal ammo for your needs, it is important to do your research. The options can be overwhelming, but this buyer's guide will help simplify things and provide you with some of the top-rated products on the market. We have also included some tips on what to look for when making your purchase so that you can be sure you are getting quality ammo that will serve you well in the field. Thanks for reading!