Affiliate Disclosure: AmmoCave.com sometimes gets paid for listings, through sponsors or affiliate programs like Lucky Gunner, Optics Planet, Brownells, Cabelas, Academy Sports & Outdoors, Rainier Arms, Palmetto State Armory, Sportsman's Guide, Ammo.com, Ammo Man, Primary Arms, MidWayUsa, Amazon, eBay, etс. Clicking a link helps keep AmmoCave.com free, at no extra cost to you!
Authors: Each article is verified by AmmoCave's expert team. Professional hunters and gun experts write the articles. AmmoCave Team independently researches, tests, reviews, and uses recommendations from our community of gun owners. We may earn commissions from shopping links.
Note: The views and opinions expressed in this article are those of the authors and do not necessarily reflect any agency's official policy or position. The articles are for informational purposes only, share your opinions about Best AR-15 Flash Hider in the comments and join the discussions. Let's share 💬 our ammo & gun experiences together!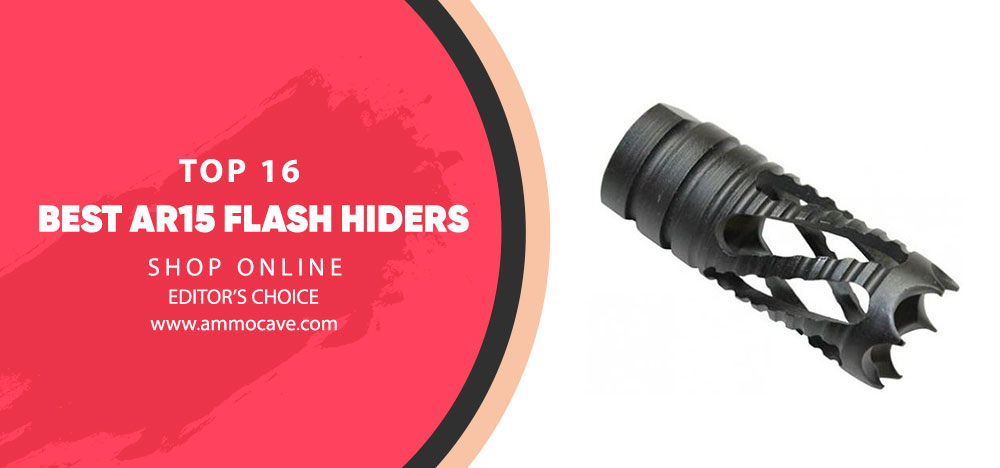 The flash hiders for AR-15 rifles run by promptly dissipating the propellant gasses, cooling them, and dispersing or containing the unburnt powder. An AR 15 flash hider can mitigate the recoil, but slightly, not as effectively as compensators.
Why do we need AR-15 Flash Hiders?
The flash hiders are critical for shooting in low-light conditions or at night allowing not to change the ambient light, keeping night vision intact.
Best Picks
SureFire 3 Prong Eliminator Flash Hider For M4/M16/AR15 Type Weapons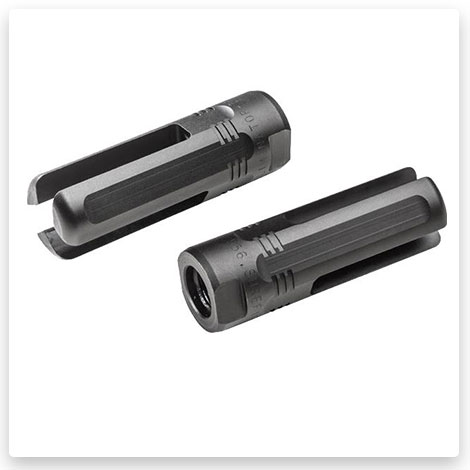 The flash hiders for the 14.5-inch rifles such as AR-15, M4, and M16 reduce flash significantly; look great in the rifle end; and are easy to clean even after extremal use.
SUREFIRE – AR-15 WARCOMP FLASH HIDER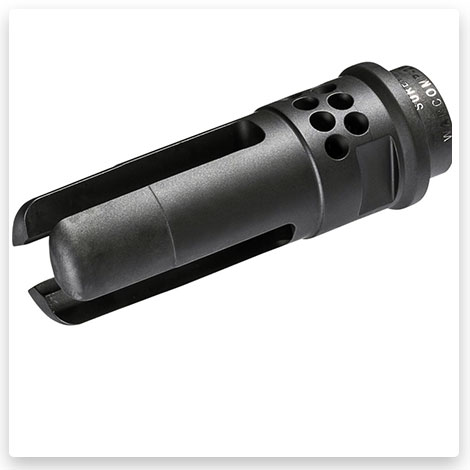 There are three main functions: muzzle flash mitigation, muzzle rise reduction, and serving as an attachment adapter for all SureFire SOCOM Series 5.56mm Fast-Attach suppressors. The flash hider helps enhance monitoring and staying on target, resulting in quicker follow-up shots.
Budget Pick
Midwest Industries AR-15 Flash Hider, Impact Device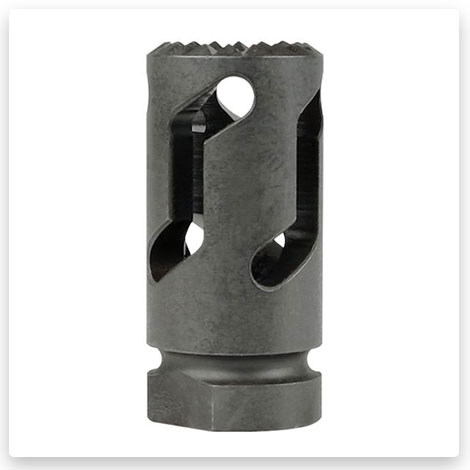 The Flash Hider masks the flash signature significantly. The muzzle device looks stylish on the AR rifles, featuring a great fit and finish.
Top 16 AR15 Flash Hiders
#1 Aero Precision Flash Hider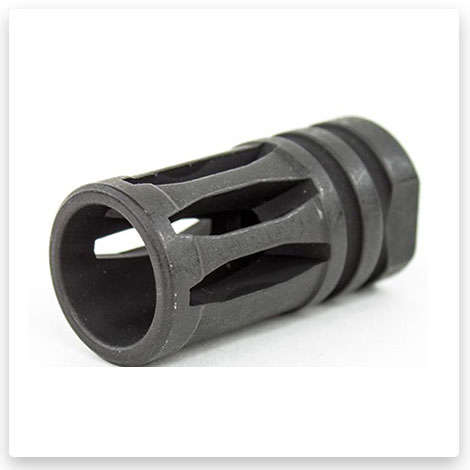 The Classic A2-Style Flash Hider fits AR15 rifles and is bored for 5.56 and .223 Calibers. These muzzle devices with a Mil-spec birdcage are finished with a Black anodized matte. A crush washer doesn't come with the kit.
#2 Midwest Industries AR-15 Flash Hider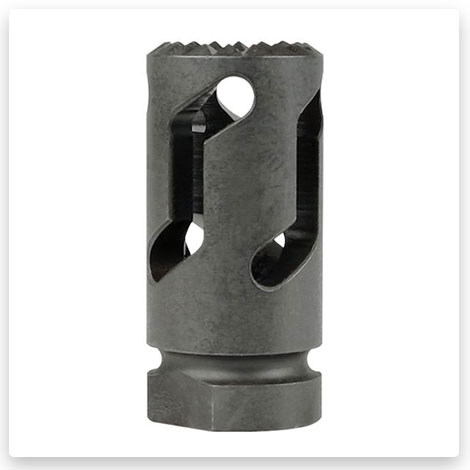 The Flash Hiders are designed for AR-15. These Midwest Industries impact units are crafted from tool steel, covered with a Melonite finish. A crush washer isn't included in the set.
#3 Guntec Usa Guntec 3 Prong Flash Hider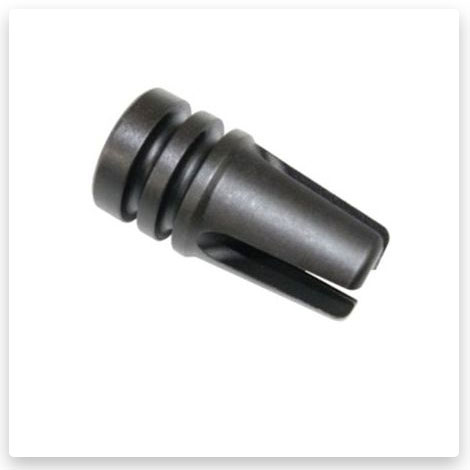 The three-Prong Flash Hider is compatible with retro barrels, delivering AR15 the old M16 look. These Flash Hiders are manufactured from Steel with a Black Matte Oxide finish. There is no tool to tighten the flash hider, so it's possible to use a screwdriver with tape around the end to tighten it and clock it without marring the finish.
#4 SureFire 3 Prong Eliminator Flash Hider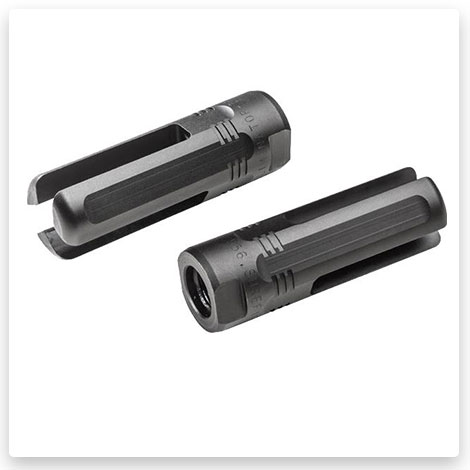 The flash hiders are equipped with pilot holes for pin-and-weld on the 14.5-inch rifles such as AR-15, M4, and M16; no modifications are needed while mounting. The muzzle devices are precision machined from stainless steel bar stock. The SureFire is specialized in manufacturing three-prong flash hiders that allow putting the flash out of sight 99% better than plain muzzles.
#5 Guntec USA AR-15 Mini Trident Flash Can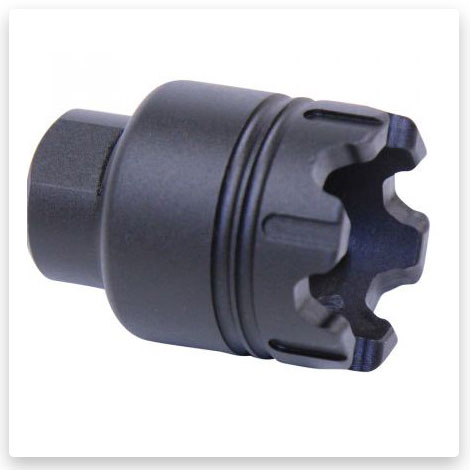 The Mini Trident Flash Can is crafted from Aluminum (T6), and covered with a Black Anodized Finish. This muzzle device pushes the flash forward. The Flash Can integrate the Glass Breaker function.
#6 Guntec USA AR-15 9mm Spiral Flash Hider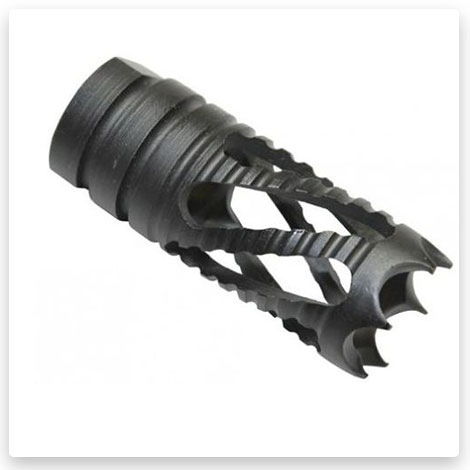 The Spiral Flash Hiders are manufactured from Stainless Steel covered with Black Nitride. Guntec USA designed stylish Spiral Slots Dissipate Flash, making them effective. The frontal part is aggressive; it can be used for self-defense as well.
#7 Mission First Tactical Prong Flash Hider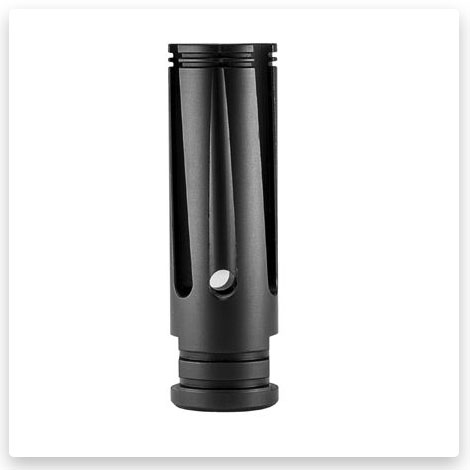 The flash hider is designed with curved three prongs to decrease flash effectively and with a small porthole on the top for better gas direction to reduce muzzle climb. The hiders are made of Stainless Steel (416) with Black Nitride Finish; the length and inner texture allow to keep the flash signature to a minimum for most .223/5.56 bullet grain weights.
#8 Guntec USA AR-15 Centurion Flash Hider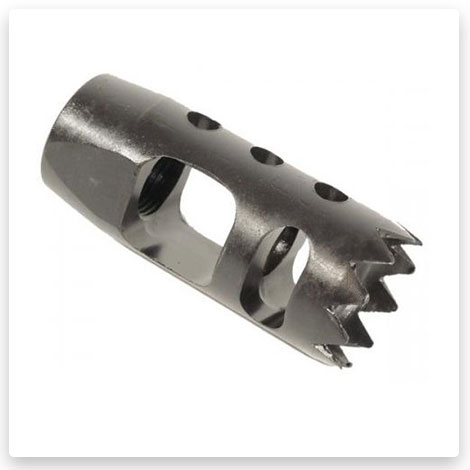 The Flash Hider is outfitted with two side ports of different size and shape opposite each other, and three top small holes to put flash out of sight and decrease recoil as well. The Stainless-Steel construction is sturdy and has frontal aggressive door breacher spikes, which can be used for self-defense as well.
#9 FORWARD CONTROLS DESIGN FLASH HIDER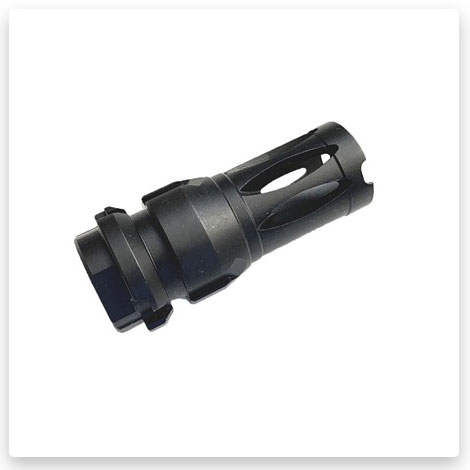 The 6315KM is an updated version of FCD's 6315 flash suppressor/comp, and it's compatible with Dead Air 5.56mm (223) sound suppressors. The flash hider consists of two parts: 63 denotes the Stoner 63 light machine gun (similarity of ports' shape), and KM stands for the Dead Air KeyMo (sound suppressor interface).
The 6315 KM is light and short-blended performance muzzle device, providing good muzzle rise compensation with flash suppression without creating more noise or concussion.
The flash hiders are precision-machined from firm Steel bar stock (4140) and black Nitrided. The flash hiders are equipped with 3 and 9 o'clock ports, which are 25% smaller (shorter and narrower) than the other three upward-facing holes, therefore more gas is vented through the upper ports.
Note: Before buying this device, check the state regulations of CA, MA, and NY, as the 6315KM features flash suppression capability equal to A2 one, and can be considered as a flash suppressor for these states.
#10 SILENCERCO – AR-15 ASR FLASH HIDER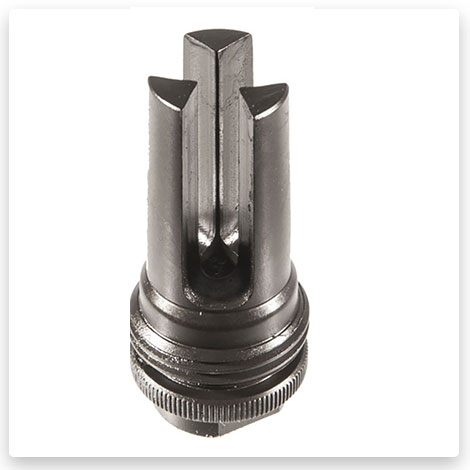 The Steel 3-prong flash hider fits the Specwar, Saker, Hybrid, Omega, and Harvester Big Bore ASR mounting system. The patent-pending resonance suppression excludes significantly the tuning-fork effect, which is often for competing for 3-prong flash hiders.
#11 SUREFIRE – AR-15 WARCOMP FLASH HIDER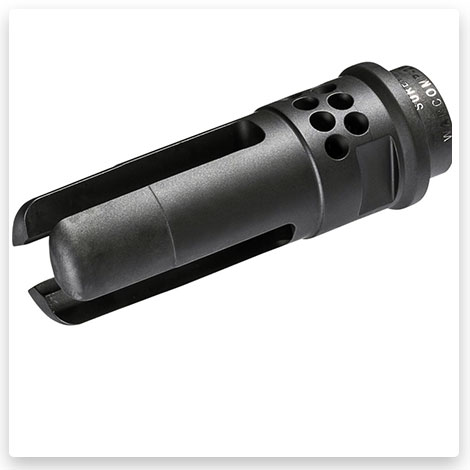 The WARCOMP flash hider features 3 main functions:
Muzzle flash reduction, which allows shooters to conceal their positions and keep dark-adapted vision;
Muzzle rise minimization for better reaction on target and follow-up shots;
Attachment adapter for all SureFire SOCOM Series 5.56mm Fast-Attach suppressors.
The flash hider is compatible with M4, M16 firearms, versions with 1/2-28 muzzle threads, and for a combat-purposed carbine. The WARCOMP, used with a SureFire SOCOM Series Fast-Attach suppressor, ensures multiple bearing surfaces to deliver superb suppressor alignment and prevent any ringing of tines inside the suppressor. The flash hider is precision-machined from stainless steel bar stock, US mill-certified heat-treated; installation doesn't need permanent modifications to firearms.
#12 FAXON FIREARMS – AR-15 STREAMLINE FLASH HIDER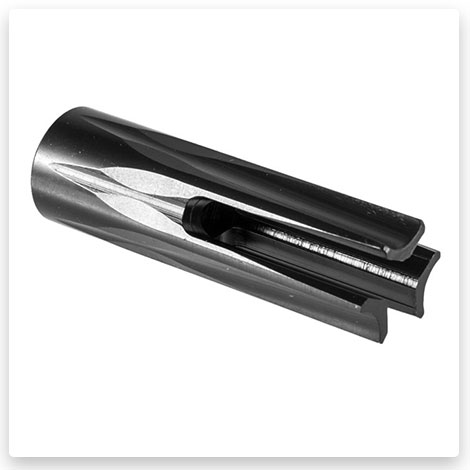 #13 GEMTECH – AR-15 QUICKMOUNT FLASH HIDER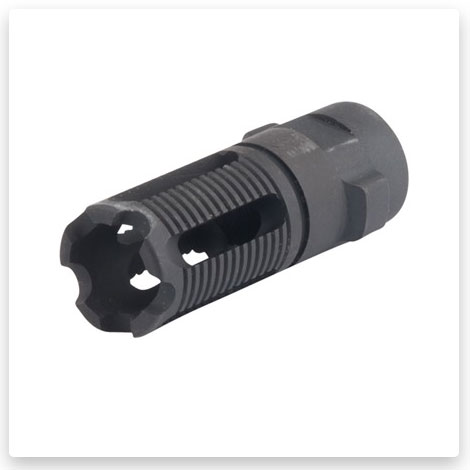 #14 ULTRADYNE USA NIGHTHAWK FLASH HIDER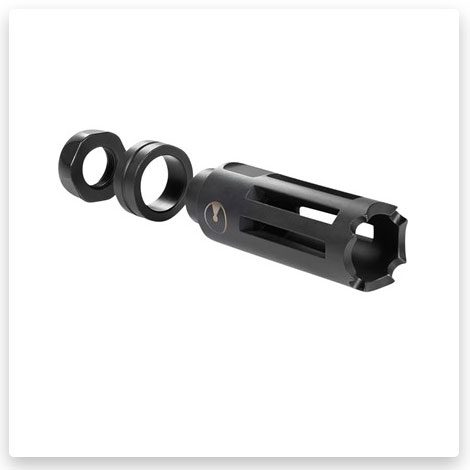 The Nighthawk Flash Hider for 5.56/.223 AR-15 platforms are designed for shooting at night, keeping decent night vision in low-light conditions without changing the ambient light.
The birdcage-style flash suppressor decreases the amount of muzzle flash and muzzle rise.
#15 ADVANCED ARMAMENT BLACKOUT FLASH HIDER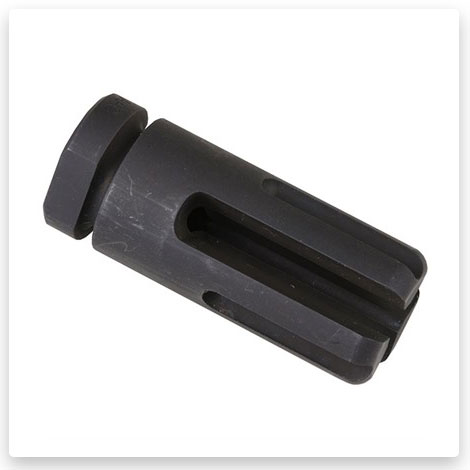 #16 BROWNELLS FLASH HIDER 22 CALIBER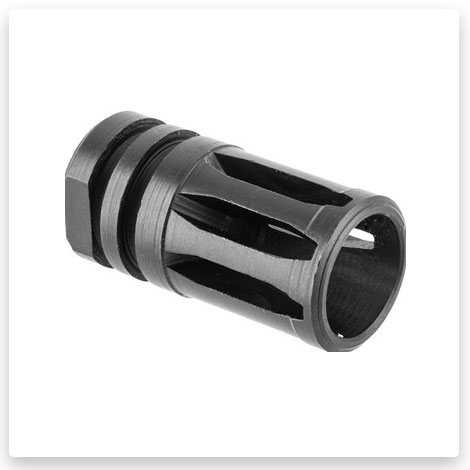 The Standard A2 flash hider is machined from steel (4140) with Black oxide finish.
Conclusion
The design of flash hiders with top ports due to the effective channeling of a small amount of gas through a port upward allows mitigation of muzzle climb. Choosing the flash hider remember about compatibility checking: the proper threads to match your rifle.
Tags: #flash hider / #best ar15 flash hider / #best flash hider for ar15 / #best flash hider ar15 / #what's the best ar15 flash hider / #ar15 best flash hider