Affiliate Disclosure: AmmoCave.com sometimes gets paid for listings, through sponsors or affiliate programs like Lucky Gunner, Optics Planet, Brownells, Cabelas, Academy Sports & Outdoors, Rainier Arms, Palmetto State Armory, Sportsman's Guide, Ammo.com, Ammo Man, Primary Arms, MidWayUsa, Amazon, eBay, etс. Clicking a link helps keep AmmoCave.com free, at no extra cost to you!
Authors: Each article is verified by AmmoCave's expert team. Professional hunters, firearm trainers, gunsmiths, and gun experts write the articles. AmmoCave Team independently researches, tests, reviews, and uses recommendations from our community of gun owners. We may earn commissions from shopping links.
Note: The views and opinions expressed in this article are those of the authors and do not necessarily reflect any agency's official policy or position. The articles are for informational purposes only, share your opinions about Best AR-15 Flash Hider 2023 in the comments and join the discussions. Let's share 💬 our ammo & gun experiences together!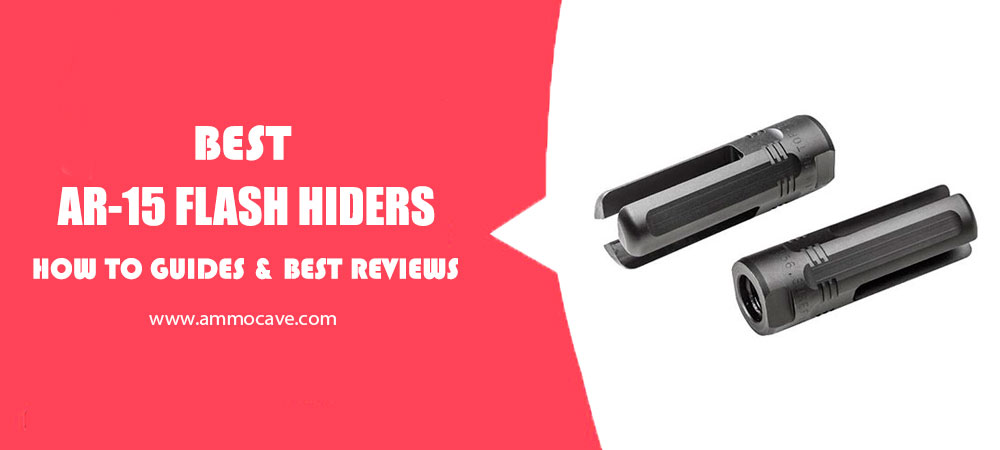 What is AR-15 Flash Hider? 😏
It is an essential accessory for AR15-style rifles and carbines. Also known as muzzle brakes or compensators, flash hiders are designed to reduce muzzle flash, which is the visual signature created when a rifle is discharged.
Features 💡
🔰 The material type. Different materials offer different levels of durability and performance, so it's best to do some research before making a purchase. Steel is one of the most popular materials used in flash hiders due to its durability and low cost; however, titanium and aluminium construction may be better suited for shooters looking for lighter weight and corrosion resistance. Additionally, some flash hiders are coated with special finishes to further enhance their performance in certain environments or climates.
🔰 Size. Some models feature smaller designs that are well-suited for shorter barrels or suppressed weapons systems, while larger designs are better suited for full-length rifles that generate more gas pressure upon firing. Many manufacturers also offer combination devices that combine both muzzle brakes and compensators into one unit; these hybrid devices often provide superior recoil management while still providing a substantial reduction in muzzle flash compared to traditional models.
🔰 Compatibility: many models are designed exclusively for specific calibres or barrel lengths so make sure you double-check before committing to any particular model. Additionally, some models may require additional attachments such as crush washers or thread adapters; make sure these items are included if needed prior to purchase or select a model which eliminates the need for them altogether if possible!
Our Top Pick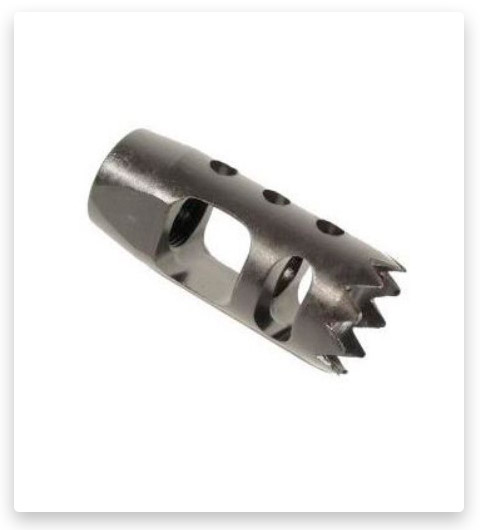 Guntec USA AR-15 Flash Hiders
Guntec USA's AR-15 Flash Hiders give you an edge to your firearm. Manufactured with highly effective and efficient components, these flash hiders not only add a sleek new look to your rifle, but they also boast supreme durability. The heavy-duty construction ensures that you'll be able to utilize your Flash Hider for what seems like an eternity, allowing for extensive amounts of use.
Buy Now On OpticsPlanet
If you click this link and make a purchase, we earn a commission at no additional cost to you.
Benefits 🔥
🔎 They are designed to reduce or completely eliminate the visible muzzle flash that is created when a round is fired from an AR15. This is done by redirecting the expanding gasses away from the shooter and reducing the number of unburnt powder particles that are released into the environment. Doing so, can help keep your shooting position concealed in low-light scenarios, allowing you to remain undetected and maximize your safety.
🔎 Additionally, they can also provide superior recoil management due to their enhanced gas dispersal capabilities. The increased venting area reduces felt recoil, helping shooters maintain control over their weapon while making recoil impulse more manageable and consistent across multiple rounds.
🔎Another benefit has improved muzzle stability during rapid-fire sequences. When firing consecutively without any muzzle device attached, it's common for shots to be slightly off target due to the muzzle rise caused by each shot's recoil.
🔎 Aside from all these features and benefits, flash hiders also look great on any rifle set-up. Their sleek profile and black finish match well with most gun barrels and gives rifles a distinct military-style look that many enthusiasts are fond of.
Our Top Pick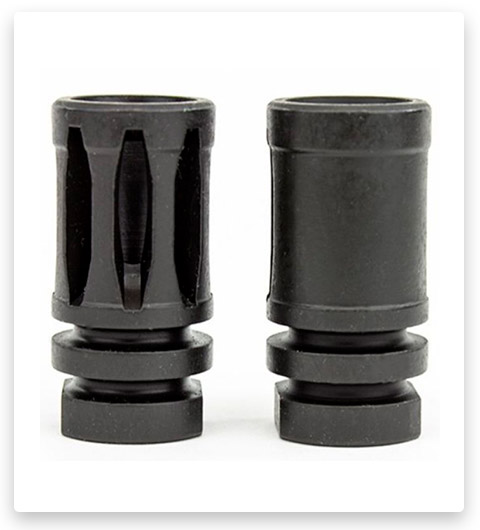 Aero Precision AR15 .22 A2 Flash Hider
The Aero Precision AR15 .22 A2 Flash Hider is the perfect addition to any serious shooter's arsenal. It's built with the highest quality standards for accuracy, reliability and performance. The classic A2 Style design ensures that this flash hider delivers superior corrosion resistance and strength even in extreme conditions. It is machined from a solid billet of heat-treated steel and finished with black oxide coating for improved durability. Measuring in at 1/2x28
Buy Now On OpticsPlanet
If you click this link and make a purchase, we earn a commission at no additional cost to you.
Types ⚡
🏆 A2 Birdcage or Mil-Spec Style: This style is most commonly found on military rifles. Its design features cylindrical holes on each side with no ports at the bottom; this is why it is also referred to as a "birdcage" style. It does an effective job at reducing initial muzzle blast, but its ability to reduce concussion and side blast is limited due to its lack of top or bottom ports.
🏆 3-Prong Style: This popular style was originally developed by surefire and was later adopted by many other manufacturers. It features three diagonal slots which compress expanding gas when firing, resulting in reduced muzzle climb, felt recoil, and muzzle noise. In addition to providing excellent performance in terms of recoil reduction, this type also provides slightly better facial protection than other styles since it has fewer open ports around the front-facing area.
🏆 Multi-Port or Hybrid Flash Hiders: These AR15 accessories feature multiple small ports along the length as well as larger ports near the exit end which help disperse gases more evenly than traditional designs. Many multi-port models feature additional features such as serrations along their exterior surfaces which can act as anti-climb devices for improved control during rapid firing sequences.
We believe this video will help you to choose the flash hider 📺
Best AR-15 Flash Hiders Review 😎
Best Picks 🔥
Our Top Pick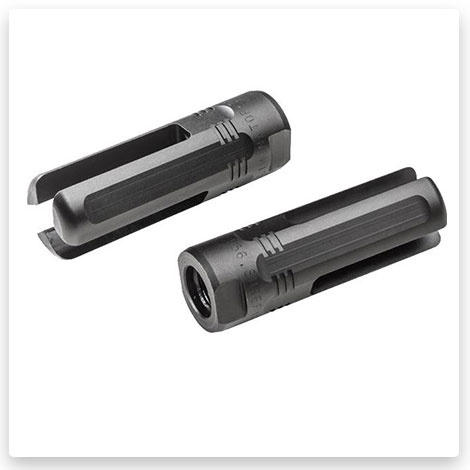 Our Top Pick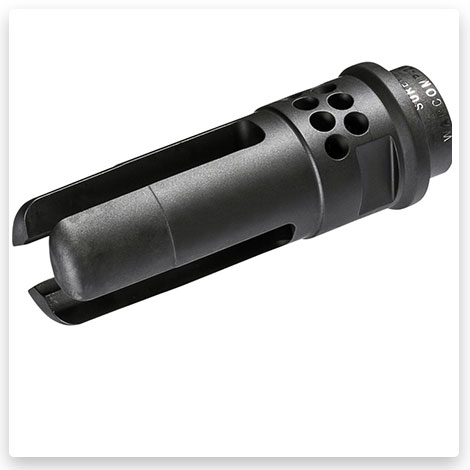 Surefire – AR-15 Warcomp Flash Hider
There are three main functions: muzzle flash mitigation, muzzle rise reduction, and serving as an attachment adapter for all SureFire SOCOM Series 5.56mm Fast-Attach suppressors. The flash hider helps enhance monitoring and staying on target, resulting in quicker follow-up shots.
Buy Now On Brownells
If you click this link and make a purchase, we earn a commission at no additional cost to you.
Budget Pick ✅
Our Top Pick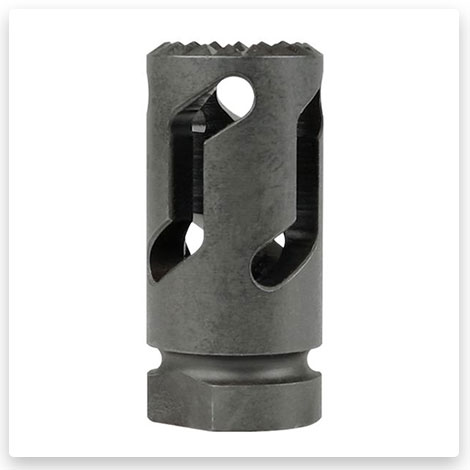 Top 15 🚀 AR-15 Flash Hiders
#1 Aero Precision Flash Hider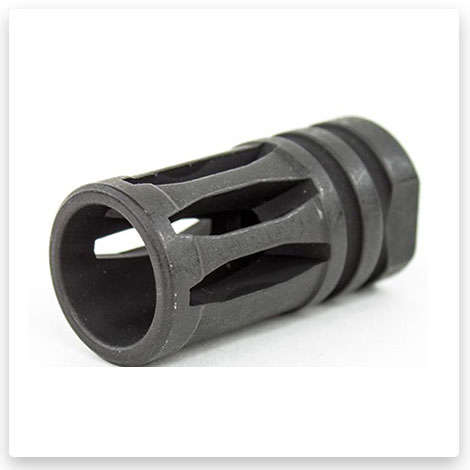 The Classic A2-Style Flash Hider fits AR15 rifles and is bored for 5.56 and .223 Calibers. These muzzle devices with a Mil-spec birdcage are finished with a Black anodized matte. A crush washer doesn't come with the kit. With a weight of only 1.9 ounces, it's small enough to blend into almost any setup without adding extra bulk or dragging you down on the range. So if you're looking for a flash hider that will give you optimal performance with an elegant look, Aero Precision's AR15 .22 A2 Flash Hider is just what you need!
#2 Midwest Industries AR-15 Flash Hider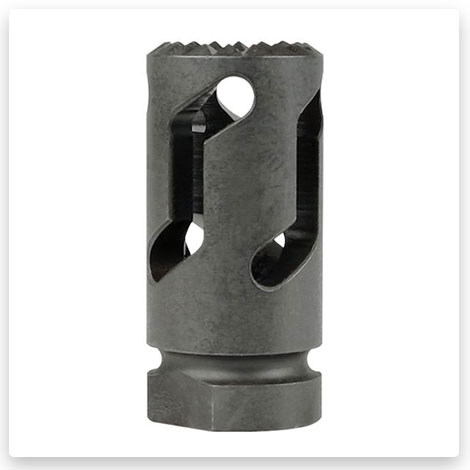 The Midwest Industries AR-15 Flash Hider gives you all of the essential features and benefits you could ask for in a muzzle device. Designed to fit 5.56mm/.223 Remington rifles with 1/2-28 threads, this flash hider is constructed from 4140 steel with a durable and reliable melonite finish. Not only does it reduce felt recoil and muzzle flash, but it also comes complete with a new crush washer for easy installation. The engineering and construction put into this flash hider are simply unparalleled, giving rifle owners peace of mind that their firearms are secure with maximum reliability and performance. Choose the Midwest Industries AR-15 Flash Hider for your next upgrade to guarantee unmatched performance and reliability every time you pull the trigger.
#3 Guntec Usa Guntec 3 Prong Flash Hider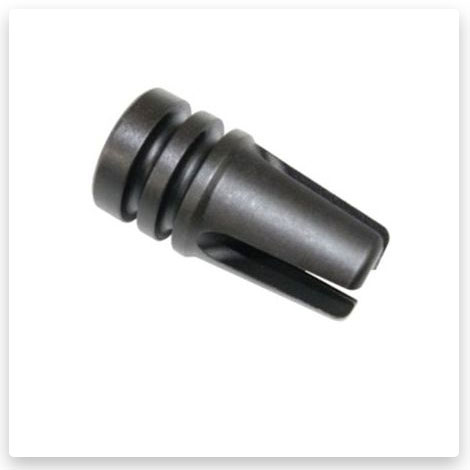 The three-Prong Flash Hider is compatible with retro barrels, delivering AR15 the old M16 look. These Flash Hiders are manufactured from Steel with a Black Matte Oxide finish. There is no tool to tighten the flash hider, so it's possible to use a screwdriver with tape around the end to tighten it and clock it without marring the finish.
#4 SureFire 3 Prong Eliminator Flash Hider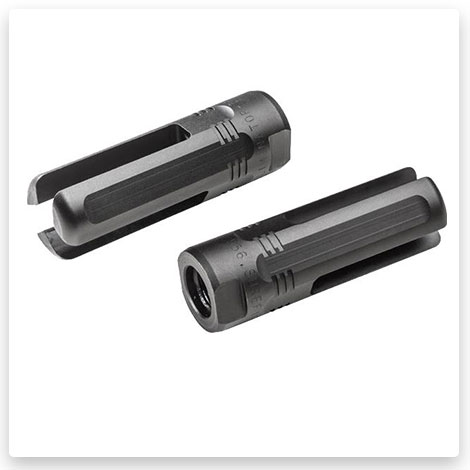 The flash hiders are equipped with pilot holes for pin-and-weld on 14.5-inch rifles such as AR-15, M4, and M16; no modifications are needed while mounting. The muzzle devices are precision machined from stainless steel bar stock. The SureFire is specialized in manufacturing three-prong flash hiders that allow putting the flash out of sight 99% better than plain muzzles.
#5 Guntec USA AR-15 Mini Trident Flash Can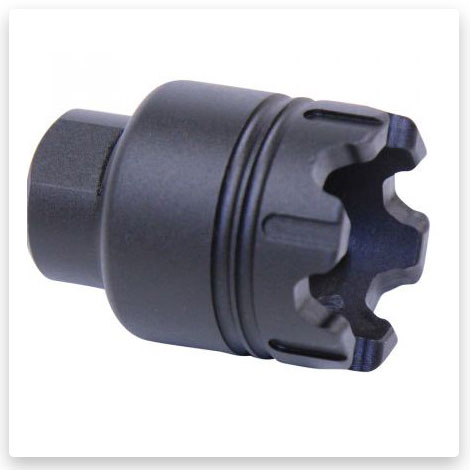 Guntec USA's AR-15 Mini Trident Flash Can be designed with the serious shooter and gun enthusiast in mind. Constructed of heavy-duty yet lightweight materials and designed to withstand even the most punishing conditions, the Guntec USA AR-15 Mini Trident Flash Can is built to last and perfectly suited for your next mission. Ideal for tactical operations, competitive shooting, self-defense or hunting, the Guntec USA AR-15 Mini Trident Flash Can help you rise above the competition. If you are looking for a rugged yet dependable accessory that will complement any firearm collector's arsenal, then Guntec USA's AR-15 Mini Trident Flash Can is precisely what you need. Enjoy peace of mind knowing that your firearm is equipped with quality products made by leading professionals in the industry. Choose Guntec USA today!
#6 Guntec USA AR-15 9mm Spiral Flash Hider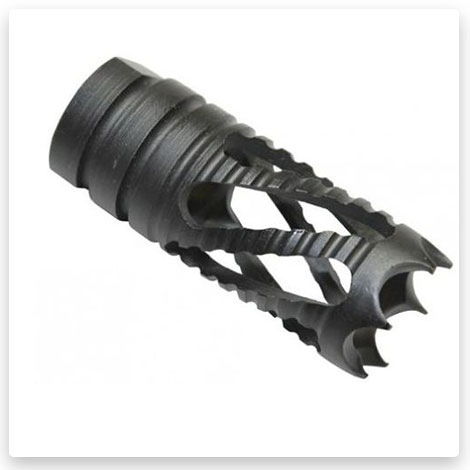 Secure your AR-15 with the highest quality flash hider available—the Guntec USA AR-15 9mm Spiral Flash Hider. Designed with long-lasting resilience and maximum performance in mind, this flash hider was manufactured using superior materials and top of a line design. Using a high heat-resistant finish that is corrosion protected, you can be sure that this robust accessory will withstand even the toughest conditions. This state-of-the-art device utilizes spiral vents to allow gases to escape more uniformly after firing, reducing recoil while also offering superior sighting accuracy. With improved accuracy and reduced muzzle flash visibility, you'll have superior control when shooting at night or in low light. Be prepared for any obstacle by equipping your weapon with a Guntec USA AR-15 9mm Spiral Flash Hider—dedicated to protecting you and your shooter's confidence while providing reliable accuracy across all situations.
#7 Mission First Tactical Prong Flash Hider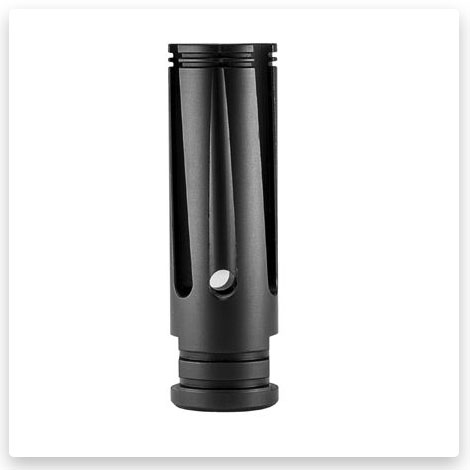 The flash hider is designed with curved three prongs to decrease flash effectively and with a small porthole on the top for better gas direction to reduce muzzle climb. The hiders are made of Stainless Steel (416) with Black Nitride Finish; the length and inner texture allow to keep the flash signature to a minimum for most .223/5.56 bullet grain weights.
#8 Guntec USA AR-15 Centurion Flash Hider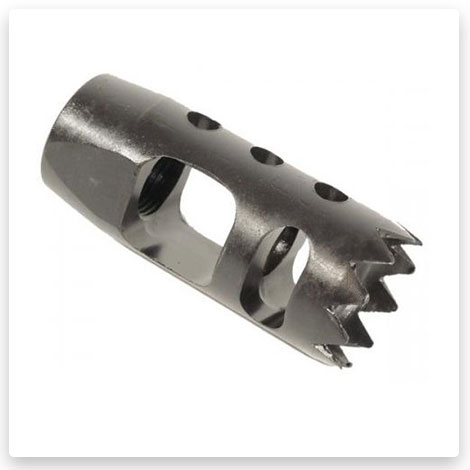 The Guntec USA AR-15 Centurion Flash Hider is a high-quality, heavy-duty suppressor that guarantees improved accuracy and consistency from your assault rifle. Built with durable materials and innovative design, this flash hider is perfect for experienced shooters or those just starting out. Offering reliable construction, you can rest assured of long-term use with the Guntec USA AR-15 Centurion Flash Hider.  Guntec USA has been engineering the very best products for years and their Centurion Flash Hider is just another example of the quality they consistently provide. They engineer every item with precision to meet and exceed the highest standards in the industry, ensuring no detail is overlooked. This elite flash hider will fit any standard AR-15 barrel, offering both increased performance and safety at an exceptional value. Put finely crafted excellence in your gun collection today with the Guntec USA AR-15 Centurion Flash Hider – delivering enhanced accuracy, precision, and durability without fail.
#9 Forward Controls Design Flash Hider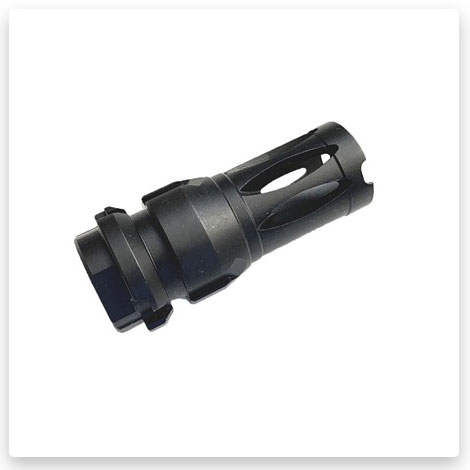 The 6315KM is an updated version of FCD's 6315 flash suppressor/comp, and it's compatible with Dead Air 5.56mm (223) sound suppressors. The flash hider consists of two parts: 63 denotes the Stoner 63 light machine gun (similarity of ports' shape), and KM stands for the Dead Air KeyMo (sound suppressor interface). The 6315 KM is a light and short-blended performance muzzle device, providing good muzzle rise compensation with flash suppression without creating more noise or concussion. The flash hiders are precision-machined from firm Steel bar stock (4140) and black Nitrided. The flash hiders are equipped with 3 and 9 o'clock ports, which are 25% smaller (shorter and narrower) than the other three upward-facing holes, therefore more gas is vented through the upper ports. Note: Before buying this device, check the state regulations of CA, MA, and NY, as the 6315KM features flash suppression capability equal to A2 one, and can be considered as a flash suppressor for these states.
#10 Silencerco – AR-15 ASR Flash Hider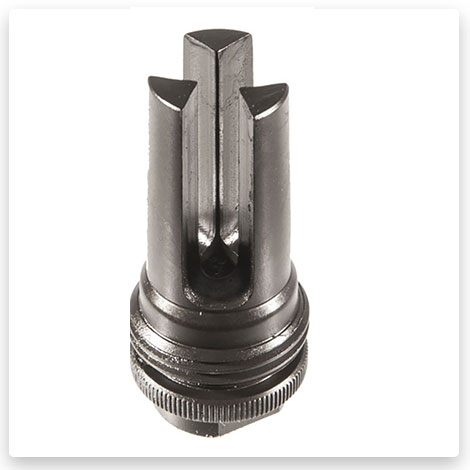 Our state-of-the-art Steel 3-prong flash hider fits the Specwar, Saker, Hybrid, Omega, and Harvester Big Bore ASR mounting system seamlessly. This patent pending product is designed for resonance suppression specifically to reduce the 'tuning fork' effect present in other similar items on the market.
#11 Surefire – AR-15 Warcomp Flash Hider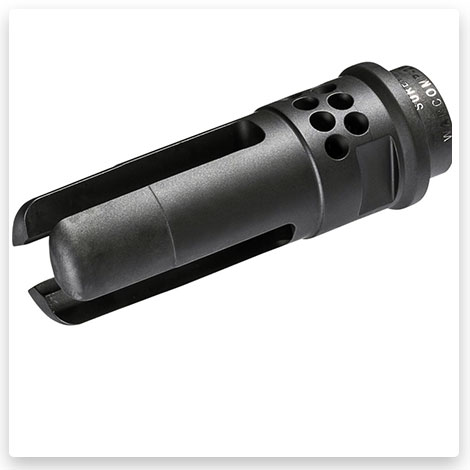 The Surefire WARCOMP Ar-15 Flash Hider is the perfect solution for any rifle shooter who wants to stay concealed and master their weapon. With impressive muzzle flash reduction, minimal muzzle rise, and compatibility with all SureFire SOCOM Series 5.56mm Fast-Attach suppressors, you can take control of your battle. Its precision-machined steel construction makes it durable enough to withstand the rigours of combat scenarios while its lightweight design doesn't add too much bulk to your rifle. This device ensures multiple bearing surfaces deliver superb suppressor alignment while making sure no tines ring inside the suppressor. Installation requires no permanent modifications to your firearm, which makes it a great choice for tactical operations as well as general shooting practice or competitions. Get the best of both worlds with this flash hider and stay concealed with minimum hassle and maximum performance.
#12 Faxon Firearms – AR-15 Streamline Flash Hider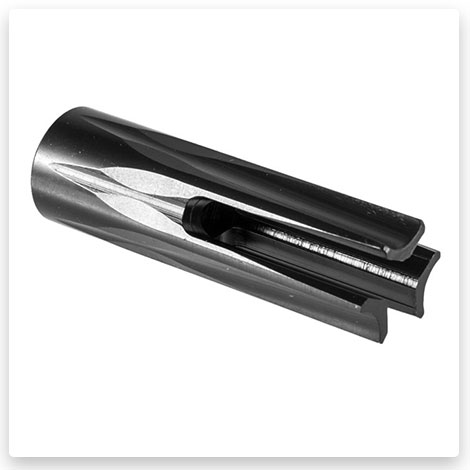 Take your shooting accuracy and aim to the next level with the Faxon Firearms Steel Streamline Flash Hider. This all-in-one muzzle device is designed for precision shooters looking for an edge. It redirects gasses so that you can have unobstructed views of your target when firing shots down range, allowing you to make those critical shots quickly and accurately. Constructed from aircraft-grade steel, the Flash Hider is incredibly durable and resistant to abrasion and corrosion. The device attaches permanently, but still allows a gas block and barrel nut to go over it. Experience the accuracy of Faxon Firearms today!
#13 Ultradyne USA Nighthawk Flash Hider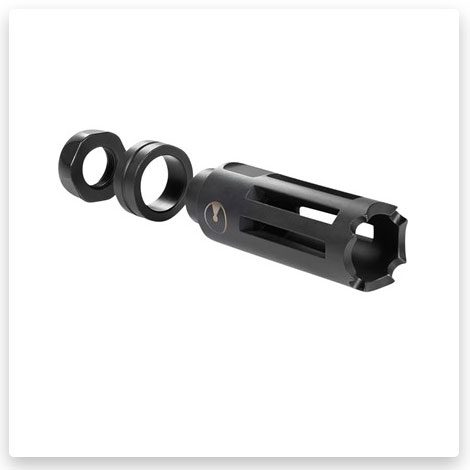 The Nighthawk Flash Hider for 5.56/.223 AR-15 platforms are designed for shooting at night, keeping decent night vision in low-light conditions without changing the ambient light. The birdcage-style flash suppressor decreases the amount of muzzle flash and muzzle rise.
#14 Advanced Armament Blackout Flash Hider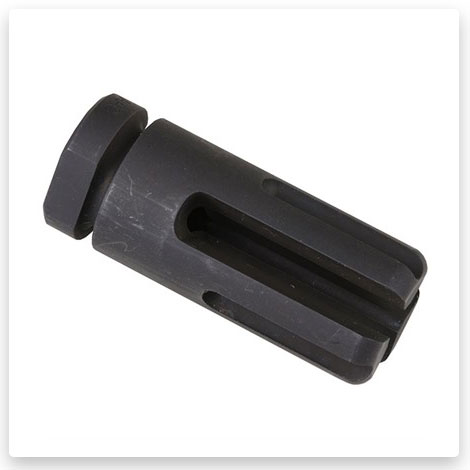 The Advanced Armament Blackout Flash Hider is the perfect solution for eliminating muzzle flash. Constructed with precise engineering and high-strength aerospace stainless steel alloy, this elite suppressor mount is made to last. Featuring a hard and durable SCARmor finish for superior corrosion resistance, you can confidently invest in this hardware without any worry. Plus, its sleek design was made specifically to be effective on shorter barrels so all of your shooting needs are taken care of. Stop wasting time struggling with faulty equipment and start investing in the AAC Blackout Flash Hider – designed to keep you up-to-date on the latest shooting technology while ensuring excellent results every time.
#15 Brownells Flash Hider 22 Caliber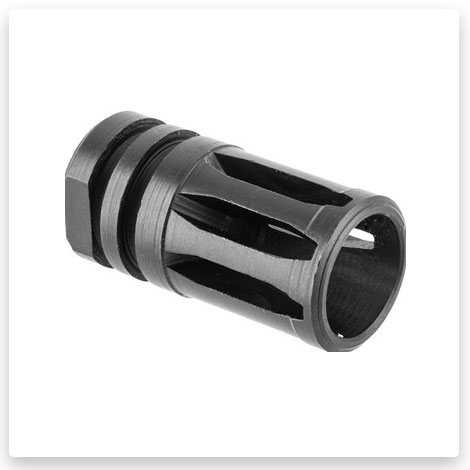 Introducing the Brownells Flash Hider 22 Caliber – a serious solution to muzzle flash. This high-quality and precision-crafted muzzle device is machined from durable 4140 steel, providing strength and corrosion resistance for long wear and reliability. The standard A2 design has 1/2-28 threads and features a black oxide finish that blends into receivers without compromising protection against wear or corrosion. This flash hider also provides great heat tips for anyone running suppressed setups. With perfect flash hiding capabilities and its expertly designed structure, Brownells Flash Hider 22 Caliber will deliver reliable performance with every shot you take. Get top-of-the-line muzzle device solutions with confidence in the Brownells brand!
How to change out the flash hider for your AR 15? 🤔
🚩 First, you will need to make sure that your AR-15 is unloaded and put in a safe, meaning that all ammunition has been removed and the barrel is clear.
🚩Once you have done this, locate the flash hider on your rifle. It should be located at the end of the barrel, near the muzzle.
🚩 At this point, you will need to remove any attachments that are connected to the flash hider itself. This includes any accessories such as sound suppressors or bayonets. Remove these items and set them aside in a secure location.
🚩 Next, you will need to use an appropriate tool such as a castle nut wrench or an AR-15 armourer's wrench in order to unscrew the flash hider from the barrel of your AR-15 rifle. Depending on how tightly it has been secured with a thread locker, it may require some force in order to loosen and remove it. Unscrew it until it can be removed from the barrel entirely.
🚩 Once you have removed the existing AR 15 flash hider from your rifle's barrel, you can now replace it with a new one. Before doing so, however, make sure that there are no burrs or damage along either side of either piece – both the old and new flash hiders – as well as along their threads themselves. If there are any imperfections or damage present along either part then they can cause damage inside of the barrel when they are screwed back into place together again.
🚩 Now that everything is prepped and ready for installation simply line up both parts together carefully before screwing them into place using whichever tool you had chosen previously (AR-15 armourer's wrench or castle nut wrench).
🚩 Make sure not to overtighten them as this could potentially lead to further damaging within the barrel itself due to excess stress being applied upon installation and later firing rounds through it afterwards.
🚩Additionally, using a thread locker during assembly is also recommended for better security during extended use over time since vibrations can often lead to loosening components over time if left unchecked without a thread locker being used during setup initially.
Please watch this video to learn more information📺
And there you go! Following these steps should ensure that your newly installed AR 15 flash hider will last for years with minimal maintenance required throughout its lifetime – giving you peace of mind that your rifle remains reliable during its usage whenever needed downrange!
FAQ 😎
Conclusion🤩
The design of flash hiders with top ports due to the effective channelling of a small amount of gas through a port upward allows mitigation of muzzle climb. Choosing the flash hider remember about compatibility checking: the proper threads to match your rifle.
Tags: #flash hider / #best ar15 flash hider / #best flash hider for ar15 / #best flash hider ar15 / #what's the best ar15 flash hider / #ar15 best flash hider