Affiliate Disclosure: AmmoCave.com sometimes gets paid for listings, through sponsors or affiliate programs like Lucky Gunner, Optics Planet, Brownells, Cabelas, Academy Sports & Outdoors, Rainier Arms, Palmetto State Armory, Sportsman's Guide, Ammo.com, Ammo Man, Primary Arms, MidWayUsa, Amazon, eBay, etс. Clicking a link helps keep AmmoCave.com free, at no extra cost to you!
Authors: Each article is verified by AmmoCave's expert team. Professional hunters, firearm trainers, gunsmiths, and gun experts write the articles. AmmoCave Team independently researches, tests, reviews, and uses recommendations from our community of gun owners. We may earn commissions from shopping links.
Note: The views and opinions expressed in this article are those of the authors and do not necessarily reflect any agency's official policy or position. The articles are for informational purposes only, share your opinions about Best Flash Hider 2023 in the comments and join the discussions. Let's share 💬 our ammo & gun experiences together!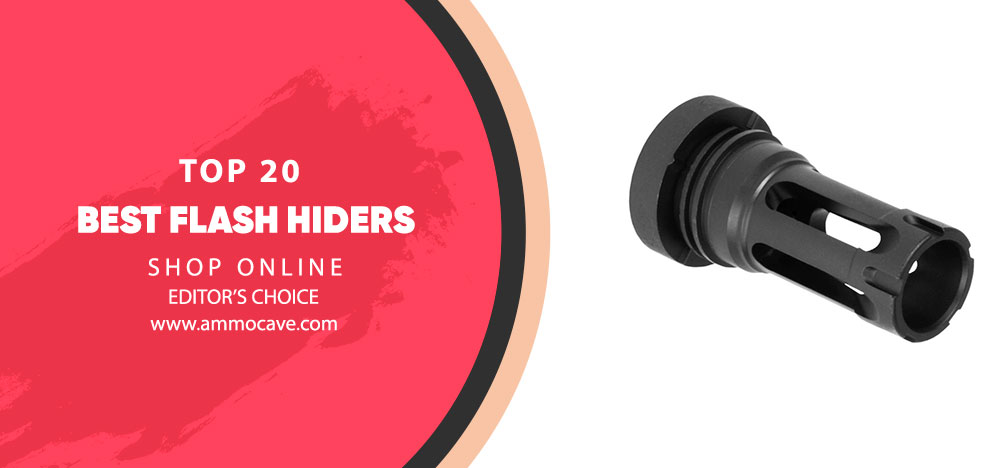 Quick reaction and clear vision during the shooting, especially in dim light conditions, can be enhanced due to upgrading the firearm with a flash hider. The Flash hiders can diminish the recoil as well, but slightly, not as efficiently as compensators.
Why do we need a flash hider?
Flash hiders scatter the shooting outbreak, ensuring more visibility and allowing shooters to hide from others if needed.
Best Picks
Yankee Hill Machine Phantom Flash Hider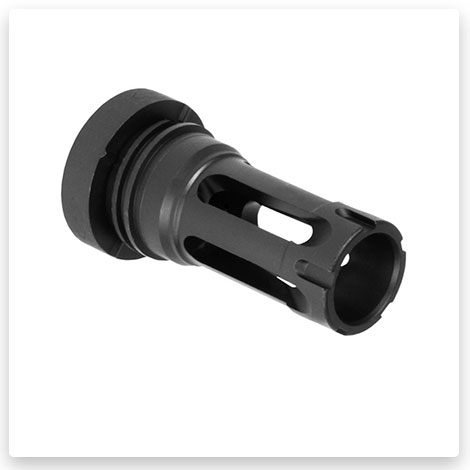 The Dual Support System allows for aligning the suppressor to the bore and fitting multiple calibers. The external Locking Mechanism keeps heat away from the spring mechanism. New style Carbon Scrapers (teeth) scrape or remove carbon from the inner can support system.
Dead Air Silencers Key Mount Flash Hider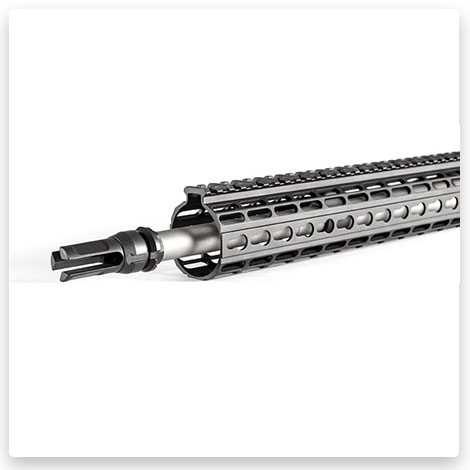 The Key Mount Flash Hider does not "ping" due to the patent-pending construction with mass-shifted equal length spikes, improving vision down range.
Budget Pick
SilencerCo Hybrid ASR Flash Hider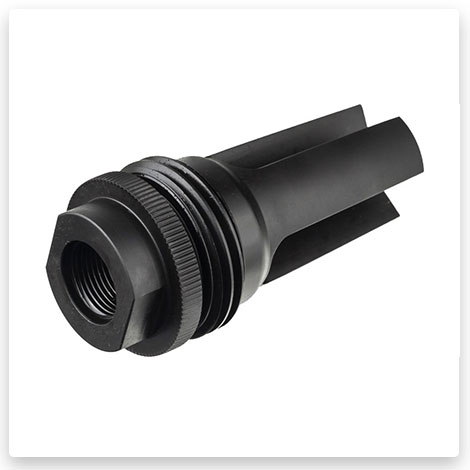 The Steel 3-prong flash hiders are paired with the ASR mounting system, significantly mitigating felt recoil and muzzle climb. The patent-pending resonance suppression prevents the tuning-fork effect. Comfortable option of one hand-on-&-off mounting and dismounting.
Top 20 Flash Hiders
#1 Sig Sauer QD Taper-Lok Flash Hider Mount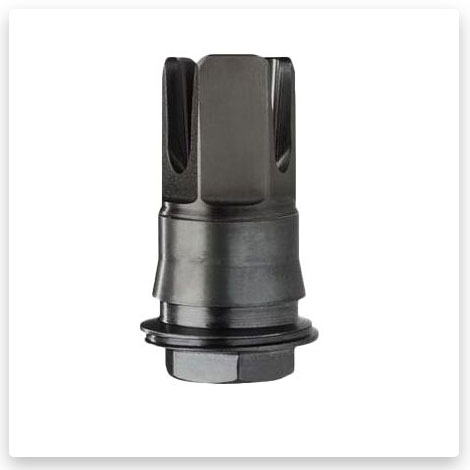 The Flash Hider Mount is a three-piece assembly, which integrates a crush washer, a rear mount unit semi-permanently attached to the gun's muzzle, and an interchangeable tip.
This QD Taper-Lok assembly allows for aligning and securing both the mount to the pistol and then the silencer to the mount. It's recommended to get some Loctite to prevent the mount from getting loose over time.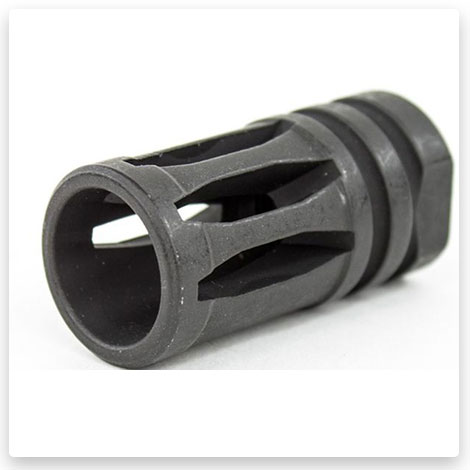 The Classic A2 Style Flash Hiders are designed for AR15 rifles, and bored for .223 and 5.56 Calibers. These muzzle devices with a mil-spec birdcage are finished with a Black anodized matte. The kit doesn't include a crush washer.
#3 Yankee Hill Machine Phantom Flash Hider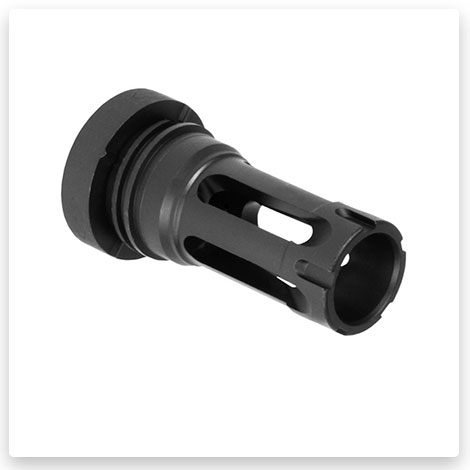 The QD Steel Flash Hider with 5-Port design diminishes visible flash, fitting Phantom 5.56 sound suppressors. The Dual Support System allows for the alignment of the suppressor to the bore. The external Locking Mechanism keeps heat away from the spring mechanism.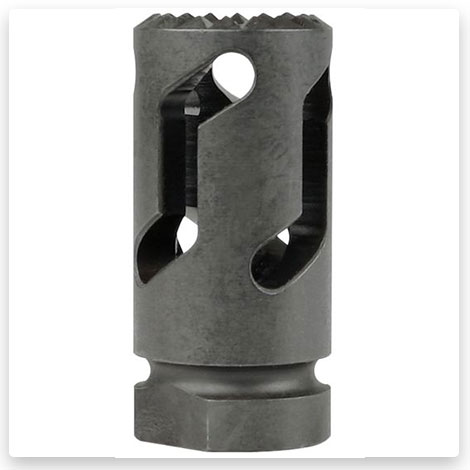 The Midwest Industries Flash Hider is manufactured from tool steel and covered with a melonite finish. These impact units are constructed for AR-15. A crush washer doesn't come with the kit.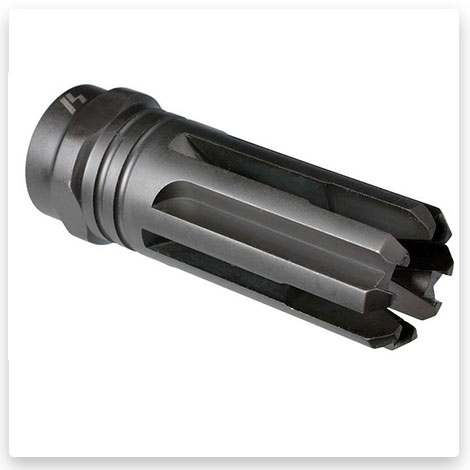 The Strike Industries flash hiders ensure fast diffusion of shooting smoke that blows up from the barrel and almost eliminates muzzle flash, providing night vision or effective shooting even at low light conditions. These muzzle devices can be combined with a blast shield (you can check the FF-CRD supply on the Strike Industries page). The flash hider is longer than the A2 so expect at least a one-inch longer added to the weapon OA length. The timing is not necessary for these flash hiders, so a crush washer isn't required as well but it's included in the kit (needed torque is 15-20 ft-lbs).
#6 SilencerCo Hybrid ASR Flash Hider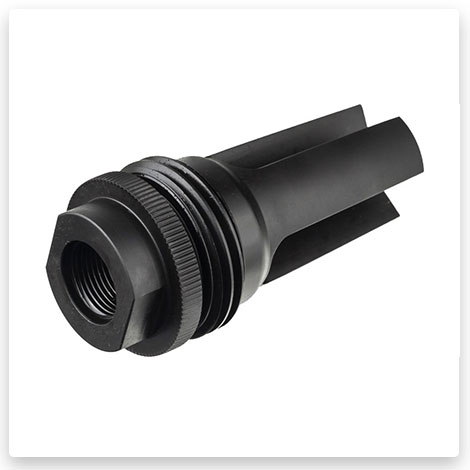 The Steel 3-prong flash hiders are paired with the ASR mounting system, significantly mitigating felt recoil and muzzle climb.
#7 Dead Air Silencers Key Mount Flash Hider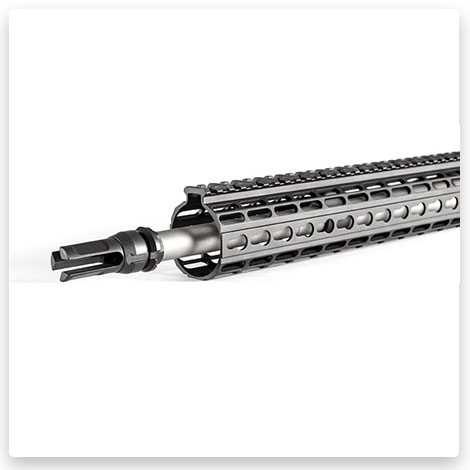 The Key Mount Flash Hider is patent-pending and designed with mass-shifted equal length tines, and can be paired with the Sandman-K, Sandman-S, Sandman-L, and Key-Mo equipped Nomad-30 silencers.
#8 Griffin Armament Taper Mount Minimalist Barrel Flash Hider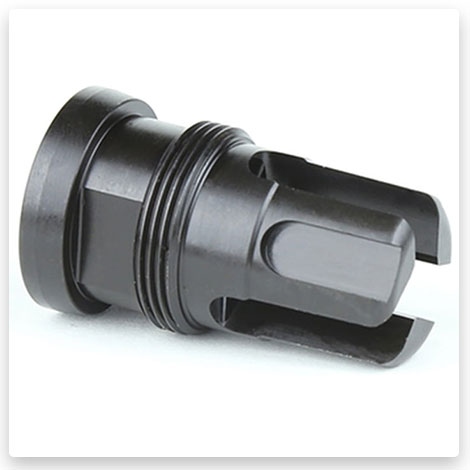 The Minimalist series with 3 flash suppressing tines and integrated anti-resonance features supports the Optimus 9 Mid-Size configuration as well as Optimus micro with taper extension. These Mounts are compatible with RECCE, PALADIN, Sportsman, and Optimus series silencers. The lightweight mount makes the pistol barrel lighter and more responsive to the shooter. The Taper Mount Thread Protector fits this muzzle device for added protection of thread mounts.
#9 Guntec USA AR-10/LR-308 A2 Birdcage Flash Hider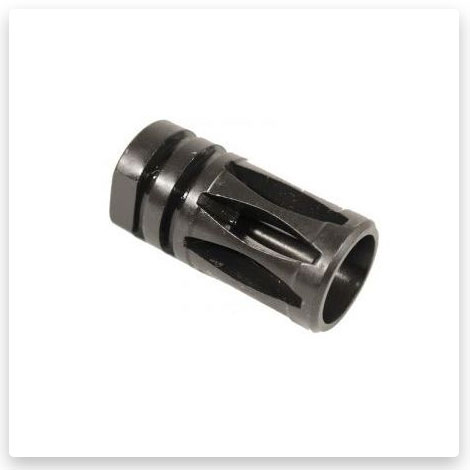 This muzzle device with Ribbed Birdcage, type A2, features closed bottoms.
The all-steel construction of Mil-Spec Flash Hider is engineered for the AR-10 pistols.
#10 Yankee Hill 4315M13LA Mini QD Flash Hider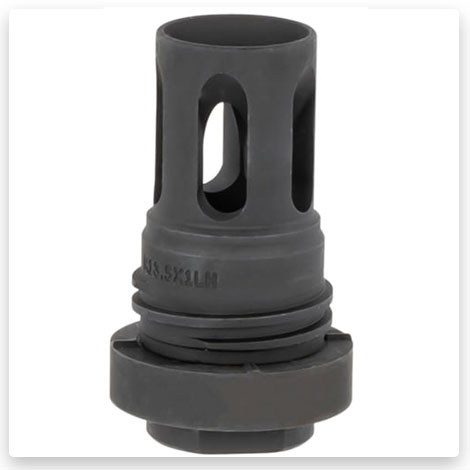 The Mini Q.D. Flash Hiders fit Turbo K's, Resonator's, Turbo T2's, Resonator K's, Nitro .30, Resonator R2's, all Phantom .30 caliber suppressors, and R9 9mm and NITRO N2O sound ones. The Flash Hider is designed for YHM's fast attach sound suppressor systems; it should be torqued to between 20 and 30 ft-lbs.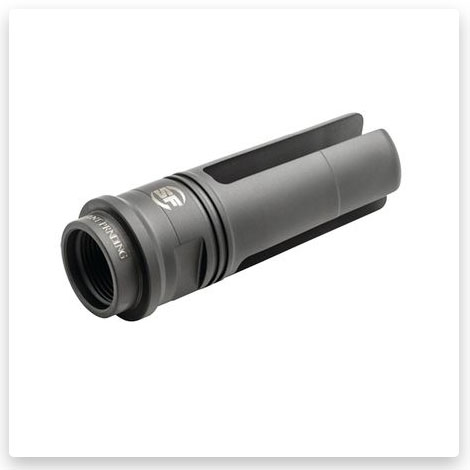 The three-prong patent-pending flash hiders as prong muzzle devices are much more effective for flash reduction than plain units. The flash hides are precision machined from the bar stock of US mill-certified heat-treated stainless steel.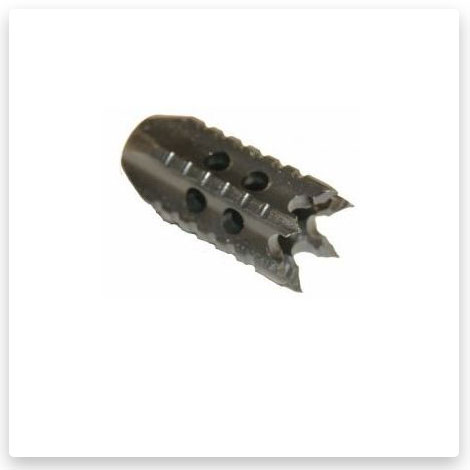 The Guntec USA Flash Hiders ensure the AR-10 and LR-308 rifles with dependable functionality and durability. This model comes with a crushed washer. The muzzle devices are crafted of rigid Aluminum (T6), with a Nitride finish.
#13 Manticore Arms Eclipse 26×1.5L Flash Hider For Yugo Krinkov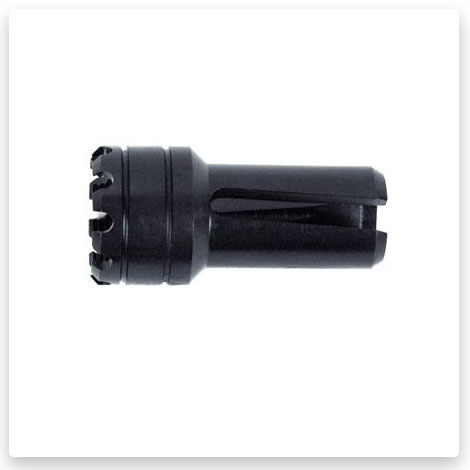 The Eclipse Flash Hider features multiple detent notches to thread down as far as possible on the muzzle and a slightly twisted triple prong design to diminish flash almost completely even in total darkness. The muzzle device is crafted from 8620 steel with Rockwell 50C heat treat, covered with Black oxide finish.
#14 SureFire Warcomp Flash Hider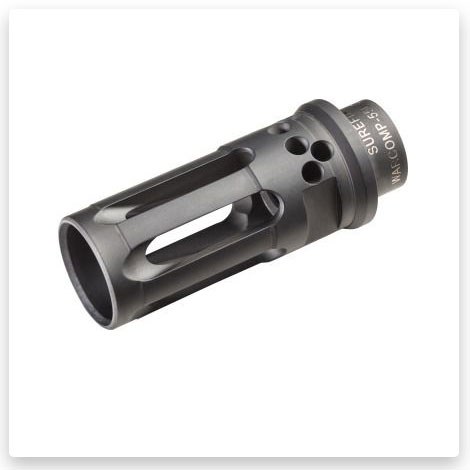 The Flash Hider with a rock-solid mounting Suppressor Adapter has a patent-pending design to deliver more than 98% flash elimination as well as muzzle rise. The muzzle device is precision machined from US mill-certified heat-treated stainless steel bar stock with Matte black DLC coating.
#15 SureFire SOCOM Closed Tine Flash Hider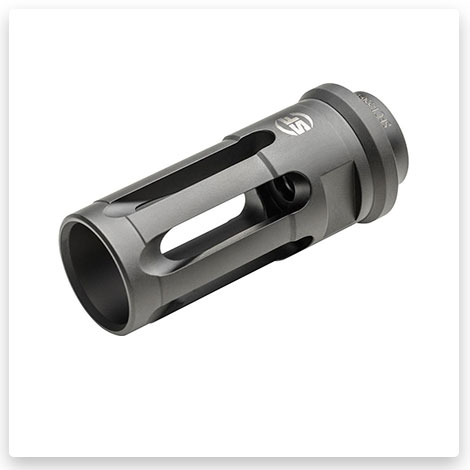 The flash hiders feature proprietary Impulse Diffusion construction to decrease the outcome of a side blast and concussion directed backward. These flash models are paired with M4 and M16 firearms and other 1/2-28 muzzle thread rifle builds. Mitigated recoil impulse and muzzle rise due to the offset porting allow the rifles to track back and keep the shooter on the target for faster next shot recovery.
#16 Noveske Flash Hider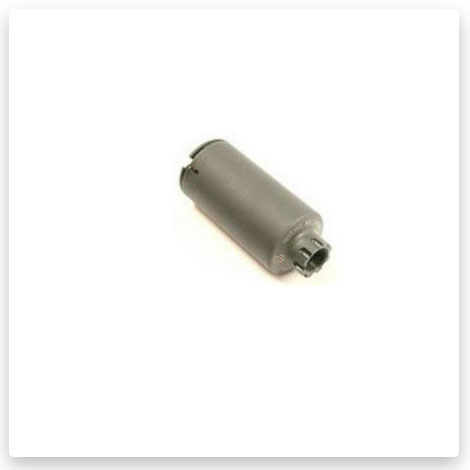 The flash hider features heat-treated CM Construction with Phosphate Finish. The muzzle device pushes all the gasses forward, away from the shooter.
#17 Yankee Hill Phantom Flash Hider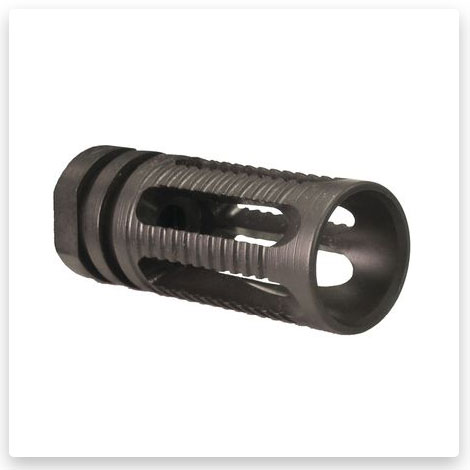 The YH Phantom Flash Hider with Smooth End Cuts has a five-port design but without a downward-facing port that eliminates dust items when shooting in the prone position.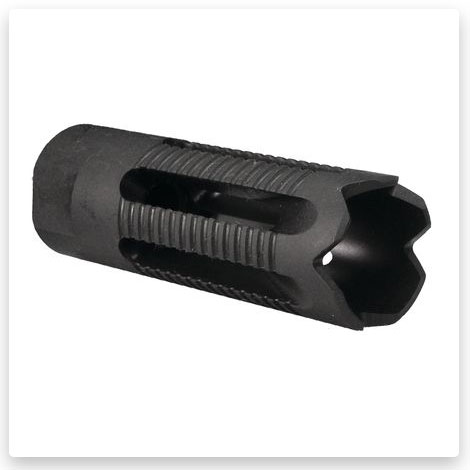 The tactical two-in-one muzzle device operates as a muzzle compensator while saving great flash hiding. The Compensator/ Flash Hider is equipped with 5 ports, an Aggressive Front End, and blind bottom without holes to exclude dust problems while firing in the prone position.
#19 Anarchy Outdoors Titanium Flash Hider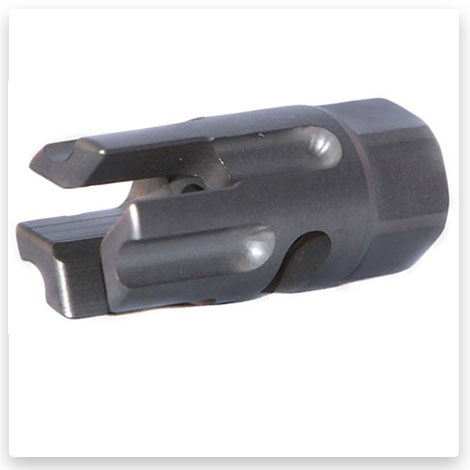 The tri-port muzzle brake is engineered from Titanium (Grade 5) and covered with glass beads. These Flash Hiders decrease recoil and muzzle rise (less than 1 inch with a 30-round 5.56 mag) while hiding the flash.
#20 SureFire Warcomp Flash Hider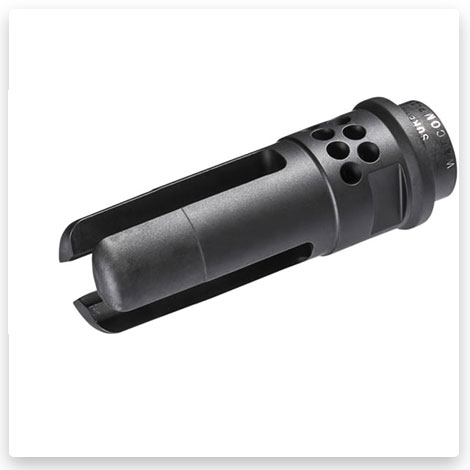 Conclusion
Flash hiders decrease the firing smoke and improve visibility.
These muzzle devices do not influence accuracy, they as well as muzzle breaks protect the barrel crowns.
Tags: #best flash hider / #best ak 47 muzzle brake flash hider / #best flash hider for sbr / #best 308 flash hider / #best ar15 flash hider