Affiliate Disclosure: AmmoCave.com sometimes gets paid for listings, through sponsors or affiliate programs like Lucky Gunner, Optics Planet, Brownells, Cabelas, Academy Sports & Outdoors, Rainier Arms, Palmetto State Armory, Sportsman's Guide, Ammo.com, Ammo Man, Primary Arms, MidWayUsa, Amazon, eBay, etс. Clicking a link helps keep AmmoCave.com free, at no extra cost to you!
Authors: Each article is verified by AmmoCave's expert team. Professional hunters, firearm trainers, gunsmiths, and gun experts write the articles. AmmoCave Team independently researches, tests, reviews, and uses recommendations from our community of gun owners. We may earn commissions from shopping links.
Note: The views and opinions expressed in this article are those of the authors and do not necessarily reflect any agency's official policy or position. The articles are for informational purposes only, share your opinions about Best 9x23mm Winchester Ammo in the comments and join the discussions. Let's share 💬 our ammo & gun experiences together!
When it comes to cartridge performance, the 9x23mm Winchester is one of the best handgun calibers available. Picking the right ammo for your gun can be overwhelming, so we've rounded up some of the best 9x23mm Winchester ammo on the market. Check it out and find the perfect round for your needs!
AmmoCave has collected Best 9x23mm Winchester Ammo for self-defense at sale prices
Best 9x23mm Winchester Ammo Reviews
#1 9x23mm Winchester – 125 Grain Silvertip Jacketed Hollow –

Winchester USA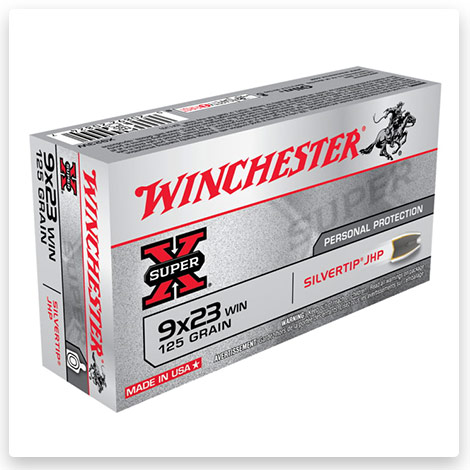 The 9x23mm Winchester Super-X ammunition is the perfect choice for hunters and shooters who demand the very best. This 125-grain Silvertip jacketed hollow point ammunition provides maximum stopping power for personal defense scenarios and is engineered for reliable functioning, precise accuracy, and consistent expansion. With its time-proven dependability and legendary excellence, the 9x23mm Winchester Super-X is an excellent choice for the serious shooter.
#2 9x23mm Winchester – 124 Grain Jacketed Flat –

Winchester USA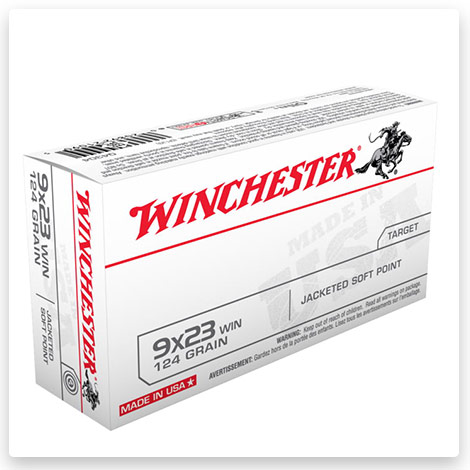 9x23mm Winchester – 124 Grain Jacketed Flat – Winchester USA ammunition is some of the most reliable and consistent performers on the market. Backed by generations of excellence, this brass-cased centerfire pistol ammunition offers outstanding value for target and recreational shooters alike. With a muzzle velocity of 1480 ft/s and muzzle energy of 587 ft-lbs, this 9x23mm Winchester round provides excellent performance in a wide range of handguns. Each box contains 50 rounds of high-quality JFP bullet-type ammo, faultless for spending a day at the range or taking down targets.
FAQ
What is 9×23 Ammo?
9×23 ammo is a special tactical round that was developed jointly by Winchester and Colonel Jeff Cooper in the early 1980s. It is based on the 9mm Largo case, which itself is derived from the .38 Super case. The 9x23mm Winchester cartridge was designed to provide superior performance to the 9mm Parabellum round, while still being compatible with existing 9mm pistols. The 9x23mm Winchester cartridge offers a significant increase in power over the 9mm Parabellum round. While the 9mm Parabellum round has a muzzle energy of around 350 ft-lbs, the 9x23mm Winchester round has a muzzle energy of over 500 ft-lbs.
Is 9×23 the same as 9mm Luger?
The 9x23mm Winchester shares the same case dimensions as the 9x19mm Luger but has a slightly longer overall length and slightly higher pressure rating.
What is the difference between 9mm and 9×23?
The main difference between 9mm and 9×23 is that 9×23 is a high-pressure round designed specifically for target shooting, while 9mm is a standard military and self-defense round. 9×23 also has a slightly longer overall length than 9mm, although both share the same case diameter.
What guns use 9x23mm Winchester ammo?
The 9x23mm Winchester cartridge was designed to be used in the Winchester Model 92 pistol, which was originally designed for the Italian military. The 9x23mm Winchester round is also compatible with a number of other 9mm pistols, including the Beretta 92, Sig Sauer P226, and Glock 17.
How much does 9×23 ammo cost?
9×23 ammo typically costs between $1.50 and $2.00 per round.
What are the downsides of 9x23mm Winchester ammo?
The only real downside of 9x23mm Winchester ammo is that it is not as widely available as 9mm Parabellum ammo. 9x23mm Winchester ammo is also slightly more expensive than 9mm Parabellum ammo.
Conclusion
9x23mm Winchester Ammo is a great choice for self-defense, target shooting, and hunting. It offers excellent accuracy and stopping power, making it a good choice for personal protection. In this article, we have reviewed some of the best 9x23mm Winchester Ammo on the market to help you make an informed decision about which ammo is right for you. We hope you found this information helpful!
Tags: #best 9x23mm winchester / #9x23mm winchester / #9x23mm winchester 200 grain / #9x23mm winchester pistol / #9x23mm winchester loads / #9x23mm winchester barrel