Affiliate Disclosure: AmmoCave.com sometimes gets paid for listings, through sponsors or affiliate programs like Lucky Gunner, Optics Planet, Brownells, Cabelas, Academy Sports & Outdoors, Rainier Arms, Palmetto State Armory, Sportsman's Guide, Ammo.com, Ammo Man, Primary Arms, MidWayUsa, Amazon, eBay, etс. Clicking a link helps keep AmmoCave.com free, at no extra cost to you!
Authors: Each article is verified by AmmoCave's expert team. Professional hunters, firearm trainers, gunsmiths, and gun experts write the articles. AmmoCave Team independently researches, tests, reviews, and uses recommendations from our community of gun owners. We may earn commissions from shopping links.
Note: The views and opinions expressed in this article are those of the authors and do not necessarily reflect any agency's official policy or position. The articles are for informational purposes only, share your opinions about Best 327 Magnum Ammo in the comments and join the discussions. Let's share 💬 our ammo & gun experiences together!
327 Magnum ammo is a popular round for shooters for its combination of power and accuracy. If you're looking for the best 327 Magnum ammo, then look no further – we've compiled a list of the top-rated rounds available! These rounds have been tested and proven to be reliable and accurate, so you can rest assured that you're getting quality ammunition when you choose one of these rounds. So, whether you're hitting the range or hitting the deer camp, make sure to bring along some of these rounds!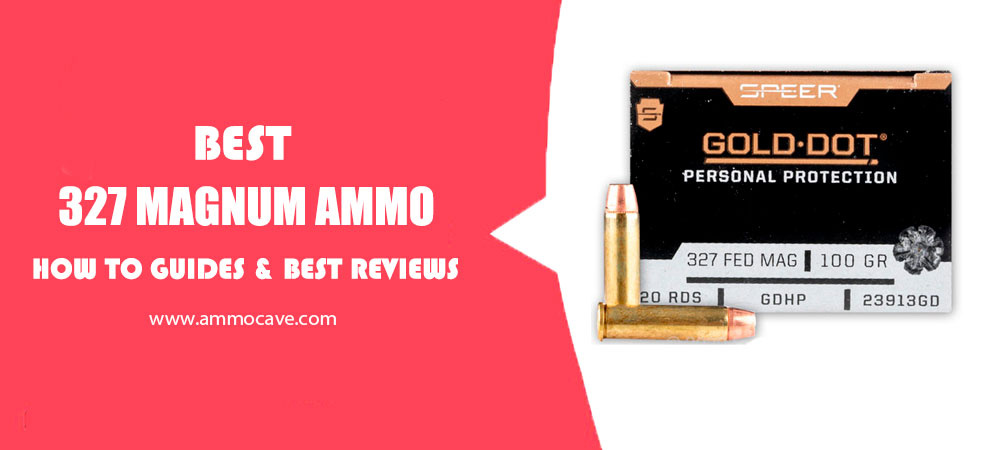 AmmoCave has collected the best hottest Best 327 Magnum Ammo for self-defense at sale prices
Our Selection 8 Best 327 Magnum Ammo – Editor's Choice
1# 327 Federal Magnum – 80 Grain FTX – Hornady Critical Defense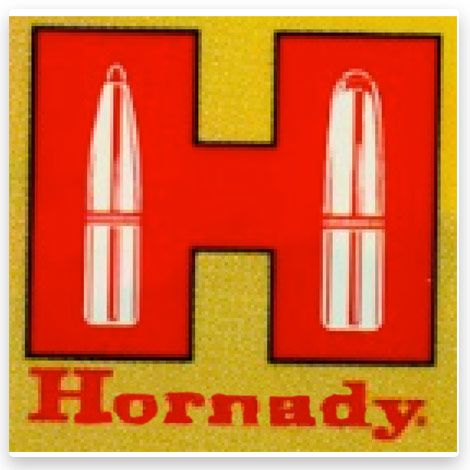 When it comes to personal protection, you can't go wrong with Hornady's 327 Federal Magnum cartridge. This ammunition is loaded with an 80-grain FTX bullet, which is designed for fast, uniform expansion to quickly neutralize a threat. The FTX also features a soft polymer nose cavity plug to prevent clogging and ensure reliable expansion. In addition, the bullet's jacket is highly concentric for superior in-flight balance. With 25 rounds per box, this ammo is perfect for your self-defense needs.
2# 327 Federal Magnum – 100 gr JHP – Speer Gold Dot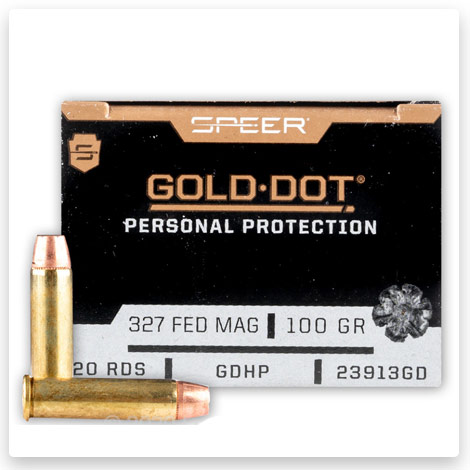 Looking for a personal defense option that you can rely on? Check out this 327 Mag Speer Gold Dot ammunition. Gold Dot ammunition is loaded with bonded core bullets, meaning that the jacket is bonded to the core to prevent separation. This makes the ammunition more effective than traditional hollow-point bullets, as it will still penetrate bone or heavy clothing. Each round is new production, non-corrosive, and reloadable for your convenience. Don't miss out on this superior option for self-defense – pick up a box today!
#3 327 Federal Magnum – 100 Grain Gold Dot Hollow Point –

Speer Gold Dot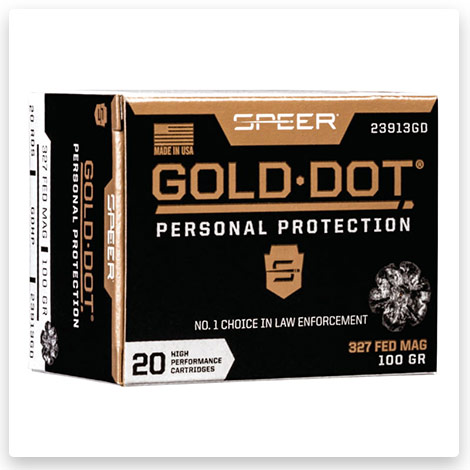 When you need the very best in self-defense or duty-use ammunition, look no further than Speer Gold Dot. This line of premium ammo has been a benchmark in the industry for decades, thanks to its reliable accuracy and impressive expansion. What sets Gold Dot apart from the competition is its innovative lead core and Uni-Cor bonding process. This ensures even distribution of the jacket's precious metal core, resulting in superior performance shot after shot. When you need the very best in terms of reliability and performance, trust Speer Gold Dot to deliver.
#4 327 Federal Magnum – 100 Grain FMJ –

Federal Premium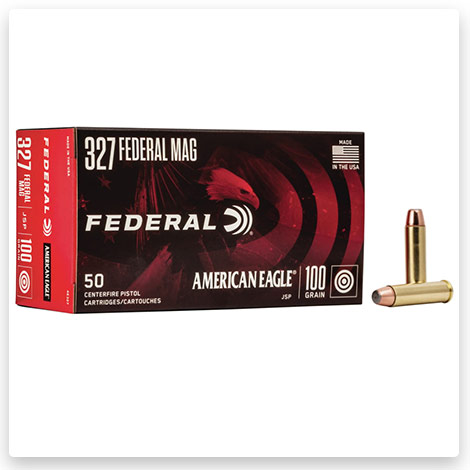 If you're searching for high-quality, reliable handgun ammunition, you can't go wrong with Federal Premium's American Eagle line. These bullets offer superior accuracy and dependability and are perfect for target practice or plinking. The clean-burning propellant and hand-selected powders help keep your weapon clean, while the noise reduction design means you can shoot without disturbing your neighbors. So whether you're a seasoned marksman or a first-time shooter, you can shoot with confidence knowing that Federal Premium has you covered.
#5 327 Federal Magnum – 127 Grain Bonded Hollow Point –

Federal Premium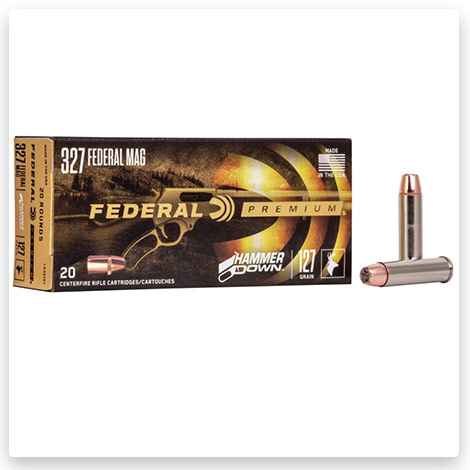 If you want to get the most out of your lever gun, look no further than Federal Premium's 327 Federal Magnum ammunition. With velocities that are customized for optimal performance through lever-action barrel lengths, this ammo is sure to make your rifle run like never before. The construction of the molecularly bonded soft point bullets has also been adjusted for the best accuracy and expansion at those velocities, making this the perfect choice for hunting or target shooting. So don't settle for anything less than the best – pick up a box of Federal Premium 327 Federal Magnum ammo today!
#6 327 Federal Magnum – 85 Grain Jacketed Soft Point –

Federal Premium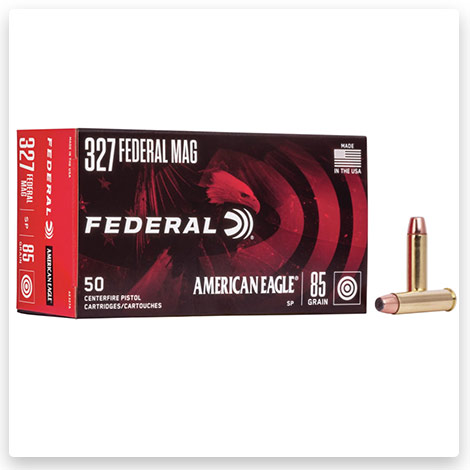 Wish to purchase versatile and reliable handgun ammunition? Pay attention to Federal Premium's American Eagle Centerfire Handgun Ammunition. With its superior accuracy and clean-burning properties, you can shoot with confidence knowing that your gun is clean and your shots are on target. This ammunition is perfect for range shooting or plinking and offers reduced noise for a more enjoyable experience. Don't sacrifice quality for performance – invest in Federal Premium American Eagle Centerfire Handgun Ammunition.
#7 327 Federal Magnum – 85 Grain Hydra-Shok Jacketed Hollow Point –

Federal Premium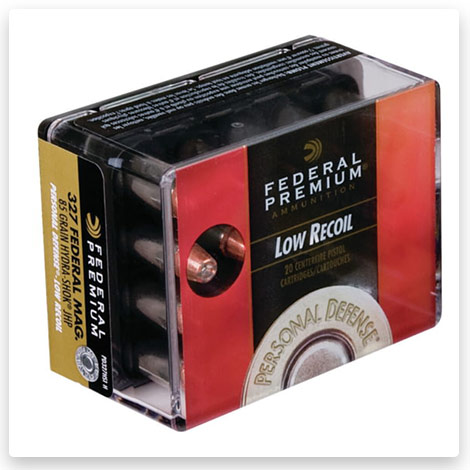 If you're looking for reliable and effective defense ammunition, look no further than Federal Premium Personal Defense Centerfire Handgun Ammunition. It is one of the most trusted options by security agencies for its efficiency and quality. This ammo delivers controlled expansion and superior penetration through barriers, thanks to its unique design. The Hydra-Shock and expanding full metal jacket provide excellent energy efficiency, making this one of the most reliable choices for self-defense. So stock up on 327 Federal Magnum ammo today and be prepared for whatever comes your way.
#8 327 Federal Magnum – 100 Grain Swift A-Frame Nickel Plated Brass Cased –

Federal Premium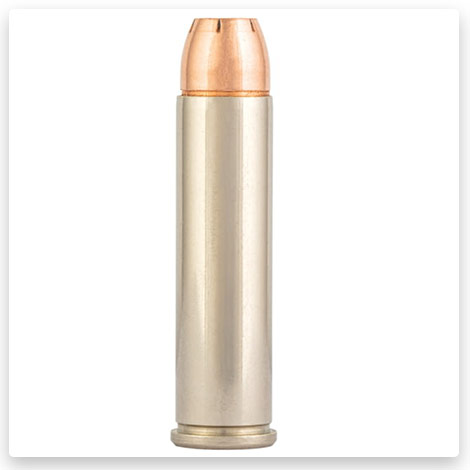 The Federal Premium Swift A-Frame .327 Federal Magnum is the perfect choice for handgun hunters. This robust, proven round provides high weight retention and controlled expansion at any distance, making it ideal for the big game. The nickel-plated brass casing provides superior durability and reliability, while the centerfire primer ensures reliable ignition. The Swift A-Frame is perfect for medium-game applications and comes in a 20-round box.
FAQ
What rounds can you shoot out of a 327 magnum?
The 327 Federal Magnum is capable of firing any bullet weighing between 120 and 158 grains. The most popular bullet weights for this caliber are 125, 130, 140, and 150 grains. The the125-grain bullet is typically used for self-defense, while the heavier bullets are better suited for hunting applications. Some of the best 327 magnum ammo is presented in the article.
What is the difference between 327 federal and 327 magnum?
The main difference between the 327 Federal and 327 Magnum cartridges is the amount of powder each can hold. The 327 Federal cartridges can hold up to 28 grains of powder, while the 327 Magnum can hold up to 35 grains of powder. This means that the 327 Magnum is more powerful than the 327 Federal.
What is the best 327 magnum ammo for hunting?
The best 327 magnum ammo for hunting will depend on what you are planning to hunt. For deer hunting, a 140-grain or 150-grain bullet is a good choice. For varmint hunting, a lighter bullet like the 125-grain or 130-grain will be more effective. You may learn the article and find 327 magnum ammo that best fits your needs.
Is a 327 Magnum a good round?
The answer is yes. Especially, it is flawless ammo for self-defense, target shooting, and plinking. It has high accuracy and moderate recoil.
Can you hunt deer with a 327 Federal Magnum?
Thanks to its high velocity and flat trajectory, the 327 Federal Magnum is an excellent choice for deer hunting.
How powerful is a 327 magnum ammo?
A 327 magnum ammo is a very powerful round of ammunition. It is often used for hunting large game animals, as well as for self-defense purposes. When choosing 327 magnum ammo, it is important to select the right load for the intended purpose. For example, self-defense ammunition should be powerful enough to stop an attacker, but not so powerful that it will over-penetrate and pose a danger to innocent bystanders. Hunting ammunition should be powerful enough to take down large game animals, but not so powerful that it will destroy the meat or cause unnecessary suffering.
Conclusion
327 Magnum Ammo is a powerful round that is perfect for self-defense, hunting, and target shooting. In this article, we've provided reviews of some of the best 327 Magnum ammo on the market to help you make an informed decision about which product is right for you. We've also included tips on how to use 327 Magnum ammo safely and effectively in your next shooting adventure. Thanks for reading!