Affiliate Disclosure: AmmoCave.com sometimes gets paid for listings, through sponsors or affiliate programs like Lucky Gunner, Optics Planet, Brownells, Cabelas, Academy Sports & Outdoors, Rainier Arms, Palmetto State Armory, Sportsman's Guide, Ammo.com, Ammo Man, Primary Arms, MidWayUsa, Amazon, eBay, etс. Clicking a link helps keep AmmoCave.com free, at no extra cost to you!
Authors: Each article is verified by AmmoCave's expert team. Professional hunters, firearm trainers, gunsmiths, and gun experts write the articles. AmmoCave Team independently researches, tests, reviews, and uses recommendations from our community of gun owners. We may earn commissions from shopping links.
Note: The views and opinions expressed in this article are those of the authors and do not necessarily reflect any agency's official policy or position. The articles are for informational purposes only, share your opinions about Best 17 Hornet Ammo in the comments and join the discussions. Let's share 💬 our ammo & gun experiences together!
The 17 Hornet ammo is a great round for varmint hunting and small game. It offers good accuracy and stopping power, making it a great choice for any shooter looking to take down their prey. In this article, we will take a look at the best 17 Hornet ammo on the market and compare their features. We will also provide you with some tips on how to choose the right rounds for your needs. So, whether you are just starting or you are an experienced hunter, read on to learn more about the 17 Hornet ammo!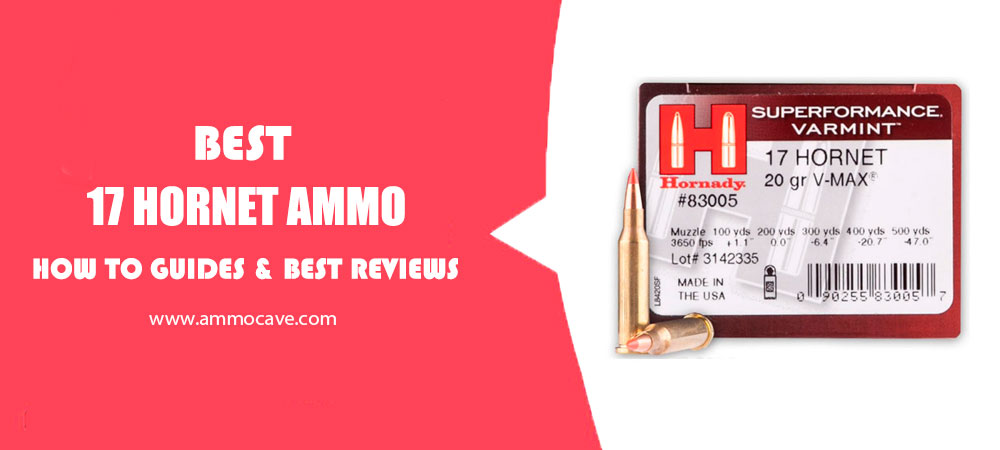 Best 17 Hornet Ammo Reviews
1# 17 Hornet – 20 gr V-MAX – Hornady Superformance Varmint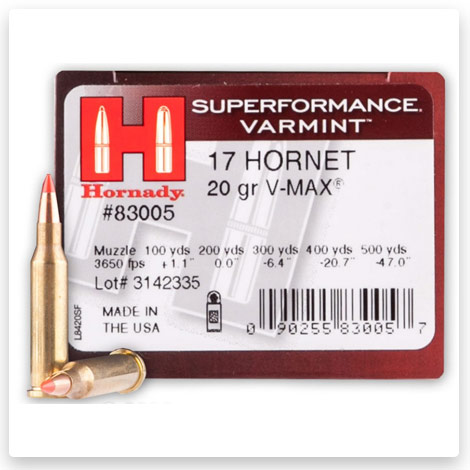 Hornady's 17 Hornet cartridge is an extremely fun round to shoot and an inexpensive solution for those getting into the world of Varmint shooting. This round will kick the 20-grain V-Max Polymer Tip projectile a blistering 3650 fps. That would probably sting a little more than a real hornet! The benefits to this cartridge are having a comparable trajectory to a traditional 55gr 223 Rem but at the felt recoil of a 22 WMR! This 17 Hornet ammo is great for shooters who look to put Varmints deeper into the ground than they can actually dig. Hornady ammunition is made in the USA and is now in its third generation of Hornady's at the helm.
2# 17 Hornet – 20 Grain Polymer Tip – Winchester Varmint-X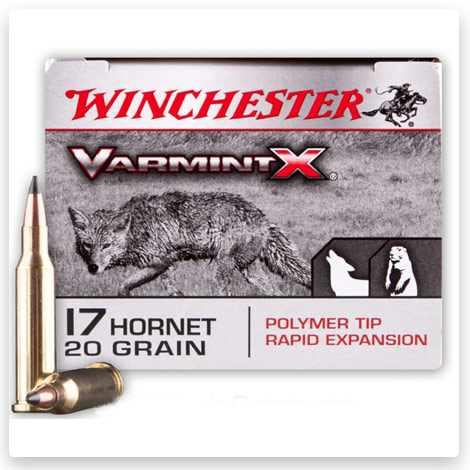 If you're looking for a round that is specifically designed for varmint hunting, the 17 Hornet from Winchester is a great option. This tiny bullet was developed by Hornady in the 1950s and is based on the 22 Hornet. It is fired with a center fire primer for incredible speed, making it perfect for taking out those pesky varmints. With the high speeds and fantastic damage that the 17 Hornet puts out, you will have no trouble exterminating the creatures that scurry around your property. Winchester is a well-known and popular ammunition provider in the United States with a reputation for reliability and performance. When you want something that you can count on to get the job done, Winchester is the way to go.
FAQ
How far will 17 Hornet shoot accurately?
The 17 Hornet is an accurate cartridge, with a typical bullet drop being around 2 inches at 100 yards. This makes it an excellent choice for long-range shooting.
How fast does a 17 Hornet shoot?
The 17 Hornet shoots at a velocity of 2,700 feet per second, making it one of the fastest small-caliber rounds available. This makes it an excellent choice for hunting small game or predators.
What gun uses 17 Hornet ammo?
The 17 Hornet is a rifle cartridge developed by Hornady and Federal Cartridge. It is used in the bolt-action Savage Model 17 rifle and its derivatives.
How good is a 17 Hornet?
The 17 Hornet is a great cartridge for varmints and predators. It delivers good accuracy and impressive terminal performance out to moderate ranges.
Is a 17 HMR good for coyotes?
The 17 HMR is a popular round for coyotes and is considered an excellent choice for this purpose. It delivers good accuracy and impressive terminal performance, making it a great option for hunters looking to take down coyotes.
How much does a 17 HMR drop at 500 yards?
At 500 yards, a 17 HMR cartridge will drop approximately 250 inches.
How far does a 17 HMR bullet travel?
The 17 HMR travels a great distance and is very accurate. It drops about 3 inches at 150 yards.
Conclusion
17 Hornet ammo is a great choice for varmint hunting and predator control. It offers excellent accuracy and penetration, making it the perfect round for taking down small games from long distances. In this article, we've outlined some of the best 17 Hornet ammo on the market today. We've also provided tips on how to choose the right rounds for your needs, as well as advice on using 17 Hornet ammo safely and effectively.