Affiliate Disclosure: AmmoCave.com sometimes gets paid for listings, through sponsors or affiliate programs like Lucky Gunner, Optics Planet, Brownells, Cabelas, Academy Sports & Outdoors, Rainier Arms, Palmetto State Armory, Sportsman's Guide, Ammo.com, Ammo Man, Primary Arms, MidWayUsa, Amazon, eBay, etс. Clicking a link helps keep AmmoCave.com free, at no extra cost to you!
Authors: Each article is verified by AmmoCave's expert team. Professional hunters, firearm trainers, gunsmiths, and gun experts write the articles. AmmoCave Team independently researches, tests, reviews, and uses recommendations from our community of gun owners. We may earn commissions from shopping links.
Note: The views and opinions expressed in this article are those of the authors and do not necessarily reflect any agency's official policy or position. The articles are for informational purposes only, share your opinions about Best 223 Ammo in the comments and join the discussions. Let's share 💬 our ammo & gun experiences together!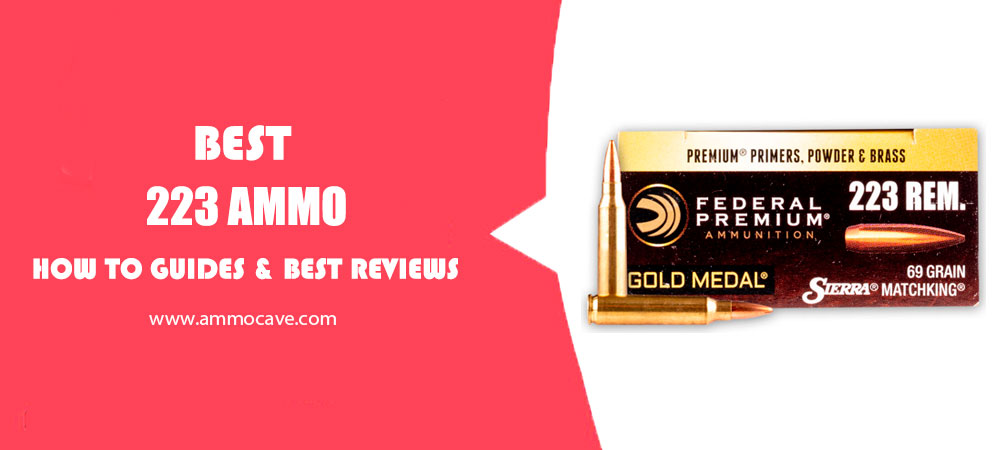 What is 223 Ammo? 🔍
223 Ammo is a type of ammunition used primarily in the AR-15 style semi-automatic rifles. It consists of a cartridge with a bullet that is propelled by an explosive force. The 223 caliber round is one of the most popular and widely used rounds for target shooting and hunting due to its accuracy, range, affordability, and power.
🎥 Watch the video to learn more:
Features 🔥
223 Remington ammunition:
📌 typically has a light recoil and offers good accuracy and penetration with minimal damage to the target;
📌 is relatively inexpensiveand available;
📌 generally comes in 55-grain and 62-grain bullet weights, although other variations are also available;
📌 have rimless bottleneck cases that are slightly longer than those of 223 Winchester cartridges;
📌 has a velocity range between 3,100 and 3,400 feet per second (fps), with a muzzle energy of 1,300 to 1,500 ft-lbs.
Our Top Pick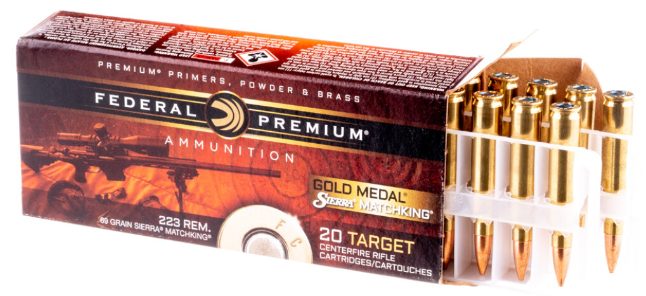 Benefits 🔋
.223 ammo is a popular cartridge used for a variety of shooting purposes, including hunting, target shooting, and self-defense. Here are some potential benefits of using .223 ammo:
| | |
| --- | --- |
| 🔰 Accurate | This ammo is known for its accuracy and precision, making it a popular choice among marksmen and hunters. |
| 🔰 Low recoil | Compared to other types of ammunition, it produces relatively low recoil, which can make it easier to shoot for beginners and more enjoyable for experienced shooters. |
| 🔰 Versatile | It can be used in a wide variety of firearms, including bolt-action rifles, semi-automatic rifles, and some handguns. |
| 🔰 Availability | This ammo is so widely used, it is typically readily available at many gun shops and online retailers. |
| 🔰 Affordable | While ammunition prices can vary depending on factors like quality and brand, .223 ammo is generally considered to be relatively affordable compared to some other types of ammunition. |
| 🔰 Good stopping power | It is known for its good stopping power, which can be important for self-defense situations. |
| 🔰 Minimal damage | The ammo is designed to cause minimal damage to the target, which can be important for hunters who want to preserve the quality of the meat they are hunting. |
Our Top Pick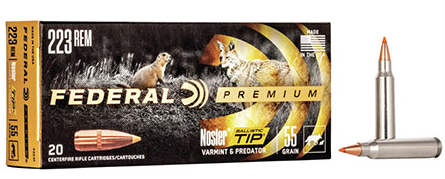 223 Remington – 55 Grain Nosler Ballistic Tip Brass – Federal Premium
Varmint hunters should consider the Federal Premium V-SHOK 223 to maximize their hunting experience. The SBT bullet, with its thin concentric jacket and boat-tail design, provides powerful stopping power while maintaining minimal penetration for increased accuracy at longer distances.
Buy Now On OpticsPlanet
If you click this link and make a purchase, we earn a commission at no additional cost to you.
What are the types of 223 Ammo? 🤷🏻‍♂️
1️⃣ Full Metal Jacket (FMJ)
🚀 This is a common type of .223 ammo used for target shooting and training. It has a lead core covered by a copper jacket, which helps it maintain its shape and travel straighter.
🚀 This type has a hollow cavity in the tip that causes it to expand upon impact, creating a larger wound channel and delivering more energy to the target. It's a popular choice for hunting and self-defense.
🚀 Similar to HP ammo, soft point rounds have an exposed lead tip that expands upon impact. However, the lead tip is covered by a copper jacket for greater accuracy and penetration.
🚀 The ammo has a hardened steel core and is designed to penetrate armor. It is typically only used by military and law enforcement personnel.
🚀 It has a pyrotechnic compound in the base of the bullet that ignites upon firing, producing a visible trail that helps the shooter track the bullet's trajectory. It is primarily used for training purposes.
🛑 It's important to note that some types of .223 ammo, such as armor-piercing rounds, may be illegal in certain jurisdictions, so it's important to check local laws and regulations before purchasing or using any type of ammunition.
Our Top Pick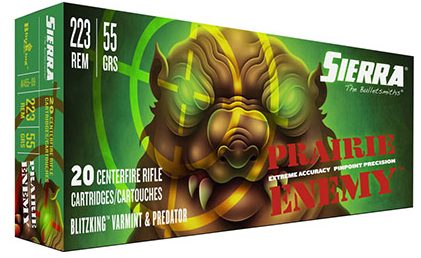 Our Selection 18 Best 🚀.223 Remington Ammo –
Editor's Choice
1# 223 Rem – 77 Grain HP –
Black Hills

Match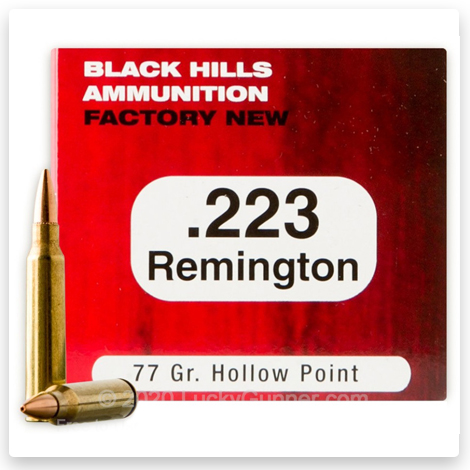 223 Rem – 77 Grain HP – Black Hills Match ammo is the perfect choice for match shooting and range training. The bullets are 77-grain hollow point (HP) and the casings are boxer-primed brass. This ammo is accurate and reliable, making it a great option for both match shooters and those who just want to improve their skills at the range. This ammo does not attract magnets, making it great for those who want to avoid drawing attention to their firearms.
2# 223 Rem – 36 Grain Barnes Varmint Grenade HP –
Black Hills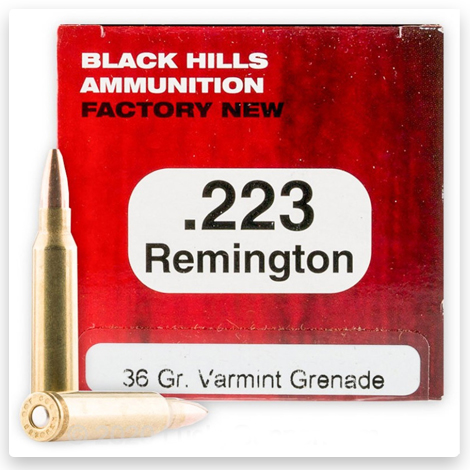 223 Rem – 36 Grain Barnes Varmint Grenade HP – the Black Hills is the ideal varmint hunting ammunition. The 36-grain hollow point bullet is designed to explode on impact, making it ideal for taking down small games. The brass casing is boxer-primed and reloadable, making it a great choice for hunters who want to get the most out of their ammo. The muzzle velocity of 3750fps makes this ammunition deadly accurate and devastatingly powerful.
3# 223 Rem – 62 Grain Barnes TSX –
Black Hills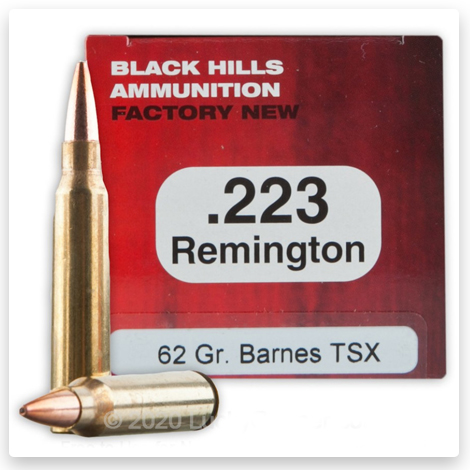 Do you need a high-quality .223 Rem cartridge that can handle anything you throw at it? Notice the Black Hills 62 Grain Barnes TSX! This tough little round is built to perform, a Triple-Shock X bullet that is designed to penetrate deep and deliver maximum energy transfer. The brass casing is boxer-primed and reloadable, making this an excellent choice for those who like to shoot and reload their ammunition.
4# 223 Rem – 69 Grain BT-HP –
Federal

Premium Sierra Match King Gold Medal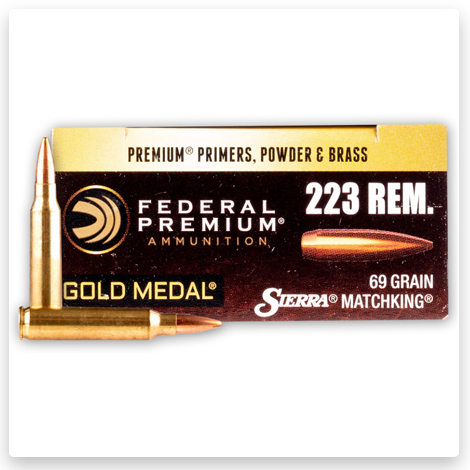 Introducing the Federal Premium's Sierra Match King Gold Medal ammo. These boat tail hollow point (BTHP) bullets are extremely precise and pack a punch, making them ideal for both match shooting and varmint hunting. The brass casings are boxer-primed and attract no magnet, so you can be sure of reliable performance every time. Don't settle for anything less than the best – pick up a box of Federal Premium Sierra Match King Gold Medal ammo today!
5# 223 Rem – 77 Grain BTHP Sierra MatchKing –
Remington

Premier Match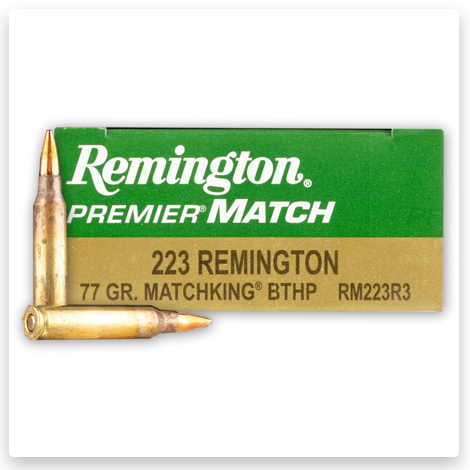 The 223 Rem – 77 Grain BTHP Sierra MatchKing from Remington Premier Match are designed for extreme accuracy and consistent performance, and are perfect for match shooting or taking down pesky varmints. The unique hollow point design gives them outstanding expansion characteristics, while the boat tail profile provides excellent long-range stability. And because they're made from high-quality brass, you can be sure they'll fit and function perfectly in your firearm.
6# 223 Rem – 62 Grain FMJ –
TULA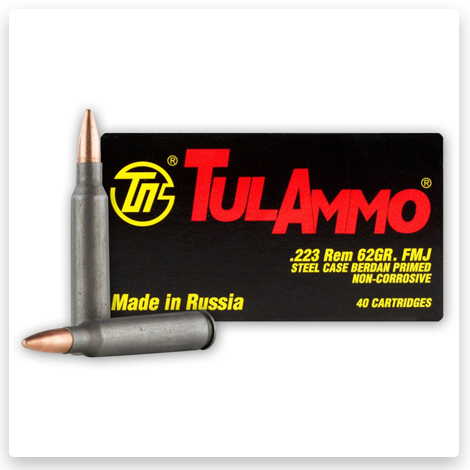 The 223 Rem – 62 Grain FMJ from Tula is ideal for range training. With a muzzle velocity of 3025 fps, this ammo offers excellent precision and accuracy. The full metal jacket design ensures that your gun stays clean after extended use. The Berdan or boxer primed steel casings are designed for maximum durability and reliability.
7# 223 Remington – 55 Grain FMJ Steel –
TulAmmo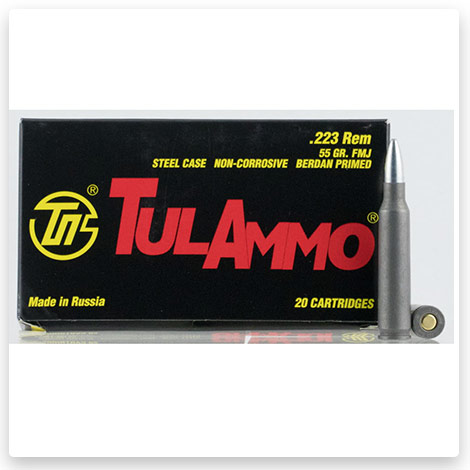 The TulAmmo 223 Remington 55 Grain FMJ Steel is excellent for all your range of training needs. This ammo features full metal jacket bullets that are designed to provide optimal performance and accuracy. The non-corrosive steel cases are built to withstand harsh weather conditions, ensuring that your rifle performs at its best no matter what the conditions are like. Order your box of TulAmmo today and be prepared to take down your next buck with confidence.
8# 223 Remington – 55 Grain FMJ Bimetal –
Wolf Ammo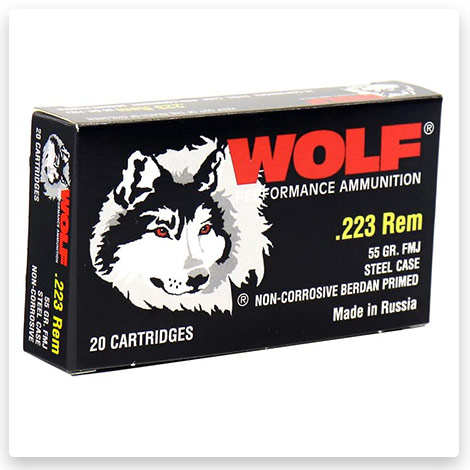 Searching for dependable and affordable ammunition to feed your beloved AR-15 or other western-style rifles? Pay attention to the Wolf Ammo Performance .223 Remington. This economical cartridge features a 55-grain full-metal jacketed bullet and steel casing, making it ideal for target shooting. With a muzzle velocity of more than 3,000 feet per second, the .223 Remington is the perfect round for your needs.
9# 223 Remington – 55 Grain Nosler Ballistic Tip Brass –
Federal Premium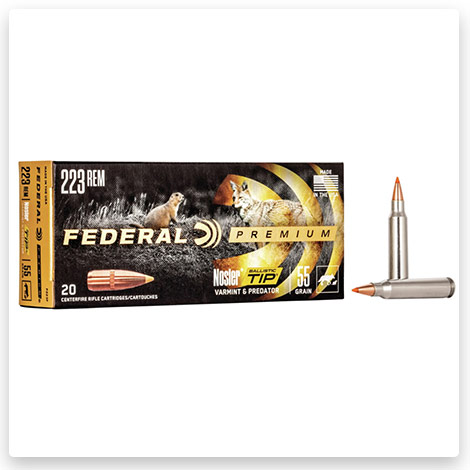 The Federal Premium V-SHOK 223 is the ideal tool for varmint hunting. The thin, concentric jacket on the SBT bullet produces excellent stopping power with minimal penetration, while the boat-tail design increases distance and accuracy. The color-coded polymer tip helps you identify your target quickly and easily. With a muzzle velocity of 3240 ft/s, this ammo is sure to exceed all of your expectations.
10# 223 Remington – 55 Grain Sierra BlitzKing Nickel Plated Brass-
Sierra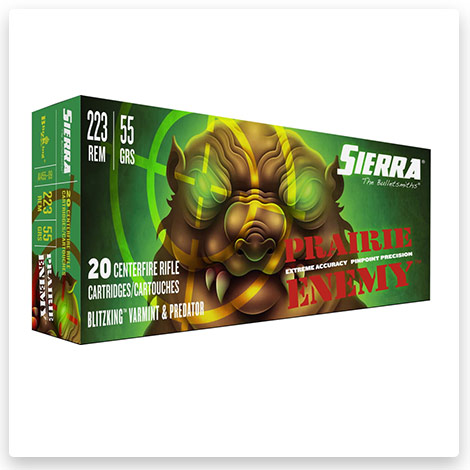 The BlitzKing bullets are modeled after Sierra's match-grade line and scaled down for .223-caliber hunting. They are made from a proprietary compound that gives them the accuracy you need to make every shot count. Plus, the thin jacket enhances expansion for maximum damage. And because the cases are nickel-plated, you can count on reliable feeding, even in a semi-auto rifle or AR platform. So stock up today and be ready for anything that comes your way.
11# 223 Remington – 64 Grain Extreme Point Polymer Tip –
Winchester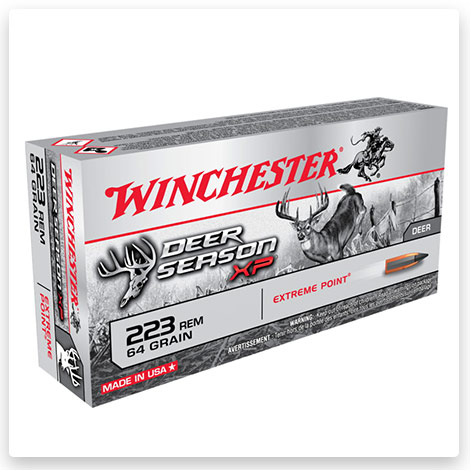 Presenting the Winchester's Deer Season XP! This line of ammunition is specifically designed to deliver big game results, with a massive impact diameter that guarantees quick and efficient knockdown. With a reputation for quality and performance, you can trust Deer Season XP to help you take down your prey quickly and effectively. So don't wait – buy Deer Season XP today and be prepared for success on the next hunt!
12# 223 Remington – 77 Grain Custom Competition Brass Cased –
Nosler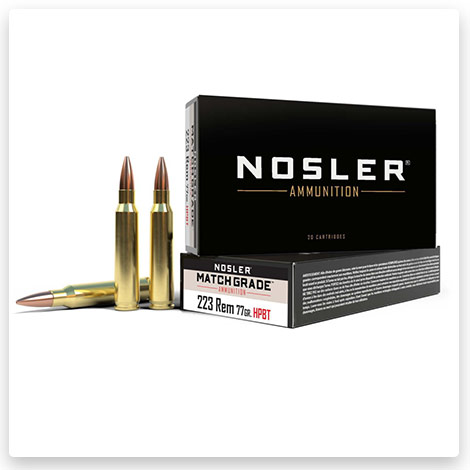 Do you want to buy a .223Rem cartridge that will help you come out on top in your next competition? Nosler has you covered with their Custom Competition brass-cased ammo. These 77-grain Hollow Point Boat Tail (HPBT) bullets are designed for superior accuracy and reduced drag, giving you the edge you need to beat the competition. Cased in Nosler premium brass, this .223 Remington ammunition provides optimal precision over a wide range of velocities and distances.
13# 223 Remington – 55 Grain JHP Brass Cased –
Barnes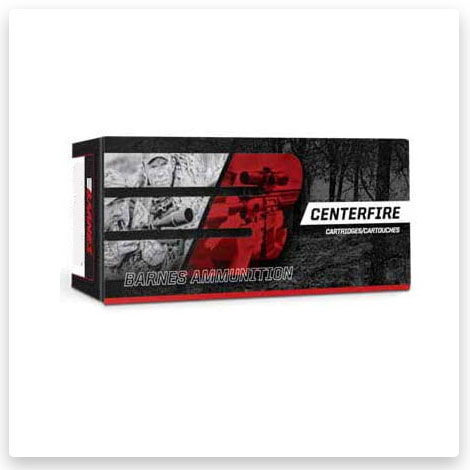 The Barnes' 223 Remington is premium-grade ammunition designed to provide superior accuracy and terminal performance, whether you're shooting at close or long range. The sleek bullet profile and bonded construction make for reliable penetration, while the hollow point design ensures maximum expansion on impact. All Barnes Tipped target ammo is destruction-tested to ensure reliable performance, and every round is made with reloadable brass cases, value booster hollow points, and dependable primers.
14# 223 Remington – 55 Grain FMJ Brass –
Igman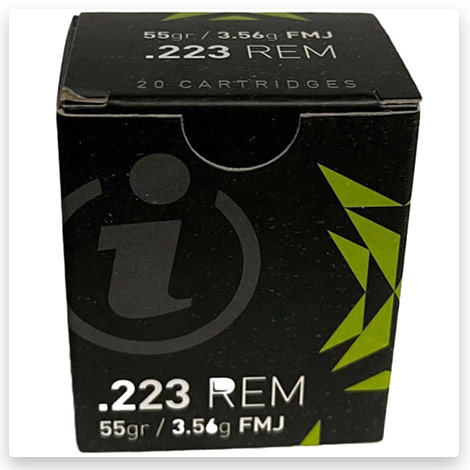 The 223 Remington – 55 Grain FMJ Brass – Igman is best for those who are looking for a reliable and accurate ammunition option. With a muzzle velocity of 3,231 feet per second, the Igman .223 is perfect for varmint hunting or target practice. The full-metal jacketed bullet and brass casing provide dependable accuracy, while the light recoil makes it a great choice for those who are new to shooting. Order your Igman .223 today and enjoy the peace of mind that comes with owning a quality product.
15# 223 Remington – 55 Grain FMJ Boat Tail –
PMC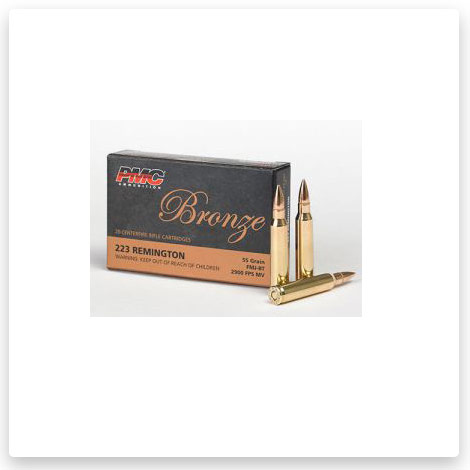 When you need ammunition that you can rely on to perform at its best, choose PMC 223 Remington 55 Grain FMJ Boat Tail ammo. This high-quality ammo is designed for competitive shooting and hunting, offering a more stable flight path and enhanced accuracy compared to other types of bullets. Get the advantage at your next match by using PMC 223 Remington 55 Grain FMJ Boat Tail ammo.
16# 223 Remington – 69 Grain Scenar-L Open Tip Match Brass –
Lapua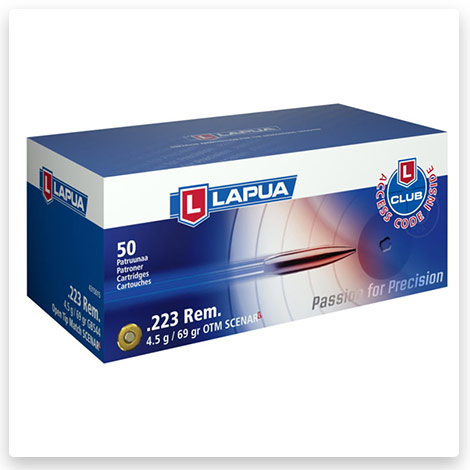 Need reliable and accurate ammunition for your next competition or hunting trip? Look no further than Lapua's .223 Remington 69-grain Scenar-L OTM. This top-of-the-line match ammunition is designed for consistent uniformity across all components, from the jacket walls to the weight and dimensions. Whether you're 3-gunning with your AR or bolt-actioning on varmints, this ammo will deliver the goods. It's also loaded into Lapua's high-quality reloadable brass for a long reloading cycle.
17# 223 Remington – 50 Grain Centerfire Rifle Ammunition –
SinterFire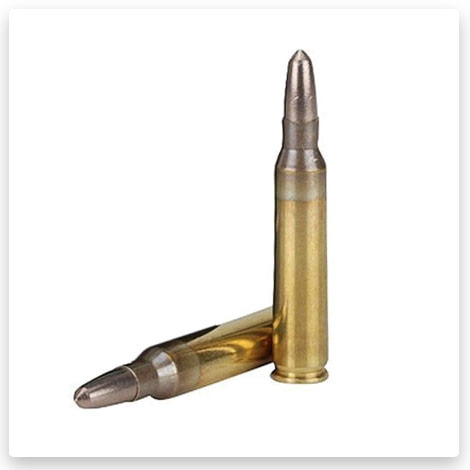 Manufactured to be regarded as a very good product for pretty much any person, the SinterFire .223 Remington 50 Grain Centerfire Rifle Ammunition is perfect for those who want a reliable and sturdy product. With a precision machined copper alloy core and high-quality propellants, the SinterFire .223 Remington 50 Grain Centerfire Rifle Ammunition delivers consistent and accurate performance. The tough polyethylene jacket protects against fouling and ensures smooth feeding and function in all temperatures.
18# 223 Remington – 55 grain Full Metal Jacket Brass –
Hornady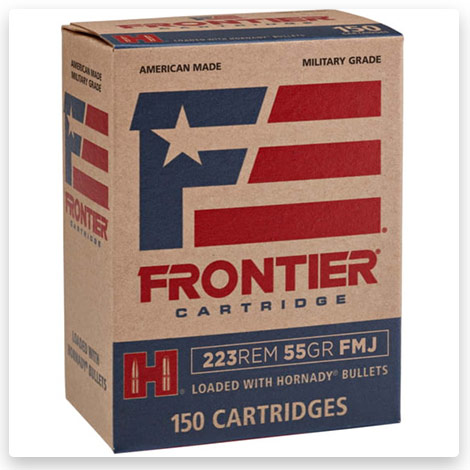 Searching for a high-quality, dependable bullet, look at the Hornady Frontier Cartridge. This ammunition is ideal for a variety of applications from plinking to hunting to law enforcement training. The bullets are made with state-of-the-art loading techniques and quality control procedures to ensure accuracy and consistency in every shot. So whether you need a round for target practice or self-defense, you can be confident that Hornady Frontier Cartridge will deliver.
How to choose the best 223 Ammo? 💡
When selecting 223 Ammo for your rifle, there are several important points to consider:
🔎 Range ➔ will be dependent on the type of ammo you choose; heavier bullets typically achieve longer ranges while lighter bullets offer shorter distance shots.
🔎 Accuracy ➔ some types may offer better accuracy than others depending on your specific needs.
🔎 Power ➔ heavier rounds offer more power, while lighter rounds may provide a lighter punch.
🔎 Cost ➔ more expensive types typically deliver higher accuracy, power, and range than cheaper 223 ammo options.
🔎 Barrel length ➔ the length of your rifle's barrel can affect the ammo you choose and should be taken into consideration.
🔎 Intended use ➔ different types are suited for different purposes.
🔎 User reviews and product ratings ➔ to ensure you're purchasing the best 223 Ammo for your specific needs.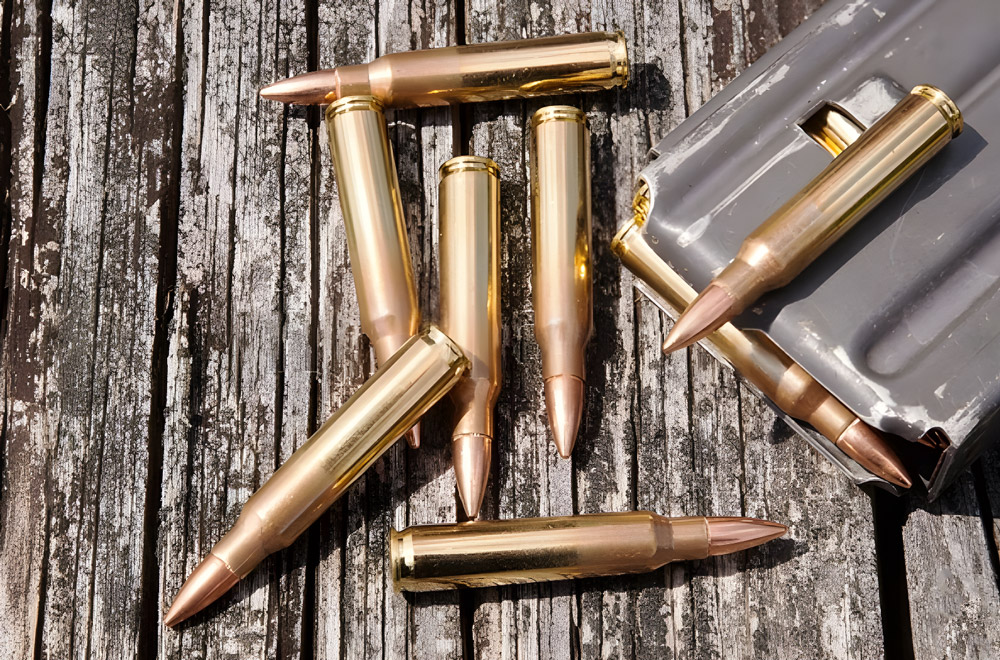 FAQ 🤔
Conclusion 🙌
223 ammo is a popular choice for shooters because it's lightweight, has low recoil, and delivers good accuracy. In this buyer's guide, we've reviewed some of the best ammo on the market to help you choose the right round for your needs. We've also included tips on how to buy it and some important things to keep in mind when making your purchase. So whether you're looking for 223 hunting rounds or target practice ammunition, we have something here for everyone. Thanks for reading! 😊❤️