Affiliate Disclosure: AmmoCave.com sometimes gets paid for listings, through sponsors or affiliate programs like Lucky Gunner, Optics Planet, Brownells, Cabelas, Academy Sports & Outdoors, Rainier Arms, Palmetto State Armory, Sportsman's Guide, Ammo.com, Ammo Man, Primary Arms, MidWayUsa, Amazon, eBay, etс. Clicking a link helps keep AmmoCave.com free, at no extra cost to you!
Authors: Each article is verified by AmmoCave's expert team. Professional hunters, firearm trainers, gunsmiths, and gun experts write the articles. AmmoCave Team independently researches, tests, reviews, and uses recommendations from our community of gun owners. We may earn commissions from shopping links.
Note: The views and opinions expressed in this article are those of the authors and do not necessarily reflect any agency's official policy or position. The articles are for informational purposes only, share your opinions about Best 300 Weatherby Magnum Ammo in the comments and join the discussions. Let's share 💬 our ammo & gun experiences together!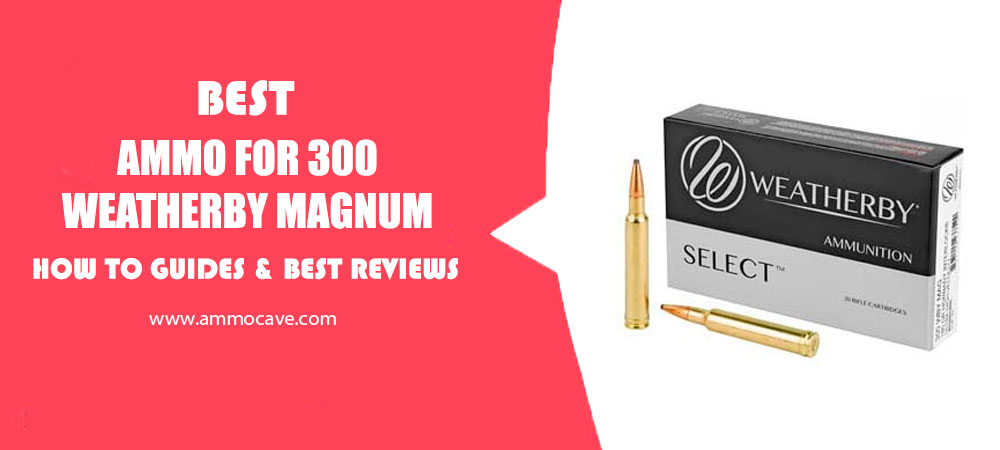 What is 300 Weatherby Magnum Ammo? 🤔
It is a cartridge designed in 1944 by Roy Weatherby for his line of rifles. It has the highest muzzle velocity and energy of any commercially available .30 caliber magnum round.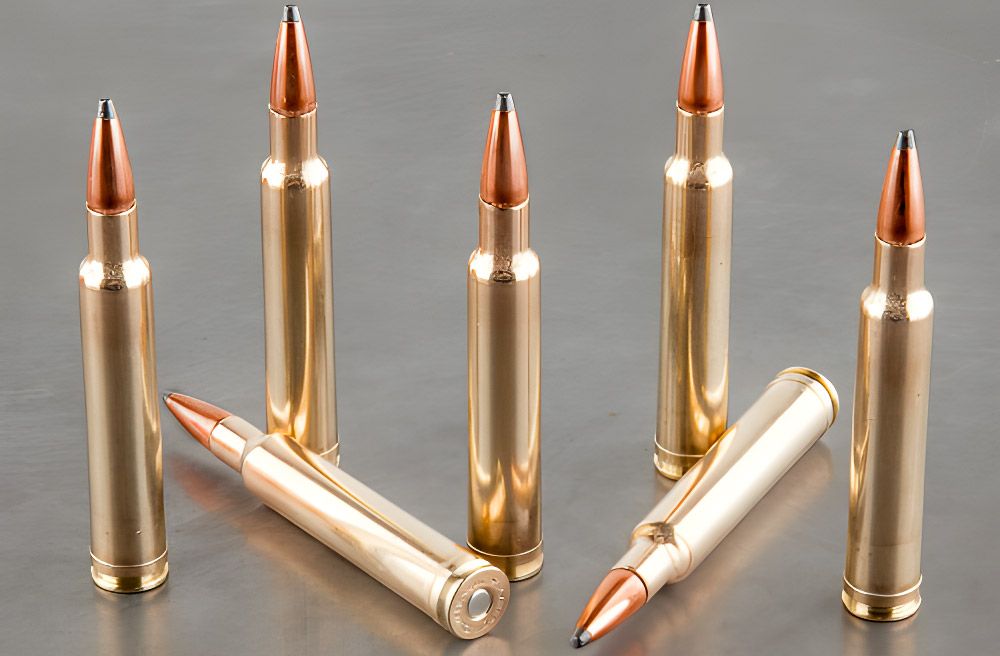 Features 🔥
The 300 Weatherby Magnum is a decisive, high-velocity round well-suited for hunting large game, such as elk and moose. Here are some of its features:
☑️ High Velocity: It can reach velocities up to 3,400 feet per second when loaded with appropriate ammunition – making it among the fastest commercial hunting rounds available today.
☑️ Large Game Hunting: This cartridge is designed for taking down large game animals at long range – its flat trajectory and relatively lightweight bullets make it ideal for this purpose.
☑️ High Accuracy: The excellent design of this cartridge makes it inherently accurate at long range, giving shooters plenty of confidence when engaging their target.
☑️ Versatility: Although primarily used for hunting large game, this ammo can also be used effectively on medium-sized animals such as deer or hogs – making it an excellent all-around hunting cartridge.
☑️ Low Recoil: Despite its impressive performance capabilities, the recoil generated by this round is generally relatively mild compared to other magnum cartridges.
Our Top Pick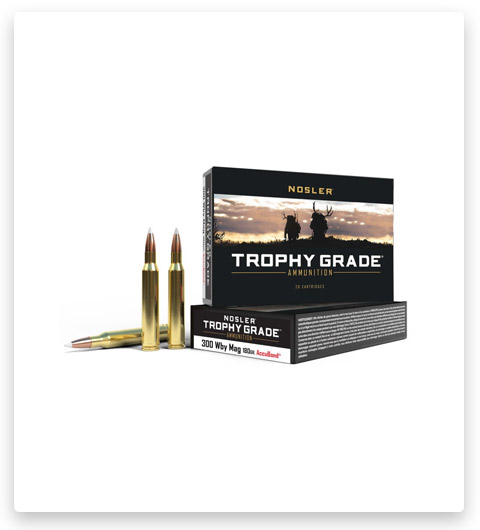 Nosler .300 Weatherby Magnum AccuBond Rifle Ammunition
This ammo is ideal for a variety of sporting purposes, from target shooting to hunting. All cases are carefully checked for correct length and neck size to ensure optimal accuracy on your part. And since Nosler is considered one of the best brands in the industry, it's no wonder that this particular ammunition is gaining popularity among serious shooters who demand only the highest quality components available.
Buy Now On OpticsPlanet
If you click this link and make a purchase, we earn a commission at no additional cost to you.
Benefits 💡
The 300 Weatherby Magnum is one of the most powerful cartridges available for long-range shooting.
✳️ It offers an impressive combination of velocity and energy, with a wide range of bullet weights (150 to 180 grains) that can be used in this caliber.
✳️ The cartridge has gained popularity among experienced shooters due to its capability of taking down large targets at long distances.
✳️ It also retains more energy over longer distances than other calibers – up to 400 yards or more – making it ideal for hunting situations where a follow-up shot may be necessary.
✳️ In addition, this caliber has low levels of barrel wear and fouling, which makes it easier to maintain and keep clean for repeated shooting sessions.
Velocity Specification 🎯
The 300 Weatherby Magnum is capable of achieving impressive velocities with its large diameter bullet and high pressure, making it an excellent choice for long-range shooting.
💥 On average, factory-loaded ammunition produces velocities ranging from 2,700 feet per second (fps) to 3,300 fps depending on the bullet weight. This makes it an ideal round for both short and long-range shots.
⭕ For short-range shots, lighter bullets can be used to achieve higher velocities due to their smaller size and lighter construction.
⭕ Heavier bullets, on the other hand, will produce higher velocities at longer ranges due to their larger size and greater mass.
🤠 Whether you are a hunter or a recreational shooter, it pays to know what kind of velocity your 300 Weatherby Magnum ammo is capable of producing. With this knowledge in hand, you can make sure that you are getting the most out of your shooting experience.
Our Selection 10 Best 🎯 300 Weatherby Magnum Ammo
1# 300 Weatherby Magnum – 180 Grain Barnes Tipped TSX Lead F –
Weatherby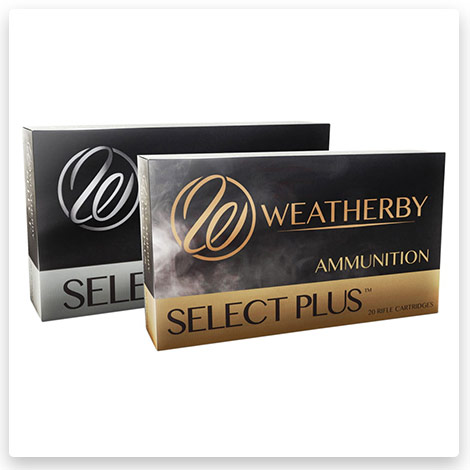 The 300 Weatherby Magnum is one of the most popular and versatile cartridges available on the market today. It has a flat trajectory and is incredibly accurate, making it perfect for taking down medium to large games. It also has great stopping power, thanks to the 180-grain Barnes Tipped TSX Lead bullet. Whether you're a seasoned hunter or a first-time shooter, the 300 Weatherby Magnum is an excellent choice for taking down your next trophy. Order your box of rounds today and be prepared for your next hunting adventure.
2# 300 Weatherby Magnum – 180 Grain Brass Cased –
Nosler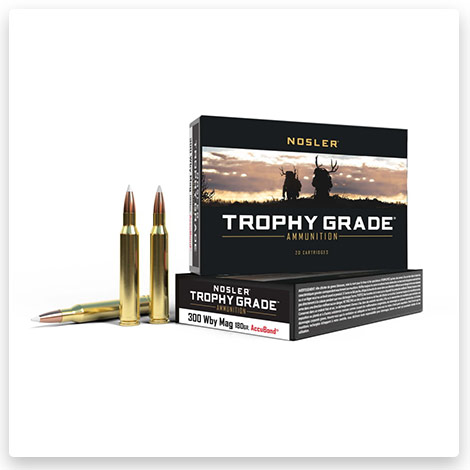 The Nosler 300 Weatherby Magnum is perfect for any shooter searching for exceptional accuracy and terminal performance. The durability of the AccuBond projectile eliminates problems of double-decapping in a magazine, making this ammunition perfect for target shooting or plinking. With its impressive performance and superior quality, the Nosler 300 Weatherby Magnum is sure to be a favorite among shooters.
3# 300 Weatherby Magnum – 180 Grain Interlock –
Weatherby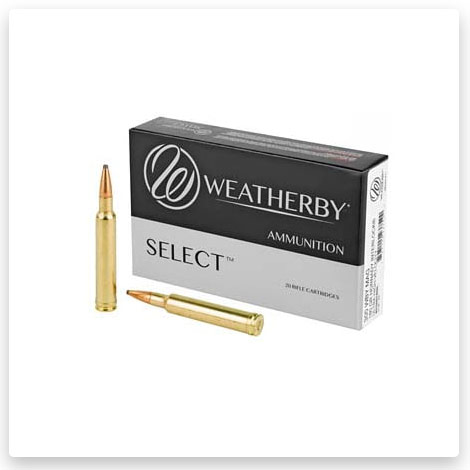 The 300 Weatherby Magnum is one of the most popular cartridges available today. Based on the classic 300 H&H Magnum design, the Weatherby delivers an impressive 300 fps more than its British counterpart, making it a truly powerful hunting round. Whether you are looking to take down the large game at long range or simply want a reliable and accurate cartridge for your next hunt, the 300 Weatherby Magnum is sure to deliver.
4# 300 Weatherby Magnum – 180 Grain AccuBond 20 Bx –
Weatherby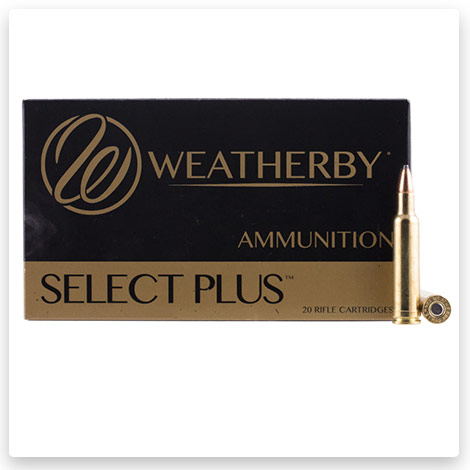 The 300 Weatherby Magnum is perfect for long-range hunting. It's loaded with Norma Precision Brass specialty primers and Norma High-Grade Premium Powder by Norma of Sweden for consistent, reliable ignition. And with several choices of bullet styles available, you can find the perfect one for your needs. So don't miss your chance to get this top-of-the-line hunting ammunition. Order your box of rounds today!
5# 300 Weatherby Magnum – 165 Grain Norma Oryx Brass Cased –
Norma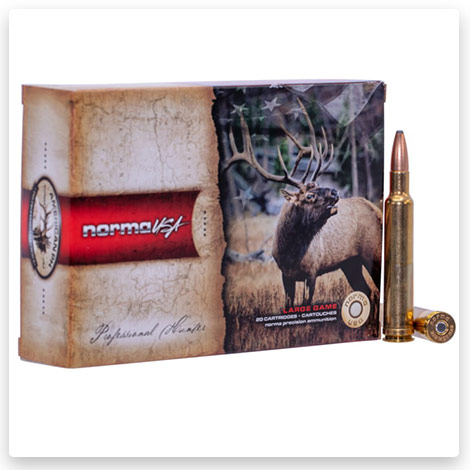 The Norma Ammunition is the best hunting ammo that is sure to provide an excellent hunting experience. It is perfect for those who want to ensure perfect mushrooming at all impact velocities. The ORYX has a thin forward jacket with internal splitting zones which creates Bonding and the thicker rear jacket wall ensures a high residual weight after impact (over 90%) and excellent penetration. You're sure to enjoy using this ammo on your next hunt!
6# 300 Weatherby Magnum – 180 Grain TTSX BT –
Barnes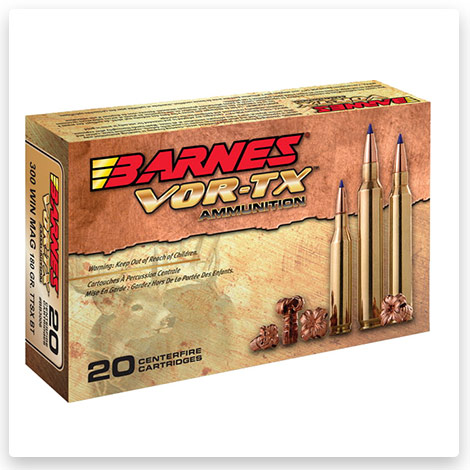 The 300 Weatherby Magnum is a great choice for hunters who want a hard-hitting round without the recoil. Barnes VOR-TX ammunition is designed for accuracy and 100% weight retention, making it perfect for long-range shooting or target practice. These rounds expand to double the diameter upon impact, ensuring that the big game is taken down quickly and cleanly. With many rounds in each box, you'll have plenty of ammunition for your next hunt.
7# 300 Weatherby Magnum – 180 Grain Gilding Metal –
Hornady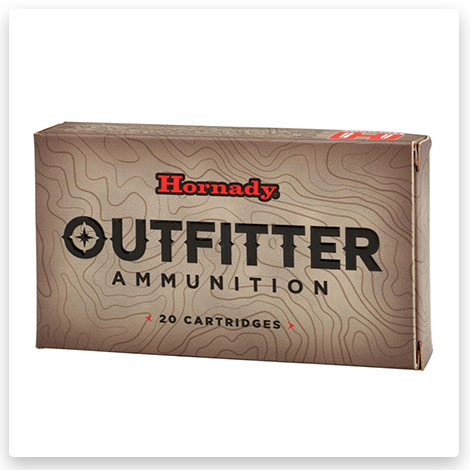 If you're searching for a tough and dependable bullet that can take down any game, look no further than Hornady Outfitter .300 Weatherby Magnum 180 Grain Gilding Metal eXpanding Centerfire Rifle Ammunition. Featuring corrosion-resistant nickel-plated cases that are sealed watertight and topped with the rugged and accurate GMX bullet, Outfitter ammunition is built to withstand even the toughest hunting conditions. These bullets are designed to provide superior accuracy, consistency, and always reliable performance.
8# 300 Weatherby Magnum – 200 Grain Extremely Low Drag –
Hornady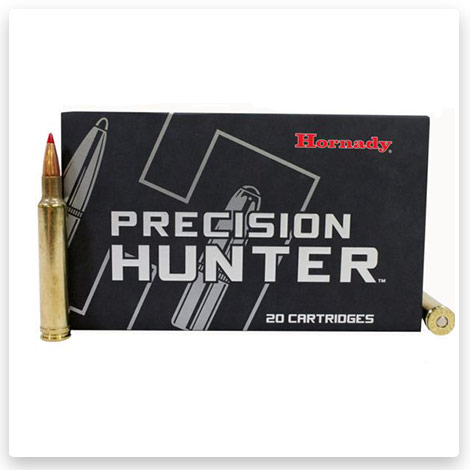 Searching for a reliable, accurate, and consistent hunting round? Notice the Hornady's Precision Hunter line of ammunition. This line is loaded with the superior ELD-X bullet, which is designed for maximum ballistic performance. The Heat Shield tip protects the bullet from aerodynamic heating, ensuring that it retains its shape and accuracy even at high speeds. Whether you're gunning for deer, elk, or any other game, Precision Hunter is the ideal choice for success in any hunting situation.
9# 300 Weatherby Magnum – 180 Grain Core-Lokt Pointed Soft Point –
Remington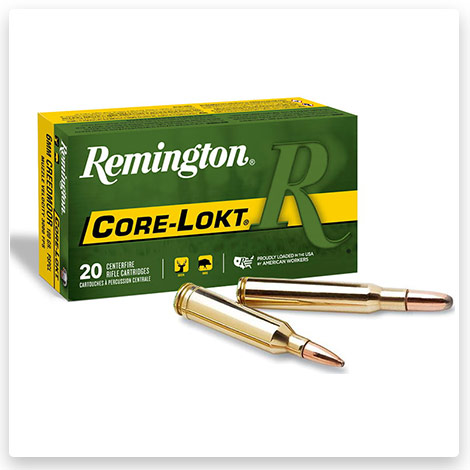 If you're searching for tried-and-true hunting ammunition that has been proven time and time again, look no further than Remington Core-Lokt. For over 75 years, Core-Lokt has been the original controlled expansion bullet, trusted by hunters worldwide. The tapered copper jacket is locked to a solid lead core, delivering massive 2X expansion, weight retention, and consistent on-game results. So whether you're heading out for deer, elk, or anything in between, trust your hunt to the best-selling hunting ammunition of all time.
10# 300 Weatherby Magnum – 180 Grain Norma Oryx Brass Cased –
Norma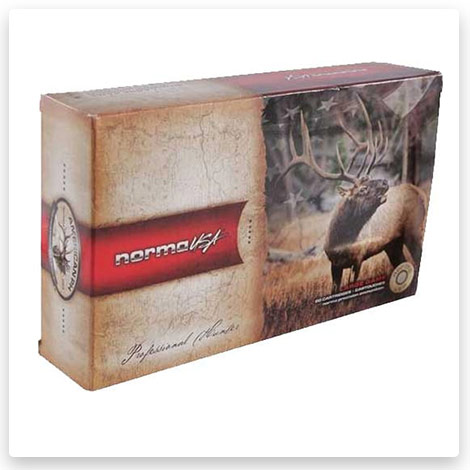 The Norma Oryx .300 Weatherby Magnum 180 Grain Norma Oryx Brass Cased Centerfire Rifle Ammunition is the perfect choice for those who need a reliable and durable product. Formulated using some of the most durable and dependable resources available, this rifle ammo from Norma will provide you with an item that will offer a great deal of stability.
Reloading 🧑‍🔧
The 300 Weatherby Magnum is a powerful rifle cartridge and it can be reloaded with ease, provided you have the right tools.
➡️ Start by carefully selecting your components. Good quality brass, bullets of appropriate weight, primers, and powder are all essential ingredients for successful reloading.
➡️ Once you have your reloading equipment, make sure you know how to use it properly. Follow all safety protocols and directions listed in the associated manuals when operating any machinery or tools.
➡️ The process will involve resizing brass cases, trimming them if necessary, lubricating the outside of each case with a special lube designed for this purpose, priming them with primers from a primer feeding tray or press, then seating bullets onto the base of each case.
➡️ Finally, inspect all cartridges before using them in any firearm.
FAQ 🧐
Conclusion 😉
Ammunition is an important factor when it comes to the 300 Weatherby Magnum. It's not just about finding the best ammo but also making sure that you have enough of it on hand so that you can continue shooting without interruption. In this article, we've looked at some of the top-rated ammunition and shared some tips on what to look for when purchasing rounds for your rifle. We hope you find this information helpful as you make your selections. 🌟😎
Tags: #best 300 weatherby magnum ammo / #best ammo for 300 weatherby magnum / #300 weatherby magnum ammo / #300 weatherby magnum ammo for sale / #300 weatherby magnum ammo and 300 win mag / #300 magnum weatherby ammo