Affiliate Disclosure: AmmoCave.com sometimes gets paid for listings, through sponsors or affiliate programs like Lucky Gunner, Optics Planet, Brownells, Cabelas, Academy Sports & Outdoors, Rainier Arms, Palmetto State Armory, Sportsman's Guide, Ammo.com, Ammo Man, Primary Arms, MidWayUsa, Amazon, eBay, etс. Clicking a link helps keep AmmoCave.com free, at no extra cost to you!
Authors: Each article is verified by AmmoCave's expert team. Professional hunters, firearm trainers, gunsmiths, and gun experts write the articles. AmmoCave Team independently researches, tests, reviews, and uses recommendations from our community of gun owners. We may earn commissions from shopping links.
Note: The views and opinions expressed in this article are those of the authors and do not necessarily reflect any agency's official policy or position. The articles are for informational purposes only, share your opinions about Best 480 Ruger Ammo in the comments and join the discussions. Let's share 💬 our ammo & gun experiences together!
If you're looking for the best 480 Ruger ammo, then you've come to the right place! In this post, we'll take a look at the top-rated handgun rounds for the 480 Ruger cartridge. We'll also discuss some of the benefits of using this caliber and why it's becoming so popular among shooters. So whether you're planning to use your 480 Ruger for hunting or self-defense, we've got you covered. Keep reading to learn more!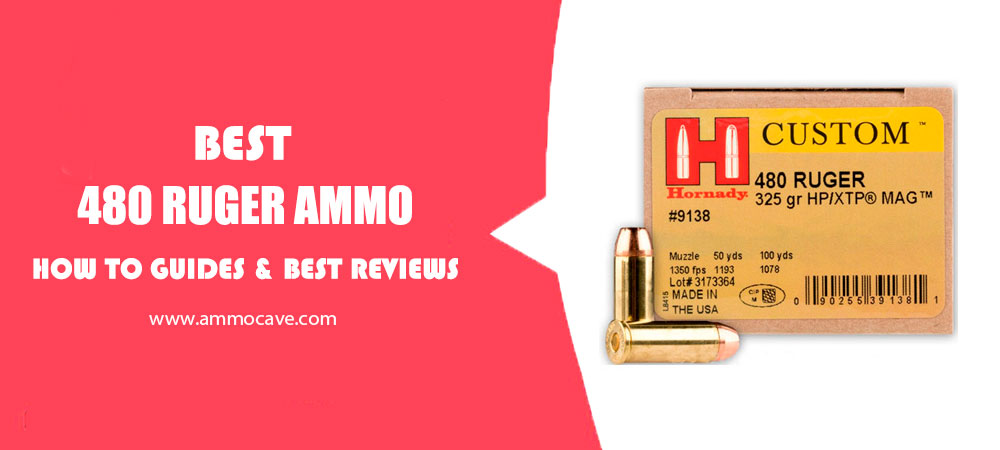 Best 480 Ruger Ammo Reviews
1# 480 Ruger – 325 gr JHP – XTP –

Hornady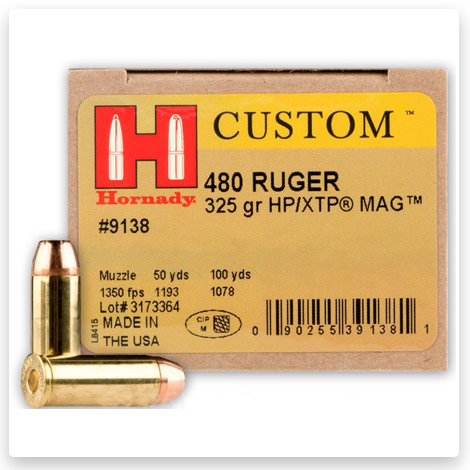 Hornady's XTP line of ammunition is world-renowned for its tight tolerances and outstanding performance. The XTP bullet is designed for maximum knock down power and controlled expansion upon impact, making it a great choice for self-defense or hunting. This ammunition is manufactured by Hornady, a company with over 60 years of experience in the firearms industry. Each box contains 20 rounds of 325 grain jacketed hollow point extreme terminal performance (JHP XTP) ammunition.
FAQ
What is the best 480 Ruger ammo for self-defense?
The best 480 Ruger ammunition for self-defense is typically a hollow point design. Hollow point ammunition is designed to expand upon impact, creating a larger wound channel and increasing the likelihood of stopping an attacker.
What are some good brands of 480 Ruger ammo?
Some good brands of 480 Ruger ammunition include Hornady, Federal, and Winchester. These manufacturers produce high-quality ammunition that is perfect for self-defense purposes.
What is the difference between full metal jacket and hollow point ammunition?
Full metal jacket (FMJ) ammunition is designed to penetrate deeply, but not expand. This makes it ideal for target practice, but not as effective for self-defense. Hollow point ammunition, on the other hand, is designed to expand upon impact.
Can I use 480 Ruger ammo in my revolver?
Yes, you can use 480 Ruger ammo in your revolver. However, you will need to make sure that your revolver is rated for that specific caliber. You should also be aware that recoil may be more intense with a heavier bullet.
How much does 480 Ruger ammo cost?
480 Ruger ammo typically costs between $0.50 and $1.00 per round. This can vary depending on the specific brand and type of ammunition.
What is the best place to buy 480 Ruger ammo?
The best place to buy 480 Ruger ammo is typically a gun store or sporting goods store. You can also find it online from a variety of retailers.
Conclusion
480 Ruger ammo is a powerful cartridge that offers excellent performance for hunting. It has the power to take down large game with ease, making it a popular choice for hunters. In this article, we've looked at the best 480 Ruger ammo on the market – our top pick. We've also answered some common questions about the cartridge so that you can make an informed decision when purchasing your next round of ammunition. Thanks for reading!