Affiliate Disclosure: AmmoCave.com sometimes gets paid for listings, through sponsors or affiliate programs like Lucky Gunner, Optics Planet, Brownells, Cabelas, Academy Sports & Outdoors, Rainier Arms, Palmetto State Armory, Sportsman's Guide, Ammo.com, Ammo Man, Primary Arms, MidWayUsa, Amazon, eBay, etс. Clicking a link helps keep AmmoCave.com free, at no extra cost to you!
Authors: Each article is verified by AmmoCave's expert team. Professional hunters, firearm trainers, gunsmiths, and gun experts write the articles. AmmoCave Team independently researches, tests, reviews, and uses recommendations from our community of gun owners. We may earn commissions from shopping links.
Note: The views and opinions expressed in this article are those of the authors and do not necessarily reflect any agency's official policy or position. The articles are for informational purposes only, share your opinions about Best 30 Carbine Ammo in the comments and join the discussions. Let's share 💬 our ammo & gun experiences together!

What is 30 Carbine ammo? 🧐
It is a type of ammunition chambered in the 30 Carbine caliber that was developed by Winchester and Remington Arms for use with the M1 Carbine, which was adopted by the US military in 1941. It is still used today for hunting and recreational target shooting.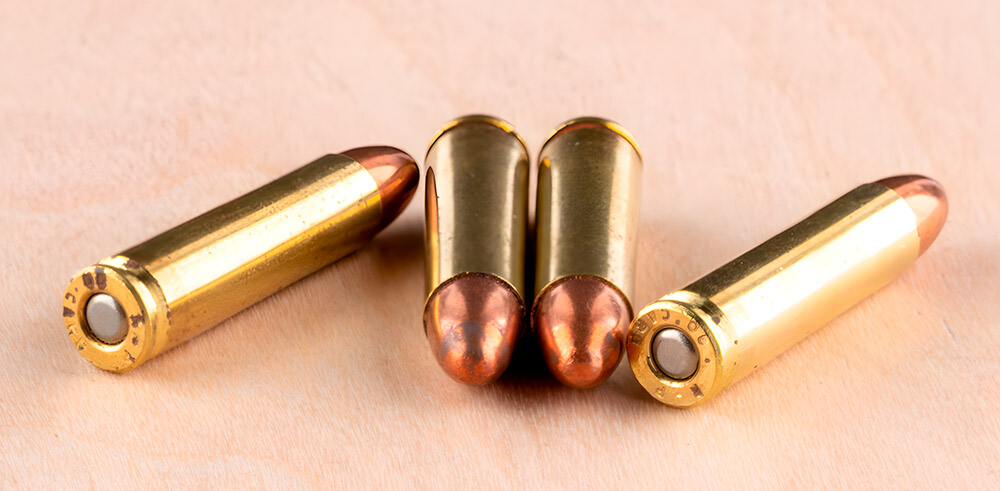 Features 💥
The 30 Carbine ammo is a popular choice for shooters due to its versatility and reliability. Here are some of its key features:
✅ Caliber: It is a .30 caliber cartridge that was developed for the M1 Carbine rifle during World War II.
✅ Ballistic Performance: This ammo can reach velocities of up to 1,900 feet per second, making it a powerful round that is capable of significant damage.
✅ Projectile Choices: It comes in a variety of projectile options, including a full metal jacket (FMJ), hollow point (HP), and soft point (SP).
✅ Reliability: This ammo is known for its reliability. It is a proven round that has been in use for over 75 years and has earned a reputation for consistent performance.
✅ Compatibility: It is compatible with a variety of firearms, including the M1 Carbine, Ruger Blackhawk, and Thompson/Center Contender. It is an excellent choice for those who own multiple firearms and want a versatile ammunition option.
Our Top Pick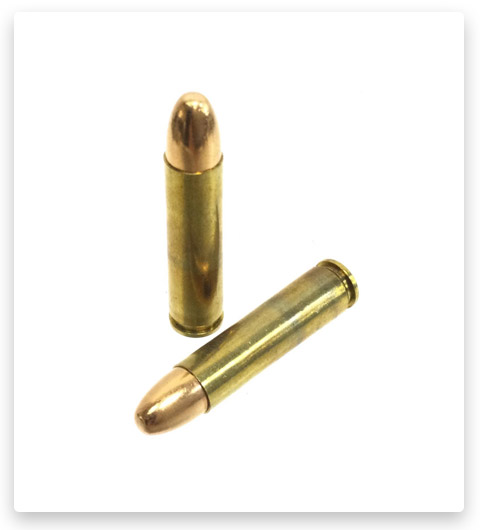 30 Carbine Ammo
Whether you're searching for a good workout for your surplus or reproduction M1 carbines, these affordable rounds are sure to please! Crafted to the original cartridge standards and packed with non-corrosive Boxer primers and clean burning powder, users will find dependable function and consistent downrange ballistics. And thanks to reloadable brass casings, home reloaders will have the ability to take their savings even further.
Explore Now
If you click this link and make a purchase, we earn a commission at no additional cost to you.
Benefits 😍
One of the primary benefits of using 30 Carbine ammo is that it is highly effective at both short and long ranges.
🔥 The round itself has been designed to have a flat trajectory, meaning that it can easily be used for shooting in close quarters as well as at greater distances without any significant drop-off in accuracy or effectiveness.
🔥 The high velocity and low recoil of the 30 Carbine make it particularly suited for use in semi-automatic firearms.
🔥 It is also known to be highly reliable, making it a great option for self-defense or hunting.
🔥 The round itself is relatively inexpensive and easy to come by, which means that you can easily stock up on ammo without breaking the bank.
🔥 In addition, many users find that they experience less felt recoil with this round than with some other popular cartridges on the market today.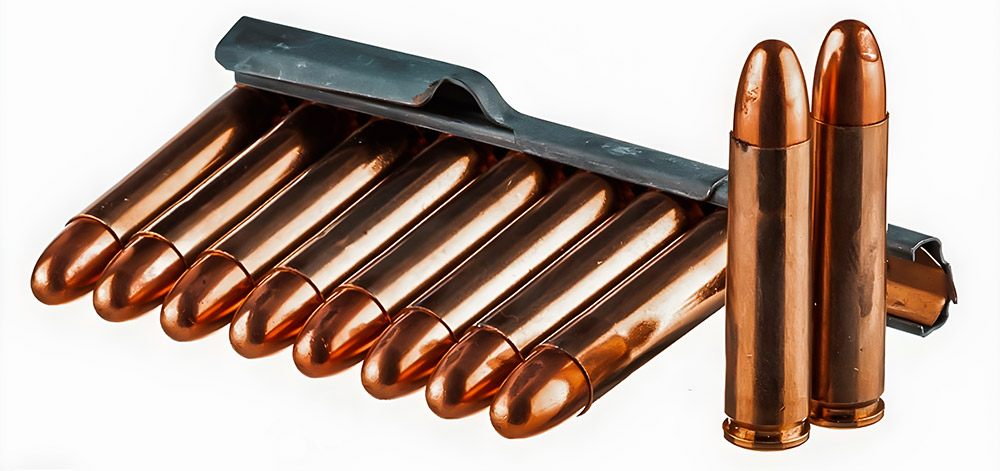 Ballistic Performance 🎯
30 Carbine ammunition is designed to have relatively low recoil and provide reliable performance in the field.
💡 When it comes to ballistics, this ammo excels in medium-range engagements due to its higher velocity than other commonly used rifle cartridges.
💡 At distances of up to 200 yards, these rounds will remain consistent with their trajectory and maintain good accuracy even at these longer ranges.
💡 When fired from the M1 carbine, 30 Carbine rounds have a muzzle velocity of approximately 1,900 feet per second and will produce an energy of 883 foot-pounds.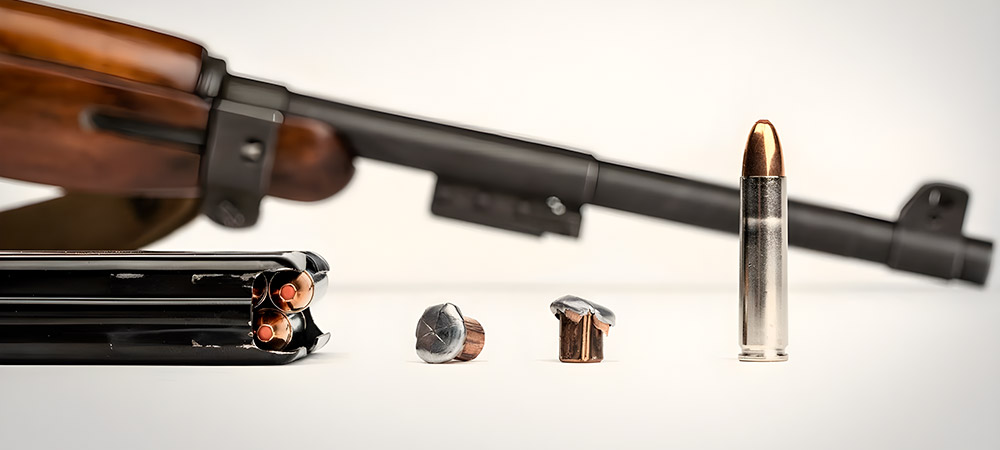 💡 For self-defense purposes, it is also a good choice due to its higher bullet weight than other popular rifle calibers. At 110 grains, it has more mass than lighter varmint cartridges like .223 Remington or 5.56 NATO and can provide more stopping power at close range.
💡 Its higher velocity also gives it better penetration capabilities than some handgun rounds when fired from the M1 carbine.
💡 Overall, this ammo is a great choice for shooters who need reliable performance in medium-range engagements but don't want the recoil of a larger caliber rifle.
Best 🚀 .30 Carbine Ammo Reviews
1# 30 Carbine – 110 Grain FMJ –
Magtech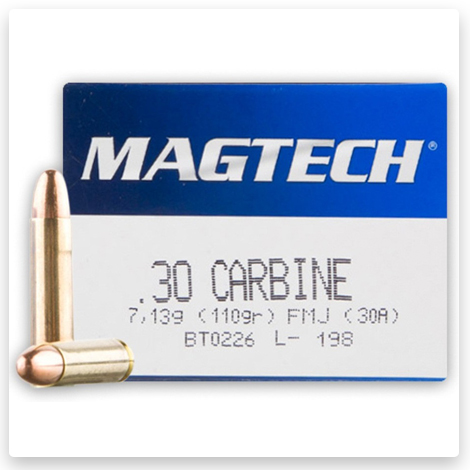 Searching for an affordable and reliable option for target practice or range training? Notice the Magtech's 30 Carbine ammo. This newly manufactured ammunition features a brass casing, full metal jacket bullet, boxer primer, and non-corrosive propellant, making it a great choice for shooters of all levels. And with over 90 years of experience in the industry, you can trust that Magtech knows a thing or two about making high-quality ammunition. So whether you're a seasoned marksman or a first-time shooter, make sure you give Magtech's 30 Carbine ammo a try.
2# 30 Carbine – 110 Grain SP –
Magtech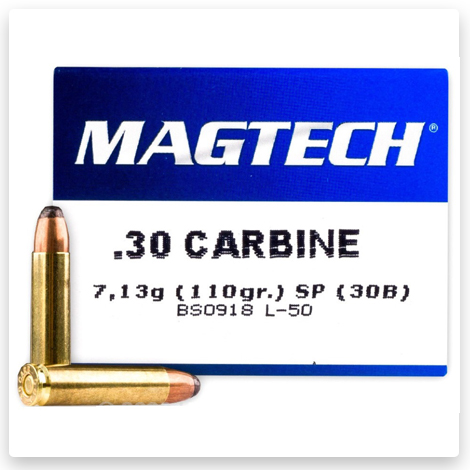 Want to get an affordable and reliable option for target practice and range training? Pay attention to Magtech's 30 Carbine ammo. These newly manufactured rounds are perfect for the budget-conscious shooter. Each reloadable round features a brass casing, soft point bullet, boxer primer, and non-corrosive primers. So if you need an affordable and reliable option for your shooting needs, choose Magtech 30 Carbine ammo – you won't be disappointed!
3# 30 Carbine – 110 Grain FMJ –
Korean Military

Surplus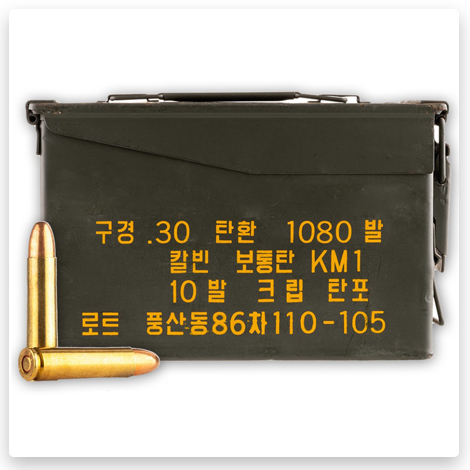 Searching for a reliable and affordable option for your 30 Carbine rifle? Take a look at this 110 Grain FMJ ammunition from Korean Military Surplus. This ammo is a great choice for range training or plinking, and you'll appreciate the low price point when you compare it to other brands. That's 1,080 rounds of high-quality 30 Carbine ammo, all at a price that won't break the bank. The brass shell casings are also Reloadable for those who like to hand-load their ammunition. So whether you want to stock up on 30 Carbine ammo, this Korean Military Surplus ammunition is the way to go.
4# 30 Carbine – 110 Grain MC –
Remington

UMC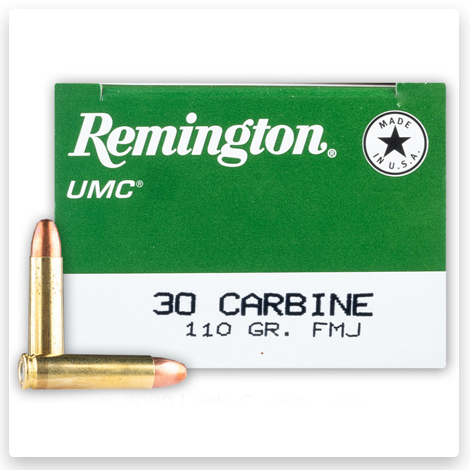 The 30 Carbine from Remington is a great choice for range and target practice. This new, brass-cased ammunition is boxer-primed, non-corrosive, and reloadable. It's also a favorite among law enforcement agencies and avid shooters. With a bullet weight of 110 grains and a muzzle velocity of 1990 fps, you can count on this ammo to perform. So whether you need an affordable option for practice or you need reliable ammunition for your job, the 30 Carbine from Remington is a great choice.
5# 30 Carbine – 110 Grain FMJ –
Wolf

PF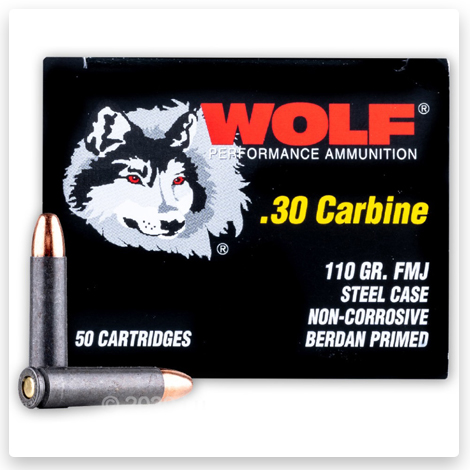 Wish to spend a great way to spend time at the range? Or maybe you just want to stock up on some affordable ammunition for target practice or tactical training? Either way, you'll want to check out the new Wolf Polyformance 30 Carbine 110 Grain FMJ ammo. This ammo is perfect for all sorts of applications, from plinking to target practice to tactical training. Each round is steel-cased, Berdan-primed, non-corrosive, and non-reloadable. Plus, it comes in a handy 50-round box, so you can just grab a few boxes and head to the range without having to worry about lugging around a big case of ammo.
Reloading 🧑‍🔧
If you want to reload your 30 Carbine ammo, there are a few things that you need to consider.
➡️ First, make sure that the brass cases used for reloading are in good condition and free of defects or dirt.
➡️ Then, ensure that the primer type and size are appropriate for the caliber being used.
➡️ Once those details have been taken care of, it's time to look at powder types. It is important to remember that cartridges must never be loaded beyond the maximum pressure specified by the manufacturer.
➡️ After all of the components have been selected, it is time to begin reloading.
➡️ The process involves several steps such as cleaning, priming, powder charging, seating, and crimping. These steps should be done in order with a focus on accuracy to ensure safety and performance.
📌 Keep in mind that reloading can be dangerous if done incorrectly so always follow instructions carefully or seek help from an experienced gunsmith or instructor if needed.
FAQ 🤠
Conclusion 🙂
30 Carbine ammo is a popular cartridge for sporting and hunting purposes. It can be used in rifles and pistols, and it offers good accuracy and stopping power. In this article, we've reviewed some of the best ammo on the market to help you choose the right product for your needs. Thanks for reading! 😉👍