Affiliate Disclosure: AmmoCave.com sometimes gets paid for listings, through sponsors or affiliate programs like Lucky Gunner, Optics Planet, Brownells, Cabelas, Academy Sports & Outdoors, Rainier Arms, Palmetto State Armory, Sportsman's Guide, Ammo.com, Ammo Man, Primary Arms, MidWayUsa, Amazon, eBay, etс. Clicking a link helps keep AmmoCave.com free, at no extra cost to you!
Authors: Each article is verified by AmmoCave's expert team. Professional hunters, firearm trainers, gunsmiths, and gun experts write the articles. AmmoCave Team independently researches, tests, reviews, and uses recommendations from our community of gun owners. We may earn commissions from shopping links.
Note: The views and opinions expressed in this article are those of the authors and do not necessarily reflect any agency's official policy or position. The articles are for informational purposes only, share your opinions about Best 26 Nosler Ammo in the comments and join the discussions. Let's share 💬 our ammo & gun experiences together!
Do you search for the best price on 26 Nosler ammo? You've come to the right place. We've compiled a list of top-rated ammo dealers, and we're always updating our prices to ensure you get the best deal. So whether you're looking for bulk ammunition or reloading supplies, we've got you covered. Check out our selection and save today!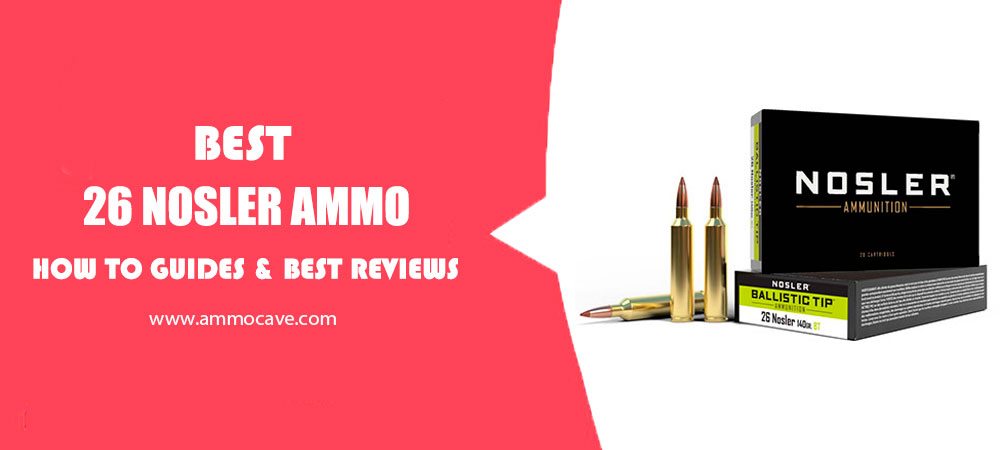 Our Selection 7 Best 26 Nosler Ammo
#1 26 Nosler – 129 Grain AccuBond Long Range Brass Cased –

Nosler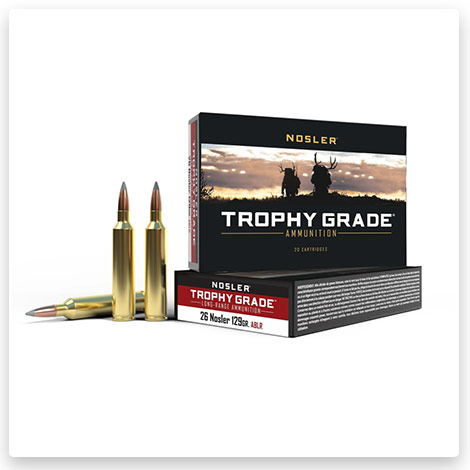 The .26 Nosler is a high-performance rifle cartridge that was created to appeal to shooters and hunters who require the best possible performance. The AccuBond-LR is the flattest-shooting and sleekest hunting bullet available, thanks to its ultra-high B.C. and bonded-core design. With a proper length and flash hole alignment, this ammunition is sure to provide the accuracy and precision you need for success in the field.
#2 26 Nosler – 142 Grain AccuBond Long Range Brass Cased –

Nosler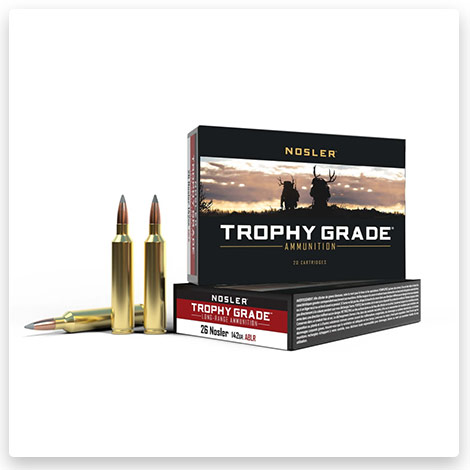 If you need rifle ammunition that will perform past 1,000 yards, look no further than Nosler Trophy Grade .26 Nosler 142 Grain AccuBond Long Range. The AccuBond Long Range bullet starts at the bottom with a sleek boat-tail design. The lead core is bonded to the copper jacket to hold up to high velocities and reliable expansion when it reaches the target. The unique gray polymer tip ensures long-distance accuracy, smooth feeding, and chambering, and provides outstanding long-range ballistics.
#3 26 Nosler – 140 Grain AccuBond Brass Cased –

Nosler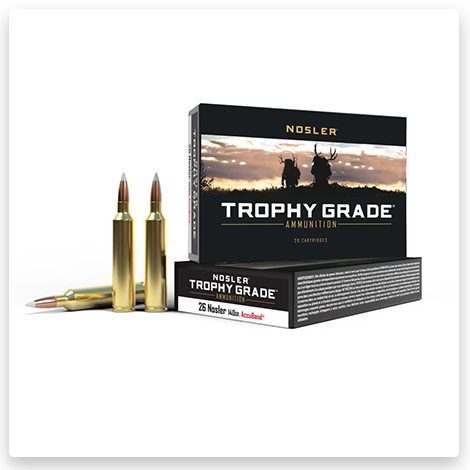 There's no such thing as too much security when you're out in the wilderness going after the big game. You need a round that is going to perform in any condition, which is exactly what you get with 26 Nosler 140 grain AccuBond brass cased ammo from Nosler. This top-of-the-line rifle ammo is perfect for hunters who demand the very best from their equipment. The 140-grain AccuBond bullet is designed for controlled expansion and weight retention, so you can be confident that your shot will have the desired effect.
#4 26 Nosler – 120 Grain E-Tip Brass Cased –

Nosler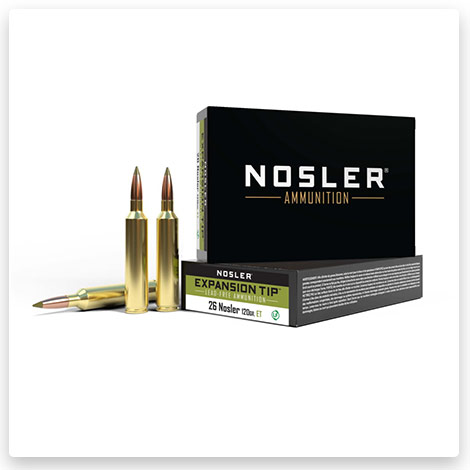 26 Nosler's 120 Grain E-Tip Brass Cased ammunition is the perfect choice for hunters who need a lead-free option. The copper alloy bullet delivers excellent penetration at high and low velocities, making it deadly for deer. With a muzzle velocity of 3,450 fps and 3,171 ft-lbs of force, this round is also incredibly accurate, making it a great choice for any hunter.
#5 26 Nosler – 150 Grain AccuBond Long Range Brass –

Nosler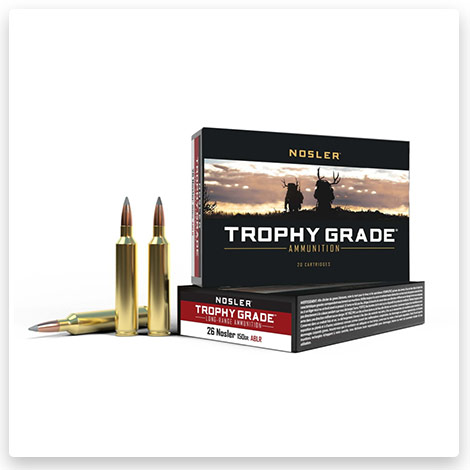 Need ammunition that can take your hunting trip to the next level? Nosler Trophy Grade Ammunition is your answer. This top-of-the-line ammunition is manufactured to Nosler's strict quality standards, using only the finest NoslerCustom brass and bullets. Whether you're looking for AccuBond, Partition Ballistic Tip, or E-Tip bullets, Nosler Trophy Grade Ammunition has the right load for the job. And because it's backed by the renowned Nosler ballistics team, you can be sure of its accuracy and consistency.
#6 26 Nosler – 140 Grain Ballistic Tip Brass –

Nosler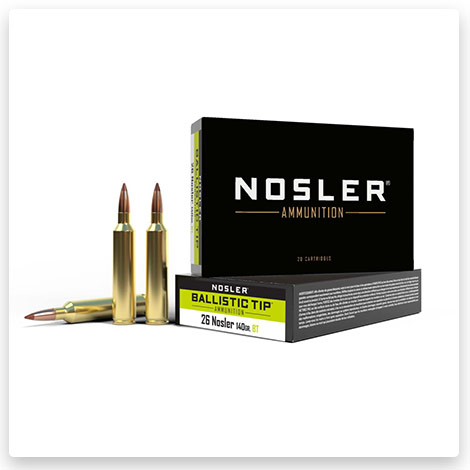 Introducing the Nosler Ballistic Tip Hunting 26 Nosler 140gr Ballistic Tip Brass Centerfire Rifle Ammunition. This 26 Nosler Ammo is made with Nosler brass and wildcat powder charges for reliable performance in even the most challenging hunting situations. With its neck length of 26 Nosler FH (Full House) – 140 gr, this ammunition is perfect for use in lever-action rifles.
#7 26 Nosler – 140 Grain Brass Cased –

Nosler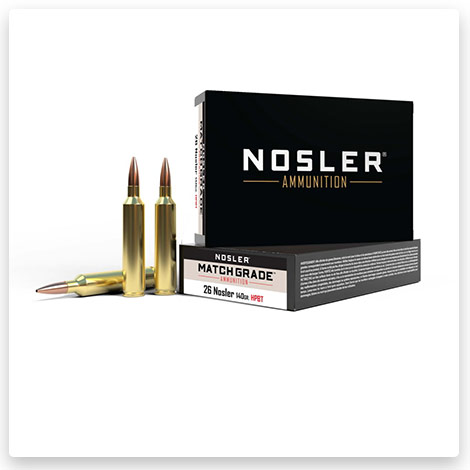 The Nosler's Custom Match Grade ammunition is loaded with only the highest quality components to provide you with unrelenting accuracy on the range or in the field. Each powder charge is meticulously weight-sorted to ensure consistent measurements and capacities for precise, repeatable loads. The Nosler Match Grade brass features a Nosler head-stamp as well as chamfered and deburred case mouths, deburred flash holes, and consistent trimmed lengths and neck wall thicknesses for exceptional concentricity.
FAQ
Who makes Nosler ammo?
Nosler ammunition is manufactured by Nosler, Inc. in Bend, Oregon. The company was founded in 1948 by John Nosler, who is credited with developing the partitioned bullet.
What is the best price for 26 Nosler Ammo?
The best price for 26 Nosler ammo depends on several factors including the type of bullet, the weight of the bullet, and the brand of ammunition. Generally speaking, the lighter the bullet and the higher the quality of the ammunition, the higher the price will be.
What are some good brands of 26 Nosler Ammo?
Some good brands of 26 Nosler ammo include Federal Premium, Hornady, and Winchester.
What are some tips for buying 26 Nosler Ammo?
Some tips for buying 26 Nosler ammo include:
Research the different types of bullets available to find the one that best suits your needs.
Consider the weight of the bullet when making your purchase. The heavier the bullet, the more expensive it will be.
Choose a brand of ammunition that is known for its quality. Higher quality ammunition will cost more, but it will also perform better.
Is Nosler ammo any good?
If you're searching for high-quality ammunition for your hunting or target shooting needs, Nosler is a great choice. Nosler specializes in creating bullets and ammunition that deliver exceptional accuracy and performance. Their products are used by many top competitive shooters and hunters, so you can be confident that you're getting a quality product when you choose Nosler. Nosler offers a wide variety of ammunition for both rifles and handguns, including their popular Partition and AccuBond bullets. They also offer a line of brass casings that are perfect for reloading. Whether you need factory-loaded ammunition or components to reload your rounds, Nosler has what you need.
Conclusion
Price For 26 Nosler Ammo is a hot topic with shooters. It can be tough to find the best deal on Price For 26 Nosler Ammo, especially when you need it now. That's where our Buyer's Guide comes in – we hope that this information was useful and you make the right decision for your needs. Thanks for reading!
Tags: #best 26 nosler ammo / #best price for 26 nosler ammo / #26 nosler ammo / #26 nosler ammo for sale / #who makes 26 nosler ammo / #nosler 26 ammo