Affiliate Disclosure: AmmoCave.com sometimes gets paid for listings, through sponsors or affiliate programs like Lucky Gunner, Optics Planet, Brownells, Cabelas, Academy Sports & Outdoors, Rainier Arms, Palmetto State Armory, Sportsman's Guide, Ammo.com, Ammo Man, Primary Arms, MidWayUsa, Amazon, eBay, etс. Clicking a link helps keep AmmoCave.com free, at no extra cost to you!
Authors: Each article is verified by AmmoCave's expert team. Professional hunters and gun experts write the articles. AmmoCave Team independently researches, tests, reviews, and uses recommendations from our community of gun owners. We may earn commissions from shopping links.
Note: The views and opinions expressed in this article are those of the authors and do not necessarily reflect any agency's official policy or position. The articles are for informational purposes only, share your opinions about Best 28 Nosler Ammo in the comments and join the discussions. Let's share 💬 our ammo & gun experiences together!
Are you in the market for the best 28 Nosler ammo? If so, you're in luck! In this blog post, we'll be reviewing some of the top-rated 28 Nosler ammo on the market. We'll also be providing tips on how to choose the right ammo for your needs. So, whether you're a seasoned shooter or just starting out, read on for information that will help you choose the best ammo for your needs.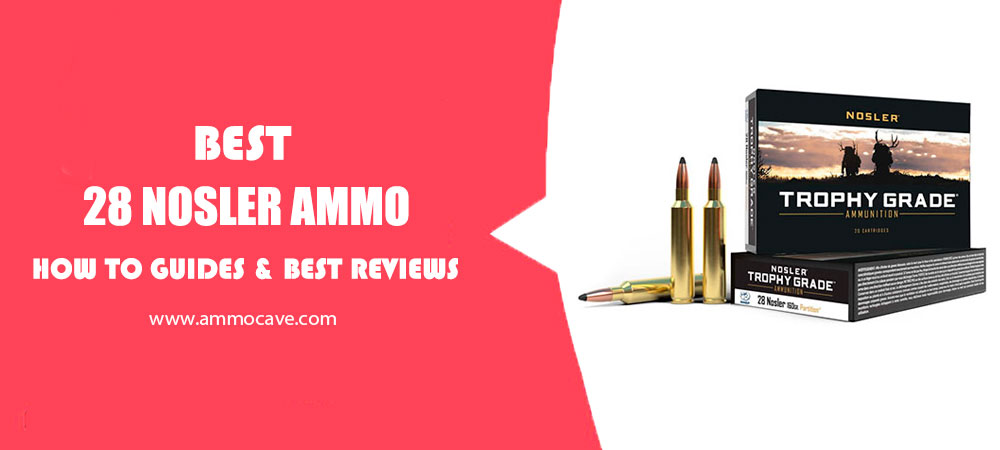 Our Selection 13 Best 28 Nosler Ammo – Editor's Choice
1# 28 Nosler – 162 Grain ELD-X – Hornady Precision Hunter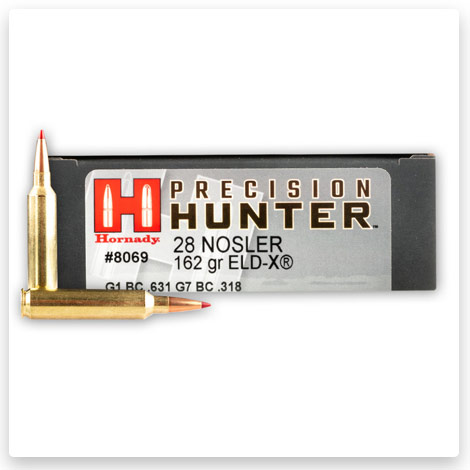 The 28 Nosler is a high-powered rifle that is perfect for hunting. With its superior power and reach, it is sure to take down any game. The Hornady Precision Hunter line of ammunition is the perfect choice for this rifle. The Nebraskan manufacturer's top-of-the-line brass casing and uniformly loaded clean burning propellant charge ensure predictable shot-to-shot results. The real star of this round is the 162-grain ELD-X bullet. This match-accurate hunting projectile has a polymer tip that benefits its terminal performance. The tip is also heat-resistant so that no amount of air friction can warp it or throw off its perfectly centered symmetry. With this powerful rifle and ammunition, you are sure to have a successful hunt.
#2 28 Nosler – 150 Grain E-Tip Lead-Free Brass –

Nosler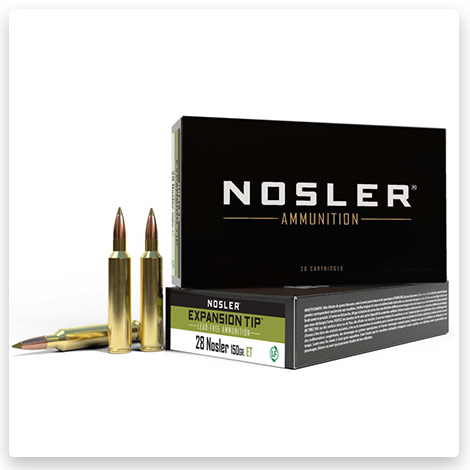 Nosler .28 Nosler E-Tip ammo is perfect for hunters who want to stay in the game in areas where lead-free ammunition is required. The solid copper-alloy bullets are loaded with an OD green polymer tip, resulting in uniform expansion with 95 percent weight retention. This superior design provides excellent penetration and terminal performance for big game hunting. Nosler recommends .28 Nosler Rifle Ammo for all types of big game hunting. The Oregon-based company introduced the .28 Nosler cartridge in 2015 as the most powerful 7mm round available commercially. The cartridge features an expansion control ring and boat tail design, which was put to the test during 150-grain bullet muzzle velocity and energy trials. The results? 3,250 feet-per-second velocity and 3,530 foot-pounds of energy – making it one of the most impressive big game hunting rounds on the market today.
#3 28 Nosler – 160 Grain Ballistic Tip Brass –

Nosler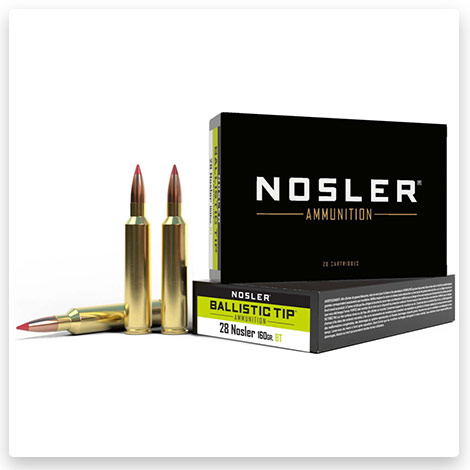 The 28 Nosler from Nosler delivers extreme performance and is easy to load. With slower burning powders and high load densities, this ammunition is perfect for deer hunting. The spitzer bullet weight of 160 grains and the muzzle velocity of 3200 feet per second make this an excellent choice for any hunter. The cartridge case is made of brass and the primer style is centerfire. This product comes in a box containing 20 rounds.
#4 28 Nosler – 185 Grain Hollow Point Boat Tail Brass Cased –

Nosler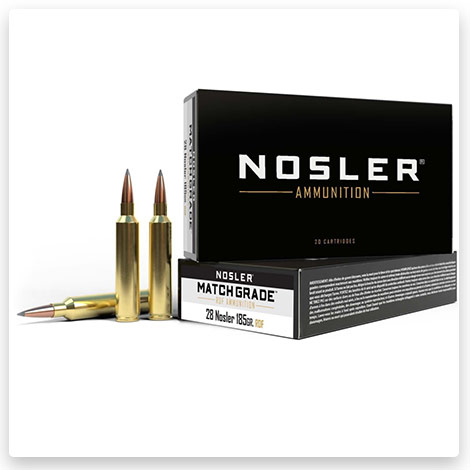 The Nosler 28 RDF is the perfect choice for long-range competition. Its high-performance powder and bullet combinations make it incredibly accurate and consistent, while its flat trajectory ensures superior precision at long range. It is also loaded in premium Nosler brass for added durability and is visually inspected for quality assurance.
#5 28 Nosler – 162 Grain Extremely Low Drag – eXpanding –

Hornady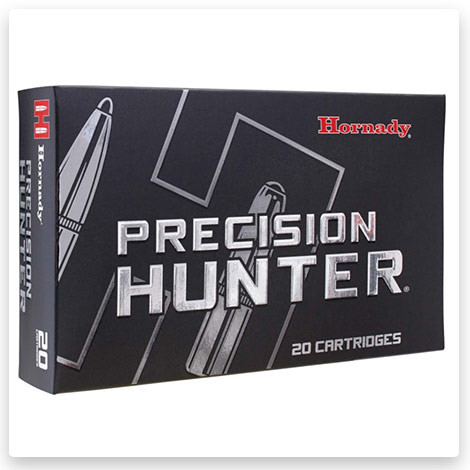 With Hornady ELD-X Ammunition, hunters will enjoy the ultimate in accuracy and consistency. This bullet features the patented Heat Shield tip, which provides best-in-class accuracy. All Hornady ELD-X ammunition is manufactured with Norma Precision Brass, and the bullet cores are made with a lead alloy. The cores and jackets are designed to remain intact and provide large expansion and full penetration. Additionally, the .28 Nosler ELD-X has the patented Heat Shield tip which allows for cold swaging. When matched with an appropriate groove diameter, the resulting energy transfer is proportionally greater than that of the other two bullets in the ELD-X family. As a result, hunters can trust that this ammunition will provide them with the performance they need to take down their game quickly and efficiently.
#6 28 Nosler – 175 Grain AccuBond Long Range Brass Cased –

Nosler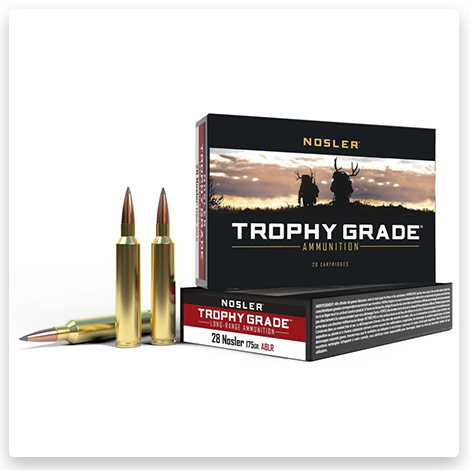 Nosler's 28 Nosler – 175 Grain AccuBond Long Range Brass Cased ammunition is the perfect choice for big-game hunters looking for optimal performance. The high B.C. bonded-core bullets offer the flattest possible trajectory, while the sleek design ensures maximum efficiency and energy transfer. The polymer tip and boat tail provide superior aerodynamic performance, and the Nosler exclusive AccuBond bonding technology ensures maximum weight retention and penetration. This top-of-the-line ammunition is perfect for hunters who demand the very best in terms of performance and accuracy.
#7 28 Nosler – 168 Grain Custom Competition Brass Cased –

Nosler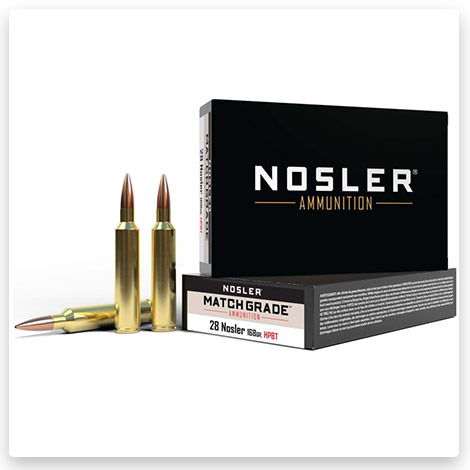 Nosler Custom Match Grade ammunition is loaded with only the highest quality components to deliver accuracy that rivals or even surpasses handloaded rounds. Each powder charge is meticulously weight-sorted to provide consistent measurements and capacities for exceptionally accurate loads. The Nosler Match Grade ammunition uses Nosler Custom Brass which benefits from a Nosler head-stamp, chamfered and deburred case mouth, deburred flash hole, consistent trimmed length, and consistent neck wall thickness. The Custom Competition bullets blend match-winning accuracy and consistency with maximum value for performance-minded shooters. Highly concentric jackets, ultra-precise lead alloy cores, and hand-inspected quality offer, competitive shooters, more for less. This new production ammunition is non-corrosive.
#8 28 Nosler – 160 Grain Brass Cased –

Nosler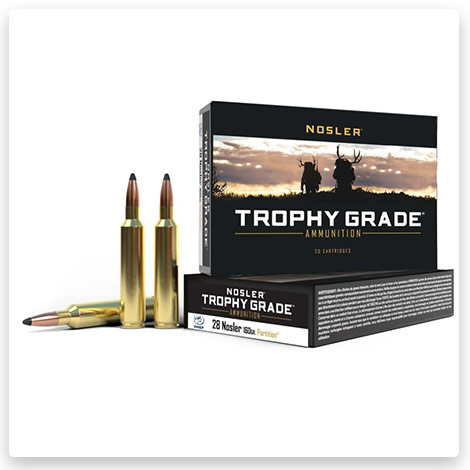 Do you want to find the ideal ammunition for your next major hunting expedition? Nosler Trophy Grade Ammunition is the way to go. Manufactured to Nosler's strict quality standards, this ammunition is sure to give you the best possible performance, no matter where you are. Using only Nosler brass and bullets, Trophy Grade Ammunition is designed for optimum performance and accuracy. The Nosler ballistics team is the driving force behind this high-quality ammunition, and their attention to detail ensures that every shot is as precise and consistent as possible. So whether you need AccuBond, Partition Ballistic Tip, or E-Tip ammo, Nosler Trophy Grade Ammunition will have the perfect load for your game. Order your ammo today and be ready for your next trophy hunt!
#9 28 Nosler – 160 Grain Sierra MatchKing Boat Tail Hollow Point Brass Cased –

Browning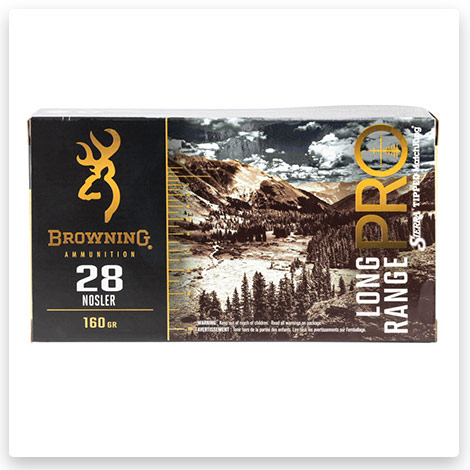 Are you seeking a bullet that is optimal for long-range shots and performs excellently? You can't go wrong with the 28 Nosler – 160 Grain Sierra MatchKing Boat Tail Hollow Point Brass Cased Browning. This ammunition is designed to deliver match-grade accuracy, thanks to the use of Sierra Tipped MatchKing bullets. Whether you're punching holes in paper targets or ringing steel at long range, this ammo will get the job done with precision. The boat tail hollow point design provides excellent aerodynamic performance, while the brass casing ensures reliable feeding and extraction. With a muzzle velocity of 3200 feet per second, this ammunition is perfect for hunting applications. Get the performance you demand with the 28 Nosler – 160 Grain Sierra MatchKing Boat Tail Hollow Point Brass Cased Browning.
#10 28 Nosler – 160 Grain AccuBond Brass Cased –

Nosler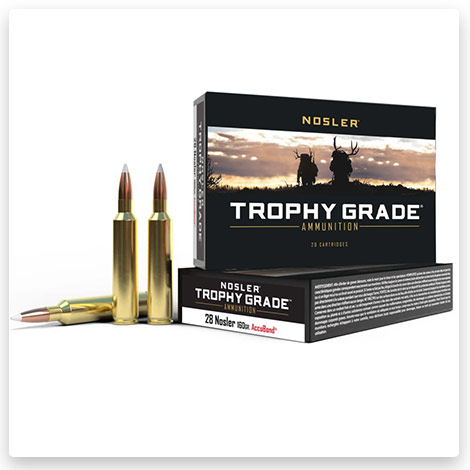 Are you in need of trustworthy, high-functioning ammunition? Nosler Trophy Grade ammunition is one of the best on the market. This brass-cased, 160-grain AccuBond bullet is perfect for hunters who demand the very best. The AccuBond bonded core bullet is Nosler's proprietary design, and it performs like no other. Through a special bonding process that eliminates voids in the bullet core, the AccuBond marries Nosler's traditional copper-alloy jacket with its special lead-alloy core. The result is a bullet that flies true, penetrates deep, and won't cause extensive barrel fouling. Plus, it will retain 60-70% of its weight on impact. The white polymer tip helps protect against deformation while initiating expansion upon impact, making this an ideal choice for big game hunting. When you're looking for the very best ammunition for your next hunt, choose Nosler Trophy Grade.
#11 28 Nosler – 155 Grain Controlled Expansion Terminal Tip Brass Cased –

Browning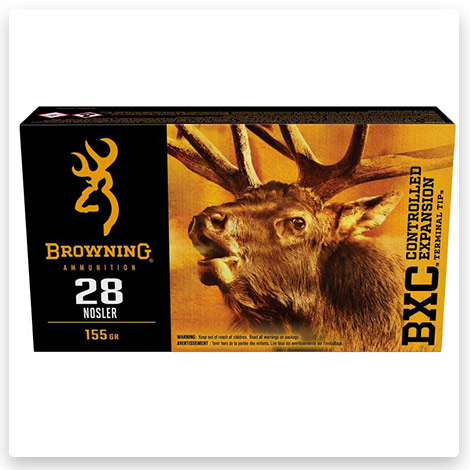 The Browning BXC 28 Nosler 155 gr Controlled Expansion Terminal Tip brass case is designed specifically for large game animals like elk, moose, mule deer, and bears. The anodized aluminum tip and bonded bullet design allow for deep penetration through thick hide and bone, while the nickel-plated brass case provides maximum downrange velocity and long-range performance. With 20 rounds in each box, this ammunition is perfect for your next hunting trip.
#12 28 Nosler – 139 Grain Solid Expansion Polymer Tip Brass Cased –

Browning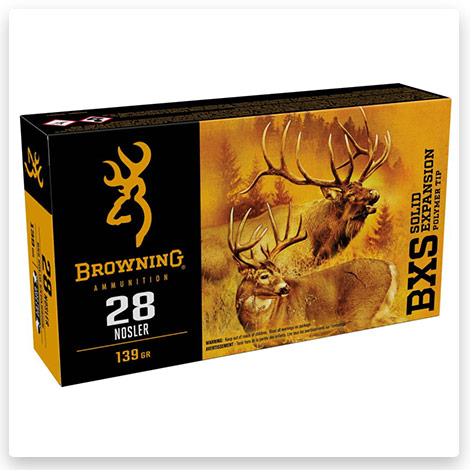 The Browning Ammo B192400281 BXS 28 Nosler 139 gr Polymer Tipped Copper 20 Bx/ 10 C – BXS Solid Expansion Big Game & Deer is the perfect choice for hunters looking to take down large game. The polymer-tipped copper bullet is designed for controlled expansion and deep penetration, making it ideal for taking down tough targets. The nickel-plated shell cases resist corrosion and improve feeding, so you can quickly deliver with knockdown assurance.
#13 28 Nosler – 155 Grain Terminal Ascent –

Federal Premium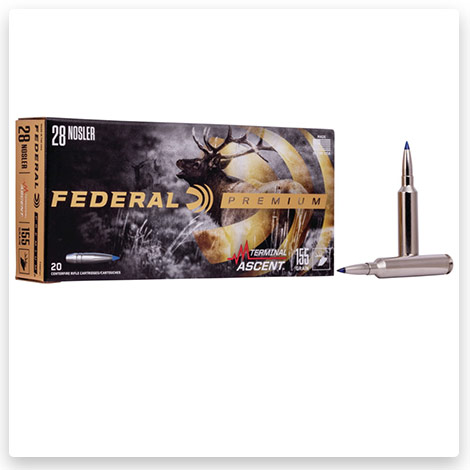 Whether you're hunting in close quarters or at long range, Federal Premium Terminal Ascent is a perfect solution. The bonded construction and patented Slipstream polymer tip penetrate deep and expand at lower velocities, while the long, sleek profile offers high ballistic coefficients with less wind drift and drop. AccuChannel groove technology further minimizes drag for maximum accuracy. This match-grade bullet is available in a full selection of long-range hunting cartridges.
FAQ
What is a 28 Nosler equivalent to?
A 28 Nosler is equivalent to a .284 Winchester.
What grain bullet does a 28 Nosler shoot?
A 28 Nosler typically fires a 140-grain bullet.
What is 28 Nosler good for?
28 Nosler is a great round for hunting medium to large games. It has excellent ballistics and can take down even the biggest animals with ease. 28 Nosler ammo is also great for competitive shooting, as it is extremely accurate and consistent.
How much does a 28 Nosler drop at 1000 yards?
A 28 Nosler drops about 203.5 inches at 1000 yards.
Does a 28 Nosler kick?
The 28 Nosler cartridge is a powerful round that can deliver a great deal of energy on impact. This can result in a significant amount of recoil, depending on the firearm used.
How powerful is a 28 Nosler?
The 28 Nosler is a powerful cartridge, and it can take a large game very easily. It has enough power to take down even the largest animals.
Whats better 28 Nosler or 30 Nosler?
The 28 Nosler is a great cartridge for hunting deer, elk, and other medium game. It offers good ballistics and terminal performance. However, the 30 Nosler is a better choice for larger games such as moose or grizzly bears.
What is the best Nosler caliber?
28 Nosler Ammo is the best caliber. It has great ballistics and can take down any game. 28 Nosler Ammo is a great choice for any hunter.
How many pounds of recoil does a 28 Nosler have?
28 Nosler ammo produces between 9 and 10 pounds of recoil, depending on the load.
Conclusion
28 Nosler Ammo is becoming more and more popular for hunting big game. It offers excellent ballistics and a wide variety of bullet choices to meet the needs of most hunters. If you are looking for quality 28 Nosler ammo, we have put together a list of the top-rated rounds based on performance, accuracy, and price. With so many great options available, it shouldn't be hard to find the perfect round for your next hunt.