Affiliate Disclosure: AmmoCave.com sometimes gets paid for listings, through sponsors or affiliate programs like Lucky Gunner, Optics Planet, Brownells, Cabelas, Academy Sports & Outdoors, Rainier Arms, Palmetto State Armory, Sportsman's Guide, Ammo.com, Ammo Man, Primary Arms, MidWayUsa, Amazon, eBay, etс. Clicking a link helps keep AmmoCave.com free, at no extra cost to you!
Authors: Each article is verified by AmmoCave's expert team. Professional hunters, firearm trainers, gunsmiths, and gun experts write the articles. AmmoCave Team independently researches, tests, reviews, and uses recommendations from our community of gun owners. We may earn commissions from shopping links.
Note: The views and opinions expressed in this article are those of the authors and do not necessarily reflect any agency's official policy or position. The articles are for informational purposes only, share your opinions about Best Weapon Rack 2023 in the comments and join the discussions. Let's share 💬 our ammo & gun experiences together!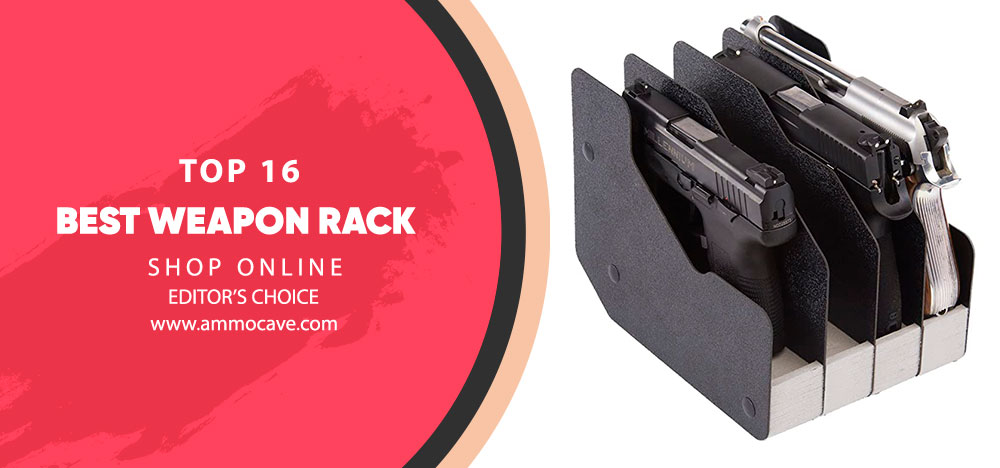 There are some types of weapon racks with various mounting configurations to store guns, rifles, or arms: Single or Multiple, Vehicle racks, Vertical (floor or ceiling), or Horizontal (Wall) units. Horizontal gun racks are most suitable to display a shotgun, rifle, or several firearms in homes.
Why do we need a Weapon Rack?
The special racks protect firearms from scratching, movement, vibration, shock, and abrasion. Furthermore, these weapon storage units are outfitted with locks to prevent improper use, accidental discharge, or theft. During the gun stored in the racks, most optics and accessories can remain assembled and zeroed to the firearms.
Best Pick
Savior Equipment Gun Handgun Rack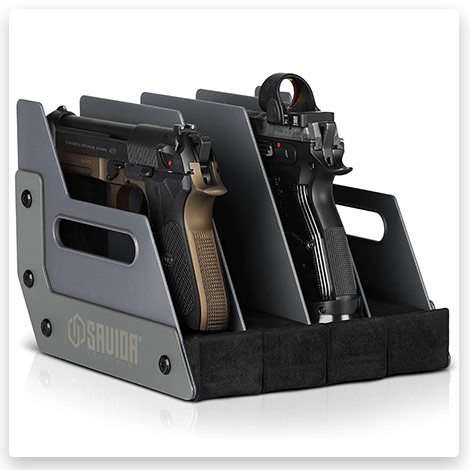 The racks are constructed of lightweight polymer plates and cushioned foam fixed between 2 powder-coated steel plates, making them tough and durable, fitting full-size semi-auto pistols and revolvers: there is plenty of room for the cylinder on full-size SW.
Budget Pick
Hornady SnapSafe Gun Racks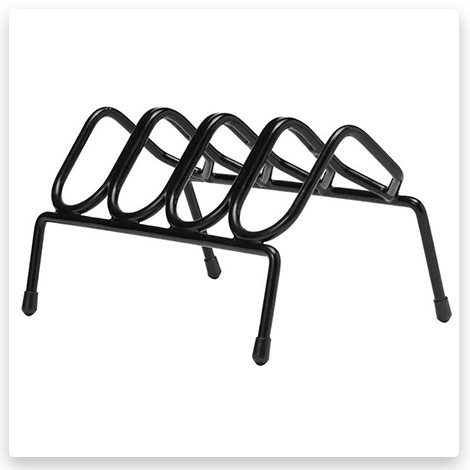 A good option for those, who would like to keep firearms openly rather than setting them in a safe. The top-notch metal racks come with a soft plastic coating.
Top 16 Weapon Rack
#1 Rush Creek Creations  10 Gun Storage Rack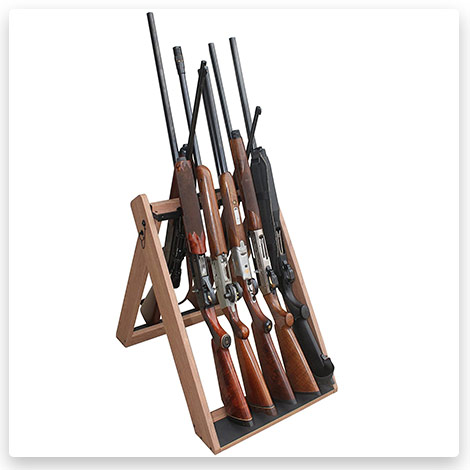 #2 GOHIKINGl Metal Gun Rack Wall Mount Rifle Shotgun Hooks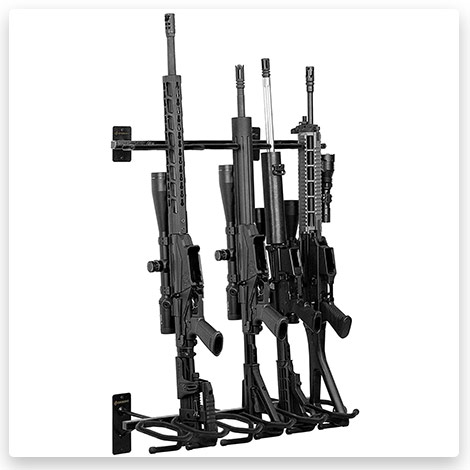 #3 Savior Equipment Mobile Firearm Rack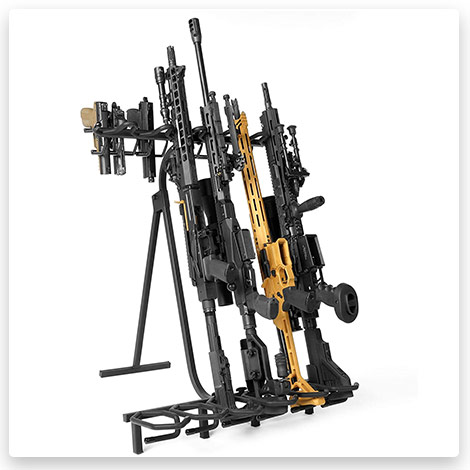 The foldable welded racks, made of durable Powder-Coated Steel, hold securely six 31-in Rifles and eight Pistols without weapon lights. The rack is simple in assembling: properly tighten screws after transportation to deliver stability.
#4 Savior Equipment Gun Handgun Rack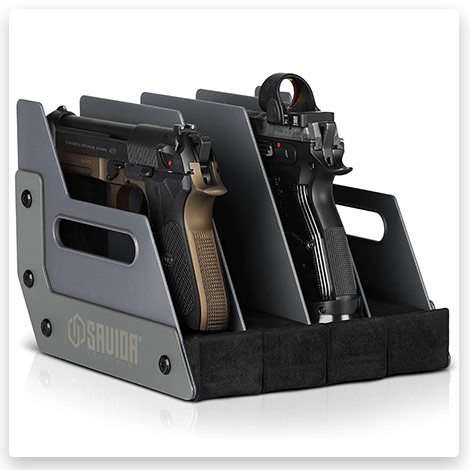 This Gun Safe Storage Organizer is designed for comfortable storing at home and transporting long-barreled full-size semi-auto pistols and revolvers. There are three models, depending on the Slots' quantity (4/8/12) of the Pistol Rack. The racks come with Tools and Hardware. The barrels over 6 inches may be a bit longer depending on the grip angle.

#5 BenchMaster – Weapon Rack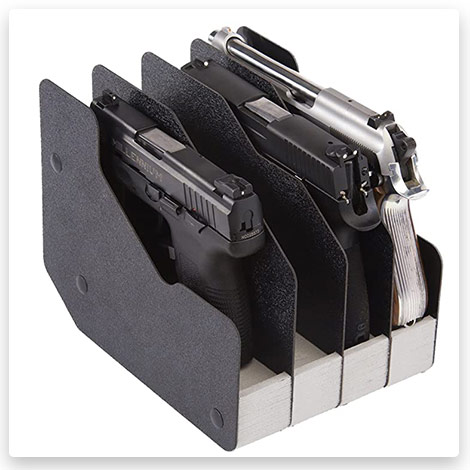 BenchMaster offers organized storage from 4 to 12 guns (a 2-slot rack is currently unavailable). The racks won't collapse with heavy weight due to the sturdy construction.
Users can easily pull a pistol free in an emergency but it'll be necessary to adjust the grip, as these racks are not quick draw type holders.
#6 QuiverGrip UtilaGrip Shotgun  Rack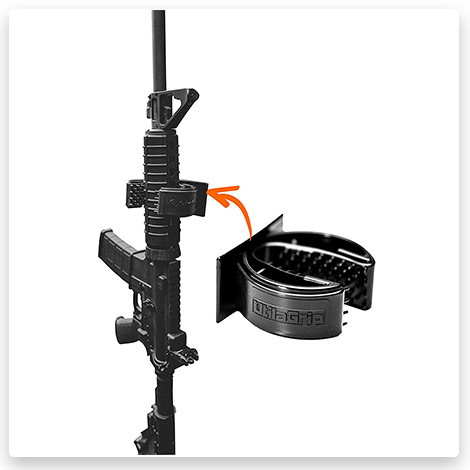 #7 Great Day Quick-Draw Overhead Gun Rack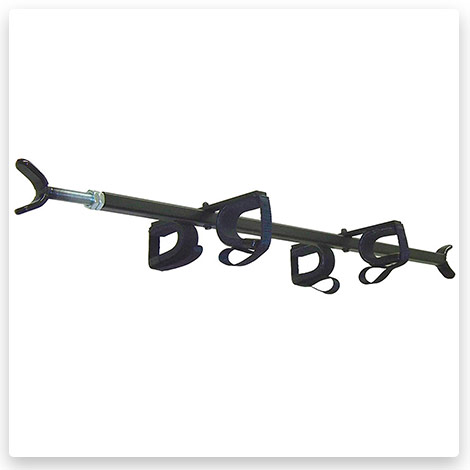 #8 TESLYAR Gun Rack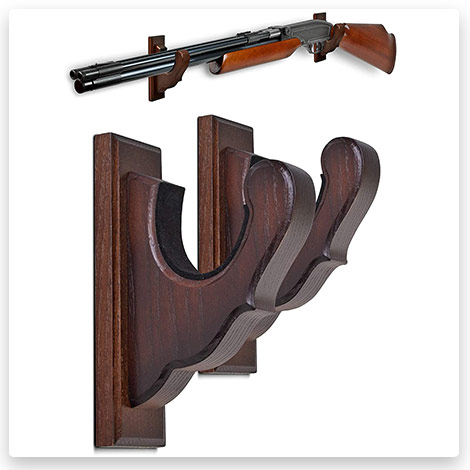 This Horizontal Hardwood Gun Rack consists of two Rifle wooden Hooks with Wall Mounts, including durable hardware (4 screws with dowels for drywall or hard walls), and protective soft felt pads glued inside the brackets. The pistol racks are compatible both for single- or double-barrels including side by side, as well as suitable for storage and displaying sabers and swords. The real Ash-tree wood is covered with resistant and protective finishing of rich Dark Walnut color for long-lasting service.
#9 Highwild Foam Weapon Rack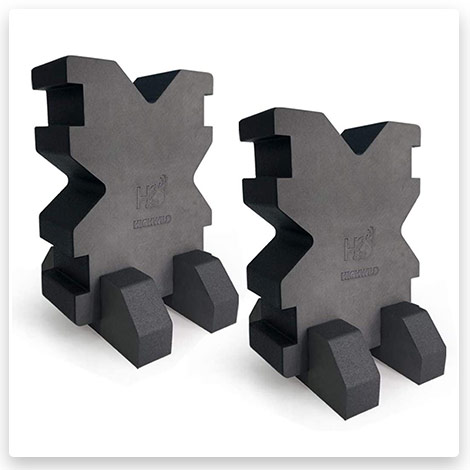 #10 BenchMaster AR Mag Rack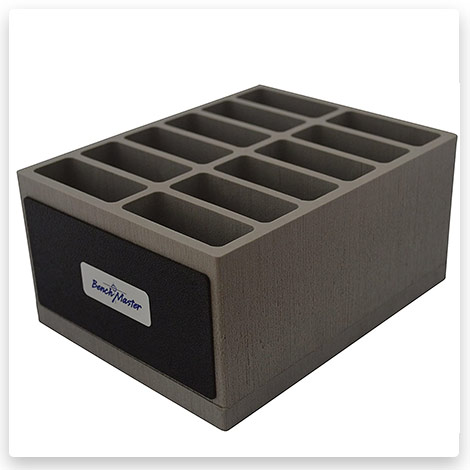 The Mag Organizer keeps in order up to 12 magazines of .45 caliber or 9mm double stack, 1911 Single Stack, or AR-15.
#11 BenchMaster Multiple Gun Vertical Pistol Rack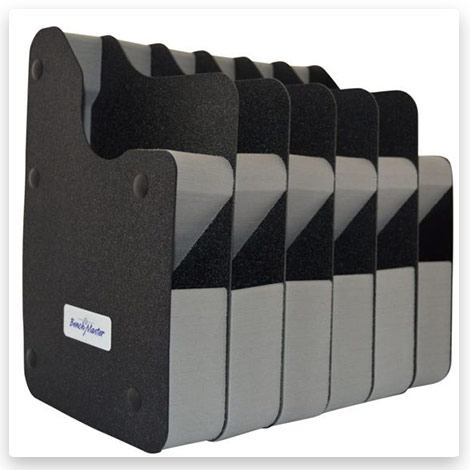 The Upright Pistol Rack ensures cushioned storage and protection due to the low water-absorbance material, which is impervious to mold, rot, and mildew. The Vertical Pistol Storage Racks deliver great ready access for the guns.
#12 Hornady SnapSafe Gun Racks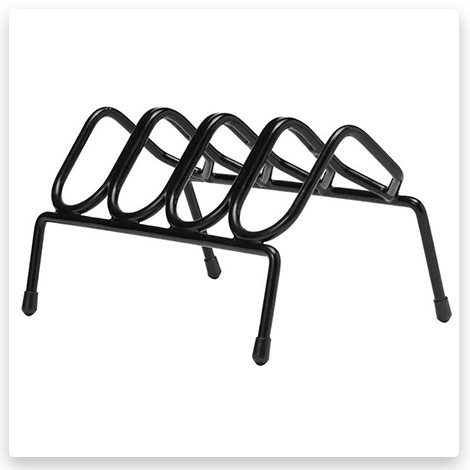 The Gun Racks are crafted from long-lasting and sturdy Black PVC Coated Wire components.
#13 Big Sky Racks Car Rack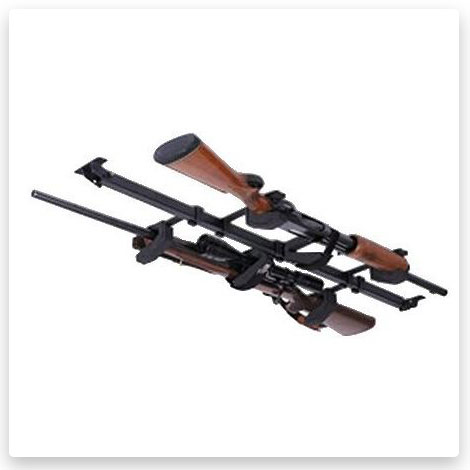 The Car Rack is a telescoping system, which consists of a Square Bar, Hook, Loop Fastening Strap, and Padded Adjustable Brackets, being compatible with different vehicles. The Gun Rack has a square-tube construction with ceiling mounting, providing for optimal, small dimensional strength and an out-of-sight way to store the firearm.
#14 Grey Man Tactical Vehicle Locking Rifle Rack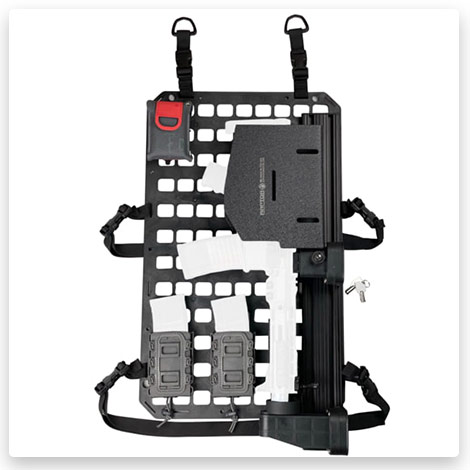 These modular locking racks for rifles or shotguns with Raptor Picatinny Mount and Tamper-Proof Keyed lock are easily and fast installed onto any vehicle seat back without any drilling.
The racks, made of High-Tech Polymer and Stainless Steel, are compatible with the following and many similar-sized weapons: Hunting Rifles, AR-15 and M4, AK-47, and AK-74 Style Rifles, and Shotguns.
#15 Pro-Gard Seat Mount Gunrack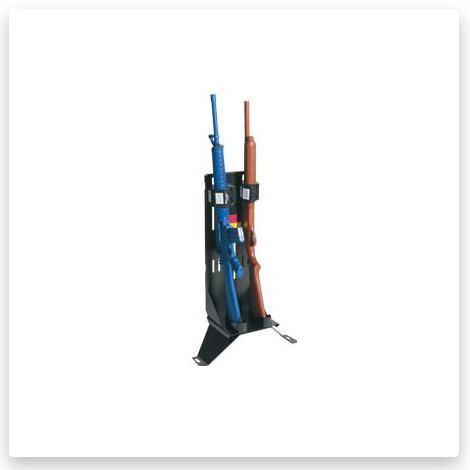 The Seat Mount Gun rack is a Self-Supporting Vertical Bucket Seat Mount for two firearms only (Not Compatible with Partition) and can be installed on the floor or partition for better Security and less Vibration. The Steel Gun Racks come with straight or vending key Override in case of Power Failure.
#16 Rugged Gear 4 Gun Floor Mount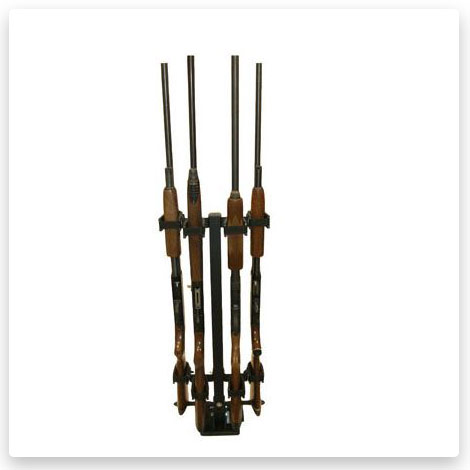 The four-Gun Floor Metal rack with Permanent Mount and Lockable Position allows reconfiguration to remove pistols front to rear, or side to side. The side plate design delivers 70-degree movement or tilt. The butt-stock rest is larger and moves with a tilting feature.
Conclusion
Racking firearms is a safe way to display and organize them. The main features of gun racks, which deserve attention, are their material (wood, steel), installation options, depending on the rack's type, appropriate size for the firearm, and extra compartments for mags and ammunition.
Tags: #weapon rack / #best weapon rack / #medieval weapon rack / #weapon rack fallout 4 / #best weapon rack decoration skyrim / #best gun rack