Affiliate Disclosure: AmmoCave.com sometimes gets paid for listings, through sponsors or affiliate programs like Lucky Gunner, Optics Planet, Brownells, Cabelas, Academy Sports & Outdoors, Rainier Arms, Palmetto State Armory, Sportsman's Guide, Ammo.com, Ammo Man, Primary Arms, MidWayUsa, Amazon, eBay, etс. Clicking a link helps keep AmmoCave.com free, at no extra cost to you!
Authors: Each article is verified by AmmoCave's expert team. Professional hunters, firearm trainers, gunsmiths, and gun experts write the articles. AmmoCave Team independently researches, tests, reviews, and uses recommendations from our community of gun owners. We may earn commissions from shopping links.
Note: The views and opinions expressed in this article are those of the authors and do not necessarily reflect any agency's official policy or position. The articles are for informational purposes only, share your opinions about Best Revolver Speedloader 2023 in the comments and join the discussions. Let's share 💬 our ammo & gun experiences together!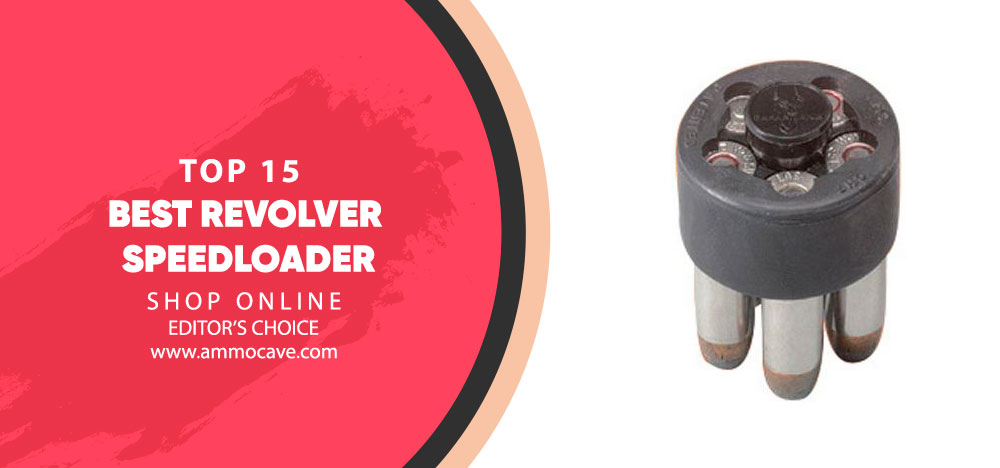 What is Revolver Speedloader? 💡
It is a device used to quickly and efficiently load cartridges into a revolver's cylinder.
It consists of a circular or semi-circular block with multiple holes, each of which is designed to hold one cartridge.
By aligning the holes with the cylinder of the revolver, the user can easily insert cartridges into the cylinder all at once.
This saves time, allows for faster shooting, and is especially useful in situations where there is a need to reload quickly, such as in competitive shooting or self-defence scenarios.

Features 🔔
🧷 1. Capacity: The capacity of a revolver speedloader varies based on the model, but it is generally capable of carrying 6-8 rounds in an efficient and compact package.
🧷 2. Durability: they are designed to withstand tough conditions and heavy use so they can stand up to the toughest jobs or environments.
🧷 3. Ease of Use: they make reloading your firearm much faster and easier; this enables you to quickly get back into action without having to fumble with individual rounds manually.
🧷 4. Ergonomics: Most modern speedloaders are ergonomically designed for comfortable usage while providing maximum control over your weapon during loading operations.
🧷 5. Variety & Compatibility: There are many different models available which typically fit specific calibres, allowing you to find one that suits your particular gun's needs perfectly with minimal effort required for installation or maintenance beyond occasional cleaning/lubrication when necessary (check with manufacturer).
Our Top Pick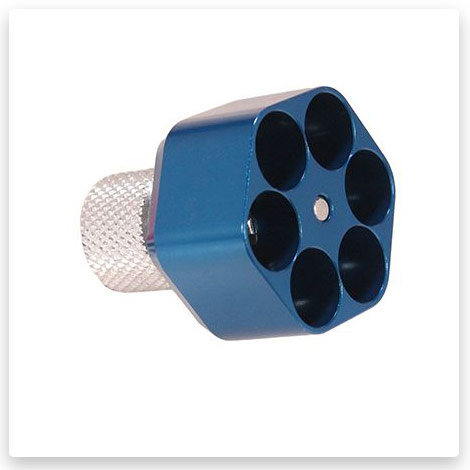 Pachmayr Competition Speed Loader
This is Pachmayr's Speedloader, designed for use with Smith & Wesson six-shooter models including the Weapon Model 65 Taurus, Model 66 Taurus, Model 80 Taurus, and Model 82 Taurus. It is made from a solid aluminum bar using a CNC machine, ensuring a high level of processing accuracy, similar to other models of this type.
Buy Now On OpticsPlanet
If you click this link and make a purchase, we earn a commission at no additional cost to you.
Types 🔊
🔰 1. Full-Moon: This is an item that holds all available cartridges in a circle. It is the oldest type of speedloader manufactured, and it is still popular today. It is easy to use and reloads six rounds at once. They are commonly made of aluminium or plastic material.
🔰 2. Speed Strip: This type is a compact and lightweight option for revolver users. The speed strip loading device can hold anywhere from five to ten rounds, depending on the model. It is convenient, easy to use and store, and can be carried in a pocket, pouch, or belt.
🔰 3. HKS Speedloader: They are designed to be reliable and easy to use. They feature a knob that can unlock the cartridges, allowing them to be released into the cylinder. Compared to other speedloaders, HKS models are considered to be more durable and long-lasting.
🔰 4. JetLoader: It is designed for fast reloading, and it can reload five or six rounds at a time. Jetloaders are known for their high-quality build, which makes them a bit expensive compared to other models. They are easy to use and offer quick access to your ammunition.
🔰 5. Moon-Clip: They are designed for use with certain revolver models. The Moon clips are thin pieces of metal that hold the ammunition together. The clips are inserted into the cylinder, and the ammunition is released by pushing the ejector rod. Moon clip speedloaders are ideal for speed shooting, and they help you reload your revolver quickly and efficiently.
 Best Speedloader For Revolver 🎯
1# Pachmayr Aluminum Speedloader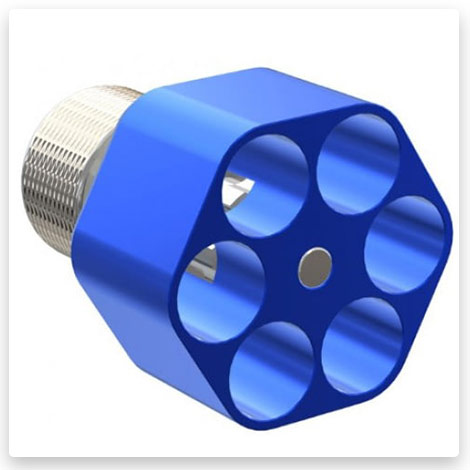 For the Ruger LCR six-shooter, the SP101 327 Federal has a relatively inexpensive and good speedloader from Pachmayrs. The body in which the cartridges are installed is made of a solid aluminium bar. CNC machining leaves no doubt about adherence to tolerances. But if you are still afraid of rattling, do not worry, O-rings are installed here. The rings are installed at the top and will contact the base of the cartridge. This will mitigate the loader's fast and inaccurate movements. The design of this turret loader seems simple and straightforward. Smooth polygonal shapes follow the shape of a hexagon. The drum is painted in a light shade of blue and it seems quite appropriate. As our tests have shown it is visible among the weapon components, but it is not too bright to attract excessive attention. Ease of use raises no questions. Intuitively, the grooved handle launches the cartridges into the drum. The only thing that remains for you is to bring your speedloader to the drum and turn the knurled grip.
2# Safariland COMP I Speedloader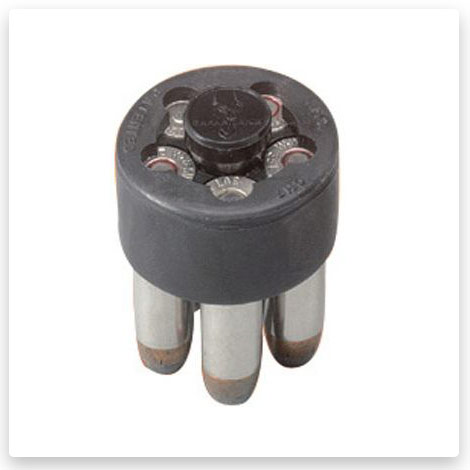 This 6-round speedloader is not only suitable for pistols in .44 calibre but according to buyers, it can be used for .45 calibre. Large compatibility list, which means great sales potential. The Safariland COMP I Speedloader – Ambidextrous J-S5 is injection moulded. At a relatively small footprint (6.42 x 4.41 x 1.93 inches) it is painted in matte black, making the truck even more stealthy. This baby weighs only 1.06 ounces, which is quite acceptable for transportation in any convenient way. After we tested it in practice we can say that using a speedloader is simple and convenient. Insert the prepared loader into the drum and push it down on the back. This will fire the cartridges into the drum and you will be relatively quick and easy to charge.
3# Pachmayr Competition Speed Loader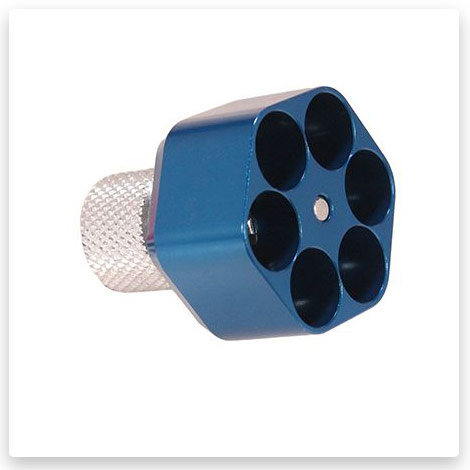 This is Pachmayr's Speedloader revolving loader for Smith & Wesson six-shooters Weapon Model 65 Taurus, Model 66 Taurus, Model 80 Taurus, Model 82 Taurus. Like other similar models, this is done using a CNC machine from a solid aluminium bar. The processing accuracy is, as always, at a high level. To optimize weight, all protruding edges have been removed and the loading drum has a regular hexagonal shape. The 7″ x 4″ x 2″ size is optimal for a secure grip. Due to the relatively large size of the cartridges, this loader weighs 1.83 ounces, which is quite in line with the proportions of the weapon and does not weigh heavily on the kit. The O-rings are also in place and securely hold the cartridges. If you notice too much friction, use a silicone lubricant. This will improve glide and the speedloader will work as advertised. The download is fast and smooth.
4# Pachmayr Competition Speed Loader 5-Shot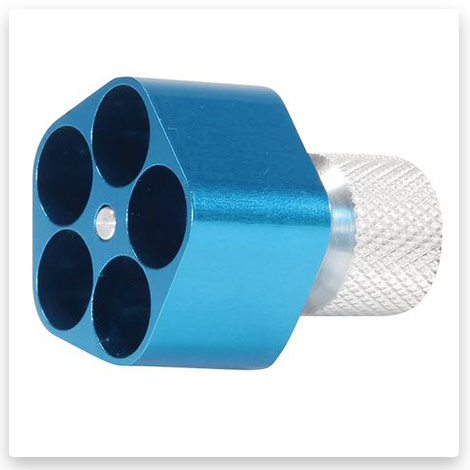 This is a five-seater high-speed loader for drum revolvers with S&W "J", "K", "L", and "N" frames. It is compatible with a wide range of models, which is why it is so popular. It is made from a solid aluminium rod by CNC machining. All excess is cut off with a cutter to obtain a pentagonal shape with thin but strong walls. By getting rid of the excess metal, Pachmayr was able to make the 7 x 4 x 2" case 5-round friendly. The entire loader weighs only 1.6 ounces including the pivot ejection handle. Pachmayr produces high-speed loaders in a consistent style. It is a sleek blue cartridge case and a fluted metal grip. Looks and feels resistant to corrosion. For the price of the Planet, it's hard to find a better option.
5# Specter Gear Belt Mounted Speedloader Holder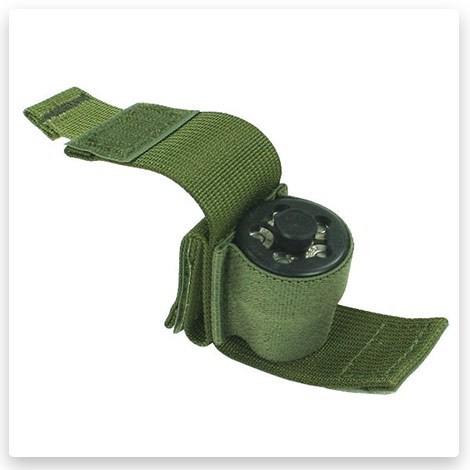 Technological methods of fast-loading cartridges into the cylinder have several features. The J-CLIP for 5-round J-shaped revolvers from ZETA6 is a compromise that opens up new possibilities for you. You can add a different number of rounds, depending on your needs, with this speedloader. It can be one cartridge, two adjacent cartridges, or the whole set of 5 ammunition at once. The J-CLIP is a polymeric pentagonal platform that holds 5 38/357 (.357-.359) ammunition. For its creation, durable polyurethane without BPA, BPS, or BPF is used. This allows you not to worry about the temperature and use the J-CLIP normally when it is hot or cold. The loader has a small "tail" for which you can understand how to release the cartridges. This clip fits most 5-round J-frame revolvers. As a result of using this product, we found that this is a useful addition to the revolver because now the cartridges will not be lost in a bag or pocket. To release the cartridges, you need to bend the clip by pulling on the bumpy tail. If you are tired of modern high-tech speedloaders – try this clip.
6# HKS 10-A Revolver Speedloader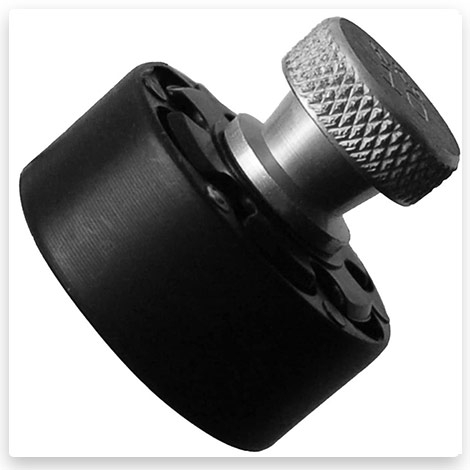 This is the fast A-Series medium-size speed-loader from the renowned HKS for .38 / 357 calibres. These and similar loaders are used by law enforcement officers due to their reliability in operation. They are designed to be released by pivoting rather than pressing on the centre piston. This makes it possible (if necessary) to throw the speedloader to another officer or drop it without fear of ammunition falling out of the loader. Using a combination of metal and plastic components, the loader turned out to be small, but rather heavy. The device measures 4 x 1.5 x 6.25 inches and weighs 1 lb. This weight adds its own peculiarities during operation, but you will always know how many prepared clips you have in stock. The principle of operation is very simple.
7# Pachmayr Competition Revolver Speedloader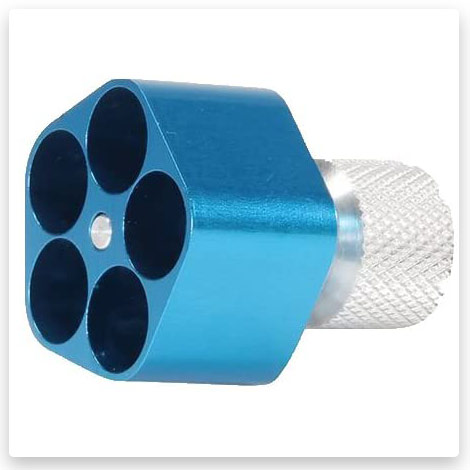 The Pachmayr 02650 Competition Revolver Speedloader is suitable for loading 5 charging cylinders of Smith & Wesson J Frame revolvers, calibre .38 Special, 357 Magnum. This speedloader handles most revolvers well due to its reduced cross-sectional diameter. Pachmayr's products are 1.275 inches in diameter, while the HKS has 1.333 inches. This allows this loader to be used even with some non-standard handles (which may prevent right-angle loading). By shaping the aluminium billet into a rounded polygon, Pachmayr was able to combine the best properties of this combination. The strength and lightness of aluminium reduced the weight of the loader to 1.6 ounces in a 7″ x 4″ x 2″ size. This is significantly less than the closest competitor (HKS). The body is painted in the company's signature light blue, and the rear handle has ribbed notches and a silver metallic finish.
8# Safariland COMP II Speedloader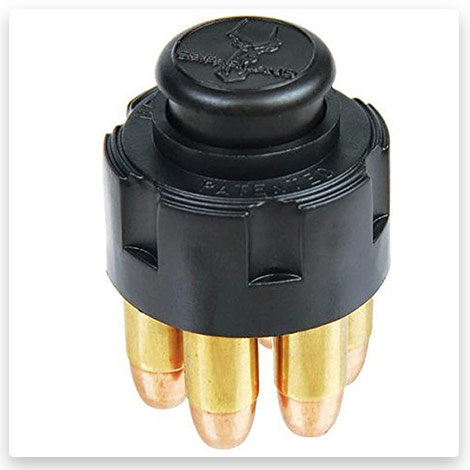 The Safariland J-K2C COMP II 6-speed high-speed loader is ideal not only for Smith & Wesson but also for Rossi or Colt Detective / Agent. The attractive design and absolutely affordable price make this forklift a good investment in your equipment. Many people dislike high-speed forklifts made from polymers, but this is more of biases than a rule of thumb. Safariland J-K2C COMP II is injection moulded and measures 1″ x 2″ x 2″ and weighs 0.88 oz.  Although the loader may seem a little flimsy, we could not imagine a combat situation in which it should break down, and other high-speed loaders of this type of action will survive. The correct way to load the J-K2C COMP II is very simple, although the instructions will not help you to find out. To begin with, insert the cartridges as usual and (keeping them from falling out) press your nose against a hard surface. Then you need to press the central knob and turn it about 1/6 of a turn clockwise until it clicks. The cartridges are then securely locked in place. (The second method – after adding cartridges, push the speedloader button shaft from the bottom with a slight twist.) The prepared cartridges are immersed in the revolver cylinder in the usual way. When pressing on the central part (without turning), the cartridges move into the cylinder. When you come to terms with poorly written instructions and get used to the order of actions, you may notice some acceleration compared to the traditional loading style. This fits well within the grip boundaries (eg 19 S&W Performance Center) and does not create scratching friction.
9# Kimber Speed Loader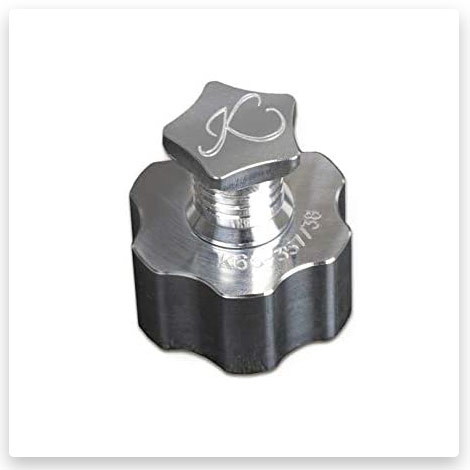 This Speed ​​Loader for K6S Revolver is rated for 6 rounds and will work reliably in all conditions. The stylish silver colour and extraordinary lightness make this high-speed loader the perfect addition to your sports and hiking gear. Kimber builds these loaders from durable aluminium. The perfect surface smoothness resembles silver and allows you to see your reflection on the back of the device. The photo does not quite correctly convey the colour, it is closest to the silver colour. The loader measures 1 x 0.5 x 0.25 inches and weighs 0.96 ounces. The handle seems a little cumbersome and could have been smaller, but that's not a problem. The revolving mechanism hides a ball bearing and turns quite smoothly. Based on our observations the loader feels reliable and attractive, although it rattles like a newborn's toy. In general, this is a quality add-on that is worth the money (although I would like to lower the price a little).
10# Safariland Bianchi Comp II Speedloader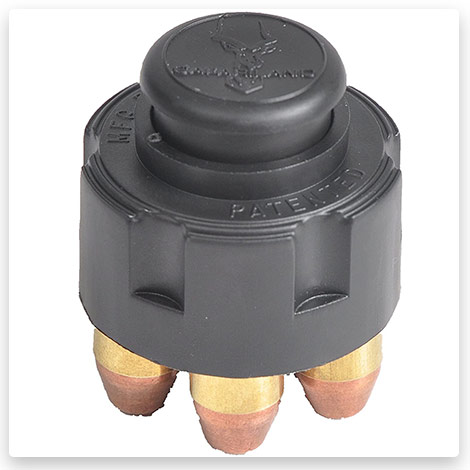 Safariland Bianchi J-GL8C Comp II Speedloader is designed for 6 charging revolvers similar to the Ruger GP100 in 38/357 caliber. You can choose one of 4 sizes by choosing the one that suits you. Available for medium (K) and medium-large (L) size revolvers (including Colt, Ruger, and S&W). The speedloader case is injection moulded (black resin) and is much stronger than meets the eye. The size of the loading cylinder is 3.94 x 3.94 x 3.94 inches. At the same time, the weight of the device is really tiny – 0.16 ounces. Locking and releasing cartridges requires some effort. It can still load a revolver in 3 seconds, with the right level of training. Simply insert the cartridges into the cylinder and press down on the body. It is not at all necessary to turn the rear handle clockwise. Since it can have a sharp rim, this can be quite frustrating, so follow the instructions and you will be fine!
11# Nimrod's Wares Two-Pack HKS Speedloader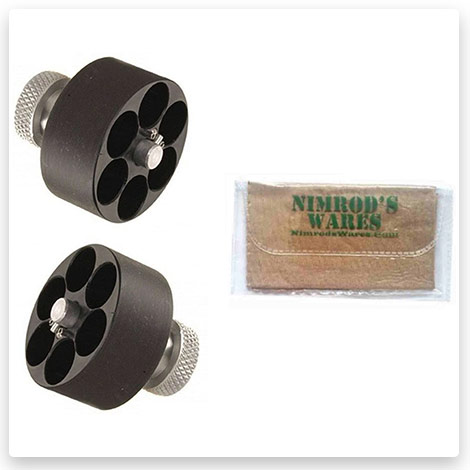 Nimrod's Wares Two-Pack HKS Speedloader is hard to beat the price. This offer is designed for use with the popular .38 .357 calibres for S&W, Dan Wesson, Charter, Taurus, and Rossi revolvers. Probably HKS think that was not enough, so they decided to add a microfiber cloth to the set, for which any shooter will definitely find work. ​The only peculiarity of this "gift" is that you always receive ONLY ONE napkin, regardless of the number of forklifts ordered. The Speedloader consists of two components, a dark injection-moulded plastic cylinder and a metal piston with a knurled handle. The size is quite standard and can accommodate six .38 or .357 rounds. That said, the device weighs about 0.13 pounds. As practice shows, this loader is easy to carry in a gun bag or on a belt and instantly used when needed. Remember, more practice equals quicker release.
12# MaxFire Revolver Speedloader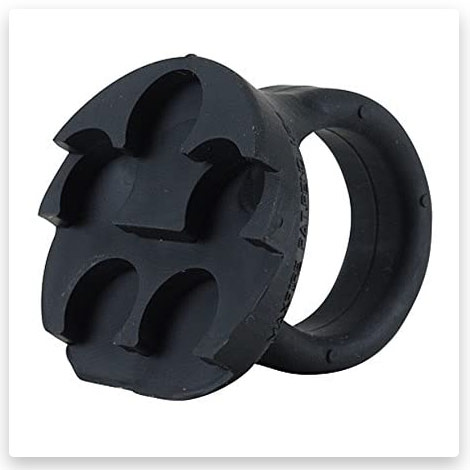 The need for fast loading of the revolver cylinder has several solutions. This offer is both the simplest (constructive) and the cheapest (profitable). MaxFire has created a Revolver Speedloader for 45 Colt (5-Shot) which is guaranteed not to rust even in salt water, will not scratch the handle of the revolver, will not rattle, and at the same time is available to absolutely every shooter. In addition, you get 2 loaders by accepting this offer. This speedloader is made from a one-piece injection-moulded synthetic rubber. This significantly changes the rules of use and allows you to carry the loader in any confined space and under any pressure or deformation. The design of the loader is similar to a ring with a cascade platform for cartridges. The cascades are needed to facilitate the exit of prepared cartridges from the mounting platform into the revolver cylinder. The instructions for using the forklift are very simple. Install the .45 or .410 chucks in the seats. Regardless of which hand you are holding the revolver with, position the loader so that the farthest rounds (relative to the cylinder) enter first. When all the cartridges are inside the cylinder as much as possible, pull out and hold in the direction away from the revolver. Our analysis of this product showed that with the proper level of training, cartridges will stop jumping out and running away.
13# Star Firearms – Revolver Speedloaders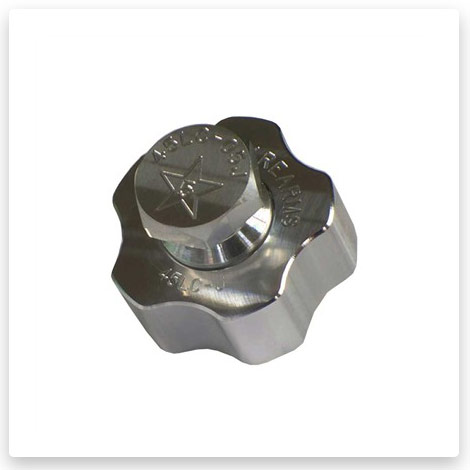 This loader will help you fill the cylinder with 5 shots even if you decide to use 410 cartridges or 45LC rims. Anything you feed to the Taurus Judge will be sent to the cylinder of your weapon. This "helper" is made of high-quality aluminium billets. An O-ring is added to the design, which ensures the smooth turning of the key. Stainless steel pins and other mini-components (wire springs and ground bearings) are manually installed, so quality control is always high. The appearance of this "handsome" is fully consistent with the style of the manufacturer's company. These are smooth curves and a silvery surface polished to a mirror shine. We love the way it looks and how it feels during loading. To free the brass from the grip of this speedloader, a quick and short counterclockwise rotation of the handle is sufficient. Simple, easy, and effective!
14# Beckham Design – S&W Revolver Rimz Speedloader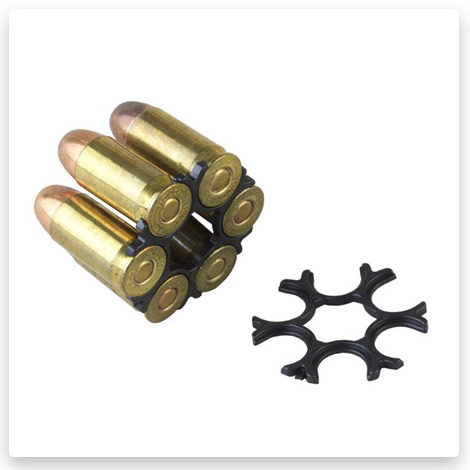 The fastest revolver shooters can empty 2 cylinders of 5 or 6 rounds in just 3 seconds. The secret of their speed is the use of moon clips. They allow you to send the entire set of ammunition to the cylinder at once without any additional actions. In addition, the used brass is not lost and remains grouped in the same set. These clamps are made of high-strength hydrocarbon polymer and unlike metal clamps, they will never "please" you with the appearance of rust. The diameter of one clamp is 1-7⁄16 " (3.7 cm). You may not be too concerned with storing these clamps because they are not afraid of fracture or deformation. This offer contains 5 moon clips at a very good price. Each clamp is designed to fire more than 300 rounds. This means that you can use 5 full ammunition sets with 6 shots each for a very long time. The only limitation that awaits you is the mandatory use of rimless cartridges from early and late Smith & Wesson revolvers.
15# Zeta Industries – J-Clip 5-Shot Revolver Speedloaders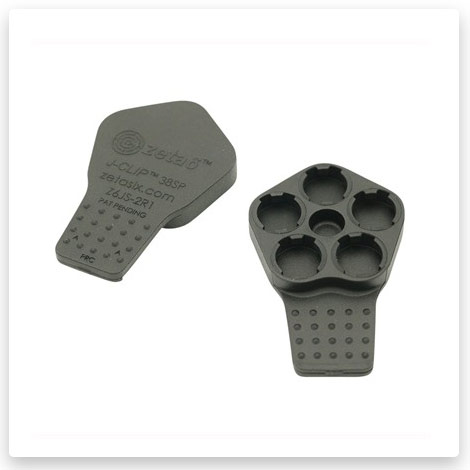 As a bonus, we decided to add a belt holder for high-speed loaders to your new kit. This holder is equipped with a Specter timing belt for 1 .38 / .357 5 Shot. You can choose from 5 colours to match your combat ammunition. You have a choice of colours: foliage green, coyote, Multicam, black, and OD green. The only limitation is that the cover is NOT suitable for HKS high-speed loaders. An adjustable loop system attaches the holder to a 1" – 1.75" hip belt. This pocket is made of webbing type 17337, stitched with nylon thread, and has a Velcro strap for quick access. Unfastening the Velcro, the speedloader falls directly into the palm of your hand and is ready to use (while in the optimal position). Strict quality control confirms full compliance with mil-spec # 69. This means you can have complete peace of mind about the reliability of this holder when used in harsh combat conditions.
How To Use? ⌛
✅ 1. Ensure Safety: Before handling any firearm, it's always important to ensure it's unloaded and pointed in a safe direction.
✅ 2. Hold The Revolver: Hold the revolver with your non-dominant hand, keeping the cylinder open with your thumb.
✅ 3. Load The Speedloader: Take the speedloader and insert the cartridges into its chambers. Ensure the cartridges are aligned with the opening of the speedloader.
✅ 4. Align The Speedloader: Hold the loaded speedloader with your dominant hand and align it with the cylinder of your revolver. Ensure the speedloader's chambers are aligned with the cylinder's chambers.
✅ 5. Push The Cartridges: Press them firmly into place. Push it in until you feel it snap in place.
✅ 6. Release The Cartridges: Gently push down on the knob of the speedloader to release the cartridges into the cylinder. Once all the cartridges are loaded into the revolver, remove the speedloader and close the cylinder.
✅ 7. Check And Verify: After loading, check the cylinder to ensure that all cartridges are properly seated and the revolver is loaded successfully.
✅ 8. Practice: Like any skill, using a speedloader effectively requires practice. Regular range practice will help you learn to use a speedloader quickly and efficiently.
We believe this video can be helpful for you 📺
FAQ 😎
Conclusion 💎
With so many options to choose from, it's important to consider what features are most important for your needs and budget. We hope this comprehensive buyer's guide has helped you understand more about revolver speedloaders and how they can benefit you in terms of time savings and convenience when loading rounds into revolvers. Whether you're looking for an economical model or something with additional features such as rapid reloading capabilities, there's sure to be a perfect fit out there that meets all your needs! Be sure to do some research before purchasing any product—it could make all the difference in making the right choice for yourself or someone else who is interested in learning more about revolver speedloaders. 🙌
Tags: #best revolver speedloader / #best speedloader for revolver / #best lcr 22lr revolver speedloader / #who makes the best revolver speedloader / #best speedloader for 357 revolver