Affiliate Disclosure: AmmoCave.com sometimes gets paid for listings, through sponsors or affiliate programs like Lucky Gunner, Optics Planet, Brownells, Cabelas, Academy Sports & Outdoors, Rainier Arms, Palmetto State Armory, Sportsman's Guide, Ammo.com, Ammo Man, Primary Arms, MidWayUsa, Amazon, eBay, etс. Clicking a link helps keep AmmoCave.com free, at no extra cost to you!
Authors: Each article is verified by AmmoCave's expert team. Professional hunters, firearm trainers, gunsmiths, and gun experts write the articles. AmmoCave Team independently researches, tests, reviews, and uses recommendations from our community of gun owners. We may earn commissions from shopping links.
Note: The views and opinions expressed in this article are those of the authors and do not necessarily reflect any agency's official policy or position. The articles are for informational purposes only, share your opinions about Best 6mm Creedmoor Ammo in the comments and join the discussions. Let's share 💬 our ammo & gun experiences together!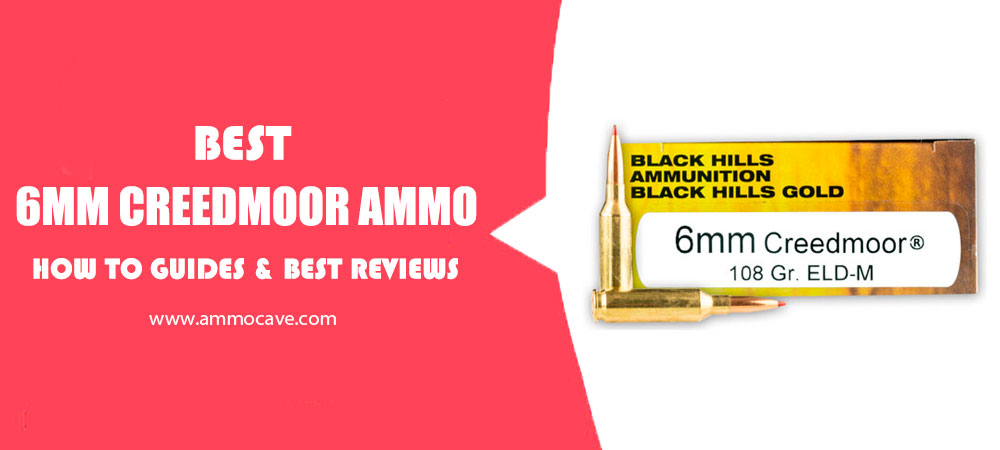 What is 6mm Creedmoor Ammo? 🧐
It is a type of rifle ammunition designed to deliver maximum accuracy and precision at long distances. It is well-suited for use in bolt-action rifles, which are commonly used for hunting, target shooting, and competitions.
Features 💥
The 6mm Creedmoor round is a popular choice amongst long-range shooters. It offers an impressive combination of precision, accuracy, and light recoil. Here are some features to look out for:
☑️ Bullet Design – Different bullet designs offer various benefits such as increased aerodynamic stability, better ballistics, or improved terminal performance.
☑️ Velocity – When choosing 6mm Creedmoor ammo, consider the velocity of the round. Higher velocities can deliver flatter trajectories and improved accuracy at longer ranges.
☑️ Case Design – The case design is important in terms of the overall ballistics of a round. Look for cases that are designed to optimize performance and increase stability when firing, as this will help ensure more consistent results.
☑️ Primer & Powder Type – When selecting this ammo, be sure to look into the primer and powder type as they can influence velocity, accuracy, and recoil characteristics. Different primers and powders are available on the market, so make sure you select one with appropriate characteristics for your application.
By understanding the features of this ammo, you can make an informed decision that will result in improved performance and accuracy.
Our Top Pick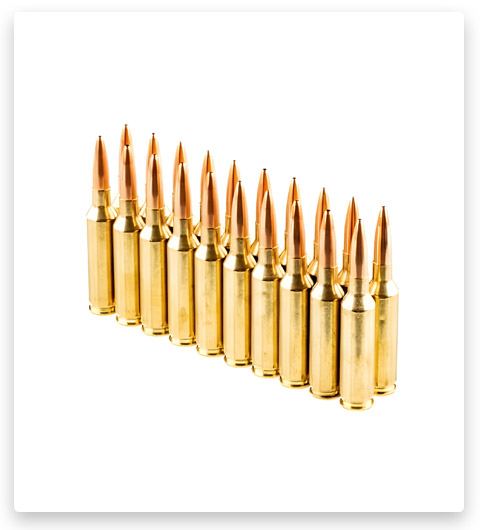 6mm Creedmoor Ammo
Excellent choice for those seeking the balance between accuracy and terminal performance. This round boasts a boat tail design which helps to create a flatter trajectory, less susceptibility to wind drift, and higher retained downrange velocity. Plus, a hollow point offers extra expandable terminal effects as it penetrates its target.
Explore Now
If you click this link and make a purchase, we earn a commission at no additional cost to you.
Benefits 🔥
When it comes to long-range shooting, the 6mm Creedmoor is a top choice for many experienced and beginner shooters alike.
❇️ These rounds are known for their accuracy and consistent performance even at long distances.
❇️ The ammo delivers flat trajectories with minimal wind drift, making it ideal for target shooting or hunting applications.
❇️ It is more accurate than its 5.56 NATO counterpart due to its higher ballistic coefficient, allowing you to hit your targets with precision at up to 800 yards.
❇️ It also has noticeably less recoil and muzzle blast compared to other cartridges of similar size, so you can take multiple shots without worrying about fatigue from excessive recoil.
Cartridge Breakdown 🔍
A 6mm Creedmoor is a centerfire rifle cartridge designed for long-range precision shooting.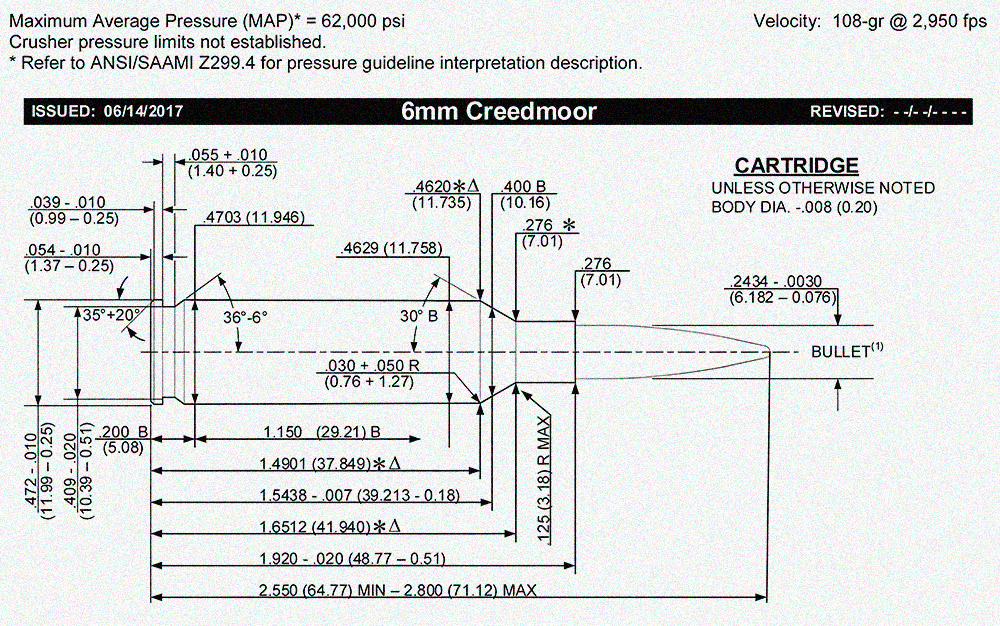 ➡️ Originally developed by Hornady in 2007, the 6mm Creedmoor features an elongated neck designed to optimize case capacity and shape. This allows it to house heavier bullets with greater velocity than other similar cartridges.
🚩 The result is flatter trajectories, less wind drift, and higher impact energy downrange.
Our Selection 23 Best 🚀 6mm Creedmoor Ammo –
Editor's Choice
1# 6mm Creedmoor – 103 Grain ELD-X – Black Hills Gold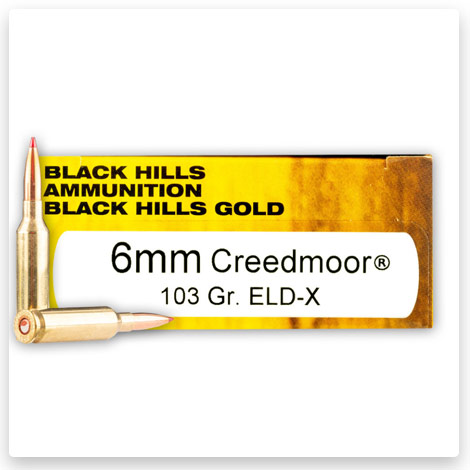 Black Hills ammunition is well-known for its prowess in the field, making cartridges for a variety of applications. Whether you're a cowboy action shooter, self-defense expert, or quality assurance specialist at a major firearm manufacturer, you're likely to find that the Black Hills is the best ammo company in the world. This 6mm Creedmoor cartridge is just one example of their dedication to deer hunters. It's loaded with a 103-grain ELD-X by Hornady, a bullet that provides exceptional accuracy and terminal performance. With the state of industrial components and loading techniques, this round is sure to be a deer hunter's best friend.
2# 6mm Creedmoor – 108 Grain ELD Match – Black Hills Gold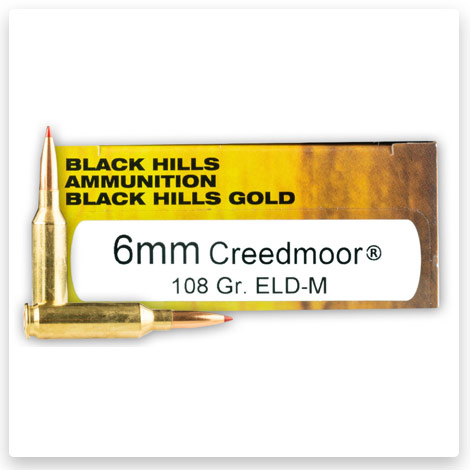 The Black Hills is a company that only produces good-quality ammunition. Their founder learned during his nearly four-decade-long career as a law enforcement officer that if your ammo is not good, then you are not good either. This attitude has led Black Hills to become one of the most prestigious manufacturers in the industry, with clients such as the US Military's service rifle team. The Black Hills Gold line of ammo takes it even further, with the 6mm Creedmoor cartridge featuring Hornady's own ELD Match projectile. This is a load that is guaranteed to deliver out of your firearm. With its high quality and precision, the 6mm Creedmoor is a perfect choice for any shooter searching for the best possible performance.
3# 6mm Creedmoor – 107 Grain MatchKing HPBT – Federal Gold Medal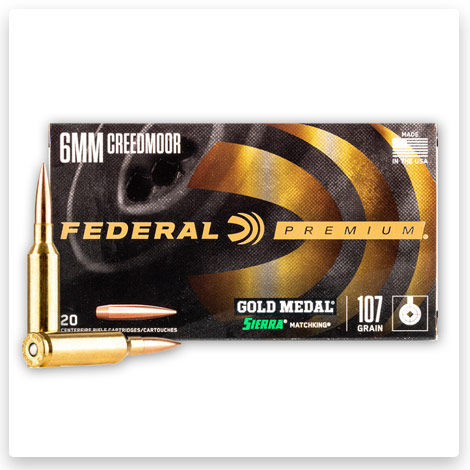 If you're searching for a round that's designed specifically for long-distance target shooting, Federal's 6mm Creedmoor is the one to choose. This round is loaded with Sierra's 107-grain MatchKing bullet, which is known for its accuracy and precision. The boat tail design of the bullet boosts its ballistic coefficient to .547, while the narrow tip minimizes air resistance. The uniform match jacket ensures that each shot is perfectly concentric, making this an ideal choice for competitive shooters. With a highly standardized weight, you can be assured of consistent performance shot after shot. So if you need a round that can give you the edge in competition, or simply want the best possible performance for target practice, make sure to check out the 6mm Creedmoor from Federal.
4# 6mm Creedmoor – 87 Grain V-MAX – Hornady Varmint Express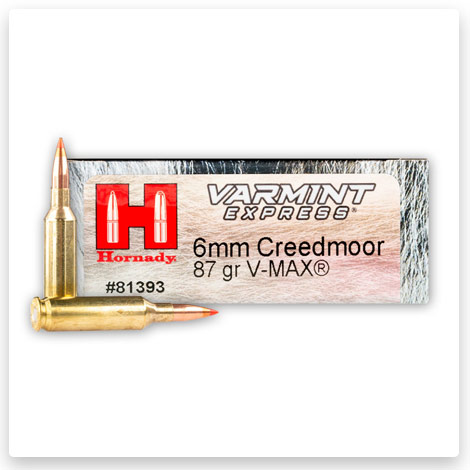 The 6mm Creedmoor – 87 Grain V-MAX – Hornady Varmint Express cartridge is a new addition to Hornady's lineup of premium hunting ammunition. This cartridge features a87 grain V-MAX projectile, designed for hyper-velocity and explosive performance. The V-MAX projectile features a polymer-tipped hollow point that expands violently at varying velocities. Even at 1600 fps, the V-MAX will explode into a deadly mushroom shape that will drop squirrels, rabbits, coyotes, and other varmints with ease. Hornady uses only the highest quality brass casings for their Varmint Express loads. Each casing is loaded with carefully selected powders and primers for non-corrosive, reloadable performance. If you're serious about getting rid of your local varmint population, check out Hornady's Varmint Express ammunition.
5# 6mm Creedmoor – 105 Grain BTHP – Hornady BLACK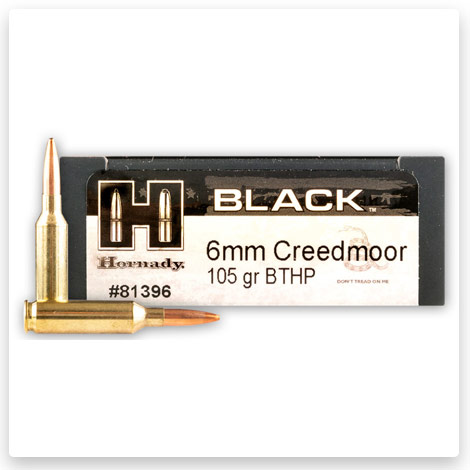 Hornady's BLACK line is a 6mm Creedmoor cartridge that is both accurate and reliable. This round features a 105-grain projectile, making it a great choice for range training and competition. The boat tail design of the bullet enhances its ballistic coefficient, so you can expect flat trajectories and little wind drift. Additionally, the hollow point design will provide some expansion upon impact, making it a great choice for self-defense as well. Order your Hornady BLACK 6mm Creedmoor today!
6# 6mm Creedmoor – 108 Grain ELD Match – Hornady Match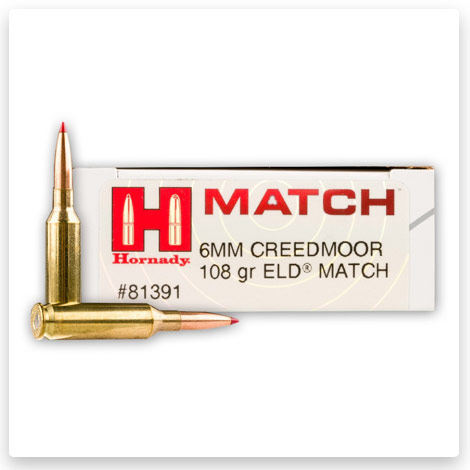 If winning is what you're after, then you need the Hornady 6mm Creedmoor 108 Grain ELD Match cartridge. This top-of-the-line ammunition is designed for competitive shooters who demand the very best from their equipment. The secret to its success is the 108-grain ELD Match bullet, which is engineered for exceptional accuracy. This projectile features a Heat Shield tip that resists deformation from friction, ensuring that it retains its shape and trajectory over long distances. When every shot counts, trust Hornady to give you the edge you need to come out on top.
7# 6mm Creedmoor – 103 Grain ELD-X – Hornady Precision Hunter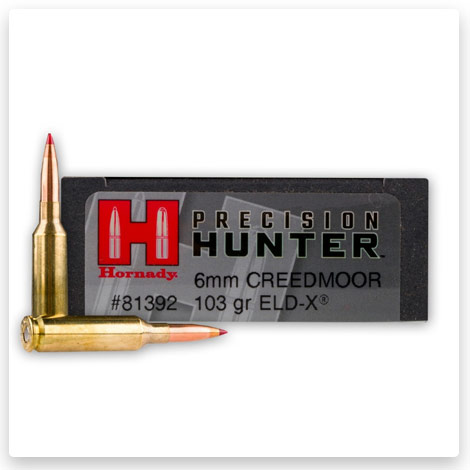 Hornady's new 6mm Creedmoor cartridges have taken the long-range shooting world by storm, and this Precision Hunter load is the cream of the crop when it comes to taking down big game. The ELD-X projectile is a cutting-edge expanding bullet that features an AMP copper jacket of uniform concentricity, a lead core of consistent density, and Hornady's proprietary Heat Shield Tip that resists melting at high velocities. This results in an extremely precise and accurate round that will deliver consistent results shot after shot.
#8 6mm Creedmoor – 123 Grain Scenar Open Tip Match –
Lapua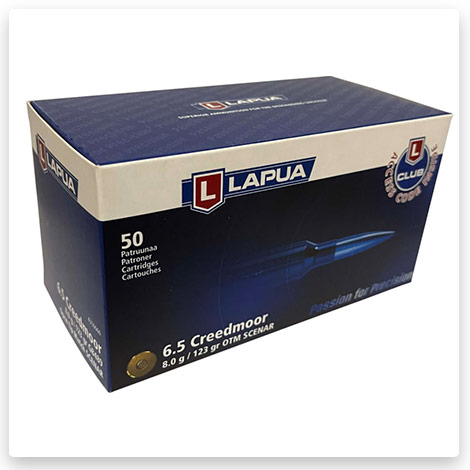 Lapua's 6mm Creedmoor is a perfect choice for long-range precision shooting. It is loaded with 123-grain Scenar projectiles, which have a sleek profile and high ballistic coefficient (BC). The purpose SAAMI/CIP cartridge overall length (COAL) will reliably function and feed through any of today's leading box-style magazine applications, including ever-popular polymer-style mags, without compromising accuracy at the target. The 6.5 Creedmoor is a great choice for precision shooters competing in a variety of disciplines, as well as many tactical applications for military and law enforcement use.
9# 6mm Creedmoor – 123 Grain Centerfire Rifle Ammunition –
Fort Scott Munitions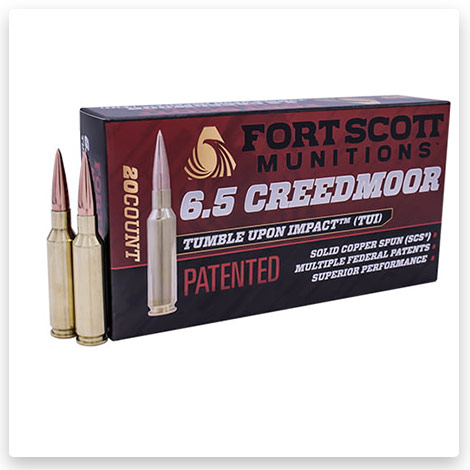 This top-of-the-line rifle ammunition is perfect for hunting or competition shooting. With Tumble Upon Impact (TUI) design, you can be confident of clean, ethical kills, while CNC-machined Solid Copper Spun (SCS) bullets give you the accuracy you need to hit your target time and time again. Whether you're waiting for that big buck to walk by your stand, or competing in a PRS match, Fort Scott Munitions' 6mm Creedmoor ammo will help you hit the mark.
10# 6mm Creedmoor – 127 Grain LRX Boat Tail –
Barnes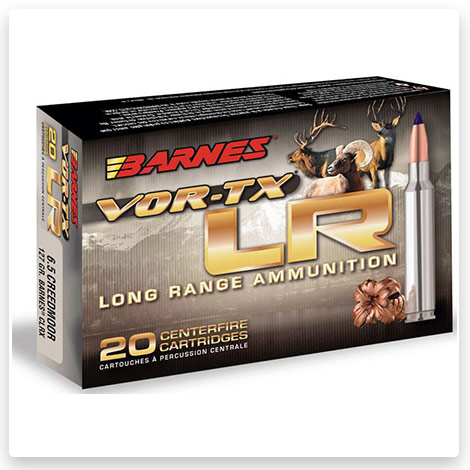 Wish you had shotgun ammo that would help ensure you could hit your targets each time? Barnes Vo-Tx Long Range Centerfire rifle ammo is the best you'll find. Featuring LRX bullets – specially engineered boat tail bullets designed for increased kinetic energy – this ammo can help you take down small targets at further distances. Plus, the larger opening in the nose cavity allows for faster launch and even faster travel. With light recoil and easy reloadability, the Vo-Tx provides a superb shooting experience. So don't settle for anything less – choose Barnes for your next hunting trip.
11# 6mm Creedmoor – 140 Grain Brass –
Norma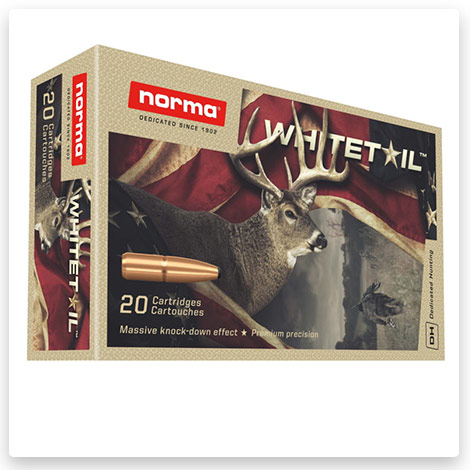 The 6mm Creedmoor from Norma is a top-of-the-line cartridge designed for long-range target shooting. This brass-cased beauty is perfect for taking down the medium game at high velocities, thanks to its 140-grain pointed soft point bullet. With a muzzle velocity of 810 feet per second and muzzle energy of 2985 foot-pounds, this round is sure to put a serious hurt on whatever it hits. The 6.5mm bullet has long been known for its excellent long-range performance, and the Creedmoor takes full advantage of that with its short case design that can be chambered in short-action rifles. If you need a reliable, accurate round that can take down the game at long distances, the 6mm Creedmoor from Norma is a perfect choice.
12# 6mm Creedmoor – 140 Grain Ballistic Tip –
Nosler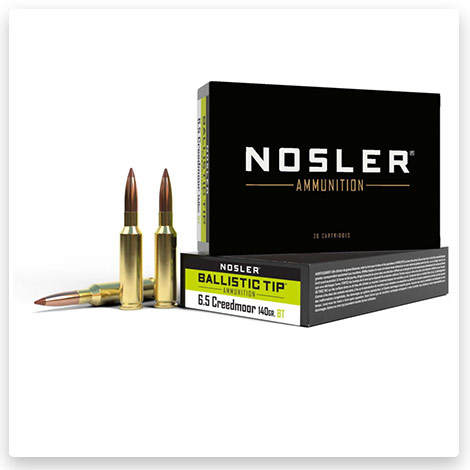 All of Nosler's 6.5mm Creedmoor 140 grain Ballistic Tip ammunition is loaded with Nosler brass and Ballistic Tip bullets for consistent quality and performance. Plus, every round is visually inspected before packaging to ensure it meets our high standards. With Nosler 6.5mm Creedmoor ammo, you can expect consistent accuracy and performance, making it perfect for medium-sized games such as deer, antelope, and hogs. So don't settle for less – trust Nosler for all your hunting needs!
13# 6mm Creedmoor – 140 Grain Boat Tail Hollow Point –
Winchester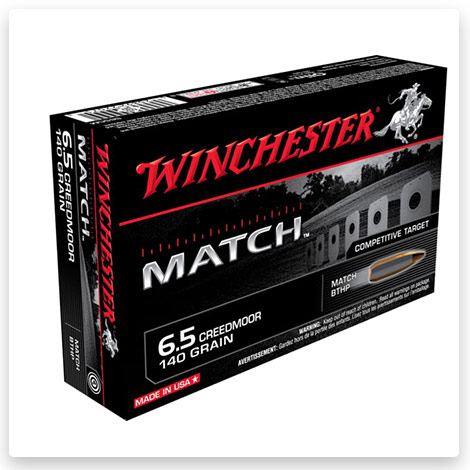 Winchester has been in the business of making high-quality ammunition for over a century. And their 6mm Creedmoor – 140 Grain Boat Tail Hollow Point – Winchester centerfire rifle ammunition is no exception. This particular ammo has been designed and crafted after years of testing and refinement, to guarantee both reliability and accuracy. When you purchase this ammo, you're investing in a company with a rich history and commitment to excellence. So if you want to buy top-of-the-line centerfire rifle ammunition, trust Winchester. With over 100 years of experience crafting high-quality ammo, they're sure to have what you need.
14# 6mm Creedmoor – 129 Grain InterLock SP –
Hornady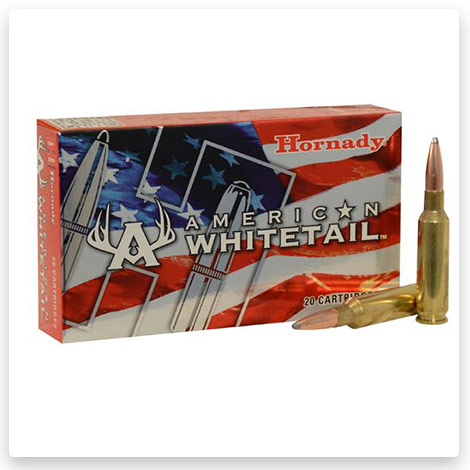 Going to improve your hunting game this season? Then you need to check out Hornady American Whitetail 6.5 Creedmoor 129 grain Interlock Centerfire Rifle Ammunition. These specially designed bullets are perfect for taking down big game, with their exposed lead tips allowing for controlled expansion and hard-hitting impact. The secant ogive design helps to retain optimal mass and energy, making each shot count. So don't go into the woods without the best ammo possible – pick up a 20-round box of Hornady American Whitetail 6.5 Creedmoor 129gr Interlock Centerfire Rifle Ammo today!
15# 6mm Creedmoor – 130 Grain, Sierra Tipped GameKing –
Sierra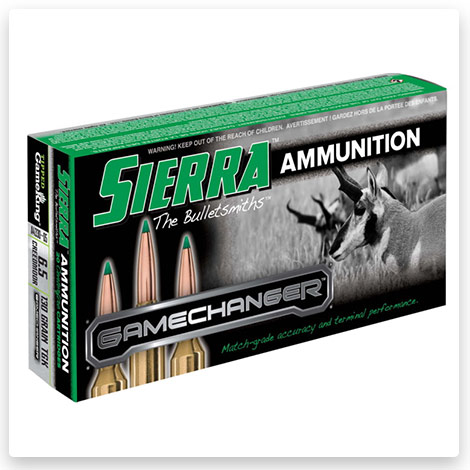 The 6mm Creedmoor – 130 Grain, Sierra Tipped GameKing is the perfect bullet for long-range accuracy and extreme ranges. With its long ogive point, this bullet is designed for aerodynamic efficiency and superior performance. The boat's tail shape also reduces drag and provides stabilization at high speeds. This MatchKing bullet is recognized around the world for its exceptional accuracy and is perfect for use in the 270 Winchester, 270 Weatherby Magnum, or 270 Winchester Short Magnum. If you're searching for a hunting bullet that can provide reliable performance and stunning accuracy, look no further than the Sierra Tipped GameKing.
16# 6mm Creedmoor – 130 Grain Sierra MatchKing Boat Tail Hollow Point –
Browning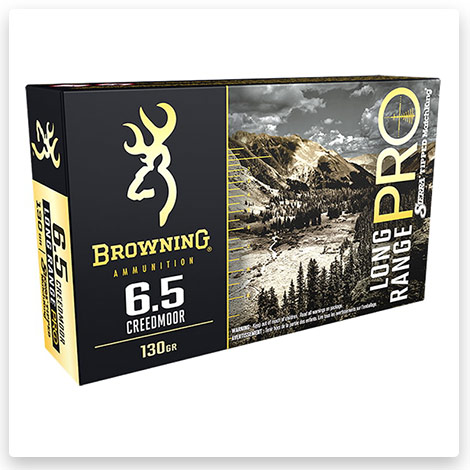 This premium ammunition is designed for hunters and competitive shooters who demand the utmost accuracy and precision. The key to the outstanding performance of Long Range Pro is the utilization of Sierra Tipped MatchKing bullets. These world-renowned bullets are known for their exceptional accuracy and consistency, making them a perfect choice for those who demand the very best. Whether you're punching holes in paper or ringing steel targets at long range, it will deliver the results you want. Each round is loaded into a brass cartridge case and primed with a centerfire primer for reliable ignition. So don't settle for second best – step up to Browning's Long Range Pro and see what you're truly capable of.
17# 6mm Creedmoor – 144 Grain Long Range Hybrid Target –
Berger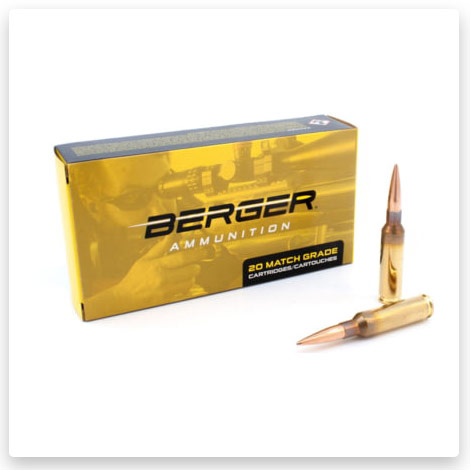 Berger's 6.5 mm Creedmoor 144 Grain Long Range Hybrid Target ammunition is the perfect choice for serious target shooters and competitors. The 6.5 Creedmoor has been a popular cartridge for several years thanks to its ability to shoot heavier bullets at high velocities, and now with this new long-range hybrid target bullet, it is even more versatile. The 6.5mm 144 Grain Long Range Hybrid Target bullet was specifically designed around cartridges like the 6.5 Creedmoor, and it provides outstanding accuracy and performance at long ranges. If you want to get the ideal 1000-yard target ammunition for your 6.5 mm Creedmoor rifle, look no further than Berger's new Long Range Hybrid Target load.
18# 6mm Creedmoor – 140 Grain Core-Lokt Pointed Soft Point –
Remington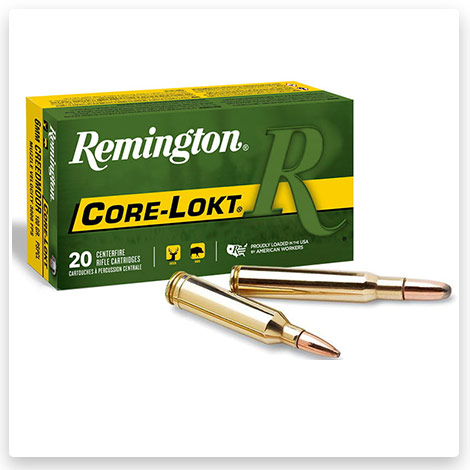 Remington Core-Lokt is the world's best-selling big game ammunition. This time-proven ammo has been a favorite among hunters for years, and with good reason. The 6.5mm Creedmoor load features a 140-grain soft point bullet with a tapered copper jacket that is locked to a solid lead core. This ensures maximum penetration upon impact, making it the perfect choice for taking down big game. TheCore-Lokt 6.5mm Creedmoor also utilizes a Remington Golden Saber bullet that is locked to a Benchrest Special pistol – the same one used in all Remington Core-Lokt rifle ammunition. So if you're searching for top-of-the-line performance and reliability, then you can't go wrong with Remington Core-Lokt.
19# 6mm Creedmoor – 120 Grain Gilding Metal eXpanding –
Hornady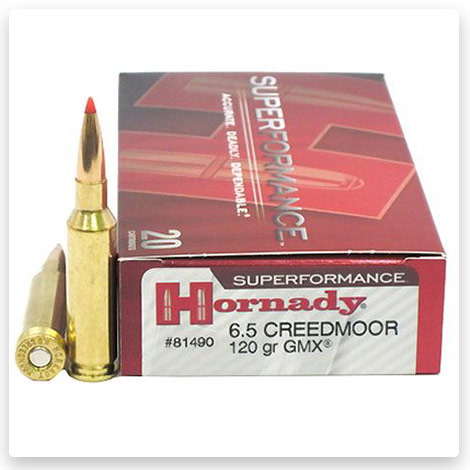 Tired of rounds that claim to improve performance, but only succeed in sacrificing accuracy? The 6mm Creedmoor from Hornady is the finest choice for any hunter. This round utilizes progressive propellants to achieve up to 200 fps in velocity without any extra chamber pressure, recoil, muzzle blast, or fouling. Superformance rounds are perfect for hunters and target shooters alike who demand the very best out of their ammunition. This particular round features a 120-grain gilding metal expanding bullet, perfect for taking down medium-sized games. The gilding metal construction ensures reliable expansion and penetration, while the expansion ribs promote consistent performance. Trust in the quality of Hornady ammunition – pick up a box of 6mm Creedmoor today.
20# 6mm Creedmoor – 120 Grain TMJ –
Federal Premium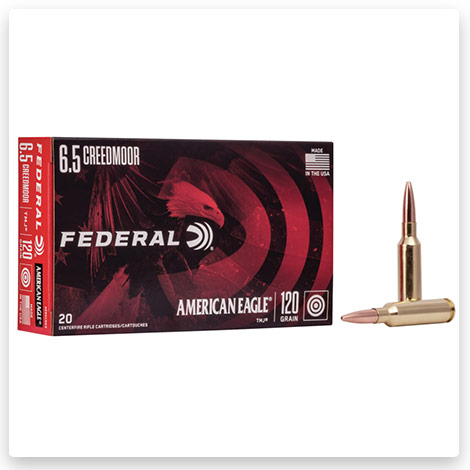 Do you want to save money and get the precision you need for your high-volume shooting? Federal Premium's American Eagle TMJ 6.5 Creedmoor 120gr Rifle Ammo is the perfect solution for you. These powerful and accurate rounds are perfect for range days, competitions, or even just plinking around. Featuring consistent brass and primers, you can be confident in the accuracy and performance of these rounds. Don't settle for less than the best – choose Federal Premium American Eagle Rifle Ammunition.
21# 6mm Creedmoor – 120 Grain Gilding Metal eXpanding –
Hornady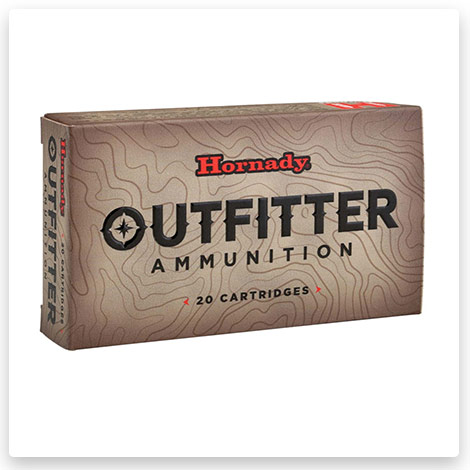 From the backcountry to the back-forty, trust your hunt to Outfitter ammunition. Featuring corrosion-resistant nickel-plated cases that are sealed watertight and topped with the accurate and rugged GMX bullet, Outfitter ammunition is designed to perform under the toughest conditions. The GMX bullet provides uniform controlled expansion, deep penetration, and +95% weight retention, while the sealed primer and case mouth provide watertight protection. California compatible and appropriate for other areas requiring nontraditional bullets, Outfitter ammunition is sure to help you take down your target no matter where you are.
22# 6mm Creedmoor – 120 grain Hunting Tipped –
Sig Sauer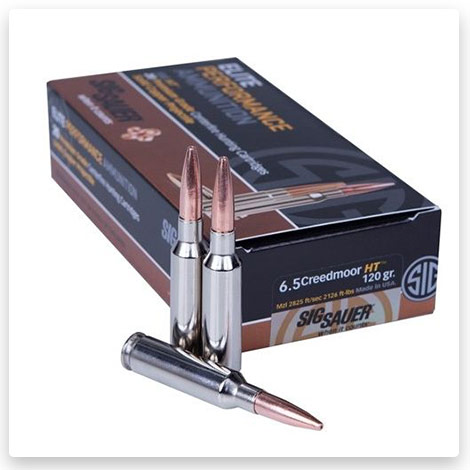 Sig Sauer's 6mm Creedmoor is a 120-grain hunting-tipped bullet that provides consistent 1.8x diameter expansion, making it the perfect choice for medium-sized game. The optimized nose geometry and premium shell casing deliver reliable accuracy, while the AR-style rifle feeding ensures smooth operation.
23# 6mm Creedmoor – 105 Grain Sierra BlitzKing Nickel Plated Brass –
Sierra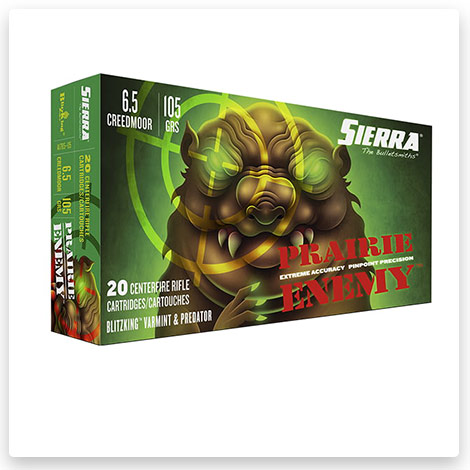 Do you want to purchase reliable, precise hunting and shooting ammunition but don't want to break the bank? Sierra's Prairie Enemy Varmin and Predator Ammunition is the ideal option for varmints and predators. This ammo is loaded with Sierra's legendary BlitzKing accuracy and devasting terminal performance, making it enemy number one for varmints and predators. The flat base spitzer bullet design ensures maximum accuracy, while the nickel-plated brass cartridge case provides superior reliability and performance. With a muzzle velocity of 3150 ft/s, this ammunition is perfect for high-volume shooting situations. So don't let varmints and predators get the upper hand – grab a box of Prairie Enemy ammunition and take them down!
How to reload? 🧑‍🔧
Reloading a 6mm Creedmoor Ammo can be a great way to save money and customize your ammunition with the components you prefer. Reloading is not as difficult as it seems and there are many resources available to help get started.
🚨 The first step in reloading is preparing all of the necessary materials, such as powder, bullets, primers, and cases.
Once that's done, follow these steps:
✔️ Deburr all case mouths by using a chamfering tool or deburring tool.
✔️ Prime each case by adding a primer to the base of the cartridge with a loading tool called a priming arm or press-mounted priming system (depending on what type of reloader you have).
✔️ Measure out and add the proper amount of gunpowder using a powder measure, then seat the bullet into the cartridge case by using a seating die.
✔️ Once all cartridges have been reloaded with their components, crimp each round to ensure that all bullets are securely seated in their cases.
✔️ After reloading, test fire at least one round from each batch to check for accuracy and safety concerns before loading them into your magazine or ammunition storage container.
FAQ 🤔
Conclusion 😉
6mm Creedmoor ammo is a great choice for shooters looking to extend their range. In this buyer's guide, we have highlighted some of the best ammo on the market. With products from top manufacturers like Federal Premium and Hornady, you are sure to find the perfect round for your needs. Let us know in the comments which you ended up choosing and how it performed! ❤️‍ 🔥