Affiliate Disclosure: AmmoCave.com sometimes gets paid for listings, through sponsors or affiliate programs like Lucky Gunner, Optics Planet, Brownells, Cabelas, Academy Sports & Outdoors, Rainier Arms, Palmetto State Armory, Sportsman's Guide, Ammo.com, Ammo Man, Primary Arms, MidWayUsa, Amazon, eBay, etс. Clicking a link helps keep AmmoCave.com free, at no extra cost to you!
Authors: Each article is verified by AmmoCave's expert team. Professional hunters, firearm trainers, gunsmiths, and gun experts write the articles. AmmoCave Team independently researches, tests, reviews, and uses recommendations from our community of gun owners. We may earn commissions from shopping links.
Note: The views and opinions expressed in this article are those of the authors and do not necessarily reflect any agency's official policy or position. The articles are for informational purposes only, share your opinions about Best 308 Flash Hider 2023 in the comments and join the discussions. Let's share 💬 our ammo & gun experiences together!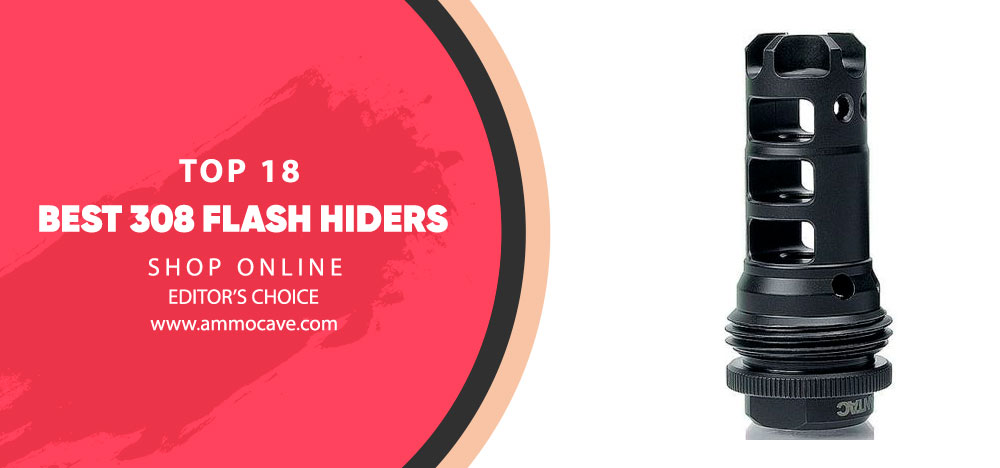 What is 308 Flash Hider? 🎯
It is a muzzle device that is attached to the end of a firearm's barrel to reduce or eliminate the visible flash that is produced when firing. It is particularly popular among hunters, tactical shooters, and military personnel because it helps to conceal their position and prevent their location from being revealed during low-light situations.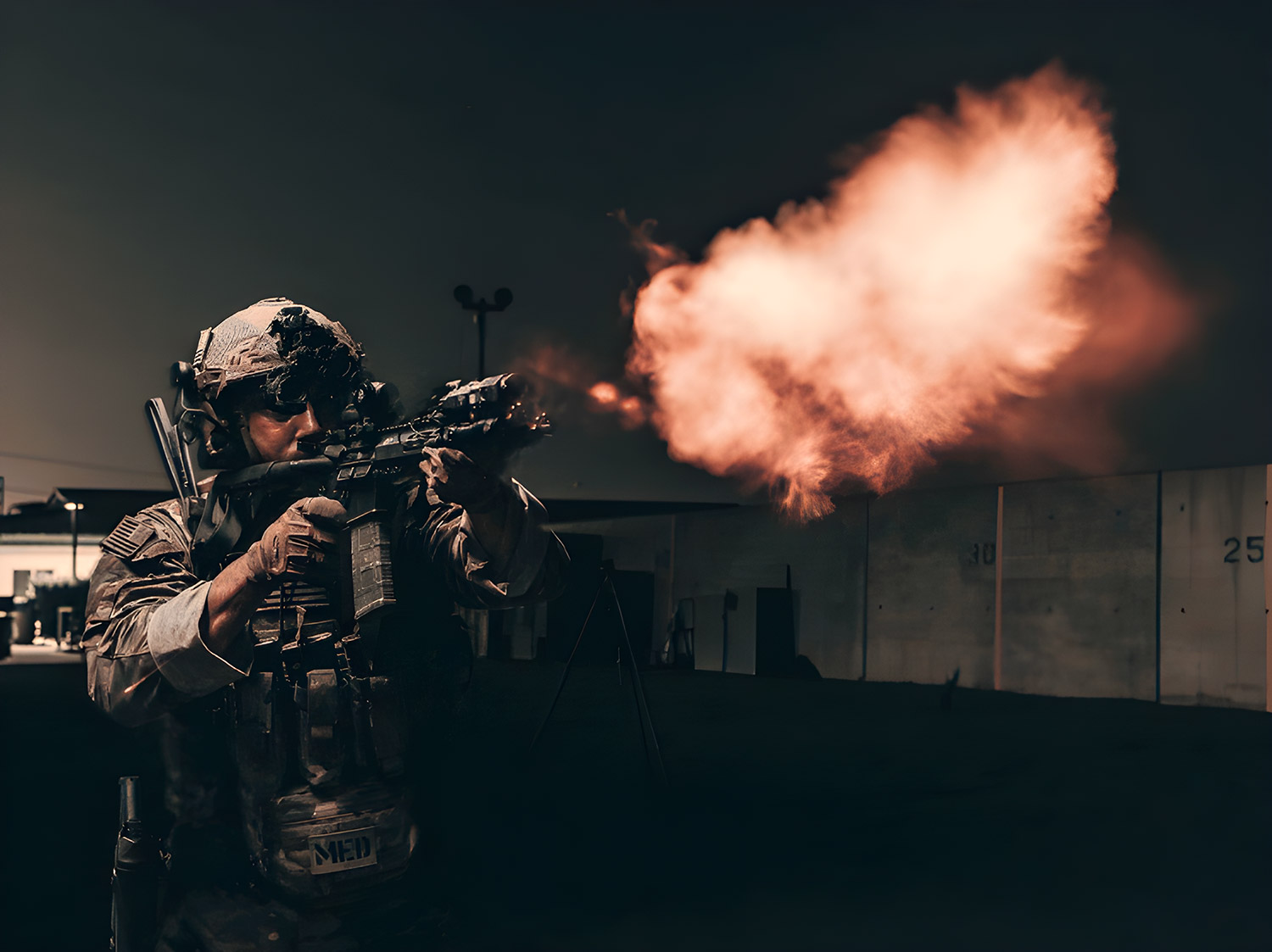 Features 💡
1. Material: 🔰
The most common materials used are steel, aluminium, and titanium.
Steel is the most rugged but also the heaviest, while aluminium is lightweight but not as durable as steel.
Titanium, on the other hand, is the most expensive but offers the perfect balance between durability and lightness.
2. Design: 🔰
The design of a 308 flash hider can come in different shapes and sizes, but the most popular design is the birdcage style.
This design has a series of small slots or holes that direct the gases outwards and upwards to reduce the muzzle flash.
Other designs include prongs or cones that work similarly in directing the gases outwards.
3. Thread pitch: 🔰
The thread pitch of the flash hider must match the threading on your barrel's muzzle for proper attachment.
The most common thread pitch for 308 flash hiders is 5/8×24.
4. Coating: 🔰
A coating can enhance the durability and longevity of the flash hider.
Some common coatings include black oxide, nitride, and phosphate. These coatings offer resistance to corrosion, wear, and tear.
5. Compatibility: 🔰
Lastly, check the compatibility of the flash hider with your rifle or muzzle device.
Some flash hiders are not compatible with certain suppressors, and some rifles have specific muzzle devices that require proprietary flash hiders.
Our Top Pick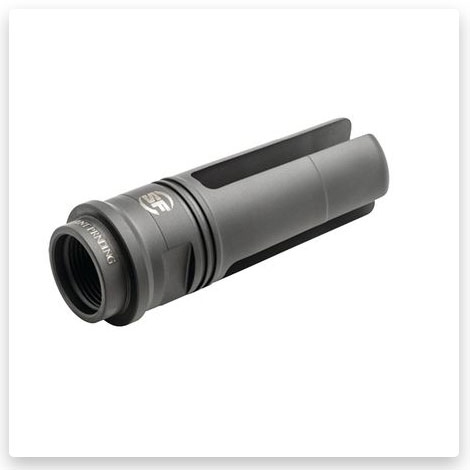 SureFire 3-Prong Flash Hider W/Suppressor Adapter
Our Flash Hider has a unique design with three prongs that helps reduce muzzle flash. We make our SureFire muzzle devices by precisely machining them from Stainless Steel bar stock and finish them with a Black Ionbond DLC that protects them from harsh environmental conditions. The flash hiders have holes for pin and welding and a rear seal to prevent carbon buildup in the indexing system, which makes it easier to remove the suppressor after extended shooting.
Buy Now On OpticsPlanet
If you click this link and make a purchase, we earn a commission at no additional cost to you.
Types 💎
🌐 1. Standard Flash Hiders: These are the most basic and common type of flash hider. They work by redirecting the gases escaping from the barrel to reduce the amount of flash visible to the shooter. Standard flash hiders are usually made of steel or aluminium and are relatively easy to install.
🌐 2. Extended Flash Hiders: These are similar to standard flash hiders but feature a longer length that helps to further reduce flash by increasing the distance between the shooter and the source of the flash. Extended flash hiders are a great option for those who want to minimize flash as much as possible.
🌐 3. Open-Prong Flash Hiders: These flash hiders are designed with several prongs or tines that protrude from the end of the barrel, similar to a birdcage-style flash hider. The prongs help to break up the flow of gases and reduce flash, while also helping to direct the muzzle blast away from the shooter's line of sight.
🌐 4. Closed-Prong Flash Hiders: These flash hiders are similar to open-prong flash hiders but feature solid prongs that completely enclose the end of the barrel. Closed-prong flash hiders are designed to provide maximum flash reduction while also reducing the amount of dust and debris kicked up by the muzzle blast.
🌐 5. Hybrid Flash Hiders: These flash hiders combine the features of multiple types of flash hiders to provide a versatile and effective solution for reducing flash. For example, a hybrid flash hider may combine the extended length of an extended flash hider with the pronged design of an open-prong flash hider.
Best 💣 18 308 Flash Hiders
1# Guntec USA AR-10/LR-308 Birdcage Flash Hider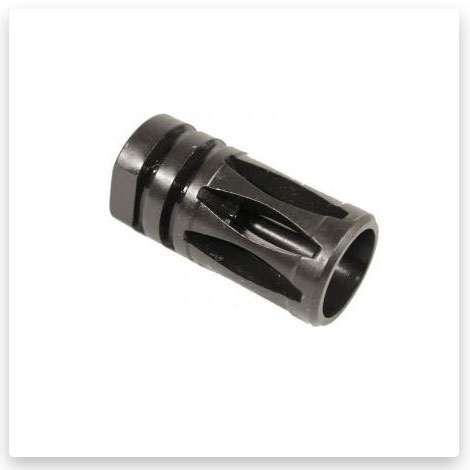 Serious shooters and hunters need a product they can trust to be durable, dependable and perform as expected. That's why Guntec USA has developed its AR-10/LR-308 A2 Birdcage Flash Hider. Built from lightweight steel with a phosphate finish for enhanced durability, this flash hider features a 5/8 x 24 thread pitch for easy attachment and is designed for .308 Caliber firearms. It's also made to military specifications (Mil-Spec A2) so you know it's high quality. So whether you're hitting the range or hitting the woods, make sure you have superior performance on your side with the Guntec USA AR-10/LR-308 A2 Birdcage Flash Hider.
2# Strike Industries Venom Muzzle Flash Hider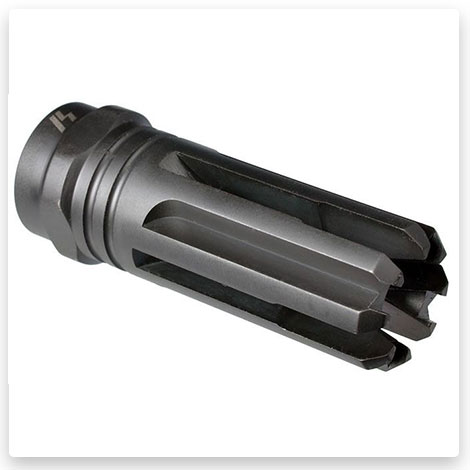 The flash hiders ensure prompt diffusion of firing smoke, which blows up from the barrel and almost fully eliminates muzzle flash, delivering decent vision in low light conditions or at night. Our findings show that the flash hider is long enough to make a 14-in Barrel 16 with a pre-drilled hole for pin and welding. These muzzle devices don't need timing and a crush washer, but it comes with the kit anyway (15-20 ft-lbs is suitable torque). The flash hiders can be combined with a blast shield.
3# Guntec USA Spartan Flash Hider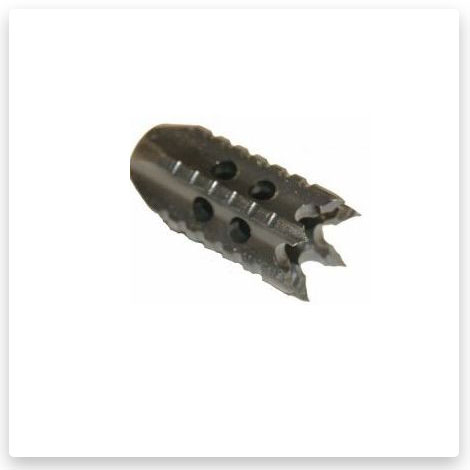 Introducing the Guntec USA Spartan Flash Hider, the newest addition to the Guntec family. This durable accessory is crafted from solid T6 aluminium and designed with a Nitride finish for maximum protection in any environment. With its 5/8×24 threads, it's perfect to fit onto your AR-10/LR-308 gun model. The Spartan Flash Hider also features multi-porting holes to reduce expansion and muzzle rise. Our tests show that its aggressive door breacher spikes give a unique look for hunters and shooters alike. Each Spartan is machined with knurled grooves for maximum grip without slipping or catching your skin on aftermarket barrels or receivers. Plus, its 1.5-inch steel makes it ideal for use on calibre .308 firearm models. Don't settle for less! equip yourself with only the best: Guntec USA's Spartan Flash Hider! Get your hands on one today and experience superior durability and performance every time you shoot!
4# SureFire 3-Prong Flash Hider w/Suppressor Adapter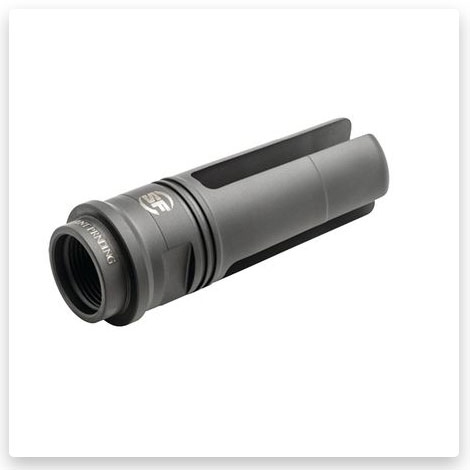 The Flash Hider features a patent-pending design with three prongs to minimize muzzle flash. The SureFire muzzle devices are precisely machined from Stainless Steel bar stock with a Black Ionbond DLC finish to deliver reliable protection under severe environmental conditions. The flash hiders are holed for pin and welding and outfitted with a rear seal that reduces potential carbon buildup in the indexing system, allowing easier suppressor removal after the long shooting. As a result of using this product, we found that no modification is needed while mounting many 7.62 mm rifles (with 5/8-24 muzzle threads). These muzzle devices are good for low or limited-light conditions in team environments. The flash muzzles come with the Spacer Kit (Shim), Rock-sett, and tread-lock installation instructions.
5# Guntec USA Ribbed Birdcage Flash Hider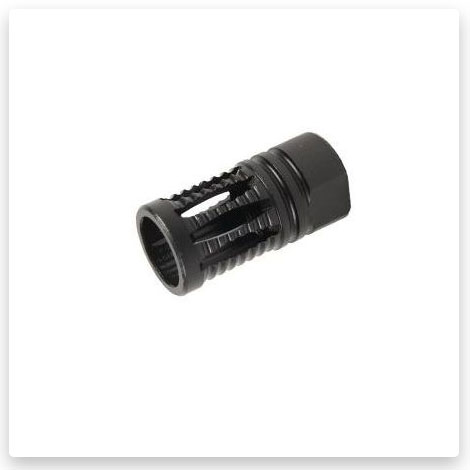 For hunters and shooters looking to upgrade the performance and accuracy of their AR-10, the Guntec USA Ribbed Birdcage Flash Hider is the perfect solution. This advanced flash hider features a mil-spec gen 2 ribbed design with an A2 bottom closed all steel construction with 5/8 by 24 thread pitch at .308 calibre. Created with a superior nitride finish, this 1.5-inch long cylindrical device is engineered for maximum durability and optimal results. With 0.8 inches in diameter, it prevents muzzle flash to guarantee improved aiming accuracy and fired velocity control for a much more effective and consistent shot. Backed by Guntec's top-notch quality standards, this Gen 2 A2 Ribbed Flash Hider will equip your AR-10 with top-of-the-line components that are made to last.
6# Manticore Arms Eclipse Flash Hider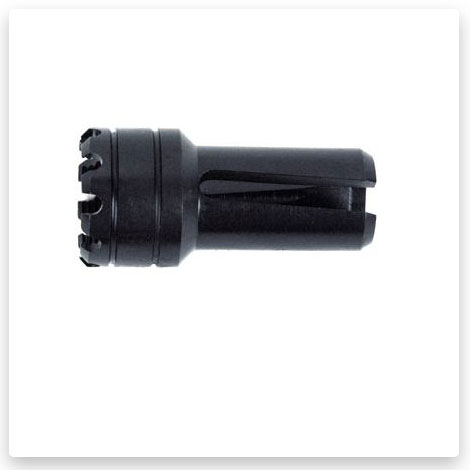 The Manticore Arms Eclipse Flash Hider has been designed specifically for the .308 and 7.62 mm calibre cartridge to reduce flash to near zero – so that you can shoot even in total darkness! With a slightly twisted triple prong design and crafted from 8620 steel with a Rockwell 50C heat treat, this flash hider is precision machined to fit Yugo M85 and M92 PAP "Krinkov" style pistols and rifles. Perfectly threaded at 26.5 x 1, it won't fit anything larger than .311 calibre or 7.62 mm – perfect for mid-to-long-range shooting or hunting expeditions where accuracy matters most. Weighing in at only 3.6 ounces and measuring 2.25 inches long, this high-quality flash hider is both lightweight and compact- ideal for those looking to add a professional finish to their firearm. 100% designed and manufactured in the USA, the Eclipse Flash Hider from Manticore Arms is your best choice for unlocking an accurate, reliable shooting experience that won't let you down when you need it most!
7# Yankee Hill Machine Phantom Aggressive Compensator Flash Hider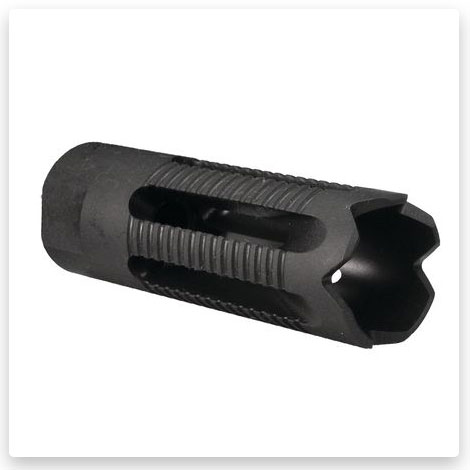 Do you want the best of both worlds? The Yankee Hill Machine Phantom Aggressive Compensator Flash Hider is an innovative muzzle device that gives you the benefit of a compensator and flash hider all in one. This 5-port design was redesigned to work with .308 rifles, making it ideal for hunters and shooters. It has no downward-facing port so it minimizes dust problems when shooting in the prone position. Plus, this compensator/flash hider comes with a crush washer to make sure your barrel threads fit snugly. Get better accuracy and lessen harmful back blasts with the Yankee Hill Machine Phantom Aggressive Compensator Flash Hider. It's designed for barrels threaded with 5/8-24 only – order yours today!
8# Guntec USA Slim Line Micro Cone Flash Can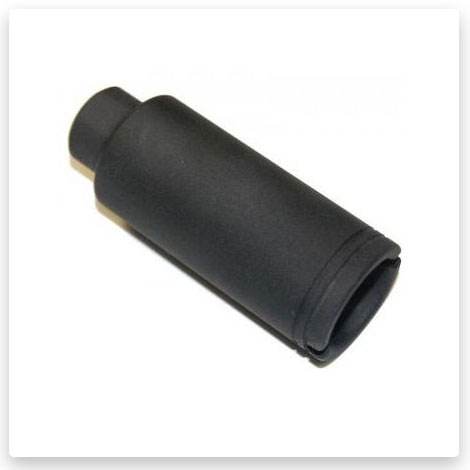 Guntec USA's Slim Line Micro Cone Flash Can is the perfect accessory for your next big-time hunting or shooting adventure. This hardy flash can have been crafted from solid T6 aluminium to ensure longevity and withstand whatever environment you may find yourself in. It features 5/8 x24 threads at .308/ 300 AAC Blackout Caliber, and a diameter of 1.245″ designed to fit into most slimline, thin free floating handguards. Our research demonstrates that you'll be able to move and shape this flash can according to exactly what you need. And because it has been anodized, it's sure to have an aesthetic that stands out from all else on the field! So don't let a hindrance stand between you and success – grab Guntec USA's Slim Line Micro Cone Flash Can today and get ready for the action!
9# LANTAC Dragon SilencerCo Muzzle Brake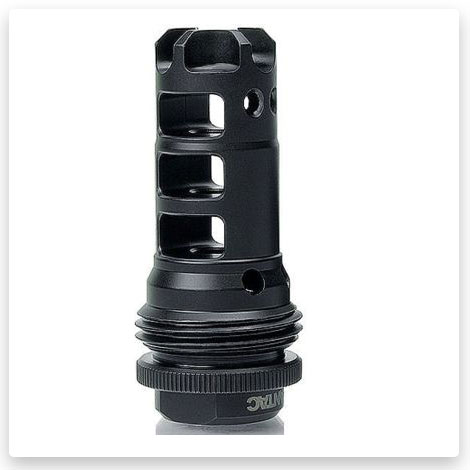 This Muzzle Brake is designed with SilencerCo ASR Quick Mount Suppressor Adapter. The DGN762B-ASR features a unique Short Energy Pulse system due to which repeating shot energy cannot overlap and knock the shooter off target, delivering recoil length mitigation. The Advanced Muzzle device is precision machined and hardened to 48Rc. This Blast Mitigation Device doesn't work with the BMD and should be used with the Rockett thread locker (not included).
10# Guntec USA Centurion Flash Hider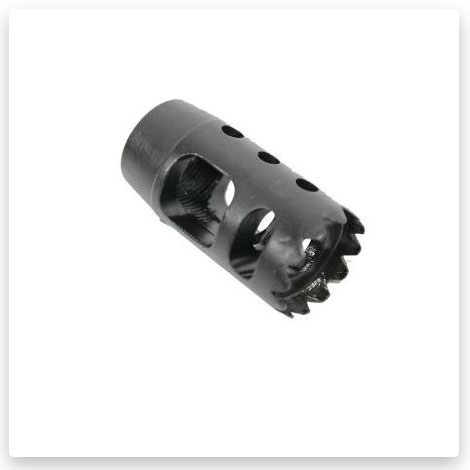 Introducing the Guntec USA AR-10/LR-308 Centurion Flash Hider, a hardworking and durable solution for all your hunting and shooting needs. Constructed from top-notch steel and designed with innovative features to reduce recoil and increase muzzle stability, this flash hider is the perfect addition to any rifle. The new design offers multiple porting holes that create the ideal airflow while also acting to mitigate the sound of shots fired. Additionally, the aggressive door-breacher spikes offer superior protection against gas blowback and allow hunters to have confidence out in the field that their rifles will remain ready to take action without fail. Get your hands on Guntec USA's AR-10/LR-308 Centurion Series Flash Hider now and experience recoil reduction like never before!
11# GUNTEC USA Predator Flash Hider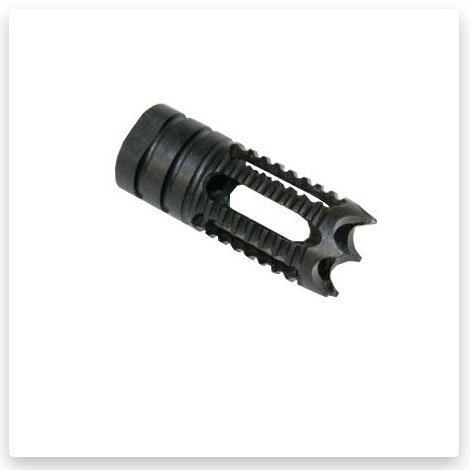 The Guntec USA AR-10/LR-308 Centurion Flash Hider is the perfect piece of gear for the serious hunter or shooter. This hider was designed with one purpose in mind, to reduce recoil and make sure you have a smoother shooting experience. This flash hider is constructed of durable steel and features multi-porting holes and aggressive door breacher spikes. It is a newly released design which fits most 5/8" x 24 threads so it can be used with a wide range of weapons systems. With its high-quality construction and cutting-edge design, this flash hider will make a great addition to any firearm collection. Get ready for an effortless and smooth shooting experience with your Guntec USA AR-10/LR-308 Centurion Flash Hider!
12# Grovtec US Inc G-Nite Flash Suppressor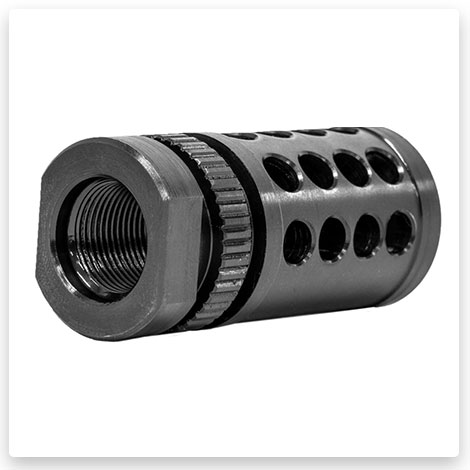 The GrovTec US Inc G-Nite Flash Suppressor is one of the top-of-line flash suppressors and muzzle brakes on the market today. Specifically designed for .308 Winchester/7.62 calibres, the G-Nite offers a stout construction, reliable performance and unbeatable accuracy. Through it's nitrogen-treated steel fabric and proprietary finishing process, the G-Nite helps to cool down gases and effectively reduce the flash signature emitted from your rifle or pistol during firing. Weighing just 1.9 ounces and with dimensions of 2.5" L x 0.8" W x 0.8" H, it is lightweight yet offers maximum stability when shooting while also offering an attractive look that won't take away from your firearm's appearance. The G-Nite is compatible with barrels made of 416R stainless steel with 5/8×24 threading for optimal reliability in any weather conditions or environment. With its ergonomic design that allows for easy installation in only minutes – no gunsmith required! – it has quickly become a favourite among hunters and shooters alike who demand peak performance from their firearms out in the field or at the range.
13# GUNTEC USA Claw Multi-Prong Flash Hider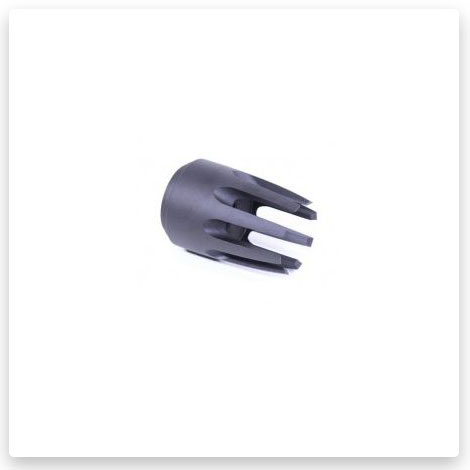 Gun enthusiasts have spoken, and GUNTEC USA has answered the call with their .308 Claw Multi-Prong Flash Hider. Providing superior protection from the flash of your shots, this next-level performance accessory is one you won't want to be without. The anodized black finish has been expertly applied over T6 aluminium construction making it lightweight and able to stand up to repeated use over time. Whether you're out hunting or in a competitive shooting event, its multi-prong design will keep your gun cool while its Claw-style door breacher ensures fast reload speed. Tested to excel at preventing muzzle flash while boasting a 5/8 X 24 thread pitch, their AR .308 offering is made to fit seamlessly with your AR-10 rifle of any calibre length. Rest assured knowing that the GUNTEC USA Claw Multi-Prong Flash Hider will help keep you safe and on target every time. Make sure you add theirs to your arsenal today!
14# Dark Storm Industries Competition Compensators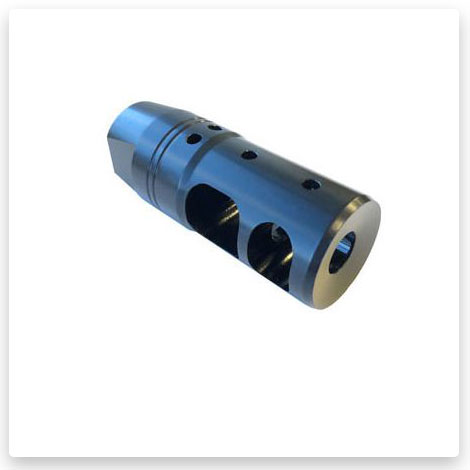 The Compensator is developed for .308, 7.62, 6.5 Creedmoor, and .300 Blackout Caliber rifles with 5/8-24 right-hand threaded barrels. The muzzle device is crafted from durable Stainless Steel. The Compensator body consists of two angled Top Ports, coming from Expansion Chamber, two Side Baffles with two Vertical Top Ports from them, and a pilot hole (for pin and weld) for short barrel rifles. Two models are available in blue or Silver colours.
15# Brownells – Ar 308 Flash Hiders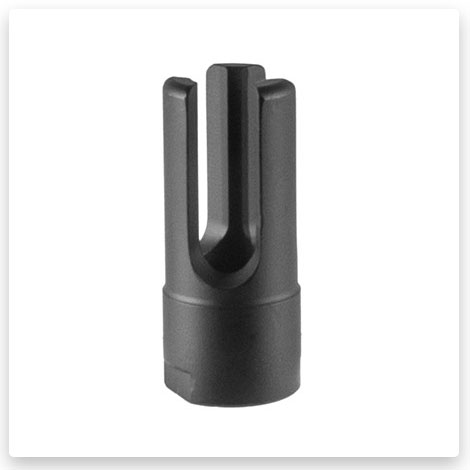 For shooters looking for a classic AR 308 flash hider and efficient flash suppression, the Brownells line of AR 308 Flash Hiders is a perfect choice. Crafted with machined carbon steel and finished in a durable, hard black QPQ finish, these are built to last season after season. The 5/8″-24 thread pitch makes it well suited for .308 rifles, as well as the popular .243 Winchester and 6.5mm Creedmoor calibres. Further, its clearance hole (.320″) ensures compatibility with more guns than ever before. Put your trust in Brownells for all your shooting needs!
16# Surefire – Ar-308 Warcomp Flash Hider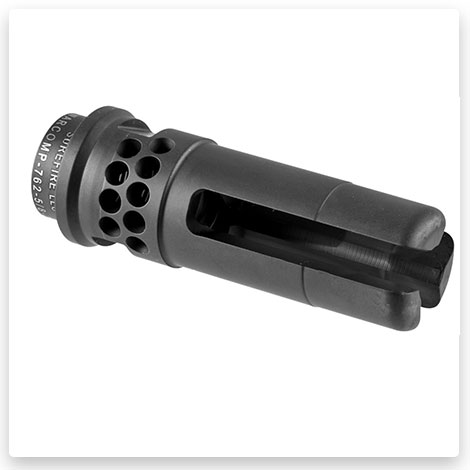 The main functions of these flash hiders are flash signature diminish that allows shooters to hide their location, saving the dark-adapted vision; minimization of muzzle rise to improve monitoring target reaction; serving as a strong installing adapter for all SureFire SOCOM Series 7.62 mm Fast-Attach suppressors. The flash hider is compatible with 7.62 (.308 calibre) rifles with 5/8-24 muzzle threads. Multiple bearing surfaces deliver suppressor alignment and prevent tines from ringing inside the suppressor. SureFire SOCOM Series flash hider adapters don't fit previous (non-SOCOM) SureFire Fast-Attach sound suppressors, muzzle brakes, or flash hiders.
17# Silencerco – Ar-15/Ar 308 Asr Flash Hider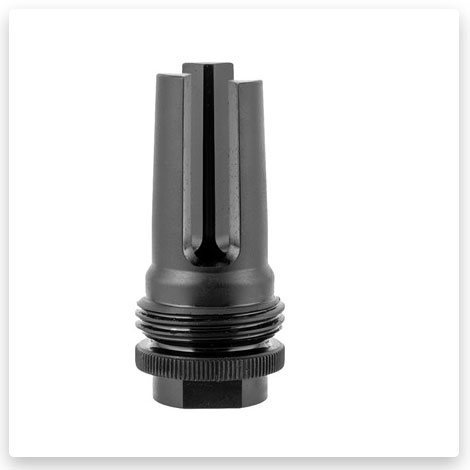 Introducing the Silencerco – Ar-15/Ar 308 Asr Flash Hider, your easiest way to make shooting a heck of a lot more fun! Hunters and Shooters alike have been looking for an efficient flash hider that makes the shooting process smooth and hassle-free. With our latest product, you get just that—a 3-prong flash hider compatible with the popular Specwar, Saker, Omega, Hybrid and Harvester Big Bore ASR mounting systems that offer one hand on/off attachment or detachment. Not only that, but our patented resonance suppression also prevents tuning out of forks common in 3-prong flash hiders along with it being incredibly durable to last you a long time. So give yourself one less thing to worry about and pick up the Silencerco – Ar-15/Ar 308 Asr Flash today!
18# Radical Firearms – Ar 308 Three Prong Flash Hider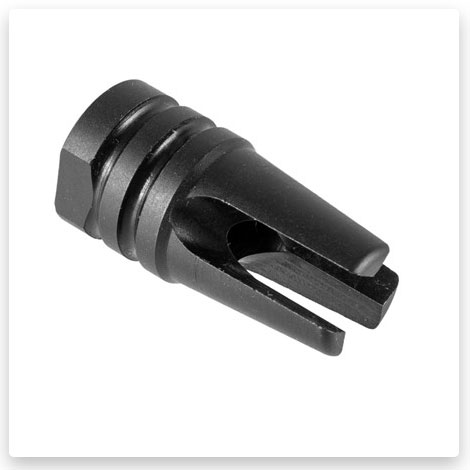 Transform your AR-308 or 7.62 calibre rifle with the Radical Firearms Three-Prong Flash Hider. Immerse yourself in classic military style with this muzzle device which features a durable black Melonite finish and A2-style suppressor mounts for quick detachment when allowed by law. With 5/8×24 threads, you can easily attach it to any .30 calibre barrel of your favourite rifle and get an authentically retro look with effective muzzle flash reduction capabilities. This high-quality steel AR-10 Two Port Flash Hider adds just 1.75″ to your barrel length – making it an incredibly affordable way to complete your .308, .300 BLK, or even 7.62×39 build without compromising performance. Get the final touches you need for a perfect gun build with the Radical Firearms Three-Prong Flash Suppressor.
Installation📢
Step 1: Gather the Required Tools 🚦 Before you begin the installation process, it's essential to have all the necessary tools at hand. These tools include a torque wrench, a gunsmithing vice, a set of punches, and a solvent to clean the threads on your rifle.
Step 2: Remove the Original Muzzle Device 🚦 To install your new flash hider, you first need to remove the existing muzzle device. Use a punch to rotate the device counterclockwise to loosen it. Once it's loose, you can remove it by hand.
Step 3: Clean the Threads 🚦 Before installing the new flash hider, it's crucial to clean the threads on the rifle's muzzle. Use a solvent to remove any debris or old thread locker that may have been applied to the threads.
Step 4: Install the New Flash Hider 🚦 Thread the new flash hider onto the end of the muzzle until it's hand tight. Use the torque wrench to tighten the flash hider to the manufacturer's specified torque setting. This will help guarantee a secure fit and remove the risk of damaging the threads on the rifle.
Step 5: Check for Alignment 🚦 Once the flash hider is tightened, check to ensure that it's properly aligned. If it's off, you can use a shim kit to adjust it. Make sure that the flash hider is in line with the rifle's bore to avoid any potential accuracy issues.
Step 6: Test Fire 🚦 Before hitting the range, it's best to test-fire your rifle with the new flash hider installed. This will help you determine if it's installed correctly and if there are any potential concerns with accuracy or function.
We believe this video can be helpful for you 📺
FAQ 🍀
Conclusion 😎
The 308 Flash Hider is a great addition to any firearm owner's arsenal. It helps reduce muzzle flash and makes shooting more enjoyable. With all of the options out there it can be difficult to choose which one is best for your needs. That's why we created this buyer's guide with reviews and tips so you could make an informed decision on what type of flash hider would work best for you. We hope that our article has helped you find the perfect Flash Hider that fits your budget, style, and performance requirements! 😇