Affiliate Disclosure: AmmoCave.com sometimes gets paid for listings, through sponsors or affiliate programs like Lucky Gunner, Optics Planet, Brownells, Cabelas, Academy Sports & Outdoors, Rainier Arms, Palmetto State Armory, Sportsman's Guide, Ammo.com, Ammo Man, Primary Arms, MidWayUsa, Amazon, eBay, etс. Clicking a link helps keep AmmoCave.com free, at no extra cost to you!
Authors: Each article is verified by AmmoCave's expert team. Professional hunters, firearm trainers, gunsmiths, and gun experts write the articles. AmmoCave Team independently researches, tests, reviews, and uses recommendations from our community of gun owners. We may earn commissions from shopping links.
Note: The views and opinions expressed in this article are those of the authors and do not necessarily reflect any agency's official policy or position. The articles are for informational purposes only, share your opinions about Best 308 Flash Hider 2023 in the comments and join the discussions. Let's share 💬 our ammo & gun experiences together!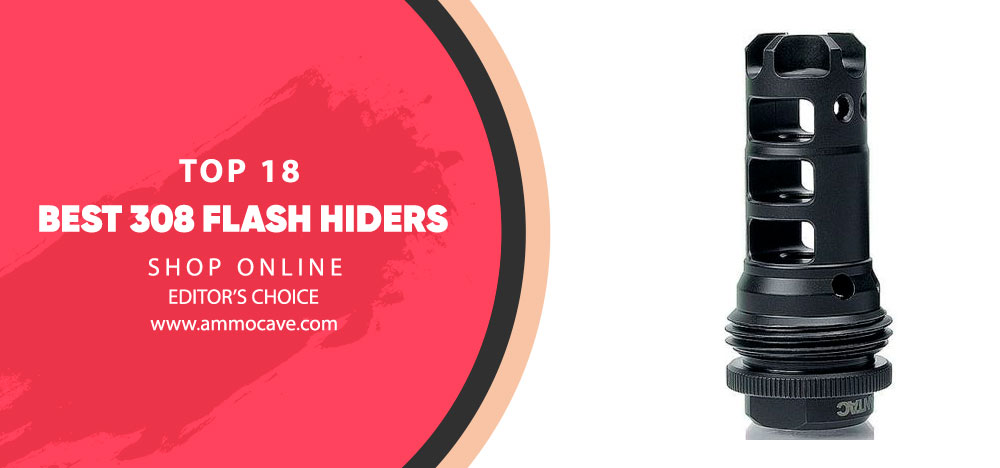 During night firing or in bad light conditions, clear vision is very important for shooters. Flash hiders are worth mounting on the rifle, as they help keep good visibility and fast reaction.
While upgrading the firearm with a flash hider, note there are two types of their operation: either redirecting the burning gasses through holes or slots in a muzzle device or concealing the flash signature.
Why Do We Need 308 Flash Hider?
The flash hiders provide the shooters with minimal flash while shooting, improving visibility and reducing the shooting smoke. They can also slightly soften recoil but are not as efficient as compensators.
Best Pick
Guntec USA Slim Line Micro Cone Flash Can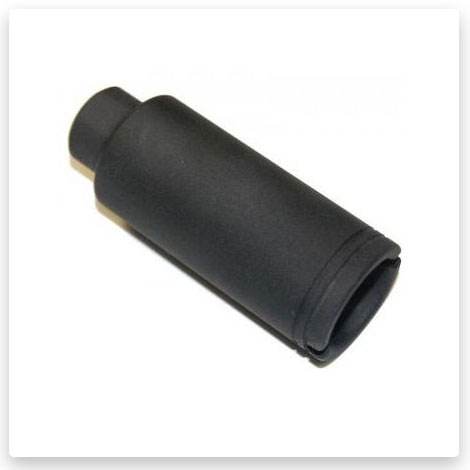 The Stylish Micro Cone Flash Can push the flash forward, performing flawlessly. It's compatible with AR15 pistols and many Slimline thin free-floating handguards. Due to the closed bottom, this flash can is suitable for shooting in a prone position.
Top 18 308 Flash Hiders
#1 Guntec USA AR-10/LR-308 Birdcage Flash Hider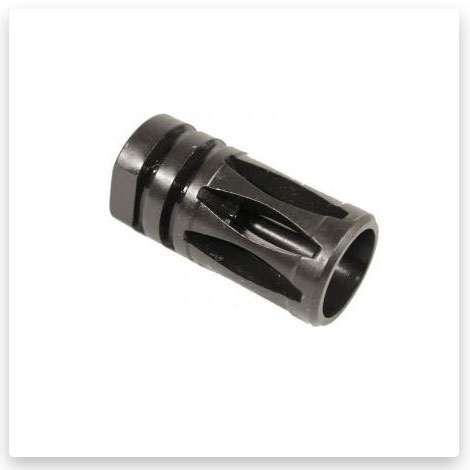 This Mil-Spec BirdcageFlash Hider (type A2) is designed with a closed bottom for the AR-10 guns, Gen 2. The Guntec Flash Hiders are crafted from steel and with a Phosphate finish in Black, come without a crush washer.
#2 Strike Industries Venom Muzzle Flash Hider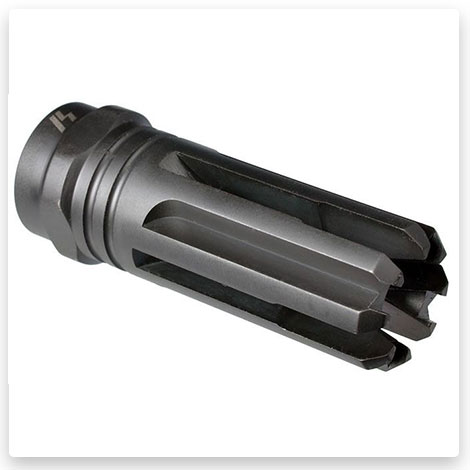 The flash hiders ensure prompt diffusion of firing smoke, which blows up from the barrel and almost fully eliminates muzzle flash, delivering decent vision in low light conditions or at night. The flash hider is long enough to make a 14-in Barrel 16 with a pre-drilled hole for pin and welding. These muzzle devices don't need timing and a crush washer, but it comes with the kit anyway (15-20 ft-lbs is suitable torque). The flash hiders can be combined with a blast shield.
#3 Guntec USA Spartan Flash Hider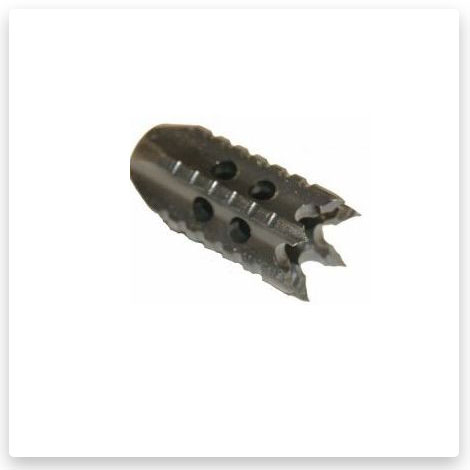 The AR-10/LR-308 Spartan Flash Hider with multi-porting holes and machined knurled grooves provides dependable performance and sturdiness. The Guntec USA muzzle devices are manufactured from solid Aluminum (T6) with a Nitride finish. The Flash Hiders come with a crushed washer.
#4 SureFire 3-Prong Flash Hider w/Suppressor Adapter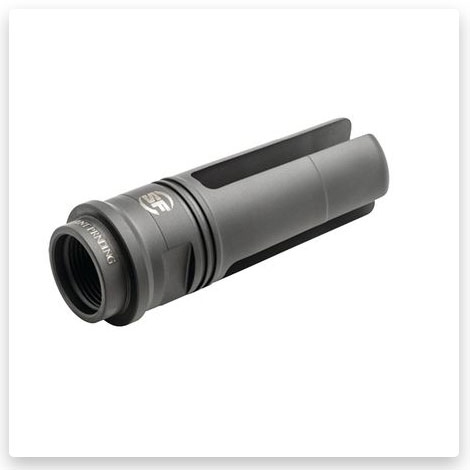 The Flash Hider features a patent-pending design with three prongs to minimize muzzle flash. The SureFire muzzle devices are precisely machined from Stainless Steel bar stock with a Black Ionbond DLC finish to deliver reliable protection under severe environmental conditions.
The flash hiders are holed for pin and welding and outfitted with a rear seal that reduces potential carbon buildup in the indexing system, allowing easier suppressor removal after the long shooting. No modification is needed while mounting many 7.62 mm rifles (with 5/8-24 muzzle threads). These muzzle devices are good for low or limited-light conditions in team environments. The flash muzzles come with the Spacer Kit (Shim), Rock-sett, and tread-lock installation instructions.
#5 Guntec USA Ribbed Birdcage Flash Hider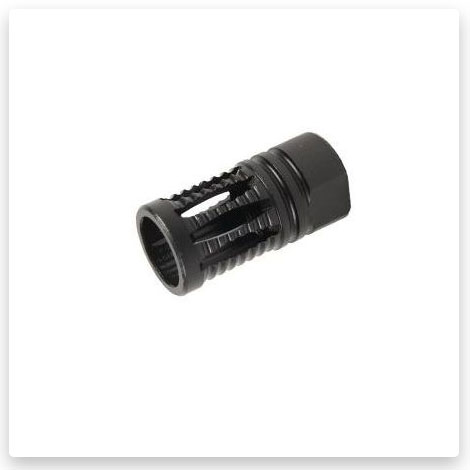 These second-Generation Flash Hiders are manufactured from steel and covered with Black Nitride. The A2 CAGE-308-G2 muzzle device is engineered for AR-10 rifles. The A2 type Mil-Spec Ribbed Birdcage all-steel construction features a closed bottom.
#6 Manticore Arms Eclipse Flash Hider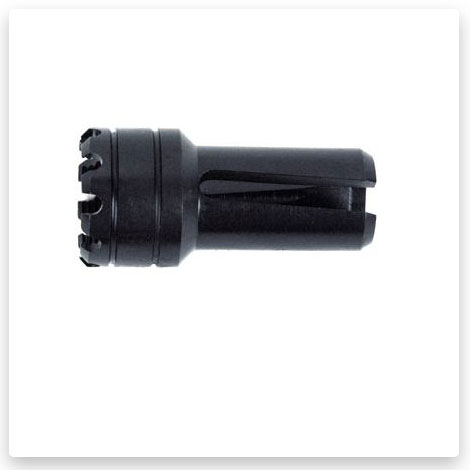 The Flash Hiders are designed for the .308- and 7.62-mm caliber cartridge; it's not recommended to use these devices with larger calibers. The Eclipse Flash Hider is equipped with a bit twisted three-prong construction to diminish flash at low light conditions. "MA" and "30" marks are on the Flash Hiders surface.
#7 Yankee Hill Machine Phantom Aggressive Compensator Flash Hider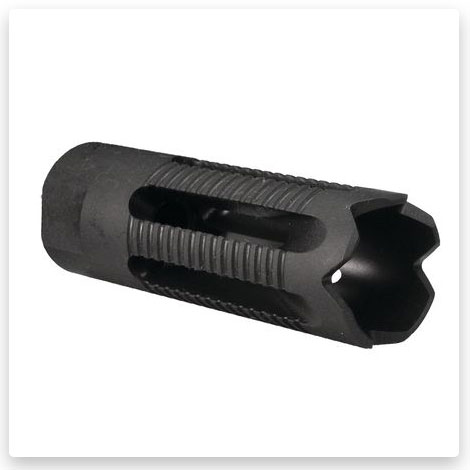 The Phantom 7.62compensator/Flash Hider is outfitted with an Aggressive Front End, 5 ports, and blind bottom without holes to exclude dust problems while firing in the prone position. The tactical two-in-one muzzle device is developed as a muzzle compensator while saving great flash hiding.
#8 Guntec USA Slim Line Micro Cone Flash Can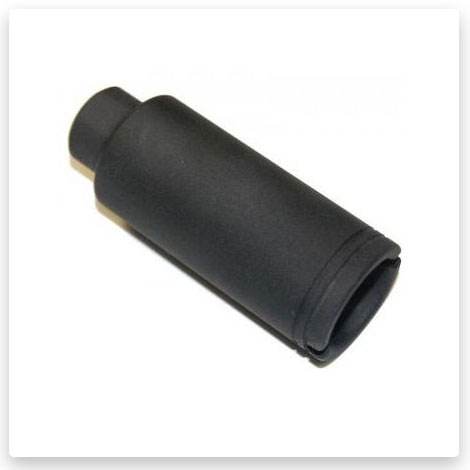 The Micro Cone Flash Can pushes Flash forward, fitting perfectly on AR15 pistols. There are 2 models available in Flat Dark Earth or Black colors.
#9 LANTAC Dragon SilencerCo Muzzle Brake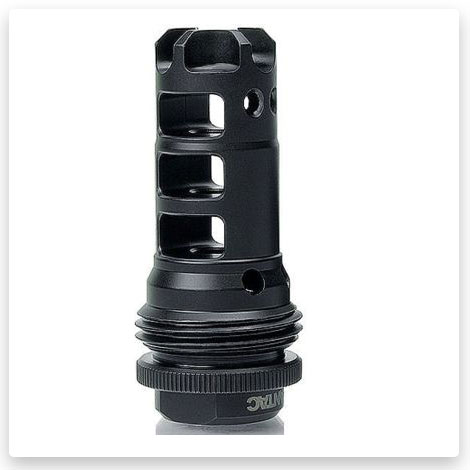 This Muzzle Brake is designed with SilencerCo ASR Quick Mount Suppressor Adapter. The DGN762B-ASR features a unique Short Energy Pulse system due to which repeating shot energy cannot overlap and knock the shooter off target, delivering recoil length mitigation.
The Advanced Muzzle device is precision machined and hardened to 48Rc. This Blast Mitigation Device doesn't work with the BMD and should be used with Rocksett thread locker (not included).
#10 Guntec USA Centurion Flash Hider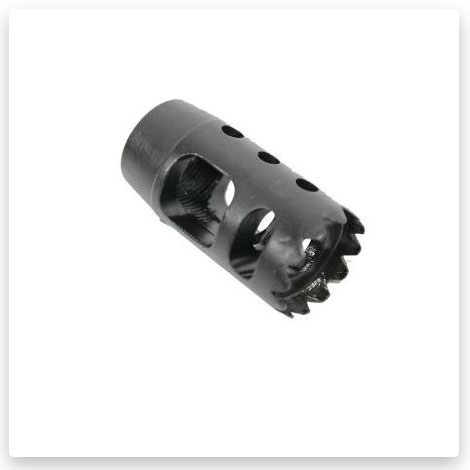 The Flash Hiders CENT-308 are developed with Multi Porting Holes. These Guntec USA muzzle devices feature a recoil diminishing compensation. The flash hiders are made of strong Aluminum (T6), covered with a Nitride finish.
#11 GUNTEC USA Predator Flash Hider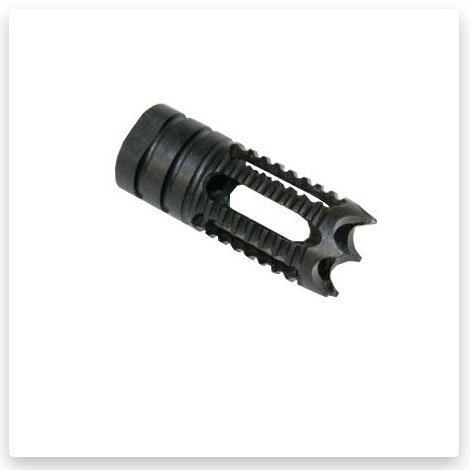 The Guntec USA Flash Hiders are well-functional and sturdy devices for AR-10 and LR-308 with an A2 Design of the Bottom Half Closed. These muzzle devices are crafted of solid steel with a Black Nitride finish.
#12 Grovtec US Inc G-Nite Flash Suppressor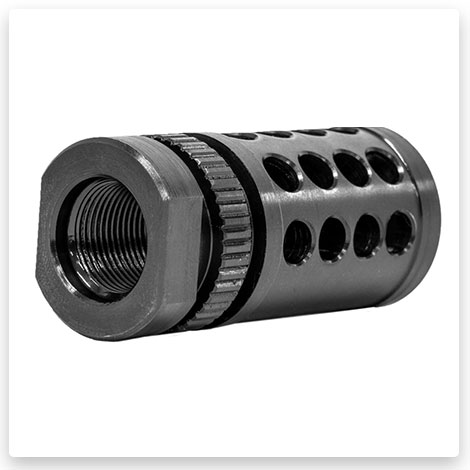 The Flash Suppressor is designed for barrels with 5/8 in-24 TPI thread and bored for .308 Caliber. These muzzle devices feature solid steel construction, covered with a Black Nitride finish. The Flash Suppressor chills gasses and puts down effectively the flash signature.
#13 GUNTEC USA Claw Multi-Prong Flash Hider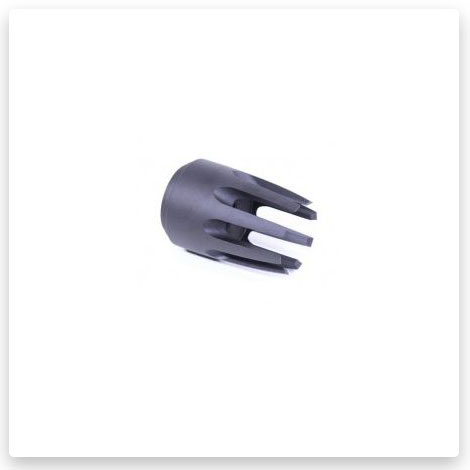 The Claw Multi-Prong Flash Hider features a recessed counterbore to install flush with a 15-in handguard (with a 16-in barrel). This Rifle Application is manufactured from Aluminum (T6) with Black Anodized Finish.
#14 Dark Storm Industries Competition Compensators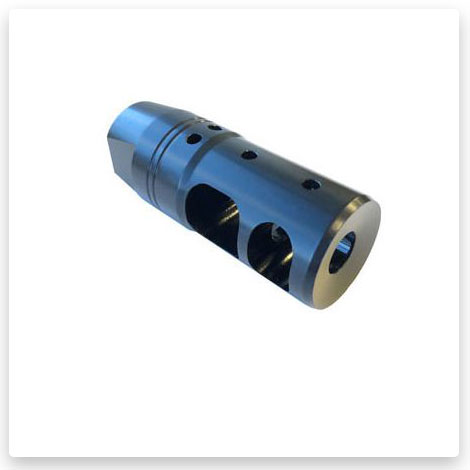 The Compensator is developed for .308, 7.62, 6.5 Creedmoor, and .300 Blackout Caliber rifles with 5/8-24 right-hand threaded barrels. The muzzle device is crafted from durable Stainless Steel. The Compensator body consists of two angled Top Ports, coming from Expansion Chamber, two Side Baffles with two Vertical Top Ports from them, and a pilot hole (for pin and weld) for short barrel rifles. Two models are available in Blueor Silver colors.
#15 BROWNELLS – AR 308 FLASH HIDERS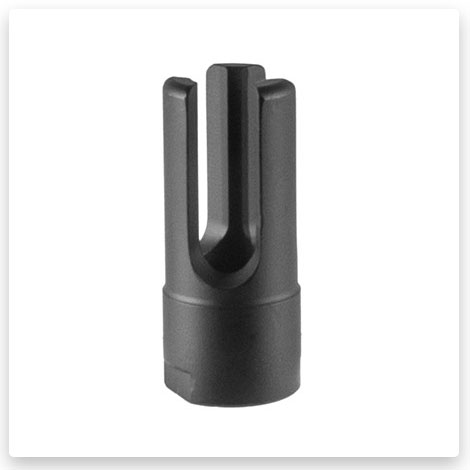 The Brownells line is presented with AR 308 Flash Hiders that combine clean, classical design, and efficient flash suppression. The .308 AR Hiders are available in a closed tine version. The muzzle devices are crafted of carbon steel and covered with a Black QPQ finish.
#16 SUREFIRE – AR-308 WARCOMP FLASH HIDER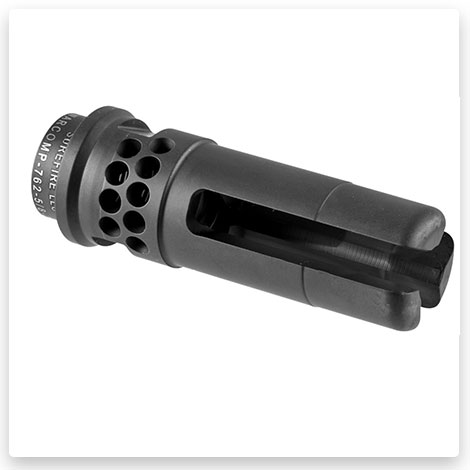 The main functions of these flash hiders are: flash signature diminish that allows shooters to hide their location, saving the dark-adapted vision; minimization of muzzle rise to improve monitoring target reaction; serving as a strong installing adapter for all SureFire SOCOM Series 7.62 mm Fast-Attach suppressors.
The flash hider is compatible with 7.62 (.308 caliber) rifles with 5/8-24 muzzle threads.
Multiple bearing surfaces deliver suppressor alignment and prevent tines from ringing inside the suppressor. SureFire SOCOM Series flash hider adapters don't fit previous (non-SOCOM) SureFire Fast-Attach sound suppressors, muzzle brakes, or flash hiders.
#17 SILENCERCO – AR-15/AR 308 ASR FLASH HIDER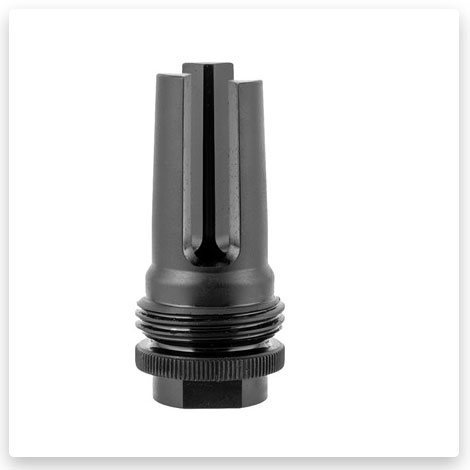 The Steel flash hiders are engineered for AR-15 rifles. The flash hiders with three prongs fit the Hybrid, Omega, Saker, Specwar, Harvester Big Bore l mounting system.
#18 RADICAL FIREARMS – AR 308 THREE PRONG FLASH HIDER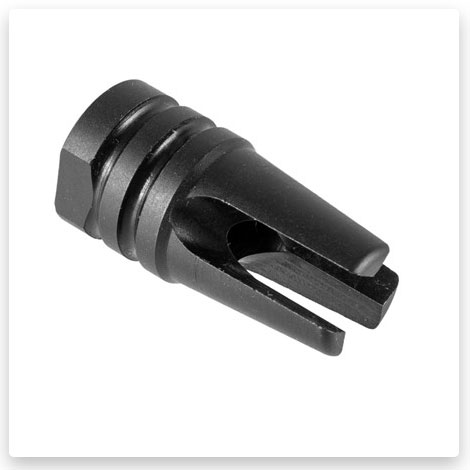 Conclusion
Flash hider can be a single-function device or a combined one. The first type just conceals the flash from the naked eyes, the second one can include functions of suppressor or/and compensator. Pay attention to the port's location on the construction: flash devices with closed bottoms exclude kicking-up dirt into the face while shooting, being favorable for a prone position.