Affiliate Disclosure: AmmoCave.com sometimes gets paid for listings, through sponsors or affiliate programs like Lucky Gunner, Optics Planet, Brownells, Cabelas, Academy Sports & Outdoors, Rainier Arms, Palmetto State Armory, Sportsman's Guide, Ammo.com, Ammo Man, Primary Arms, MidWayUsa, Amazon, eBay, etс. Clicking a link helps keep AmmoCave.com free, at no extra cost to you!
Authors: Each article is verified by AmmoCave's expert team. Professional hunters, firearm trainers, gunsmiths, and gun experts write the articles. AmmoCave Team independently researches, tests, reviews, and uses recommendations from our community of gun owners. We may earn commissions from shopping links.
Note: The views and opinions expressed in this article are those of the authors and do not necessarily reflect any agency's official policy or position. The articles are for informational purposes only, share your opinions about Best AK 47 Muzzle Brake Flash Hider 2023 in the comments and join the discussions. Let's share 💬 our ammo & gun experiences together!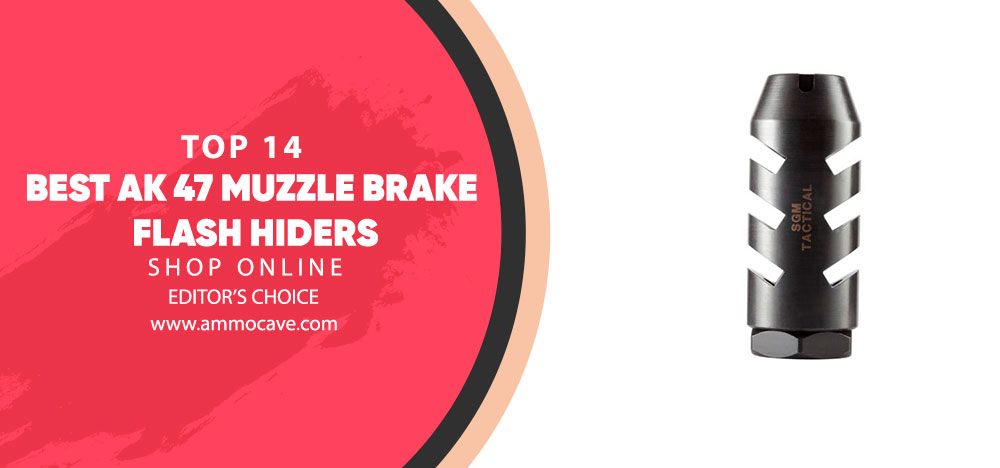 Top 14 AK 47 Muzzle Brake Flash Hiders
What is the purpose of a muzzle brake? It's a device that makes shooting a little more comfortable by lowering the amount of muzzle rise, making even full-auto fire more comfortable, and affecting your accuracy overall. Flash hiders are made with a different task in mind—those devices are made to disperse your muzzle flash in a controllable pattern, moving blinding flashes of light away from your line of sight.
Nowadays, you probably will never see a firearm without some sort of barrel device attached to it. Professional operators are using them, gun enthusiasts love them too, and even if you are just an amateur or even a beginner – as long as we are talking AK, with the help of this list you will certainly find something that suits your own style, something that you will be most comfortable with. We are offering you a small list of AK 47 muzzle brakes and AK 47 flash hiders from all kinds of manufacturers, big and small, cheap or expensive. Without further ado – let us begin.
#1 Yankee Hill Machine Phantom Flash Hider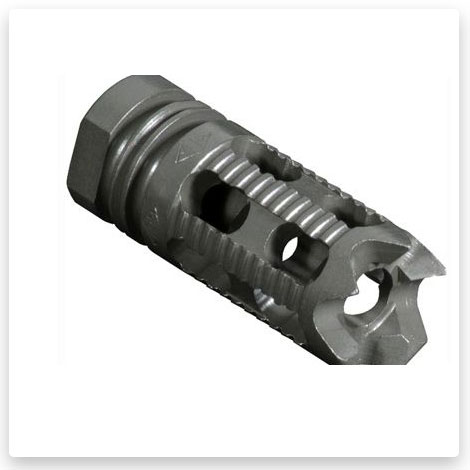 Yankee Hill Machine Phantom is a great and reasonably priced flash hider for someone who doesn't need fancy but needs something reliable and robust. The muzzle device has a traditional for an AK platform's left-handed thread and a toothed end, which can be useful in breaking glass in tough situations. It is a lot more convenient and way quicker than trying to slam the glass with the rifle's buttstock, that is for sure. This flash hider is made out of weapon-grade steel, so it would guarantee you years and years of service.
#2 SureFire Warcomp Flash Hider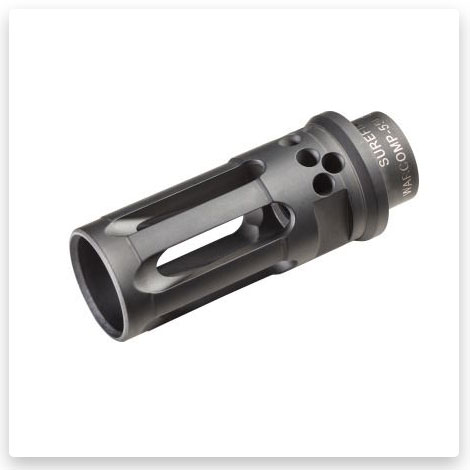 The main advantage of muzzle devices like SureFireWarcomp Flash Hider is the fact that it combines the features of a compensator and a flash hider in one package. This hybrid attachment will boost your accuracy at the range significantly by lowering the muzzle climb as well as dispersing shot flash. This muzzle device has a great reputation among firearm owners, so if you have a feeling that your AK 47 needs a little boost in performance, then you need to try this one. It's made out of US mill-certified heat-treated stainless steel with an extra matte-black DLC coating, which makes it both stylish and corrosive-resistant.
#3 DoubleStar Carlson Mini Comp Muzzle Brake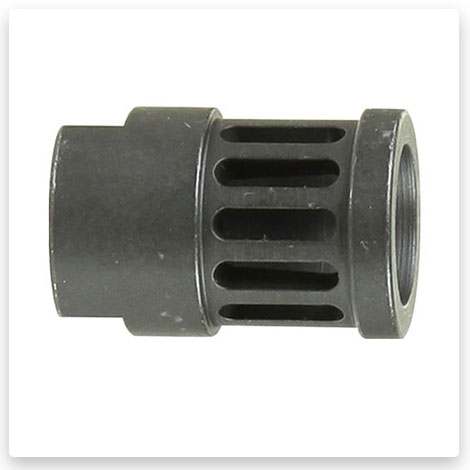 This little, almost chubby, compact muzzle brake will be a perfect choice for someone who is looking to make the whole AK setup as short as possible. The construction of this device provides five slots at the top and a solid bottom, so it will counter your muzzle climb by pushing straight down. A simple way of doing it, yes, but it is still effective. What comes to a build and finish quality – well, it's a steel piece with nitride coating, you can't' go wrong with that. Overall – a good choice for a compact build.
#4 VG6 Precision Epsilon AK Muzzle Device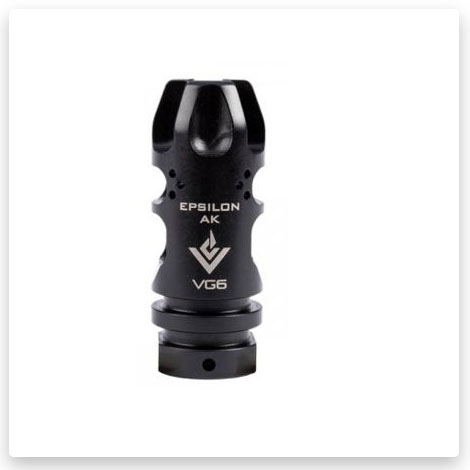 If you are looking for one of the best muzzle hybrid devices on the market, look no further than VG6 Precision Epsilon AK Muzzle Device. Amazing build quality, stunning looks, great muzzle flip reduction, and almost flawless review record among the AK enthusiasts. It could, once again, be on the expensive side, but the price is more than reasonable considering its pros and lack of cons. Surely, it is something that a real pro would use, considering its positive qualities and usability in general.
#5 Ultradyne Nighthawk Flash Hider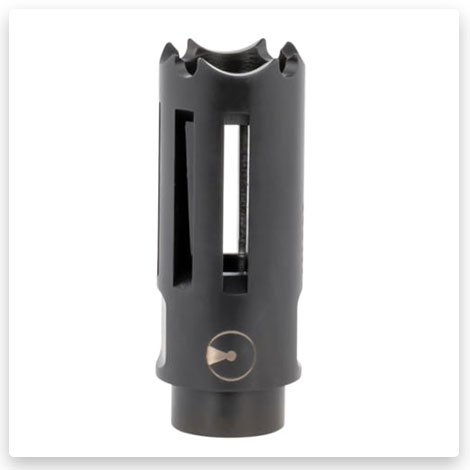 Here is a pretty decent flash hider for a mid-tier price range. It was made with high performance in mind, made to stand up for some beating or to be in the harsh weather conditions. This Ultradyne Nighthawk Flash Hider was made using durable 416 stainless steel with black nitride coating, after all. Yes, this muzzle device will help you not to get blinded by the constant fireballs your AK is producing, and it also looks good. What is more to ask?
#6 SureFire 3-Prong Flash Hider w/Suppressor Adapter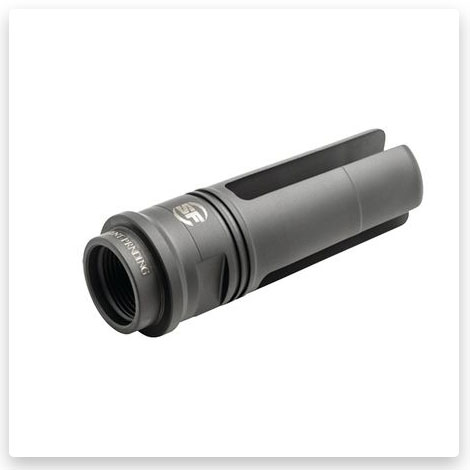 One of the key features of this flash hider is its 3-prong system. This structure reduces carbon buildup and makes the device extremely easy to clean even in field conditions. SureFire claims that its patent-pending design also reduces flash by 99% compared to any basic flash hiders. Another benefit of using this muzzle device is its ability to mount SOCOM sound suppressors right over it, where the muzzle device serves as a mounting point. A very interesting choice for advanced firearm users, no doubt.
#7 Ultradyne Nighthawk Flash Hider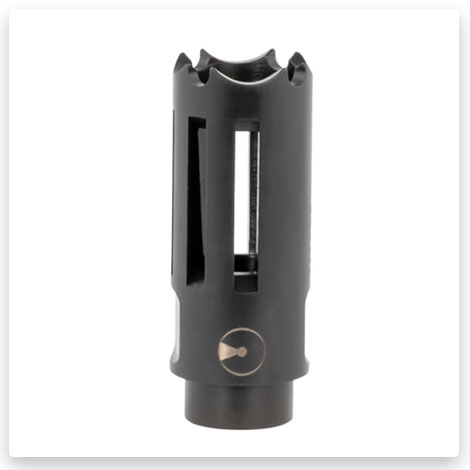 #8 SGM Tactical Conical Rifle Muzzle Brake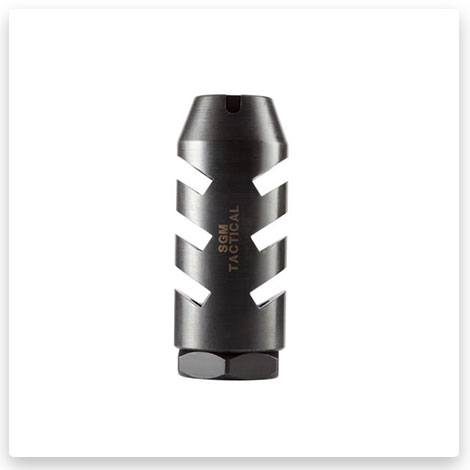 This muzzle brake design is the first conical one on the list. Slots that are located on the sides of the device instead of the top are allowing flash and smoke to deflect to the sides from the shooter, which makes follow-up shots a lot easier. The SGM Tactical Conical Rifle Muzzle Brake was specially designed and built for VEPR and AK rifles only, and that is the exact reason why it works so great with 7.62 rifles.
#9 Ultradyne Vostok AK-47 Compensator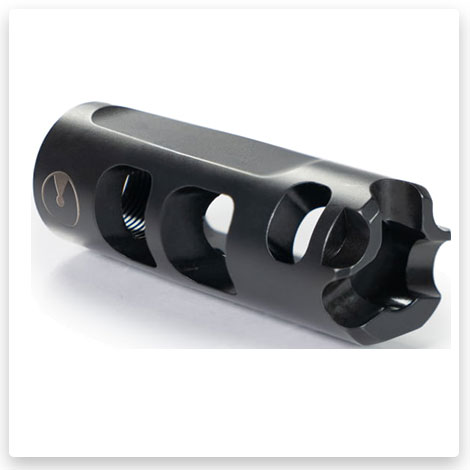 Now we are getting to classical, the most "AK-like" muzzle devices. The 2-port design is probably the most iconic for the AK, and it is like that for a reason. Time-tested, time-proven, this classic compensator does its job extremely well, diverting gasses away from the shooter's line of sight while also reducing recoil by a bit, minimizing muzzle climb. This helps to stay right on the target, especially if the operator is using short, controlled bursts.
#10 DoubleStar Carlson Nitro Flash Enhancer for AK47 Muzzle Brake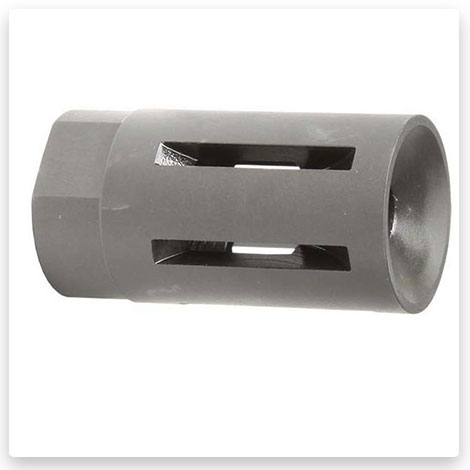 Now, what if hiding your flash and making your firearm go a little quieter isn't your thing, and you want the exact opposite? Well, here we have a solution. Yes, it may look like some weird soda can, but the effects it may apply to your AK are no laughing matter. This muzzle device makes AK sound louder, the flash turns into a literal fireball and if it is your cup of tea – this is the best possible choice for you.
#11 SUREFIRE AK47 WARCOMP FLASH HIDER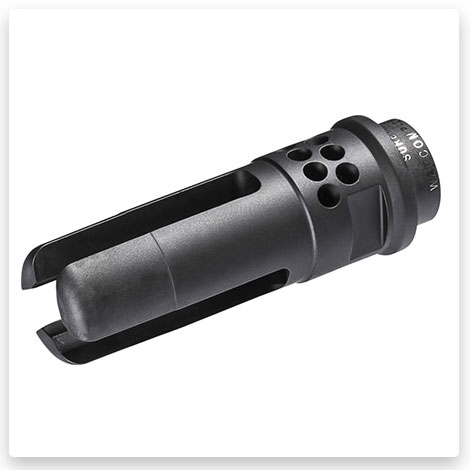 Here we have a pretty impressive piece of engineering. Machined with precision and designed with some innovative ideas in mind, this hybrid muzzle device is made to perform its function and to perform it well. Perfect for follow-up shots, loved by many – one of the best muzzle brakes for your AK on the market. Being lightweight and having such a slick look, this device will most certainly satisfy even the most demanding AK users.
#12 ADVANCED ARMAMENT NON-SILENCER MOUNT FLASH HIDER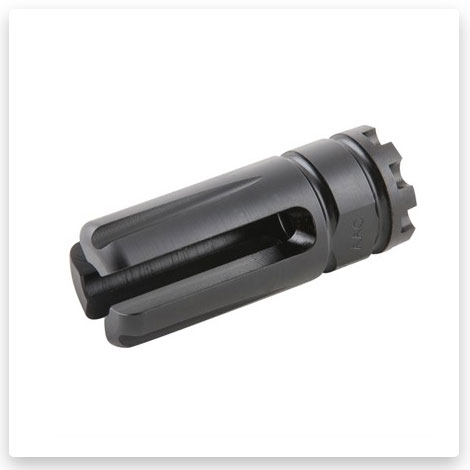 Made of weapon-grade steel, this break will prove very durable and reliable, providing you with an amazing flash deflection. It also has a 3-prong design, which will be extremely helpful in cleaning it, even though such a design reduces carbon caking in the first place. The cherry on top here is that the whole thing is made out of high precision-milled steel, which says a lot about the quality of the piece as well as its durability. A great choice for everyone, no matters the skill, even though it's in the mid-price range.
#13 JME INNOVATIONS AK-47 FLASH HIDER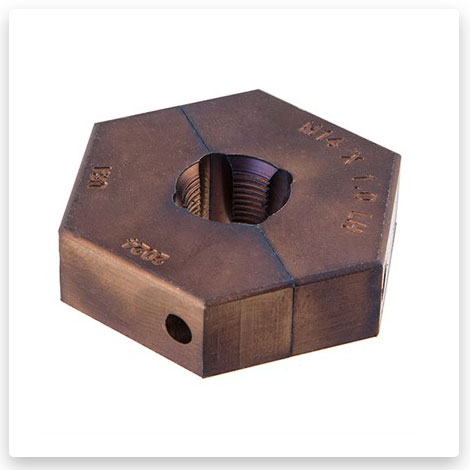 Not exactly a flash hider, but a necessary tool to use with one. This JME Innovations flash hider die will allow you to cut your own treading on a barrel if your AK for some reason doesn't have one. It is a very useful tool for those who perhaps in some period had to shorten their barrel and cut the part with treading off, or in any other situation. Overall – an extremely useful tool.
#14 GRIFFIN ARMAMENT TAPER MOUNT MINIMALIST STEALTH FLASH SUPPRESSORS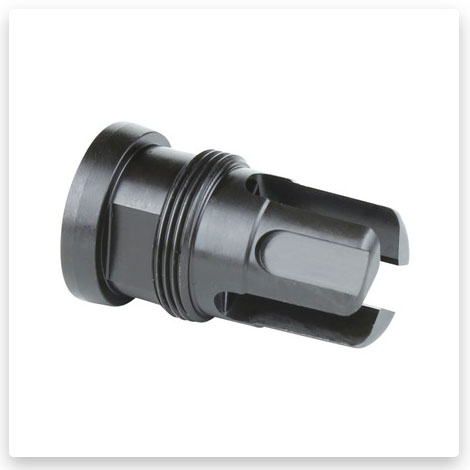 This tiny flash suppressor has a neat feature – it allows you to use it as a mount for another device, using its outside treads. This piece of engineering prowess is very well machined, treads are tight and clean, and the basic construction is rock solid. Add QPQ finish on top – and you have a very nice choice for a suppressor right here, a very impressive one.
Conclusion
In this list, we've been talking a lot about different muzzle attachments for an AK. We've seen muzzle brakes, flash hiders, and even hybrids. Some of them can be bought by almost anyone, some are implying a great investment, which is not something that an amateur shooter would easily do. What to choose – of course, it is for you to decide, but on the finishing note we would like to look at the best items in every category:
Tags: #ak muzzle brake / #best muzzle brake / #ak 47 muzzle brake / #best flash hider / #krinkov muzzle brake