Affiliate Disclosure: AmmoCave.com sometimes gets paid for listings, through sponsors or affiliate programs like Lucky Gunner, Optics Planet, Brownells, Cabelas, Academy Sports & Outdoors, Rainier Arms, Palmetto State Armory, Sportsman's Guide, Ammo.com, Ammo Man, Primary Arms, MidWayUsa, Amazon, eBay, etс. Clicking a link helps keep AmmoCave.com free, at no extra cost to you!
Authors: Each article is verified by AmmoCave's expert team. Professional hunters, firearm trainers, gunsmiths, and gun experts write the articles. AmmoCave Team independently researches, tests, reviews, and uses recommendations from our community of gun owners. We may earn commissions from shopping links.
Note: The views and opinions expressed in this article are those of the authors and do not necessarily reflect any agency's official policy or position. The articles are for informational purposes only, share your opinions about Flex Cuffs 2023 in the comments and join the discussions. Let's share 💬 our ammo & gun experiences together!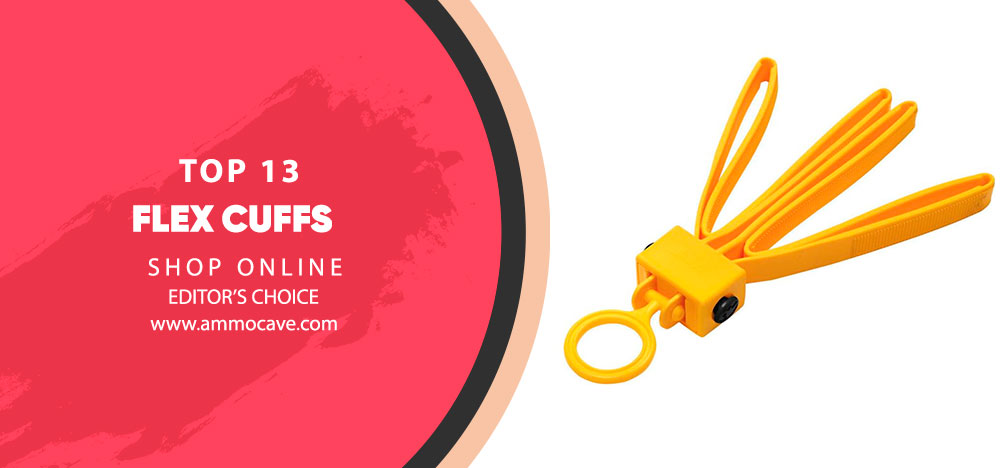 What are Reusable Flex Cuffs? 🤔
It is a revolutionary new type of handcuff or restraint device. They offer the security and strength of traditional handcuffs, but with the added benefit of being reusable.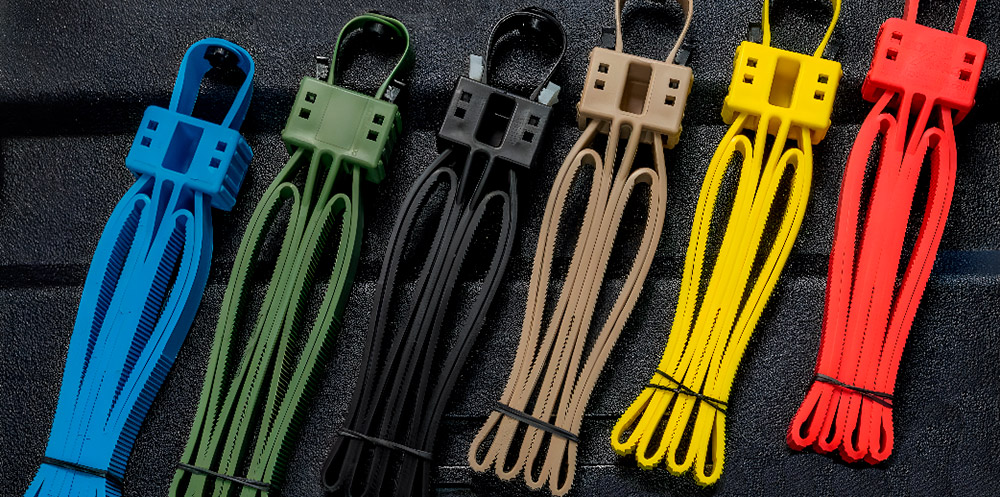 Features 🤩
Reusable flex cuffs offer users a convenient way to secure individuals during detainment or transport.
☑️ These cuffs are designed to be used multiple times and are usually made of lightweight but durable materials like polycarbonate or nylon.
☑️ They typically feature a sliding adjustment buckle that allows the user to customize the size and tightness of the cuff to fit any individual's wrists securely.
☑️ These cuffs also have a locking mechanism that prevents them from being removed without the use of a key, providing additional security for those detained or transported in them.
☑️ While still strong and durable, they are lightweight so they don't add much bulk when carrying individuals in them during transport.
Our Top Pick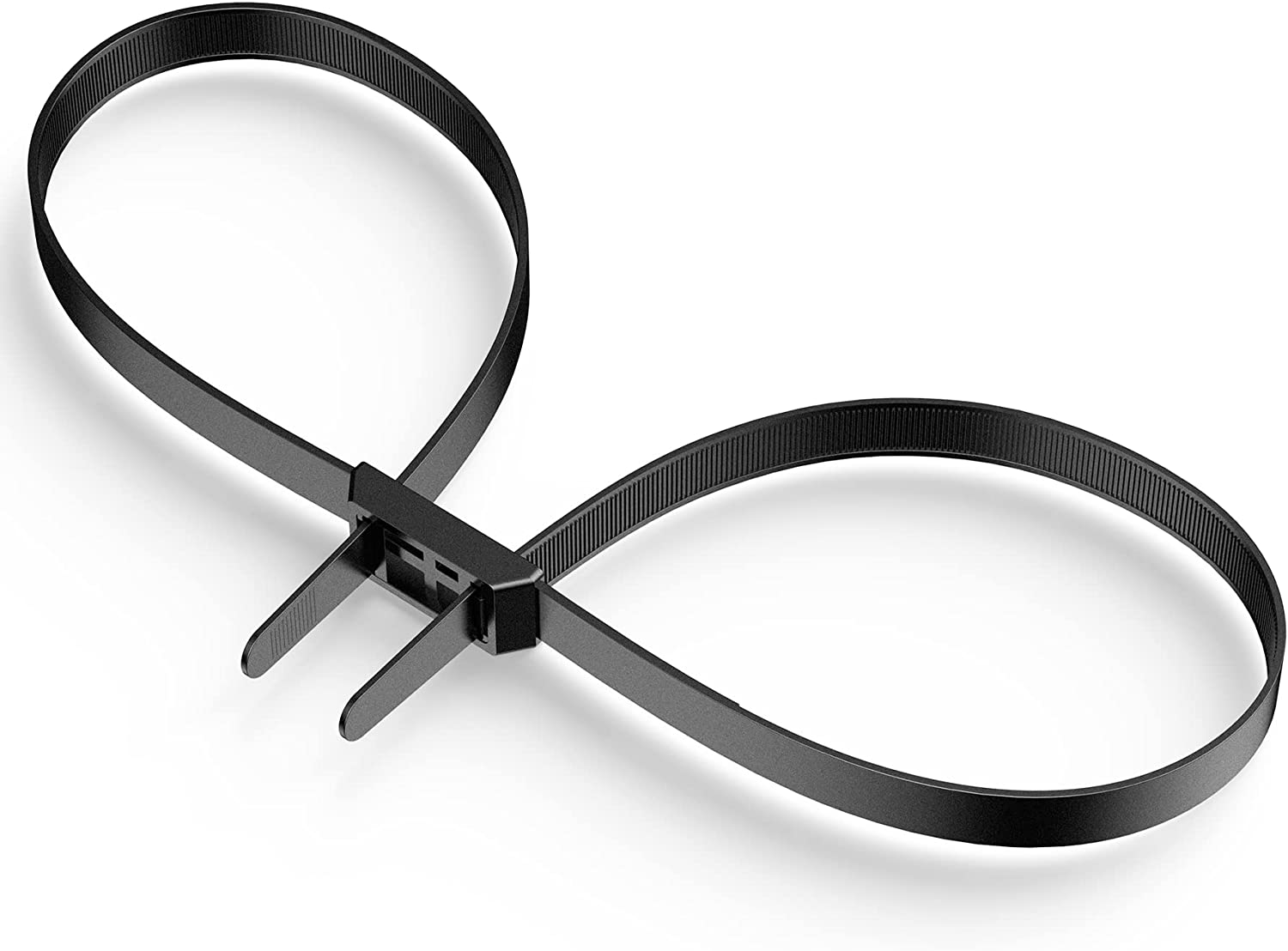 HAIOOU Zip Tie Handcuffs
These flex cuffs have become popular among law enforcement officers because not only are they lightweight and portable at just 0.08 lbs per tie, but they are also cost-effective; this makes them an ideal alternative to regular metal handcuffs during mass arrests. Made with a self-locking mechanism that is easy to use, they provide the convenience you need during intense situations.
Buy Now On Amazon
If you click this link and make a purchase, we earn a commission at no additional cost to you.
Benefits 😍
When compared to disposable plastic handcuffs, reusable flex cuffs offer several benefits:
❇️ Durability: They are constructed from high-grade materials that can withstand considerable force without breaking or losing shape. This makes them ideal for long-term use and ensures they don't need to be replaced regularly.
❇️ Comfort: Unlike plastic or metal handcuffs, such cuffs feature cushioning which prevents abrasions or discomfort when being worn for extended periods. The ergonomic design also reduces the risk of nerve damage due to pressure points created by the cuff itself.
❇️ Adjustability: They can easily be adjusted to accommodate different wrist sizes by simply loosening or tightening the straps as needed.
❇️ Convenience: With their lightweight design, cuffs are much easier to transport than heavy metal handcuffs when moving from one location to another.

How to use it? 😎
Reusable flex cuffs are easy to handle and use. The most common way to use them is as a restraint, securing the wrist or ankle of someone who poses a threat.
🚨 Before using any cuff, it is important to read the manufacturer's instructions carefully to ensure that you understand how the product works and how best to wear it.
🟣 When using the cuff for restraint, it is important to bear in mind that it should be used as a last resort and only if the risk of harm is serious enough to warrant its use.
🟣 When using for physical activity, such as exercise or stretching, take extra care not to pull too tightly and check regularly that everything feels comfortable.
🟣 When finished with your cuffs they should be stored in a safe place, away from children and pets. Additionally, always make sure to check that the cuffs are dry before storing them as this will help to prevent damage and prolong their life.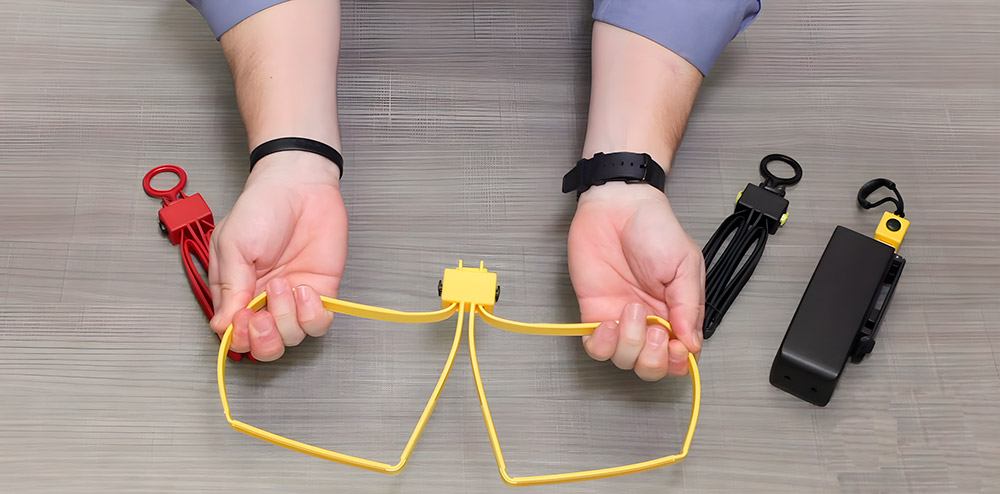 😉 By following the above guidelines, you can ensure that your reusable flex cuffs remain in good condition and serve you well for many years to come!
Best 🚀 Reusable Flex Cuffs Reviews
1# Vamrone Flex Cuffs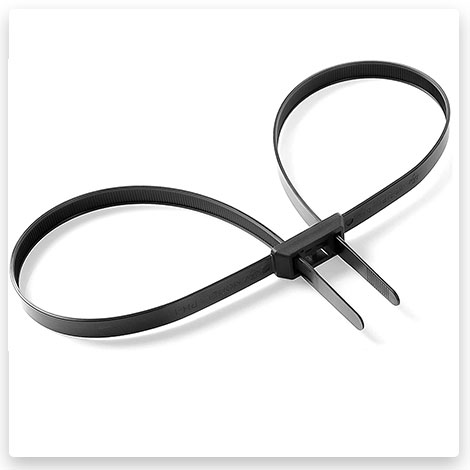 Searching for a reliable and tough zip tie handcuff? Look at the Vamrone Flex Cuffs. These heavy-duty cuffs are made with high-quality NYLON 66 material that is serviceable under most kinds of situations, meaning you can twist and turn them however you like without worry. With a reliable UL/ROHS certificate, you can use these cuffs with full confidence. The self-locking nylon design works perfectly with the lock catches, providing up to 250 lbs of restraint.
2# HAIOOU Zip Tie Handcuffs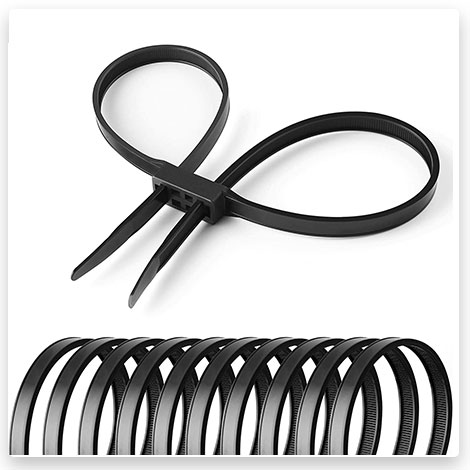 We are proud to introduce the newest product, the HAIOOU Zip Tie Handcuffs. These handcuffs are made of high-quality materials and are designed for maximum strength and durability. With a tensile strength of up to 255 lbs, these cuffs are much stronger than other alternatives on the market. They are also super light, weighing only 0.05 lbs, making them easy to carry and use. This product comes with 10 cuffs in one pack, making it more cost-effective than other choices.
3# CampCo Restraint Flex Cuff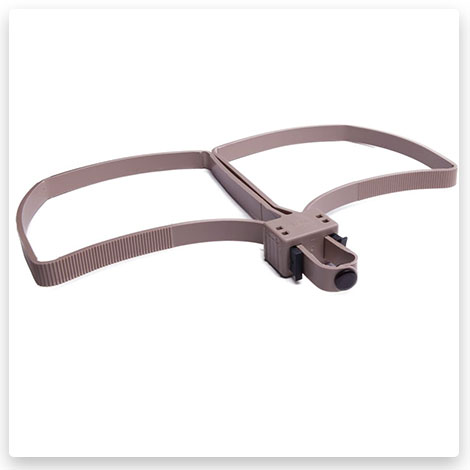 The CampCo Restraint Flex Cuff is a much better way to control your prisoner. There is no need to worry about the metal cuffs cutting into the prisoner's skin or rusting and becoming unsanitary. The cuff is made from an extra durable synthetic polymer that is hygienically safer for both the prisoner and the guard. The CampCo Restraint Flex Cuff is sure to give you the peace of mind you need when restraining a prisoner.
4# Ymkf Sqqr Black Disposable Handcuffs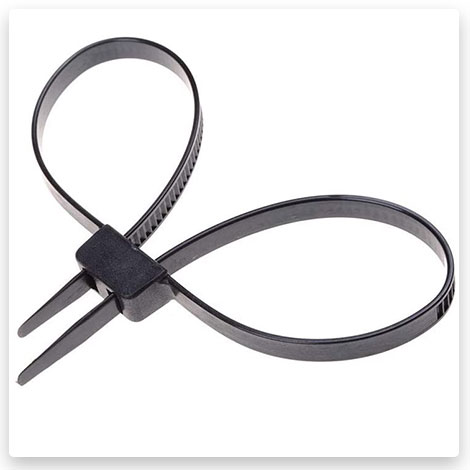 Introducing the Ymkf Sqqr Black Disposable Handcuffs! These handcuffs are made of industrial-strength nylon 6/6 fire-resistant material and can be used in temperatures ranging from 040F to +185F (440C to +85C). They are weather resistant and can be used outdoors in direct sunlight without any issues. The self-locking fastener design is strong and durable, and the powerful lock is easy to handle and prevents snagging in tight spaces. Get the peace of mind that comes with knowing you're prepared for anything with the Ymkf Sqqr Black Disposable Handcuffs!
5# Tool Gadget Disposable Zip Tie Handcuffs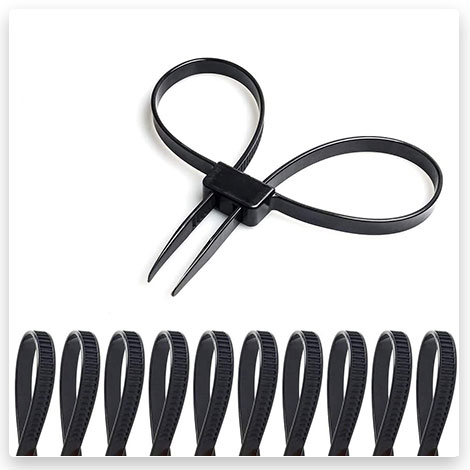 The Tool Gadget Disposable Zip Tie Handcuffs are now available! These handcuffs are made from high-strength nylon and are resistant to rust, corrosion, and UV rays. They're great for use in the home, office, garage, or workshop. With a tensile strength of 250 pounds, these handcuffs are sure to hold up in any situation. And at 10 pieces per pack, you'll always have a spare on hand. Order yours today and be prepared for anything!
6# UZI Flex Cuffs OD Green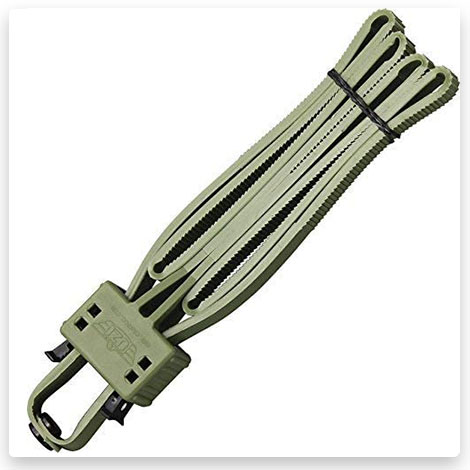 The UZI Flex Cuffs OD Green are top-of-the-line disposable restraints that will help you keep suspects under control. These cuffs are made of heavy-duty composition construction and are 1/2″ wide, making them strong and durable. The quick-zip closure allows you to restrain suspects quickly and efficiently, while the two individual cuffs give you greater control over them. The folded dimensions of these cuffs are just 1/2″ x 1 1/2″ x 7 1/2″, so they will fit comfortably in most duty belts or medium-sized pouches. Order and try it just now!
7# Flex Cuffs Zip ties Handcuffs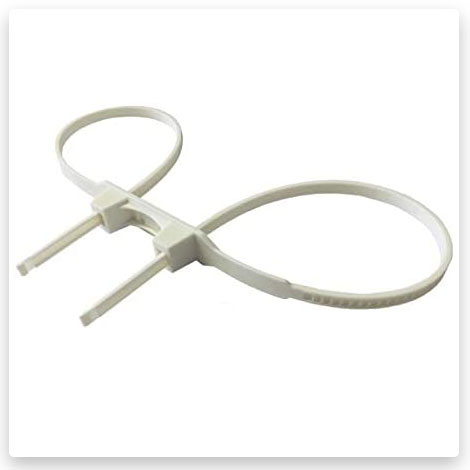 Flex Cuffs are an essential tool for law enforcement and military personnel. Made of 400 Lbs of Tensile Strength Nylon, they meet standards for apprehension applications. The built-in ID tab allows for identification purposes, and the double-locking feature provides extra security. Flex Cuffs can be tightened in a matter of seconds and can be preset for instant apprehension and control over a suspect. They are also disposable when dealing with bleeding subjects.
8# South Main Hardware Flex Cuffs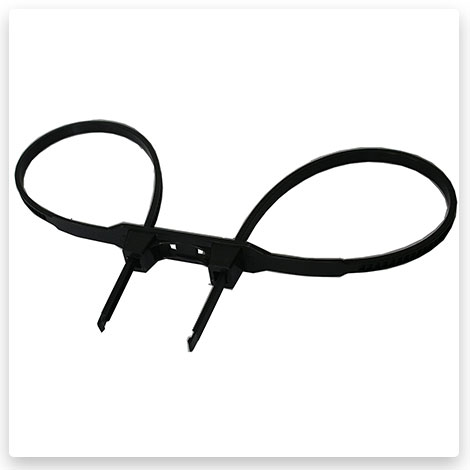 Introducing the South Main Hardware Flex Cuffs! These versatile and heavy-duty cable ties are perfect for a variety of applications, both indoors and out. Made of high-quality 6/6 nylon, they're UV resistant and weatherproof, with a tensile strength of 50 pounds. Whether you're bundling up cords and cables or fastening tarps and tents, these flex cuffs will get the job done right. And at 12 inches long, they're just the right size for smaller projects.
9# Police Force Arrest Restraint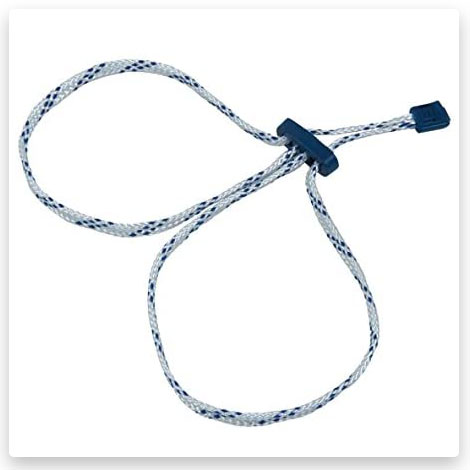 If you're looking for a reliable and easy-to-use restraint system, look no further than the Police Force Arrest Restraint. This system is designed for use by police and security professionals, but can easily be carried and used by civilians as well. The cuffs are made of sturdy plastic that is impossible to pull apart or bite through and can only be removed with a cutting tool. They are also single-use, which allows the suspect to remain cuffed during the entire booking process. You can carry several of these cuffs without any discomfort or excess weight, making them ideal for undercover operations or for restraining multiple suspects.
10# Forensics Source Flex Cuff Restraints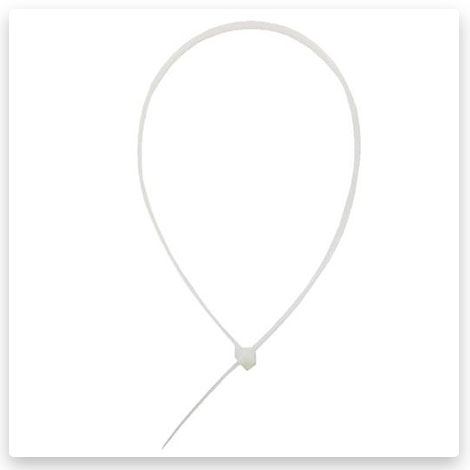 Searching for a quick and easy way to restrain someone without causing them any harm? Check out the Forensics Source Flex Cuff Restraints! These cuffs are made of nylon for dimensional stability and flexibility, making them ideal for temporary restraining. The unique strength barb system contained within the cuff head makes them virtually pick-proof, ensuring that your prisoner won't be going anywhere. The smooth inside surface and rounded edges help to minimize the chance of abrasion or tissue damage, making these cuffs much more comfortable than traditional handcuffs. So when you need to restrain someone quickly and efficiently, reach for the Forensics Source Flex Cuff Restraints.
11# Safariland Flex-Cuf Restraints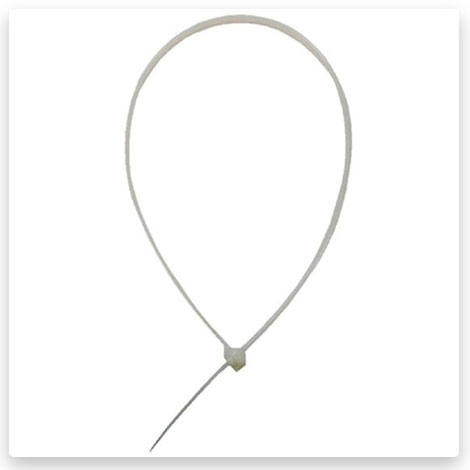 When it comes to handcuffs, you need a reliable and durable pair that will keep your suspect held while freeing up your hands to perform other tasks. The Safariland Flex-Cuf Restraints are just what you need. These restraints are built with the tough and reliable components that Safariland is known for, so you can be sure they will stand up to whatever you throw at them. Give the Safariland Flex-Cuf Restraints a try today.
12# UZI Flex HandCuffs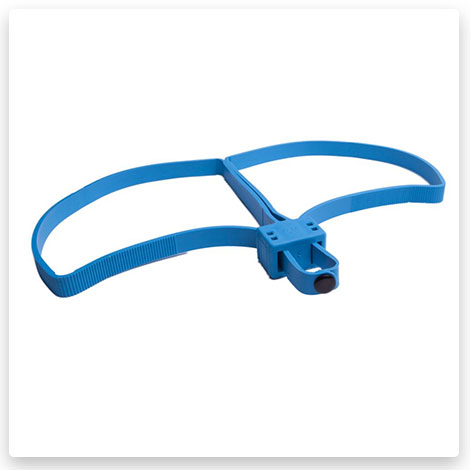 The UZI Flex HandCuffs is a great choice for law enforcement personnel who need a reliable and durable handcuff. These handcuffs are made from a heavy-duty composition construction and feature a quick-zip closure for easy and fast restraint of suspects. The two individual cuffs also allow for greater control over suspects after one hand has been restrained. Don't take any chances when it comes to restraining suspects – choose the UZI Flex HandCuffs and be confident that you have the best possible handcuffs available.
13# Forensics Source Flex-Cuff Restraints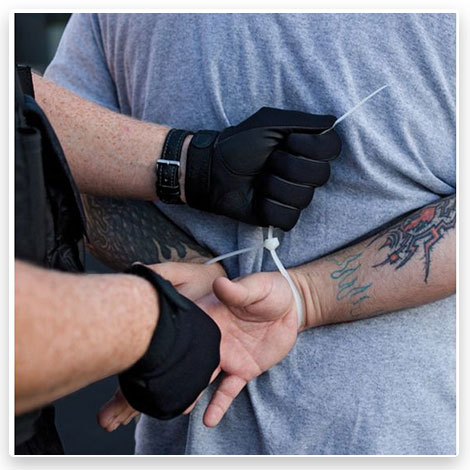 The Forensics Source Flex-Cuff Restraint is a quick, temporary alternative to handcuffs that is constructed of nylon for dimensional stability and flexibility. The unique Strength Barb System contained within the Forensics Source Flex-Cuf's head makes them virtually pick-proof. It features a smooth inside surface, combined with rounded edges that help to minimize the chance of abrasion or tissue damage.
How to choose? 🔍
Before you purchase reusable cuffs, there are some factors to consider. Here is a list of important things to look out for when making your selection:
➡️ Quality: The flex cuffs must be made from durable materials that can withstand plenty of wear and tear. Look for cuffs that are constructed with heavy-duty nylon webbing or reinforced fabric.
➡️ Comfort: Cuffs should also provide comfortable fit and support during extended periods of use. Opt for flexible cuffs with adjustable straps so you can customize the fit according to your needs.
➡️ Security: Flex cuffs should also offer maximum security features like double locking mechanisms and tamper-resistant closures. Some models even come with special safety releases that allow you to quickly unlock the cuff in an emergency.
➡️ Brand: Lastly, it's always wise to go with a reputable brand when choosing reusable cuffs. Look for brands that have earned a reputation for producing quality products and good customer service.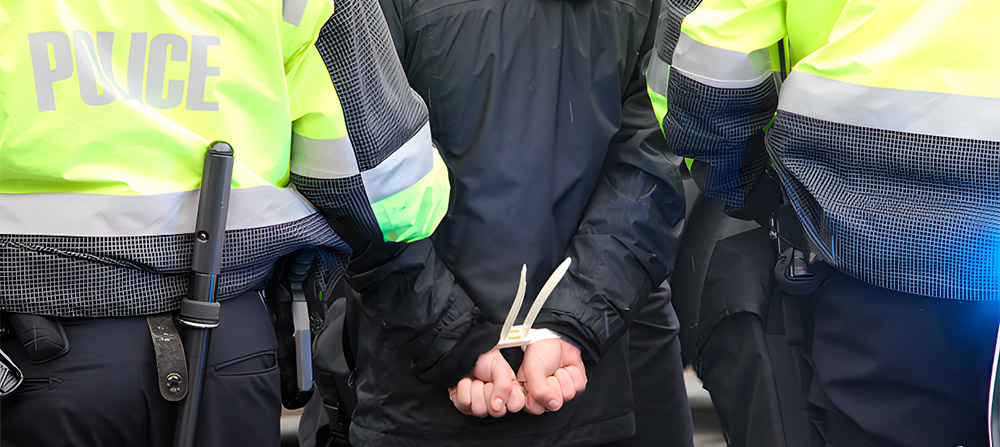 👍 By considering these factors, you can be sure to find the cuffs that meet your needs and provide the protection and comfort you need during use.
FAQ 🤠
Conclusion 😊
Reusable flex cuffs can be a great addition to your self-defense arsenal, and we hope our buyer's guide has helped you find the perfect set for your needs. Remember that practice makes perfect, so be sure to familiarize yourself with how they work before you need them in an emergency. Thanks for reading, and stay safe! 😉👍
Tags: #flex cuffs / #flex cuffs cutter / #reusable flex cuffs / #asp flex cuffs / #police flex cuffs / #how to break flex cuffs