Affiliate Disclosure: AmmoCave.com sometimes gets paid for listings, through sponsors or affiliate programs like Lucky Gunner, Optics Planet, Brownells, Cabelas, Academy Sports & Outdoors, Rainier Arms, Palmetto State Armory, Sportsman's Guide, Ammo.com, Ammo Man, Primary Arms, MidWayUsa, Amazon, eBay, etс. Clicking a link helps keep AmmoCave.com free, at no extra cost to you!
Authors: Each article is verified by AmmoCave's expert team. Professional hunters, firearm trainers, gunsmiths, and gun experts write the articles. AmmoCave Team independently researches, tests, reviews, and uses recommendations from our community of gun owners. We may earn commissions from shopping links.
Note: The views and opinions expressed in this article are those of the authors and do not necessarily reflect any agency's official policy or position. The articles are for informational purposes only, share your opinions about Best Handcuffs 2023 in the comments and join the discussions. Let's share 💬 our ammo & gun experiences together!
Are you looking for the best restraints? If so, you've come to the right place. Pay attention to this blog post, in which we will be reviewing some of the top-rated restraints on the market. Also, we'll discuss their features and what makes them stand out from the competition. So, if you're ready to learn more interesting and useful information about the best restraints, just keep reading!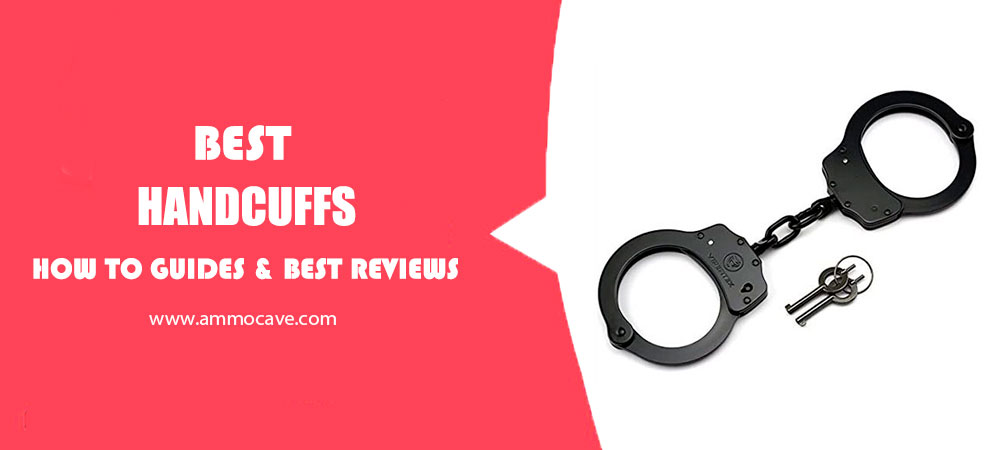 Top 17 Best Handcuffs
#1 Smith & Wesson Handcuffs Steel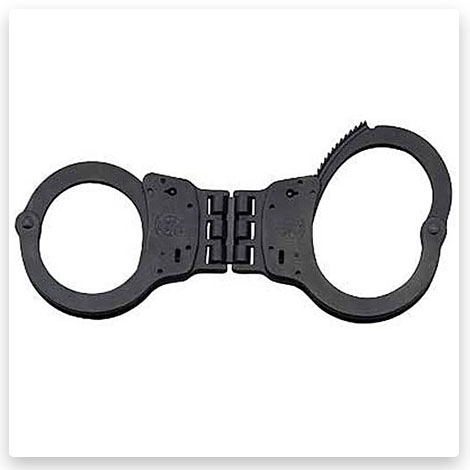 Looking for a high-quality handcuff that can stand up to the most demanding environments? Look at the Smith & Wesson Handcuffs. These handcuffs are made from the finest quality carbon steel, and feature heat-treated internal lock works for strength and durability. The double lock design prevents tampering, while the smooth ratchets make for easy cuffing. So if you're looking for a handcuff that can handle anything you throw at it, trust the Smith & Wesson Handcuffs.
#2 VIPERTEK Double Lock Handcuffs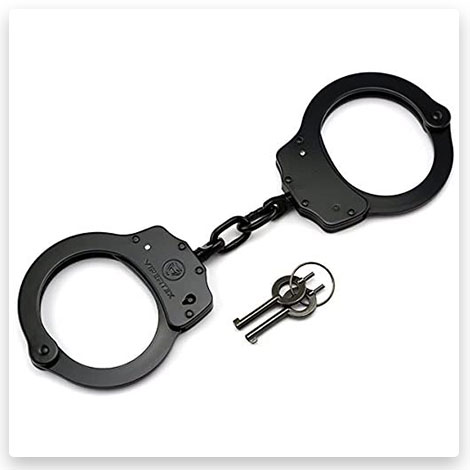 If you want a professional-grade handcuff that's built to last, then the Vipertek Double Lock Handcuff is a perfect choice. These handcuffs are made from heavy-duty steel and feature a double lock system that keeps detainees secure. The black finish looks great, and the standard police cuff keys (included) make it easy to open and close the handcuffs.
#3 Kydex Handcuff Case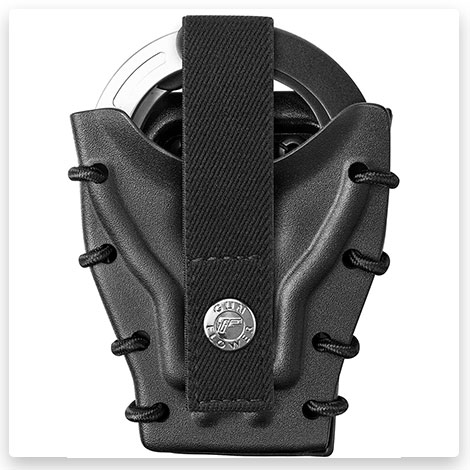 Searching for the perfect way to carry your handcuffs? Pay attention to the Kydex Handcuff Case! This USA-made case is designed to fit hinged and chain handcuffs, including ASPs. It features a nylon snap closure for additional retention, but it can also be removed for quick deployment. The retention is fully adjustable, so you can customize it to your needs. Plus, it comes with a lifetime warranty, so you can be confident in your purchase.
#4 GLORYFIRE Metal Handcuffs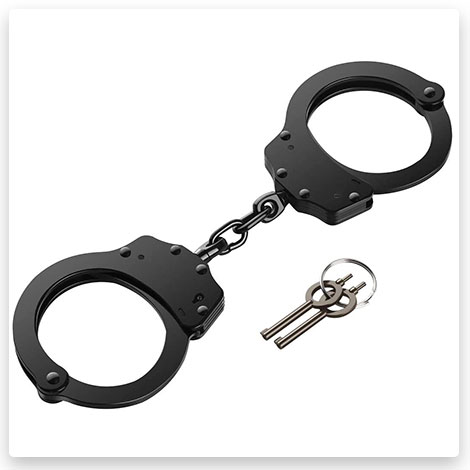 The Gloryfire Metal Handcuffs are great for training and daily use. The double locking feature allows you to lock the cuffs down to prevent the users from closing the cuffs too tight on the wrist. Made from high-quality carbon steel to prevent rust and corrosion, these handcuffs also come with a black finish that is designed for low visibility or tactical situations.
#5 High-Speed Gear Belt Mounted Handcuff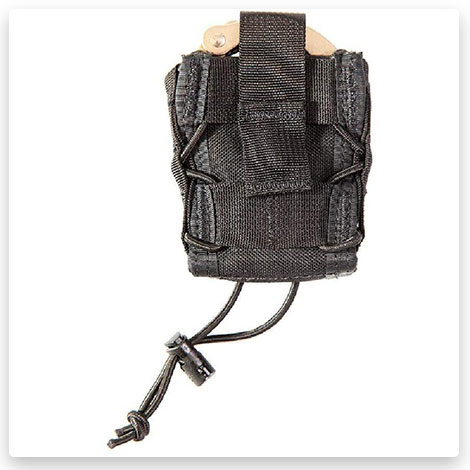 Check out The High-Speed Gear Handcuff TACO a new handcuff pouch to replace your standard-issue one. It is fitted for 2″ duty belts and is perfect for carrying your handcuffs. With bungee retention straps, a variety of handcuffs can be securely held in place. The top closure keeps handcuffs firmly seated until needed, ensuring you will always have your handcuffs on hand – even after a long-winded chase.
#6 POLICE Handcuffs Double Lock Steel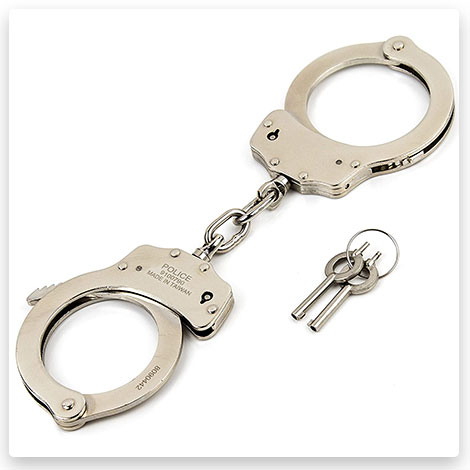 The Police Handcuffs Double Lock Stee is made of solid steel with a nickel-plated finish for extra durability and reinforcement. They weigh only 8.5oz each and fit a very compact and convenient size of 0.32″ x 3.75″ x 3.75″, making them perfect for carrying in your pocket, purse, or tactical gear bag.
#7 ASP Ultra Cuffs, Chain (Steel Bow) Handcuffs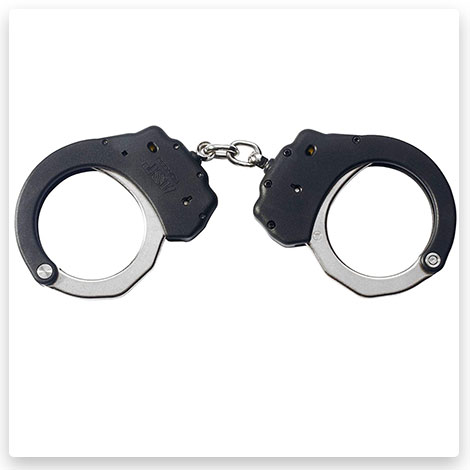 ASP products are designed to help law enforcement officers safely and effectively do their jobs. Ultra Cuffs, Tri-Fold disposable restraints, and restraint accessories help keep officers and subjects safe, while OC Defenders (Pepper Spray) provide effective protection against attackers. So whether you're on duty or just looking for peace of mind, ASP has the tools you need to stay safe.
#8 Peerless Chain Link Handcuff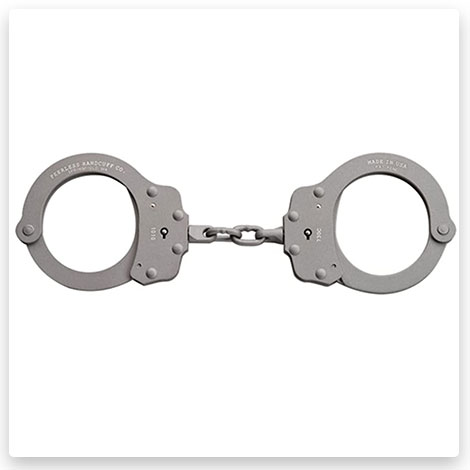 Looking for a high-quality handcuff that will keep your prisoner secure? This is the Peerless Chain Link Handcuff which is made of super-strong metal with a gray finish, and it features a chain link design that makes it virtually impossible to escape from. Whether you're a law enforcement officer or security guard, this handcuff is sure to do the trick.
#9 SZCO Supplies Pink Handcuffs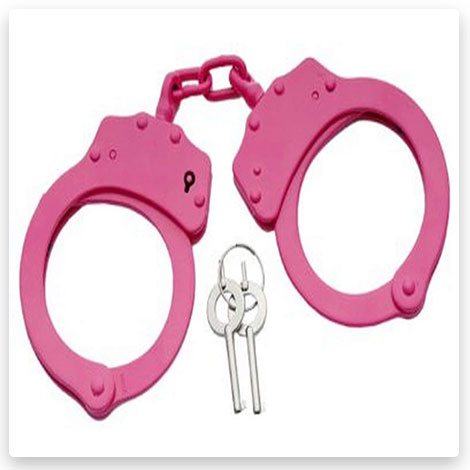 Are you in need of a reliable pair of handcuffs for law enforcement or security purposes? Either way, SZCO Supplies has the perfect solution for you – Heavy Duty Handcuffs! It withstands even the most strenuous activity, thanks to its high-quality steel construction and corrosion-resistant coating. Also incredibly functional, with welded chain links that provide extra strength and durability. So whether you're using them for playtime or work, you can be sure they'll stand up to the task.
#10 Under Control Tactical Hand Cuffs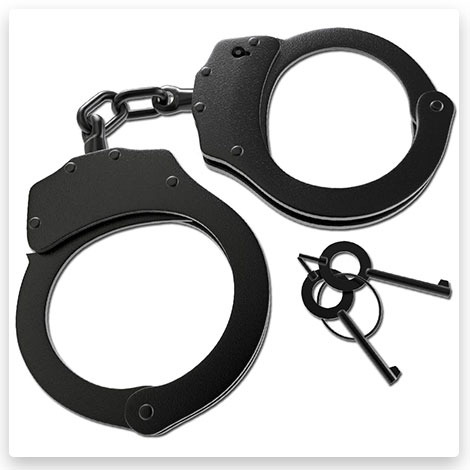 If you're searching pair of handcuffs that are used by law enforcement professionals, police, military, and special operations teams, then you need to check out Under Control Tactical Handcuffs. These handcuffs are made from hardened steel and feature double locking technology, making them extremely durable and 100% real. They also come with 2 keys, so you can always be sure that you'll be able to get out of them if you need to.
#11 ASP Ultra Handcuffs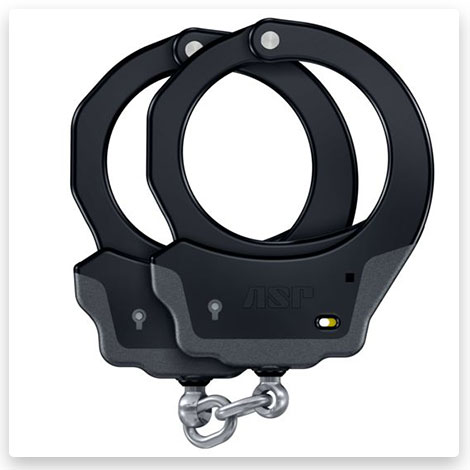 The ASP Ultra Handcuffs are the latest innovation in police duty restraints, designed to reduce the weight on your belt with a specially designed aluminum frame. Also features a high contact bow face, allowing for positive application. Each cuff is cast to shape, profile trimmed and precision machined, then hard-coat anodized with a matte black finish. The ASP Ultra Handcuffs are also laser engraved with the date of manufacture and a unique serial number.
#12 High-Speed Double Handcuff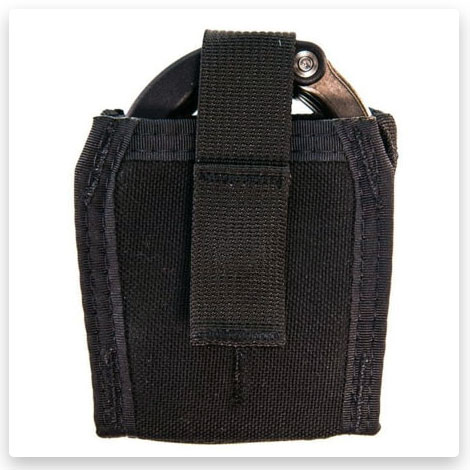 The HSGI Double High-Speed Handcuff is the latest addition to the line of high-quality. This handcuff is made with proprietary 1000D Cordura laminate and webbing for superior durability and features a divider to separate cuffs and enable one to be removed without pulling out the other. And for added security, it comes with an adjustable and removable button snap strap. Whether you're on the job or in the field, this handcuff is sure to keep you safe and secure.
#13 Smith & Wesson S&W 300 STD Handcuffs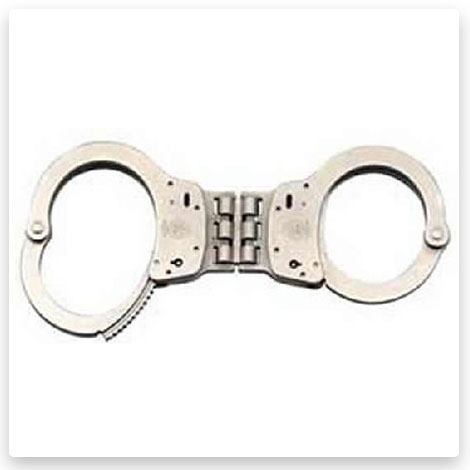 The Smith & Wesson S&W 300 STD Handcuffs are made with a key-actuated lock along with a double locking system which is actuated by means of a slot lock. These handcuffs are made from steel and have a nickel-plated finish that will not show scratches. They are adjustable to fit most wrists.
#14 Peerless Handcuff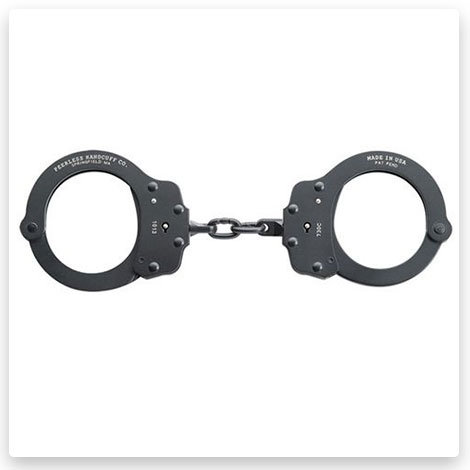 If you're looking for a high-quality handcuff that is lightweight and easy to use, then the Peerless Handcuff is the best choice for you. Made with aerospace-grade aluminum, carbon steel, and stainless steel, this handcuff is designed to withstand heavy use without breaking or bending. The black corrosion-resistant ceramic finish is sleek and professional, while the silver finish is perfect for those who want a more traditional look.
#15 ASP Hinge Steel Bow Ultra Cuffs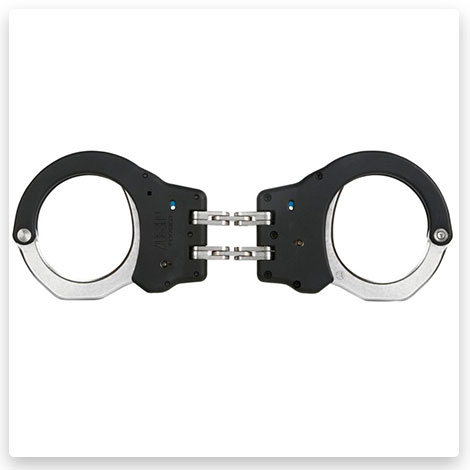 The ASP Hinge Steel Bow Ultra Cuffs are made of the highest quality carbon steel, making them among the finest handcuffs in the industry. These cuffs do not require lubrication or other maintenance, making them easier to clean and maintain. With their simple design and reliable construction, the ASP Hinge Steel Bow Ultra Cuffs are perfect for police departments and law enforcement officers who need a reliable and practical cuff.
#16 Smith & Wesson S&W 100 STD Melonite Handcuff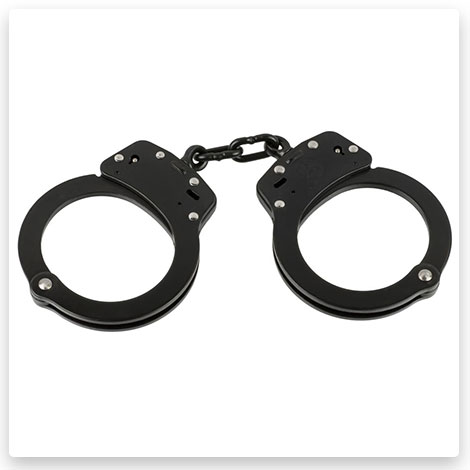 If you're searching for a handcuff that you can rely on, the Smith & Wesson S&W 100 STD Melonite Handcuff. These handcuffs are made with a tough Melonite finish that will withstand years of use, and they meet NIJ standard 0307.01. With a wrist opening of 2.04 inches and a weight of 10.0 ounces, these handcuffs are comfortable to wear and easy to use. Order your pair today and enjoy the peace of mind that comes with knowing you're prepared for anything.
#17 Smith & Wesson S&W 300P STD Hinged Push Pin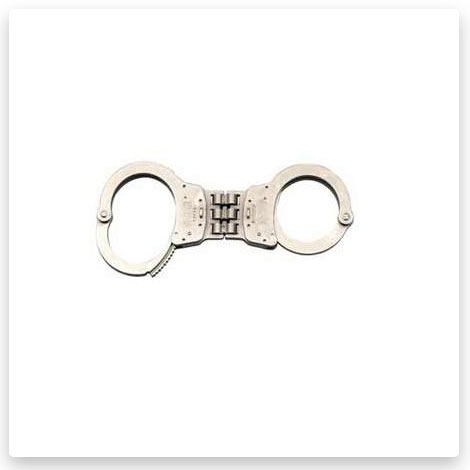 The Smith & Wesson S&W 300P STD Hinged Push Pin is a high-quality handcuff that is excellent for law enforcement or security purposes. This model handcuff has a pin lock that is made of nickel, and it has a wrist opening of 2.04 inches. It also has a weight of 10.0 ounces and a distance between the cuffs of 2.00 inches. This product meets the NIJ standard 0307.01 for safety and security.
FAQ
What are the different types of restraints?
There are many different types of restraints available on the market. Restraints can be made from a variety of materials, including leather, nylon, and metal. Restraints can also come in a variety of shapes and sizes, depending on the intended use. Restraints can be simple and straightforward, such as handcuffs or ankle cuffs.
What are the best restraints for each use?
The best restraints for each use will vary depending on the individual's needs. For medical purposes, the best restraints are those that are comfortable and allow for a full range of motion. For safety reasons, the best restraints are those that are durable and secure. For security purposes, the best restraints are those that are escape-proof and tamper-proof.
How should I care for my restraints?
Caring for your restraints is important to extend their lifespan and ensure their effectiveness. Restraints should be cleaned regularly with a mild soap and water solution. Restraints should be inspected for damage regularly and replaced if necessary. Restraints should be stored in a cool, dry place out of direct sunlight.
What are some common mistakes people make when using restraints?
There are a few common mistakes that people make when using restraints.
One mistake is not properly measuring the person before selecting the restraint.
Another mistake is not following the instructions for use carefully.
A third mistake is not maintaining the restraints properly.
Using restraints can be a helpful way to keep yourself or others safe in certain situations. It is important to select the best restraint for the job and to follow all instructions for care and use carefully.
How long can you keep the restraints?
Best Restraints typically have a lifespan of 2-3 years. However, it is important to check the manufacturer's instructions to be sure.
Conclusion
Restraints are designed to help law enforcement officers safely and effectively do their jobs. With the right information, though, buying restraints can be easy and enjoyable. This buyer's guide provided all the information you need to make an informed purchase, including product reviews and tips on how to use it safely. Thanks for reading!
Tags: #best handcuffs / #best rb handcuffs / #best fantasy handcuffs / #tactical cuffs / #best restraints / #best police handcuffs