Affiliate Disclosure: AmmoCave.com sometimes gets paid for listings, through sponsors or affiliate programs like Lucky Gunner, Optics Planet, Brownells, Cabelas, Academy Sports & Outdoors, Rainier Arms, Palmetto State Armory, Sportsman's Guide, Ammo.com, Ammo Man, Primary Arms, MidWayUsa, Amazon, eBay, etс. Clicking a link helps keep AmmoCave.com free, at no extra cost to you!
Authors: Each article is verified by AmmoCave's expert team. Professional hunters, firearm trainers, gunsmiths, and gun experts write the articles. AmmoCave Team independently researches, tests, reviews, and uses recommendations from our community of gun owners. We may earn commissions from shopping links.
Note: The views and opinions expressed in this article are those of the authors and do not necessarily reflect any agency's official policy or position. The articles are for informational purposes only, share your opinions about Best AR-15 Upper 2023 in the comments and join the discussions. Let's share 💬 our ammo & gun experiences together!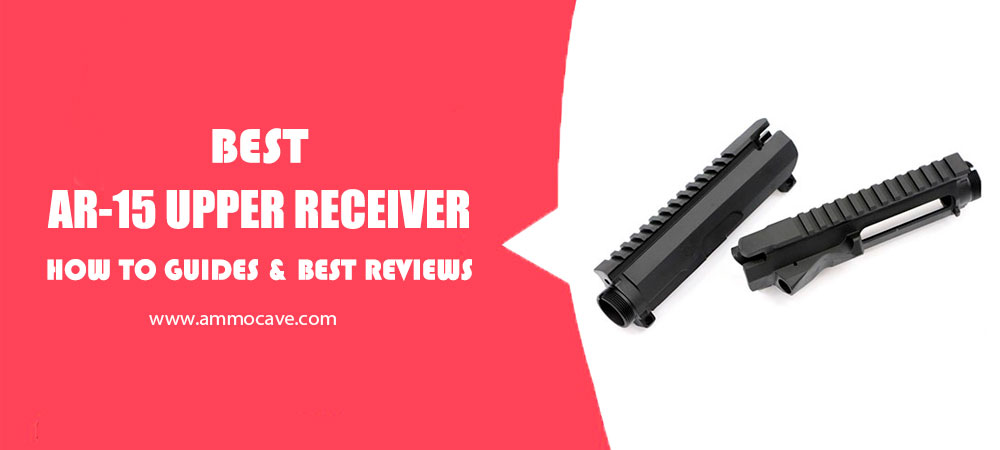 What is AR-15 Upper? 🧐
These are the upper half of an AR-15 rifle which contains the barrel, bolt carrier group, charging handle, ejection port cover and sights. The Upper is where all of the action takes place in an AR-15 rifle. It houses the chamber, firing pin and extractor components as well as provides for mounting of additional accessories such as optics, lasers and flash suppressors.
Features 💥
🎯 They come in all shapes and sizes, from 16" 18" 20" 22" to even 24".
🎯 Depending on your build and purpose, you can choose from a variety of barrel lengths and calibres, such as 5.56 NATO or .223 Wylde.
🎯 Other features to consider include the material used for the barrel and upper receiver — which is usually either aluminium alloy or steel — and special handguard rail configurations for mounting accessories such as lasers, flashlights, fore grips, bipods, scopes, etc.
🎯 They also include a charging handle that allows the user to operate the bolt easily with either hand. Charging handles come in various sizes and shapes with different levels of ergonomics.
🎯 Some feature an extended latch while others have an ambidextrous design so that they can be operated with either hand.
🎯 The gas system is another important component. Most rifles will use a standard direct impingement gas system to cycle rounds; however, there are other options like adjustable gas blocks or piston systems which might better suit your needs in terms of reliability or accuracy.
🎯 The muzzle device should also be considered  — whether for competition shooting or home defence — as it affects both recoil reduction and noise reduction when firing.
Our Top Pick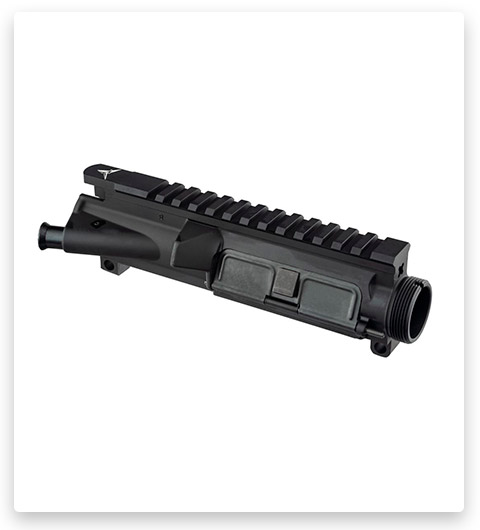 TRYBE Defense AR-15 Stripped Upper Receiver
TRYBE Defense is proud to offer you a stripped upper receiver with unparalleled hardiness and performance. Constructed from 7075-T6 aluminum, this lightweight yet resilient product has been machined in compliance with Mil-Spec standards for the ultimate blend of longevity and utility. With M4 feed ramps plus robust anodizing finish, it won't fail to excite any high demands shooter at an unbeatable price!
Buy Now On OpticsPlanet
If you click this link and make a purchase, we earn a commission at no additional cost to you.
Benefits 🔥
✅ The most obvious benefit is its ability to add versatility to your rifle. With multiple models available, you can select uppers that are chambered in different calibres, offering more ammunition options when targeting specific game animals or when engaging in tactical operations.
✅ Additionally, some uppers come with various barrel lengths and twist rates, allowing shooters to customize their rifles to whatever shooting application they require.
✅ Another great advantage is its ease of installation and customization. It only takes a few minutes to install an upper onto your lower receiver using two pins; no special tools or knowledge are needed to complete this process.
✅ Plus, there are a variety of aftermarket parts available to customize your upper's look and function such as handguards, rails systems, muzzle brakes, and flash hiders. These allow shooters to have their rifles customized to their exact specifications without having to modify anything on the lower receiver itself.
✅ Modern uppers are also extremely lightweight compared to other firearms components due largely in part to advanced materials used in construction such as aluminium alloys which significantly reduce weight but maintain strength and durability. This allows for fantastic portability for shooters who may need a more compact platform for manoeuvrability or transportation purposes like air travel or hunting trips.
Our Top Pick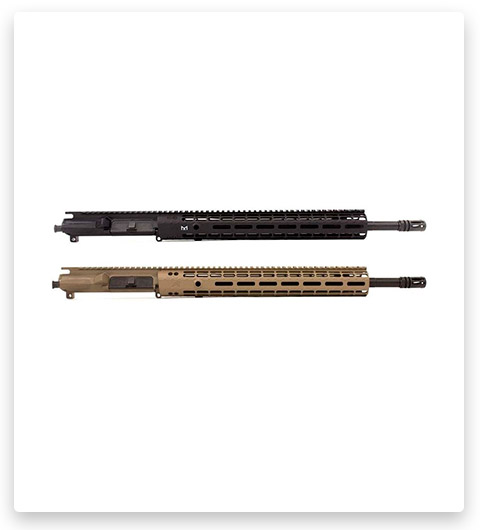 Aero Precision AR15 Upper
These models, were designed by the professionals at Aero Precision. It's truly a superb choice if you are in search of something dependable
Buy Now On OpticsPlanet
If you click this link and make a purchase, we earn a commission at no additional cost to you.
Types 🔘
The Uppers come in a variety of styles, materials, and configurations to suit the needs of a variety of shooters.
🟡 The most common type is the flat-top upper receiver, which is an A3 configuration with a Picatinny rail on top for mounting optics or other accessories. This style is usually made from aluminium and has two variations: forged and billet.
🟡Forged receivers are typically stronger and more durable than their billet counterparts and are often found on mil-spec models; however, billet uppers tend to be lighter and deliver a much cleaner aesthetic.
🟡 Another popular option is the

monolithic upper

receiver which features an integral rail system that allows users to mount optics and other accessories directly onto the receiver without additional pieces. This style is usually constructed from aluminium or polymer and can be integrated with various barrel lengths and gas systems depending on the model.
🟡 One more option for users looking for more flexibility is a modular free-float handguard with a separate upper receiver assembly. This setup utilizes an AR-15 lower receiver paired with an upper receiver that comes in parts that can be configured as desired by the shooter. The handguards are machined from either aluminium or polymer and feature rails along their length so that optics and other accessories can be mounted without additional pieces like risers or adapters.
🟡 For those looking for a lightweight yet highly functional option, there are ultra-light items made from titanium or carbon fibre-reinforced polymers that offer superior strength while shaving off weight from the rifle's overall build. These materials also provide excellent heat dissipation properties which help extend barrel life significantly.
AR 15 Upper – Who Makes The Best AR 15 Upper Receiver 😉
Tweaking your rifle is an interesting and pretty useful idea. However, it takes a lot of time to figure out what you need to make your gun better. There are dozens of various elements you can improve, replace, or fix, and there are hundreds of rules you should know to achieve the best results. Looking for a good Receiver is challenging, so we want to make it easier for you.
Watch this video to study more about AR15 Uppers 💻
Look at the list of top products we made to help you save time and make sure you pick the right product. Read about all of them and compare their pros and cons to find the most suitable variant.
Best AR-15 Upper Review
#1 TRYBE Defense AR-15 16in Complete Upper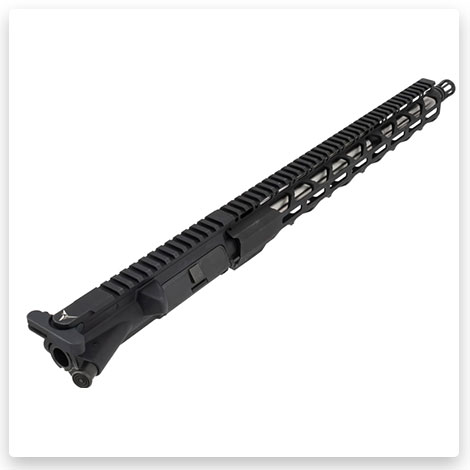 This upper chambered in 223 Wylde contains everything you need if you're ready to enjoy the glory that is an AR Rifle! This is the ultimate upper for any shooter serious about the quality of their build, with an ultra-durable high-performance 4140 CMV steel barrel with 5R rifling and an M-LOK free float rail, an A2 flash hider, stunning black nitride BCG, and a mil-spec charging handle. Don't accept anything less than the best. Pick up this model and feel more at ease when carrying your gun.
#2 Maxim Defense Industries MDX 505 Mil-Spec URG Upper Receiver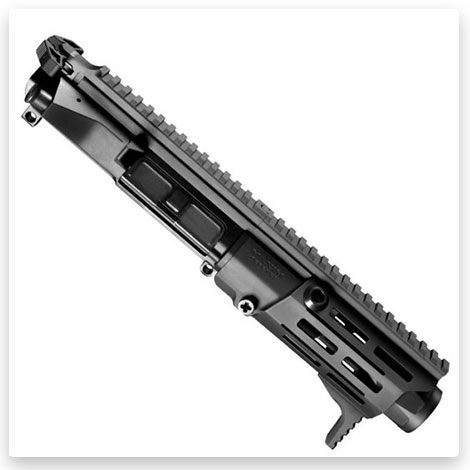 The following one is meant to withstand the rigors of the Tier 1 community and may be installed on any Mil-Spec lower receiver. With this upper receiver, you can dominate close quarter battles and put the most energy on the target while maintaining distance precision. With a total length of just 14 inches and a barrel length of 5.5 inches, this weapon is the best choice when concealment and personal protection are essential. It also comes with a newly developed muzzle booster. This patent-pending mechanism minimizes recoil, eliminates flash, and drives gasses and concussion waves downrange away from the user, resulting in better overall performance in short barrel handguns and rifles.
#3 Stag Arms AR-15 Flattop Upper Receiver Assembly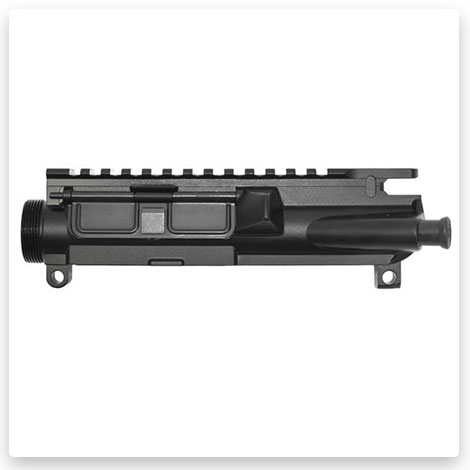 This is a very confident, minimalistic but yet quite boring upper receiver that meets mil-spec requirements and contains a Picatinny rail on top, a dust cover, and a forward assist system. If you are looking for something not expensive for your rifle with a .300 AAC caliber, this is a decent solution that combines affordability and quality.
#4 SLR-B15 Billet Upper 5.56 Receiver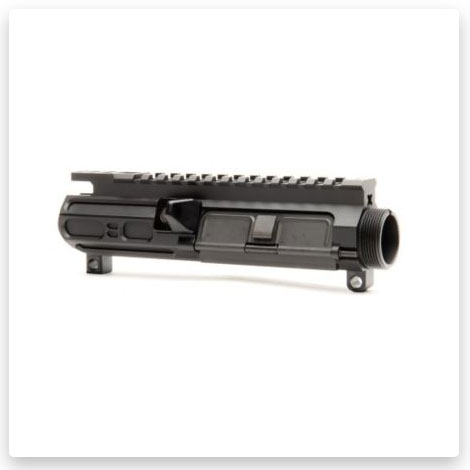 Let's move on to the next model is made of Aluminum Alloy with a hard coat, and it's designed specifically for Mil-Spec rifles with a 5.56x45mm NATO caliber. By choosing this product, you get a reliable, durable upper receiver for a reasonable price. This is an excellent choice for those who don't need a lot of features that increase the price multiple times.
#5 Aero Precision Mid Barrel Complete Upper Receiver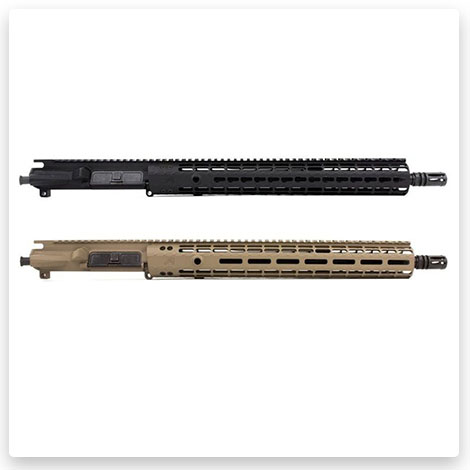 The Gen 2 Enhanced Handguard is included with this upper receiver! The inclusion of fast detach sling sockets, improved milling design for grip and cosmetic appeal, and a redesigned profile for the Picatinny top rail are all notable characteristics. Anti-Rotation Tabs are a type of anti-rotation medication. Extension of the Feed Ramp Rails with a scalloped edge. The top rail is continuous.
#6 Luth-AR AR-15 Lightweight Complete Upper Barrel Assembly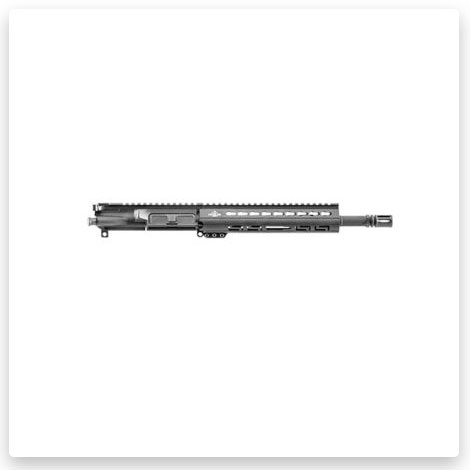 The Flattop receiver, which contains the bolt carrier, charging handle, forward assist, and ejection port cover, is connected to the 4150 Chrome Molly barrel with a 1-9 twist. A low-profile gas system and an ergonomic 15inch Handguard with KeyMod slots and a Picatinny top-rail complete the upper.
#7 Aero Precision Carbine Barrel Complete Upper Receiver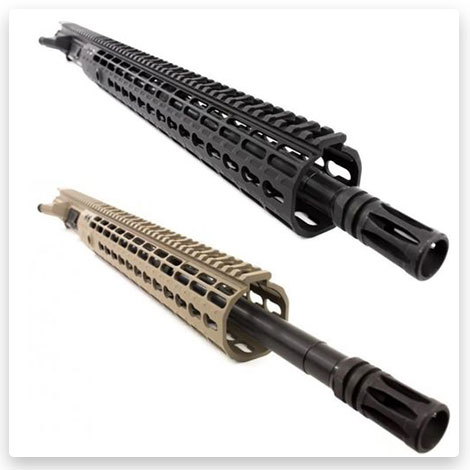 Another 16inxh complete Upper with some cool features for your AR-15 rifle, such as anti-rotation tabs, scalloped rails, and a feed ramp add-on. A nice, reliable product that is a perfect solution if you use 5.56x45mm NATO.
#8 Wilson Combat Billet Upper Receiver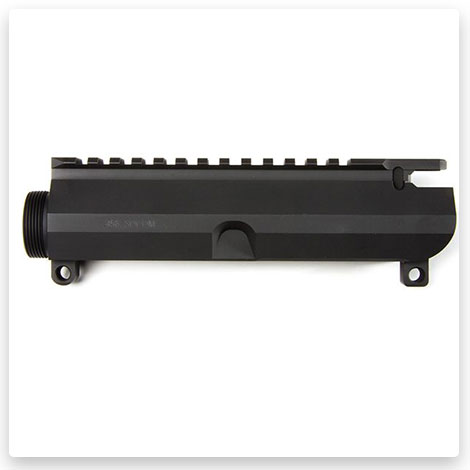 This is a high-precision, 100 percent machined upper receiver for the AR family of rifles. They're made of 7075-T6 aircraft-grade billet aluminum, which allows them to solve structural design flaws in standard rifles while also providing some of the tightest tolerances in the industry for AR15 Upper Receivers. The term "billet" refers to an upper receiver that was machined from start to finish from a single piece of aviation aluminum rather than being forged. This gives the pieces additional strength, allowing for tighter tolerances and longer durability. When coupled with the AR lower receiver, the Wilson Combat stripped upper features additional material around stress spots and a more exact fit than the normal forged receiver.
#9 TRYBE Defense AR-15 Complete Upper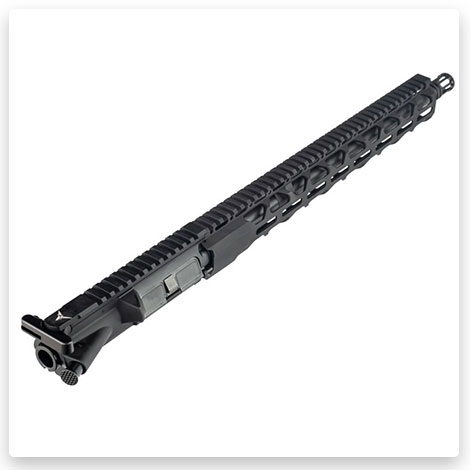 If you're ready to experience the glory of an AR Rifle, the upper chambered in is the way to go. Everything you'll need is in 300 Blackout! This is the ultimate upper for any shooter concerned about the quality of their build, with an ultra-durable high-performance 4140 CMV steel barrel with 5R rifling and a 1:8″ twist, a 15″ M-LOK free float rail, an A2 flash hider, stunning black nitride BCG, and a mil-spec charging handle! Don't accept anything less than the best. With the TRYBE Defense AR-15 16″ Upper Receiver, you can confidently carry your weapon.
#10 Aero Precision AR15 5.56 Complete Upper Receiver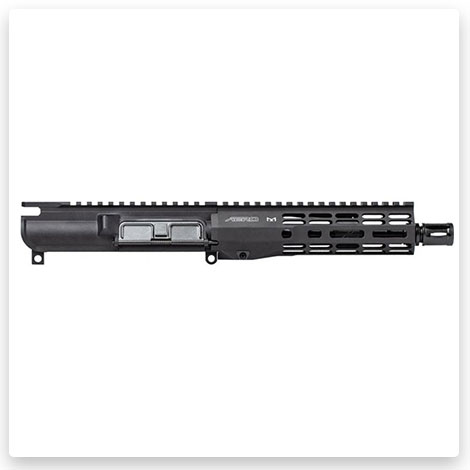 By eliminating the Forward Assist, this receiver, when combined with the ATLAS handguard, simplifies the look of your next AR15 build. You may optimize weight savings for your next build by pairing the lightest handguards and barrel shapes with the No Forward Assist Upper Receiver.
#11 Precision Reflex AR-15 Flat Top Upper Receivers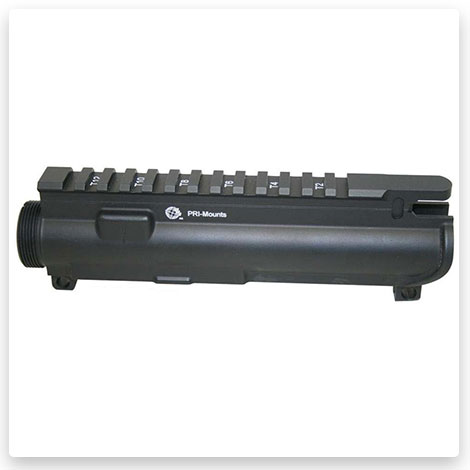 If you want a good upper receiver, but you also like the idea of forwarding assist, you should definitely take a look at the Precision Reflex model. This is a durable, pretty affordable, and well-tested device that will make your AR15 better and a little more comfortable to use. It also comes with a dust cover.
#12 TRYBE Defense AR-15 Pistol 10.5in Complete Upper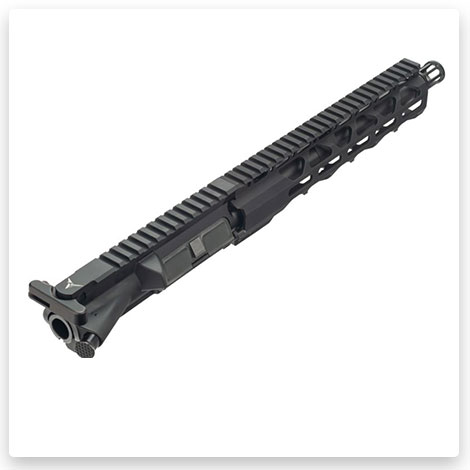 Another great example of uppers from TRYBE that is pretty similar to the 9th position with a little difference. It uses the same materials, so it's also a durable and reliable construction. The upper provides the same feature, but it's much smaller and it's only 10.5 inches, which makes it fit a range of various models much better.
#13 Aero Precision AR15  Upper Receiver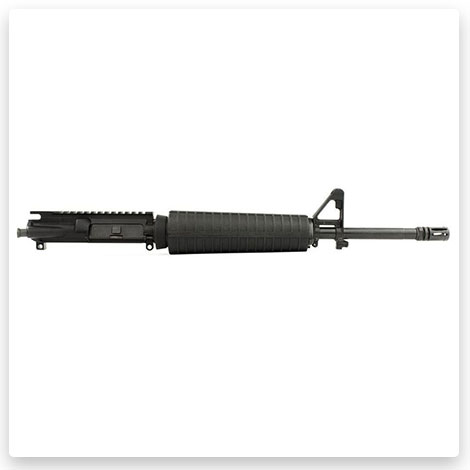 Regarding this model, it can be said that it's a nice, durable upper receiver with a carbine barrel that is made of 4150 Chrome Moly Vanadium with an anodized finish. If you are using NATO ammo, this device designed by professionals from Aero Precision is a decent choice.
#14 Aero Precision AR15 Assembled Upper Receiver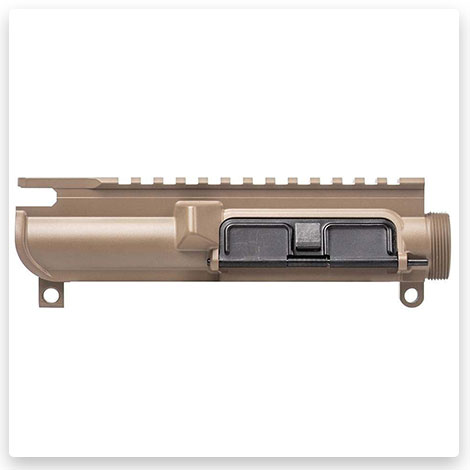 This upper receiver is made of 7075-T6 forged aluminum and has no front assist. It will fit M16 and AR-15 rifles with a 5.56x45mm NATO cartridge. The anodized finish complements the overall build, which appears to be rather sturdy. Furthermore, the cost is reasonable, allowing everyone to purchase this model. A low price does not, however, imply that the item is inferior to something more expensive. Everything is dependent on your requirements.
#15 Dark Hour Defense AR15 Billet Upper Receiver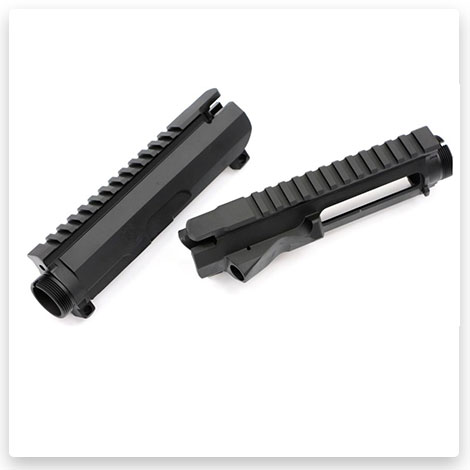 The upper on position 15 was designed to be the finest alternative for those looking for something special. This model may deliver an item that will provide a great deal of consistency because it was built with some of the most extraordinarily durable and trustworthy components accessible.
#16 TRYBE Defense AR-15 Stripped Upper Receiver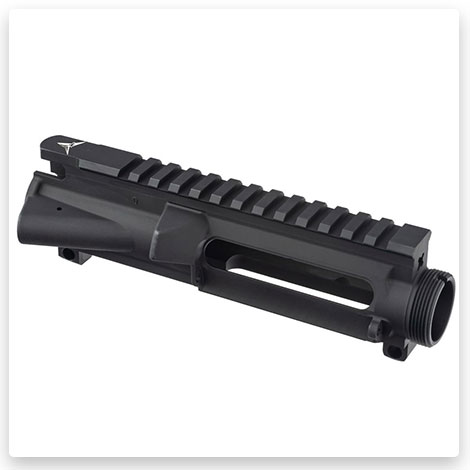 TRYBE Defense is delighted to provide a stripped upper receiver made of lightweight yet durable 7075-T6 aluminum and machined to Mil-Spec specs to provide shooters with the greatest mix of lifelong durability and outstanding usefulness. The product you're looking at, with M4 feed ramps and strong anodizing, is likely to please even the most enthusiastic and fastidious shooter, and at a terrific price!
#17 TRYBE Defense AR-15 Lightweight M-LOK Handguard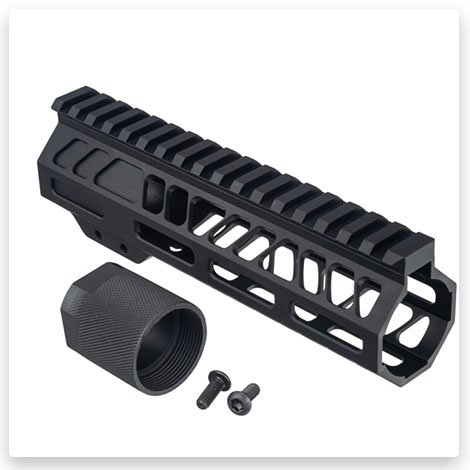 TRYBE Defense items are machined from 6061-T6 aluminum, which is very sturdy and ultra-lightweight, with the 15″ rail weighing only 0.925lbs. This gadget is simple to install, and every order includes a barrel nut and mounting screws, so you won't have to waste time at the range looking for extra hardware. Upgrade to the TRYBE Defense AR-15 Rifle Handguard to lighten your weapon and improve your build.
#18 Ammunition Storage Components AR15 Upper Receiver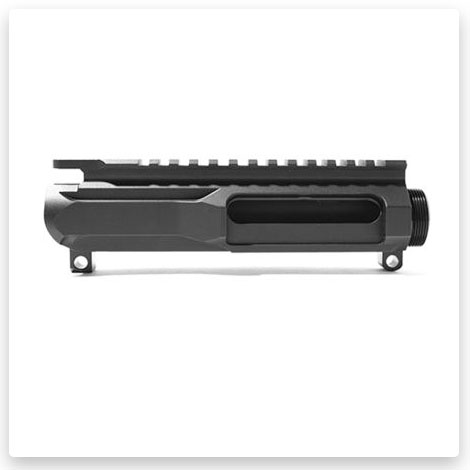 This Upper Receiver is made of T6 6061 aluminum that has been hard-coated. Designed to work with Mil-Spec Lower Receiver and Components and machined with M4 Feed ramps.
#19 TRYBE Defense AR-15 Fully Assembled Upper Receiver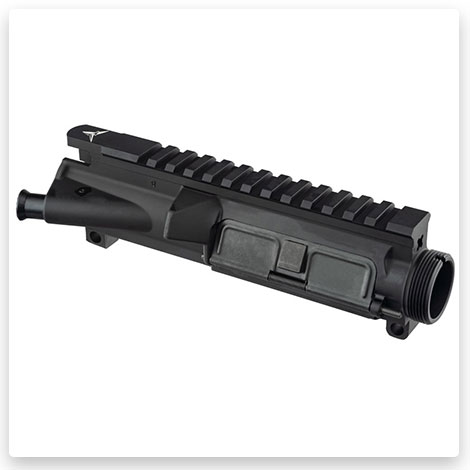 So now that you have a lower, all you need is an upper. TRYBE Defense is delighted to provide a completely completed upper receiver that is Mil-spec 7075 T6 Forged Aluminum Upper Class 3 Type II Hard Anodized and includes a Dust Cover and Forward Assist!
#20 Aero Precision AR-15 Upper Assembled Receiver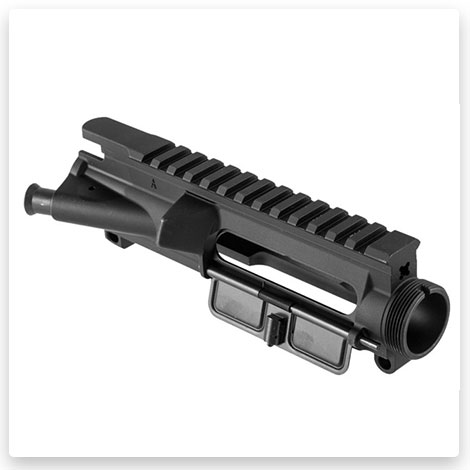 If you want to take advantage of the large market for AR-15 parts and accessories but aren't legally authorized to own components that work with an installed auto sear in the lower, the Aero Precision upper receiver with No Auto Sear Cut is the product for you. This type meets every other specification of a conventional AR-15 upper receiver, including an ejection-port cover and a forward assist, and was designed specifically for use by European gun owners.
#21 Odin Works AR-15 Billet Upper Receiver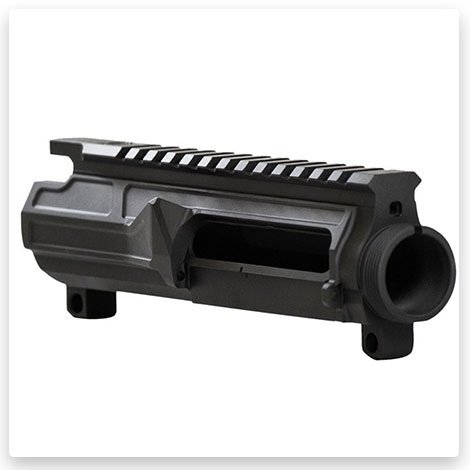 Today's AR-15 builders are seeking components that help them remove superfluous weight and bulk from their rifles, allowing them to create trimmer, sleeker, leaner guns that can be carried easily while still delivering superior performance. The ODIN upper Receiver does this by removing the forward assist. A trimmed-down brass deflector is also featured on the upper receiver, contributing to a clean aesthetic that gives you a simple platform with everything you need and nothing you don't. The receiver comes with no internal components, allowing AR-15 manufacturers to create a minimalist AR-15 that meets their needs.
FAQ 😏
Conclusion 🤩
What are the most important choice criteria for you? What do you think is essential? This list contains models for different needs and preferences, so you can pick whatever you want and still don't worry about the quality of a product because all of these upper receivers were carefully researched by us. In addition to this, just as always, we want to point out a few models, based on their prices! 😀🧡
Best expensive AR-15 upper:
Best cheap AR-15 upper:
Tags: #best ar 15 upper / #best ar 15 upper receiver vise block / #best ar-15 upper / #best budget ar 15 upper / #who makes the best ar 15 upper receiver