Affiliate Disclosure: AmmoCave.com sometimes gets paid for listings, through sponsors or affiliate programs like Lucky Gunner, Optics Planet, Brownells, Cabelas, Academy Sports & Outdoors, Rainier Arms, Palmetto State Armory, Sportsman's Guide, Ammo.com, Ammo Man, Primary Arms, MidWayUsa, Amazon, eBay, etс. Clicking a link helps keep AmmoCave.com free, at no extra cost to you!
Authors: Each article is verified by AmmoCave's expert team. Professional hunters, firearm trainers, gunsmiths, and gun experts write the articles. AmmoCave Team independently researches, tests, reviews, and uses recommendations from our community of gun owners. We may earn commissions from shopping links.
Note: The views and opinions expressed in this article are those of the authors and do not necessarily reflect any agency's official policy or position. The articles are for informational purposes only, share your opinions about Best Polymer Lower 2023 in the comments and join the discussions. Let's share 💬 our ammo & gun experiences together!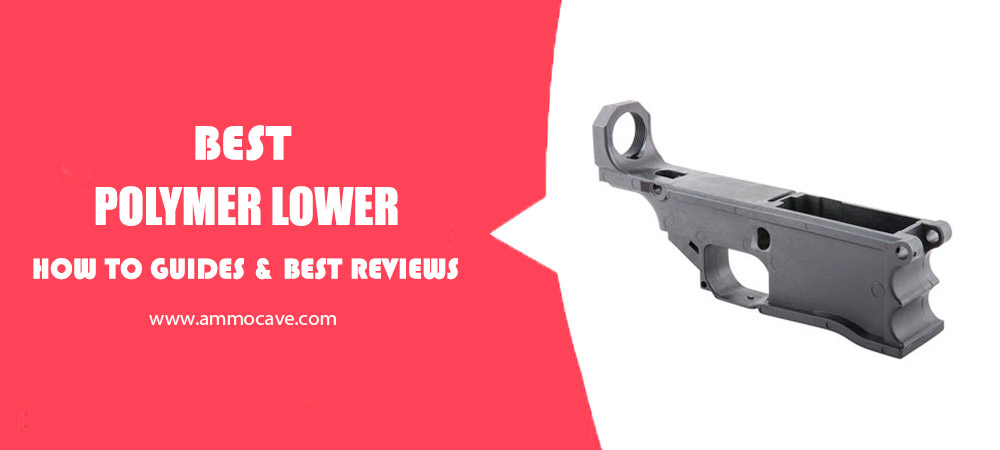 What is Polymer Lower? 🧐
It is a type of firearm receiver used in firearms that allow the shooter to customize their gun. They are lightweight and durable, making them ideal for recreational or competitive shooting. They also provide greater flexibility when customizing your firearm with features such as barrel length, magazine capacity, and aesthetic changes.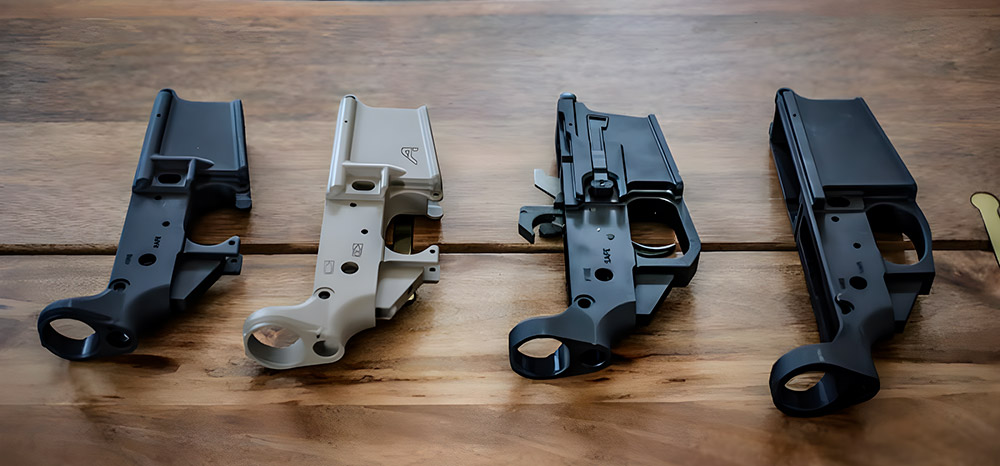 Features 💡
Polymer lowers are becoming increasingly popular among gun enthusiasts due to their lightweight, durability, and affordability. Here are some of the most notable features:
🔶 Lightweight: The most significant advantage is its weight. Compared to aluminum lowers it can weigh up to 50% less, making them ideal for long days at the range or in the field.
🔶 Customizable: These lowers can be customized with different colored stocks, grips, and accessories, allowing gun enthusiasts to personalize their firearms to their liking.
🔶 Easy to Clean: They require minimal maintenance and are easy to clean due to their nonporous surface. These parts do not require extensive or frequent oiling and can be cleaned with soap and water.
🔶 Accepts Standard Parts: Although lowers may have a different feel than aluminum lowers, they accept the same standard parts as aluminum, making upgrading and customizing your firearm easier.
Our Top Pick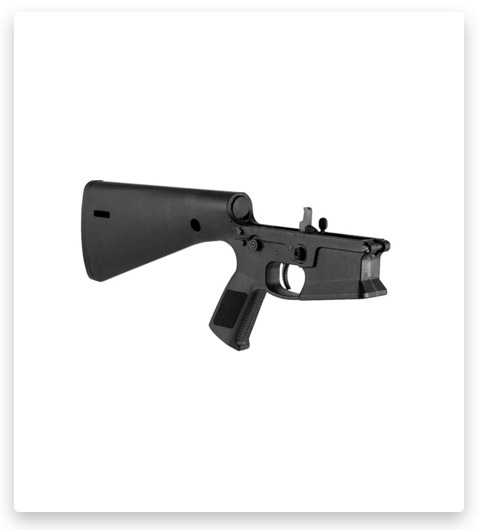 KE Arms AR-15 KP-15 Complete Lower Receivers
The KE Arms KP-15 is a unique and affordable AR-15 ambidextrous lower receiver made from an injection molded, 30% glass-filled nylon. Unlike other lower receivers, this monolithic polymer receiver incorporates the buffer tube, pistol grip, trigger, and a 13-inch (LOP) buttstock into the receiver as integral components. The takedown and pivot pins have built-in detents, which increase durability by eliminating the spring and detent holes. The lower receiver uses a carbine buffer and spring.
Buy Now On Brownells
If you click this link and make a purchase, we earn a commission at no additional cost to you.
Benefits 🔥
Polymer lowers have been increasingly popular in the gun industry because of their unique qualities and benefits. Here are some of the benefits:
❇️ Durability: Contrary to popular belief, such lowers are highly durable and can withstand extreme conditions, including high and low temperatures, without getting damaged. They do not corrode or rust like metal lowers, which makes them an attractive option for gun owners.
❇️ Affordability: These lowers are more affordable than metal lowers, making them an ideal option for those who want a good quality lower without breaking the bank.
❇️ Easy to Customize: They are easier to customize than metal lowers because they are more malleable, which allows for various engravings and designs to be created.
❇️ Noise reduction: Another benefit is reducing noise levels in the gun when shooting because the polymer materials are less likely to produce vibrations, unlike metal lowers.
❇️ Easy to maintain: Such lowers require minimal maintenance, unlike metal lowers that need constant lubrication and cleaning. They are also less prone to scratches or other surface damage, making maintenance even more straightforward.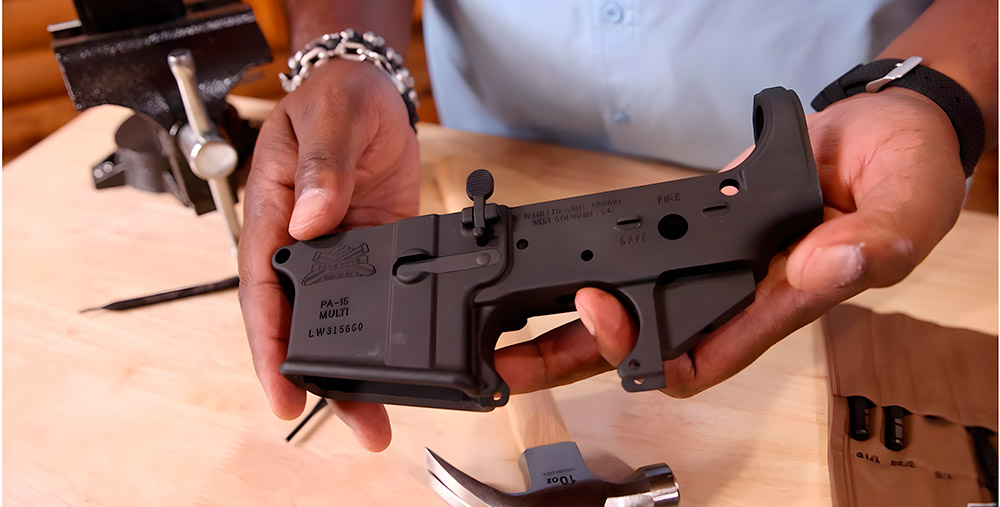 Is it worth it? 🤔
⚡ The answer to this question is a resounding yes. Polymer lowers, also known as polymer receivers, have become increasingly popular with gun owners looking for lighter and more durable firearms
🔰 They offer the same durability and performance as aluminum lowers, but they are significantly lighter and can often cost less than their metal counterparts. But with so many options available, how do you know which one is best?
🔍 When considering such a lower, there are a few key factors to keep in mind.
📝 First and foremost is weight; since these lowers are made out of plastic or fiberglass-reinforced polymers, they are much lighter than their aluminum counterparts.
📝 Be sure to do your research and check compatibility before you buy.
📝 Once you have determined that it is right for your build, it's time to evaluate the options.
Polymer Lower Reviews 🧾
1# KE Arms Stripped Lower Receivers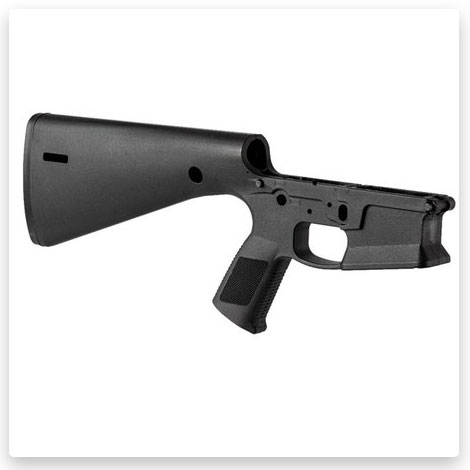 The KE Arms KP-15 stripped lower receiver is an innovative, injection-molded, monolithic polymer AR-15 style receiver that comes with integral components, including the buffer tube, pistol grip, trigger, and a 13-inch (LOP) buttstock. The receiver's design is unique and lightweight, making it an affordable option for firearm enthusiasts. Using this product, our team found that this lower is compatible with all Mil-Spec fire control groups, cassette-style match triggers, standard carbine buffers, round springs, or the JP SCSS. The takedown and pivot pins have built-in detents that increase durability by eliminating spring and detent holes. Don't wait for any longer – order and try it today!
2# KE Arms Complete Lower Receivers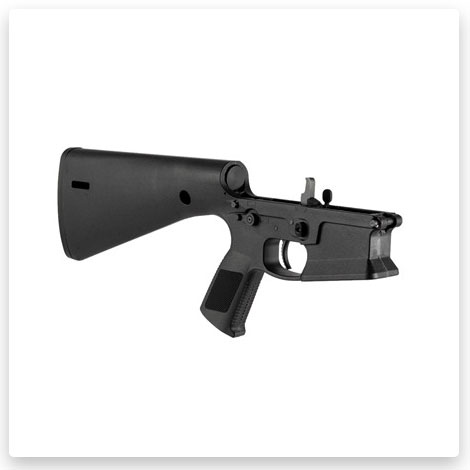 The KE Arms KP-15 ambidextrous lower receiver is a top-quality product that comes with a lower parts kit, including a KE Arms SLT-1 trigger with sear link technology and an ambi selector. The receiver is designed with built-in detents for the takedown and pivot pins, which enhances durability by eliminating the need for spring and detent holes. The safety selector spring and detent have been thoughtfully designed to load from the top, and the selector is slid over them. Try it today!
3# KE Arms Complete Mil-Spec Lower Receivers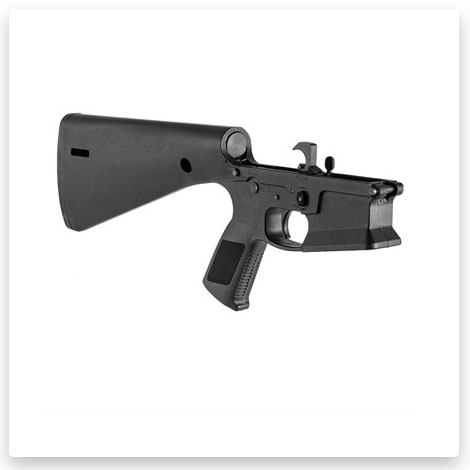 The KE Arms Complete Mil-Spec is a unique lower receiver for AR-15-style rifles. It is made from a 30% glass-filled nylon material that is injection molded, resulting in a monolithic polymer receiver. The KP-15 is compatible with all Mil-Spec fire control groups and cassette-style match triggers. It features built-in detents for the takedown and pivot pins, eliminating the need for spring and detent holes and increasing its durability. If you need a high-quality lower – the KE Arms Complete Mil-Spec Lower Receivers is right your choice!
4# Brownells BRN-7 Stripped Lower Receiver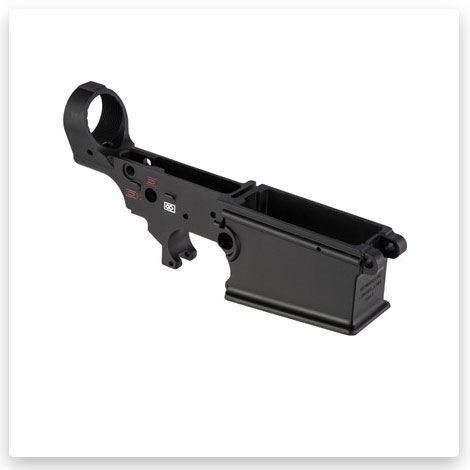 The BRN-7 Stripped Lower Receiver is an exceptional option for AR-10-style rifles, as it is machined from an original HK417 forging sourced from Germany. After the machining process is complete, these receivers undergo a Type III anodizing process, resulting in a sleek matte black finish. In summary, the BRN-7 Stripped Lower Receiver is an excellent choice for those seeking a truly authentic AR-10-style rifle.
5# Brownells BRN-10 Lower Receiver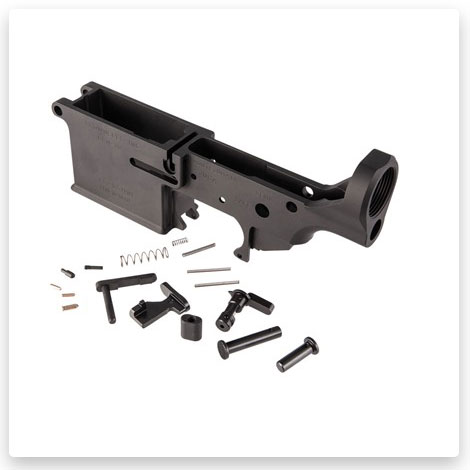 The BRN-10 Lower Receiver is now available for individual purchase, giving you the freedom to construct a unique AR-10 clone that suits your preferences. This receiver comes equipped with proprietary parts, including the magazine release, takedown pins, and safety selector. Crafted from 7075-T6 aluminum, it boasts impressive durability and strength. It features a matte black anodized finish for a sleek appearance. Try it today!
How to assemble a lower?🛠️
Assembling you're lower is an enjoyable and rewarding process that can be completed with the right tools, knowledge, and safety precautions.
🚩 Before you begin assembling your lower, it's important to understand which components are compatible with each other so that you can ensure a successful build.
➡️ The first step is ensuring all of the necessary components are present. To do this, you'll need to acquire a complete lower parts kit (LPK).
➡️ Once you have all the parts in front of you it's time to begin the process of assembling you're lower. Start by inserting the takedown pins into their respective holes on the receiver.
➡️ Then install the magazine catch and bolt catch pin assemblies along with any included springs or roll pins.
➡️ Next, install the trigger guard assembly followed by installing the selector detent and spring.
➡️ Next up is installing the fire control group which includes your trigger, hammer, disconnector, hammer spring, and other necessary parts for your lower. Now you can insert a buffer tube into the rear of the lower and secure it with the included castle nut.
➡️ Once you have installed all of the parts, set aside your LPK as you will no longer need that until an eventual teardown or maintenance. With all of the parts in place, line up a buttstock of your choice (if desired) and install it onto the buffer tube.
FAQ 😎
Conclusion 🙂
Whether you're searching for something lightweight and easy to carry or need an incredibly durable material that can withstand all types of weather conditions, there is a polymer lower out there perfect for your needs. We hope our reviews have been helpful in guiding you toward finding the product that fits both your budget and requirements. Good luck with your search for the best lower! 😊👍
Tags: #best polymer lower / #best polymer ar lower / #best polymer 80 lower / #best polymer ar 15 lower / #best 80 polymer lower