Affiliate Disclosure: AmmoCave.com sometimes gets paid for listings, through sponsors or affiliate programs like Lucky Gunner, Optics Planet, Brownells, Cabelas, Academy Sports & Outdoors, Rainier Arms, Palmetto State Armory, Sportsman's Guide, Ammo.com, Ammo Man, Primary Arms, MidWayUsa, Amazon, eBay, etс. Clicking a link helps keep AmmoCave.com free, at no extra cost to you!
Authors: Each article is verified by AmmoCave's expert team. Professional hunters, firearm trainers, gunsmiths, and gun experts write the articles. AmmoCave Team independently researches, tests, reviews, and uses recommendations from our community of gun owners. We may earn commissions from shopping links.
Note: The views and opinions expressed in this article are those of the authors and do not necessarily reflect any agency's official policy or position. The articles are for informational purposes only, share your opinions about Best AR-10 Trigger 2023 in the comments and join the discussions. Let's share 💬 our ammo & gun experiences together!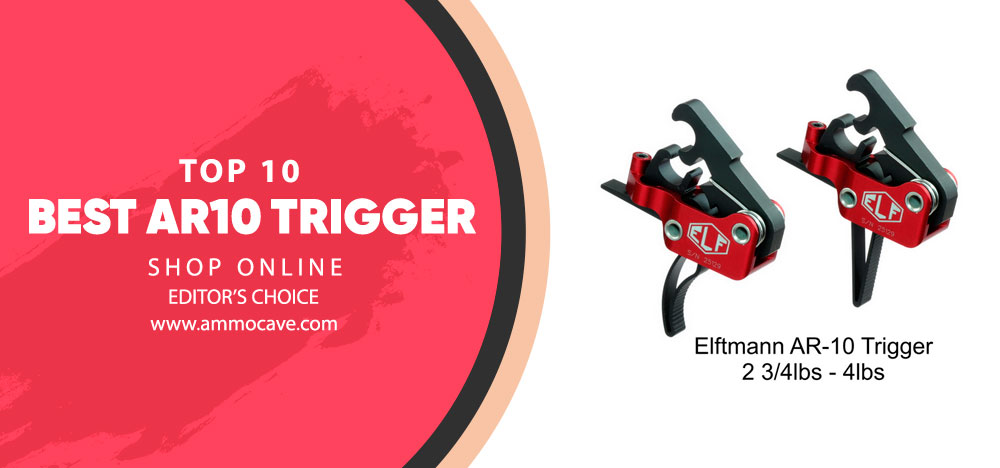 The story of the AR-10 rifle tracks us back to the late fifties. Hastily developed by the Armalite to catch up with the competition for new magazine 7.62×51 rifle organized by US Army, it bravely entered the event as the prototype. Featuring a line of interesting engineering decisions, it, however, failed due to barrel issues during the torture test and the military's preference was given to M14. After some time of rework, it finally ascended to a manufacturing stage and a modest portion of 10 000 AR-10 rifles was produced.
Despite the initial project was put aside shortly after, the AR-10 design became a basis on which the famous AR-15 (M16) was later built on. In fact, the parent AR-10 rifle was just "shrunk" for .223 ammo usage. With the success of the AR-15, all forces were thrown on developing it further and everyone forgot about the original AR-10 for a couple of decades. Until Armalite decided to resume the AR-10 production for the civilian and law-enforcement market. Nowadays the AR-10 can be regarded as the bigger and stronger predecessor of the AR-15. It may be not so agile and versatile but is utterly appropriate for situations where some serious power must be delivered over long distances.
Such application requires a thoughtful approach to rifle parts selection. Especially ones that have a direct impact upon accuracy and trigger is the right starting point, to begin with. Here we will observe the best 12 AR-10 Triggers that were carefully selected to complement your AR-10 rifle build.
P.S. With time the AR-10 became a household name for all .308 AR rifles, mind that this designation exclusively belongs to Armalite.
Best AR-10 Trigger – Top 12 Reviews – Editor's Choice
| Image | Product | Brand | |
| --- | --- | --- | --- |
| | Timney Triggers AR-10 Competition Trigger | Timney Triggers | |
| | Triggertech AR-10 Diamond Trigger | Triggertech | |
| | Triggertech AR-10 Adaptable Trigger | Triggertech | |
| | Triggertech AR-10 Competitive Trigger | Triggertech | |
| | Elftmann Tactical ELF AR-10/.308 Trigger | Elftmann Tactical | |
| | CMC Triggers AR-10 Rifle Single Stage Drop-in Trigger | CMC Triggers | |
| | CMC Triggers AR-10 Single Stage Drop-In Trigger | CMC Triggers | |
| | HIPERFIRE Xtreme 2 Stage Mod-1 AR10 Trigger | HIPERFIRE Xtreme | |
| | Geissele SSA Super Semi-Automatic Trigger | Geissele SSA | |
| | CMC Triggers AR-10 Match Grade 2-Stage Trigger | CMC Triggers | |
| | Stern Defense HS2 Hybrid 2 Stage NiB Drop-In Trigger | Stern Defense | |
1# Timney Triggers AR-10 Competition Trigger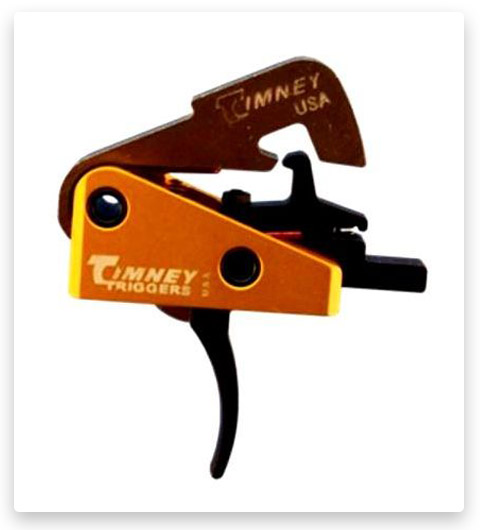 AR-10 Competition Trigger is a solid, yet affordable offering from Timney Triggers that will fit the majority of AR-10 builds. It matches 6061-T6 anodized aluminum alloy housing with A2 tool steel internals. However A2 steel grade, despite its high hardenability and abrasion resistance offers little protection against corrosion unless properly maintained. Keep this in mind. Installation is plain and simple, we doubt you'll have to ponder on how to assemble things or misact as long as you keep the instruction at hand. The trigger's factory pull weight was pre-set to 4 lbs and can't be manually adjusted. Despite the lack of options, we experienced only positive sensations – absolutely no creep, glassy break, and fast reset. Some AR-10 operators may find pull weight being a bit tight under certain circumstances, but it remains a matter of taste and habit. Traditional Curved and Straight trigger lever designs are there for your choosing, as well as a Skeletonized variant that will give some fancy high-tech look to the rifle of yours for some extra cash.
2# Triggertech AR-10 Diamond Trigger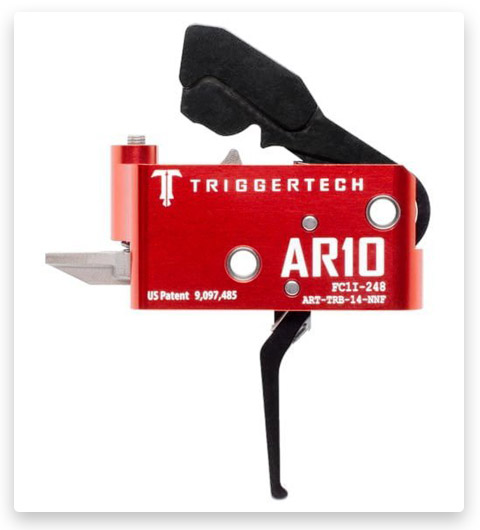 This trigger has a Diamond in its model title for a reason. All Diamond triggers are the pinnacle of trigger manufacture. It means that they feature all advanced TriggerTech branded technologies, perfectly matched mechanisms, and the most precise adjustment of pull weight that is vital for every sharpshooter. One of the key features of TriggerTech triggers is Friction Release Technology (FRT) that works wonders in comparison to stock triggers. It is a simple yet genial engineering move that lies in the placement of a stainless-steel roller between the sear and trigger surfaces instead of relying on coating and lubrication. That's how elementary physics and mechanics completely got rid of pesky friction issues. Not only does the roller provide significantly decreased wear of engagement surfaces and contamination resistance but also an exceptionally clear and zero-creep functioning. Straight from the package, this trigger astonishes with its quality and aesthetic looks. It is performed in a red 7075 aluminum alloy case with all inner components made of 440C hardened stainless steel that grants ultimate longevity. AR-10 Diamond is a two-stage trigger with the first stage being factory set at imponderable 0,25 lbs and the second stage fully adjustable in 1,25-3,75 lbs range. No matter if you're into competition shooting or long-range hunting, this trigger can take your accuracy to a whole new level.
3# Triggertech AR-10 Adaptable Trigger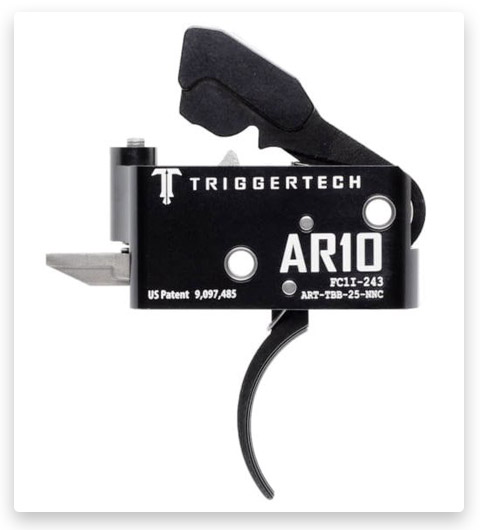 If the Diamond trigger applicability for the long ranges is beyond any question, the Adaptable model is the most versatile all-rounder from all TriggerTech's AR-10 triggers family. It inherited all the technologies and structure materials but with a different trigger pull weight adjustment range. It starts with fixed 0,75 lbs for the first take-up stage and tweakable 1,75-4,25 lbs second stage which results in total pull weight from 2,5 to 5,0 lbs. With CLKR technology, which adds a clicking sound when you turn the pull weight adjustment screw, adjusting the second stage could not be any better. As each click is equal to 2 oz weight the result is precisely predictable and you can easily return to the previous value if needed. The Adaptable Trigger is crafted in a black anodized aluminum housing. The whole product makes an impression of a solid and perfectly assembled mechanism. Once you detach your AR-10 lower it is a truly drop-in trigger with quick and simple installation. If you look for the two-stage trigger with unmatched quality and wide applicability TriggerTech AR-10 Adaptable Trigger calls your name!
4# Triggertech AR-10 Competitive Trigger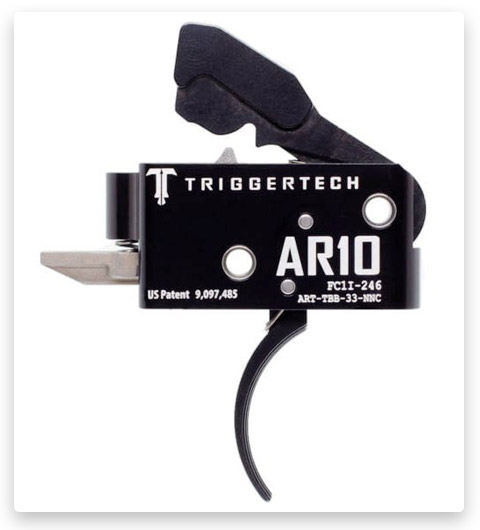 Single-stage VS two-stage trigger remains the topic to discuss, and the arguments of each camp's representatives are clear and intelligible but the final decision is always up to the gun wielder. However, we believe that a two-stage trigger with adjustable pull weight is a more flexible option suitable almost for every situation. But despite this trigger lacks pull weight adjustment featured by all TriggerTech's aforementioned products it doesn't make it worse in any way. The pull weight is set at the golden mean value of 0,75 lbs and 2,75 lbs for the first and second stages respectively. It results in a total 3,5 lbs weight that must be applied before the break occurs. We'd say that the second stage feels 0,5 lbs lighter in comparison to an ordinary trigger due to FTR technology that we have put in a nutshell before. This model goes with traditional PVD coated Straight and Curved lever designs. Gifted with all its family traits the Competitive Trigger is an affordable two-stage trigger that will suit most AR-10 operators that need a high-quality two-stage trigger with light pull weight. 
5# Elftmann Tactical ELF AR-10/.308 Trigger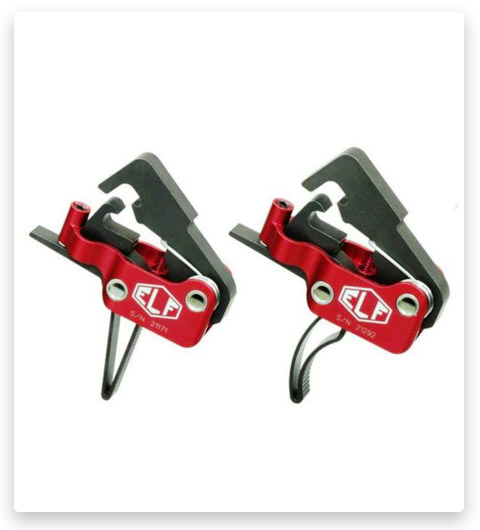 What we exceptionally love about Elfmann triggers is the manufacturer's claim that they are designed to be absolutely Drop-Safe even adjusted to the lightest pull weight. We have no intention to discourage you from performing a bump-test or other measures after you've played with the pull weight as no precaution is excessive when it comes to safety. But this trigger really didn't go off upon any accident that was emulated. The adjustment goes from 2.75 to 4 lbs which is a rather sufficient range for any common rifle application. It is a neat and solid trigger in red aluminum alloy housing and A2 hardened steel parts. The hammer and the trigger level are pivoted on high-quality sealed bearings that provide especially smooth and clear functioning. Both Straight and Curved trigger levers have a skeletonized design which is not only about giving a stylish look but also meant to make a trigger (and pull weight, accordingly) a (tiny) bit lighter. This trigger is also available with larger .170" pinholes which is a necessity if you want to fit it into the limited Large Pin Colt receiver. Short pull, a clear break, and fast reset supplemented by great engineering solutions make this trigger a perfect match if you search for a quality single-stage trigger to complement your AR-10. 
6# CMC Triggers AR-10 Rifle Single Stage Drop-in Trigger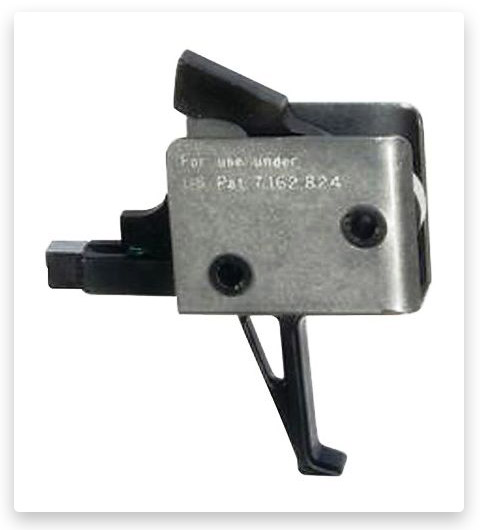 View on Opticsplanet View on Cabelas
Instead of some flashy exterior decisions and other insignificant details, CMC Triggers are focused on creating a simple, functional, and affordable trigger suitable for anyone. Instead of a machined aluminum case, this trigger is performed in a sheet of 8620 alloy steel that was bent to a shape of a box that contains all internal parts. As the 8620 steel displayed a good level of corrosion resistance, it is a simple but rather effective solution. S7 shock-resistant tool steel for the moving parts is also quite a thoughtful choice of material as it gives good wear and corrosion resistance balance. The sear engagement surfaces are finely machined and finished to nearly mirror-like condition making the CMC AR-10 Rifle Stingle Stage Trigger exceptionally smooth to operate due to minimized friction. It is the first trigger in our review that included its own pin set instead of relying on your old trigger pins. We find it very practical to have everything you need to be bundled in so it definitely wins a point. Despite the pull weight is factory pre-adjusted, you can choose among four versions featuring the values from 3,5 to 6,5 lbs. Overall it is a rapid crisp trigger with a fast positive reset after each shot, ideal for practice shooting, 3-gun, and other competitions. Heavier pull weight versions are perfect for hunting and other harsh environment shooting.
7# CMC Triggers AR-10 Single Stage Drop-In Trigger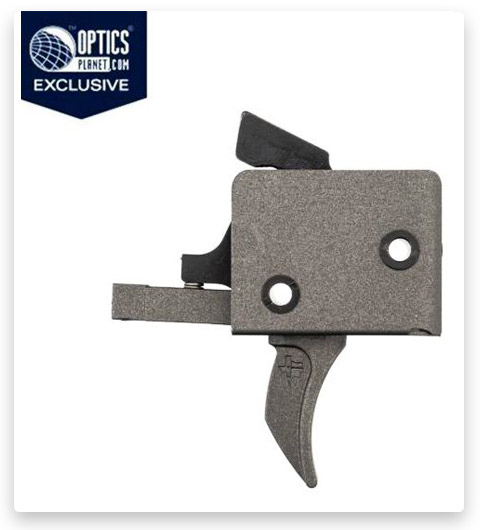 View on Opticsplanet View on Cabelas
Echoing the previous trigger almost in all features it still has its own unique trait to be picked for. Classical Curved and Straight trigger shapes blended in one hybrid trigger lever design and that's what Combat Curve name stands for. To put it clear imagine the arc of the Curved trigger being notably straightened until there remains only a bit of a curve. And instead of a cutout in the Straight trigger lever that you witnessed on the previous model, this one is made solidly and thickly. It looks good. It feels good. Reliable to put your trust into in any situation. The trigger pull-weight for this model is factory pre-set to 3,5 lbs which is the average value suitable for many rifle applications. An Anti-walk pin set that consists of two hollow pins and four aluminum fixation screws are also bundled with this one. CMC Combat Curve trigger keeps manly brushed metal appearance and flawless mechanism functioning. Pick it up if you need an affordable and quality rapid trigger for a nice price.
8# HIPERFIRE Xtreme 2 Stage Mod-1 AR10 Trigger Assembly X2SM1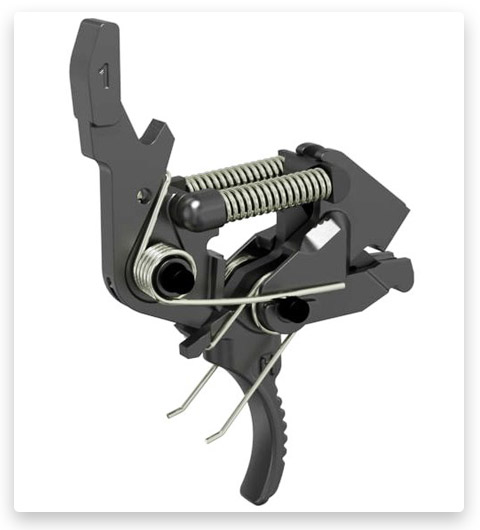 Hiperfire X2S trigger family includes 3 modifications that share the same parts. Mod-1 and Mod-2 have identical designs and curved trigger levers with heavy manganese phosphate coating and Mod-3 has a flat lever with black nitric coating. But what differs Mod-1 from its kin is the slightly prolonged first prep stage before you feel the second stage wall. Installation of semi-drop-in triggers requires a few more consequent steps to be made in comparison to one-piece drop-in triggers. But it's still a piece of cake if you follow the instruction and know-how to disassemble your rifle. Another feature to bear in mind is the step aside from screw pull weight adjustment, as here this technical decision comes in the shape of red and green colored springs that you set during the trigger installation. These springs are bundled with other trigger parts and allow you to set the first stage from 2 to 2,5 lbs with green and red springs respectively. The second stage has fixed 1,5 lbs pull weight. Once successfully set up this two-stage trigger will reveal all its magnificence with smooth prep, a crisp break, and lightning reset. For more tactile convenience trigger is compatible with branded HIPERSHOE, which is a polymer pad that increases finger contact area and available in different colors to suit your rifle style.
9# Geissele SSA Super Semi-Automatic Trigger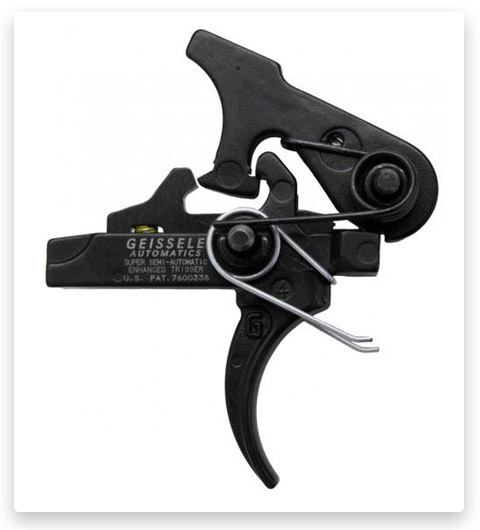 Geissele SSA is a semi-automatic version of Geissele SSF – Super Select Fire Trigger that is put in SOPMOD rifles used by U.S. Special Operation Community and possesses full-auto single-stage mode. These triggers were developed to match the rapidly changing combat environment and to provide reliability and convenience both in long-distance shooting and close-quarters action. SSA trigger performed of high-quality double-tempered tool steel with a black finish for great abrasion resistance. There is no external housing to seal the trigger mechanism from contamination, but on the other hand, all the components are easy to maintain. Broadly speaking the installation comes with several stages – drop in the trigger, setup the hammer, lubricate the points shown in the instruction and you are good to go. It's very nice of the manufacturer to include pins and grease into the package trigger comes in. The pull weight is fixed at 2.5 lbs for the first stage and 2.0 lbs for the second. The short take-up of SSA feels smooth and even lighter than we thought it would be, the wall is clearly palpable and after you press a little comes crisp and clear break with no overtravel followed by a reset that promptly brings you to back the wall to make another quick consequent shot on the target. Geissele SSA is a great trigger for multiple applications, it is simple, trustworthy, and comfortable to use.
10# CMC Triggers AR-10 Match Grade 2-Stage Trigger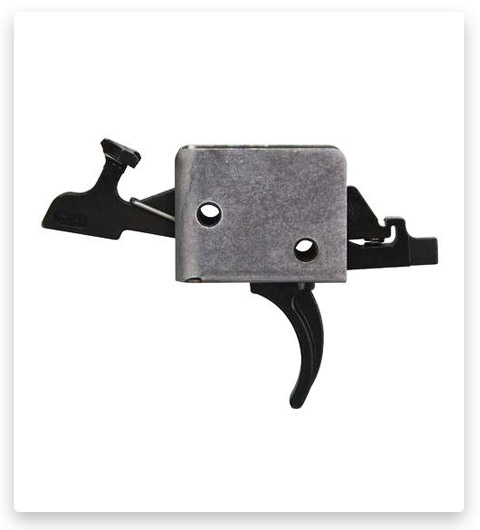 Now the time has come to take a quick glance at two-stage trigger from CMC Triggers. It shares the same materials, design, and functionality as its single-stage kith but now with two stages. Despite AR-10 Match Grade 2-Stage Trigger comes with fixed pull weights this limitation is successfully minimized by a plethora of options to choose from. 1 lb & 3 lbs, as well as 2 lbs & 2 lbs for the first and second stages respectively, will suit competition shooters or light trigger lovers; 2 lbs for the first stage and 3, 4, 5 lbs for the second will be appropriate for any purposes where a little extra weight is needed. Trigger lever is also an option to choose: Curved geometry helps your finger return in the same spot for a consistent follow-up shot; Straight trigger with a small ledge on its tip provides greater leverage. This is a drop-in cross-platform trigger that will fit almost any AR-10/15 lower. As it is something like CMC Triggers hallmark the anti-walk pin set of required diameter comes included. This is a great fast and crisp trigger with rapid positive reset but in two-stage embodiment and vast options to choose from. Pick wisely and we bet you won't be disappointed!
11# Stern Defense HS2 Hybrid 2 Stage NiB Drop-In Trigger 009-H2S-NIB-D1-M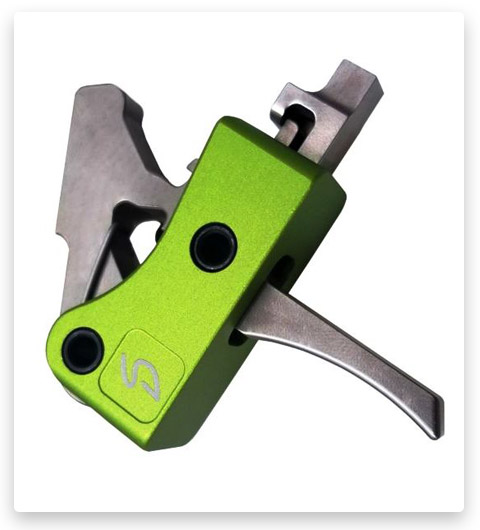 Creating this trigger Stern Defense fused the solidity of mil-spec triggers with the flexibility and lightness of competition triggers. This is a cartridge-style drop-in trigger that is delivered in one piece, supplemented with anti-rotation pins & screws, and additional spring to reduce the pull weight of the second stage. H2S trigger has classical for drop-in triggers configuration of aluminum alloy housing and A2 and S7 steel for inner parts that were additionally nickel-boron coated for supreme longevity. The trigger bow is a blend of Curved and Straight designs that provides convenient light curvature and good leverage. The first 2 lbs stage is short and definable before you hit the second stage wall that can be set either to 3 or 4 lbs. As it comes to firing there is absolutely zero creep and clean sharp break with fast reset. Stern Defense HS2 Hybrid 2 Stage NiB Drop-In Trigger turned out to be a surprisingly good product for a very affordable price. It is finely assembled and supplied with everything necessary. If you think over two-stage all-around triggers this is definitely a variant to consider.
12#CMC Triggers AR-10 9mm PCC Trigger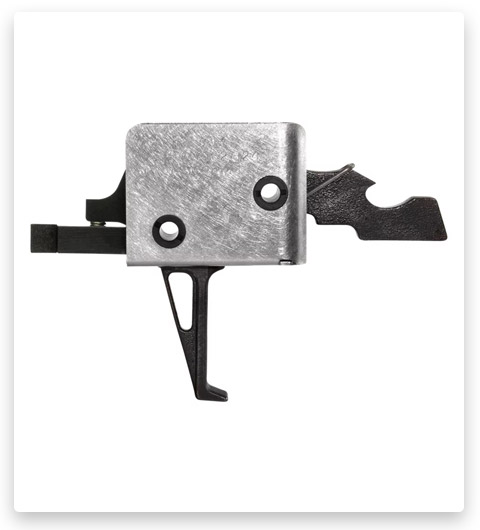 PCC AR build are utterly popular for 3-gun and other types of activity with CQC-like environment. Also, such setups are quite easy on the novices to harden them for more powerful .223 or especially .308 rifle cartridges. Another advantage of AR-style PCC is the weight that allows it to mitigates the 9mm recoil impulse and provides the feeling of full control over your gun. And CMC Triggers has something to offer you if you're in that kind of thing, meet their AR-10 9mm PCC Trigger. Made in the image and likeness of previously observed rifle caliber models this one holds a modified hammer to properly function with most 9mm bolt carriers. The trigger pull weight is factory adjusted to 3,5 lbs that perfectly fit intensive action giving a middle ground between extra-light competition and heavy hunting triggers. Clean break, no overtravel, and instant positive reset are other merits that mark this trigger dynamic application where fast firing with tight grouping is of the utmost importance. Choose a trigger bow design, drop it in and you are lock and loaded. This trigger is eager for action are you ready to bring some on?
Conclusion
We hope you have enjoyed this best 12 AR-10 Triggers review and found the one that suits you the most among this vast variety of options. Many triggers offered on the aftermarket are AR-10 – AR-15 cross-compatible, however, as you see, some manufacturers produce their triggers especially for AR-10. These models come with bulkier hammers that are claimed to ensure the reliable ignition of higher caliber round. Well, that sounds reasonable, but the choice to follow it is always yours.
Making this review we outlined our TOP-3 editor's choice triggers:
Triggertech AR-10 Adaptable Trigger – the best universal adjustable two-stage trigger with advanced technologies;
CMC Triggers AR-10 Rifle Single Stage Drop-in Trigger – the most affordable yet quality and reliable trigger;
Stern Defense HS2 Hybrid 2 Stage NiB Drop-In Trigger – well-built two-stage trigger with the best price to quality ratio.
Stay safe!
FAQ 
Tags: #best ar10 trigger system / #best ar10 trigger rifle / #best ar10 trigger stage / #best ar10 trigger chassis / #best ar10 trigger hiperfire / #best ar10 trigger lower