Affiliate Disclosure: AmmoCave.com sometimes gets paid for listings, through sponsors or affiliate programs like Lucky Gunner, Optics Planet, Brownells, Cabelas, Academy Sports & Outdoors, Rainier Arms, Palmetto State Armory, Sportsman's Guide, Ammo.com, Ammo Man, Primary Arms, MidWayUsa, Amazon, eBay, etс. Clicking a link helps keep AmmoCave.com free, at no extra cost to you!
Authors: Each article is verified by AmmoCave's expert team. Professional hunters, firearm trainers, gunsmiths, and gun experts write the articles. AmmoCave Team independently researches, tests, reviews, and uses recommendations from our community of gun owners. We may earn commissions from shopping links.
Note: The views and opinions expressed in this article are those of the authors and do not necessarily reflect any agency's official policy or position. The articles are for informational purposes only, share your opinions about Best Bulletproof Vest 2023 in the comments and join the discussions. Let's share 💬 our ammo & gun experiences together!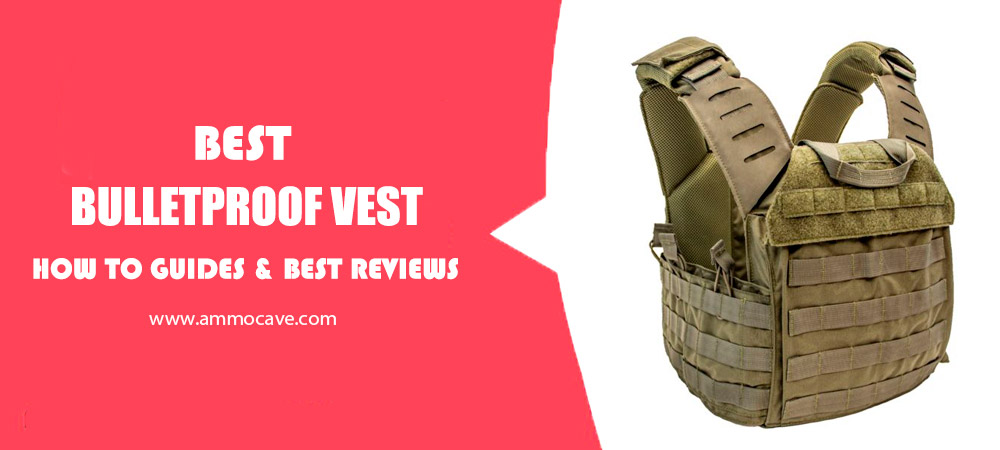 What is a bulletproof vest? 🤔
It also known as a ballistic vest or body armor, is an item of personal protective equipment designed to protect the wearer from being shot by bullets. The purpose of the vest is to absorb and spread out the impact energy of a bullet strike, thereby reducing its penetration into the torso.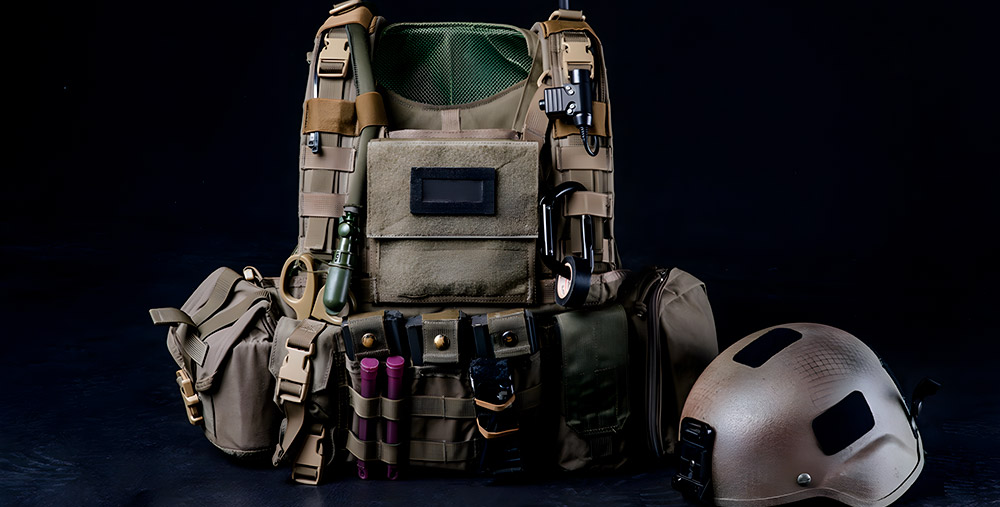 Features 🔥
The most important features include the type of ballistic material used in the vest, the type of protection it offers (hard armor versus soft armor), and its level of comfort.
✳️ Ballistic Material: Most bulletproof vests consist of layers of aramid fibers, such as Kevlar or Twaron, which are woven together to form the vest. These aramid fibers can absorb and disperse the energy of a bullet upon impact.
✳️ Type of Protection: Hard armor vests protect against high-velocity rounds with steel or ceramic plates that can stop bullets in their tracks. Soft armor vests protect lower velocity rounds like those fired from pistols, but they may not be effective against higher velocity rifle rounds.
✳️ Comfort: Comfort is an important factor when selecting a such vest since it needs to be worn for long periods. Look for vests with adjustable straps and breathable fabrics to ensure the most comfort.
Our Top Pick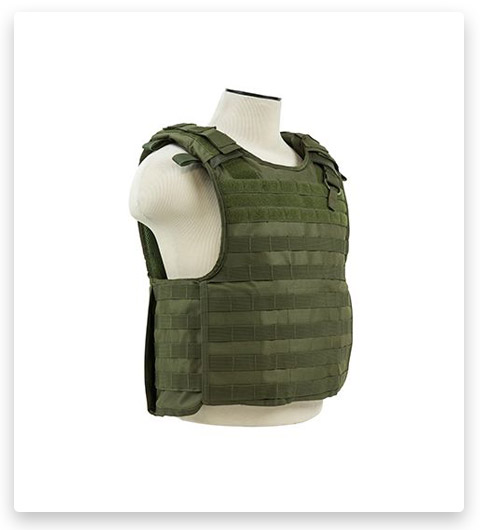 Vism Molle Quick Release Plate Carrier Vest
Designed for patrolling fields, this vest is equipped with MOLLE webbing on the front, back, and side panels, providing ample space to attach mag pouches, holsters, and other essential accessories. With its customizable design, this vest allows you to tailor your loadout to your exact needs, ensuring that you're always ready for any situation. Crafted from durable PVC material, this vest is built to withstand even the toughest conditions, whether you're facing water or chemicals. And with its quick-release design, you can easily and quickly remove the vest in case of an emergency.
Buy Now On OpticsPlanet
If you click this link and make a purchase, we earn a commission at no additional cost to you.
Benefits 🤩
Bulletproof vests provide an essential layer of protection for those in dangerous situations. By wearing them, individuals can protect themselves from physical harm caused by bullets and other projectiles.
🟣 One major benefit of wearing a vest is increased peace of mind. It can partially alleviate the feelings of fear and anxiety associated with situations involving potential gun violence or other threats.
🟣 Such vests also provide the wearer with an increased sense of security and safety in emergencies.
🟣 In addition, it can make it easier to remain focused on the task at hand while performing potentially hazardous activities like patrolling or responding to calls as a law enforcement officer.
🟣 Those who wear such vests may also experience improved mobility due to the lightweight construction of most modern models. Advanced materials used in modern vests allow them to be worn comfortably over long periods without adding excessive bulk or weight that could interfere with mobility or performance during emergencies.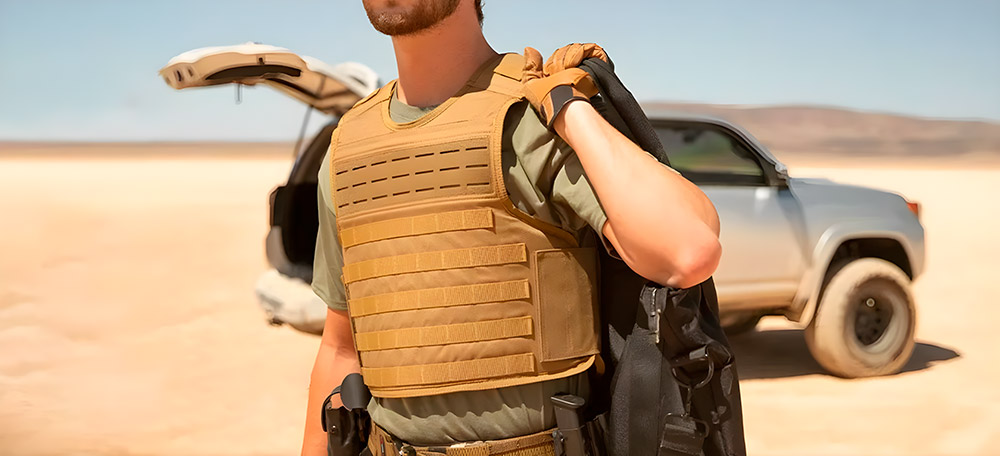 What things should know before buying it? 💡
Buying a bulletproof vest is an important decision that involves much more than just selecting one style or type. Knowing your body measurements, local laws and regulations, and the various types of vests available are all important considerations when shopping.
➡️ Before making the purchase, it is recommended to measure yourself so you can choose the correct size and fit. Most vests come in sizes ranging from small to extra-large and some brands even offer custom sizing options.
➡️ It is also important to research any applicable local laws related to these vests. While owning a this vest is legal in the majority of states, some have restrictions on who can purchase and wear one.
➡️ Finally, it is important to familiarize yourself with the different types of vests available. Soft body armor is typically constructed from synthetic fabrics like Kevlar and Twaron while hard body armor usually features additional plate inserts made from materials like steel or ceramic. Each type has its own set of advantages and disadvantages so it is important to understand which one will best suit your needs before making a purchase.
Top 17 Bulletproof Vest 💥
1# Champion Titanium Ti22-Adult Vest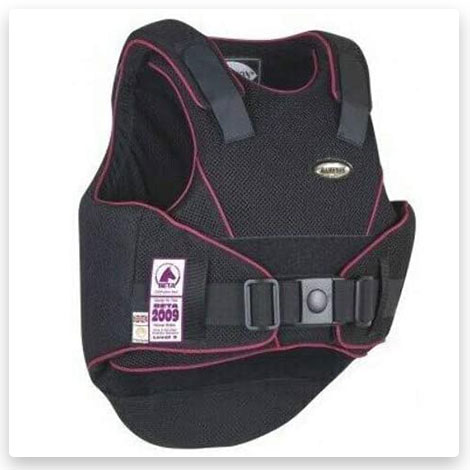 Searching for a comfortable and flexible body protector that provides maximum protection during sports or other physical activities? Look at the Champion Titanium Ti22-Adult Vest! With its heavy-duty YKK zipper and zip front with cord side adjustment, this vest provides a flexible and customizable fit that can be adjusted to your comfort. As a result of our tests, we determined that the airflow heat release system ensures that you stay cool and dry, even during intense workouts or activities. Get yours today and take your sports performance to the next level!
2# Tipperary Eventer Youth Large Vest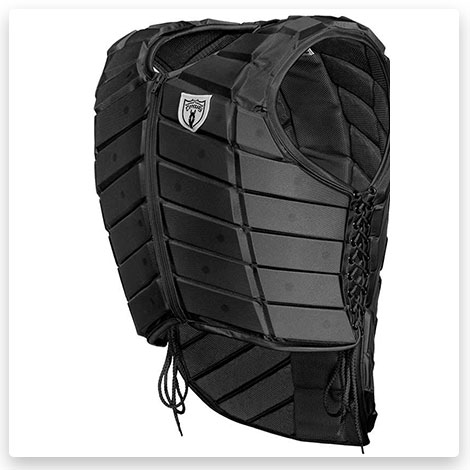 Do you need a body protector that is preferred by world-class riders for its superior design and performance? Notice the Tipperary Eventer Youth Large Vest! It is designed with a non-restrictive contoured custom fit, ensuring maximum comfort and flexibility during sports or other physical activities. The zippered front and lace side adjustment allows for a customized fit, while the scalloped lower front and extended back offer less restriction and a protected tailbone. So if you're searching for a high-quality body protector that combines comfort, flexibility, and maximum protection, the Tipperary Eventer Youth Large Vest is a perfect choice!
3# Barska Loaded Gear Tactical Vest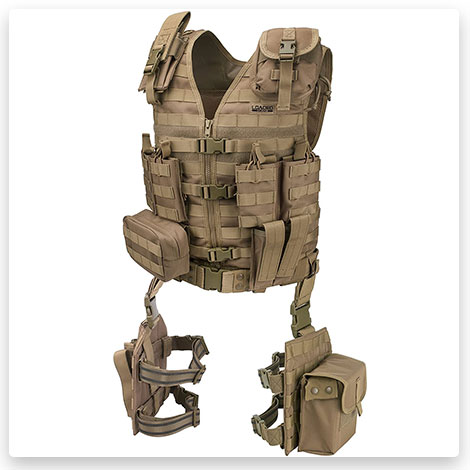 If you need a versatile tactical vest that can fit most adults and provide quick access to your rifle and pistol magazines? The Barska Loaded Gear Tactical Vest is your solution. Its adjustable shoulder panels, side straps, and ladder buckles on each side of the vest allow for a quick and customized fit, so you can focus on your mission without worrying about discomfort or distraction. In the event of an emergency, the vest also has an emergency drag handle for quick and safe extraction. Get your Barska Loaded Gear Tactical Vest today and be ready for anything that comes your way!
4# Marmot Tactical Vest with Detachable Belt & Holster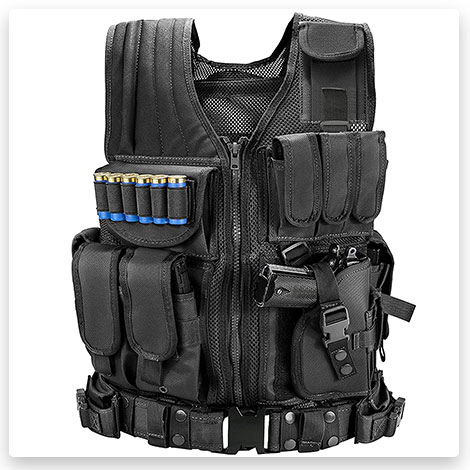 This Marmot Tactical Vest with Detachable Belt & Holster features a convenient zipper closure and is fully adjustable for a customized fit, accommodating sizes S through 4XL. Additionally, the shoulder velcro can be adjusted for an even better fit. Our research has shown that the vest is equipped with a detachable shotgun shell holder, equipment pouch, holster for pistols, belt pouches, and cross-draw pistol holster, allowing for easy customization to your needs. The Molle system also provides the option to add more accessories. Made of durable, lightweight, and breathable high-density 600D polyester in a mesh design, this vest includes a holster for subcompact, compact, and standard pistols. Try it today!
5# Yakeda Tactical Vest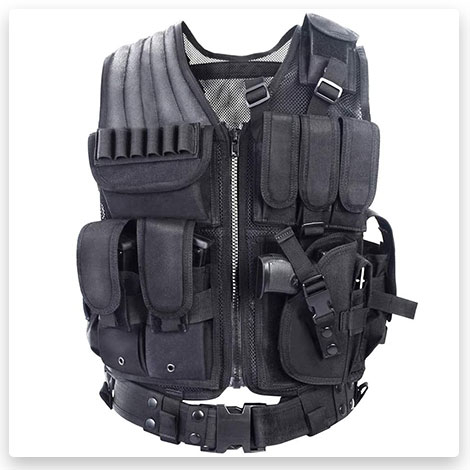 Presenting the Yakeda Tactical Vest. It is made of high-quality 600D nylon that provides durability and comfort to the wearer. It has a mesh design that ensures breathability and keeps the user cool during activities. The vest comes with removable pouches that are secured by Hook-and-loop closures and have drain holes and elastic plug-in systems to keep the contents organized. It is ideal for various activities such as mountaineering, outdoor activities, and target shooting, additionally, it can be used for law enforcement and airsoft and paintball activities.
6# Himal Tactical Sports-Vest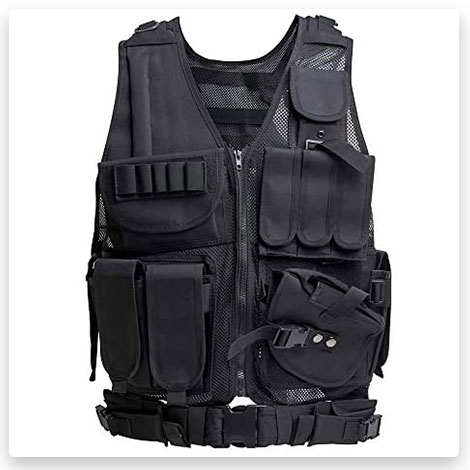 This Himal Tactical Sports Vest is made from 600D encrypted polyester, which is tear-resistant, lightweight, and durable, ensuring a comfortable experience while in use. The vest features four detachable parts that can be combined according to your needs, including a flashlight pouch, pistol holster, removable bullet holder, and heavy adjustable belt. The back plate uses a modular webbing structure, allowing you to add camouflage equipment materials and mail bags, while two D-rings can help you hold carabiners or other equipment. Order and try it just now!
7# GZ Xinxing Tactical Airsoft Vest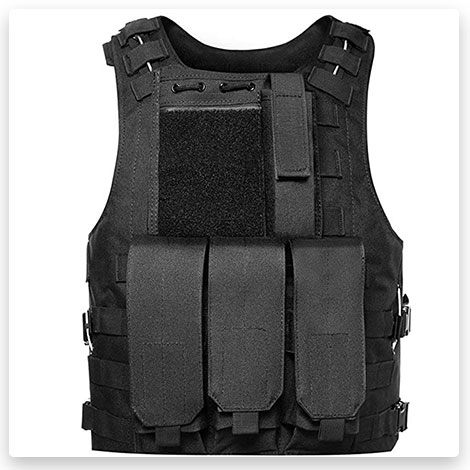 Do you need a vest designed to meet your needs? Made of high-density 900D nylon, it is durable and wear-resistant. The vest features multiple removable pouches, including three standard magazine pouches, a map and flashlight pouch, and a medic pouch. The adjustable sizing makes it suitable for men's clothing sizes in the US, and it is ideal for use in games. Choose this GZ Xinxing Tactical Airsoft Vest for your tactical needs and enjoy the peace of mind that comes with a 100% refund guarantee.
8# Snacam Tactical Airsoft Molle Vest
The Snacam Tactical Airsoft Molle Vest features Molle webbing on the exterior for easy customization with the option to attach patches and identifiers on the front and back hoop&loop areas. The vest offers an adjustable waist size range of 30 to 60 inches (76cm – 152cm) with the option to adjust the shoulder and waist straps using the hoop&loop for a comfortable and secure fit for all body types. Constructed with high-quality 600D Oxford fabric, this vest is lightweight yet durable, with strong tensile and wear-resistant properties to withstand various activities.
9# Speed & Strength True Grit Armored Vest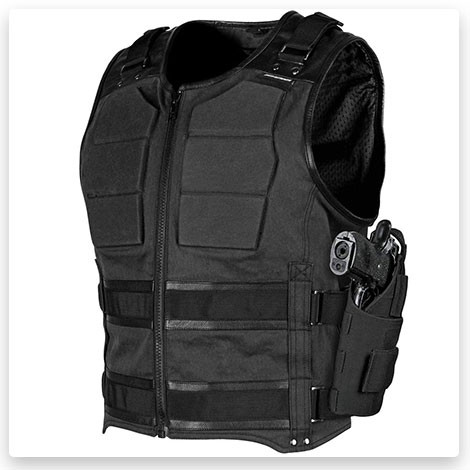 Do you need a high-quality vest? Pay attention to the Speed & Strength True Grit Armored Vest. It has an item weight of 1.11 pounds and can protect against blunt force impact. Using this product, our team found that durable construction with high-strength ballistic polyester fabric gives you full protection. So don't wait any longer – order Speed & Strength True Grit Armored Vest just now!
10# Actionunion Tactical Airsoft Vest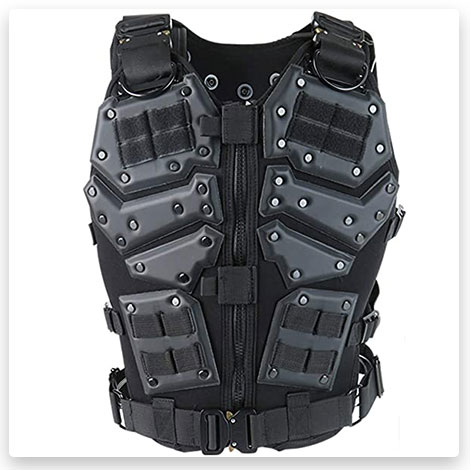 Introducing the Actionunion Tactical Airsoft Vest for special forces! This durable outdoor vest is crafted from high-density sponge cloth and EVA material, making it built to last. It features adjustable shoulder and waist straps to accommodate a range of body types. Ensure a comfortable fit that allows for freedom of movement while also providing secure access to your equipment. The Molle system enables you to attach additional pouches, making it a must-have for outdoor hunting, mountaineering, target shooting, law enforcement, and other sports.
11# UTG 547 Law Enforcement Tactical Vest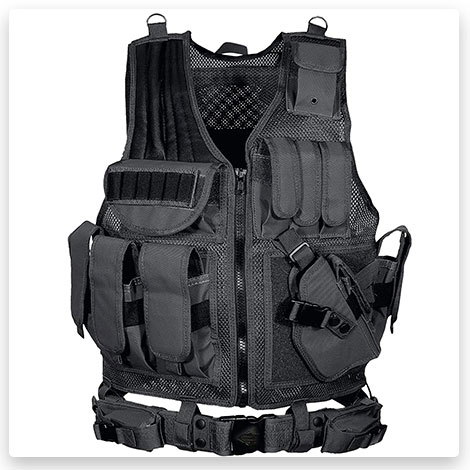 Look at the UTG 547 Law Enforcement Tactical Vest. It features four integrated rifle magazine pouches that use hook-and-loop closures, elastic strap retention, and drain holes. The vest includes a detachable right-handed cross-draw holster that can be switched with the included double rifle magazine pouch. A heavy-duty back panel webbing allows for additional gear attachment. In case of an emergency, a reinforced drag handle is centered at the top of the back panel to pull potentially injured users to safety. Breathable materials and construction release moisture and heat, providing ideal ventilation!
12# AR500 Armor Invictus Plate Carrier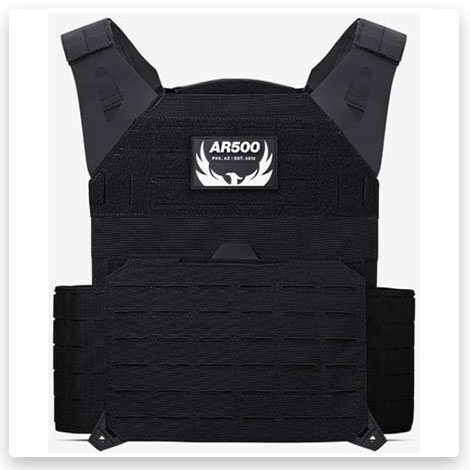 The AR500 Armor Invictus Plate Carrier is a top-of-the-line body armor carrier that provides superior comfort and mobility without sacrificing protection. It features a fully-adjustable pals cummerbund that easily accommodates Molle-compatible pouches and accessories. Built with both durability and comfort in mind, the flexible interior materials design stretches and breathes to provide exceptional mobility and breathability. This vest also includes velcro web sections for ID panels, as well as swift clip rig compatibility. Choose the AR500 Armor Invictus Plate Carrier for a lightweight, breathable, and customizable body armor solution.
13# Vism Molle Quick Release Plate Carrier Vest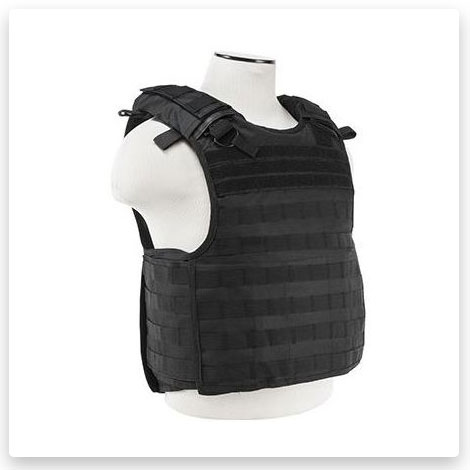 Pay attention to the Vism Molle Quick Release Plate Carrier Vest, which offers the perfect combination of ballistic protection and gear-carrying capacity for safe field patrolling. With its MOLLE webbing on the front, back, and side panels, this Body Armor & Bulletproof Vest provides ample customization options for attaching essential accessories like mag pouches, holsters, and other gear. The quick-release strap enables it to separate into four separate panel pieces in case of an emergency that requires quick removal of the vest from the wearer. Additionally, the hook and loop fasteners on the ends of the cummerbund securely fasten it to the front panel hook and loop fasteners, ensuring a secure fit. Stay protected and prepared for any situation with the Vism Molle Quick Release Plate Carrier Vest.
14# Defcon 5 Body Armor Carrier Set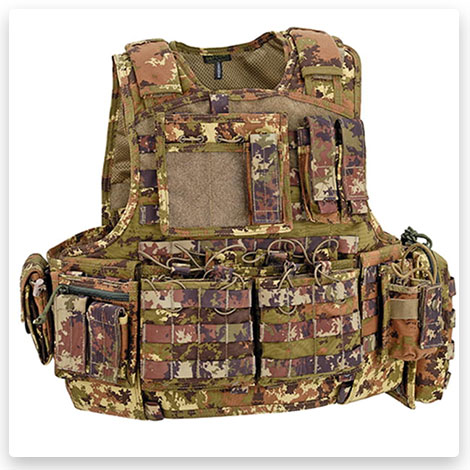 Stay protected in the field with the Defcon 5 Body Armor Carrier Set that provides full chest coverage. It includes internal pouches to hold ballistic plates, protecting your dorsal, lumbar, and thoracic body parts. The carrier also features large velcro flaps on the front and rear interiors for Small Arms Protective Insert (SAPI) pockets. Based on our own experience the inside is made of mesh textile that provides ventilation and prevents friction, ensuring optimal comfort during extended wear. Additionally, the carrier is water-repellent, providing extra protection against the elements. Stay safe and prepared with the Defcon 5 Body Armor Carrier Set.
15# Shellback Tactical Banshee Elite 2.0 Plate Carrier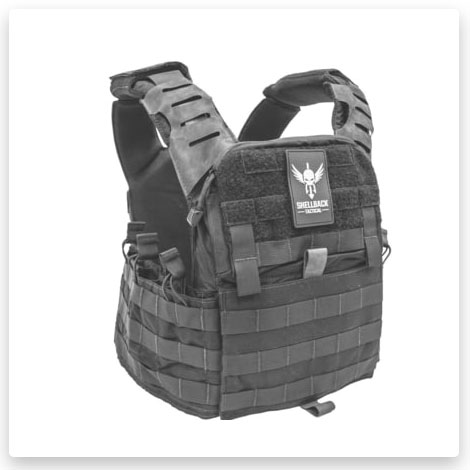 The Shellback Tactical Banshee Elite 2.0 Plate Carrier offers top-notch protection at an unbeatable value. It boasts multiple pals' web attachment points, allowing you to fully customize your carrier with essential gear and accessories. The vest features 3D mesh on the front and back panels, promoting maximum breathability. Each carrier comes with an adjustable cummerbund that can comfortably hold magazines and other equipment and even includes a wire guide for use with hydration packs or comms devices. Enhance your protection and carry vital gear on duty with the Shellback Tactical Banshee Elite 2.0 Plate Carrier.
16# Grey Ghost Gear SMC Plate Carrier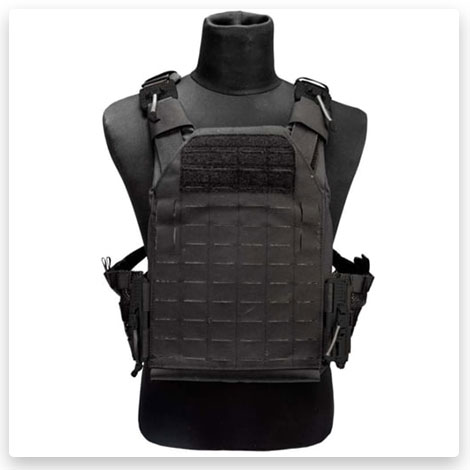 Presenting the Grey Ghost Gear SMC Plate Carrier. It is designed to fit most body types, thanks to adjustable shoulder straps and cummerbund. In case of emergencies such as being trapped or caught on fire, the carrier features new ROC buckles on one shoulder strap (reversible) and either side of the cummerbund, which can be rapidly released for a quick escape. These ROC buckles also make it more convenient to put on the carrier when time is of the essence. Don't wait – try it today!
17# Voodoo Tactical Heavy Armor Carrier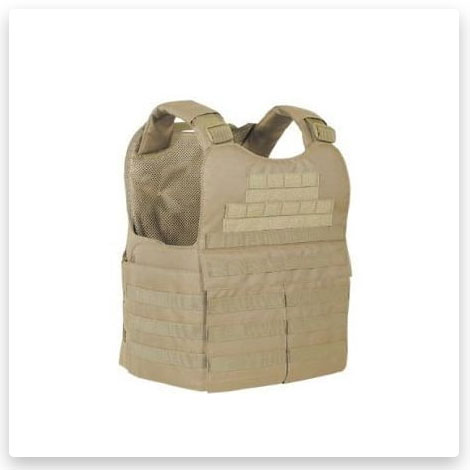 Do you want to get maximum protection? Notice the Voodoo Tactical Heavy Armor Carrier. It features 7 rows of pals webbing on the front and back, which provide ample space to attach various accessories and equipment. With padded and adjustable shoulders, this carrier offers enhanced comfort and a customized fit to reduce fatigue. The sides provide complete coverage when using soft armor, and the rear drag handle can be secured out of the way with a hook-n-loop attachment. The cummerbund has elastic webbing for adjustable comfort, and a hook-n-loop section is provided on the front for the department or unit ID patch. The Voodoo Tactical Heavy Armor Carrier is designed to fit most body types, making it an ideal choice for anyone in need of reliable and versatile armor.
How to properly wear it? 🤠
🔷 When wearing a bulletproof vest, it is important to ensure it fits you properly. To do so, make sure the straps are fastened tightly and adjust the sides and shoulders for improved comfort.
🔷 Additionally, make sure any overlapping straps or materials are tucked away to avoid snagging on clothing or other items. It is important to remember that if a vest is not worn correctly, it may not provide the same level of protection that it would have otherwise.
🔷 Additionally, try to avoid placing any items or equipment in the pockets of the vest as this could cause the material to become stretched out and potentially reduce the protective capabilities of the vest.
🔷 Lastly, be sure to monitor yourself for signs of fatigue or discomfort, as these can indicate an ill-fitting vest.
FAQ 🤔
Conclusion 🙂
Choosing the best bulletproof vest for your needs is an important decision. Hope that our guide has provided you with useful information about the different types of vests available on the market today so you can make a well-informed purchasing decision. Whether you are looking for a lightweight concealable model or something heavier-duty like a tactical vest, we believe there is an option out there to meet your specific requirements. Ultimately, choosing the right bulletproof vest should come down to understanding what features are most important to you and how much money you want to spend. 😎👍
Tags: #best bulletproof vest / #best concealed bulletproof vest / #the best bulletproof vest in the world / #what is the best bulletproof vest / #who makes the best bulletproof vest / #body armor / #bulletproof vest