Affiliate Disclosure: AmmoCave.com sometimes gets paid for listings, through sponsors or affiliate programs like Lucky Gunner, Optics Planet, Brownells, Cabelas, Academy Sports & Outdoors, Rainier Arms, Palmetto State Armory, Sportsman's Guide, Ammo.com, Ammo Man, Primary Arms, MidWayUsa, Amazon, eBay, etс. Clicking a link helps keep AmmoCave.com free, at no extra cost to you!
Authors: Each article is verified by AmmoCave's expert team. Professional hunters and gun experts write the articles. AmmoCave Team independently researches, tests, reviews, and uses recommendations from our community of gun owners. We may earn commissions from shopping links.
Note: The views and opinions expressed in this article are those of the authors and do not necessarily reflect any agency's official policy or position. The articles are for informational purposes only, share your opinions about Best Ruger 10/22 Trigger in the comments and join the discussions. Let's share 💬 our ammo & gun experiences together!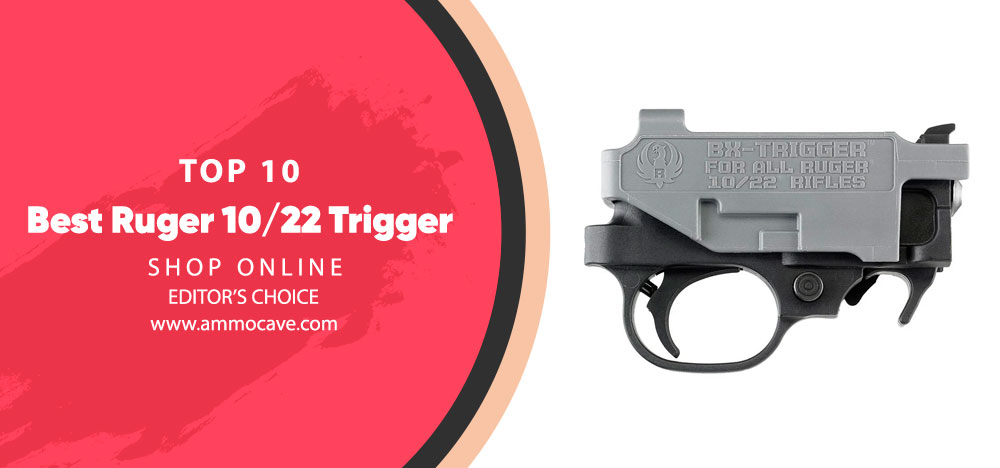 The 10 Best Ruger 10/22 Trigger Job Kits | Reviews
| Image | Product | Brand | |
| --- | --- | --- | --- |
| | Timney Triggers Ruger 10/22 Trigger | Timney Triggers | |
| | Volquartsen Firearms TG2000 Trigger Group | Volquartsen Firearms | |
| | Powder River Precision Ruger 10/22 Trigger Rifle | Powder River | |
| | Ruger BX Drop-In Replacement Trigger | Ruger BX | |
| | Ruger Red Bx-trigger Fro 10/22 And Charger Pistols | Ruger Red | |
| | CMC Triggers Match Grade Drop-In Single Stage Trigger | CMC Triggers | |
| | Timney Triggers Ruger 1022Ce Rifle Trigger | Timney Triggers | |
| | Volquartsen Firearms HP Action Kit for Ruger 10/22 | Volquartsen Firearms | |
| | Volquartsen Firearms Match Hammer and Sear Ruger 10/22 | Volquartsen Firearms | |
| | Volquartsen Firearms Target Trigger for Ruger 10/22 | Volquartsen Firearms | |
Every shooter wants his weapon to be accurate, durable, and comfortable. These basic needs can sometimes be achieved with one simple modification, trigger replacement. Of course, this is not a magic wand, but it helps 90% of the time. A good trigger should not cause finger fatigue when pressed (have an acceptable trigger weight), glide smoothly, break clearly and quickly prepare for a new shot. This is especially important when shooting with a rifle at ranges of 100 yards or more.
Today we propose to discuss alternative options for replacing the base trigger of the Ruger 10/22 rifle. Our review includes the 10 most popular offers from the optics planet. Here you'll find top-end triggers for $250, cheaper polymer trigger options, and replacement kits from several well-known manufacturers. Sit back, we're getting started!
1# Timney Triggers Ruger 10/22 Trigger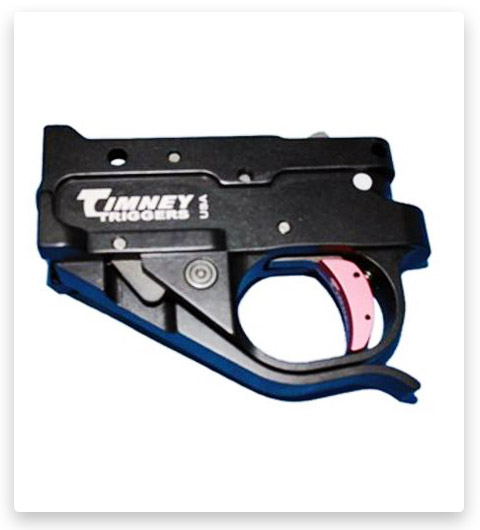 The weapon is obliged to work like a clock, clearly and smoothly, because these are the basic duties of any weapon, without exception. Every shooter knows this, but he always wants more, better, more elegant. This proposal from Timney can solve the problem of functionality and enhance the appearance according to your preferences. This offer contains 12 models that differ only in the color of the body and the color of the shoes.
Each Timney Triggers Ruger 10/22 Trigger is manufactured from a billet of 6061-T6 aircraft-grade aluminum. This allows you to maintain sufficient rigidity with maximum lightness and get corrosion resistance as a gift. Really durable sear and trigger are incredibly difficult to make out of aluminum, so here they are made of heat-treated steel.
The trigger has an extended magazine release, making it easier to upgrade ammo. The trigger force has been significantly reduced from the factory-set 6-8 lbs to 2.75 lbs. Timney's new trigger feels creep-free, with a clean break and a smooth ride.
It comes fully assembled, which means you don't need the help of a gunsmith to install it. By purchasing this improvement to the base version, you get a softer and smoother actuation, a lighter magazine change, and a significantly better receiver bolt. If you've been looking for an upgrade that narrows your groups and makes your Ruger 10/22 friendlier, this is it!
2# Volquartsen Firearms TG2000 Trigger Group for Ruger 10/22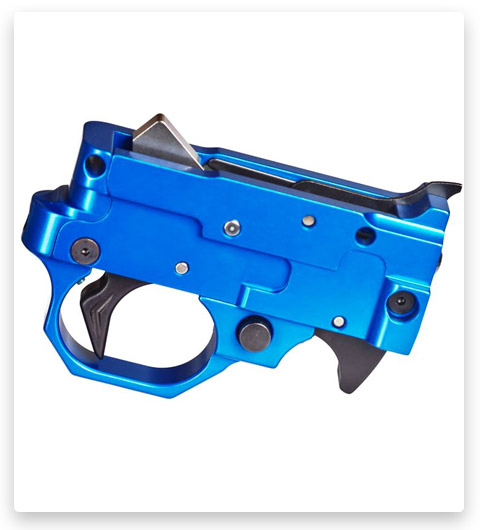 This offer requires more than $ 200 from the buyer for something that can work anyway. If you think so, then you have little experience with weapons. The fact is that the "Volquartsen Firearms TG2000 Trigger Group For Ruger 10/22" is definitely worth the money and turns a regular rifle into an accurate and obedient weapon. If you want to narrow down your groups and have more fun training at the range, consider purchasing this trigger again.
A billet made of 6061-T6 aircraft aluminum undergoes CNC machining and anodizing, after which it turns into the body of the future trigger. The trigger is made in Drop-In format and requires no more than 15 minutes to install, even for a beginner. The weight is only 7 ounces, which translates quite well into the portability of the entire assembly. In addition, you can adjust the preliminary and reverse travel of the trigger, getting the optimal setting for you. The pull weight is preset at the factory and cannot be changed by the user. You will need 2.25 pounds of force to fire.
The TG2000 differs from plunger triggers in that it ejects from the inside and eliminates any drag or weight. Here you will find an improved magazine release and an automatic shutter release. This product is manufactured in the USA (Iowa) and is intended for the standard Ruger 10/22. A thicker trigger guard is used here (and not rounded) like a stock trigger guard, so compatibility with other rifles needs to be clarified. You can choose between 6 models that differ only in color. All of the triggers in this offering have a curved trigger, smooth and easy travel, and an impeccable track record.
3# Powder River Precision Ruger 10/22 Trigger Rifle Assemblies PRP-X-1022 Trigger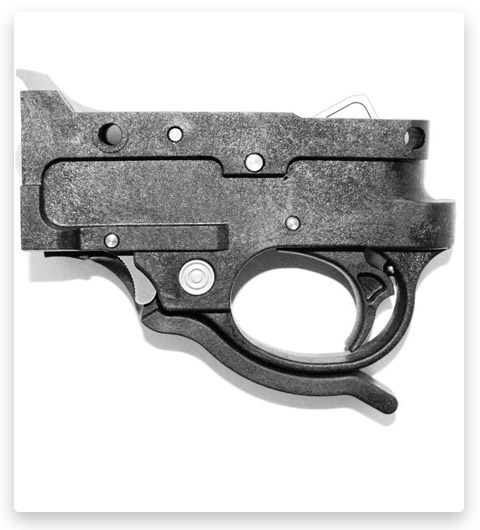 PRP decided to change the rules of the game and released a trigger for the Ruger 10/22, which is 1/3 cheaper than the top competitors. The company relied on modern technologies and production optimization. Due to the use of polymer parts, it was possible to reduce the weight of the trigger and the final cost. If you are not willing to overpay and are willing to take risks, this is a great opportunity to get more by paying less.
To create this trigger, it was necessary to completely rethink all the engineering solutions of its predecessors. All parts have been manufactured to strict specifications and create synergy across the entire escapement. The body is made of glass-filled polymer, it is very light and strong. The hammer, sear, and disconnector appear after the EDM machine work with hardened stainless-steel workpieces. Other metal parts are made of stainless steel.
Trigger Rifle Assemblies PRP-X-1022 has an automatic bolt release and a built-in spare extractor. Feels like you'll find traction resistance at 2.25 pounds, a clear break, and a clean drop. You may also notice a slight improvement in the release of the store. There is only one model available with gray housing and polished metal parts. This works better than it looks, but whether or not this trigger has a new owner is up to you.
4# Ruger BX Drop-In Replacement Trigger For 10/22 Rifle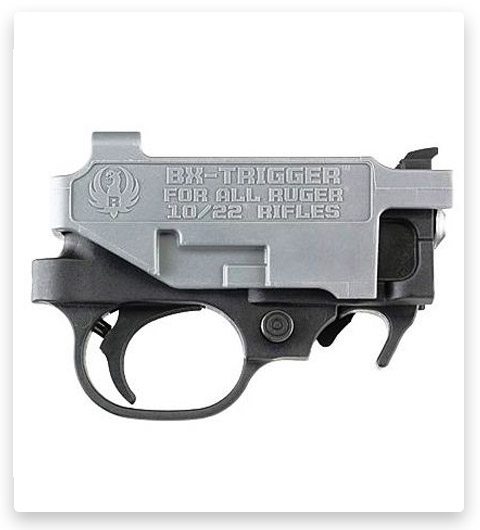 Big business makes big money, but it doesn't always do it honorably. Ruger has made good weapons such as the Ruger 10/22 Rifle or 22 Charger Pistol. The problem is that the company can make much friendlier weapons, but due to financial interests it is forced to motivate its customers to reapply for updated components. We're talking about the Ruger BX. This Trigger is much better than the pre-installed trigger in many ways but is sold only in the aftermarket. Considering the very competitive price, this offer is actually much more interesting than it seems at first glance.
To begin with, here is the lightest polymer construction with several metal components. The upper part of the body (will be hidden inward) is gray, and the lower part of the trigger is made black. The trigger has a classic curved shape and will require 2.5 – 3 pounds of force (but not adjustable). The overshoot is noticeable, but much less when compared with the preset trigger. The reset is positive, the stroke is soft, the gap is clear, everything is as we love. The extended release of the store is a nice addition that awaits you with this update.
The engineers and designers really did their best to make the product as easy to use and install as possible. Installation is really quick (up to 10 minutes) and easy (only a screwdriver is required). As a rule, removing the barrel/bolt from the stock takes longer than replacing the old trigger with this one. If you doubt your abilities, watch one of the tutorial videos. Among the criticisms, one can note the absence of an automatic shutter release, but the inclusion of a sear and a trigger.
If it weren't for the company's need for financial survival, the Ruger BX would have to stand on every compatible platform. It definitely costs a lot more money. You might be intimidated by a flimsy appearance, but that's just an impression, not your owning experience. See the difference from the first shot.
5# Ruger Red Bx-trigger Fro 10/22 And Charger Pistols 90631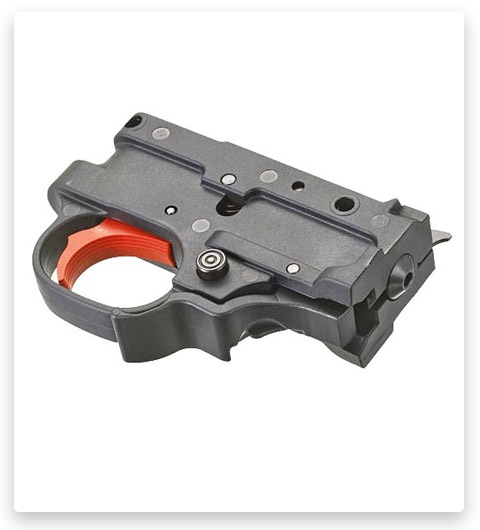 Ruger has created this aftermarket trigger as a replacement for the base version, but this time has made it more stylish. This model features an improved design, with a nicer matte black shell and bright red shoes. In general, this is similar to the BX-Trigger (we considered it at the 4th place of this review). It has a very competitive price, easy installation, and a decent level of reliability.
Crafted from resin and heat-treated steel, this Genuine Ruger factory accessory is 8.1 inches tall. The trigger is made in the form of a complete assembly and is very easy to install in 10 minutes even by a beginner. You will need a screwdriver and a work surface where you can place your removed barrel and a brand-new BX-Trigger. Installation is like a breeze, without any pitfalls. Unlike the basic version with 6-8 lbs of pull, this trigger is much friendlier and only requires 2.75 lbs. It fits perfectly with all Ruger 10/22 rifles and Charger 22 pistols.
The only criticism regarding this trigger is the lack of an extended version of the log. Ruger prefers to sell these components separately for a small premium (around $ 25). But if you evaluate the trigger as a separate module, it is quite good, both in terms of price and quality.
6# CMC Triggers Match Grade Drop-In Single Stage Trigger for Ruger 10/22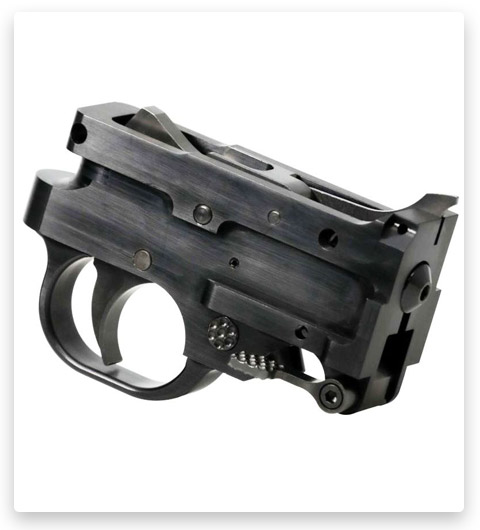 It is difficult to blame CMC for the lust for easy money on gullible buyers. This company creates premium triggers and wants to get paid for them. CMC Triggers Match Grade Drop-In Single Stage Trigger For Ruger 10/22 is legendary quality and lifetime warranty that will keep your gun really cool for years!
Like many CMC products, this trigger is CNC machined from a solid billet of aluminum. Anodizing protects against corrosion and turns the trigger body into an impregnable fortress. Impact and pivot elements are manufactured from 8620 alloy steel and S7 tool steel with machining tolerances of +/– .001″. The method of creating the surface of the critical engagement of the sear is patented separately and is a separate pride for CMC. Strict adherence to high standards makes the finished surfaces nearly mirror-like, with cleanliness of 1-2 RMS. In addition to standard trigger duties, added: improved bolt lock release button, gripped ejector, automatic bolt hold open, and double-sided magazine release with textured controls.
Feels this one-stage trigger is always stable and the same. It's a rigorous 3.5 pounds of traction with no adjustments, a smooth push without feeling like slipping or sand, and breaking like glass. Blocking times are minimized thanks to the use of a balanced and controlled weight of the hammer and wire spring. This opens up the possibility of using commercial or military-grade ammunition without any fear. In addition, there is a positive release of the trigger, with which it is much easier to carry out subsequent shots on the target.
By purchasing this you get a product of legendary quality and of course the CMC Lifetime Warranty. You can choose from two models, curved and straight trigger. The fully self-contained assembly is easy to install and works like a perpetual motion machine. All you have to do is find the money because this investment will make your wallet "a little" lighter.
7# Timney Triggers Ruger 1022Ce Rifle Trigger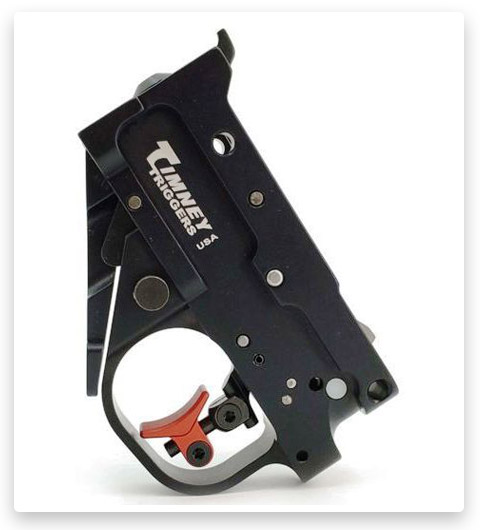 Like many Timney products, this trigger is a clear example of the "If you do, do it well" philosophy. Along with the high level of manufacturing quality, the Ruger 1022Ce trigger has "some" personalization to suit the preferences of each shooter. In addition to being a two-stage trigger, it also allows you to move the trigger shoe by increasing / decreasing travel and trigger pull required.
Timney uses only quality components and materials for its sensitive triggers. The body of a bar of aircraft aluminum forms a CNC machine, and the impact parts of the mechanism are made of durable tool steel by the method of electrical discharge cutting. After manual assembly and several stages of testing, everyone's favorite level of quality is obtained.
This is a two-stage trigger, with a first-stage resistance of 0.5 lb (8 oz) and a second-stage resistance of 1 lb. After you've covered the first half of the trip, your total trigger pull should be above 1.5 pounds. You cannot change the spring rate and set the weight differently from Timney's, but it is 4 times less and lighter than the base version requires. If this is not enough for you, this is not the limit. Pulling the trigger shoe even lower (closer to the edge) will reduce the pulling weight even further (but it will lengthen the travel a bit).
Setting this trigger is as easy as 2×2. Disassemble your Ruger 10/22 or 22LR as if preparing the gun for cleaning. Remove two pins and install a new trigger. That's all! A good and reliable trigger is worth its money, but it depends only on you whether it will appear in your basket in your "OP" personal account.
8# Volquartsen Firearms HP Action Kit for Ruger 10/22 and 22LR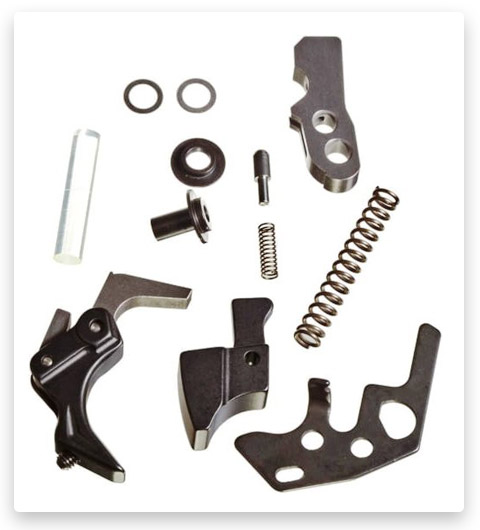 This offering from Volquartsen Firearms consists of 2 sets of spare parts and is the ideal replacement for the pre-installed triggers of the Ruger 10/22 and 22LR rifles. The premium components can be swapped out individually, but of course, the build will work best if the kit is fully installed. When completely replaced, the trigger weight will be reduced to 2.25 – 2.5 lbs. This is a significant improvement that you will feel from the first click, but there are other nice improvements that we will talk about next.
The standard kit consists of everything you need first.
The kit includes:
Proprietary striker with additional spacers and bushings
Spring of the striker
Target disconnector
Target sear and target trigger with polished plunger and spring (for overtravel adjustment).
Recoil damper to reduce bolt wear
The Plus Kit repeats the contents of the standard kit but adds some elements to improve the shooter's comfort.
Added to the Plus Kit:
1+ Extended Magazine Issues
2+ Automatic bolt releases
3+ Color choices available, black or silver
If you buy a set of individual spare parts, then your level of proficiency is much better than that of a newbie. If this is not the case, you may find it difficult to read the instructions or install a nylon bolt stop.
Overall, this greatly improves the basic trigger of the Ruger 10/22 (including the BX-Trigger) and you will definitely see the difference with your smaller groups. Tiny grit and minimal creep do not cause discomfort or concern. You get a trigger weight in the 2.25 to 2.5 lb range, which is much more enjoyable than the base set. This kit works as advertised and seems worth the money.
9# Volquartsen Firearms Match Hammer and Sear for Ruger 10/22 and 10/22 Magnum VC10MHS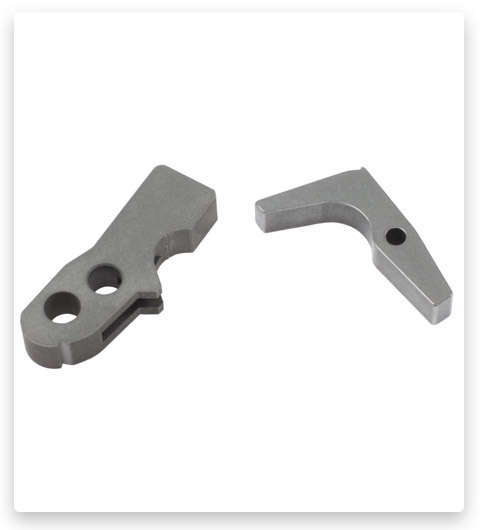 The Volquartsen Firearms Match Hammer and Sear for the Ruger 10/22 and 10/22 Magnum is a replacement kit that gives your weapon a new breath of freedom. If, when choosing a kit for purchase, you looked only at the picture, you might get the impression that this offer consists of two components. This is not the case, and it has everything you need to replace the base trigger.
This kit includes a ground stainless steel target hammer and a sear cut out of A2 tool steel by EDM. Metal parts are heat-treated (up to Rc 58-60) and are guaranteed to serve for many years and many thousands of shots. Hammer shims and bushings are also added to the kit.
The result is a kit that fits the Ruger 10/22 and 10/22 Magnum and can reduce the actuation force to a range of 2.25 – 2.5 lbs. The price remains attractive and quite competitive, all that remains is to press the buy button.
10# Volquartsen Firearms Target Trigger for Ruger 10/22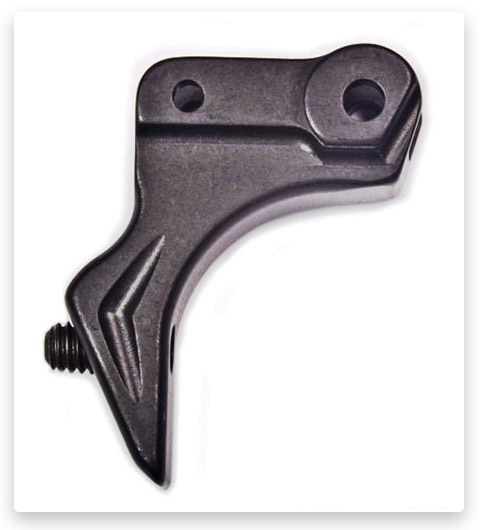 Voluqartsen Custom is an American family business that continues to delight us with high-quality weapon components for almost 50 years! This time our review includes an improved VC10TT trigger for the Ruger 10/22 and 10/22 Magnum with overtravel control.
To obtain a smoothly curving trigger with the desired dimensions and minimum tolerances, the 6061-aluminum housing is CNC machined. After that, a sufficiently thick layer of blackening is applied. This kit includes an automatic bolt release and extended magazine release. This is very small, but the improvement allows you to improve control and adjust the overrun optimal for you. These components are compatible with the Ruger 10/22 and 10/22 Magnum, but not with the Ruger BX-Trigger.
If you are concerned about overrunning the factory trigger 10/22, this is the easiest and cheapest fix. You will definitely be able to tell the difference when your groups are significantly smaller at 100 yards.
FAQ
How do I choose a Ruger 10/22 Trigger?
Choosing the best Ruger 10/22 trigger can be a tough task because there are so many great options on the market. But, we've done the research for you and compiled a list of the best Ruger 10/22 triggers available.
There are a few things to keep in mind when choosing a Ruger 10/22 trigger. The first is the style of the trigger. There are two main types of Ruger 10/22 triggers: standard and target. Standard triggers are typically made of plastic and have a curved trigger face. Target triggers are made of metal and have a flat trigger face.
The second thing to consider is the pull weight. The pull weight is the amount of force required to pull the trigger. Most Ruger 10/22 triggers have a pull weight between 2 and 4 pounds.
The third thing to consider is the trigger travel. The trigger travel is the distance the trigger must be pulled before it will fire. Most Ruger 10/22 triggers have trigger travel between 0.5 and 1 inch.
How do I install a Ruger 10/22 Trigger?
There are a few different ways to install a Ruger 10/22 Trigger, but the most common and easiest method is to simply use the included Allen wrench. First, remove the magazine and clear the chamber of any ammunition. Next, locate the two screws near the front of the trigger guard. These screws need to be loosened in order to remove the trigger assembly.
Once the screws are loosened, the trigger assembly can be pulled out of the receiver. Be careful not to lose any of the small springs or pins that may fall out. To install the new trigger, simply reverse the process. Insert the new trigger into the receiver and then tighten down the two screws. That's it! Your Ruger 10/22 should now have a new, improved trigger.
If you are not comfortable performing this upgrade yourself, there are many qualified gunsmiths who can do it for you. But installing a Ruger 10/22 Trigger is a relatively easy job that most anyone can do with just a few simple tools.
What are the benefits of upgrading my Ruger 10/22 Trigger?
There are several benefits of upgrading your Ruger 10/22 Trigger. A better trigger can improve accuracy, make shooting more enjoyable, and even help increase the resale value of your Ruger 10/22.
What are some things to look for when choosing a new Ruger 10/22 Trigger?
When choosing a new Ruger 10/22 Trigger, there are several things you'll want to keep in mind. First, consider the trigger pull weight. A lighter trigger pull can be helpful for precision shooting, while a heavier trigger pull may be more suited for hunting or plinking. Next, think about the materials the trigger is made from. Some triggers are made from aluminum, which is lightweight and strong. Others are made from polymer, which can be more comfortable to shoot. Finally, consider the price. Ruger 10/22 Triggers range in price from around $30 to $200, so be sure to choose one that fits your budget.
Conclusion
Every day there are more and more offers and it is really difficult to follow this. Classic steel triggers are becoming a rarity, but we believe that even if the "fashion" for polymer triggers finally takes over the world, steel will last for tens of years and thousands of rounds.
We do not know what is more important to you. Perhaps you want to get a working weapon now (and save money), make the best build for a competition, or give your favorite rifle to your grandson. That is why our candidates are so different. We have highlighted a few suggestions that we liked the most:
We are glad that you spent this time with us. Thank you, we appreciate it and try to find the best for you (and, if possible, the cheapest). See you again, the survivalist! We wish you well-aimed shots and endless ammunition! Good luck!
Tags: #best ruger 10/22 triggers reviewed / # best triggers for your ruger 10/22 Rifles / #best ruger 10 22 trigger