Affiliate Disclosure: AmmoCave.com sometimes gets paid for listings, through sponsors or affiliate programs like Lucky Gunner, Optics Planet, Brownells, Cabelas, Academy Sports & Outdoors, Rainier Arms, Palmetto State Armory, Sportsman's Guide, Ammo.com, Ammo Man, Primary Arms, MidWayUsa, Amazon, eBay, etс. Clicking a link helps keep AmmoCave.com free, at no extra cost to you!
Authors: Each article is verified by AmmoCave's expert team. Professional hunters, firearm trainers, gunsmiths, and gun experts write the articles. AmmoCave Team independently researches, tests, reviews, and uses recommendations from our community of gun owners. We may earn commissions from shopping links.
Note: The views and opinions expressed in this article are those of the authors and do not necessarily reflect any agency's official policy or position. The articles are for informational purposes only, share your opinions about Best 9mm Suppressor 2023 in the comments and join the discussions. Let's share 💬 our ammo & gun experiences together!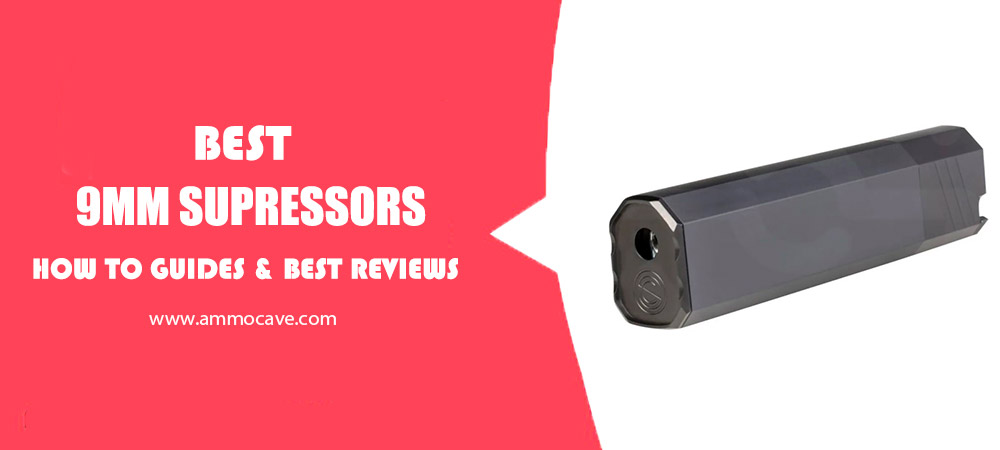 What is a 9mm Suppressor? 💡
These are devices that reduce the loud sound of a firearm when it is discharged. They do this by trapping and releasing gas in a controlled way when the gunshot occurs, muffling the sound of the gun.
Watch this video to find more information 💻
Features 🔔
🔎 Sound Reduction Level: The primary purpose of a suppressor is to reduce the noise associated with firing a gun. Different suppressors will vary in terms of the amount of noise they can reduce, with some offering high levels of sound reduction and others providing minimal suppression. Generally speaking, larger suppressors tend to provide greater sound reduction than smaller units.
🔎 Size & Weight: All other things being equal, smaller is usually better when it comes to suppressors as they're easier to manoeuvre and transport while shooting. That said, small-sized suppressors may not offer as much sound reduction as their larger counterparts. Additionally, weight should be taken into consideration as heavier models may be more difficult to handle during prolonged use or when shooting from unstable positions such as prone or kneeling.
🔎 Construction Quality: Constructed from metal alloys such as stainless steel or titanium, the quality of your construction will determine its durability and longevity. High-quality materials will help ensure that your silencer performs reliably over time while also reducing felt recoil and preventing corrosion that could otherwise damage internal components like baffles or wipes.
🔎 Attachment System: The attachment system used on your suppressor should be strong enough to firmly secure the unit onto your firearm without causing any damage or compromising performance in any way. Threaded connections are generally regarded as being among the strongest available, although newer quick-attach designs are becoming increasingly popular due to their ease of use and convenience factors.
Our Top Pick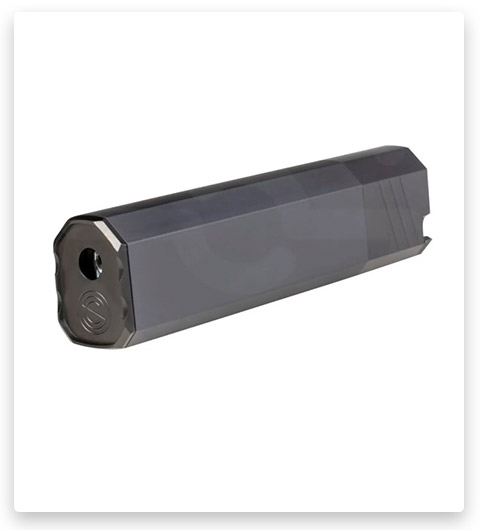 Silencerco Osprey 9 9mm Suppressor
The Osprey 9 9mm Suppressor is a great option for hunters and shooters who want a reliable tool. Its unique shape allows for more internal volume than a typical cylindrical suppressor, leading to better performance without sacrificing accuracy. Additionally, the suppressor's design makes it easier to shoot with your host pistol's standard height sights since most of its physical mass is situated below the centerline of the bore.
Buy Now On Brownells
If you click this link and make a purchase, we earn a commission at no additional cost to you.
Installation 🧲
⚡ The first step is to make sure that you have all of the necessary parts and tools to install the suppressor.  Most suppressors come with necessary mounting hardware and tools, such as wrenches and Allen keys, but you may need to purchase additional items depending on the type of mount or adapter you are using.
⚡ It is time to disassemble the gun. Start by disconnecting the barrel from the slide and removing any magazine extensions or other external components from the slide. Depending on your gun's design, you may need to also remove some internal components before being able to obtain full access to all mounting points for the suppressor.
⚡ Once all of these parts have been removed, you can begin attaching your chosen mount or adapter for the suppressor onto your gun's barrel or slide. Most mounts require two screws that must be tightened securely in order for them to stay in place during use; use an Allen key or wrench provided by the manufacturer to tighten these screws if necessary. After this is done, carefully attach and thread your suppressor onto the mount until it stops turning; then slowly back off one rotation so that it is secure yet easily removable when needed.
⚡ Lastly, reassemble and test fire your weapon with a dummy round (such as snap caps) in order to make sure everything is installed correctly and functioning properly without any issues.
We believe this video can be helpful for you 📺
TOP 6 Best 9mm Suppressors 🌟
1# GSL Technology 9 mm Stealth Suppressor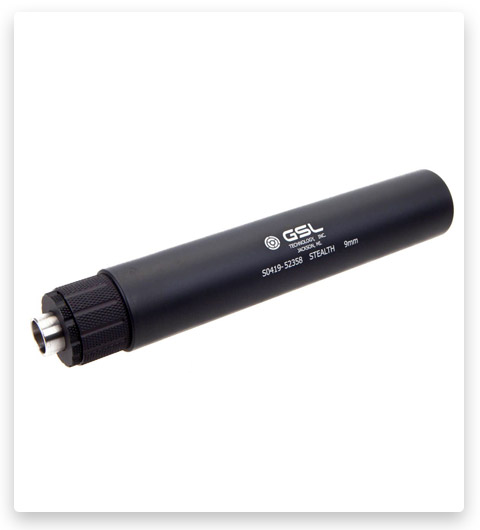 Introducing the GSL TECHNOLOGY 9MM STEALTH SUPPRESSOR. Designed to meet all your shooting needs, this suppressor ensures you'll be heard wherever you are! Featuring 34 dB sound reduction, a length of 6.875 inches, an outer diameter of 1.375 inches, and a weight of 7.2 ounces, this impressive piece of technology is designed with materials like aluminium and is finished with a hard coat anodized finish for added durability and superior protection from the elements. This suppressor also includes a direct thread piston in 1/2-28 and optional pistons (purchased separately) in 13.5x1mm LH as well as optional adapters (also purchased separately). Perfectly balanced so it won't weigh down your rifle barrel or slide when attached securely to your weapon of choice! The GSL TECHNOLOGY 9MM STEALTH SUPPRESSOR guarantees a great shooting experience whether you're out hunting or practising at the range!
2# GSL Technology 9mm Trinity SS Suppressor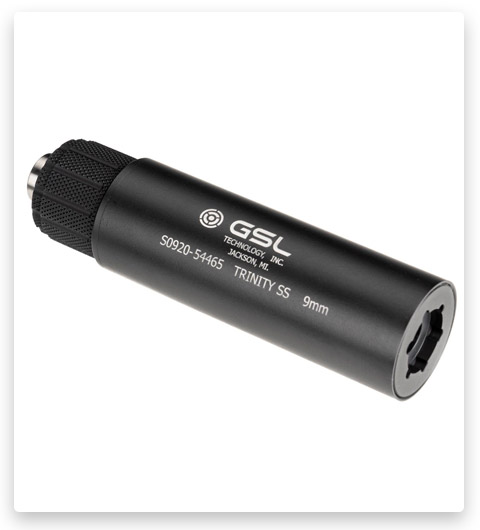 The GSL Technology 9mm Trinity SS Suppressor is a top-rated suppressor for hunters and shooters in the industry. Boasting unrivalled engineering top performance, this is the ultimate tool for sound suppression. Using this product, our team found that this suppressor offers maximum control and precision in a compact package that enables shooters to take advantage of all the same features of the Stealth 9mm Silencer but cut shorter for a more compact package. That's right – enjoy superior suppression and exceptional portability with the GSL Technology Trinity SS Suppressor. Ideal for both rifles and pistols, this suppressor has a diameter of 1.375″ and a length of 4.875″, making it one of the smallest on the market today. It's also lightweight at just 7.8oz, so you can carry it easily without having to sacrifice performance or power. Plus, with mounting options for either 1/2 x 28 or 13.5 x 1mm LH only, you can be sure that your gun will fit securely when using this suppressor – even if it's a pistol! Don't just take our word for it – see what all the fuss is about with an impressive 25dB reduction in noise from shooting! Trust the GSL Technology 9mm Trinity SS Suppressor to deliver jaw-dropping results on every single shot without fail, allowing you to feel confident in achieving accuracy every time you pull the trigger. Take your shooting experience up a notch with this game-changing suppressor today!
3# Silencerco Octane 9 2.0 Suppressor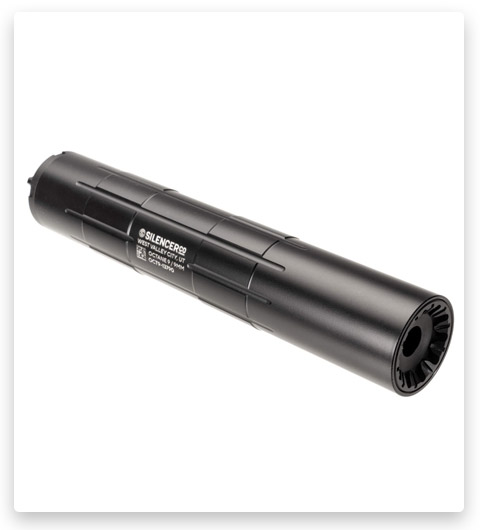 The Silencerco Octane 9 2.0 Suppressor is the perfect choice for serious hunters and shooters. Whether you're looking to hit your target with precision accuracy or want maximum suppression, this high-performance suppressor has you covered. This advanced device offers calibre compatibility with both 9mm and 300BLK subsonic ammunition and is fully auto-rated, making it the ideal choice for high-power shooting requirements. Constructed from durable stainless steel, and aluminium, and finished in black for enhanced protection and longevity, the Octane 9 2.0 also provides superior heat mitigation due to its user-serviceable parts that can be easily disassembled for cleaning or replacement of components. With its total length of 7.27″, lightweight design at only 9 ounces, and 1.40″ diameter, the Octane 9 2.0 Suppressor ensures that you'll have superior sound reduction and maximum performance from your shot without having to sacrifice power or portability.
4# Tiger Rock AR 9mm Hybrid Fake Suppressor Can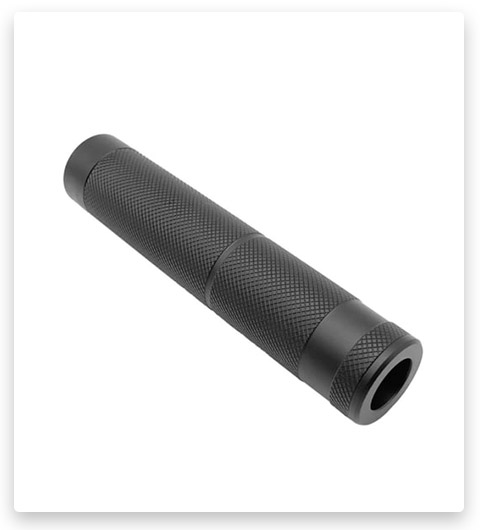 Trust Tiger Rock to keep your AR shooting precisely and safely with our AR 9mm Hybrid Fake Suppressor Can. We know how important accuracy is for hunters, shooters, and hobbyists. That's why we've designed this 2-in-1 hybrid suppressor that offers both external and internal uses, giving you the option of a stealthy look or enhanced ballistics performance to target precisely every shot. Based on our observations, it attaches quickly and easily to your gun's barrel so you spend less time fidgeting and more time firing! With its 6″ length and lightweight 4 oz construction, this fake suppressor can provide you with superior accuracy in the field while significantly reducing flash signature.
5# Silencerco Osprey 9 9mm Suppressor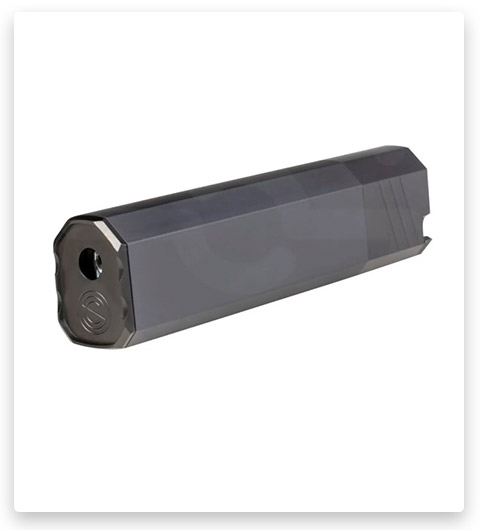 The Osprey 9 9mm Suppressor is the perfect choice for hunters and shooters looking for a functional, reliable tool. With its unique eccentric shape allowing for up to 30% more internal volume than a traditional cylindrical suppressor, the Osprey provides superior performance without compromising accuracy. Shooting with your host pistol's standard height sights is made easier as most of this suppressor's physical mass is below the centerline of the bore. The lightweight aluminium construction also helps ensure continued reliability in firing, so you can keep shooting with confidence. Additionally, our patented cam-lock system keeps the Osprey securely attached so you won't have to worry about unexpected malfunctions. For hunters and shooters who are on the hunt for improved accuracy and efficiency, the Osprey 9 9mm Suppressor is a perfect choice.
6# Keymo Short Sound Suppressor Mount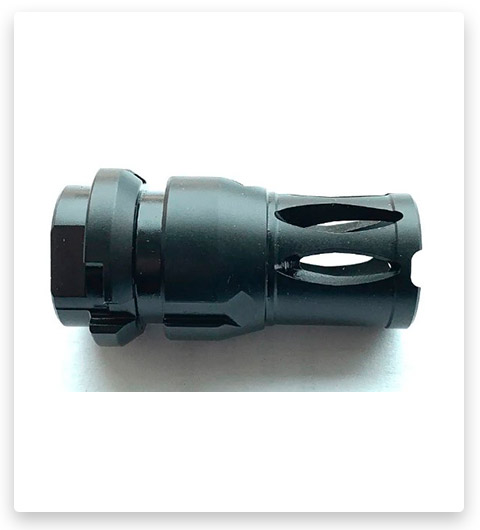 The Keymo Short Sound Suppressor Mount (6315KM-S 9mm) is specifically designed for Dead Air Silencers shrouds. This mount is much shorter than the classic 6315KM, measuring 2.063″ long, and it also has a larger bore size (0.385″ or 9.78mm). Even though it can be installed on a 223 AR rifle, its shorter length and larger bore size will reduce performance when it comes to muzzle rise compensation and flash signature mitigation. The 6315KM-S 9mm has been strategically designed with asymmetric ports to enhance muzzle rise compensation without creating excessive noise or concussion. To optimize the performance of this muzzle device, the 3 o'clock and 9 o'clock ports have been deliberately made slightly smaller than those on the opposite sides. Hunters and shooters alike will appreciate Keymo Short Sound Suppressor Mount's superior performance as well as its lightweight design that prevents unnecessary strain on their rifles while shooting.
Cleaning 🧼
📌 1. Disassembling: To begin, you'll need to disassemble your suppressor into its component parts. This will involve unscrewing any locking screws, taking off end caps, or removing internal baffles or wipes. Make sure that all pieces are accounted for and in good working order.
📌 2. Ultrasonic Cleaning: Submerge each piece in an ultrasonic cleaner filled with a specialized solvent designed for gun parts like Hoppe's No. 9 Gun Cleaner/Degreaser or KG-9 Gun Cleaner/Degreaser. Follow the instructions on your solvent's packaging to get the best results in the allotted time before draining it out and wiping down the components with a lint-free towel or cloth.
📌 3. Inspecting Parts: Now that your suppressor is clean, carefully inspect all parts with a magnifying glass to ensure there are no signs of damage or wear and tear that could impact its performance after reassembly – such as dents, cracks, corrosion, burrs, scratches, etc. Replace any damaged components immediately as they could cause inaccurate shots when using them again.
📌 4. Lubricating: Lubricate them with a quality firearm lubricant like CLP Break Free Gun Oil before reassembling your suppressor back together again. It's especially important to apply a light layer of lubricant on threaded surfaces where end caps are secured as this can help prevent seizing during operation and make future disassembly easier as well!
📌 5. Reassembling: Following step four above it's now time to put everything back together in reverse order from how you took it apart – starting with replacing any end caps or baffles before securing them with their respective locking screws or pins if needed (depending on the model). Finally, check everything one more time before proceeding to use it!
Please watch this video to learn more information 📺
FAQ ⏰
Conclusion 🔥
Finding the best 9mm suppressor for your situation can be a daunting task, but with our buyer's guide, you now have all the information necessary to make an informed decision. We've provided tips on how to choose the right model, product reviews of some of the top-rated models and answered common questions about these types of suppressors. With this knowledge in hand, you should feel more confident when it comes time to purchase one for yourself or as a gift. No matter what type of shooting sport you are into, having a quality suppressor is essential and will help improve accuracy while also protecting hearing health. So don't wait any longer; start looking at different brands and models today and find out which one fits your needs perfectly! 🙂🤍
Tags: #best 9mm suppressor / #best 9mm suppressor for the money / #best 9mm pistol suppressor / #best 9mm suppressor host