Affiliate Disclosure: AmmoCave.com sometimes gets paid for listings, through sponsors or affiliate programs like Lucky Gunner, Optics Planet, Brownells, Cabelas, Academy Sports & Outdoors, Rainier Arms, Palmetto State Armory, Sportsman's Guide, Ammo.com, Ammo Man, Primary Arms, MidWayUsa, Amazon, eBay, etс. Clicking a link helps keep AmmoCave.com free, at no extra cost to you!
Authors: Each article is verified by AmmoCave's expert team. Professional hunters, firearm trainers, gunsmiths, and gun experts write the articles. AmmoCave Team independently researches, tests, reviews, and uses recommendations from our community of gun owners. We may earn commissions from shopping links.
Note: The views and opinions expressed in this article are those of the authors and do not necessarily reflect any agency's official policy or position. The articles are for informational purposes only, share your opinions about Best 8mm Mauser (8x57mm JS) Ammo in the comments and join the discussions. Let's share 💬 our ammo & gun experiences together!
The 8mm Mauser cartridge is a German round that was introduced back in 1888. It has been used extensively throughout history in a variety of firearms, and is still popular today. While there are many different types of ammunition that can be fired from an 8mm Mauser, some rounds are definitely better than others. In this article, we will take a look at the best 8mm Mauser ammo available on the market today. We will also discuss why each type of ammo is a good choice for shooters. So, whether you are new to the 8mm Mauser or simply looking for advice on the best rounds to use, keep reading for more information!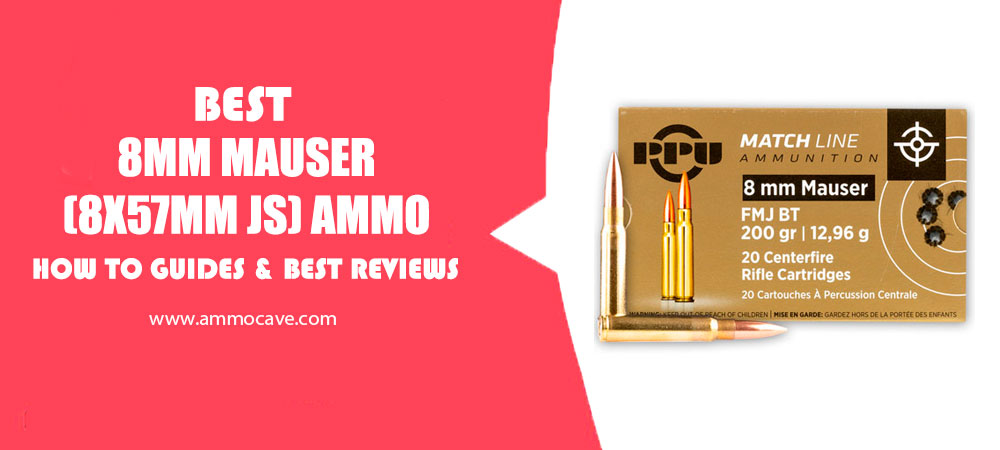 Best 8mm Mauser (8x57mm JS) Ammo Reviews
1# 8x57mm – 198 Grain FMJ-BT – Prvi Partizan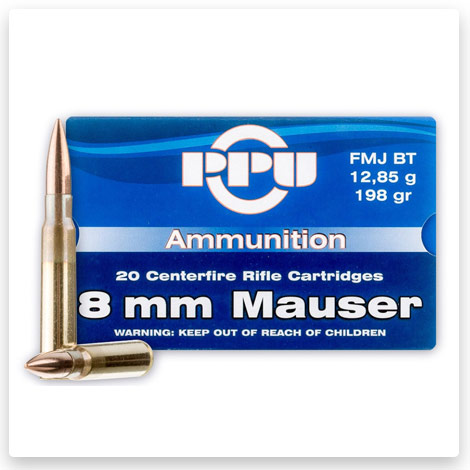 Looking for a hard-hitting cartridge with a long impressive history and equally impressive properties? Look no further than Prvi Partizan's 8x57mm 198 Grain FMJ-BT Match ammunition. Since 1928, Prvi Partizan has been producing custom ammunition for a variety of applications, and their Match line is designed specifically for precision shooting at both short and long distances. The match bullets are made with high-quality materials on special equipment at the factory, and Prvi ammunition meets all SAAMI standards. This new product is non-corrosive, reloadable, and comes in boxer-primed brass cases. With a muzzle velocity of 2181 fps and muzzle energy of 2109 ft. lbs., this ammunition is sure to meet your needs and exceed your expectations.
2# 8mm Mauser – 200 Grain FMJBT – PPU Match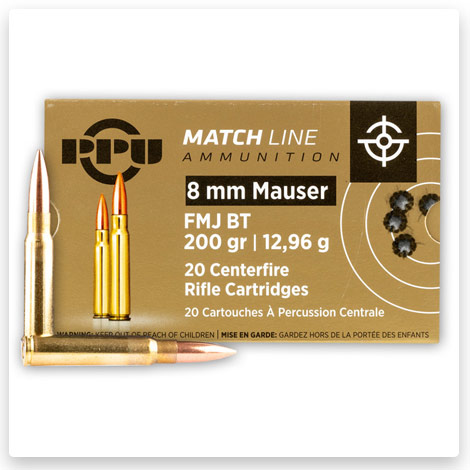 When you want reliable, high-quality ammunition for your 8mm Mauser, look no further than PPU Match. These 200 grain full metal jacket boat tail (FMJBT) cartridges are perfect for range training or competitive shooting, and are loaded with only the highest quality components. The FMJBT design minimizes lead residue build-up and improves accuracy at long range, while the non-corrosive brass casings are reloadable for added convenience. With 90 years of experience, PPU knows a thing or two about manufacturing reliable ammunition, so you can be sure you're getting a product you can depend on. Order your 8mm Mauser – 200 Grain FMJBT – PPU Match today!
FAQ
Is 8x57mm is the same as 8mm Mauser?
The 8mm Mauser is also known as the 7.92x57mm and was officially adopted by the German military in 1888. It remained the standard German service cartridge through WWII. The JS designation stands for "Spitzgeschoss" or "pointed bullet".
One of the most popular rifles chambered for this round is the K98k which was used by Germany throughout WWII. The K98k is a shortened and lightened version of the earlier Gewehr 98 battle rifle. It was developed after WWI for use by German troops who might have to fight in more confined spaces like trench warfare or urban areas.
This cartridge is also popular with hunters because it has very good penetration and a relatively flat trajectory. It is also widely available and reasonably priced.
What is the difference between 8mm Mauser JS and JRS?
The JRS designation stands for "Jagd-Rohr Schutze" or "hunting tube protector". This version of the 8mm Mauser has a slightly heavier bullet than the JS version and is typically used for hunting larger game animals.
Which is stronger 8mm Mauser or 30 06?
The 8mm Mauser is a stronger round than the 30-06. It has a higher ballistic coefficient and more energy. However, the 30-06 has a flatter trajectory and is less affected by wind. Therefore, it is better suited for long-range shooting.
What is the effective range of a 8mm Mauser?
The 8mm Mauser has an effective range of about 1000 yards (914 m). However, its actual range will be affected by factors such as wind speed and direction, atmospheric conditions, and the target's size.
How to choose the best 8mm Mauser ammo?
When looking for the best 8mm Mauser ammo, there are a few things to keep in mind. Primarily, you want to make sure that the ammunition is compatible with your firearm. You will also want to consider the purpose for which you are using the ammunition. For example, if you are going to be hunting large game, you will want to use a different type of ammunition than if you were just plinking at cans in your backyard.
There are a few different types of 8mm Mauser ammo on the market today. The most common type is the full metal jacket (FMJ) bullet. This type of bullet is designed to penetrate deeply, and is often used by military and law enforcement personnel.
Another type of 8mm Mauser ammo is the soft point (SP) bullet. This type of bullet is designed to expand upon impact, making it ideal for hunting.
The last type of 8mm Mauser ammo is the hollow point (HP) bullet. This type of bullet is designed to expand dramatically upon impact, and is typically used for self-defense purposes.
When choosing 8mm Mauser ammunition, it is important to consider the intended use. If you are going to be using the ammunition for hunting, you will want to choose a different type than if you were just plinking at cans in your backyard.
The 8mm Mauser is a great cartridge for both hunting and target shooting. With the right ammunition, it can be an extremely versatile firearm. Be sure to choose the best 8mm Mauser ammo for your needs.
 Conclusion
It can be tough to find the best 8mm Mauser (8x57mm JS) ammo, but this article provides a comprehensive guide to help you make an informed decision. We've included reviews of some of the most popular brands of 8mm Mauser (8x57mm JS) ammunition on the market and shared some tips about what to look for when making your purchase. Whether you're looking for target shooting practice rounds or hunting ammo, we've got you covered. Let us know in the comments which brand of 8mm Mauser (8x57mm JS) ammo is your favorite!