Affiliate Disclosure: AmmoCave.com sometimes gets paid for listings, through sponsors or affiliate programs like Lucky Gunner, Optics Planet, Brownells, Cabelas, Academy Sports & Outdoors, Rainier Arms, Palmetto State Armory, Sportsman's Guide, Ammo.com, Ammo Man, Primary Arms, MidWayUsa, Amazon, eBay, etс. Clicking a link helps keep AmmoCave.com free, at no extra cost to you!
Authors: Each article is verified by AmmoCave's expert team. Professional hunters, firearm trainers, gunsmiths, and gun experts write the articles. AmmoCave Team independently researches, tests, reviews, and uses recommendations from our community of gun owners. We may earn commissions from shopping links.
Note: The views and opinions expressed in this article are those of the authors and do not necessarily reflect any agency's official policy or position. The articles are for informational purposes only, share your opinions about Best AR-15 Pistol Brace 2023 in the comments and join the discussions. Let's share 💬 our ammo & gun experiences together!
Do you own an AR15 pistol? If so, you may be wondering if you should purchase a pistol brace for it. In this blog post, we'll discuss the AR15 pistol braces available on the market today. We'll also provide a buyer's guide to help you choose the right brace for your needs. So, whether you're new to AR15 pistols or simply looking to upgrade your current setup, keep reading for information on the best braces available.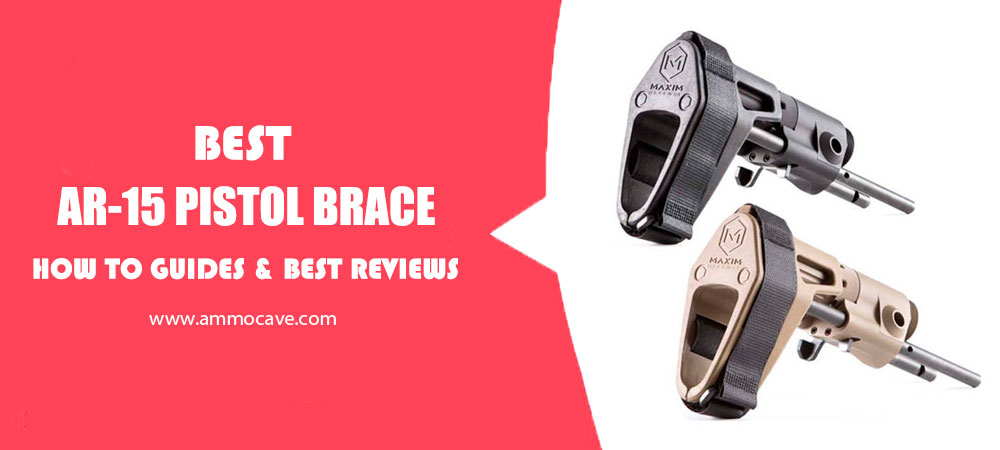 Top 7 AR-15 Pistol Brace
#1 SB Tactical SBPDW Pistol Stabilizing Brace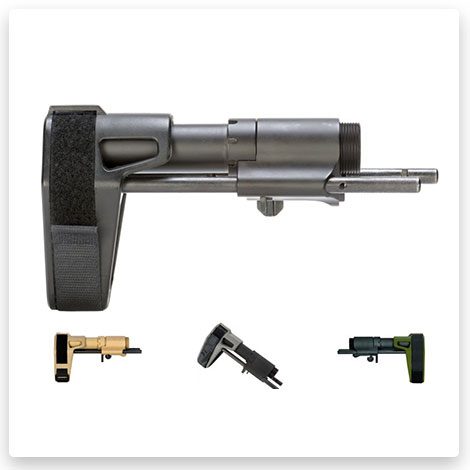 Do you want to add some stability and style to your AR-15? Check out the SB Tactical SBPDW Pistol Stabilizing Brace. This brace is designed for mil-spec AR-15 receivers and comes with a QD attachment point for 6 o'clock positioning. It's made from high-quality materials and is adjustable in 3 positions. Plus, it comes with an adjustable nylon strap for a comfortable, customized fit. The SB Tactical SBPDW is a great way to improve your accuracy and shooting experience. Give it a try today!
#2 Maxim Defense Industries CQB Pistol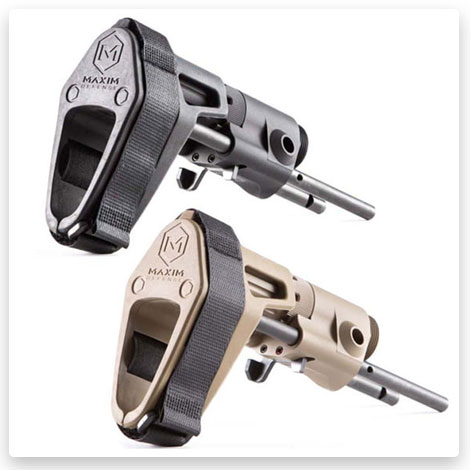 Searching for a reliable and durable arm brace for your AR pistol? Notice the Maxim Defense Industries CQB Pistol. This arm brace is built on the same housing as CQB stocks, so you know it's made to last. It's also adjustable, so you can find the perfect fit for your shooting style. Listen, this is one arm brace you don't want to be without.
#3 Maxim Defense Industries CCS Brace Gen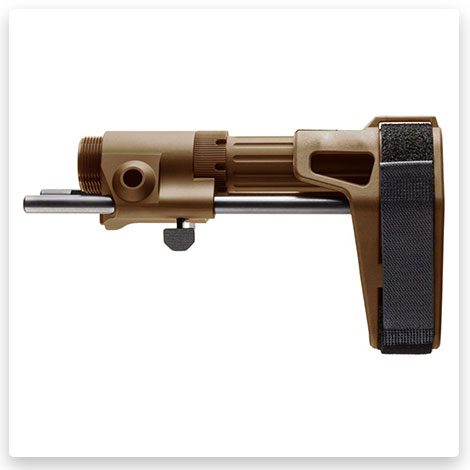 Presenting the Maxim Defense Industries CCS Brace Gen 6. This brace is perfect for your short barrel or full-length carbine and features solid attachment, quick deployment, 2 built-in sling mounts, and 3-positions of adjustment. Made from lightweight yet durable aluminum, the CCS Brace Gen 6 is sure to withstand the rigors of the most demanding environments. Order yours today and be confident knowing you're prepared for anything!
#4 Guntec USA AR-15 Micro Breach Pistol Brace Kit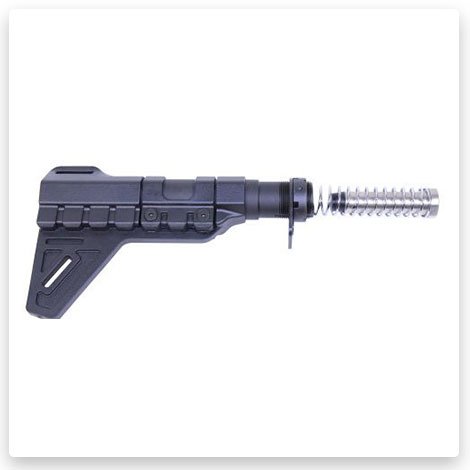 Pay attention to the Guntec USA AR-15 Micro Breach Pistol Brace Kit! The micro breach brace is made from durable materials and is designed to provide maximum support without adding unnecessary bulk. This Pistol Brace Kit is the perfect way to take your AR-15 pistol to the next level. It's durable, reliable, and easy to install, so you can get back to shooting in no time. Order yours today!
#5 Sig Sauer SB15 Pistol Stabilizing Brace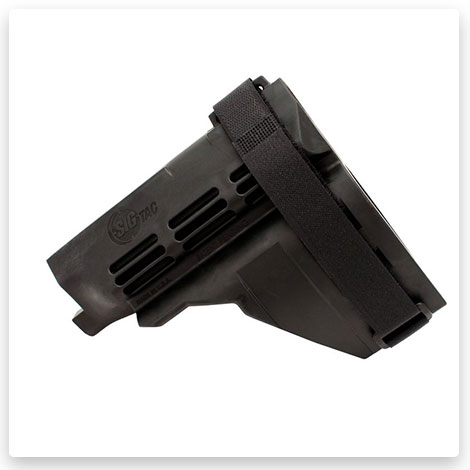 The Sig Sauer SB15 Pistol Stabilizing Brace is a veteran-designed accessory that improves your single-handed shooting performance. It is made from high-quality elastic polymer and manufactured to close tolerances. The brace uses the operator's forearm to provide stable support and its flexible cuff with two adjustable nylon straps. This makes it the best choice for those who want the best possible performance from their firearm.
#6 Tactical Edge Billet Side-Charging Complete Upper Receiver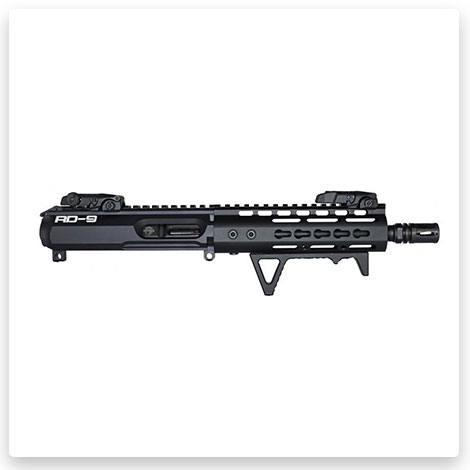 The Tactical Edge RD-9 Side-Charging 9mm Complete Upper Receiver was designed for the cutting edge, compact RD-9 sub-gun. The Tactical Edge RD-9 9mm Side-Charging Complete Upper Receiver features solid billet construction and is fully compatible with forged or billet lower receivers. It comes with a KeyMod rail and Magpul MBUS flip-up sights, so you can add a weapon light, laser sight, red dot, or any other accessories to complete your pistol build.
#7 Maxim Defense Industries MDX 505 Brace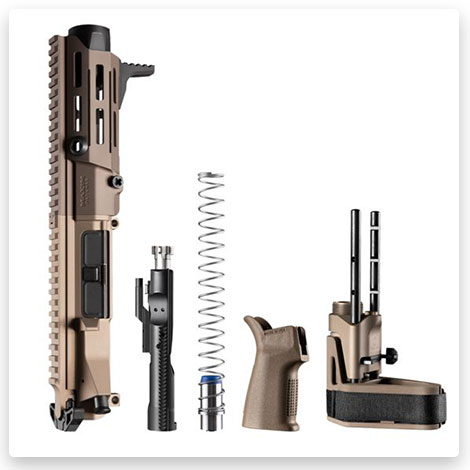 The Maxim Defense Industries MDX 505 PDX SCW PDW Brace Upper Kit is a top-of-the-line choice for your AR15 upper receiver. The interchangeable buffer weights give you maximum performance without sacrificing form or functionality, while the Picatinny gun rail and Type III Hardcoat Anodized finish provide durability and a professional look. Whether you're looking for a reliable and compact option for self-defense or simply want a high-quality upper receiver for your AR15, the Maxim Defense Industries MDX 505 PDX SCW PDW Brace Upper Kit is an excellent choice.
FAQ
What brace can I put on an AR pistol?
An AR pistol can have any type of brace, as long as it is not attached to the firearm in a way that turns it into an NFA item. The most popular braces are the SB Tactical AR Pistol Brace, the Gear Head Works Tailhook, and the Shockwave Blade.
What is the best AR15 pistol brace?
The best AR15 pistol brace is the one that fits your needs and preferences the best. There are many different types of braces on the market, so make sure to do your research before making a purchase.
How to choose an AR15 pistol brace?
Some things to consider when choosing an AR15 pistol brace include:
How the brace attaches to the firearm
The length of the brace
The weight of the brace
The adjustability of the brace
The color of the brace
Once you have considered all of these factors, you can narrow down your choices and choose the best AR15 pistol brace for your needs.
Can an AR pistol have an adjustable brace?
AR pistol braces come in a variety of shapes, sizes, and colors. Several AR pistol braces arere adjustable. This allows the user to adjust the tension on the brace, making it tighter or looser, depending on what is needed. The main thing to remember when choosing an adjustable AR pistol brace is to make sure it is comfortable and will not slip while in use.
Is it legal to put a folding brace on an AR pistol?
AR pistols are a unique and popular firearm, but they can be difficult to control without a proper brace. Adding a folding brace to your AR pistol can help improve accuracy and make shooting more comfortable. However, it's important to know the laws regarding AR pistols and braces before making any modifications to your gun. In most states, it is legal to add a folding brace to an AR pistol as long as the overall length of the gun remains above 26 inches. However some states have stricter laws regarding AR pistols, so it's always best to check with your local law enforcement before making any modifications.
Conclusion
The AR15 Pistol Brace is becoming a more popular option for AR owners, and for good reason. We thought this buyer's guide had helped you learn about the different types of AR pistol braces available and found the best one for your needs. We've hoped that some tips on how to use your AR pistol brace safely and effectively will help you. Thanks for reading!
Tags: #best ar15 pistol brace / #best pistol brace ar15 / #ar15 pistol brace best deals / #best ar15 pistol adjustable arm brace / #best pistol brace for ar15