Affiliate Disclosure: AmmoCave.com sometimes gets paid for listings, through sponsors or affiliate programs like Lucky Gunner, Optics Planet, Brownells, Cabelas, Academy Sports & Outdoors, Rainier Arms, Palmetto State Armory, Sportsman's Guide, Ammo.com, Ammo Man, Primary Arms, MidWayUsa, Amazon, eBay, etс. Clicking a link helps keep AmmoCave.com free, at no extra cost to you!
Authors: Each article is verified by AmmoCave's expert team. Professional hunters, firearm trainers, gunsmiths, and gun experts write the articles. AmmoCave Team independently researches, tests, reviews, and uses recommendations from our community of gun owners. We may earn commissions from shopping links.
Note: The views and opinions expressed in this article are those of the authors and do not necessarily reflect any agency's official policy or position. The articles are for informational purposes only, share your opinions about Best Red Dot Magnifier 2023 in the comments and join the discussions. Let's share 💬 our ammo & gun experiences together!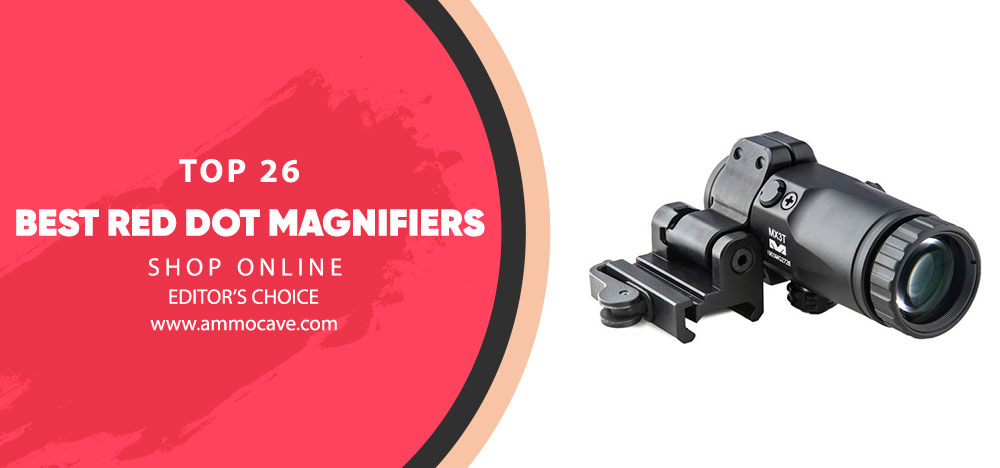 Top 26 Red Dot Magnifiers
Have you ever been in a situation when you regret you don't have good magnification? Or maybe the scope you have is too powerful for such close-combat needs? Don't choose between two options — take both of them on a single rifle! Attach a magnifier to quickly switch between your red dot and enhanced scope.
Here are some really good examples from the ocean of examples on the market for you to not waste days researching the topic. We have inspected all of these items specifically for you, so don't be shy and use our list of top red dot magnifiers.
#1 Meprolight Magnifier with Tactical Flap Mount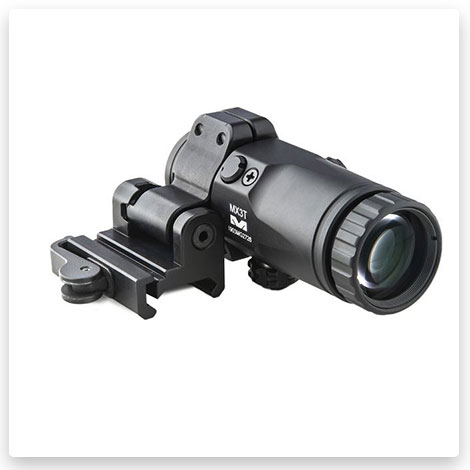 Equip this sight to increase your long-range accuracy and visual skills in the field by allowing you to swiftly amplify your installed optic. You may dramatically boost the functionality of your rifle without having to zero it with this model from Red Dot Sight Magnifiers. The sight has turrets for windage and elevation, so you can tailor the broad field of vision for rapid target acquisition with both eyes open. Furthermore, these magnifiers are ambidextrous, allowing you to customize them to your desired shooting method.
#2 Aimpoint 3XMag Magnifier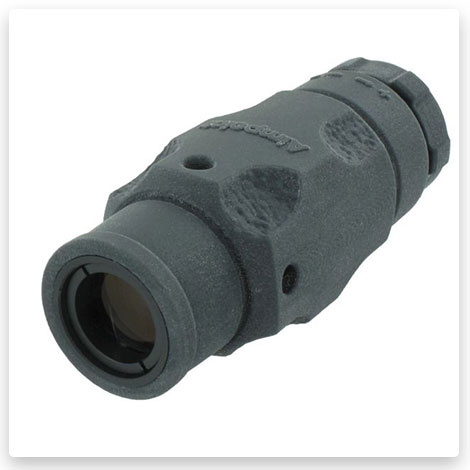 Use it to increase the range of your existing optic, or use it as a portable monocular to observe the field. This gadget was made by Aimpoint with a shock-absorbing protective rubber cover that not only withstands heavy recoil but also provides an ergonomic grip for solo usage. For the optimum blend of durability and lightweight construction, this sight is made of hard-anodized aluminum. This optic magnifier is waterproof to a depth of 25 meters and may be used in wet conditions. This gadget has a changeable (-3 to +3) dioptric setting that allows you to accurately adapt it to your eye for even more customization. By including this upgrade in your loadout, you can extend the capabilities of your present optic.
#3 OpticsPlanet Exclusive Sig Sauer Juliet Magnifier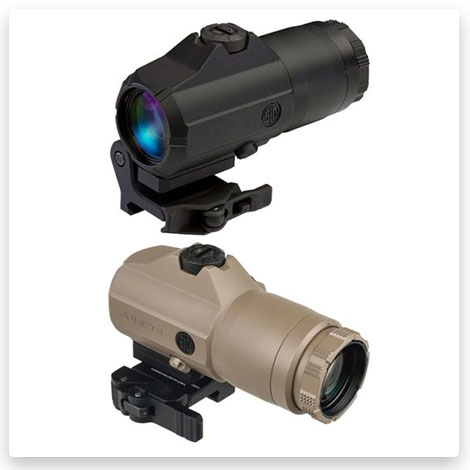 You can easily sight between close quarters and medium-range targets with this magnification, either alone or with a red dot. The model simply moves to one side while you're not using the magnifier. Built-in recoil lugs ensure that you will return to zero even after removing and reinstalling the device.
#4 Aimpoint Red Dot Magnifier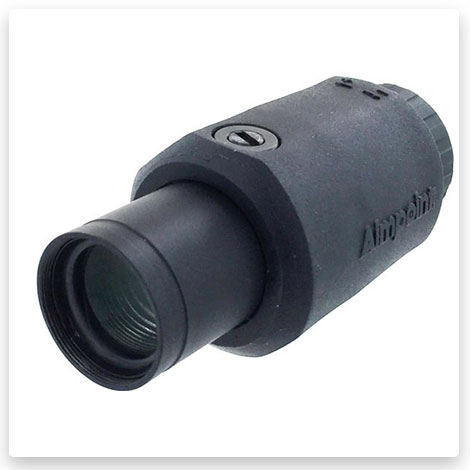 This sight may be used to boost the magnification level of any optic to increase your range capabilities or as an observation tool. Each of these Aimpoint magnifiers has a configurable dioptric setting ranging from -2 to +2. You may use this device as a portable monocular for rapid sighting downrange even if you don't wish to mount it. The device's shock-absorbent rubber casing serves as a grip while also shielding the internals from the weapon's extreme recoil.
#5 Holosun Red Dot Magnifier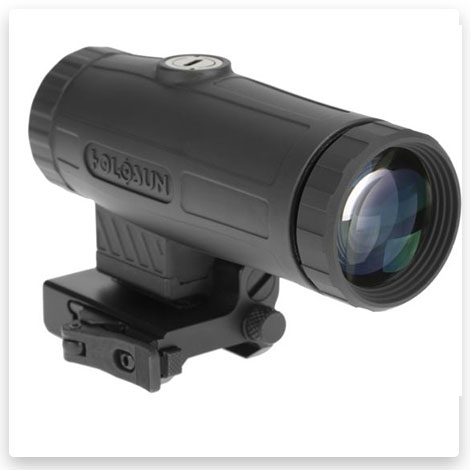 Holosun is glad to provide a high-quality magnifier at a reasonable price. The HM3X range of magnifiers will allow the operator to smoothly transition from unmagnified to 3X magnification. Among the features are an adjustable diopter for fine-tuning focus, extraordinarily clear glass, and enough eye rest. An integrated QD mount with an optional spacer is provided for Absolute Co-witness and Lower Co-witness.
#6 EOTech Magnifier for Red Dot Sights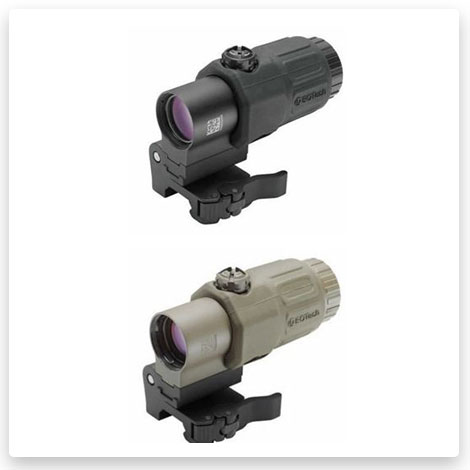 This method is a quick and easy technique to extend the range of your professional-grade red dot sight. This model makes use of sophisticated optics to increase the magnification rate of your red dot by 3x, substantially increasing the range and accuracy of your rifle. In comparison to its predecessor, it also sports a new and better mount.
#7 Sig Sauer Juliet3 Red Dot Sight Magnifiers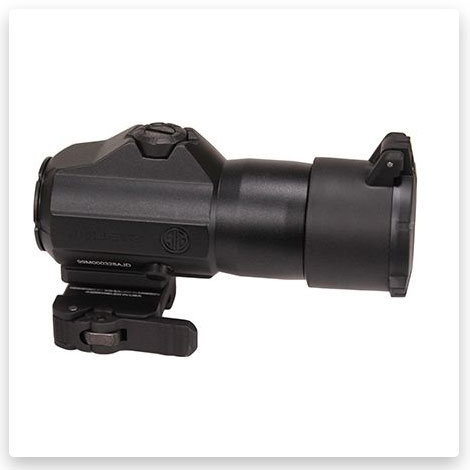 This red dot sight may be used as a stand-alone device or to increase the magnification of your reflex optics for better sighting. That sight was made using aircraft-grade CNC aluminum housing to provide a wonderfully sturdy platform that will last a lifetime, according to Sig Sauer. This device also has an IPX-8 waterproof certification, which means it can withstand being submerged in 20 meters of water for one hour. The prism is dialectically coated to protect the glass's quality, allowing you to hunt or take down targets in any weather. This is the ideal equipment to keep on hand in case you need to go from close quarters engagement to long-range target sighting in an instant.
#8 Vortex VMX-3T Magnifier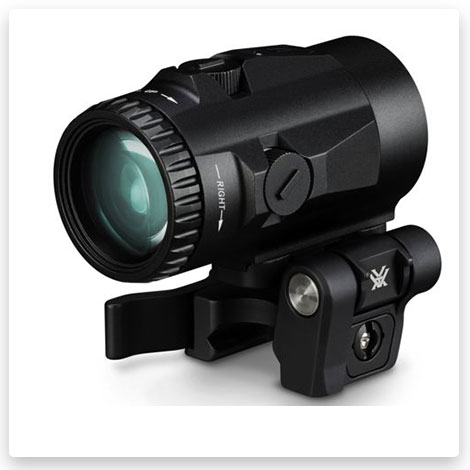 Attach this tiny gadget by Vortex to your red dot or holographic sight to increase magnification. It has completely multi-coated lenses for increased light transmission. These magnifiers are waterproof, fogproof, and shockproof, making them suitable for usage in a variety of weather situations and environments. All sorts of marksmen can utilize the flip-up mechanism since it is ambidextrous.
#9 Firefield Tactical Magnifier for Weapon FF19021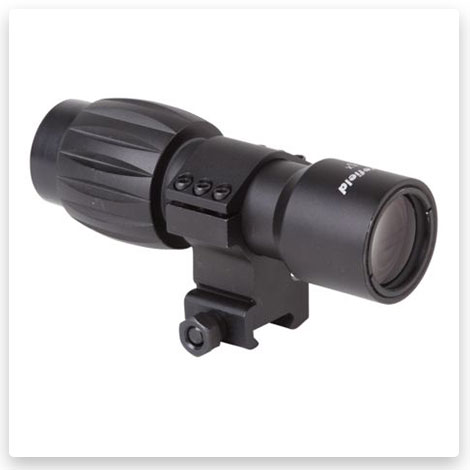 The following item is a versatile optic that can be used with holographic sights, reflex sights, and other weapons sights. The scope boosts the weapon sight's magnification for increased sighting range and better target identification, particularly at medium-range distances. This versatile weapon attachment also has a large field of vision for better target acquisition, as well as high-quality multicoated lenses for pinpoint accuracy and clarity.
#10 Vortex Magnifier with Flip Mount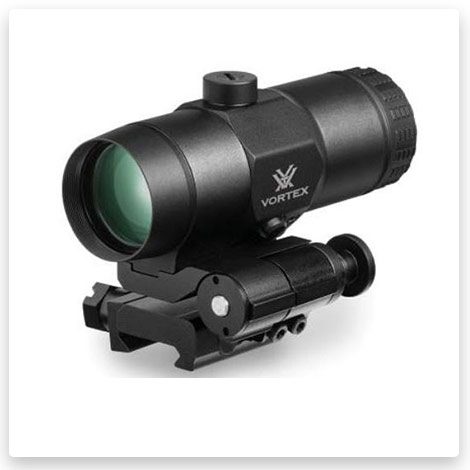 With a red dot from Vortex, you can go from 3x magnification to your ordinary optic and back with the touch of a button. It has O-ring seals that keep moisture, dust, and debris out of the tube, ensuring consistent performance in any environment. The hard-coat-anodized machined-aluminum structure is lightweight and robust, and the nitrogen-purged feature assures consistent waterproof/fog-proof performance. With almost every AR-height red dot sight, you may choose between lower 1/3 or absolute co-witness to maximum adaptability.
#11 Sig Sauer Romeo5 Red Dot Sight Magnifier
The module we're looking at right now combines the best of both worlds. The Sig Sauer masterpiece has ten illumination settings for the best viewing experience in any light or temperature. Waterproof to a depth of 20 meters Wetness resistance is 1 hour for the Sig Sauer Combination Red Dot Sight with Magnifier. With the latest and finest Sig Sauer model, you get two fantastic products in one.
#12 Sig Sauer Juliet6 Red Dot Sight Magnifier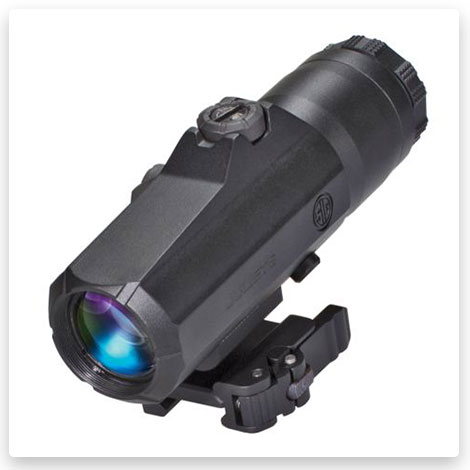 This sight will astonish you with its perfect clarity and usability when at the range, on a hunt, or in the line of duty, whether you require a stand-alone magnification device or an attachment to augment your present optic. With the Powercam 90-degree mount, you can quickly move from close quarters to extended range confrontations. You'll also be pleased with a fast-release mount with incorporated recoil lugs that provides a repeatable zero. Because it's IPX-8 waterproof, you may use it in inclement weather, and the CNC aluminum housing is intended to withstand recoil from your weapon and everything else you throw at it on a hunt.
#13 Trijicon Red Dot Sight Magnifiers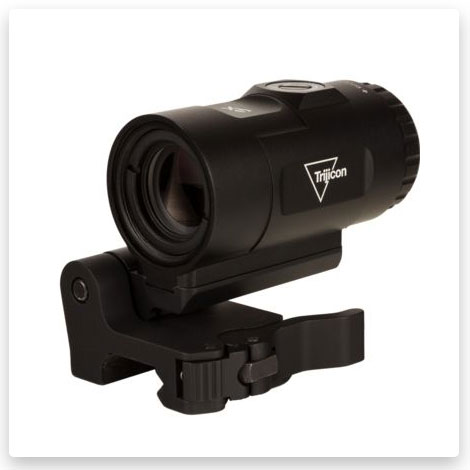 The MRO HD red dot optic comes with a 3-power reflex optic magnifier that is particularly intended to magnify the target and target viewed through it. The shooter may use the sharp dot in the MRO HD to swiftly and precisely engage targets at long distances by magnifying the target. Short and small, this variant saves weight and rail space. The design has toolless, flush adjustments that make it simple to center the reticle in the field of vision. The adjustable diopter helps the user to fine-tune the optical performance to their own vision needs.
#14 Leapers UTG 3X Magnifier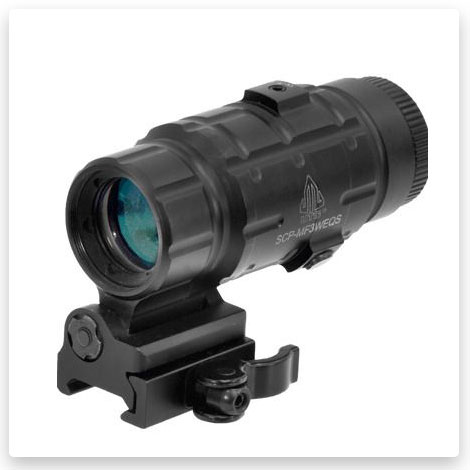 When you use this add-on in conjunction with your preferred red dot sight, your shot will be more successful. These Leapers UTG Red Dot Sight Magnifiers provide a 30 percent larger field of view than conventional magnifiers with a flip-to-side mechanism that allows you to switch between 1x and 3x magnification. The gadget, which is sealed and nitrogen-filled, is ideal for all-weather situations, delivering a fog-free, weather-resistant vision with a crystal-clear image. Attaching such a fantastic accessory is the best approach to improve your aim and make your shot easier.
#15 Aimpoint 6XMag-1 Magnifier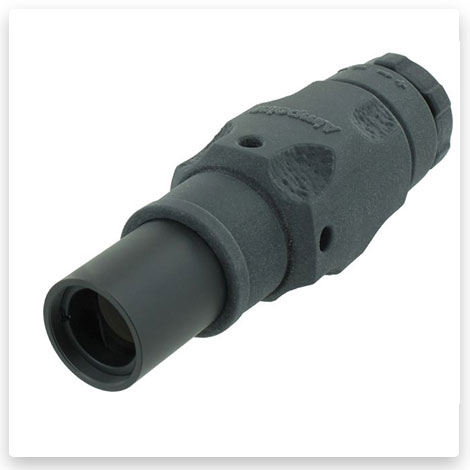 Using this excellent model, you may greatly improve the magnification and capabilities of your red dot sights. It works in tandem with your existing red dot sights. These magnifiers don't need to be re-zeroed when switching between magnified and non-magnified viewing since they use the red dot as the aiming reticle. This magnifier is further protected by a shock-absorbing rubber cover that provides a secure grip while also preventing the internal components from harm when your pistol recoils violently. The internal components are protected by a hard-anodized aluminum casing that resists corrosive environments. This flexible instrument may also be used as a portable 6x monocular for field observation. You may tweak this gadget to adjust it with a configurable -3 to +3 dioptric setting.
#16 LUCID Optics Magnifier for Red Dot Weapon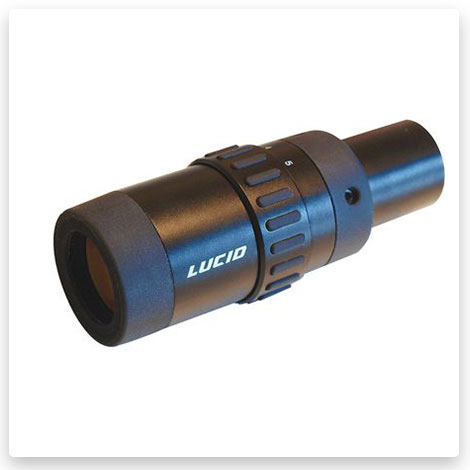 The Lucid Optics module is the first variable magnifier for red dot sights anywhere in the world. Throughout the magnification range, this device provides crystal clear optical performance and maintains a large field of view with comfortable eye relief. The magnifier is completely shockproof and waterproof, making it suitable for use in almost any situation.
#17 Primary Arms 3X Red Dot Magnifier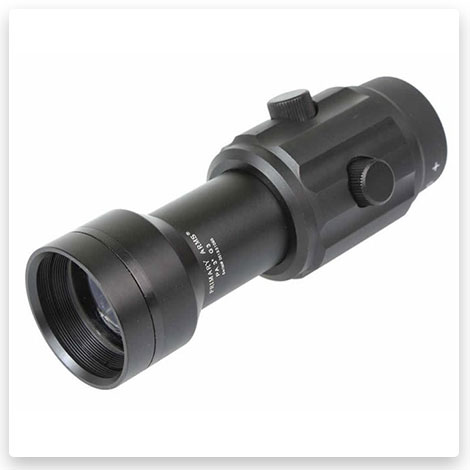 With or without the aid of a gunsmith, quickly install this magnifier on your handgun for the smoothest shot ever. A 3X magnification is included in these Primary Arms Red Dot Sight Accessories for better vision in low-light and twilight circumstances. The device can adjust between magnifications without missing a beat or appearing hazy and pixelated thanks to an inbuilt diopter. This mode is a great fit for your new rifle because it's both affordable and ergonomic.
#18 NCSTAR 3X Magnifier w/Flip to Side QR Mount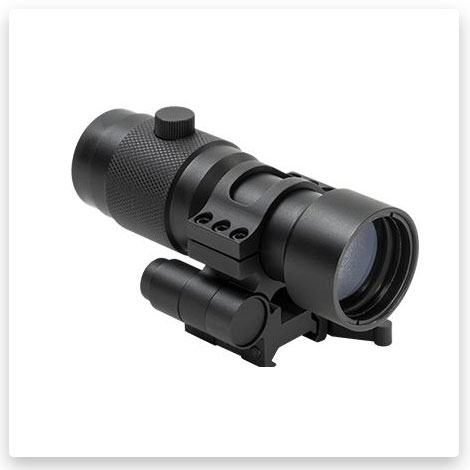 When required, the NCSTAR magnifier tilts to the right side and locks into place. This NcSTAR gadget is built of robust black anodized aluminum and works with most rails. For co-witnessing with your iron sights, the magnification is set at the proper AR15 height. You may quickly alter magnification settings depending on your distance to the target when it's installed behind a 1X reflex optic.
#19 SightMark T-5 Magnifier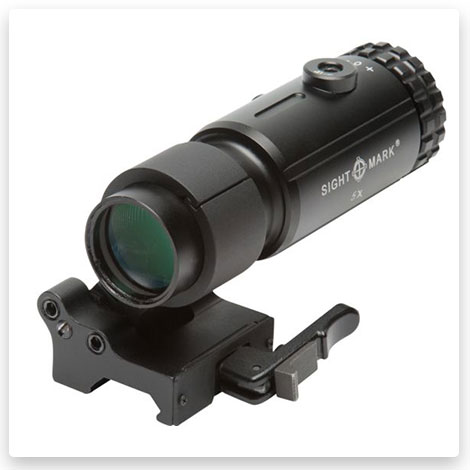 The Sightmark T-5 is a magnifier that installs behind a reflex sight or red dot for perfect co-witness and shooting versatility. This module allows you to quickly alter the magnification of your close-range optic from 1x to 5x. The magnifier's streamlined low-drag design keeps it from catching on clothes and equipment, and it's shorter than the one it's replacing.
#20 Athlon Optics Magnifiers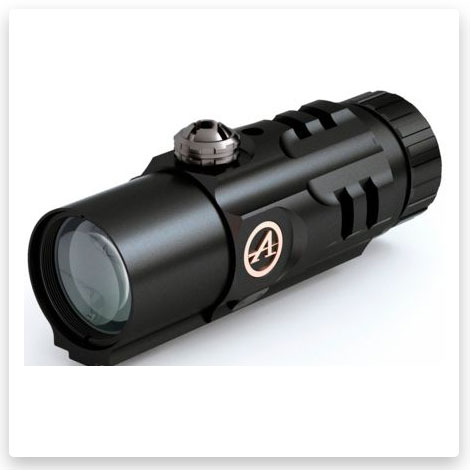 If you need to switch between no magnification for close-range warfare and magnification for precise shooting depending on the scenario, you need this thing. When magnification is required, the magnifier is mounted beneath a regular red-dot sight. When not in use, the mount swings out of the way, but it can be rapidly positioned behind the red dot to boost magnification for longer mid-range shots. Construction is tough. Excellent light transmission thanks to multi-coated lenses and a 30 mm tube. Shockproof, waterproof, and fogproof, with nitrogen purged.
#21 Holosun Circle Dot Sight Magnifier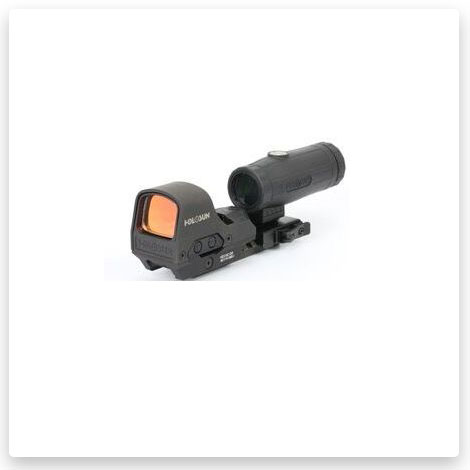 Equip this sight to quickly switch between CQB and longer-range scenarios. The magnifier was created with a large Multiple Reticle System that allows you to choose between a 65 MOA circle with 2 MOA dot, a 2 MOA dot only, or a 65 MOA ring solely with ease. This model is fueled by both battery and solar energy, and the LED technology enables up to 50,000 hours of operation from a single CR2032 battery. These sights have no parallax and provide infinite eye relief for the most comfortable viewing experience.
#22 Burris Tripler 3X Magnifier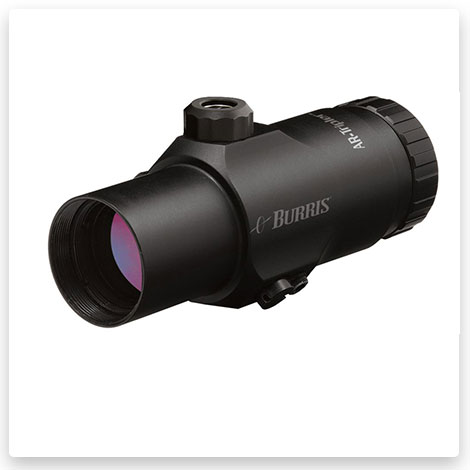 To add 3x magnification, place the following rival beneath your red dot sight. Burris' AR Magnifier is adjustable to center the dot in the scope and is compatible with the AR-Pivot Ring as well as other 30mm permanent mounting systems. The coated optical lenses on this model provide incredible optics. The wire tethers on this attachment keep the caps from falling off. It's also totally waterproof, which makes it ideal for any tactical circumstance.
#23 Firefield Tactical Magnifier for Weapon FF19022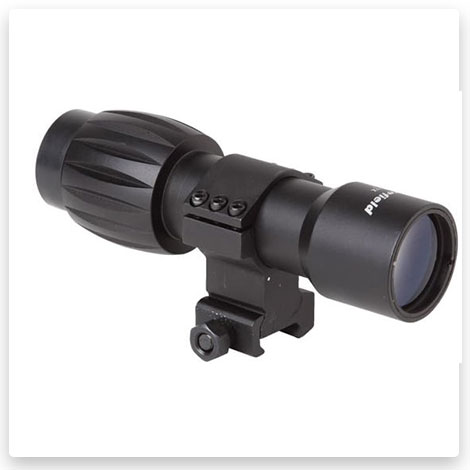 Firefield created this multipurpose weapon attachment for use with holographic sights, reflex sights, and other weapon sights. It enhances target identification and boosts the weapon sight's magnification for a longer viewing range, especially at medium-range distances.
#24 SIG SAUER ROMEO5 RED DOT SIGHT WITH JULIET3 MAGNIFIER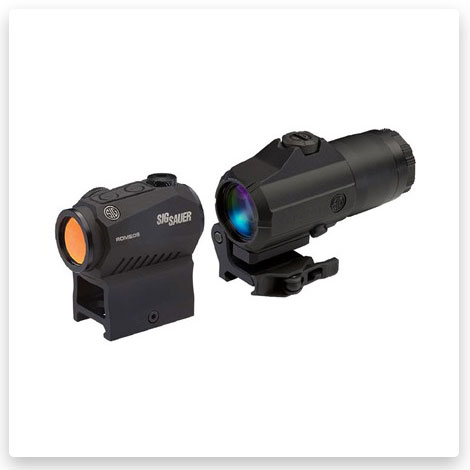 This type is noted for its unique characteristics, such as extending battery life by turning off the system when not in use and rapidly activating the system when it detects even the tiniest tremor or movement. When you get into action, your eyes will be open. The ROMEO5 may be mounted on any platform, and its strong aluminum construction ensures top performance and long life.
#25 SIG SAUER ROMEO4H RED DOT SIGHT WITH JULIET4 MAGNIFIER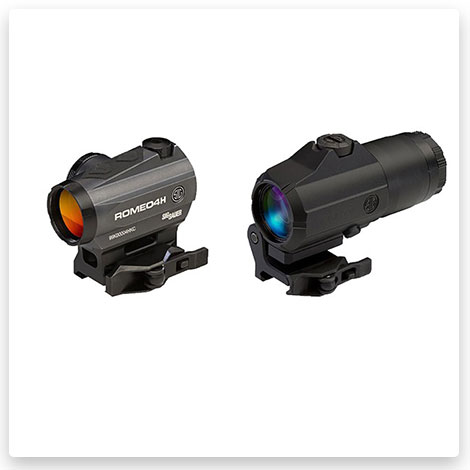 #26 VORTEX OPTICS RED DOT MAGNIFIER WITH FLIP MOUNT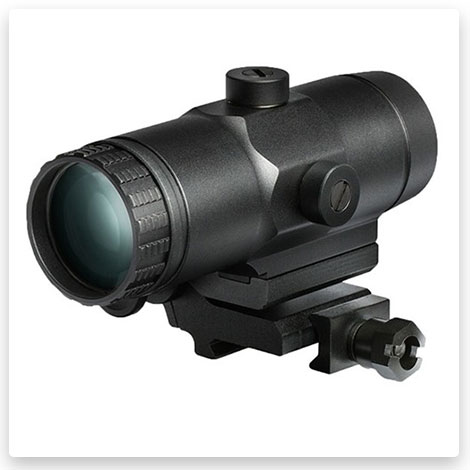 The push-button design of this module engages and disengages the flip-mount, allowing the magnifier to lock in place. It's simple, fast, and effective. As a consequence, you may choose between 3x magnified or unmagnified views at any time. For maximum light transmission, the optics are extensively multi-coated. Durability is ensured by the hard-coat-anodized machined-aluminum structure. For dependable waterproof/fog-proof performance, the inside is nitrogen purged. For practically every AR-height red dot sight, this increased adaptability is unrivaled.
Conclusion
So, there were plenty of magnifiers in this list, and all of them work excellent. However, everything depends on your budget. Therefore, you can rely on our little top for each budget segment in the end.
The best expensive models:
The best cheap models:
Tags: #best red dot magnifier / #best red dot magnifier for the money / #best red dot magnifier combo / #best budget red dot magnifier / #best red dot and magnifier combo