Affiliate Disclosure: AmmoCave.com sometimes gets paid for listings, through sponsors or affiliate programs like Lucky Gunner, Optics Planet, Brownells, Cabelas, Academy Sports & Outdoors, Rainier Arms, Palmetto State Armory, Sportsman's Guide, Ammo.com, Ammo Man, Primary Arms, MidWayUsa, Amazon, eBay, etс. Clicking a link helps keep AmmoCave.com free, at no extra cost to you!
Authors: Each article is verified by AmmoCave's expert team. Professional hunters, firearm trainers, gunsmiths, and gun experts write the articles. AmmoCave Team independently researches, tests, reviews, and uses recommendations from our community of gun owners. We may earn commissions from shopping links.
Note: The views and opinions expressed in this article are those of the authors and do not necessarily reflect any agency's official policy or position. The articles are for informational purposes only, share your opinions about Best EDC Flashlight 2023 in the comments and join the discussions. Let's share 💬 our ammo & gun experiences together!
A flashlight is an essential piece of gear for anyone who wants to be prepared for anything. And when you search for the best EDC flashlight, there are a lot of factors to consider. brightness, portability, and durability are all important considerations, but it's also important to find a flashlight that fits your specific needs. With so many options on the market, it can be tough to decide which flashlight is right for you. But don't worry – we're here to help. In this post, we'll take a look at some of the best EDC flashlights on the market and help you decide which one is right for you. So read on to learn more!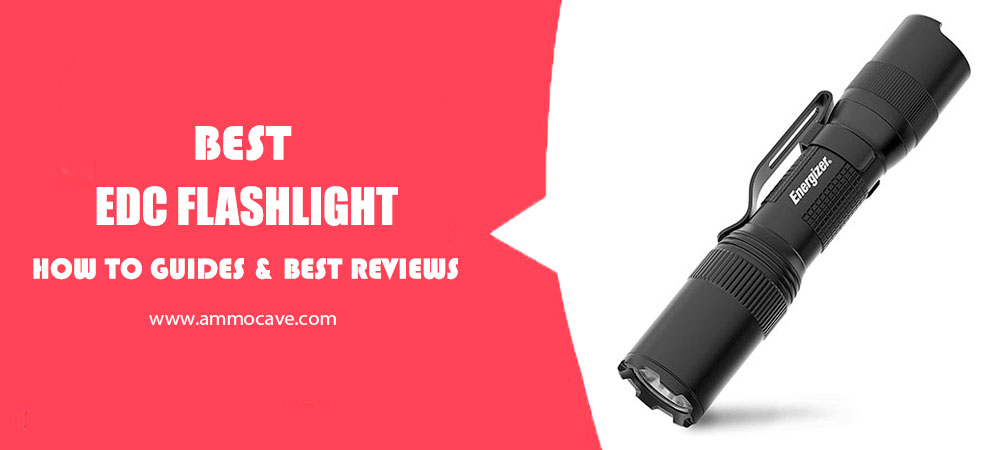 Top 16 EDC Flashlight
#1 Streamlight Stylus Pro LED PenLight with Holster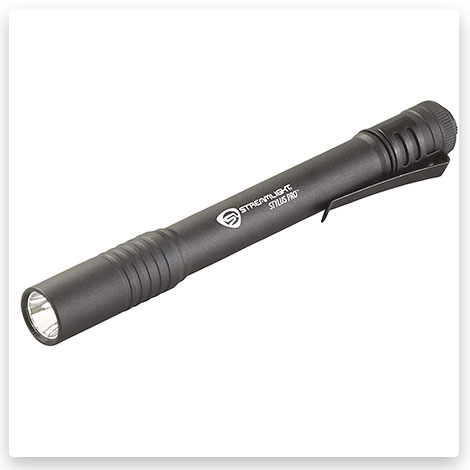 Notice the Streamlight Stylus Pro, a flashlight that's built to last with a super bright, high flux LED. With a lifespan of up to 30,000 hours, this penlight is perfect for those who need a reliable light source that will stay bright for years to come. The micro-optical system ensures optimal output and run time, while the waterproof construction and unbreakable lens make this flashlight ideal for any situation. Whether you're a professional who needs a dependable light source or an outdoors enthusiast who likes to be prepared for anything, the Streamlight Stylus Pro is the best choice.
#2 Olight Lumens Dual-Output Slim EDC Flashlight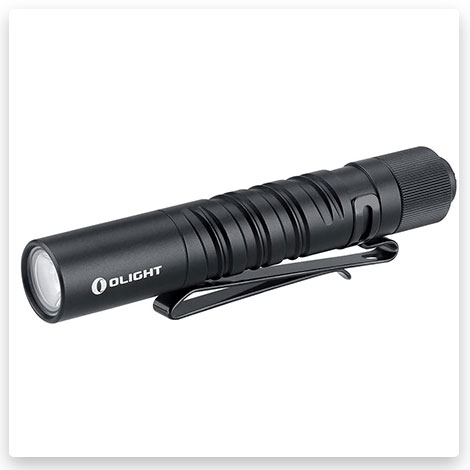 The Olight Lumens Dual-Output Slim EDC Flashlight is a high-performance mini flashlight that is for everyday carry. It features 180 lumens output and is powered by a single AAA battery. The TIR optic lens produces a soft and balanced beam, while the tail switch operation makes it easy to momentary/constant on and quick mode changing. The anti-slip design with double helix body knurling provides a unique style and solid grip. The IPX8 waterproof design makes it perfect for use in heavy rain.
#3 LUMINTOP TOOL AA 2.0 EDC Flashlight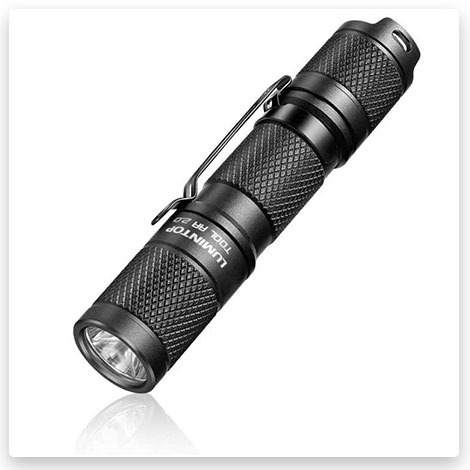 Presenting the Lumintop Tool AA 2.0 EDC Flashlight. This tough little light is perfect for everyday carry, thanks to its compact size and durable construction. Powered by a single AA battery, the Tool AA 2.0 delivers up to 650 lumens of bright white light – more than enough to illuminate your surroundings in any situation. And with four different lighting modes, including high, low, strobe, and SOS, you'll always have the right light for the job at hand. Whether you're working in the dark corners of your garage or simply need a little extra light around the house, the Lumintop Tool AA 2.0 is always up for the task.
#4 ThruNite T1 Magnetic Tailcap Handheld Flashlights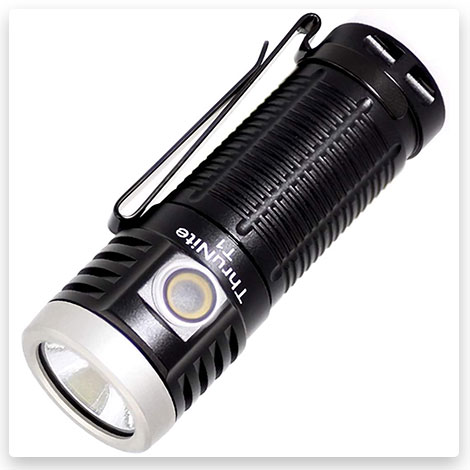 The ThruNite T1 is a powerful little flashlight that packs a serious punch, with a max output of 1500 lumens from its CREE XHP50 LED bulb. Additionally, the ThruNite T1 features a magnetic tail cap that allows you to attach it to any metal surface for easy hands-free use. The ThruNite T1 also features 4 different modes so you can adjust the light output to suit your needs. Plus, it comes with a rechargeable battery so you can always be prepared when power outages or other emergencies strike.
#5 Streamlight  Professional Tactical Flashlight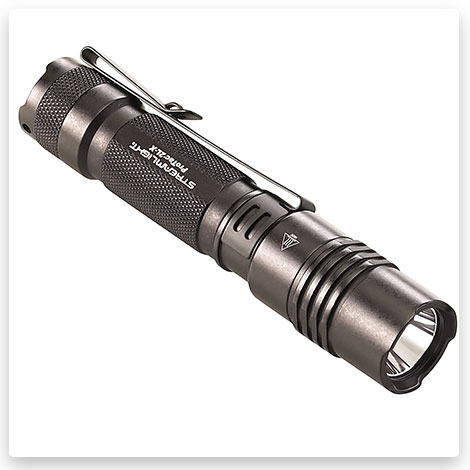 As an EDC light, the 500-lumen ProTac 2L-X from Streamlight is a complete rechargeable system that includes two CR123A lithium batteries. Its innovative design allows it to accept either Streamlight's USB battery or CR123A lithium batteries, ensuring you always have a beam of light when you need it most. The anodized aluminum housing makes the light extremely durable and resistant to abrasion, perfect for any outdoor activity or tactical situation. Whether you're hiking, camping, hunting, fishing, or on duty, the ProTac 2L-X will be your trusty companion.
#6 Energizer LED Tactical Flashlight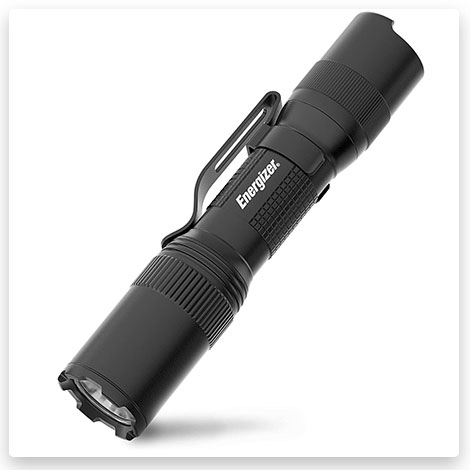 Check out the Energizer LED Tactical Flashlight! This tough and durable flashlight is perfect for a variety of situations, from camping and hiking to emergency power outages. The super bright LED beam easily illuminates dark spaces, with a max range of up to 70 meters (210 feet). The compact and lightweight design makes it easy to carry with you wherever you go. And with IPX4 water resistant certification, you know this flashlight can withstand any weather condition. So don't be caught in the dark without the Energizer LED Tactical Flashlight!
#7 OLIGHT S2R II 1150 Lumens EDC Flashlight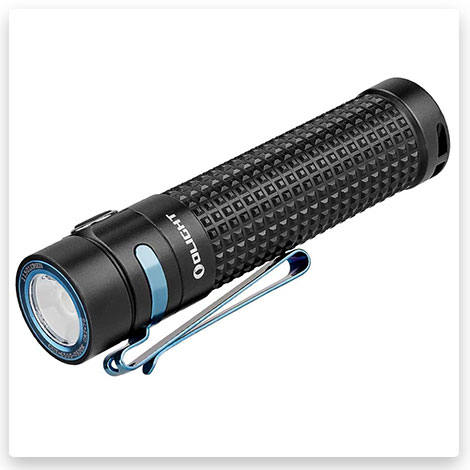 The Olight S2R II is the upgraded version of the popular S2R predecessor. It has a compact build for easy grip and portability. The light can produce a maximum output of 1150 lumens including an upgraded TIR lens that produces a perfectly balanced beam. The S2R II features a battery indicator located on the side switch so you always know when to charge. It boasts an MCC 1A magnetic charging system to ensure faster charging in a smaller form factor.
#8 Cree XP-L LED Rechargeable Flashlight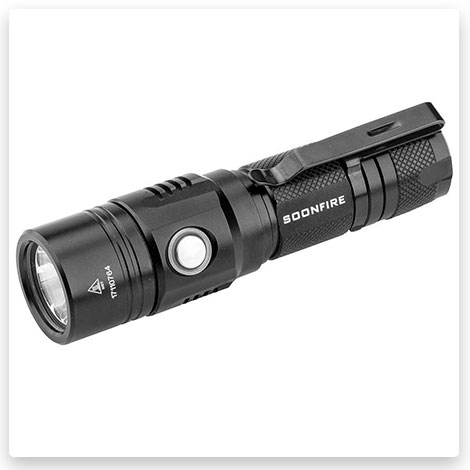 Notice the Cree XP-L LED Rechargeable Flashlight. This versatile light is perfect for any situation, whether you need a bright light for camping or a smaller light for your everyday carry. The XP-L has five standard modes and two special modes. With a maximum runtime of 131 minutes and a throw distance of up to 255 meters, this light is sure to meet all your needs. The stainless steel switch makes it easy to select the right mode for the situation, and the power status indicator lets you know when it's time to recharge.
#9 RovyVon Aurora A1x Keychain Flashlight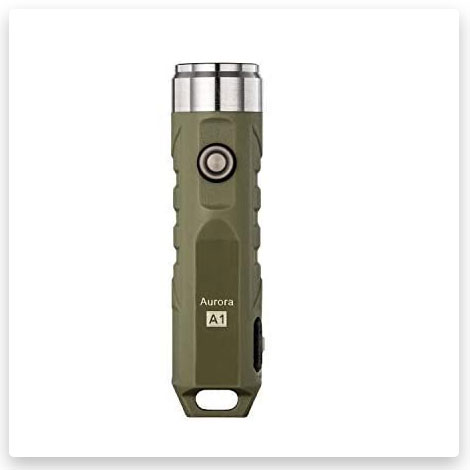 Are you searching for a flashlight that is bright but doesn't weigh you down? Check out the RovyVon Aurora A1x keychain flashlight. This flashlight is compact and lightweight, but super bright and features a temperature controller design for safety and long-lasting power. The momentary on mode allows you to quickly access the light with a long press, and the built-in micro USB charging port makes it easy to keep the light charged and ready to go. With five brightness modes, this flashlight is perfect for any situation.
#10 Fenix  USB-C EDC Rechargeable Flashlight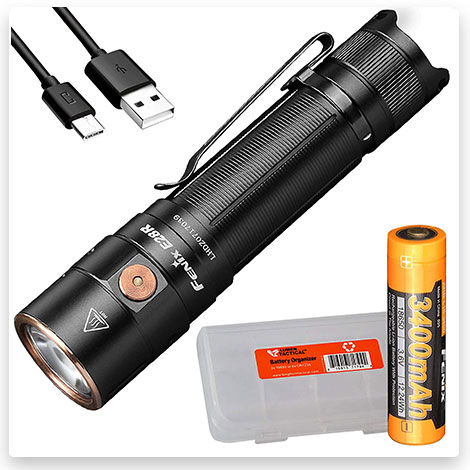 The Fenix E28R is a super bright, compact, and rechargeable EDC flashlight. With a max output of 1500 lumens, it casts a powerful beam over 218 yards. This new flashlight is designed with everyday carry in mind. The metal side switch allows for easy one-handed operation. The USB-C port makes for fast charging, so you can always keep your light powered up and ready to go.
#11 Streamlight MacroStream  EDC Flashlight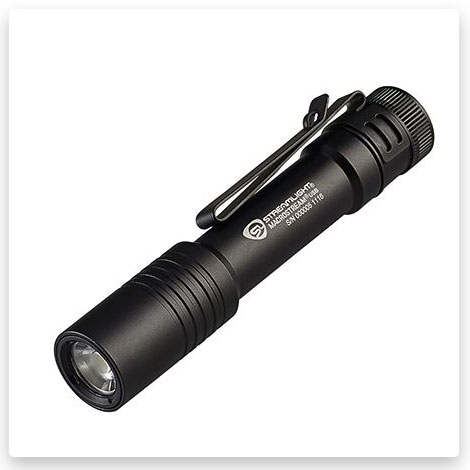 Who says streamlining your everyday carry has to mean skimping on performance? The Streamlight MacroStream EDC flashlight is proof that great things can come in small packages. This handy little light is perfect for tucking into a pocket or purse, and it delivers an impressive 500 lumens on high mode. But it's not just about the brightness-the MacroStream also boasts a long runtime of 2 hours on high and 8 hours on low. Pick up a Streamlight MacroStream EDC flashlight today.
#12 MecArmy  LED EDC Flashlight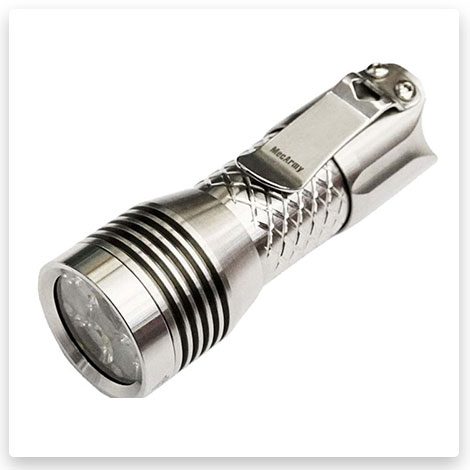 The MecArmy LED EDC Flashlight is the perfect everyday carry light. It's small and lightweight, yet still packs a powerful punch with up to 2000 lumens of output. The stainless steel construction is durable and looks great, while the rechargeable micro-USB battery means you'll never need to worry about carrying extra batteries or a charger.
#13 Nightstick USB Rechargeable EDC Flashlight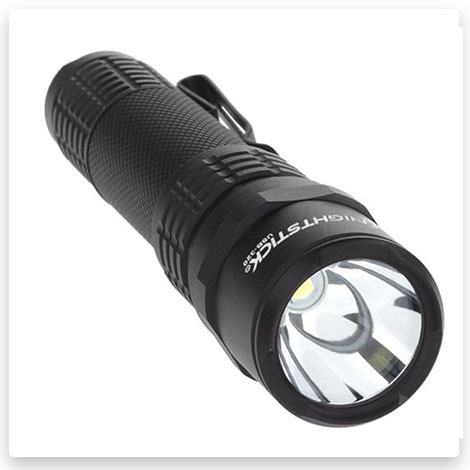 Introducing a reliable and powerful flashlight – the Nightstick USB Rechargeable EDC Flashlight. This flashlight is ideal for every-day-carry, as it is compact yet still packs a punch with 320 lumens of power. It also features momentary or constant-on functionality, making it easy to use in any situation. Plus, the IP-X7 waterproof housing protects the flashlight against all sorts of weather conditions. And if that wasn't enough, the Nightstick USB Rechargeable EDC Flashlight is also chemical heat and impact resistant.
#14 Klarus XT1A 1000 Lumen LED Tactical/EDC Flashlight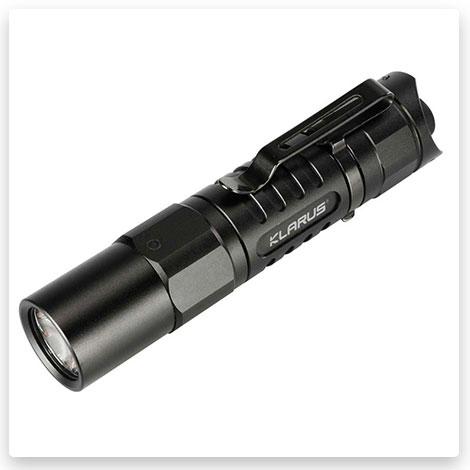 The Klarus XT1A is the perfect flashlight for both tactical and everyday carry use. The versatile settings and modes make it perfect for any environment, whether indoor or outdoor. The included Li-ion battery provides fast and easy charging, and the patented tail-cap dual-switch lockout function prevents accidental operation. With its cutting-edge tech, reliability, and excellent beam consistency, the Klarus XT1A is the perfect flashlight for any situation.
#15 5.11 Tactical EDC L2 Flashlight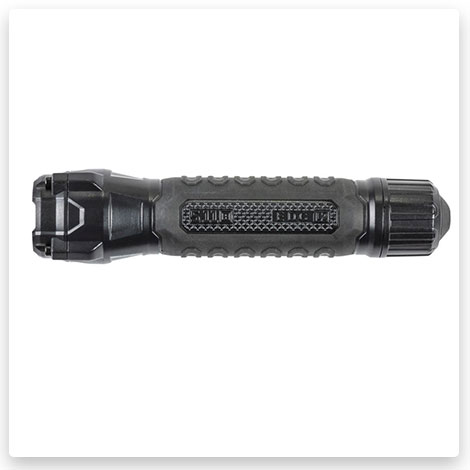 The 5.11 Tactical EDC L2 Flashlight is the perfect lighting resource for any dark area. These flashlights from the illumination experts at 5.11 Tactical are developed with sturdy materials for the case, to provide a long-lasting and effective flashlight. The 5.11 Tactical EDC L2 Flashlight features an immensely bright bulb, with an impressive lumen capacity and beam intensity. This flashlight will help you succeed in any situation.
#16 Klarus  LED EDC/Tactical Flashlight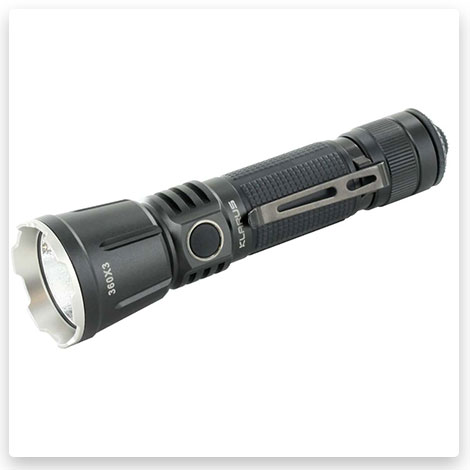 The Klarus 360X3 flashlight is the perfect tool for any dark area. With a powerful lumen capacity, long beam distance, and astonishing beam intensity, this flashlight is designed to provide you with the perfect light source. Klarus has been in the flashlight community for many years, and the Klarus 360X3 is a lighting device that proves they are devoted to making the best light source possible.
FAQ
What should I look for in an EDC flashlight?
When looking for the best EDC flashlight, there are a few things you should keep in mind.
First, consider the size of the flashlight. You want something small enough to fit easily into your pocket or purse, but still bright enough to be useful in an emergency.
Second, think about the battery life. You don't want to be caught without a working flashlight when you need it most, so make sure to choose one with long battery life.
Finally, consider the price. While you don't want to spend a fortune on an EDC flashlight, you also don't want to sacrifice quality for the price.
How many lumens is a good EDC flashlight?
The brightness of a flashlight is measured in lumens. The higher the number of lumens, the brighter the light. EDC flashlights can range anywhere from 30 to 3000 lumens. If you just need a light to help you find your way around in the dark, then a lower lumen count will suffice. However, if you need a light for self-defense or other situations where you may need very bright light, then you'll want an EDC flashlight with a higher lumen count.
How bright should an EDC flashlight be?
The brightness of an EDC flashlight is measured in lumens. The higher the number of lumens, the brighter the light. Generally speaking, you should look for an EDC flashlight that has at least 100 lumens.
What is the difference between an LED and an incandescent bulb?
LED bulbs are much more efficient than incandescent bulbs. They also last longer and can withstand more abuse. For these reasons, LED bulbs are generally considered superior to incandescent bulbs for EDC flashlights.
What is the difference between a rechargeable and a disposable battery?
Rechargeable batteries can be used over and over again. Disposable batteries can only be used once and then must be thrown away. Rechargeable batteries are more expensive upfront, but they will save you money in the long run.
What is the difference between an EDC flashlight and a regular flashlight?
EDC flashlights are designed to be portable and easy to carry with you daily. They are typically smaller than regular flashlights and have features that make them more convenient to use. For example, many EDC flashlights have clip-on attachments that allow you to attach them to your belt or backpack. Regular flashlights, on the other hand, are not necessarily designed to be carried with you daily. They are typically larger and have different features than EDC flashlights.
Conclusion
EDC flashlight, or everyday carry flashlight, is a small and lightweight flashlight that you can take with you everywhere. EDC flashlights are perfect for those who need a reliable source of light for emergencies or everyday use. In this article, we have reviewed some of the best EDC flashlights on the market to help make your decision easier. We have also included some tips on what to look for when purchasing an EDC flashlight and answered some common questions about EDCs. Now that you know more about EDC flashlights, it's time to choose one that fits your needs!
Tags: #best edc flashlight / #best edc flashlight candlepowerforums / #what is the best edc flashlight / #what is the best edc tactical flashlight / #what is the best rechargeable edc flashlight