Affiliate Disclosure: AmmoCave.com sometimes gets paid for listings, through sponsors or affiliate programs like Lucky Gunner, Optics Planet, Brownells, Cabelas, Academy Sports & Outdoors, Rainier Arms, Palmetto State Armory, Sportsman's Guide, Ammo.com, Ammo Man, Primary Arms, MidWayUsa, Amazon, eBay, etс. Clicking a link helps keep AmmoCave.com free, at no extra cost to you!
Authors: Each article is verified by AmmoCave's expert team. Professional hunters, firearm trainers, gunsmiths, and gun experts write the articles. AmmoCave Team independently researches, tests, reviews, and uses recommendations from our community of gun owners. We may earn commissions from shopping links.
Note: The views and opinions expressed in this article are those of the authors and do not necessarily reflect any agency's official policy or position. The articles are for informational purposes only, share your opinions about Best 1911 Barrel in the comments and join the discussions. Let's share 💬 our ammo & gun experiences together!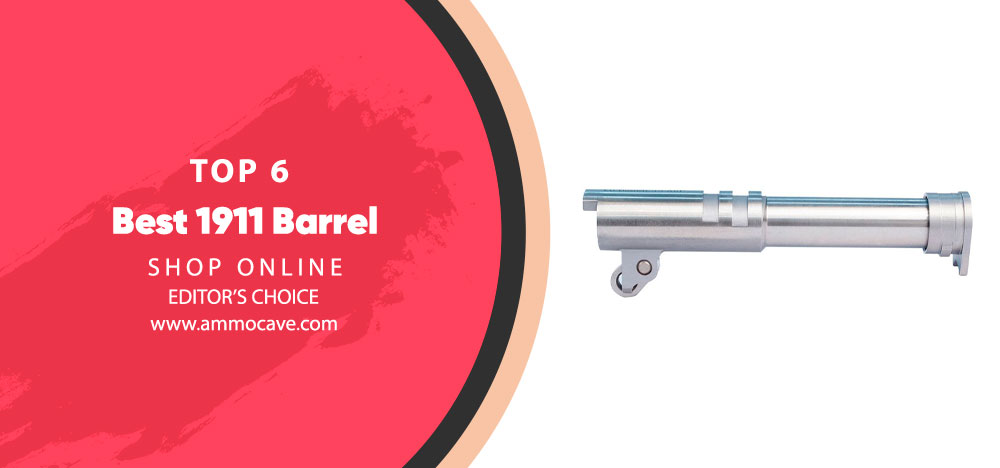 Our Selection 6 Best 1911 Barrel
| Image | Product | Brand | |
| --- | --- | --- | --- |
| | Wilson Combat Match Grade Full-Fit Barrel | Wilson Combat | |
| | Fusion Firearms UMG Barrels | Fusion Firearms | |
| | Ed Brown Products Drop-In 1911 Pistol Barrel | Ed Brown Products | |
| | Sig Sauer Barrel BBL-1911-357-CARRY | Sig Sauer | |
| | Iver Johnson Arms Barrel 1911 191145TBBL | Iver Johnson Arms | |
| | Ed Brown Products Suppressor-Ready 1911 Pistol Barrel | Ed Brown Products | |
| | Evolution Gun Works 1911 Barrel Block 70210 | Evolution Gun Works | |
| | Ed Brown Products 1911 Barrel Link 925 | Ed Brown Products | |
| | Alien Gear Holsters Grip Tuck 1911 Holster | Alien Gear Holsters | |
Modern computer-machined barrels with tough tolerances allow enhancing the pistol's potential accuracy and general performance. 1911 ramped barrels due to a built-in feed ramp have much easier caliber conversions for a frame. Match grade 1911 barrels and bushings are fully machined from premium-grade 416 stainless steel. Such barrels feature the chamber and bore of tighter tolerances.
Why do we need 1911 barrel?
1911 is popular due to its slim slide (about 0.9 in for many models). This gun is convenient to carry, either as a concealed carry or a packing gun for the out of doors. Match grade 1911 barrels are great for fitting due to the extra material in the areas where the barrel mates to the slide, allowing the gunsmith to remove just enough material to make a super tight lockup.
Best Pick
Wilson Combat Match Grade Full-Fit Barrel for Glock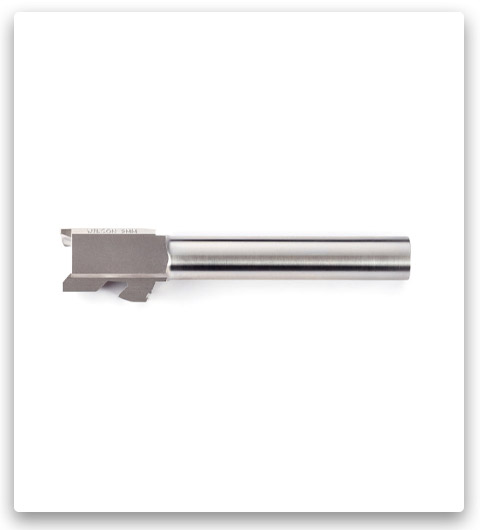 The barrels come with a polished feed ramp, twist conventional broach rifling, ideally smooth and concentric supported chamber with bore; manufactured with precious tolerances (less than .0005 in).
#1 Wilson Combat Match Grade Full-Fit Barrel for Glock, 4 models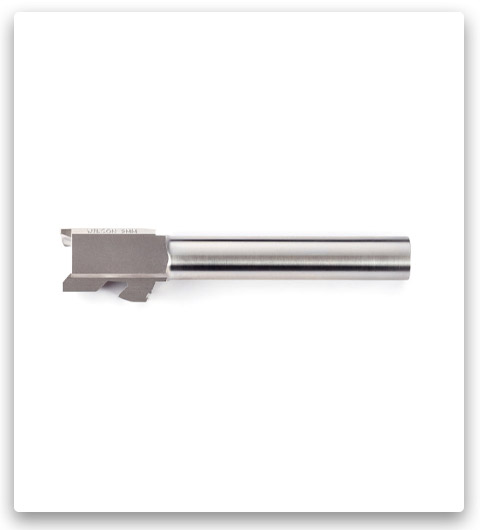 Wilson Match-Grade barrel features a polished feed ramp, ideally smooth and concentric supported chamber with the bore. The barrel is completely machined from Stainless Steel (416R) and heat-treated with precious manufacturing tolerances (less than .0005 in). ​The Wilson Combat designed the barrel with twist conventional broach rifling (1 in 16 inches), allowing it to accept plated, lead, or jacketed bullets without risk of pressure spikes caused by polygonal rifling.
#2 Fusion Firearms UMG Barrels, 6 Inch, 51 models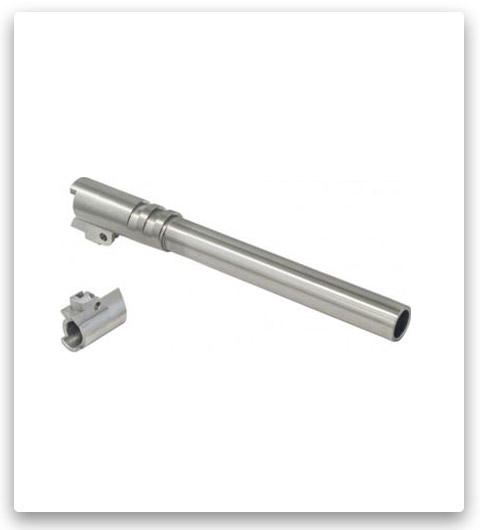 The Fusion Firearms engineered Ultra Match Grade (UMG) Barrels with 1-10 in twist rate, Standard Barrel Nose, Wilson/Nowlin Feed Ramp. These 1911 Match Pistol barrels are milled from Stainless Steel (416R Rifle Grade).
#3 Ed Brown Products Drop-In 1911 Pistol Barrel, 6 models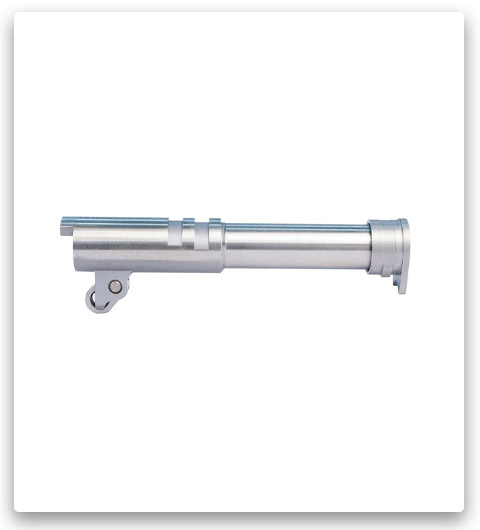 These universal, drop-in barrels are compatible with most 1911's pistols; minor fitting may be needed for some models. Most barrels are equipped with the standard feed ramps, except the 38 Super barrels, which are outfitted with completely supported feed ramps.
The barrels with 1-16 Barrel Twist are crafted from stainless steel bar stock (certified T-416) like a bench rest rifle barrel, and modern CNC machined. The Bushing with drop-in tolerances, link, and link pin comes with all barrels. If you are going to change calibers, it's necessary to use a different recoil spring or magazine, as well as adjustable sights as the impact point may alter.
#4 Sig Sauer Barrel, 1911, 357, Carry BBL-1911-357-CARRY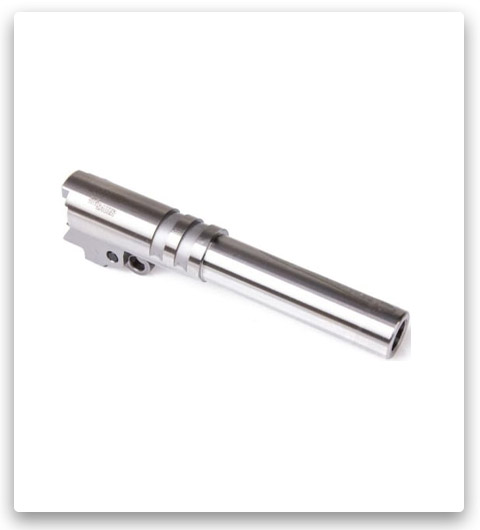 The Sig Sauer designed a replacement pistol barrel for 1911 Carry-Size, chambered in .357 SIG, without loaded chamber indicator. These stainless barrels are outfitted with links and pins. The barrels are specially heat-treated to make them rigid and long-lasting. Some fitment may be needed.
#5 Iver Johnson Arms Iver Johnson Barrel 1911 .45acp Threaded 191145TBBL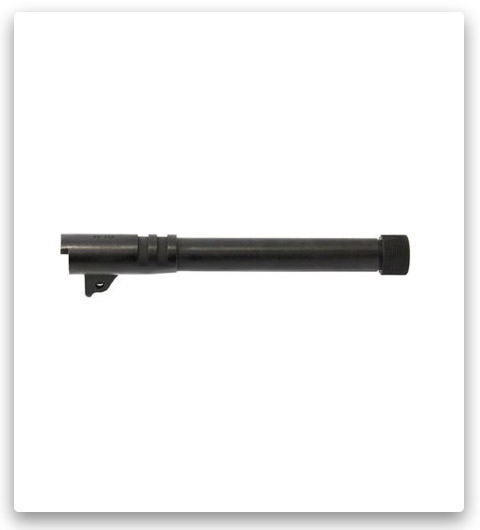 The 1911 threaded barrel is engineered for Government size 1911s of 5.75 in overall length, can fit Commander size 1911s: it will stick out of the slide 1.5 inches. The barrels with a 1:16 twist rate are finished with Black oxide and threaded on the end (3/8 in). These barrels with thread cap feature six lands and grooves, coming without a link or pin. Iver Johnson Arms recommends making fitting by a certified gunsmith.
#6 Ed Brown Products Suppressor-Ready 1911 Pistol Barrel, 4 models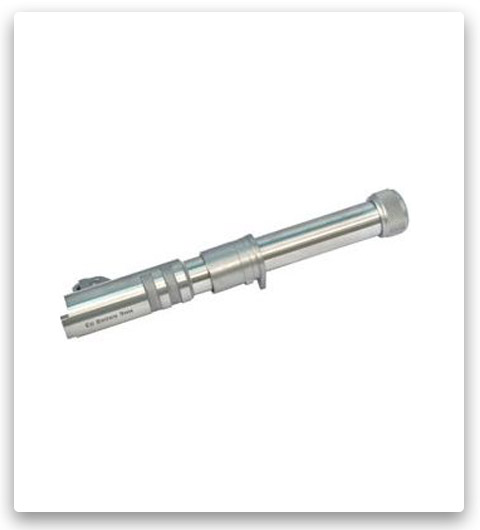 These Stainless Steel (T-416) barrels with 1-16 Barrel Twist are longer than the Ed Brown drop-in barrels. They come with a bushing, thread protector, link, and link pin, and are threaded for use with suppressors. Check your state laws regarding suppressors, before purchasing one (note it should be outfitted with a Nielsen device).
Bonus 1:
Evolution Gun Works 1911 Barrel Block/ Lock-up Gauge, 70210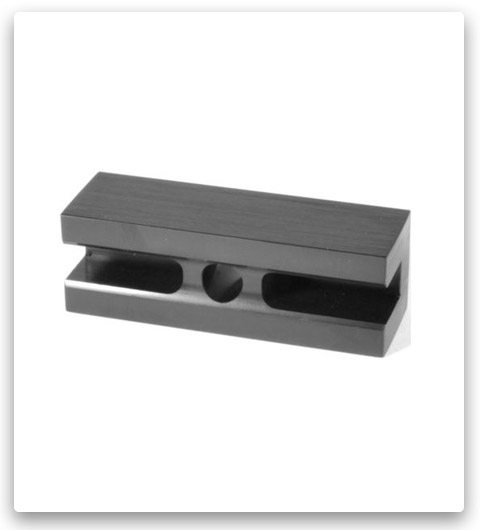 This barrel block is made of Aluminum with an Anodized finish. It allows you to hold the barrel for quicker, more accurate adjustment for the hood sides and length. During the milling and fitting for accurate lock-up checking, use the block to keep the barrel in place. You can put a dial indicator on the barrel due to the hole in the gauge to monitor both correct alignment and lock-up.
Bonus 2:
Ed Brown Products 1911 Barrel Link 925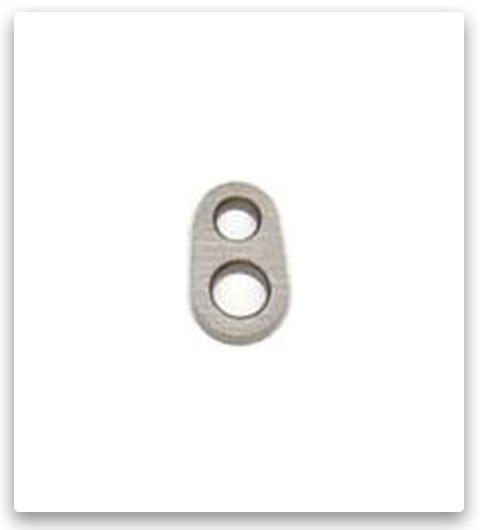 As some barrels come without a link, you can make your build complete due to this part. These links are crafted from aircraft reliable stainless steel bar stock (not stamped).
Bonus3:
Alien Gear Holsters Grip Tuck 1911 Holster, 8 models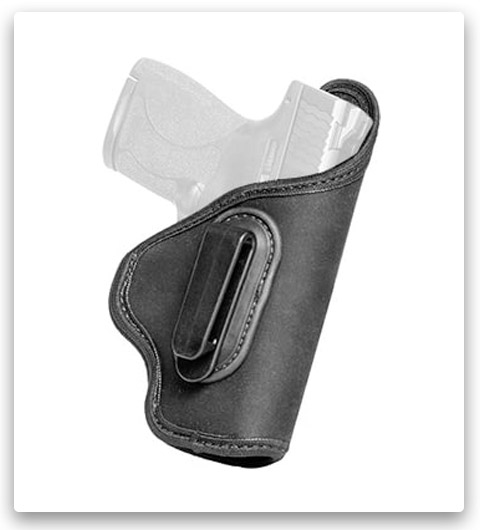 The Inside the Waistband type Holsters are designed for 1911 guns. They are made of High-Density Neoprene with Edge Bound and protected Trigger guards.
How to Install Barrel at COLT 1911
Some drop-in match grade barrels with a matching bushing may need sanding the metal from the barrel link pin (as they don't have the barrel link pre-installed) and filing some steel from around the locking lugs on the barrel for proper pistol cycling.
If you have a Match Barrel, you will probably need a gunsmith to machine it and fit it to both a barrel bushing and a slide.
If you want to install a 1911 Auto match barrel by yourself, first measure the slide with a Digital Caliper (#539-832-218 or #606-500-136) to determine the hood length (usually about 1.314 in). Fit the barrel tightly (not too much) against the breech face.
There are two ways to hold the barrel squarely in the slide with the Barrel Alignment Block.
After measuring the breech face width, transfer them to the hood to file or mill to the actual necessary size.
Or paint the hood back with a black marker and gently tap the barrel against the breech face sides, then file the hood by hand.
After the correct fitting of hood length and width, lock up the barrel fully into the battery. The rear lug is oversized on the recess depth for slide fitting; it should be lowered until the barrel locks up completely to maximum lug depth. Center the barrel on the firing pin hole, having .045 in lug engagement to lock up.
How to measure the lock-up amount: put the barrel into the slide, without touching the breech face and seating into the slide lugs. A loose bushing can be useful to support the standard barrel muzzle without any binding.
While fitting a bull barrel, prevent barrel binding or springing as you push the barrel up into place.
There are two methods to fitting the bottom lugs on a 1911 Auto. The hand-cut approach means the bottom lugs are cut with the barrel installed in the frame. This way the lugs are in a direct relationship with the slide stop pin that they are going to lock up on.
After aligning the barrel square with the Alignment Block, insert a 1911 Auto Barrel Holder into the slide and remove the block. Fasten the barrel slide onto the frame and cut the barrel lower lugs with the Lug Cutter to allow the thumb safety to go into engagement to lock on the slide stop pin.
The slide back and frame should be flush, if not, you can remove odd metal later.
To provide better accuracy the flat on the lugs should be locked on the slide stop pin.
Mount the link and pin it into the barrel and handcycle. Check correct clearances for bushing or cone lockup at the pint: with the slide back over the hood and the barrel unlocked leave at least .005 in clearance between the slide upper lugs and the barrel top.
The barrel should be seated completely in its bed on the frame and the link bottom is not bottoming out in the frame. After being sure the pistol cycles without binding, proceed with chambering.
Check the chamber length and its diameter. Depending on the caliber, you may need to cut the chamber depth.
Fit a barrel with Wilson/Nowlin ramp or a Clark/Para ramp go by the barrel specs.
After cutting the barrel depth, fix the frame in the milling vise with the dust shroud pointing downward and the frame rails 45º from vertical. Cut a chamfer about .050 in wide at the intersection of those two previous cuts. Bevel the chamfer edges with a needle file, rounding them into a 1/16 in radius.
Fitting between bushing and slide should be tight, while a match bushing should be 0.001 in reamed over the barrel diameter. Chamfer the bushing top rear inside and lower front inside the barrel to ensure smooth locking and unlocking. During lockup, it should not spring back or bind when pushed up into the slide by hand.
FAQ
Conclusion
Choose 1911 barrels, made from Forged Stainless Steel, which are strong and long-lasting. Be attentive with the two most common kinds of ramped barrels, using a Para Ordnance ramp or a Wilson/Nowlin one, which are not interchangeable, as the frame bridge cut is different.