Affiliate Disclosure: AmmoCave.com sometimes gets paid for listings, through sponsors or affiliate programs like Lucky Gunner, Optics Planet, Brownells, Cabelas, Academy Sports & Outdoors, Rainier Arms, Palmetto State Armory, Sportsman's Guide, Ammo.com, Ammo Man, Primary Arms, MidWayUsa, Amazon, eBay, etс. Clicking a link helps keep AmmoCave.com free, at no extra cost to you!
Authors: Each article is verified by AmmoCave's expert team. Professional hunters, firearm trainers, gunsmiths, and gun experts write the articles. AmmoCave Team independently researches, tests, reviews, and uses recommendations from our community of gun owners. We may earn commissions from shopping links.
Note: The views and opinions expressed in this article are those of the authors and do not necessarily reflect any agency's official policy or position. The articles are for informational purposes only, share your opinions about Best Paddle Holster 2023 in the comments and join the discussions. Let's share 💬 our ammo & gun experiences together!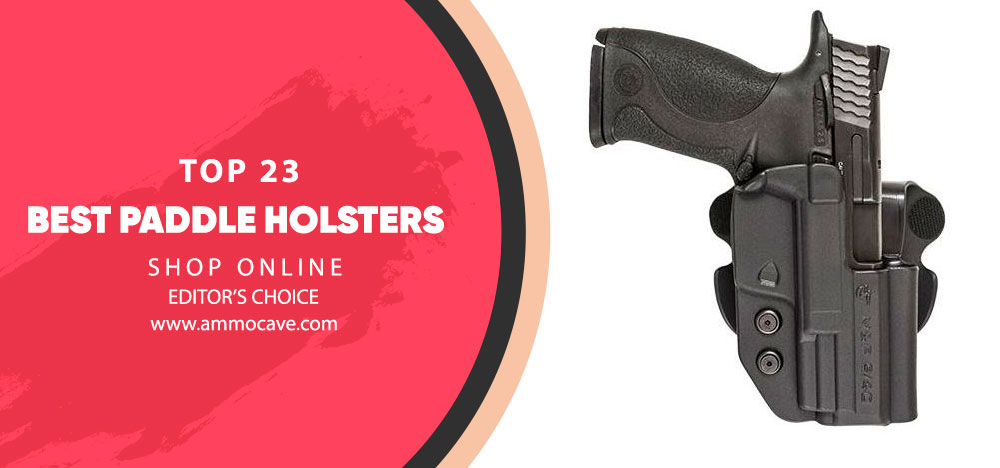 Concealment Paddle Holsters securely carry pistols, delivering quick access to them for emergency self-defense scenarios.
Why do we need Paddle Holsters?
The Reliable Paddle Holsters allow a better shooting experience and secure handgun carrying.
Best Pick
BlackHawk Sportster SERPA Paddle Holster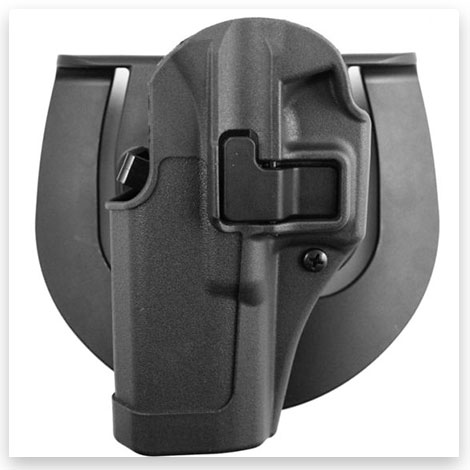 The lightweight Holster with big belt slots width of 2.25 in has a durable paddle mount, convenient for pistol drawing any time. A low-profile design is great for Concealment with finger-activated retention release.
Budget Pick
Fobus Standard Right-Hand Paddle Holster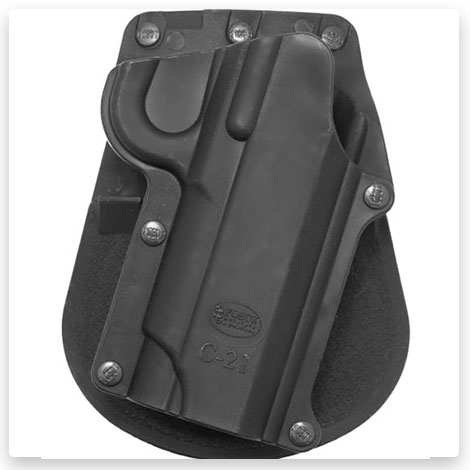 Unlike holsters, which secure the firearms via thumb break or spring-loaded device, this Fobus holster doesn't need any manipulation by thumb or finger, its passive retention ensures simple gun drawing.
Top 23 Paddle Holsters
#1 Alien Gear Holsters ShapeShift 4.0 OWB Paddle Holster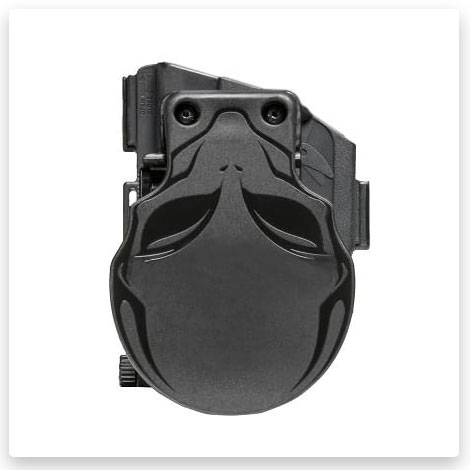 The OWB Paddle Holsters feature customized retention and an adjustable cant angle for secure attachment. The OWB holster is custom-molded from a proprietary Polymer, fitting ShapeShift holster docks and certain other accessories.
#2 Comp-Tac Paddle Outside The Waistband Holster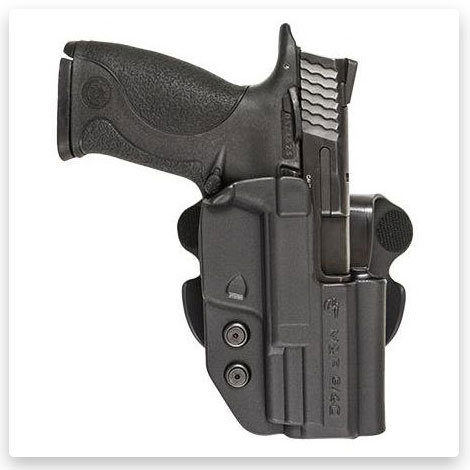 The all-Kydex Holsters with a Level I Retention and a low-friction surface ensure smooth, fast draws and easy handgun re-holstering. The Concealable Paddle OWB Holster with Belt Clip Fastener for regular concealed carry is USPSA, IDPA, and IPSC legal for use in Competitive Shooting Sports as well. Two forward curving tabs grip the belt bottom, stabilizing the holster for reliable positioning during the carry. The firm construction ensures constant shape, even without the gun.
#3 BlackHawk Sportster SERPA Paddle Holster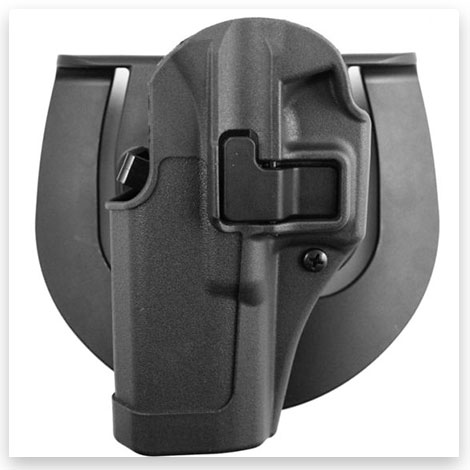 The SERPA Holsters come with a durable paddle mount, convenient for pistol drawing at any time. The Concealment Holsters fully hide for a low-profile appeal, attaching easily for a comfortable cant. The holsters are injection molded of traditional polymer with Gunmetal Gray Matte Finish for civilian concealed carry and range use.
#4 Safariland 7TS ALS Concealment Paddle Holster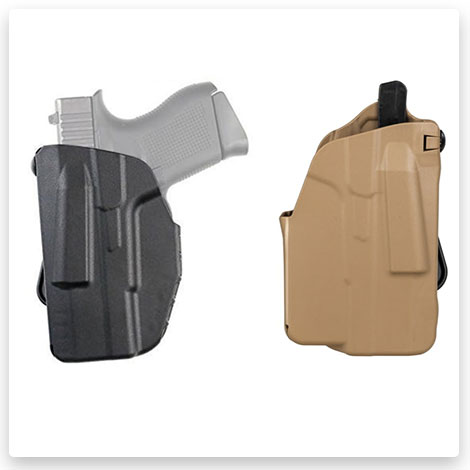 While inserting the weapon into the Tactical Concealment Holster, the Automatic Locking System (ALS) secures at once the firearm until drawing it with a swipe of the thumb release. The Paddle Holster's small footprint is made specifically for sub-compact firearms, hugging the body tight, making it an excellent OWB holster for safe weapon concealment.
#5 Galco Professional Law Enforcement Paddle Holsters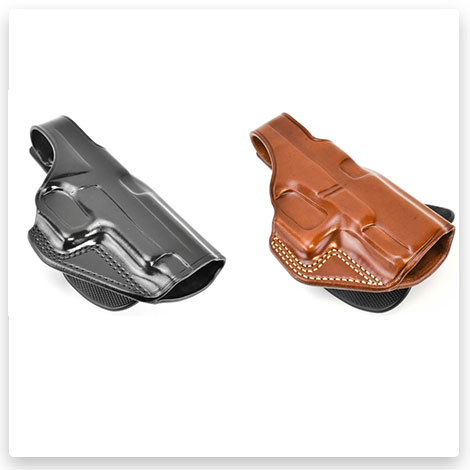 The Galco Paddle Holster with Butt-forward cant is designed with a thumb break retention strap, which meets departmental safety regulations, allowing a swift gun drawing. The Right-Handed PLE is available in tan or black Plain Finish for double-action revolvers and semi-automatic pistols. For a perfect holster fit it's recommended to oil and wrap a pistol in saran wrap, soak the holster in warm water, then slide the gun into the holster, and let it dry.
#6 DeSantis DS OWB Paddle Holsters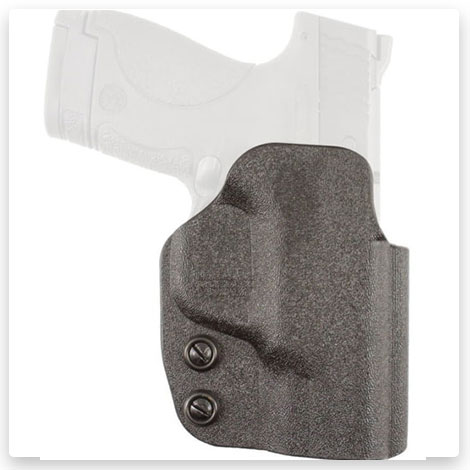 The DS Open Top Holster comes with a Paddle attachment, and a belt slot mount as well if paddle wear is not suitable. The Full-Size Concealable Paddle Holster is made entirely of thermoplastic material, covered with Kydex Finish.
#7 Uncle Mike's Kydex Open Top Paddle Holster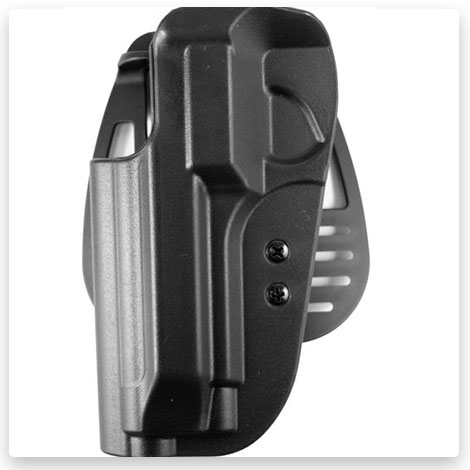 #8 Scorpus M1 Paddle/Belt Level 1 Swivel Holster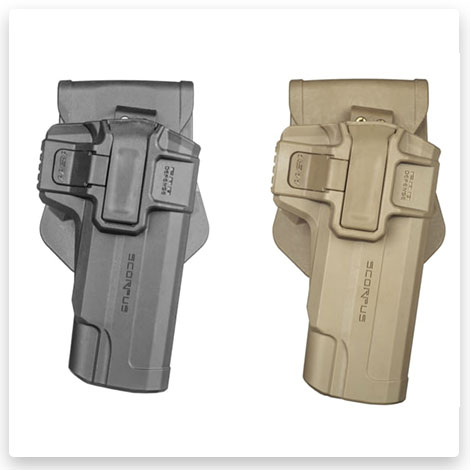 The Scorpus M1 Paddle and Belt Swivel Holster with Double Secure Passive Level 1 Retention Mechanism and an integrated cant adjustment of 20 degrees allow you to customize them for the perfect draw. The Stealth Design with a Low Profile provides reliable Concealed Carry. The Tactical Polymer Paddle Holster includes an adjustable belt loop.
#9 Bulldog Cases & Vaults Rapid Release Polymer Holster with Paddle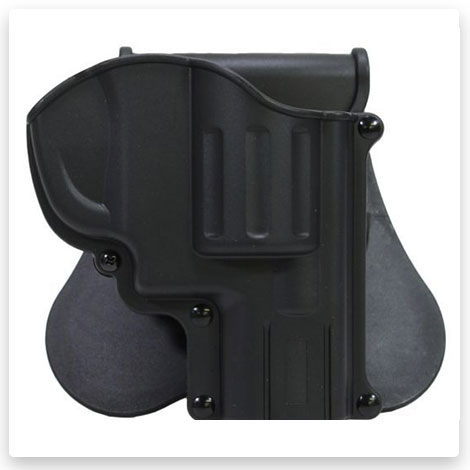 The Holsters with Paddles are manufactured of strong, high-tech polymer materials with SIG Sauer gun-specific design. The Right-Handed holster is fully-adjustable to multiple draw positions. The Polymer holsters come with a specially designed locking mechanism, which delivers a safe and secure "Level II retention with one finger" fast drawing release.
#10 Gould & Goodrich B807 Paddle Concealment Holster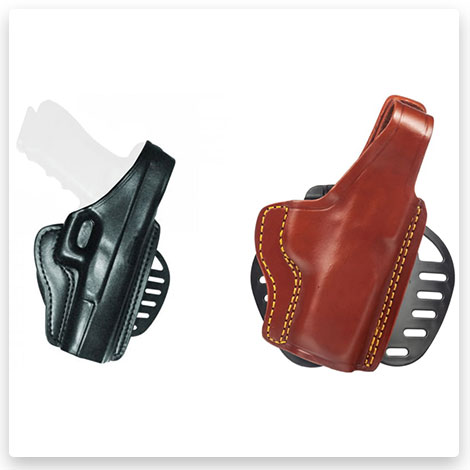 The Leather Concealment Paddle Holster with Plain Finish and Thumb Break Fastener features a contoured paddle with flexible wings to keep the holster securely in place while drawing the pistol.
#11 Viridian Right TacLoc Holster for Walther PPQ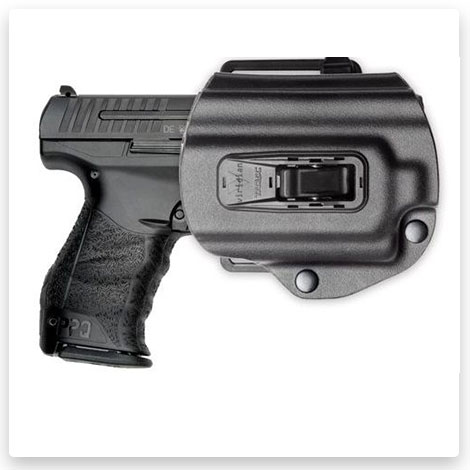 The Holster for Walther PPQ keeps a C-Series laser and/or light mounted, C-Series accessories can utilize their ECR Instant-On feature, which turns the laser or light while drawing the firearm. The TacLoc button ensures finger placement in an ideal position to activate laser/light. The right-handed holster comes with a paddle 3-bolt platform for customization opportunities and fits a Blackhawk.
#12 Blackhawk SERPA CQC Belt Loop/Paddle Active Retention Holster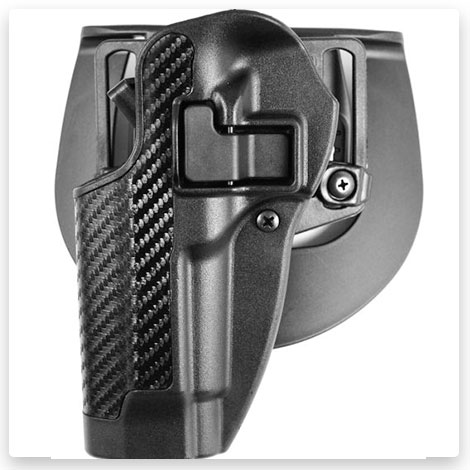 The CQC Serpa Technology Holster ensures faster draw and easy re-holster thanks to the speed cut. The Blackhawk Active Retention holsters are equipped with both paddle platforms and belt loops.
#13 Texas Rotating Thumb Release OWB Paddle Holster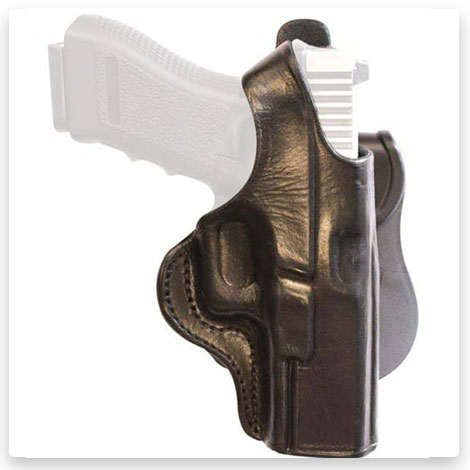 This OWB holster is designed on the base of the Rotating Open Top Paddle Holster but with the additional option of a thumb break retention to provide gun security in any position. The manufacturer field tests all holsters to ensure proven safety and long-lasting service in any situation.
#14 Tagua Gunleather Rotating Quick Draw Paddle Holster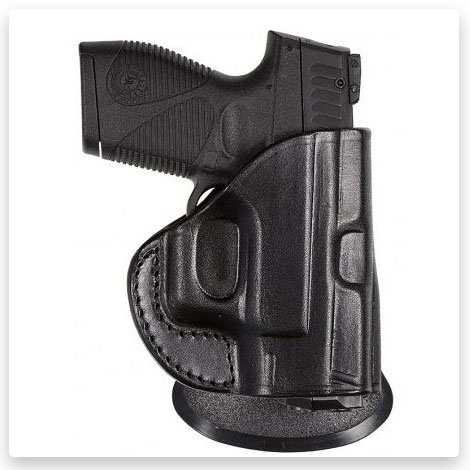 The Injection hand-molded Rotating paddle ensures excellent handgun retention. The open-top Right-Handed Paddle Holster has a fast draw and an open muzzle. The Concealment holster is not Weather Resistant.
#15 Galco Speed Paddle Holster, Leather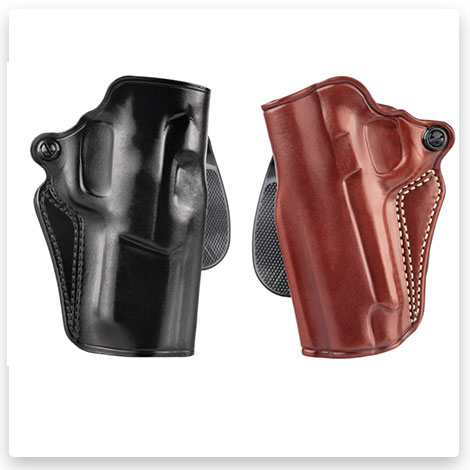 The Galco Speed Paddle Holster with an open-top ensures fast draw and weapon access. The Pistol Leather Holster with Plain Finish is outfitted with a copolymer injection-molded belt-lock paddle to put on and take off conveniently the holster without removing the belt.
#16 Safariland ALS Paddle & Belt Slide Holster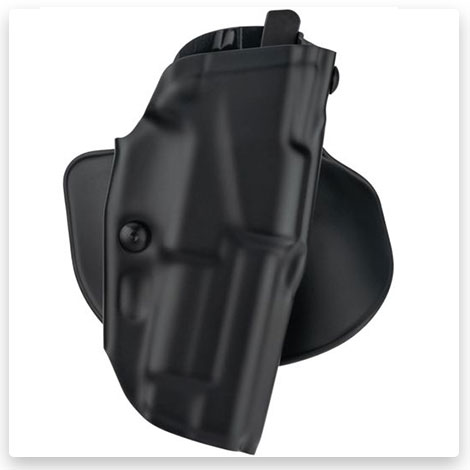 These open-top holsters offer a close ride to the body, smooth draws, and effective concealment for both concealed carry owners and undercover operators. The handgun is locked at once into the ALS Paddle Pistol Holster upon holstering.
#17 Comp-Tac Paddle Holster Right, Straight Drop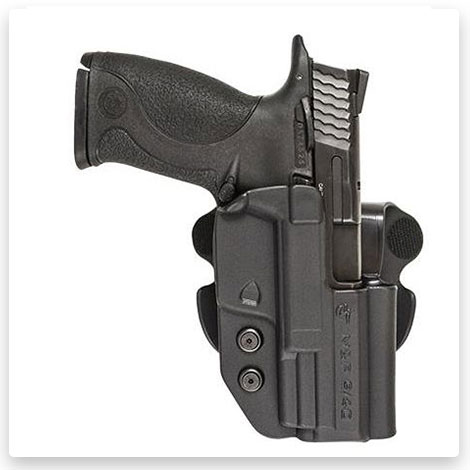 #18 Fobus Standard Right Hand Paddle Holster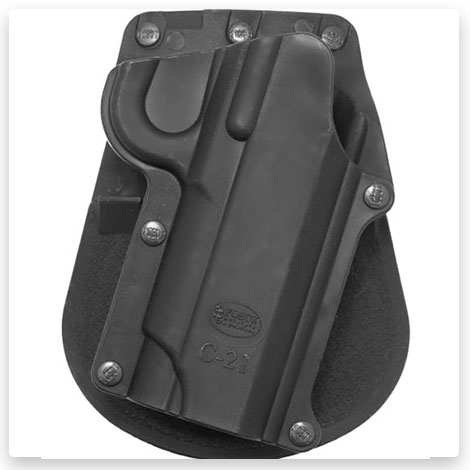 The Right-handed holsters are equipped with Steel reinforced rivet attachment system and a rubberized paddle to ensure stability and comfort.
#19 Cebeci Arms Leather Combat Grip Paddle Holsters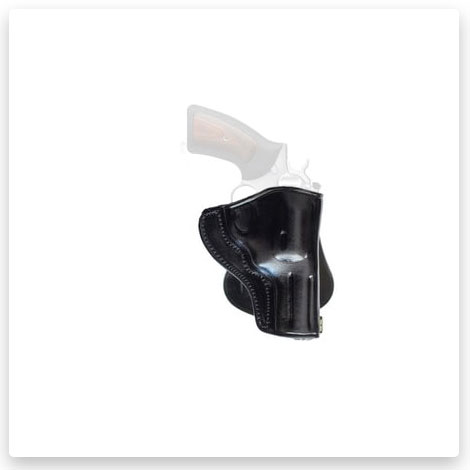 The Cebeci Arms Leather Paddle Holster with Plain Finish features Combat Grip. The Holsters are good for Daily Carry, Range, or Competition.
#20 SAFARILAND  SLIM FIT CONCEALMENT MICRO PADDLE HOLSTER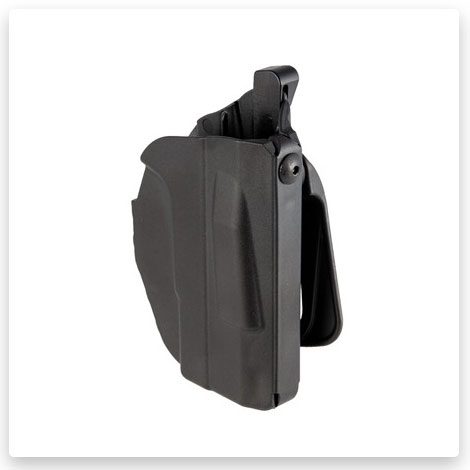 The 7371 7TS open-top Right-Handed Holster with secure ALSis convenient and easy to use, allowing a quick, natural draw with the thumb release swipe to acquire a shooting grip. The OWB Paddle holster from Injection-Molded Thermoplastic doesn't scratch or mar the gun finish.
#21 GALCO INTERNATIONAL – PLE PADDLE HOLSTERS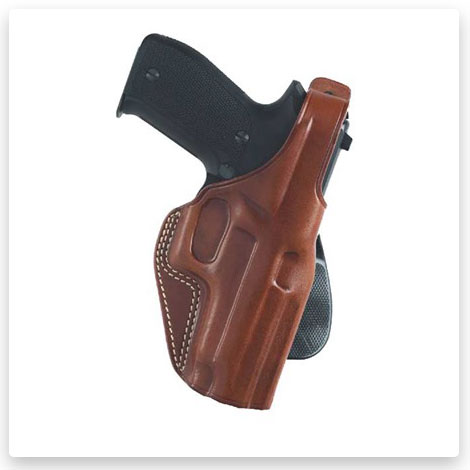 The Right-handed holster features Galco's patented belt-lock co-polymer injection-molded paddle, which is easily attached and removed. A swift draw is provided with the thumb break retention strap.
#22 GALCO INTERNATIONAL – SPEED PADDLE HOLSTERS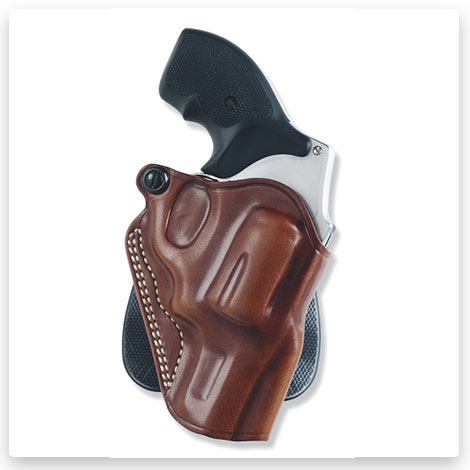 The open-top holster design delivers fast draw, the tension screw adjustment gives added security. The Galco's copolymer injection-molded belt-lock paddle allows putting on and taking off the holster without removing the belt.
#23 1791 GUNLEATHER – PADDLE REVOLVER HOLSTER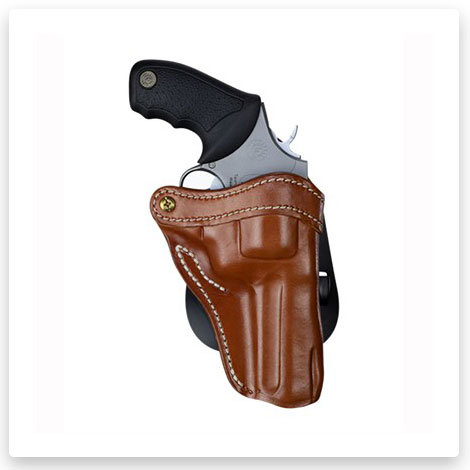 The right-handed OWB Paddle Holster comes with adjustable cant and a sweat guard for better comfort and wearability. The holster with a Kydex paddle is compatible with Revolvers K and L Frame.
Conclusion
Reliable holsters should securely retain the firearms when they aren't in use.Depending on the draw-type you prefer, choose a comfortable way for all-day carrying: either on the weak side or the strong side hip.For frequent use on the range, it's better to use the trigger easily accessible holsterwithout added retention devices like trigger guard hoods or thumb breaks.
Tags: #best paddle holster / #best paddle holster for concealed carry / #best paddle holster for glock 19 / #best leather paddle holster / #best paddle holster for glock 26