Affiliate Disclosure: AmmoCave.com sometimes gets paid for listings, through sponsors or affiliate programs like Lucky Gunner, Optics Planet, Brownells, Cabelas, Academy Sports & Outdoors, Rainier Arms, Palmetto State Armory, Sportsman's Guide, Ammo.com, Ammo Man, Primary Arms, MidWayUsa, Amazon, eBay, etс. Clicking a link helps keep AmmoCave.com free, at no extra cost to you!
Authors: Each article is verified by AmmoCave's expert team. Professional hunters, firearm trainers, gunsmiths, and gun experts write the articles. AmmoCave Team independently researches, tests, reviews, and uses recommendations from our community of gun owners. We may earn commissions from shopping links.
Note: The views and opinions expressed in this article are those of the authors and do not necessarily reflect any agency's official policy or position. The articles are for informational purposes only, share your opinions about Mossberg 500 Folding Stock 2023 in the comments and join the discussions. Let's share 💬 our ammo & gun experiences together!

What is Mossberg 500 folding stock? 🤔
It is an aftermarket stock accessory for the shotgun. It allows the shooter to quickly and easily fold the stock away, making a compact package that is easy to transport and store. This makes it ideal for use in tight spaces where traditional full-length stocks may not be suitable.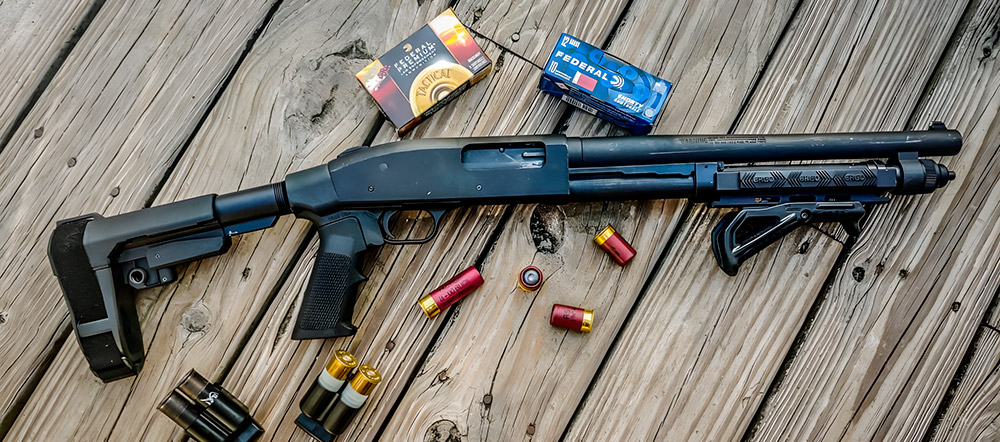 Features 🔥
🟣 The first is the overall design and construction of the stock. Stocks are made out of high-quality materials such as aluminum or polymer that are built with rugged construction in mind.
🟣 Next, is weight and ergonomics. A lightweight folding stock will be easier to carry and maneuver when shooting.
🟣 Additionally, look for stocks that have rubberized grip areas for improved comfort and control.
🟣 Finally, it has an adjustable length of pull so you can customize it to fit your body shape and size properly.
Our Top Pick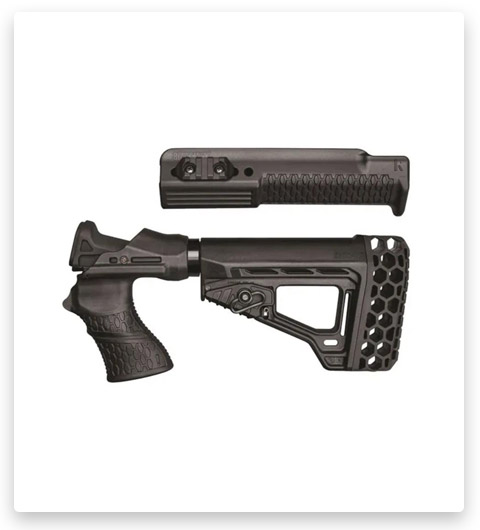 Mossberg 500 Knoxx SpecOps Gen III Buttstock
Developed by Blackhawk, the Knoxx Stock is the perfect tool to take your accuracy to the next level. Crafted from robust and dependable materials, this stock is designed to be easy to install and set up and allows you to adjust from 12.5" - 15.2" in the length of pull. There are three integrated Picatinny accessory rails and it is also compatible with receiver-mounted shell carriers giving you total control over your weapon's setup. Plus, its ergonomic pistol grip is optimized for all types of tactical shooting techniques no matter your size and load range.
Buy Now On Brownells
If you click this link and make a purchase, we earn a commission at no additional cost to you.
Benefits 🤩
The Mossberg 500 folding stock is an ideal choice for shooters who need a versatile firearm that can be easily transported and stored.
❇️ With its folding design, this stock allows the shotgun to become significantly more compact – making it easier to carry and store in smaller spaces.
❇️ This stock also helps reduce recoil and muzzle jump, helping improve accuracy and making follow-up shots quicker and easier.
❇️ Additionally, the design provides improved portability, allowing you to bring your shotgun with you on any outdoor adventure without worrying about it taking up too much space or adding too much weight.
❇️ Furthermore, the ergonomic construction of this stock makes it easy to handle and operate, providing increased comfort when shooting.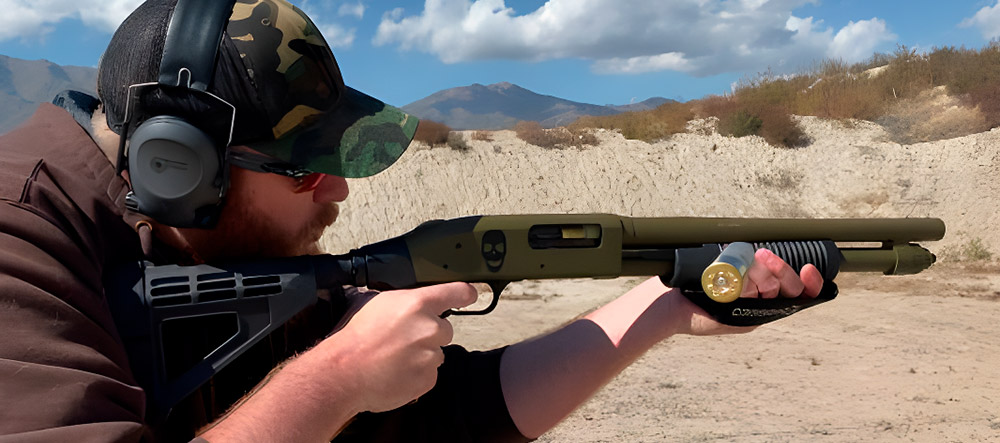 Is it worth it? 🧐
When it comes to investing in folding stock, the answer varies depending on your particular needs.
☑️ If you plan to use the stock for tactical and/or competitive purposes, then a folding stock is an excellent choice.
🔶 A folding stock reduces the overall length and makes the weapon much more maneuverable in tight quarters such as vehicles or hallways.
🔶 When folded, a longer barrel will still fit into most gun safes without any problems.
☑️ If you are searching for an all-purpose hunting rifle that you can use from field positions such as sitting or kneeling, then a traditional non-folding stock may be more suitable for your needs.
🔶 The added stability of a fixed stock can aid with accuracy while providing better support when shooting from the prone position.
😉 Ultimately, choosing the best stock depends on your purpose and intended use. Weigh the pros and cons of each option carefully before making your decision.
Top 11 🚀 ATI Folding Shotgun Stock for Mossberg
1# Mesa Tactical Products Telescoping Buttstock Kit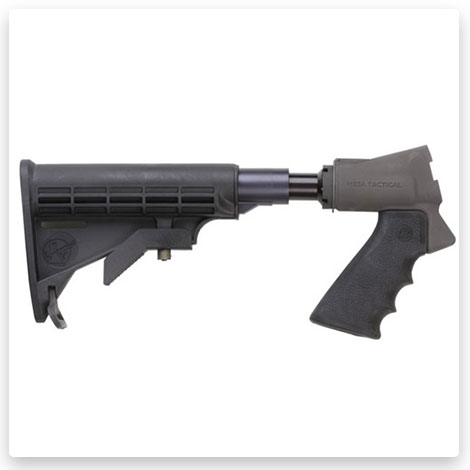 The Mesa Tactical Products Telescoping Buttstock Kit is perfect for anyone who wants to add a little extra stability and durability to their shotgun. The aluminum receiver adapter bolts to the rear of the receiver with included mounting hardware and require no permanent alterations to your gun. The adapter accepts standard AR-15 grips and carbine receiver extensions, making it a versatile and easy-to-install option for upgrade or replacement.
2# Phoenix Technology 500 Kicklite Buttstock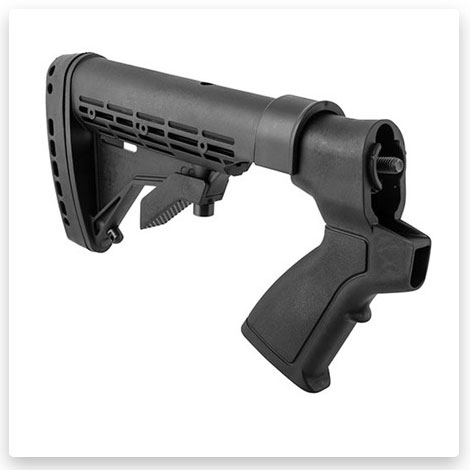 Searching for a recoil reduction stock for your Mossberg 12 or 20-gauge shotgun? Notice the Phoenix Technology 500 Kicklite Buttstock! This innovative stock features patented recoil reduction technology, designed to help you shoot with enhanced weapon control, quicker follow-up shots, and reduced fatigue. Give your shotgun a major upgrade with the Phoenix Technology 500 Kicklite Buttstock!
3# Blackhawk Mossberg 500 Buttstock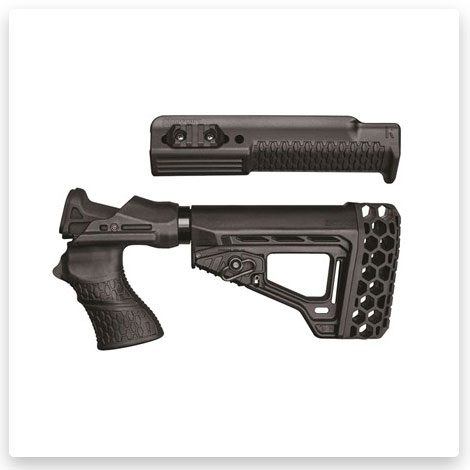 If you need a way to dramatically cut the felt recoil on your Mossberg 500? The Blackhawk Knoxx SpecOps Stock Gen III is exactly what you need! Not only does it reduce felt recoil by up to 80%, but it's also adjustable to fit individual shooters. Plus, it's easy to install and comes with multiple ambidextrous sling mounting locations. So why wait? Get your Blackhawk Knoxx SpecOps Stock Gen III today!
4# Magpul Mossberg 500 SGA Buttstock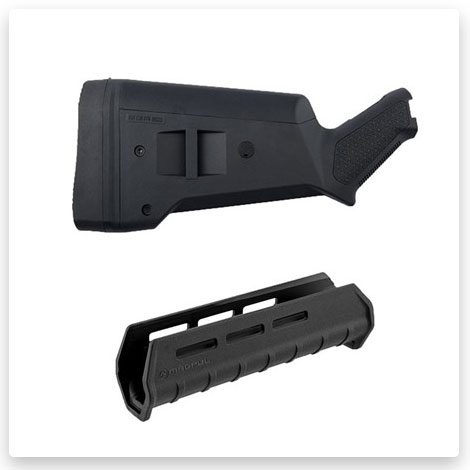 Notice a high-quality buttstock and forend set the Magpul SGA Stock and M-LOK Forend. This adaptable stock comes with a wide range of customizable features, making it a great choice for those who want a personalized fit for their shotgun. The M-LOK Forend is made from polymer and provides ample room for attaching optional M-LOK accessories and mounts. So if you need to upgrade to your Mossberg 500, look at the Magpul SGA Stock and M-LOK Forend!
5# Brownells Mossberg 500 SGA Buttstock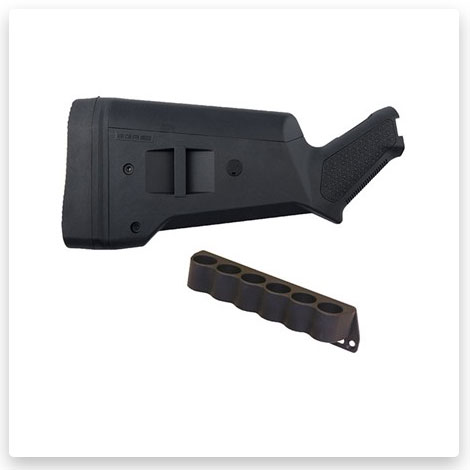 Made from the same tough, hard polymer as Magpul's AR-15 stocks, the Brownells Mossberg 500 SGA Buttstock is built to withstand even the most extreme conditions. The ergonomically enhanced grip area provides a pistol-like grip for superior control and portability, while the recoil-absorbing butt pad ensures comfort and stability when firing. So don't settle for anything less than the best – make the upgrade to the Brownells Mossberg 500 SGA Buttstock today!
6# Pro Mag Archangel Mossberg 500 SGA Buttstock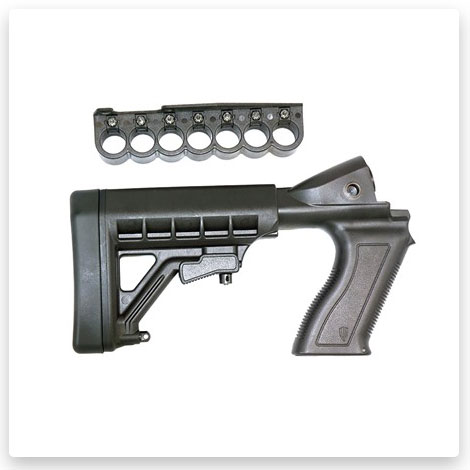 This top-of-the-line stock system features an ergonomic textured pistol grip with locking storage for enhanced weapon retention and control. Additionally, the teardrop extension tube cheek weld shape promotes a natural sight picture with bead type or barrel-mounted sights. Finally, the six-position collapsible buttstock with a patented durometer tuning system allows shooters of all sizes to find the optimum adjustment for fit and comfort. So choose the best – the Pro Mag Archangel AA50088.
7# Pro Mag Mossberg 500 Tactical Shotgun Stock System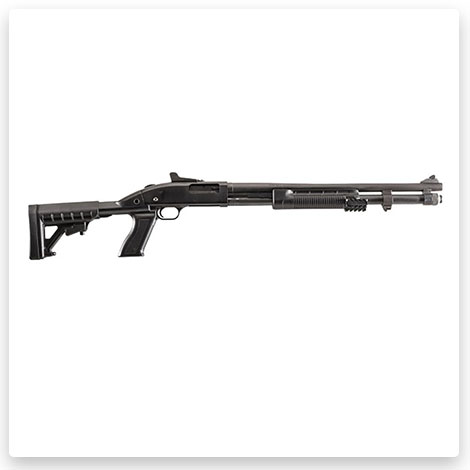 Check out the Pro Mag Mossberg 500 Tactical Shotgun Stock System. This ergonomic textured pistol grip with locking storage is designed to provide a comfortable and secure grip. The ergonomically enhanced military length forend can be configured with the aluminum tri-rail cap to allow the mounting of Picatinny rail mount accessories such as tactical lights or lasers without sacrificing comfort or convenience. Constructed from durable and lightweight materials, this shotgun stock system is a must-have for any serious shooter.
8# Strike Industries Mossberg 500 Handguard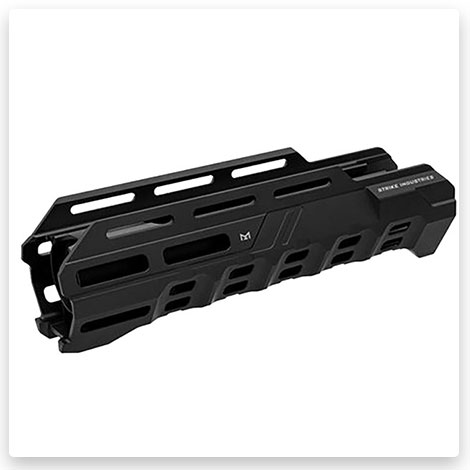 The Strike Industries VOA series handguard for Mossberg 500 is an essential upgrade to your shotgun build. The advanced ergonomic design is highlighted by the detailed finish of the hard anodized aluminum. The semi-matte finish and contoured cuts allow for a finer grip. And with the tactical placement of the MLOK openings, the option for multiple configurations for general use or accessorizing is at your fingertips. So bring another dimension of innovation to your shotgun platform with the VOA series handguard from Strike Industries.
9# Choate Tool Mossberg Side Folder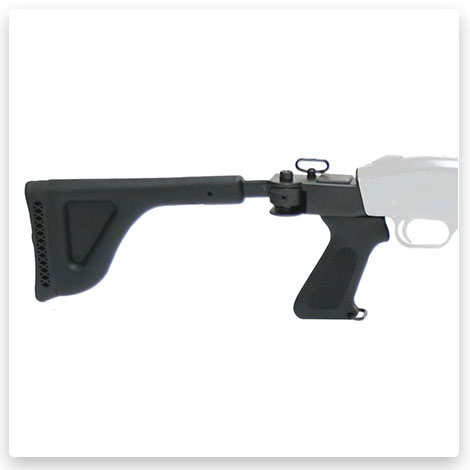 The Choate Tool Mossberg Side Folder is a good stock for your shotgun. This sleek and durable stock fits your shotgun like a glove, with pistol grip notches for an easy and comfortable grip. The wood is treated for durability and weather resistance, so you can be sure it will last through any condition. The side folder design allows for fast and easy shooting, and the stock can be easily folded for storage or transport.
10# FAB Defense Tactical Folding Buttstock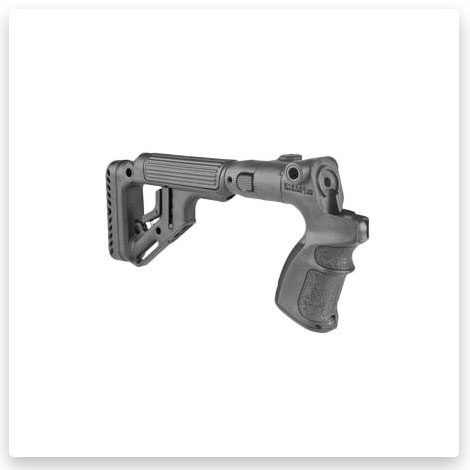 The FAB Defense Tactical Folding Buttstock w/ Cheek Riser is for upgrading your weapon build. This ultra-rugged yet slim stock is made from durable reinforced polymer composite and features a built-in, adjustable cheek rest for enhanced comfort. The push-button release assists in opening and folding the buttstock, and the rubber butt pad enhances shoulder-position stability. Whether you're in the field or at the range, this reliable FAB Defense stock will give you the edge you need to succeed.
11# ATI Outdoor Tactical Top Folding Stock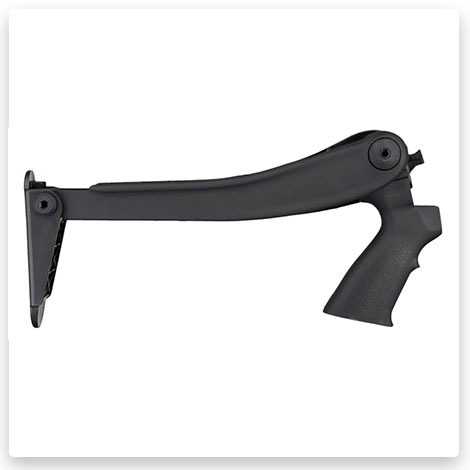 The ATI Outdoor Tactical Top Folding Stock is for those who want the best of both worlds in a shotgun stock. With the ability to quickly deploy or fold away the stock, you can use your shotgun in both stockless and stock positions. Whether you're using your shotgun for tactical purposes or simply want a more versatile option for hunting, the ATI Outdoor Tactical Top Folding Stock is a good choice.
⚙️Installation⚙️
Installing the folding stock is a relatively straightforward process, though it will require some disassembly and reassembly of your Mossberg 500.
🚨 To begin, make sure your firearm is unloaded. 
➡️ Separate the barrel from the action by unscrewing the forend nut that connects them.
➡️ Once this is done, remove the stock from the action tube assembly. Take care not to damage or misplace any parts as you proceed.
➡️ Next, attach your new stock to the receiver, following all product-specific instructions associated with its installation. Make sure everything is properly secured before continuing.
➡️ You will also need to re-install the action tube assembly. To do this, feed the bottom end of the folding stock into the receiver and then slide the top part over it until it is seated in place. Secure it with a forend nut, making sure not to overtighten it.
🤠 Once everything is properly installed, you can add any optional accessories like a recoil pad or sling swivel and so on.
FAQ 😎
Conclusion 😎
Folding stocks are becoming more and more popular on shotguns, especially the Mossberg 500. In this article, we've outlined some of the most important factors to consider when choosing as well as some of our favorite products on the market. We hope you found this information useful and that it may help you to make the right decision, thanks for reading! 😊❤️‍🔥
Tags: #mossberg 500 folding stock / #ati folding stock mossberg 500 / #folding stock mossberg 500 / #mossberg 500 side folding stock / #mossberg 500 top folding stock