Affiliate Disclosure: AmmoCave.com sometimes gets paid for listings, through sponsors or affiliate programs like Lucky Gunner, Optics Planet, Brownells, Cabelas, Academy Sports & Outdoors, Rainier Arms, Palmetto State Armory, Sportsman's Guide, Ammo.com, Ammo Man, Primary Arms, MidWayUsa, Amazon, eBay, etс. Clicking a link helps keep AmmoCave.com free, at no extra cost to you!
Authors: Each article is verified by AmmoCave's expert team. Professional hunters, firearm trainers, gunsmiths, and gun experts write the articles. AmmoCave Team independently researches, tests, reviews, and uses recommendations from our community of gun owners. We may earn commissions from shopping links.
Note: The views and opinions expressed in this article are those of the authors and do not necessarily reflect any agency's official policy or position. The articles are for informational purposes only, share your opinions about Best Recoil Reducing Shotgun Stock 2023 in the comments and join the discussions. Let's share 💬 our ammo & gun experiences together!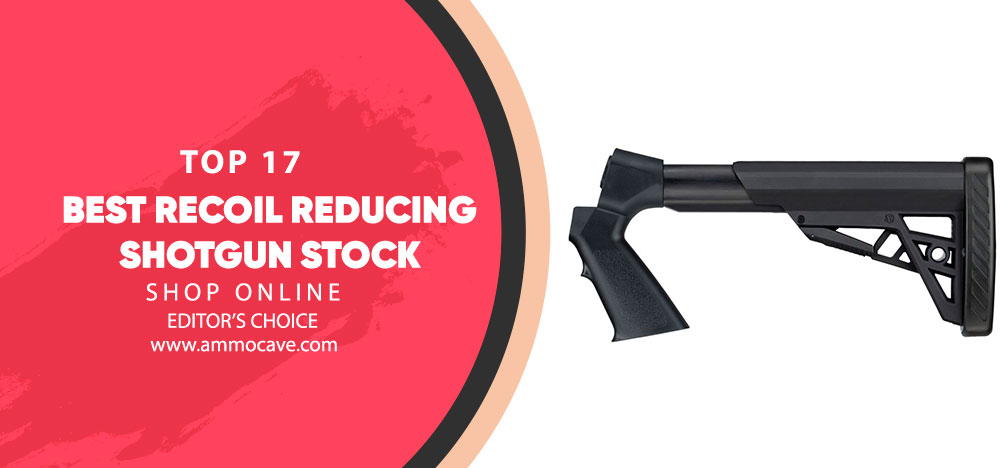 Top 17 Recoil Reducing Shotgun Stock
The weapon is a sophisticated and complicated phenomenon that requires a lot of knowledge and skills. However, today's technologies make it possible for everyone to use almost any kind of weapon without much training. Shotguns are considered to be the best close-combat defense weapon, with a lot of power and nice damage area. One of the worst parts of shotguns is recoil because it can be extremely exhausting to handle such powerful recoil. And if you want to reduce it, you should try a recoil-reducing shotgun stock.
Specifically for you, we have gathered 17 of the best models on the market to help you save time and choose the best product. The following models have their pros and cons, but their average KPI is much higher, compared to other competitors.
#1 BlackHawk Shotgun Stock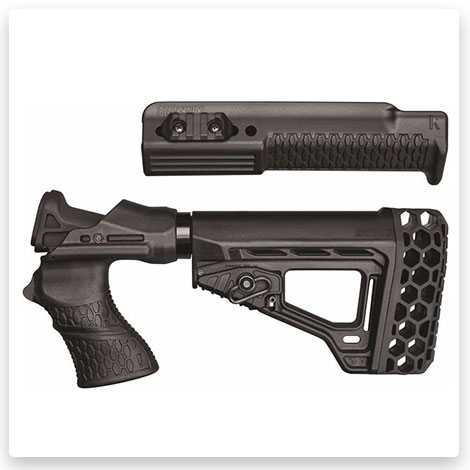 The very first model on the list is designed for active shooters that fits 12-gauge models. The stock recedes recoil with the help of a two-stage system that is real thanks to the innovative pad. A straight cheek weld is also a good decision that helps you get rid of slaps while shooting. You can easily adjust the stock as you wish, picking one from 6 positions from 12.5 inches to 15.2 inches, which is quite a lot. In combination with a nice pistol grip, the stock allows you to shoot even more accurately and comfortably. If you are looking for something good, and your budget is not too limited, this is a great choice.
#2 Magpul Industries SGA Shotgun Stock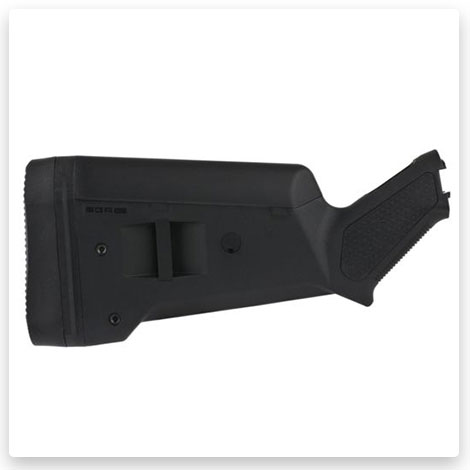 The Shotgun Stock was created to be the best stock for every shooter. Magpul Industries' Gun Stock is a flexible stock for 12-gauge shotguns (Mossberg 500/590) with a variety of configurable features and attachments to satisfy the demands of unique end users. This is also an ambidextrous stock that has a special butt-pad for reducing recoil, an ergonomic grip, and an adjustment system from 12.3 to 14.3 inches. Although the price is a bit lower, compared to the previous model, it's still for medium- or high-budget setups.
#3 ATI Shotforce Shotgun Stock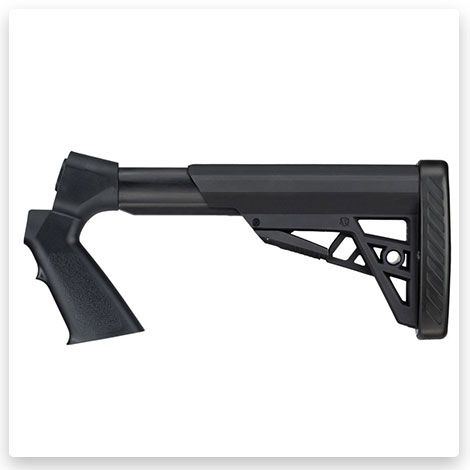 The rifle's transit and carrying are made easier with the foldable buttstock with Pistol Grip. Glass-reinforced nylon is used to make these stocks. For assured target acquisition, the TracLOCK system on the locks is firmly in place. You can shoot for as long as you desire with a Scorpion recoil reduction butt-pad. This model is designed for those who prefer comfort rather than reduction. It's a very compatible, highly adjustable, easy-to-use stock for a nice price. However, it goes a little worse in terms of recoil reduction.
#4 Phoenix Technology Field Shotgun Stock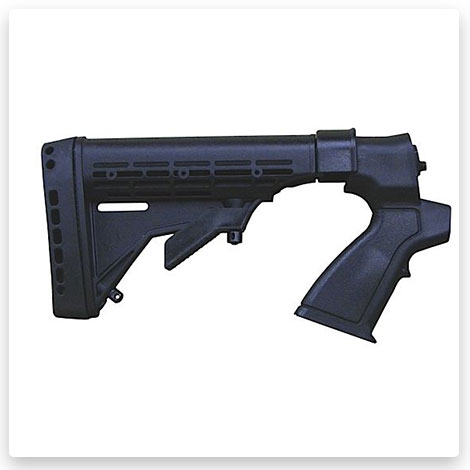 This stock will improve the ergonomics of your Remington 870, allowing you to perform better in the backcountry or at the range. Each of these stocks is made of glass-filled nylon, which provides top-of-the-line durability without the added weight of heavy metals. This variant of 12-gauge Remington 870 comes with a soft recoil-absorbing pad to assist you to manage your powerful shots while also reducing fatigue from shooting many rounds. A shot-round carrier, as well as all the hardware you'll need to outfit your weapon with a solid pistol grip and a strong shotgun stock, is included.
#5 Magpul SGA Remington 870 Stock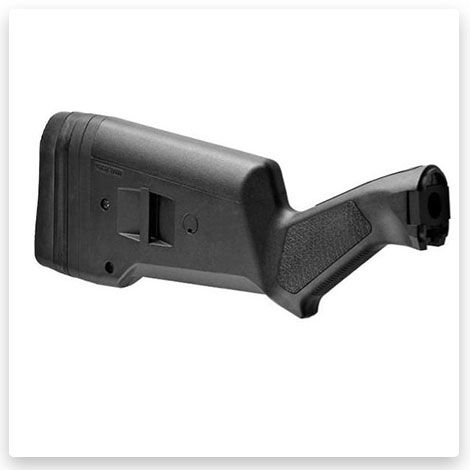 New stock for the Remington 870 on the list provides adaptability to your tactical shotgun system. With a recoil-reducing butt-pad, the spacer system enables the length of pull adjustability. The stock adds an ergonomic improvement to a tried-and-true American classic. The comb may be raised with an optional cheek riser to make this model easier to use with optics and other attachments.
#6 Magpul Remington 870 Stock& Forend Set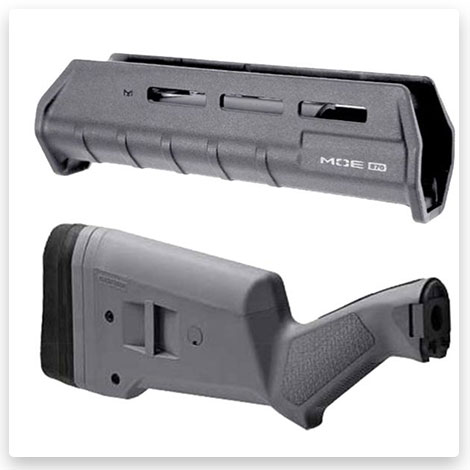 If you think that this model is quite expensive, you are totally wrong. The reason is that this is not one product — it's a pack of two products for one decent price. By purchasing this model, you obtain a special stock for Remington 870 with an improved adjustment system and a nice reduction. In addition to this, you get a drop-in replacement for Mossberg with improved ergonomics. This is a great purchase if you are looking for something durable, simple, and confident.
#7 Thompson Center Encore Pro Hunter Stock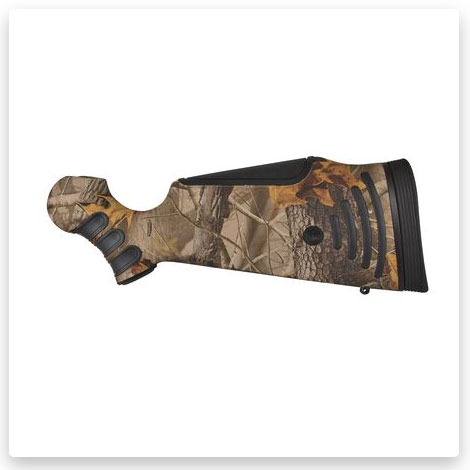 Any hunter's rifle will benefit from the inclusion of the following candidate. Thompsonstock has a RealTree Hardwood camouflage design that will keep you hidden from your target. This type is constructed of extremely sturdy materials that will ensure that your weapon lasts a long time. The stock offers a very comfortable grip for the shooter, allowing them to shoot for extended periods. The impact will be reduced thanks to a unique recoil pad.
#8 Phoenix Technology KickLite Shotgun Stock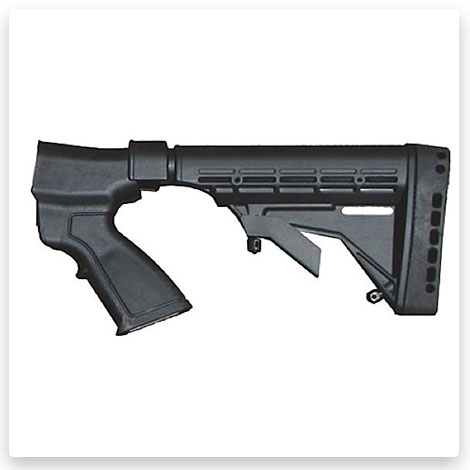 The other is a low-cost yet high-quality replacement stock. This model will considerably minimize perceived recoil in your Remington 870, allowing you to manage your shots and recover fast. The stock is made of glass-filled nylon, which has high tensile strength and can withstand hard handling and recoil. This Phoenix Shotgun Stock will provide your Remington 870 with a more comfortable and stable shooting experience.
#9 Choate Tool Pistol Grip Style Stock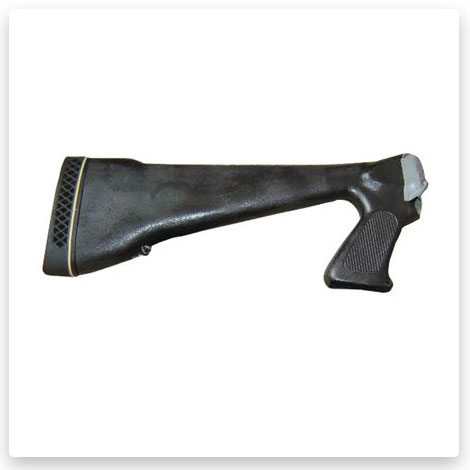 This stock for Remington 870, 1100, and 1187 greatly reduces recoil, allowing for faster and more accurate follow-up rounds. It has a one-inch rubber recoil cushion and three one-inch sling swivels and is made of Zytel plastic. Thanks to a comfortable pistol grip, you can use the gun even with one hand.
#10 ATI Outdoors Strikeforce Stock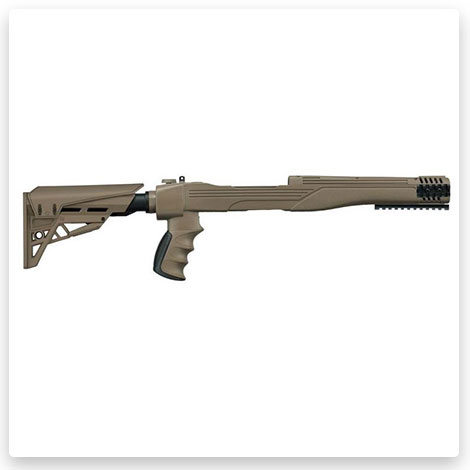 With the next Ruger 10/22 stock, you can improve your shotgun's capabilities. These AR15 stocks were designed by the professionals at ATI Outdoors with an innovational, highly durable polymer structure to offer a solid platform that will improve your accuracy while also improving your shooting comfort. You can fire your weapon from the folded position with this adjustable stock, letting you select when it's deployed without having to remove it. You can move around without fear because there are no snag places. There's also plenty of rail space for attaching your favorite attachments to boost the power of your weapon.
#11 Fab Defense Remington 870 Solid Piece Pistol Grip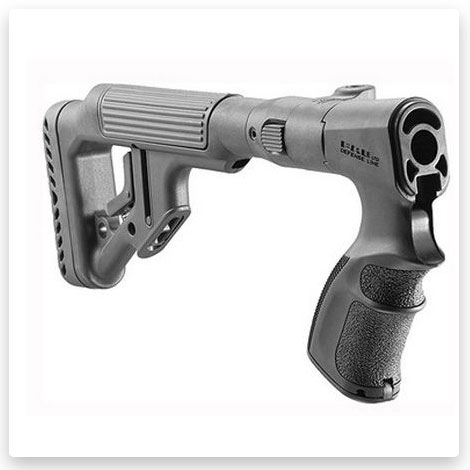 Another great solution for Remington 870 is that totally enhances tactical control and allows you to shoot more precisely and with greater comfort. The model has an adjustable cheekpiece that raises the head to the proper height for optics, yet lowers it quickly for use with iron sights or a bead. The system is suitable for both right- and left-handed shooters, and it provides a lot of advantages, such as an easy lock/unlock feature, durable design, and nice recoil reduction.
#12 ATI Outdoor Recoil Reducing Shotgun Stock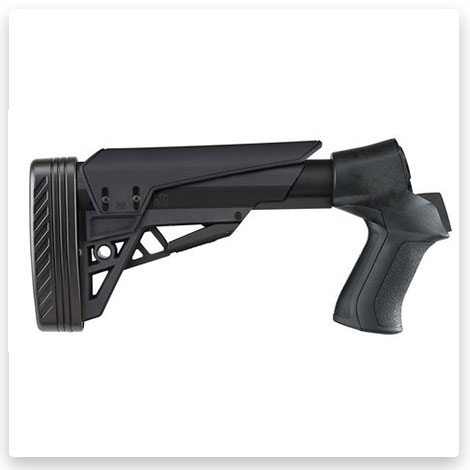 If you are looking for a multi-solution, this stock is a great choice that suits a wide range of shotguns, which is pretty handy. However, this model costs more than average. The features of the stock are also good, so you can enjoy the following things: a compact, ergonomic, highly-adjustable design that ensures durability, easy installation, and great recoil reduction. The stock is made of solid materials, so it's waterproof and weatherproof, and it has great damage resistance.
#13 FAB DEFENSE – REMINGTON 870 RECOIL REDUCING BUTTSTOCK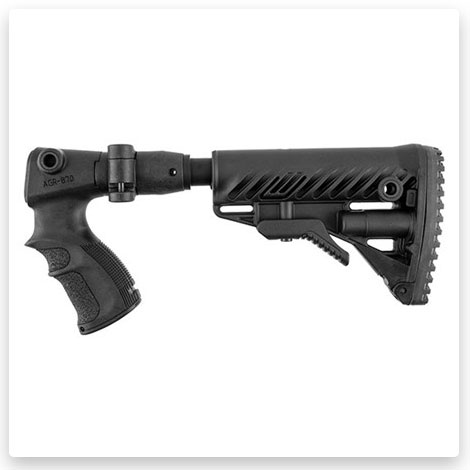 #14 BLACKHAWK SPECOPS GENIII BUTTSTOCK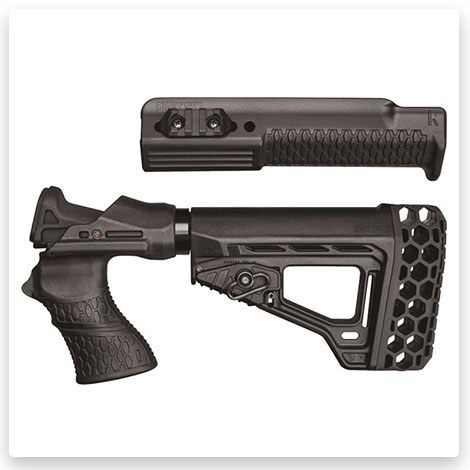 This stock has an ergonomic pistol grip suited for tactical shooting tactics, as well as an integrated hand-stop in the forend and Picatinny accessory rails for your Mossberg 500. A shooter of any size may utilize this model for the Mossberg comfortably with just about any load because of its enhanced ergonomics and six handy adjustment settings from 12.5 to 15.2 inches. This comfortable ambidextrous system is a good choice for your shotgun.
#15 MESA TACTICAL TELESCOPING BUTTSTOCK KIT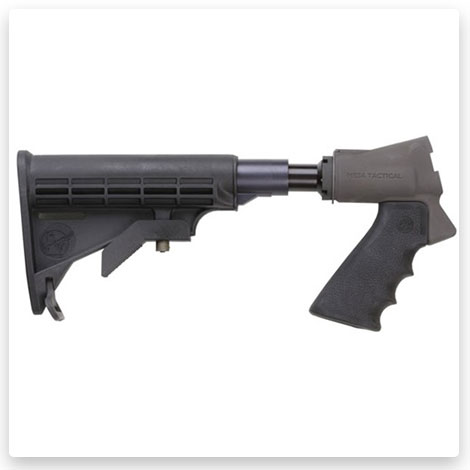 #16 BLACKHAWK REMINGTON 870 BUTTSTOCK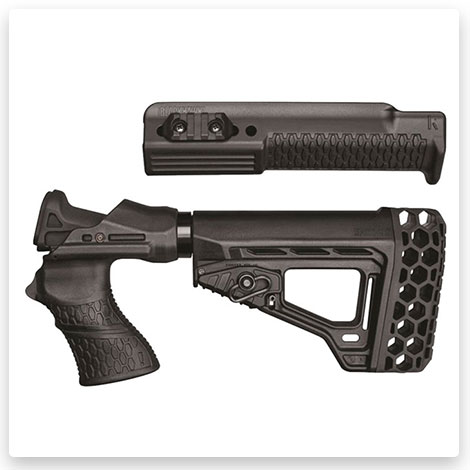 The felt recoil of the Remington 870 is reduced by up to 80% with this stock! This durable synthetic stock, which has two recoil-compensation mechanisms, decreases muzzle rise and eliminates cheek-slap, leading to increased shooter confidence. The stock also has an ergonomic pistol grip that is designed for tactical shooting tactics, as well as an inbuilt hand-stop in the forend that serves as a useful accessory mount. It has many sling mounting positions for simple transport.
#17 MESA TACTICAL SHOTGUN BUTTSTOCKS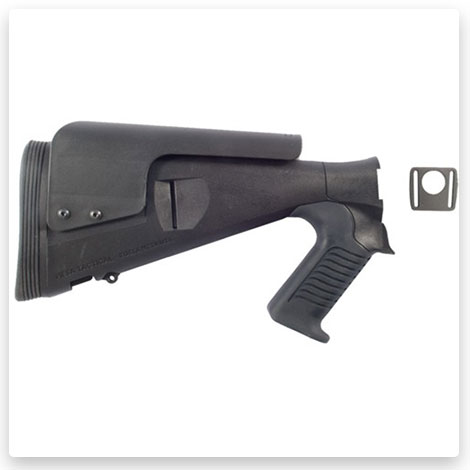 To end the list, we picked one of the most expensive shotgun stocks on the market that deserve your attention. In this model, the pistol grip stock is made of a tough, fiberglass-reinforced nylon polymer with a short length of pull, making it simple to shoulder and move while wearing body armor. The five-position cheek riser may be removed to assist you to align your head with an optic while keeping a strong cheek weld.
For a stable grip and superb weapon control, the grip includes a large contact surface with deep horizontal grooves. The backstrap shock-absorbing cushioning protects your hand from recoil, while the recoil pad reduces felt recoil. A slot rear sling loop is included, as well as a stud on the bottom for a QD sling swivel. Models for the Remington 870, Mossberg 930, and Benelli M1014 are available.
Conclusion
Since you decided to have a shotgun, it's better to tweak it as much as you can to make sure it will be straightforward to use your weapon whenever it's needed. Although all the models are great, we want to pay special attention to a few models from different budget segments.
Best expensive model:
Best cheap model:
Tags: #best recoil reducing shotgun stock / #best shotgun recoil reducing stock / #best recoil reducing shotgun stock for mossberg 500 / #best recoil reducing shotgun stock 535 / #best recoil reducing stock for shotgun saiga / #llimbsaver recoil pad