Affiliate Disclosure: AmmoCave.com sometimes gets paid for listings, through sponsors or affiliate programs like Lucky Gunner, Optics Planet, Brownells, Cabelas, Academy Sports & Outdoors, Rainier Arms, Palmetto State Armory, Sportsman's Guide, Ammo.com, Ammo Man, Primary Arms, MidWayUsa, Amazon, eBay, etс. Clicking a link helps keep AmmoCave.com free, at no extra cost to you!
Authors: Each article is verified by AmmoCave's expert team. Professional hunters, firearm trainers, gunsmiths, and gun experts write the articles. AmmoCave Team independently researches, tests, reviews, and uses recommendations from our community of gun owners. We may earn commissions from shopping links.
Note: The views and opinions expressed in this article are those of the authors and do not necessarily reflect any agency's official policy or position. The articles are for informational purposes only, share your opinions about Best Climbing Tree Stand 2023 in the comments and join the discussions. Let's share 💬 our ammo & gun experiences together!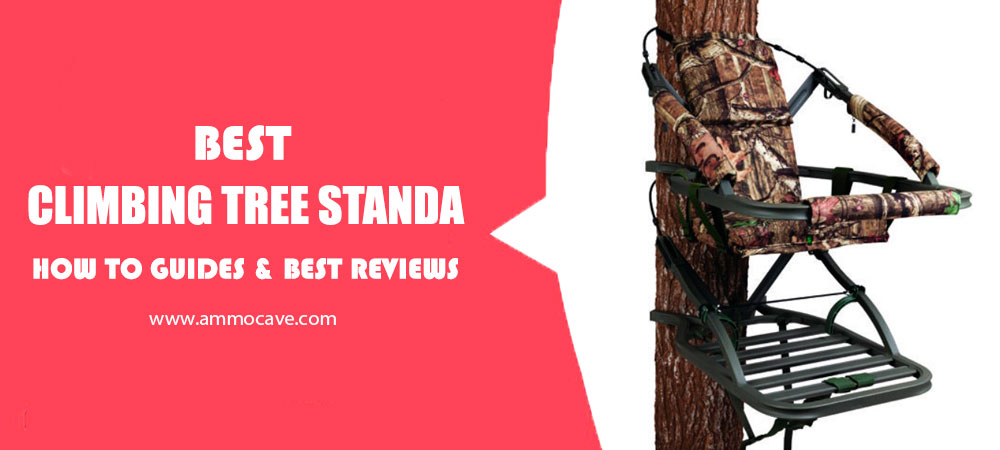 What is Climbing Tree Stand? ⏳
These are platforms, usually metal or wooden frames, used for hunting from trees.
Our Top Pick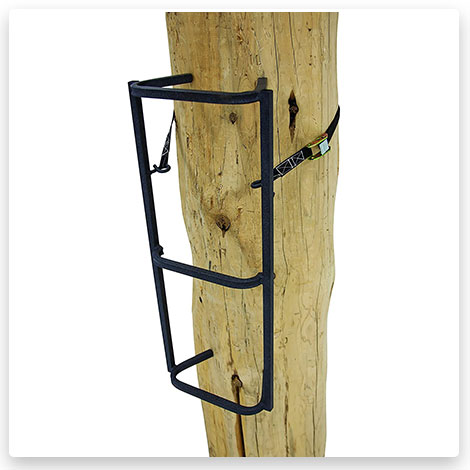 Rivers Edge Tree Stand Climbing Aid
The broad rungs provide plenty of room to have both feet on each step, making it easier and safer than stepping with just one foot. In addition, the sturdy handrails on either side add an extra layer of protection during your climb. What's more, these looped straps minimize any metal-on-metal noise by fitting over a ram-horn shaped receiver!
Buy Now On Amazon
If you click this link and make a purchase, we earn a commission at no additional cost to you.
Types 🪑
🗼 The hang-on stand.
✅ These stands are designed to be lightweight and compact, making them easy to carry around in a backpack.
✅ Hang-on stands are quick and easy to set up, and they offer hunters the flexibility to choose the best location for their stand.
⭕ However, these stands require a separate set of steps or climbing sticks to be attached to the tree, which can be time-consuming and noisy.
🗼 The ladder stand.
✅ These stands come with a built-in ladder, making them easier and safer to climb up and down.
✅ Ladder stands also offer hunters a more stable platform for shooting, making them a great choice for young hunters or those with limited mobility.
⭕ However, ladder stands can be heavy and cumbersome to move around, and you're limited to a fixed location.
🗼 Climbing tree stands.
✅ Climbing sticks are lightweight and easy to carry around, making them a great option for hunters who prefer to hunt in different locations.
✅ These stands are designed with protruding steps that attach to the tree, allowing for a solid and safe climbing platform.
⭕ However, climbing sticks require more time and effort to set up than other types of climbing tree stands.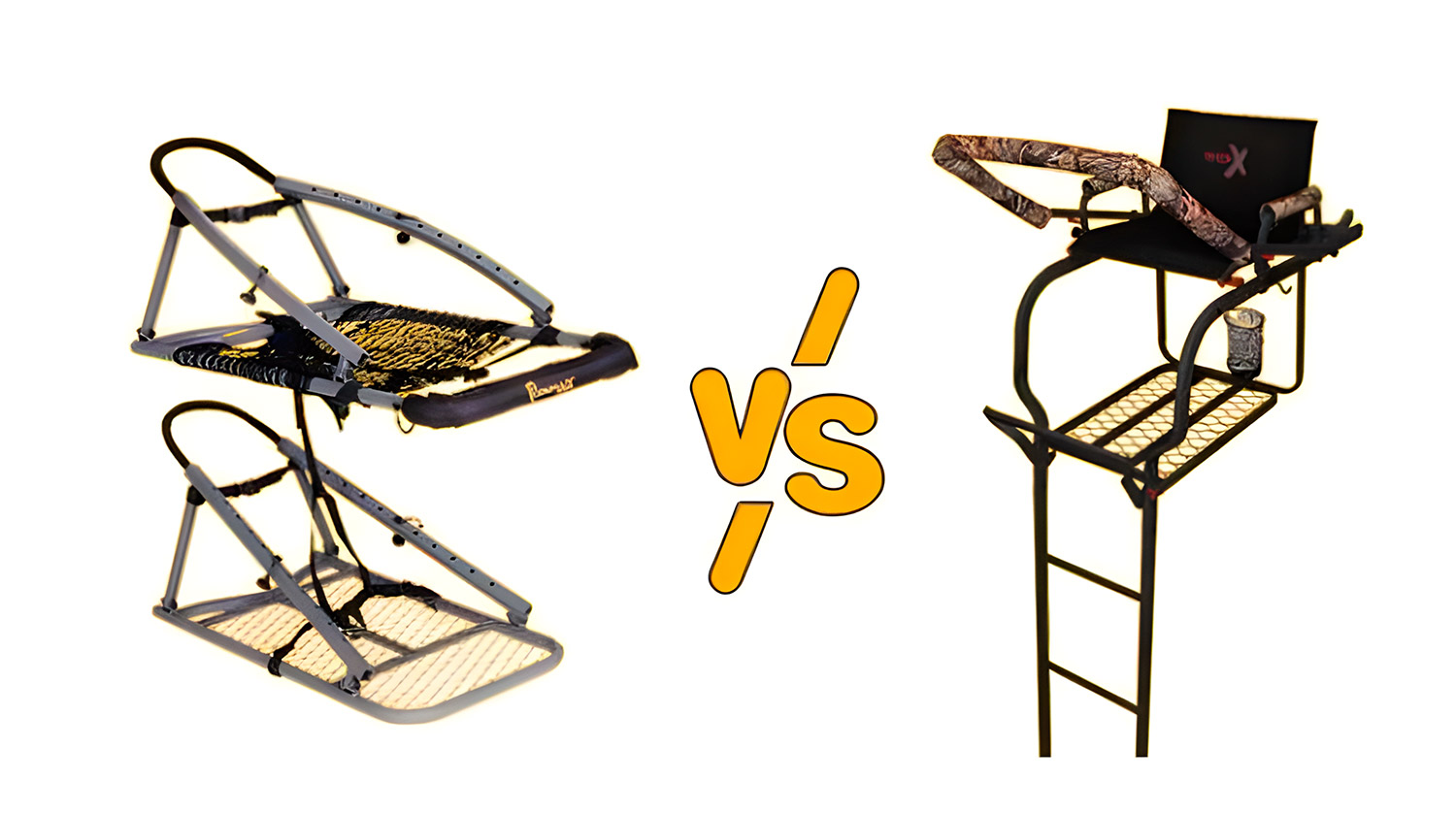 Advantages 🔥
🔰 1. Mobility: This type of stand allows hunters to move easily and quickly from one location to another. As hunters move from place to place, they can easily scout for new hunting grounds, track game, and make adjustments to their setup according to changing hunting conditions.
🔰 2. Safety: They are much safer than traditional ladder stands. The design of climbing stands allows for a secure fit on the tree trunk with minimal movement. The increased mobility also allows the hunter to get down from the tree quickly in case of an emergency.
🔰 3. Improved Visibility: They provide a better perspective for hunting. The stand's elevated position provides the hunter with an unmatched view of the surrounding terrain, allowing him or her to detect game movement from a distance.
🔰 4. Stealth: A good stand that is designed to be quiet while setting up and while in use will protect a hunter's concealment. The silence provides the hunter with a significant advantage, allowing him or her to stay relatively undetected by the game.
🔰 5. Cost-effective: While they can be quite expensive, they pay off in the long run. Unlike a fixed stand that can only be used in one area, a climbing tree stand provides versatility and can be used in many different locations.
Safety Tips 🚯
1. Always Wear a Harness 🎯 Falls from a climbing tree stand are one of the most common hunting accidents. To avoid falling, always wear a safety harness while using a climbing tree stand. The harness should be secured to the tree at all times, either with a tree strap or a harness tether.
2. Choose a Sturdy Tree 🎯 When setting up your climbing tree stand, make sure to choose a tree that is sturdy and in good condition. Avoid trees that are dead, rotten, or otherwise weak, as they may not support the weight of the stand, causing it to fall.
3. Inspect the Stand Regularly 🎯 Before using your climbing tree stand, inspect it carefully for any signs of damage or wear. Check the cables, straps, bolts, and other components to make sure they are secure and in good condition. Replace any worn or damaged parts immediately.
4. Use a Safety Rope 🎯 In addition to wearing a harness, consider using a safety rope while climbing or descending from the tree stand. A safety rope can provide an additional level of protection in case of a fall.
5. Climb Slowly and Carefully 🎯 When climbing up or down from the tree stand, take your time and be careful. Use the safety harness and safety rope to secure yourself to the tree at all times, and avoid making sudden movements or jerky motions that could cause you to lose your balance.
6. Always Keep Both Hands Free 🎯 When climbing, make sure to keep both hands free to grip the tree stand or secure yourself to the safety harness. Do not carry any extra gear or equipment that could interfere with your balance or cause you to fall.
7. Follow the Manufacturer's Instructions 🎯 Finally, always follow the manufacturer's instructions when setting up and using your climbing tree stand. Each stand is different, and failure to follow the instructions could result in serious injury or death.
We believe this video can be helpful for you 📺
Top 19 🏆 Climbing Tree Stand
1# Lone Wolf Treestands Climbing Stick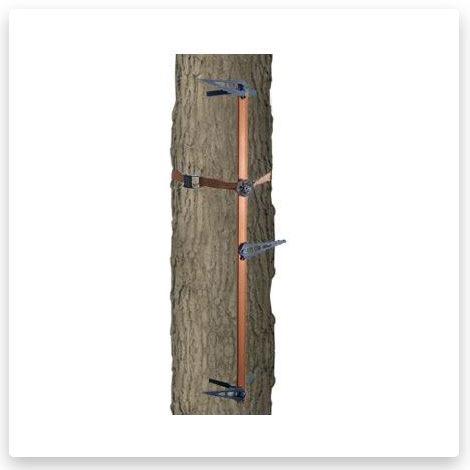 The Lone Wolf Treestands Pivoting Climbing Stick is an ideal add-on to your favourite tree stand. With reversible steps placed 15 inches apart, it offers easy climbing and can support up to 350 pounds on the single tube design. The unique pivoting v-bracket adjusts to the tree, while the ability to nest together lets you carry it with ease. Fantastic for hunting trips, the Lone Wolf Treestands Reversible Step Climbing Stick is a must-have in your gear!
2# Big Game Treestands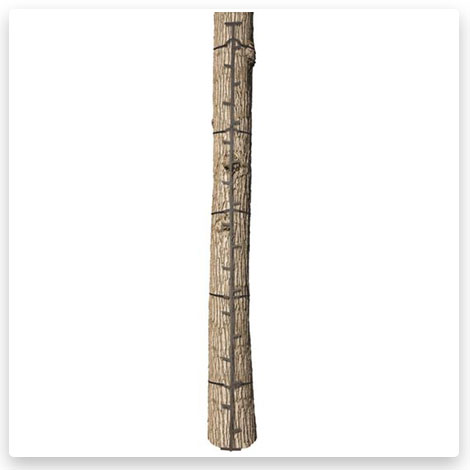 The Big Game Treestands The Quick-Stick Climbing Sticks were created in order to be the best product for anybody looking for an exceptional selection. Established working with some of the most extremely sturdy and dependable components in existence, these Tree Stands by Big Game Treestands offer you something that will give you years of consistency. Big Game Treestands has been generating superior quality merchandise for a very long time, and the Big Game Treestands The Quick-Stick Climbing Sticks is their very own means of showing you exactly how much they care. Right here at OpticsPlanet, we make it our responsibility to receive the perfect solution for all your preferences and showcasing the Big Game Treestands The Quick-Stick Climbing Sticks is a thing that we're happy to offer.
3# XOP Climbing Sticks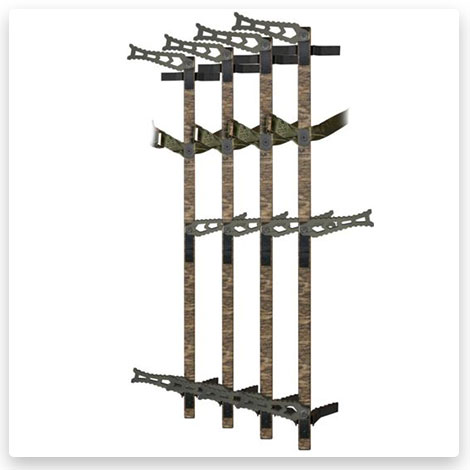 Looking for an edge on your hunting buddies? Check out XOP's Climbing Sticks. These things are essential for any hunter looking to get a little higher ground on their prey. The sticks feature arch step technology and heat-treated steel fast strap buttons for an easy, reliable setup. And for extra space between your boot and the tree, the deep stand-off brackets provide more room to manoeuvre. Furthermore, the lock-tight stick stacking system ensures your sticks will stay in place when you need them most. So don't wait – get a leg up on the competition with XOP Climbing Sticks.
4# Rivers Edge Treestands Climbing Stick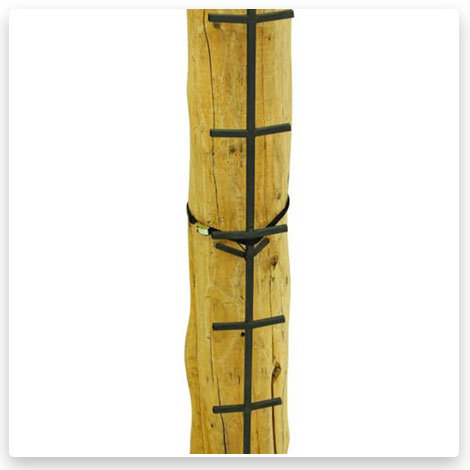 Do you need a reliable and safe climbing aid? Consider the Connect-N-Climb climbing aid from Rivers Edge. This climbing aid features Tractionite permanent non-slip coating on each step surface for superior traction and added safety. No more anti-slip tape that simply falls off as the competitors have. The double-step design makes climbing in and out of your stand easier and is especially convenient for hanging your stand. One-footed climbing sticks require dangerous manoeuvres to switch feet. Each section straps to the tree and the bottom section sit on the ground making for a very secure climbing system that you can be confident with. 20′ & 15′ heights. 11″ step width with permanent grip applied to every step. Two steps allow for two feet at one level. 20′ model weighs only 20 lb.; 15′ just 17 lb. 300 lb. capacity.
5# Muddy Boss Hawg 1.5 Ladder Stands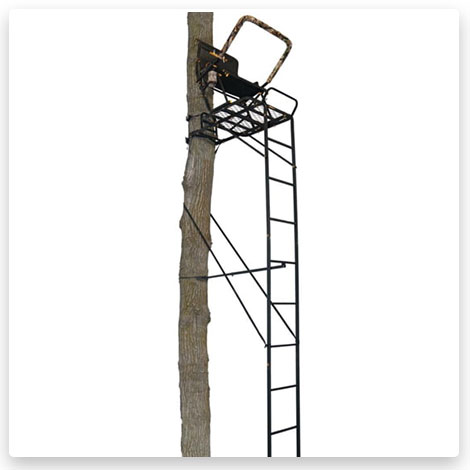 Looking for a dependable and durable ladder stand? Look no further than the Muddy Boss Hawg 1.5 Ladder Stand. This stand is built with some of the toughest and most reliable components available, so you can rest assured knowing it will withstand even the most rigorous conditions. Additionally, it features the Hercules Cross Grip Safety System, which provides an extra layer of safety and security while you're using it. Whether you're an experienced hunter or a first-time user, the Muddy Boss Hawg 1.5 Ladder Stand is a great choice for anyone in search of a high-quality and reliable ladder stand.
6# Millennium M210 Climbing Stick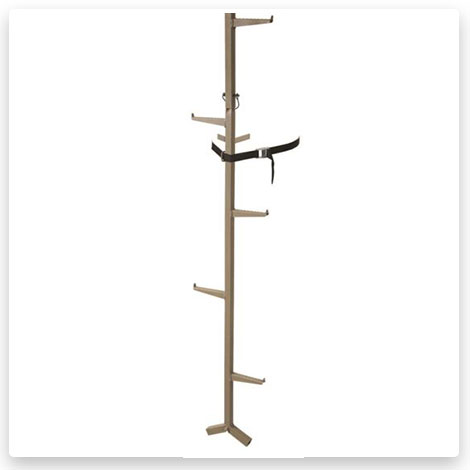 The Millennium M210 Climbing Stick is the perfect choice for any hunter who wants a safe, portable and easy-to-use ladder. The five sections of the ladder connect quickly and securely, while the anti-slip steps provide increased traction without freezing or holding water. With generous standouts and extra long cam straps, the ladder can fit any tree, regardless of shape and size. The dual top step and 7 ft cam buckle add an extra level of security, while the bungee fasteners make for a quiet set-up. Made with strong welded steel construction, this ladder is built to last.
7# Summit Titan SD Climbing Treestand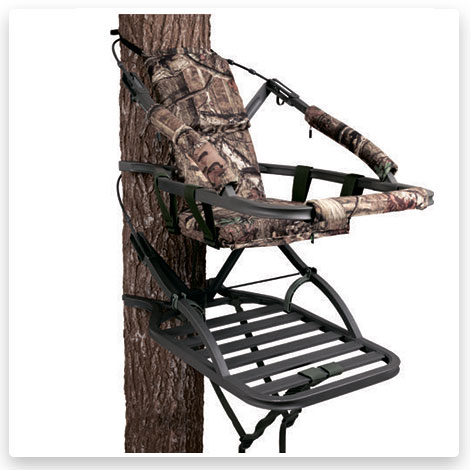 The Summit Titan SD Climbing Treestand is everything you want in a tree stand, and then some. With a spacious top and platform, plus a generous 350-pound weight capacity, the Titan is perfect for even the largest of hunters. The stand features a front climbing bar that doubles as a gun rest, as well as a padded and adjustable seat that can be quickly moved to accommodate a standing position. In addition, the Summit Titan SD comes equipped with Dead Metal Sound Deadening Technology to ensure a silent hunt.
8# Millennium Alumalite CTS Climbing Stand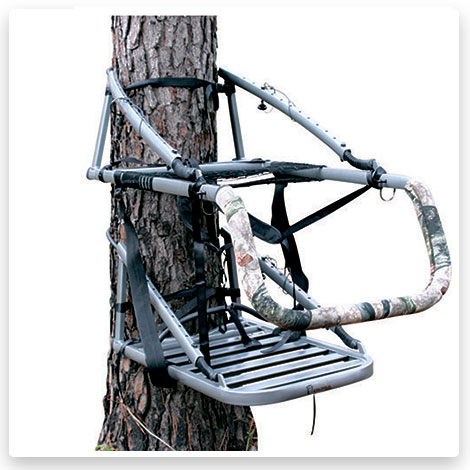 Looking for a top-of-the-line climbing stand that can adapt to any hunting situation? Look no further than the Millennium Ol Man Grand Alumalite CTS Climbing Stand. This stand features a number of patented technologies, including ComforTech seating and pivoting spreader arms, that make it one of the most comfortable and easy-to-use stands on the market. The new standing platform is designed for durability and lightness and features improved tubing-style foot straps for easy entry and better grip. With a weight limit of 300 lbs, the Grand Alumalite CTS is perfect for any hunter.
9# Summit Goliath SD Climbing Treestand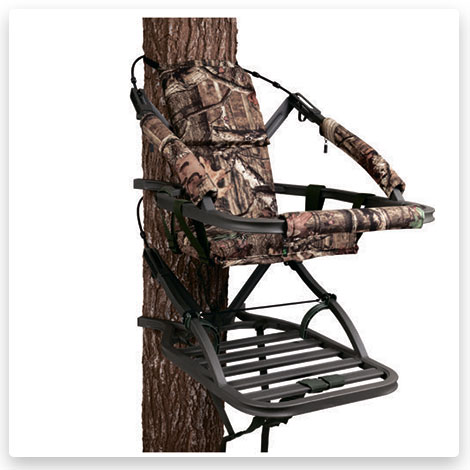 The Summit Goliath SD Climbing Treestand is a favourite among hunters for its wider top and comfortable foam-padded seat. The closed-front aluminium stand has a Mossy Oak Break-Up Infinity camo finish and includes a Full Body Fall Arrest Harness System. It weighs just 21 pounds but can hold up to 350 pounds, making it perfect for any hunter.
10# Summit Viper Climbing Steel Stand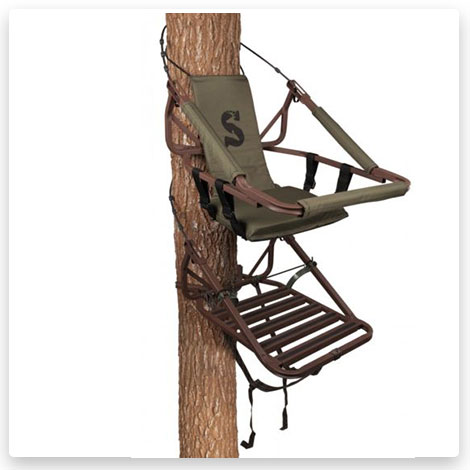 Looking for a rock-solid climbing stand that won't break the bank? Check out the Summit Viper Steel. This stand offers all the benefits of Summit's aluminium Viper climber but at a lower price point thanks to its steel construction. The Viper Steel is just as tough and durable as its aluminium counterpart, it weighs 29 pounds. It features Summit's QuickDraw Cable Retention System for fast and easy securing to trees and comes with Summit Rapid Climb stirrups. The classic brown powder coat finish adds to rust protection and concealability. A thicker seat cushion has been added to reduce fatigue during long sessions on the stand. So if you're looking for a budget-friendly climbing stand that won't disappoint, go with the Summit Viper Steel.
11# Summit SD Climbing Treestand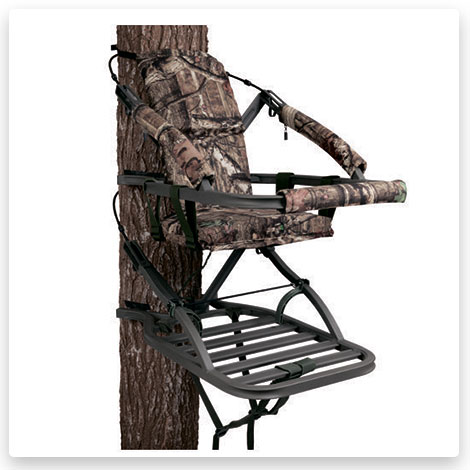 The Summit Viper SD is the perfect climbing treestand for hunting. With a foam-padded seat that can be raised or lowered and a full-perimeter frame that allows for both sit-down and stand-up configurations, the Viper SD is comfortable, concealed and safe. Weighing in at just 20 pounds, it's also highly portable, making it easy to take with you on your hunt. And because it's built to last, the Viper SD is covered by Summit's 5-year limited warranty. So whether you're looking for comfort, concealment or safety, the Summit Viper SD is a perfect choice.
12# Rivers Edge Tree Stand Climbing System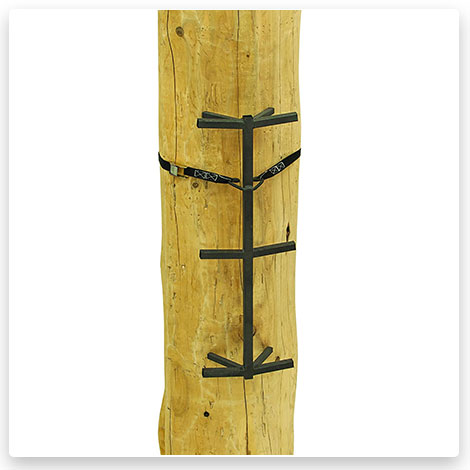 The Rivers Edge Tree Stand Climbing System is the perfect way to make your hunting trips safer and easier. With two steps at every level, you can climb in and out of your stand with ease, and the factory-applied Tractionite coating provides a slip-resistant surface for added safety. The sections nest together for easy transport, making this an ideal choice for the hunter who wants convenience and safety.
13# Guide Gear Rapid Climbing Sticks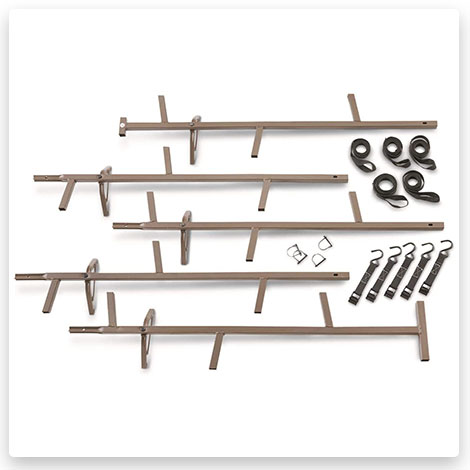 Looking for a quick and easy way to climb up to your favourite hunting spot? Look no further than the Guide Gear 20′ Rapid Climbing Sticks. These sticks are made from sturdy welded steel and are able to support a weight capacity of 300 lbs. The cam buckle straps offer a secure attachment, while the powder-coated steel construction offers maximum durability against weather and other elements. With a 4-pack climbing stick kit, you'll have everything you need to effortlessly climb 20′.
14# Lone Wolf ASHRS Treestand System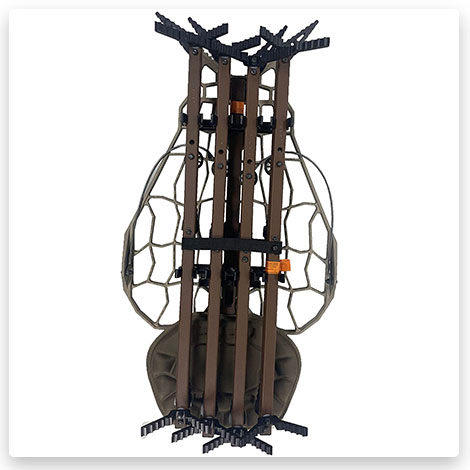 The Lone Wolf ASHRS Treestand System is a complete system that includes the Assault Hang-On Stand, 4-Pack Climbing Sticks and Stick Quiver. This system is perfect for hunters who want the most versatile, strongest, lightest and quietest setup possible. The unique 3-D camo platform design is extremely strong and can support up to 300 pounds while remaining incredibly light at just 20 pounds. The 6-point Fall Arrest System exceeds industry standards and provides peace of mind while hunting from high up in trees. This system can be used on trees 4″ to 22″ in diameter and is made in the USA.
15# Hawk Helium Climbing Stick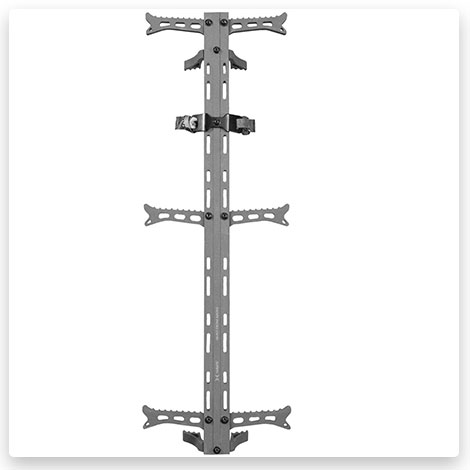 Choose a climbing stick that won't weigh you down. Consider the Hawk Helium climbing stick! Made of aircraft-grade aluminium, these poles are incredibly lightweight yet offer unmatched stability. The steps fold up for easy transport, and the suction cups with silent locking technology allow for a noise-free setup. In addition, the TreeDigger prongs dig into bark for greater climbing confidence. Whether you're a beginner or an experienced climber, the Hawk Helium climbing stick is the perfect choice for your next hike!
16# Rivers Edge Treestands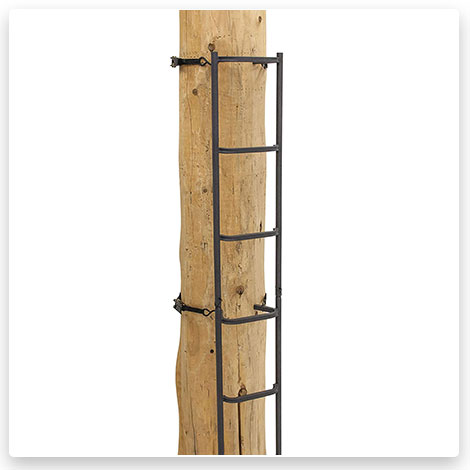 Looking for a safe and easy way to get 20 feet off the ground? Check out Rivers Edge Treestands. Our wide, stable ladder is perfect for confident climbing and includes a safety rope and ratchet straps for added security. The Big Foot Tree Ladder is also coated with Tractionite permanent non-slip coating to ensure a safe and easy climb.
17# Millennium Treestands Stick Climber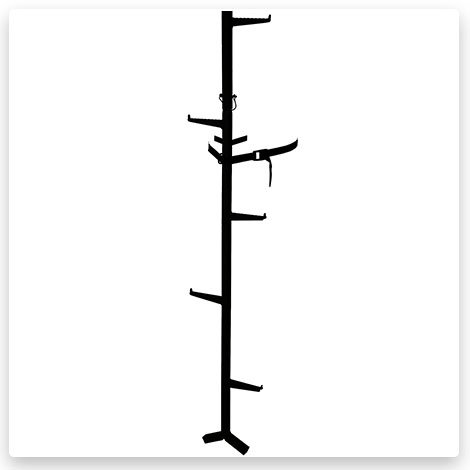 View on Amazon
If you're interested in a safe and easy way to get down and up from a tree, the Millennium Treestands Stick Climber is the perfect solution. With a height of 20 feet and lightweight but sturdy steel construction, this climber can easily hold up to 300 pounds. The included 7-foot cam buckle makes it easy to secure on large trees, and the double top step provides extra safety while climbing.
18# Rivers Edge Tree Stand Climbing Aid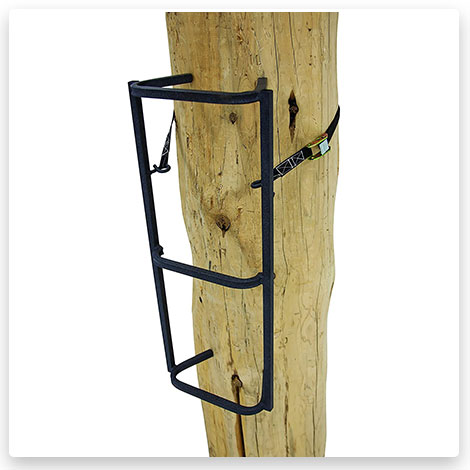 The Rivers Edge Tree Stand Climbing Aid offers a safe and easy way to get in and out of your tree stand. The wide rungs provide more room to have two feet on each step at every level, making climbing easier and safer than one-footed alternatives. The handrails on both sides add security to your ascent. The looped straps fit over a ram-horned-shaped receiver, eliminating the noise of metal-on-metal contact. Each step surface is coated with factory-applied Tractionite permanent non-slip coating for superior grip and added safety. The sections nest together seamlessly for compact and easy transport.
19# Big Dog  Easy Tree Climbing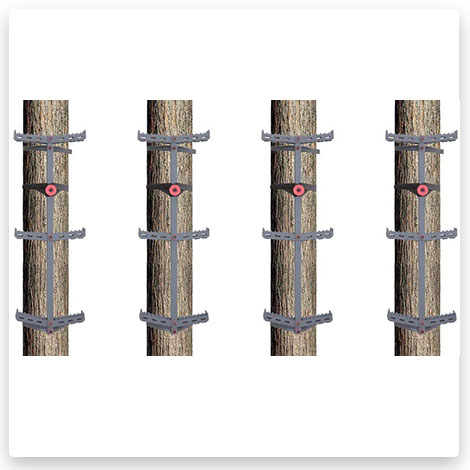 Looking for a safe and easy way to climb trees? Look no further than Big Dog Easy Tree Climbing. Our 4x climbing sticks provide more structure and support than traditional ladder steps, making your climb safer. Each stick is secured with one strap per section and can support up to 300 pounds. Big Dog tree steps are also durable and portable. They fold in and out, and each section weighs roughly 5 pounds, making them easy to pack and move from one hunting location to the next. Plus, our 4-piece pack provides ample coverage for your tree climbing needs. So don't miss out on this essential piece of hunting equipment. Order your Big Dog Easy Tree Climbing today!
Installation💎
1. Choose the perfect tree ⛺ When choosing a tree, the first thing to consider is the straightness and thickness of the trunk. The ideal tree should have a diameter of at least 10 inches at the height where you plan to set up your stand. Additionally, the tree should be tall enough to give you an excellent view of the surrounding area.
2. Prepare your climbing tree stand 🪑 Before you start climbing, ensure that your climbing tree stand is securely attached to your backpack, harness or other carrying device you are using to transport it. Check all the straps, buckles, and bolts to ensure that they are properly fastened.
3. Choose a suitable height 📏 When selecting a height, safety is paramount. Ideally, the platform should be no more than 20 feet up. Higher heights increase the risk of accidents, and you don't want that to happen. Additionally, too much height may increase the wind pressure and limit your visibility.
4. Climb the tree 👩‍🌾 Climbing the tree requires patience and proper technique. Ensure your boot steps firmly into the tree, using your arms to hold onto the vertical vines and other assisting tools. It's advisable to wear gloves to protect your fingers from any cuts or scraping. As you ascend the tree, maintain control and avoid unnecessary moving.
5. Position the stand in the tree 🔦 Once you reach the desired height, wedge the climbing stands into the tree. Tighten the straps and bolts so that the stand is secured in place, then use the ladder or steps provided by your climbing tree stand to ascend the stand by fixing one foot at a time.
6. Test your stand 💡 Before settling in, test the climbing stand to ensure it is sturdy and safe. Jerk on the platform, test its movements, step on it hands-free, and shake it sideways to test its balance. If you feel any wobble, adjust the stand, and tighten the straps or bolts until it's secure.
Watch this video to find more information 💻
FAQ 🔔
Conclusion 🌐
When it comes to finding the best climbing tree stand, there are a lot of things to consider. This buyer's guide will help you sort through all the options and find the perfect item for your needs. We've included reviews of some of the top-rated stands on the market, as well as tips on how to choose the right one for you. So whether you're looking for a budget-friendly option or something more high-end, we've got you covered. Thanks for reading! 😀🤍
Tags: #tree stand / #best climbing tree stand / #best climbing tree stand for the money / #climbing tree stand / #best lightweight climbing tree stand / #climbing tree stand / #what is the best climbing tree stand