Affiliate Disclosure: AmmoCave.com sometimes gets paid for listings, through sponsors or affiliate programs like Lucky Gunner, Optics Planet, Brownells, Cabelas, Academy Sports & Outdoors, Rainier Arms, Palmetto State Armory, Sportsman's Guide, Ammo.com, Ammo Man, Primary Arms, MidWayUsa, Amazon, eBay, etс. Clicking a link helps keep AmmoCave.com free, at no extra cost to you!
Authors: Each article is verified by AmmoCave's expert team. Professional hunters, firearm trainers, gunsmiths, and gun experts write the articles. AmmoCave Team independently researches, tests, reviews, and uses recommendations from our community of gun owners. We may earn commissions from shopping links.
Note: The views and opinions expressed in this article are those of the authors and do not necessarily reflect any agency's official policy or position. The articles are for informational purposes only, share your opinions about Best Western Saddles 2023 in the comments and join the discussions. Let's share 💬 our ammo & gun experiences together!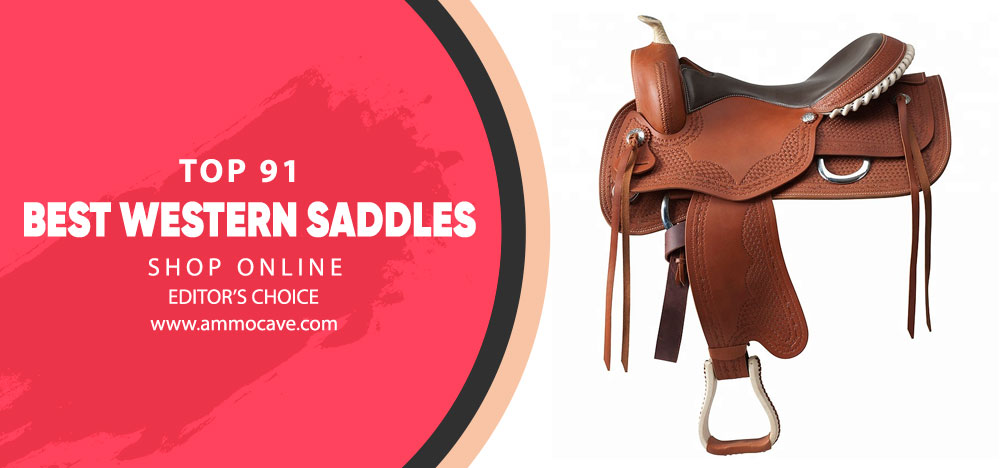 There are many western saddles' reviews on the Web, and not all saddles are as good as they might seem at first glance: yes, they may look great and are pretty cheap, but keep in mind 2 main factors before buying a western saddle. The first is comfort for the rider and the second is comfort and safety for the rider's horse. The most important thing is that your saddle is comfortable for you and doesn't cause discomfort to your horse: material, quality of skirt/stirrups, weight, and durability play the most important role. We have reviewed thousands of western saddles and selected only the most comfortable, practical, safe, and personally tested by our team models.
Different Types of Western Saddles
We'll tell you which saddle type is the best for you, how Western saddles differ from English saddles, and how to choose the best saddle model for your needs. Well, let's get started!
Barrel Western Saddles
Barrel saddles are generally small and lightweight, such as the Martin Saddlery Lisa Lockhart Fearless Barrel Racer. These saddles provide the rider with greater maneuverability and increase reliability and stability in the saddle. It is one of the best saddle types because it is one of the most versatile and the rider can use it in a wide range of situations.
Top 8 Barrel Western Saddles Review
Let's take a look at the best barrel saddles you can buy right now!
1# Martin Saddlery Lisa Lockhart Barrel Saddle Fearless 75-C3 – Best Value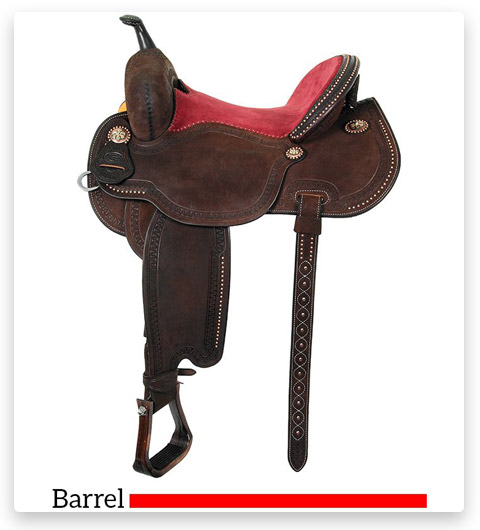 The Martin Saddlery Lisa Lockhart horse saddle is currently one of the best saddles on all counts. Whether you are a beginner or a professional rider, you'll feel comfortable in this saddle. Over time, the material in many saddles begins to crack and flake off, especially around the edges. This barrel saddle is made from quality Hermann Oak Leather, which is very strong and durable. The seat is very soft and comfortable for both the rider and the horse. It features a dual-amp pad that will last for years. The seat's only drawback is that it gets dirty quickly. So get ready for regular cleaning if you want to keep your saddle clean. The Lisa Lockhart includes a backrest, solid stirrups for a secure fit, and adjustable buckles. The best thing about this saddle is that the blanket doesn't slide on the horse at all and you don't have to put anything underneath. But get ready for the fact that you will have to pay well for such comfort and quality.
2# Dakota Racer 307 Barrel Saddle – Editor's Choice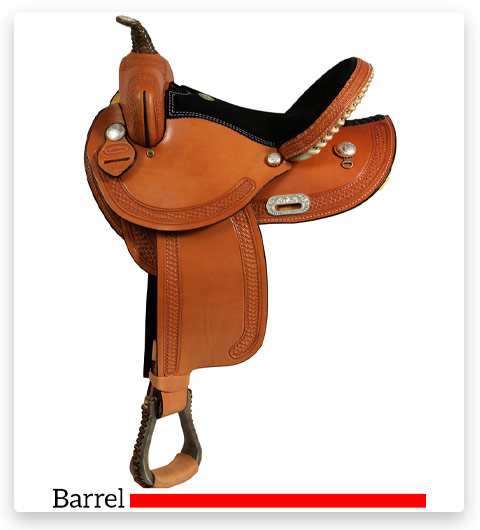 Next on our list is the Dakota Barrel Racer 307. The first thing that catches your eye is the saddle design. It's almost entirely made of genuine leather, except for the seat. Genuine leather is a very comfortable and durable material, but it needs special care to remain durable. The saddle is available in various sizes from 14″ to 16″. So it is suitable for riders of all ages, builds, and gender. It looks great, but let's see how it works. If you often compete in endurance racing like me, this saddle is one of the best you can find. It offers tremendous comfort on long journeys. The construction is reinforced with steel buttons, but we noticed that they are not resistant to corrosion. So save this saddle from the rain. The Dakota Barrel Racer features padded stirrups and buckles for your comfort. And they are really very convenient to regulate. The saddle is adorned with a tree with flares, giving you more freedom of action. Besides, the saddle is covered by a 10-year warranty, so you can be confident in this product.
3# Reinsman Barrel Saddle Free Pad 4204 – Best Quality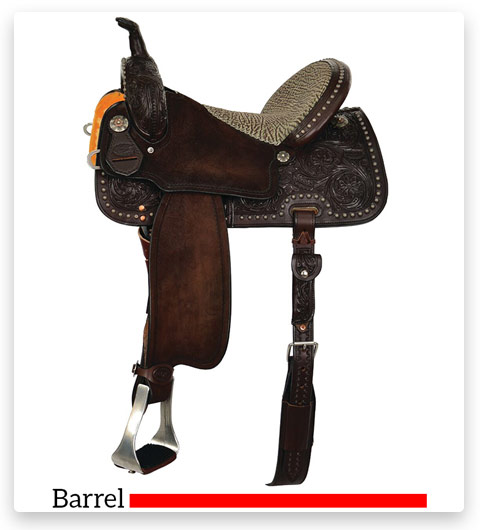 If you've decided to invest heavily in good quality and comfortable saddle, then I have only one barrel saddle in my mind – the Reinsman 4204. This saddle has only 2 drawbacks – price and weight. Otherwise, it has ideal characteristics for any rider. This western saddle is of the highest quality and won the Best Quality award for a reason. Let's start with the design. The saddle was made from Buster Welch wood. This allows the horn to be positioned at a higher level. The seat is very soft and has plenty of padding to keep you comfortable on both short and long trips. The saddle has straps and straps, the stirrups also have a leather insert for a more confident grip. The saddle is very comfortable and doesn't slip when riding. Users report that they have been delighted with this saddle and have served them for several years. This model is available in sizes from 12″ to 16″.
4# Double J Pozzi Pro Racer Barrel Saddle SBP664 – Best Padding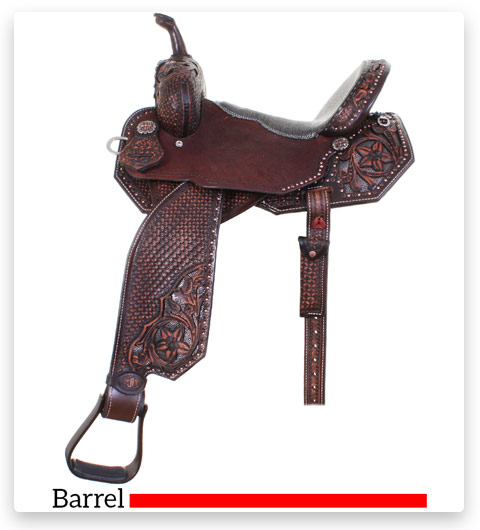 When it comes to a quality western saddle, many people focus on color, materials, seat, or rigging. But don't forget that padding also plays a huge role in the quality of the seat. And if you care about quality padding, the Double J Pozzi Pro might be the best saddle in this category. This model features one of the softest and most comfortable padding, which is great for long trips or for riding in rocky terrain. There is even a "memory effect" in this padding that allows the saddle to adjust to your body. This allows you to ride much longer with minimal discomfort. In addition to excellent padding, the saddle is made of Herman Oak skirting leather with custom stainless steel inserts.
5# Martin Saddlery Sherry Cervi Crown C Custom Barrel Racer Brown Saddle – Best Compact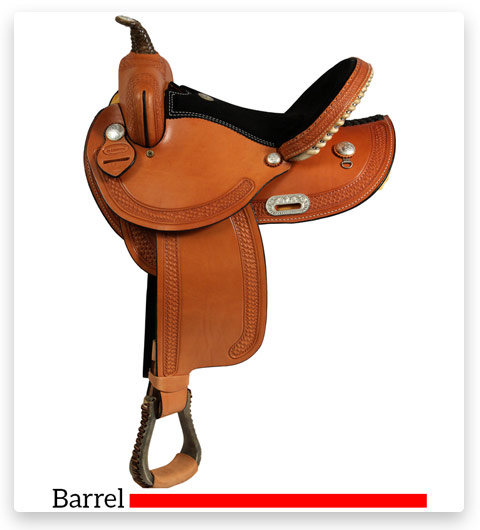 Small saddles are popular for their compactness and lightness. Martin Saddlery Sherry Cervi Crown is one of those. The saddle is made of high-quality materials and is affordable. The saddle is easily transported from place to place and installed on the horse. Crafted with genuine leather and a padded seat, it is the perfect fit and size for any rider. The seat is equipped with a rough leather shell, suede trim, and multi-layered shells. It's a very well-made western saddle, thanks in part to its luxurious brown color. This saddle is customizable to suit every individual, from horn to rope. Martin Saddlery Sherry Cervi Crown provides maximum grip when you need it.
6# Martin Saddlery Lisa Lockhart Barrel Saddle Fearless Racer 75-C2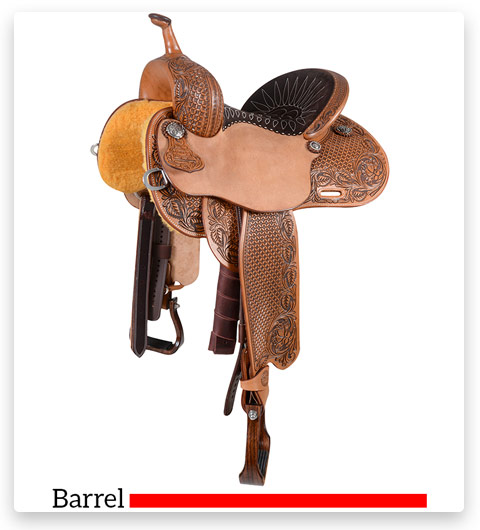 One of the features of the Western saddle market is the sheer variety. And finding a saddle that's crafted with great care, including subtle details and patterns, can be tricky. But we found this for you. This is Martin Saddlery Lisa Lockhart 75-C2. Externally, this model is beautifully designed and stands out for its intricate aesthetics. It is a great choice for young riders looking for an adult-looking saddle. Besides, the saddle is very bright, relatively lightweight, and portable, and can be easily fitted to any horse. It's made of durable leather and a solid base. So the saddle is designed to last for many years with minimal wear over time.
7# Reinsmann Molly Powell Flex Barrel Saddle 4260 Free Pad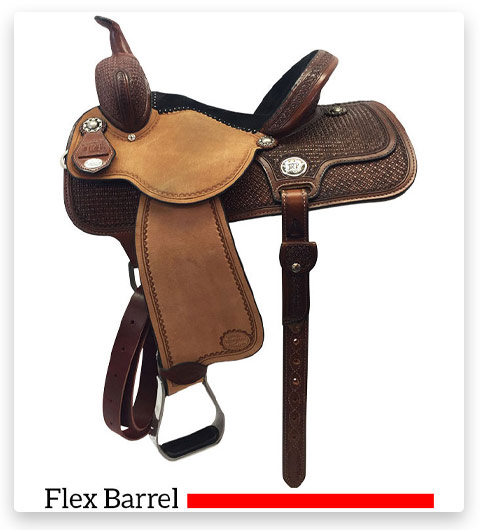 When choosing a western saddle, pay attention to your horse's physique. For more athletic horses, it is better to use a flex barrel rather than a simple barrel saddle. The Reinsman Molly Powell saddle will provide comfort for both horse and rider. Plus, it's made from high-quality materials. The design of this saddle may seem a bit simple to some, but we can assure you that it is well worth the money. You can choose the material of the saddle – wood or flexible wood, both of which are excellent in quality. Also, the saddle is equipped with a 5-inch cable car and stirrups, which are positioned to keep you balanced at all times. The main part of the saddle is made of soft microfiber, which is durable and pleasant to the touch. This means you will feel great even on long rides. Reinsman is not only affordable but also offers you sizes from 13″ to 15″. Therefore, any rider, both experienced and novice, will be able to choose a model for himself.
8# Reinsman Charmayne James Roughout Record Breaker Western Barrel Saddle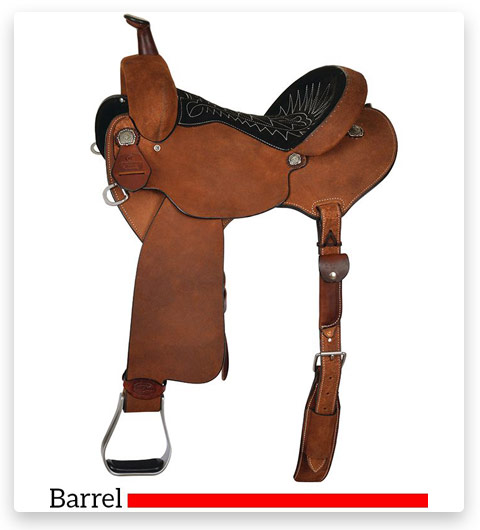 We come to the last unit on the list of barrel saddles – the Reinsman Charmayne James. It is one of the most versatile saddle types and you can find many uses for it. This makes it attractive and affordable for different riders with different needs. The first thing that stands out about this saddle is its design. The Reinsman is attractive from all angles because it is made from genuine leather that looks amazing and has a suede cushion that you will not feel discomfort with throughout the trip. The manufacturer paid great attention to detail, and on the horse's back it looks natural and comfortable, doesn't slip when used. The Reinsman Charmayne James is a great piece with no flaws other than the fact that it's only available in brown.
Roping Western Saddles
The main two parameters that stand out in roping saddles are the rider's freedom of movement and the strong, large, and well-fixed horn. These saddles are mainly used for roping events, so the saddles should provide maximum freedom of movement so that the rider can chase, bounce, and easily reach for the horn. Due to their very durable wood and horn, these saddles weigh much more than barrel or trail saddles. Usually, roping saddles have a suede covering to prevent slipping, as well as low, rounded forks, full double rigging, stirrups that hang forward than on pleasure saddles, and rope straps.
Top 8 Roping Western Saddles Review
Now let's take a look at 8 of the best roping saddles we have prepared for you.
9# Reinsman Lipan Western Roping Saddle 4421 Free Pad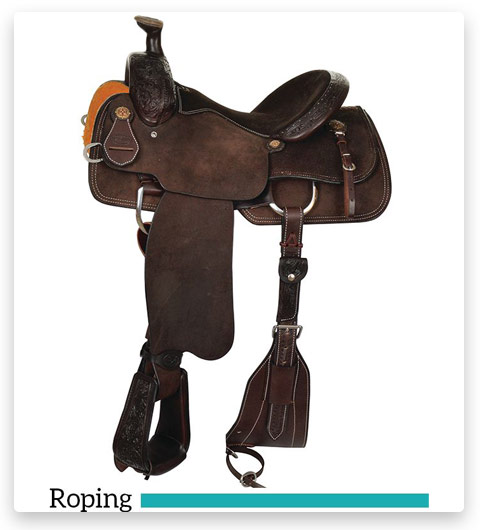 Reinsman paid particular attention to balance in the rider's use of this saddle. The initially turned wings ensure the correct back position. There is no threat of poor posture for anyone who sinks into this reasonably narrow and comfortable saddle.
10# Reinsmann TM Roping Western Saddle 4413 Free Pad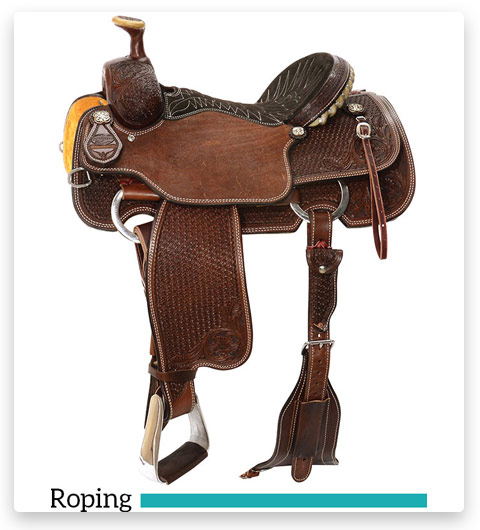 Once in this saddle, you immediately feel like a winner. The deep chocolate color of the leather and suede with a contrasting white layer confidently indicate that this is an exceptional handicraft. Such a saddle is impossible to run under a conveyor and every detail has been made with exceptional care. In such a saddle, you always have control over the situation.
11# Royal King Lone Star Western Roping Saddle Youth Roper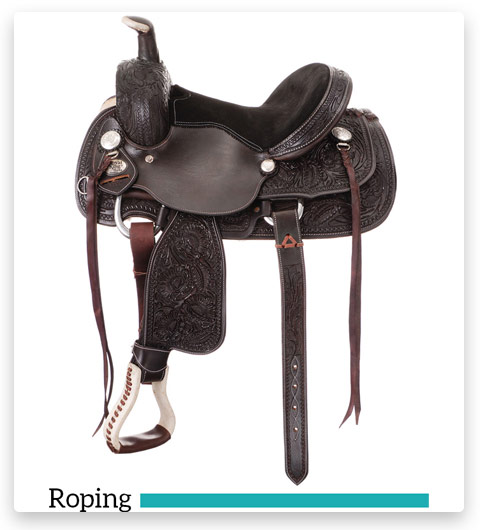 The suede layers of the saddle are decorated incredibly! If you think beauty is in the details, then this saddle is definitely yours. Along with its appearance, it has amazing practicality. The Drop B rigging makes the rider weightless and free in movement, while the high horn and backrest will keep you from leaving the saddle until you want to.
12# Royal King Frisco Youth Western Roping Saddle 126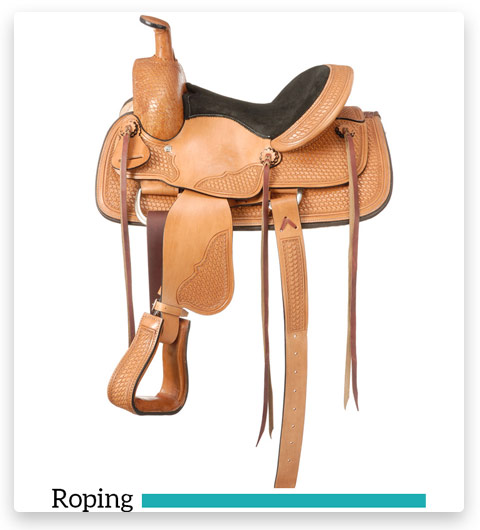 A unique style in light colors. Waffle prints and stunning artistic tooling won't leave you indifferent. The magical properties of the Drop D rigging, capable of making the rider completely free in movement. The unusually high edging on the back girth makes the saddle almost immobile and very stable while riding.
13# South Bend Association Roping Western Saddle 1620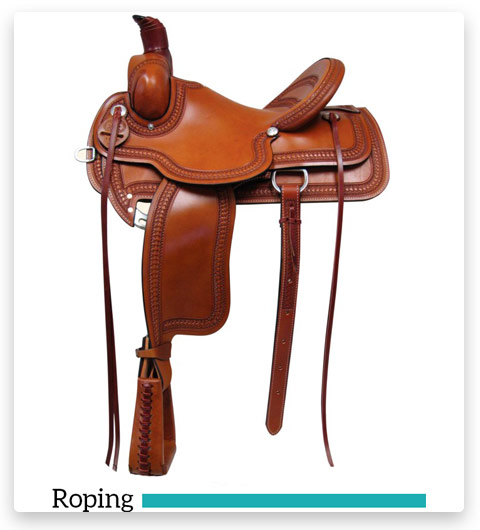 The South Bend Roping Saddle is unrivaled American-made. Quality that will last for years and won't disappoint you. It's a very durable and comfortable saddle with a double fiberglass reinforced wood base. Has a wrapped horn and great edge rigging.
14# South Bend Co Association Western Roping Saddle 1640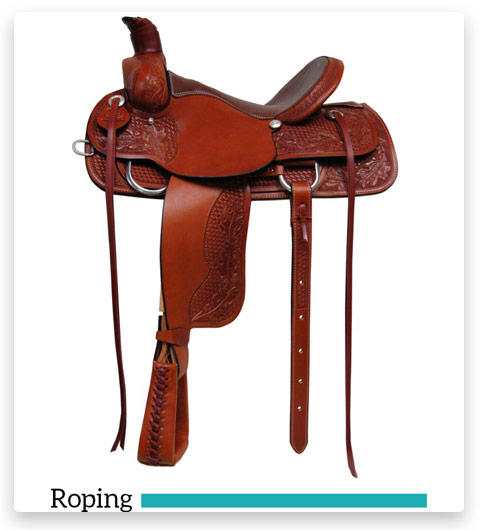 Like the previous saddle, this is a high-quality American-made saddle. This model lasts a surprisingly long time, despite the mid-price segment. And it's great that such an incredible style, executed in a braided manner and leaf rigging, can please the eye for so long and bring comfort to the rider.
15# Silver Royal Rising Star Western Roping Saddle 300 Calf Roper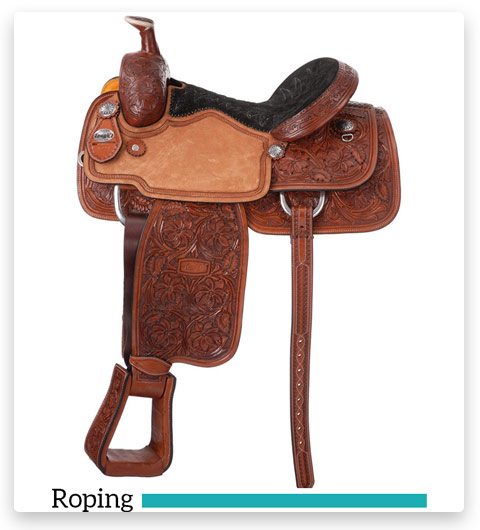 You won't want to change such a saddle for another. This is a real icon of lightness and comfort. Rigging made of high-quality materials can save a horse from several kilograms of rider weight. Belvins buckles are not chosen by chance, they are needed for quick and easy adjustment.
16# Martin Saddlery RG Ricky Green Western Roping Saddle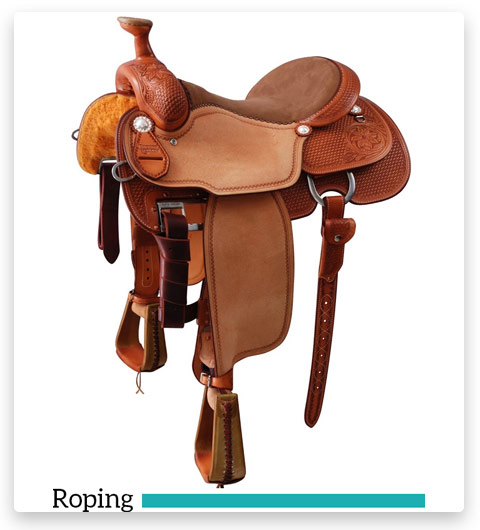 With this saddle, you can be sure that you have complete control over every movement. The unique design is a narrow seat and seat pocket, which allows the rider to be in maximum comfort and be elusive. The seat relieves the back, hip, and knee joints. Such features make it possible to take the necessary position without spending much effort on it. You have a clear advantage over your competitors in this saddle!
Trail Western Saddles
Trail saddles are tuned to provide the rider with maximum comfort. They are much lighter than other saddle types and come with a soft and comfortable seat. The wings on these saddles are positioned to keep the rider in the correct position without fatigue or strain on the back and hips during long rides. Very often these saddles are used in combination with chest collars to keep the saddle from slipping on long rides. Besides, saddle strings are often included in the kit to tie up equipment.
Top 8 Trail Western Saddles Review
This is a very popular saddle type, so you can find these saddles in very different colors and designs.
17# Circle Y Julie Goodnight Wind River Flex Western Trail Saddle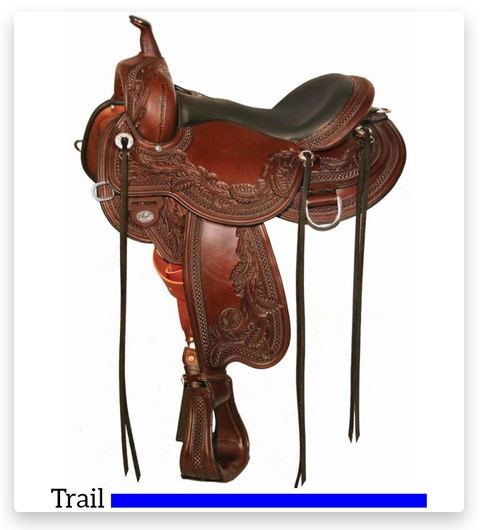 Any horse can be saddled with this saddle. The unique design was created for close contact between the rider and the horse. The Circle Y Neo-Shock scent skirt has a lining to help keep the saddle from slipping. The seat itself and the fenders are soft, your horse will appreciate it. An incredibly beautiful saddle, crafted in deep shades with silver shells and leaf border.
18# Dakota Western Trail Saddle 213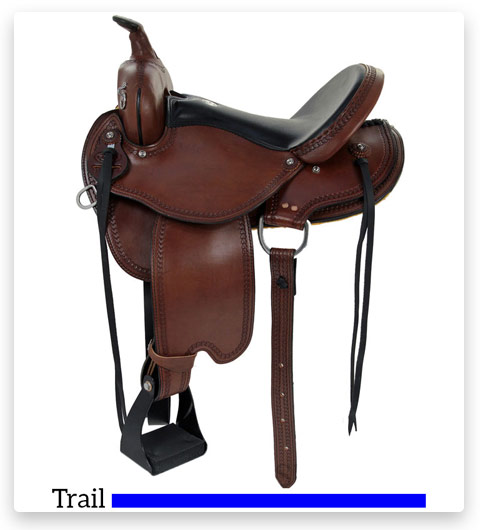 Something new from Dakota. The model meets the rules of classic style and convenience. A keg-style skirt is a terrific choice for both short and long-back horses. Genuine leather in professional brown color with a petal border provides sufficient comfort and durability. The padded wings will keep the rider's ankles and knees in the correct position. In such a saddle, your horse will experience maximum comfort from the trip.
19# Tucker Cheyenne Frontier Western Trail Saddle T67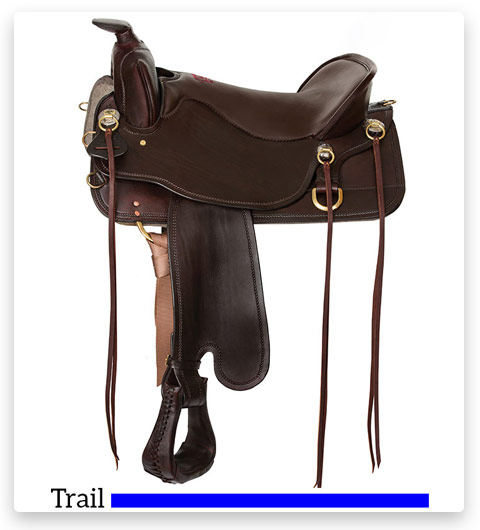 Tucker packed a lot of pros into this saddle! The Ergo-Balance Stirrupps stirrups keep your ankle and knee joints safe on any trip. Plus, anyone who needs a little more room to maneuver will appreciate this saddle. Tucker Saddlery Gel-Cush cushioning seat offers the highest level of comfort on the trail. The seat is crafted from patented Durahide wood, to which a flexible seat is attached. Such a tool will allow you to be in a comfortable way for a long time. The saddle uses the latest comfort gel technology. The Tucker Gel-Cush seat is not afraid of cold and heat. Also, this material doesn't add much weight.
20# South Bend Saddle Co Frontier Lady Trail Western Saddle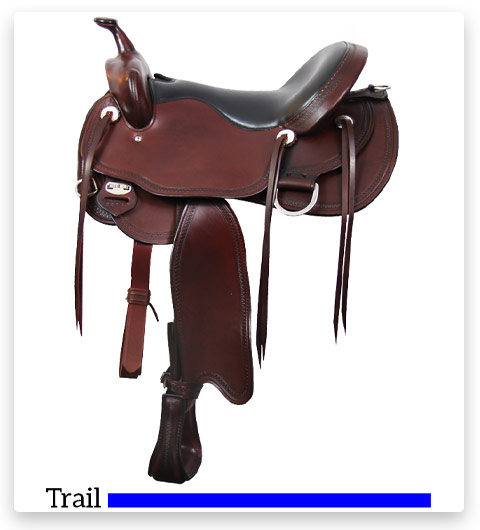 Here is an innovation made of genuine leather in an exquisite chestnut color. The seat is extra soft and provides close contact between rider and horse. The swiveled fenders provide only light stress on the knees and ankles. The saddle has a tunnel tube to keep the horse cool even in extremely hot weather. When it comes to maximum performance, it means talking about this saddle.
21# Big Horn Haflinger Withered Short Western Trail Saddle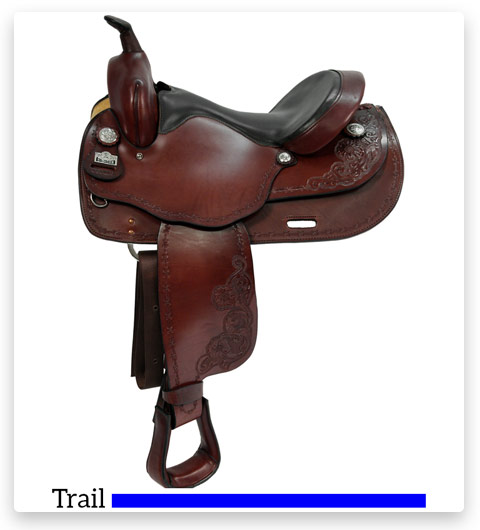 The saddle has a large and durable horn, especially for the rider's comfort. Fiberglass-covered wood, 10 cm edge, and 40 cm rough finish. The saddle features double stainless steel rigging and stunning Visalia leather stirrups. An amazing American-made model in a brown finish that features silver shells and durable construction.
22# Cashel Western Trail Saddle XWide Tree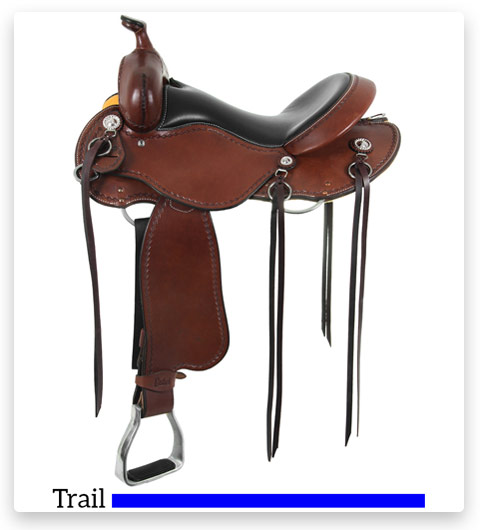 If we talk about the popular models from the Cashel series, this saddle is at the forefront. It was especially noted by riders with a horse with a shorter back. The short, rounded wings have proven to be very practical. Long strings and a roll give the saddle a vibrant western-style note while leaving room for your accessories. Refined elegance lies in contrasting white stitching on the seat, curbs, skirt, fenders, and padded seat. The cutaway wings meet the needs of today's riders. Do you remember that interaction and close contact with your horse is very important?
23# Fabtron Lady Trail Western Saddle 15" to 17"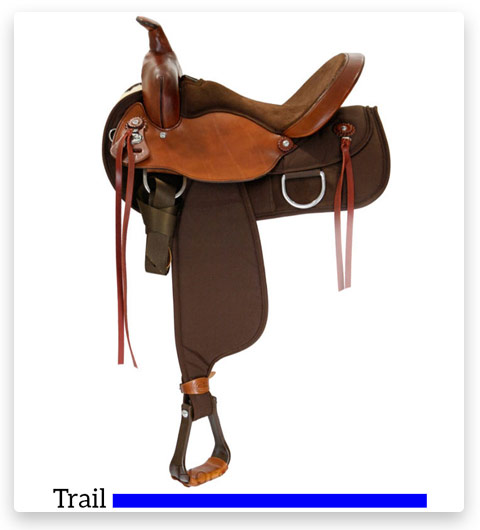 If you are a lady, you should stop looking for the perfect saddle for yourself, because we have found the perfect saddle for you. Fabtron has taken all the features of the female body into account when creating this saddle. It has a higher slope for the best support of the spine, as well as a narrower front part to preserve the woman's hip, knee, and ankle joints.
24# King Series Wolverine Wide Tree Western Saddle 78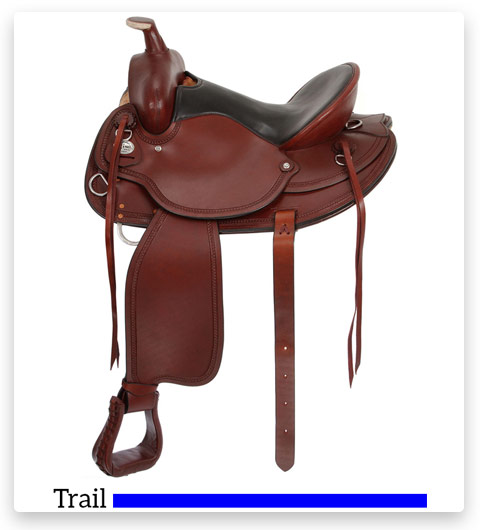 This saddle has a timeless look thanks to its glossy black and chestnut colors and simple rigging. The seat is soft, leather and the insides are filled with neoprene. A 5-year guaranteed tree was used to create it. In such a saddle you will be as comfortable as possible on the horse's wide back.
Gaited Trail Western Saddles
Gaited Trail Western Saddles are specially designed for the physiology of gaited horses. This type of saddle can be found in both Western and English saddles. The wood, leather, straps, and stirrups in this saddle are tailor-made to allow for the unique movement of the gaited horse and give the shoulders and back freedom of movement, especially on long rides.
Top 8 Gaited Trail Western Saddles Review
We've prepared some of the best saddles available on the market for you.
25# Circle Y Campo Cordura 6970 Western Gaited Trail Saddle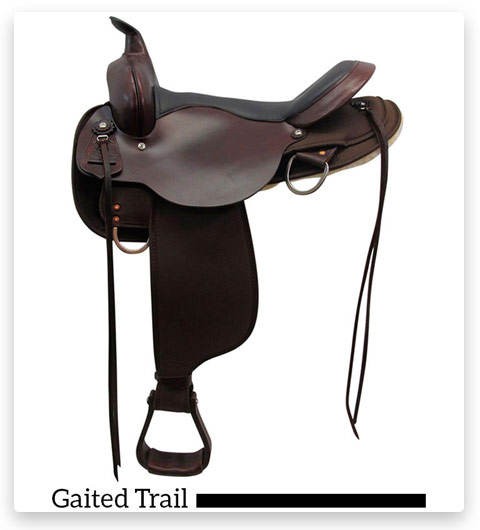 Specially designed for gaited horses. The freedom of movement is guaranteed in such a saddle. The Cordura features rounded fenders that are lighter in weight. The saddle also has a rigging with universal adjustment. The seat is double upholstered in grained fabric and suede. The seat will feel moderate due to the 10cm rim. Fittings are made of stainless steel with a clip. There are dee attachments and crupper dee fasteners to binding your gear. The fleece-lined skirt is durable, thanks to the ease of maintenance.
26# Royal King Triumph Gaited Train Western Saddle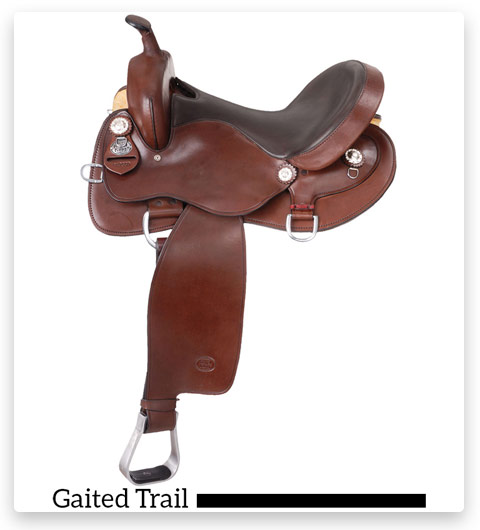 Even the simple design of the saddle will find its rider. Glossy leather, dark saddle, silver tips, round skirt – a timeless classic. Rigging Drop D to reduce stress on the legs. All these parameters will provide you with reliability and comfort on a trip.
27# Circle Y Alabama Flex 2 Gaited Trail Western Saddle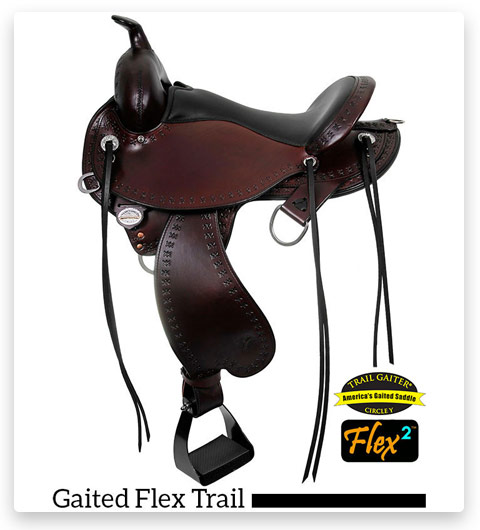 This is one of the most versatile trail saddles available. Here you can choose the type of wood, and the size, and color, and even the seat cover. Besides, the saddle has excellent performance and any rider will be very comfortable in such a saddle. I especially liked the wide stirrups, in which your foot feels very comfortable.
28# High Horse Round Rock Gaited Western Trail Saddle 6870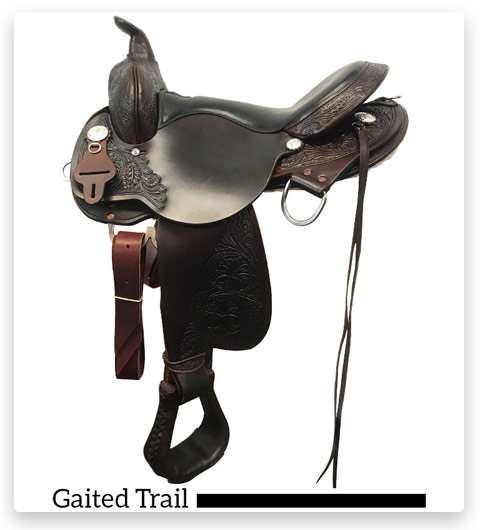 A very elegant saddle, with a grainy brown or black suede seat. There are clips on the back and front, as well as silver-plated shells. The rig is adjustable and the finish is walnut or just black.
29# Fabtron Gaited Trail Western Saddle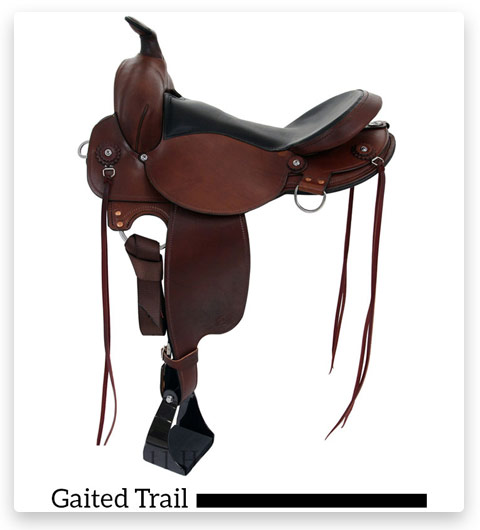 Affordable, durable, and comfortable Fabtron saddles have been replenished. Of the advantages: 10 cm сantle, soft padding, and a tunnel skirt to keep your horse from fatigue. The saddle has a pad that can be easily cleaned. The wood used to create the saddle has a 5-year warranty. Lashing strap, girth, saddle strings, drop D rigging – everything is here for a comfortable ride.
30# South Bend Co Syracuse Western Gaited Trail Saddle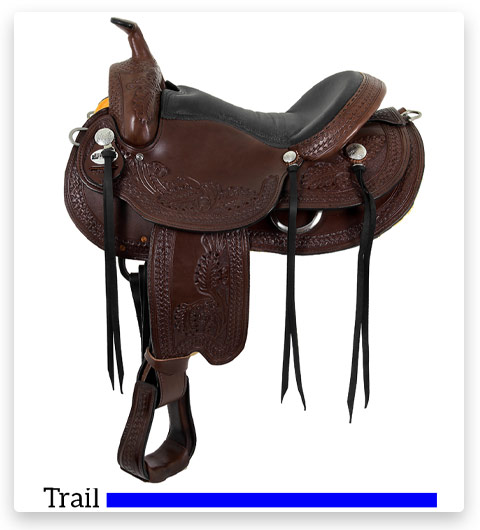 Great saddle for long rides! Soft seat, soft fenders, and stunning looks with interesting ornaments. If you've been on horseback for hours, this saddle is for you.
31# South Bend Co Navigator Gaited Western Trail Saddle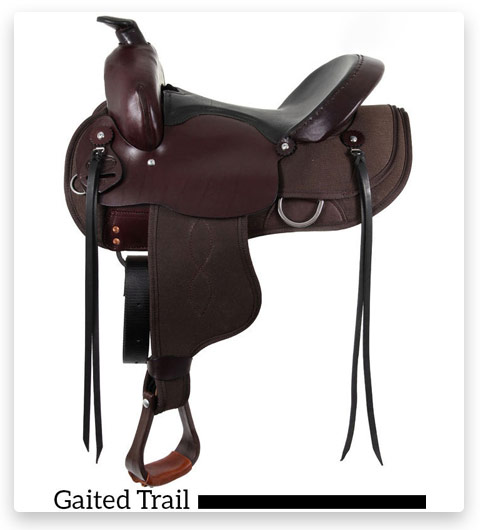 The exclusivity and quality of the Navigator saddle are visible to the naked eye. Your horse will not notice this saddle, it is so lightweight. If you are a fan of long trails, the saddle will definitely suit you. The skin is soft and pliable enough. The skirt is short and round fits perfectly on a short back. The saddle is assembled with skillful and careful hands, so don't worry about safety, you have been taken care of!
32# Dakota Equi-Fit Gaited Western Trail Saddle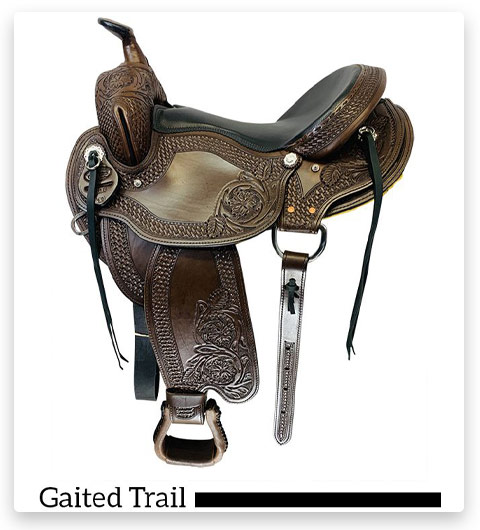 Very high-quality premium-class saddle. A pliable tree was used to create it, which will give the horse freedom of action. The opinions and requests of the users were taken into account during the assembly, so the skirt is barrel-style, making the saddle versatile for every horse. The perforated grainy color and hourglass finish have surely caught your sophisticated eye by now. This saddle is definitely worth your attention.
Cordura Trail Western Saddles
Cordura saddles have a base on lightweight trees, and skirts, fenders, and other leather parts are often replaced with nylon and leather composite or Cordura. The peculiarity of these saddles is that they are very easy to care for, plus they are very lightweight and easy to install on a horse.
Top 8 Best Cordura Trail Saddles Review
These saddles are best suited for beginner's or children's saddles.
33# High Horse Eldorado Cordura Western Trail Saddle 6915 Free Pad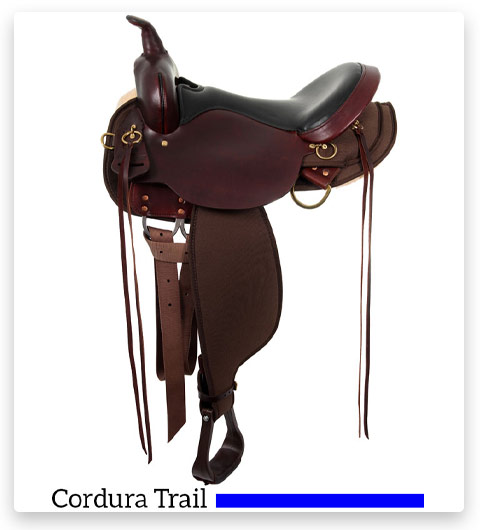 High Horse Cordura Trail is a new take from developers. This model is equipped with a very light yet incredibly strong skirt and fenders, which significantly reduces the weight of the saddle. You can choose the rigging yourself so that the saddle is 100% suitable for your horse. The seat is soft and double. In the set, you'll find two pairs of strings, clip dees of which are with brass rigging.
34# High Horse Daisetta Trail Western Saddle 6914 Free Padding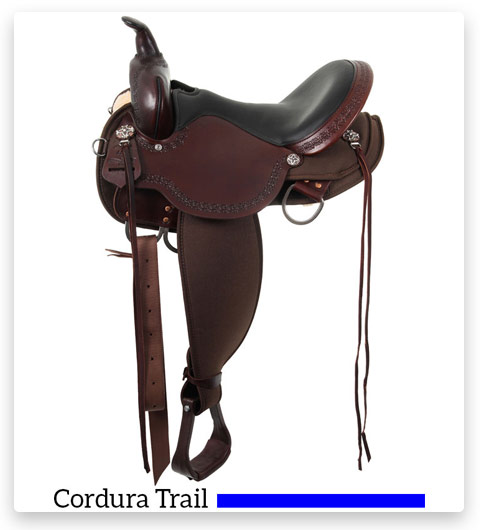 Another novelty from High Horse. A new, interesting and laconic ornament of the border rigging with mesmerizing copper flower shells. There are 2 options to choose from: a black-grained seat and a suede padded seat. The finish is walnut or black, but the wood is either very wide or of classic latitude. The skirt is rounded, not long, only 63 cm, which is perfect even for a horse with a short back. Rigging plates are adjustable, which means that you have freedom of choice and the saddle can be yours. The edging is high, this gives a certain safety in any difficulty of the races. American production speaks for itself.
35# Big Horn Synthetic FQHB Cordura Trail Western Saddle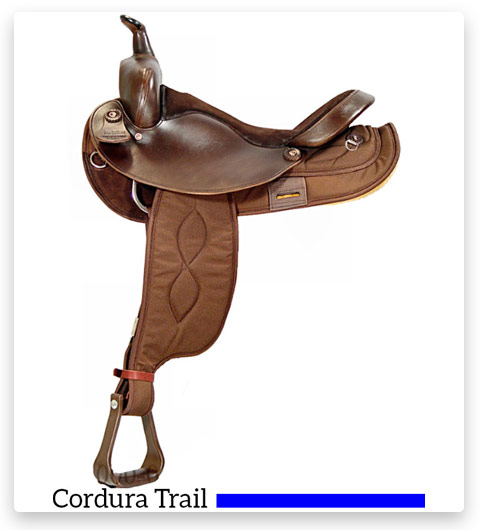 If your horse is large and short-backed, this saddle is worth looking into. There are 2 soft seats 38-40 cm with 10 cm piping to choose from, which will keep you safe on any track. The saddle has nylon leather straps and quality rigging. The Cordura skirt is made with leather piping and front binding.
36# South Bend Saddle Co Pawnee XL Haflinger Cordura Trail Western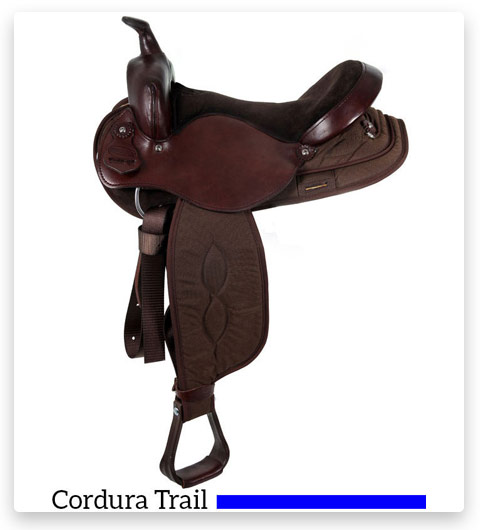 Is your horse tired of the heavy saddle? Then he'll love the Pawnee XL Trail. The saddle weighs only 9.5 kg in which accommodates all the features of a great tropical saddle. The Cordura wings and skirt will make you weightless. Fitting this saddle to your horse is easy. Amazing lightness and strength for little money.
37# Fabtron Sepreme Lady Western Cordura Trail Saddle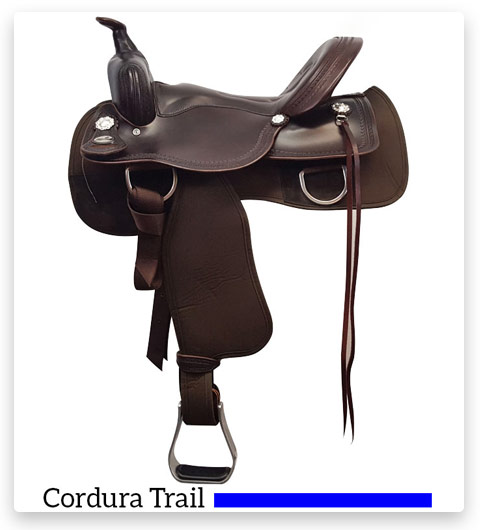 Even the most sophisticated lady rider will see more than just style in this saddle, but also the great potential that will unfold on the go. Shiny shells, stylish piping, and a redesigned skirt. The seat itself is soft and has high-quality padding, the saddle edging is leather and polished.
38# High Horse Lockhart Western Cordura Trail Saddle 6910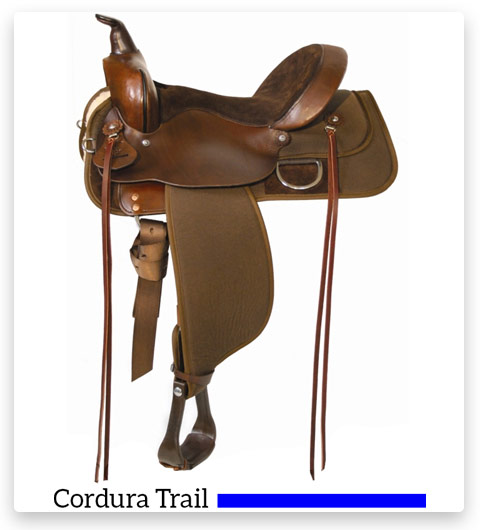 Versatility through adjustable rigging, as always lightweight and durable Cordura skirt, comfortable padded seat, walnut-colored or black leather. The saddle comes with 2 sets of strings and amazing padding to suit your horse.
39# South Bend Saddle Co Lady Western Cordura Trail Saddle 2000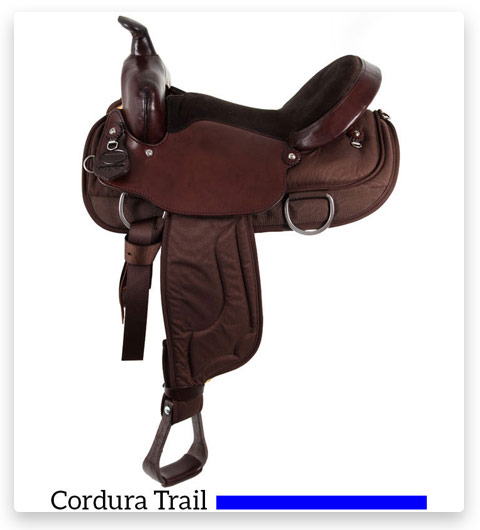 Are three reasons enough for you to realize that this is what you were looking for? Quality, comfort, lightness are perfectly combined in the South Bend Lady Trail 2000 model. The seat is soft and very comfortable, made of memory foam. Ladies especially love this model. High backrest for the safety of your back, even on the toughest trails. Choice of juicy chocolate or black and of course the fleece lining. The saddle can be classified as lightweight, as its weight is only 9 kg.
40# King Series Krypton Synthetic Zebra Western Cordura Trail Saddle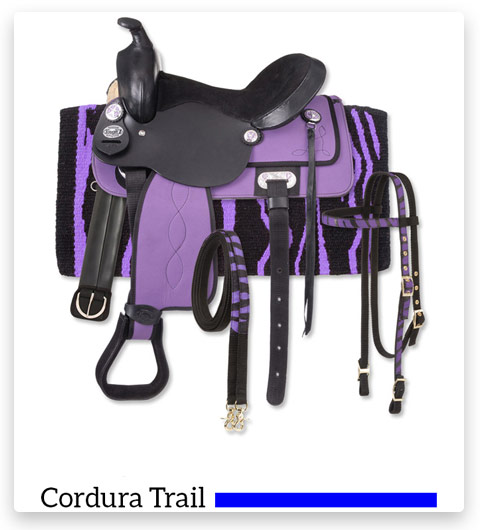 Now that's interesting! A colorful modern saddle that combines wings with leather jockeys and a lilac nylon square skirt. The saddle both weighs and costs less than most other saddles, but has considerable usability. With the saddle, you get the reins, bridle, saddle blanket, and girth. Incredibly stylish approach and practicality for a small price.
Flex Trail Western Saddles
The name of this saddle type speaks for itself. The flex wood these saddles are made from will bend to fit your horse's back when fitted. This allows for a more correct fit. Here the saddle adjusts to your horse, not your horse to the saddle. Thus, your horse will not experience any discomfort on long runs.
Top 6 Flex Trail Western Saddles Review
Let's take a look at the best flex saddles for your horse.
41# Circle Y Alpine Flex2 Western Trail Saddle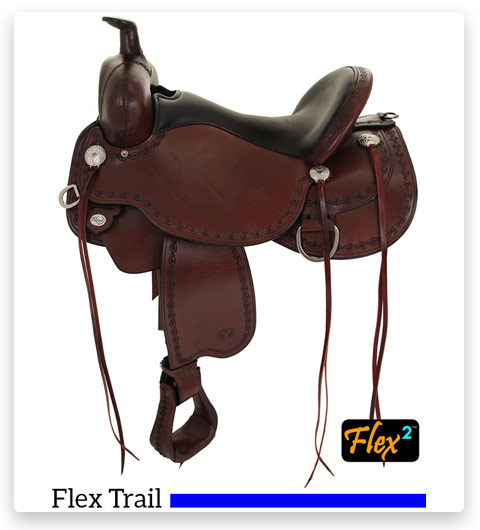 If you understand that a great saddle is an investment in success on any track, then this saddle deserves your attention! The saddle has a stunning appearance, especially emphasized by the engraved stainless-steel shells. The padded Circle Y seats and fenders keep you on the road for extended periods. The minimum weight and comfortable fit provide a certain amount of comfort.
42# Circle Y Pioneer Flex Western Trail Saddle Free Pad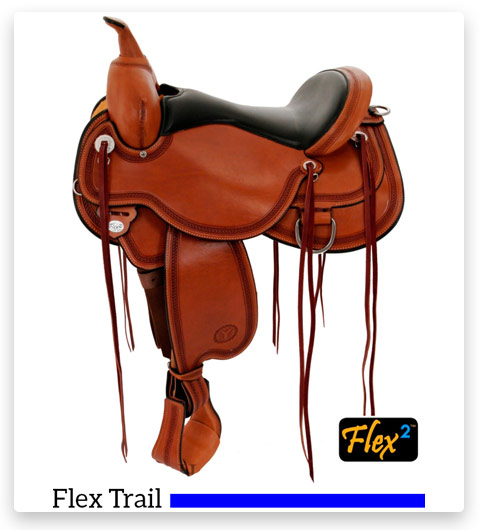 The developers did not miss the opportunity to use Flex2 technology for this saddle. For greater strength, the wood is covered with Durahide. The saddle will impress your horse even on the move. A definite plus in the ErgoBalance stirrups, because they do not load the ankle and knee. The design of the skirt is as if carved with jewelry. The perfectly tight contact saddle boasts impact resistance with special foam padding. The washbasins are matt, which completes the design perfectly. A high neckline on around skirt is suitable for horses with a short back
43# Julie Goodnight Blue Ridge Flex Western Trail Saddle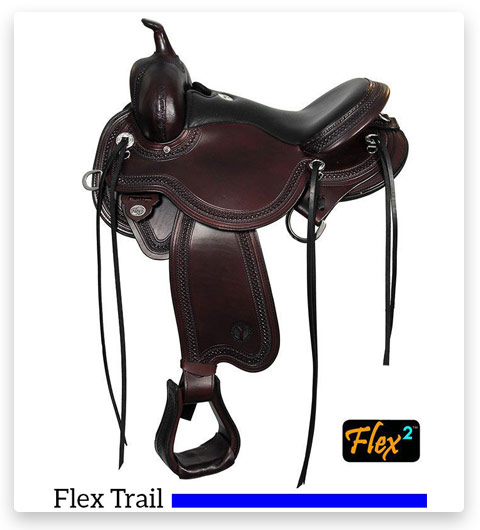 Julie Goodnight is specially designed to make the contact between rider and horse as close and comfortable as possible. Combined with Flex2 technology, it will surely pay off your investment. Silver shells and diamond border – is this not a dream? You don't have to interrupt your journey thanks to the scented Neo-Shock and non-slip skirt liner, which already have stirrups and padded seats.
44# Circle Omaha Flex Western Trail Saddle 1554 Free Pad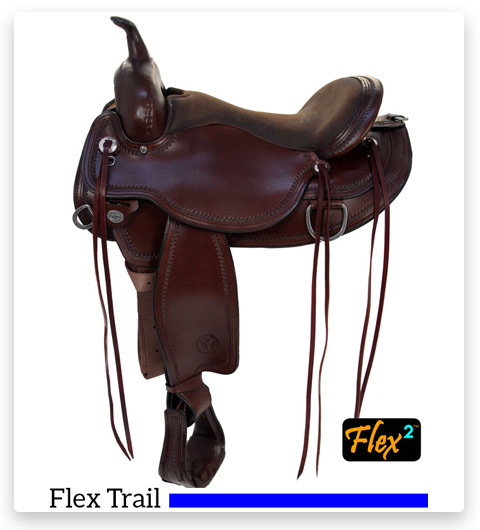 Whether it's a short run or a long ride, this saddle can do it all! The new format of the tunnel skirt will not only protect the horse from the heat but also relieve the back from unnecessary pressure. The rig is adjustable with western dee technology and the saddle is equipped with a 3-way Y ring.
45# Circle Y Julie Goodnight Monarch Flex Western Trail Saddle 1752 Free Pad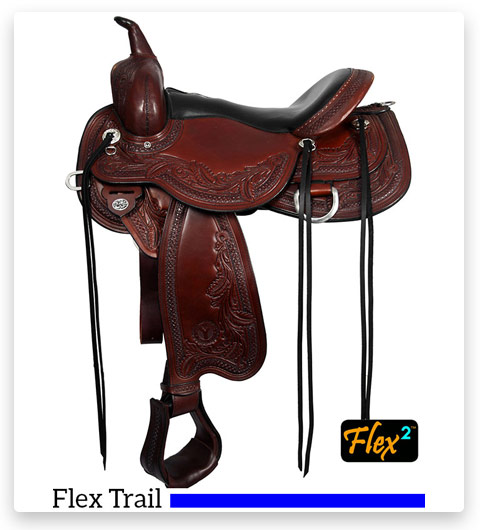 An incredible saddle is so beloved by horsemen. The developers have done everything for comfort, control, and close contact with the horse. It's great for both trail riding and arena riding. By fitting a non-slip skirt liner and Circle Y Neo-Shock into this saddle, the designers make sure you don't have to strain yourself or your horse on the road.
46# Circle Y Clearwater Flex Western Trail Saddle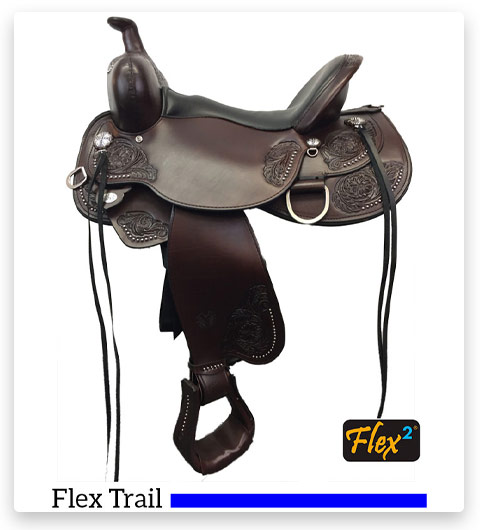 A saddle focused on success! Extraordinarily beautiful, with eye-catching patterns. The saddle will perfectly emphasize your bright character. The adjustable 3-strip harness allows you to set the saddle for the best contact with the horse. You will be safe on the trail with such a saddle. The strings are longer to accommodate all the items you need.
Training Western Saddles
Training saddles are primarily used by beginners to gain confidence in the horse, get used to it, and get ready to use the classic saddle. Training saddles almost always come with reining seats, flat and padded, allowing the rider to move the hips and be more agile in the saddle. Several D-rings are often attached to such a saddle so that the trainer can use a martingale or other tools.
Best Training Saddles Review
Training saddles have coarse fenders for better traction and cut-out skirts for better rider-to-horse contact.
47# Royal King Rollout Training Saddle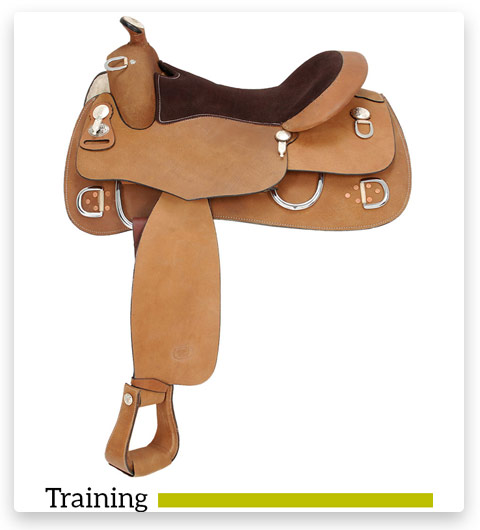 Flexible wood wrapped in rawhide, drop D rigging, and suede seat will keep you in the saddle for an incredible amount of time. Such a tree not only provides convenience but also absorbs shocks. Dark brown saddles on a light beige look are incredibly beautiful.
48# South Bend Co Training Western Saddle 1300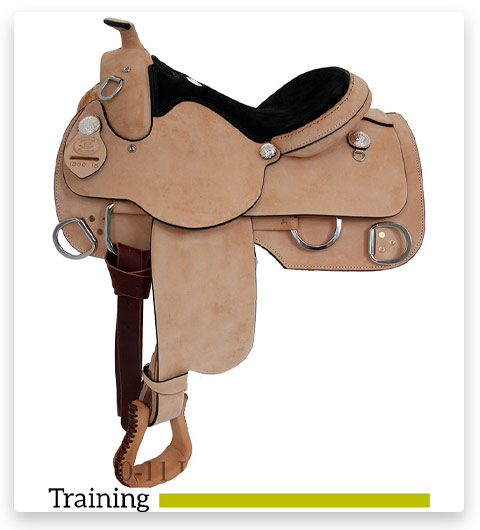 This training saddle will give you an idea of what your horse tandem can do. Excessive aging of fiberglass reinforced wood. The stability and safety of the saddle lie in rough leather.
Show Western Saddles
In show saddles, the manufacturer places all emphasis on design. Show saddles are mainly designed to make you and your horse look good in the ring. They are available in a variety of different designs and styles. Usually show saddles have decorative edging on skirts, cantles, horns, and other parts, maybe even on forks and stirrups.
Top 4 Show Western Saddles Review
Also, distinctive features of these saddles are chunky horns and forks, soft suede seats, deep skirts, and chiseled stirrups.
49# Royal King 7 Oaks Silver Show Saddle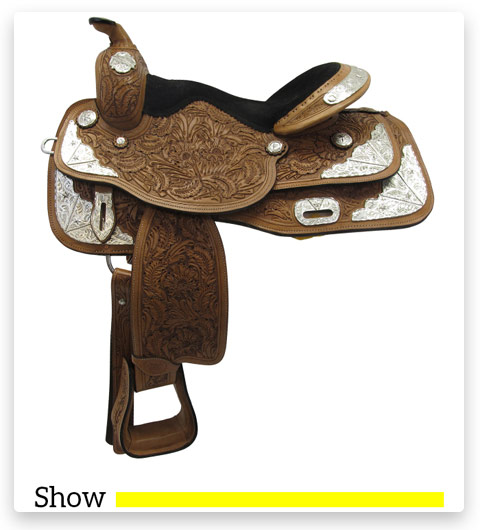 If you love rave looks, this saddle is for you! Silver details will add a certain grace to your pair with a horse. The beauty and comfort of this saddle go hand in hand.
50# South Bend Saddle Equitation Show Western Saddle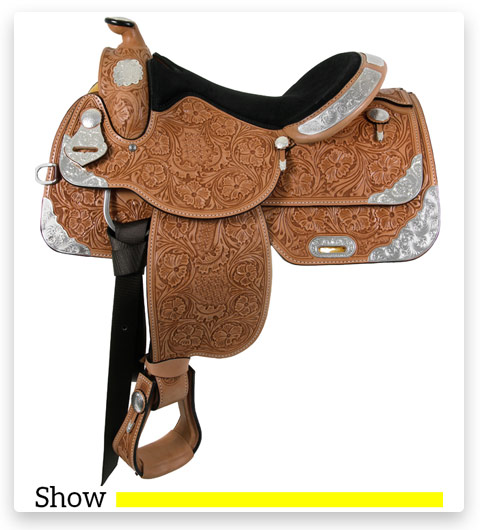 Something exclusive from the USA. South Bend Saddle Co is an amazing show saddle. Sheepskin lining and sensational silver inlays are endowed with exceptional quality and unique custom work.
51# High Horse Gladewater Show Western Saddle 6310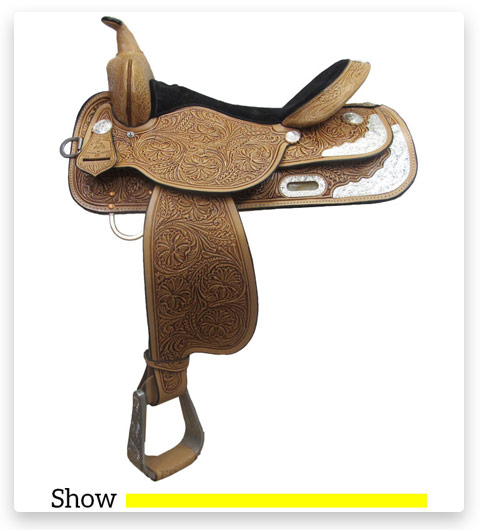 High saddle – will highlight your outstanding style and stateliness. The saddle is covered with a floral print, has a suede comfortable seat, and engraved aluminum stirrups. The rigging can be adjusted to suit your unique characteristics, and the finishes can be chosen in natural or tobacco colors.
52# Circle Y Empress Custom Show Western Saddle 1952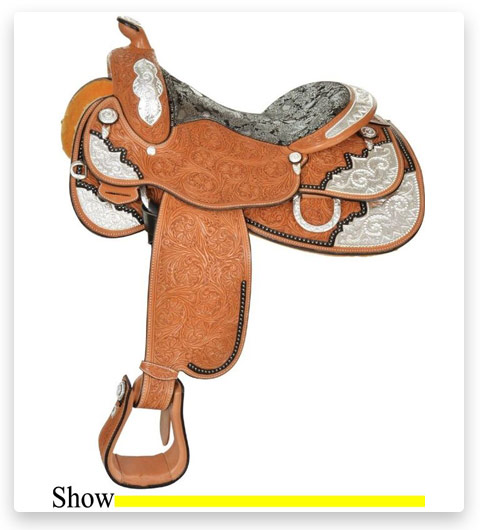 Outrageously attractive show saddle! The precision unique style of Circle Y DURAhide features a wood finish and a butterfly skirt for perfect contact with the horse. Silver throughout is a clear indication of your intention. Suede seat with enticing patterns Empress Sterling Silver Plated.
All Around Western Saddles
I think the name speaks for itself here. All-around saddles are the most versatile of all saddle types. You can use them in almost any discipline. Whether it's a ranch, roping, a barrel race, or something else, you'll find a use for this saddle.
Top 6 Best All-Around Saddles Review
So let's take a look at the very best all-around saddles we have prepared for you.
53# Martin Saddlery Custom Roughout Western All Around Western Saddle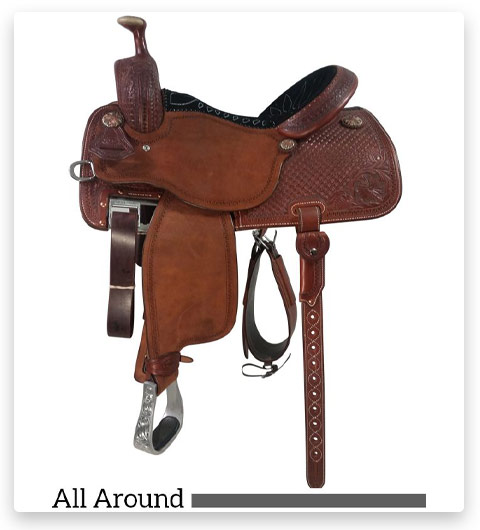 Rough leather, unrivaled style, flawless rigging. The saddle contains three important parameters – versatility, comfort, and beauty! The seat has a soft fabric seat. The stirrups are pre-twisted to ensure knee alignment.
54# Billy Cook Ladies All Around Western Saddle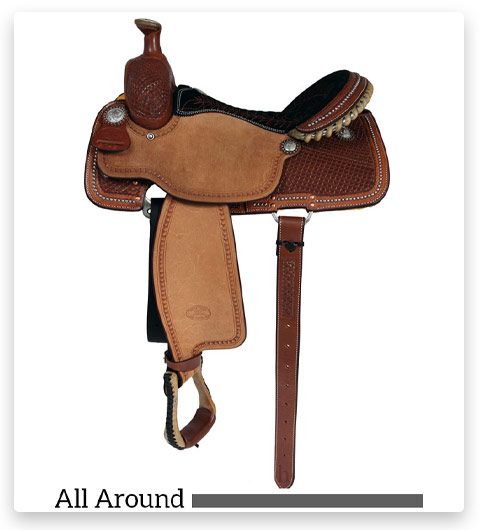 The name of this saddle is fully consistent with the character. Colored quilted seat, silver spots on piping and skirt, feminine shells with interesting spotted trim. Rigging in the skirt significantly reduces weight and volume. The nylon strap also contributes to weight reduction. Have you already noticed the raw leather accents? A discreet feminine touch. Safety is paramount, which is why the seat is made of suede and the fenders are quite rough. Handcrafted logos make sure the Billy Cook saddle is original.
55# Royal King Jr. Premier Youth Western All Around Saddle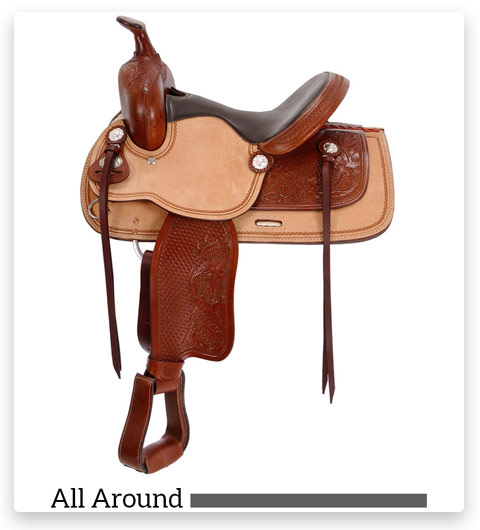 You can fall in love with horse riding even more, once sitting in this saddle. Square structure, appearance created from details in three tones. We can talk about convenience for hours. Rough jockey, high piping, and deep seat make a decent combination. The cushioning and genuine durability come from wood wrapped in raw leather.
56# South Bend Saddle Co Work & Trail All Around Western Saddle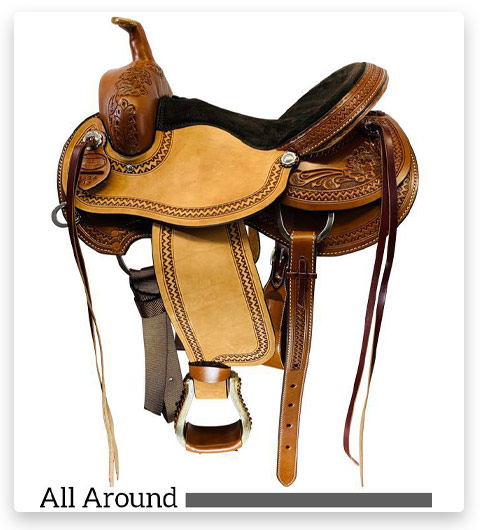 A ring or a long trail – everything is within the power of this saddle. The quality is high and the impeccably attractive appearance and durability!
57# South Bend Saddle Co 1185 All Around Western Saddle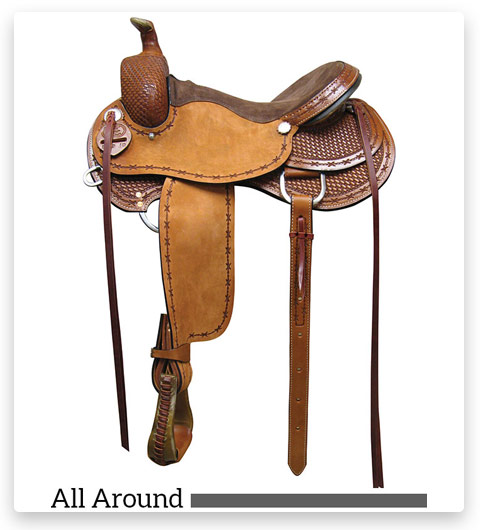 Another great handcrafted South Bend saddle. Comfortable horn, deep rigging in the skirt, rough jockey seats. This saddle is just for you!
58# Double J All Around Western Saddle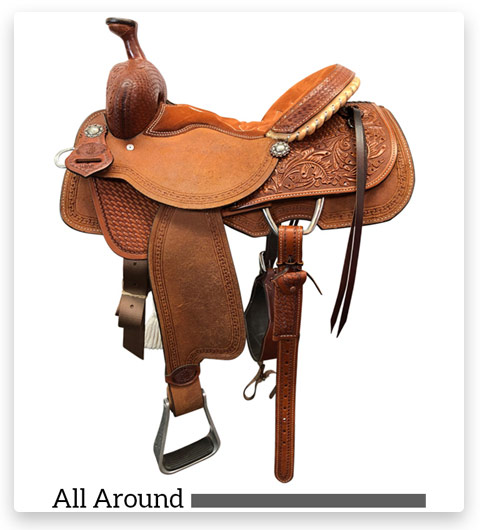 Skilled riders are particularly fond of this saddle. Quality product, quality materials, and nothing else. The customizable saddles are made from Hermann oak bark. Racing, ranch? whatever you do, the saddle will last a long time. The unique design is just the first thing that has already caught your eye.
Endurance Western Saddles
Endurance saddles differ from other saddle types in that they have a large number of strings and d-rings. This allows you to attach more gear that you will need while riding.
Top 3 Best Western Endurance Saddles Review
Here are variations on typical Western endurance saddles that are good performance, comfortable, and well designed.
59# Royal King Classic Distance Rider Western Endurance Saddle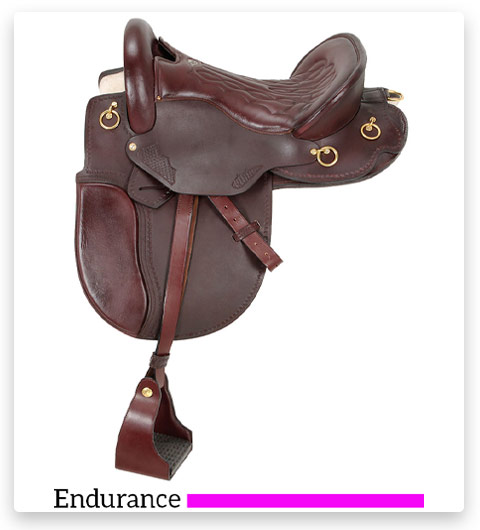 McClellan's tree – this is the design for this western saddle, if you are a pro, you already know that you need this particular saddle and nothing else.
60# Tucker River Plantation Endurance Western Saddle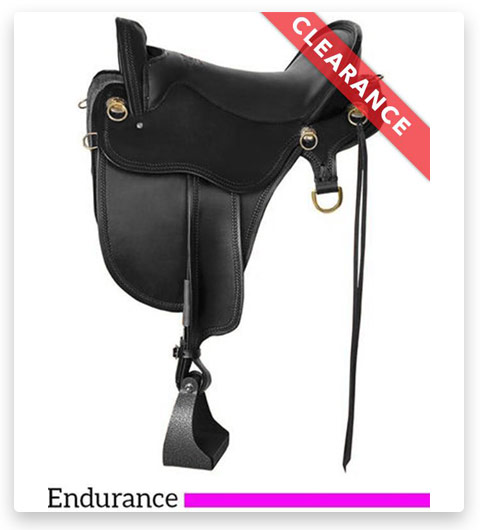 Luxury rides are guaranteed on such a saddle. Incredible convenience and lightness. A horse with a gait and a trot will definitely be appreciated. Narrow but roomy seat. Rich brown, black, gold, choose anyone! Ergo-Balance stirrups – balanced ride without damaging joints.
61# Tucker Endurance Western Trail Saddle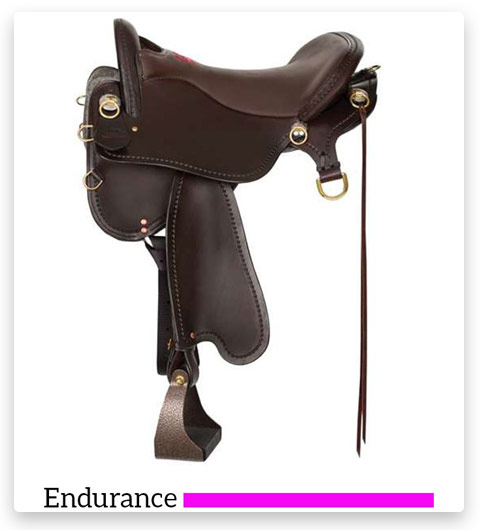 Even 25 years later, Tucker's innovative technology remains among the popular styles. A tandem of Western and English is intertwined in this product. The uniqueness of the saddle lies in the charmingly soft seat.
Ranch Western Saddles
Ranch saddles are designed for long runs and competitions. Ranch saddles are designed to provide safety and comfort during long rides for both the rider and the horse. Ranch saddles are generally the heaviest saddles of all and can weigh up to 40 pounds or more.
Top 6 Best Ranch Western Saddles Review
These saddles perform a variety of tasks such as roping and cutting.
62# South Bend Saddle Co Wade Tree Ranch Western Saddle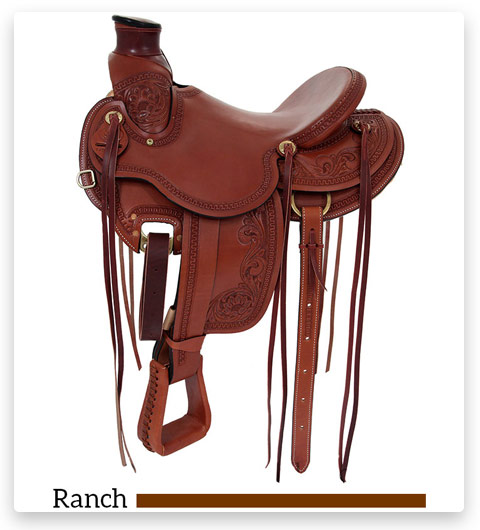 An extraordinary new Wade Ranch saddle from South Bend. An alluring chestnut skin tone, stunning stirrups, and raw leather hem. Such a saddle will delight you for a long time.
63# Reinsman Wade Western Ranch Saddle Free Pad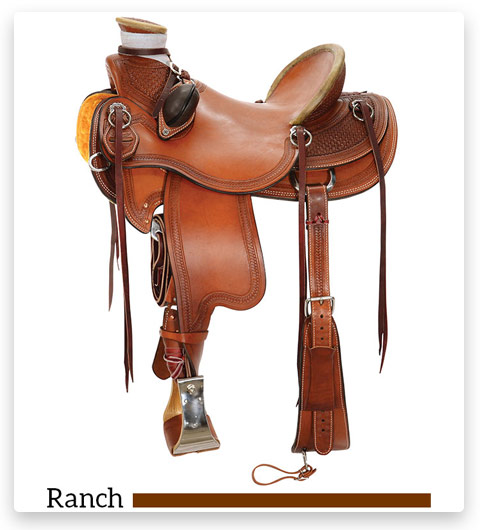 If you are into value for money, then this saddle will be to your liking. Plus, you get a lifetime warranty on the wood used to make the saddle. Reduced volume thanks to thin rigging plates located under the skirt. Safety is ensured by crosscutting rolls. A fairly rigid saddle, weighing 17 kg. The reinforced and thick horn is durable and will last for a long time. The Wade Ranch Saddle is built for the crisp rider.
64# Billy Cook Arbuckle Wade Ranch Western Saddle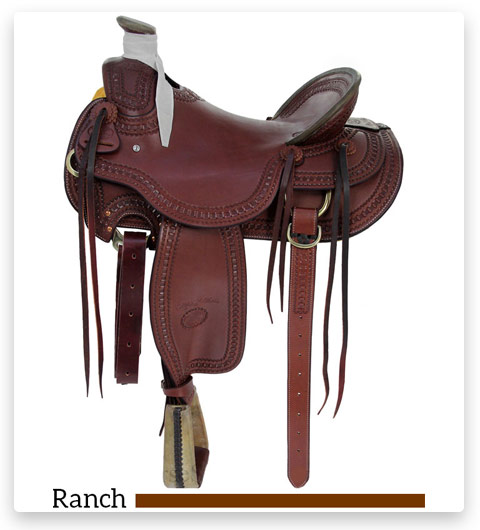 This saddle goes beyond the usual commonly sold saddles. A high-quality ranch saddle will help you ride your horse comfortably and safely. Rawhide is covered with high-quality wood. The flat but strong back gauge ⅞ rigging won't add bulkiness. The smooth and rigid seat makes it easy to dismount and sit. The 10 cm horn is positioned over the 22 cm ledge to give you all the pull you need. 10 cm rawhide binding and waffle edging, handcrafted. No one will doubt the originality of your saddle. The uniqueness of this seat is given by the rounded skirt made of thick leather covered with a deeper waffle border.
65# Billy Cook 2181 Wade Tree Ranch Western Saddle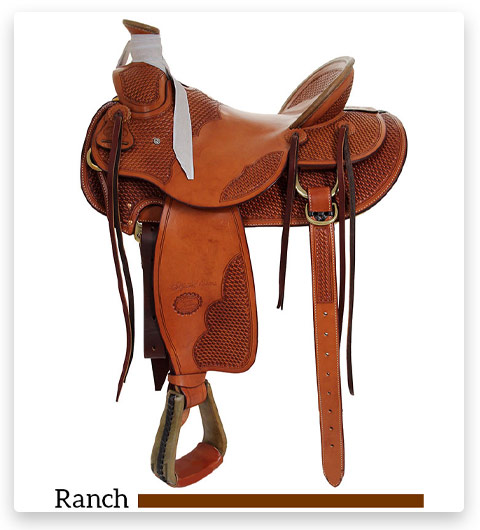 Billy Cook knows a lot about great saddles! This saddle is one of the top 10 bestsellers. An excellent ranch saddle, without any unnecessary elements. Wooden saddle for long-lasting performance increased strength and durability with a rawhide cover. Strong, flat plate rigging allows close contact with the horse. Solid horn, suitable for any rope. Standard equipment includes rope girths, brass fittings, and rope stirrups.
66# Martin Saddlery Mr26 Wade Western Ranch Saddle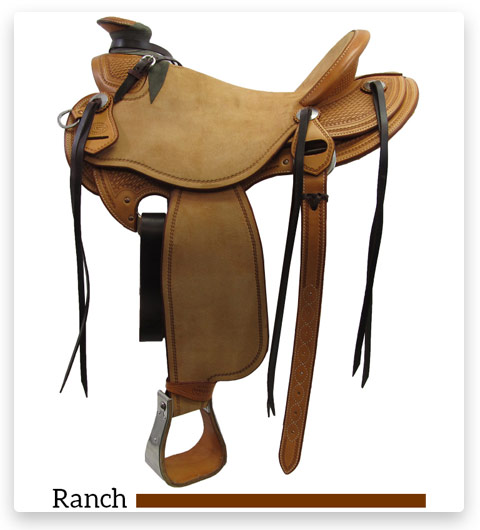 A saddle with a proven track record of durability and strength. A great option for long runs. A hard, deep seat and a deep pocket are what allow you to be on the horse for a long time. Durability is based on durable wood. The design is balanced, the wings are free, which gives freedom of movement. A large horn was created for the rope, the winding of which is from the skin of a mule.
67# Circle Y Cody Crow Versatility Western Ranch Saddle Free Pad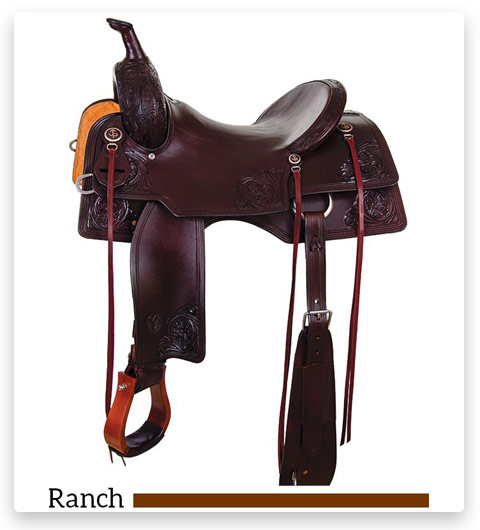 The saddle has been designed with versatility in mind. Cody Crow Ranch Riding Saddle is a competitor and trainer rolled into one. Horse contact will be taken to the next level with this saddle.
Arabian Western Saddles
The exteriors of the Arabian breed are distinguished by a short and wide back, low and flat withers, and a wide chest. Therefore, the standard western saddle is very difficult to fit on these horses.
Top 3 Best Arabian Saddles Review
Arabian saddles were invented especially for this breed and we have selected some of the best ones for you.
68# South Bend Saddle Co Arabian Trail Western Saddle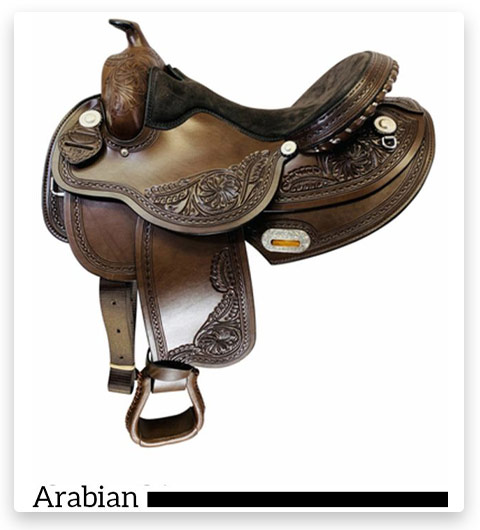 The South Bend Saddle Co 1931 is the newest gorgeous Arabian saddle. Quite beautiful and mega functional. The tree is reinforced and reinforced with fiberglass. Cute border and flower rig. Great design to highlight your horse's character.
69# Big Horn Synthetic Western Arabian Saddle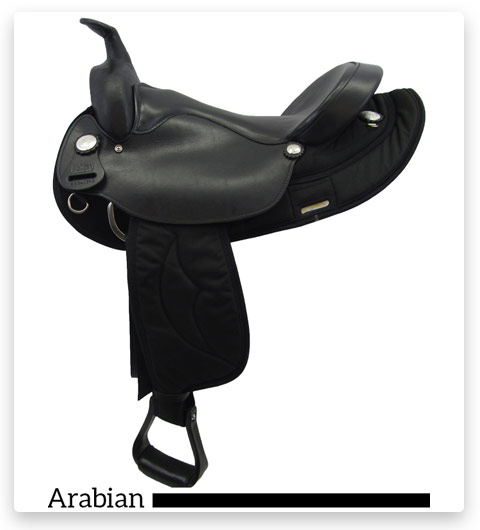 An Arabian horse will be happy with such a saddle. Minimal curl in bars, short rounded skirt. The design is based on Equi-Fit Arabian wood tree, fiberglass cover for greater durability. The padded seat, Cordura in brown and black, Raidle stirrups, silver-plated engraved shells, positional rigging make this saddle comfortable and durable.
70# American Saddlery The Antar Western Arabian Saddle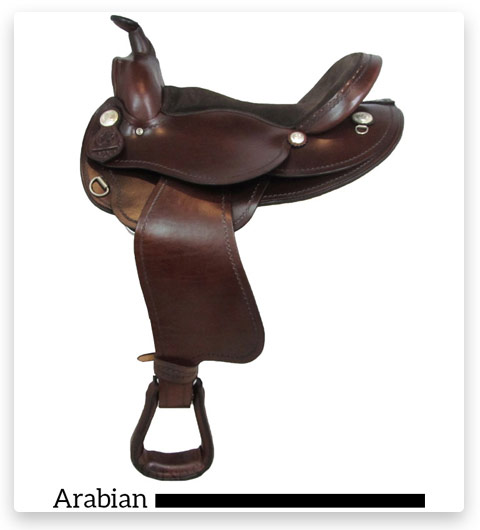 The enviable comfort and flexibility of an Arabian traditional classic American-made saddle.
Reining Western Saddles
Reining saddles are designed for special reining competitions. These saddles feature forward-suspended stirrups. This is to get you back and deep for a quick start and stop.
Top 4 Best Reining Western Saddles Review
Besides, this design allows the rider to be held in the correct position, allowing close contact between rider and horse, and controlling and feeling every movement.
71# Reinsman Reining Western Saddle Free Pad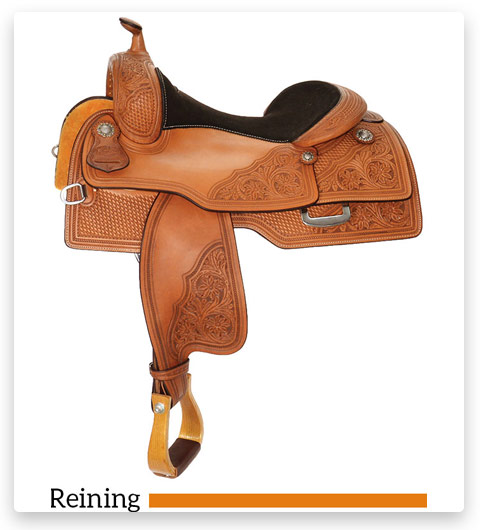 Reinsman designed this saddle for the serious Reiner. Square skirt, a great ground seat will make you feel your horse like never before. The work from Herman oak leather was made by hand, and the most comfortable woolen leather was chosen for the lining.
72# Crates Hand-Tooled Ladies Western Reining Saddle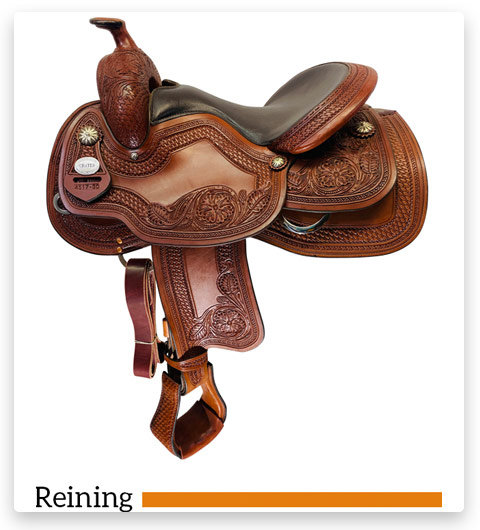 Crates are handcrafted exclusively for women. Lightweight saddle with balanced wood. The center pocket is balanced and the ground seat is very narrow. The basket is neatly hand-made. The chap grain-out soft seat allows you to feel in complete comfort.
73# Circle Y Ohio Reiner Western Reining Saddle Free Pad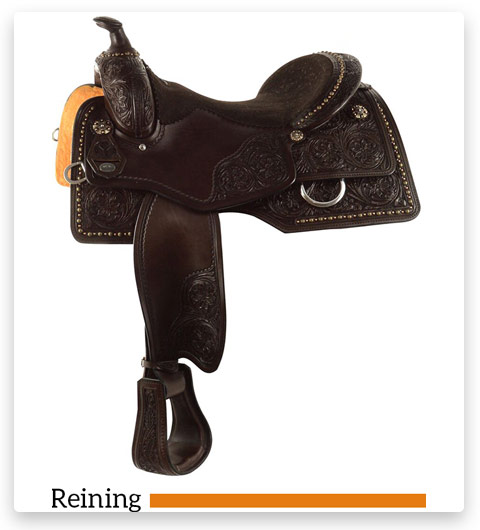 Do you want to stand out? Ohio Reiner is what you need! Antique patina shells, rich chocolate leather, and accents in just the right places. A balanced ground seat pocket will keep the rider from straying.
74# Crates Ladies Tooled Western Reining Saddle 4521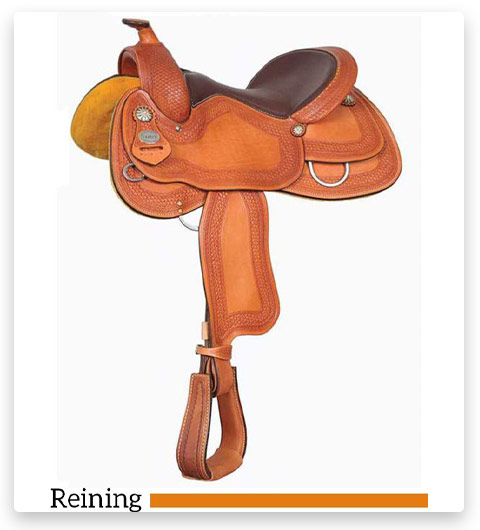 The Crates Reiner is a unique reining saddle for women. For creation, a flat-lying tree covered with fiberglass was used. The seat is narrow, exclusively for women. Soft, granular seat with light, select skirting. The leather was processed manually with valuable natural oil.
Cutting Western Saddles
The main purpose of a cutting saddle is to provide maximum freedom of movement and balance to the rider without interfering with the horse's movement. These saddles have a tall but thin horn, a low cantle, and a high pommel. The seat is slightly raised, but overall it is very flat. Cutting saddles usually have square and long skirts, and may even have double skirts on rare occasions. The tall, thin horn provides excellent grip and allows the rider to maintain balance. The flat seat gives you complete freedom of movement and mobility, while the low cantle is needed to prevent the seat from crashing into your back.
Top 4 Best Cutting Saddles Review
Mostly cutting saddles are used in penning, sorting, and cutting competitions. We've found only the best cutting saddles for you.
75# Reinsman BW Western Cutting Saddle 4804 Free Pad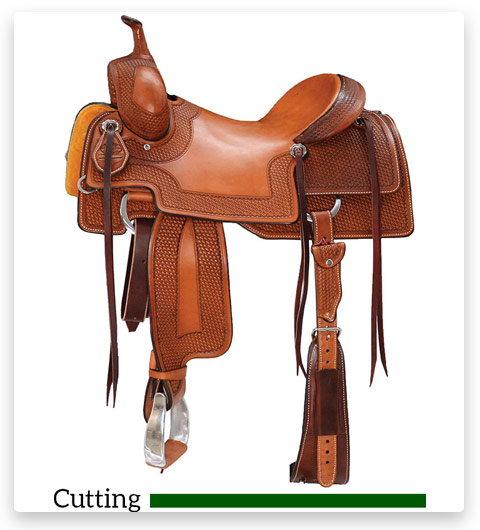 The manufacturing forces of Texas and the United States have teamed up to create something unrivaled. A handcrafted tool with a stunning white border that covers the skirt, adorning the fenders, seat edges, and cantle saddle. A gorgeous look is created by the sharp contrast between simple and instrumental. The seat is flat, hard, and smooth. The sinks are custom-made. Soft chestnut leather with very soft fleece under the skirt.
76# Martin Saddlery Ranch Cutting Western Saddle mr08MB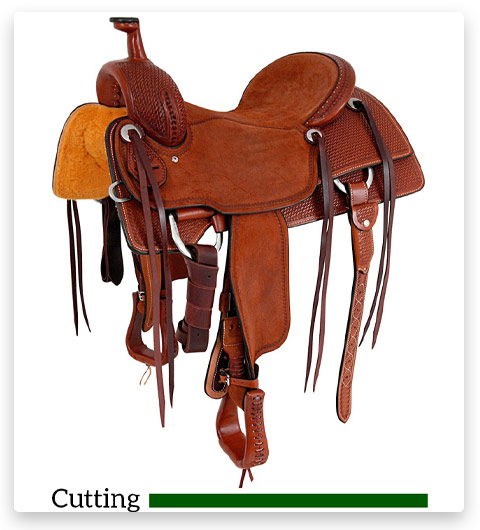 The Martin Saddlery is a versatile saddle with high performance and comfort. The saddle is versatile thanks to the high and strong horn with a shaped cap. The saddle is designed to give you more contact with your horse. A rough seat and fenders will help you with this. There are 2 riggings to choose from Martin's rigging and Drop D rigging.
77# Billy Cook Pro Western Cutting Saddle 8940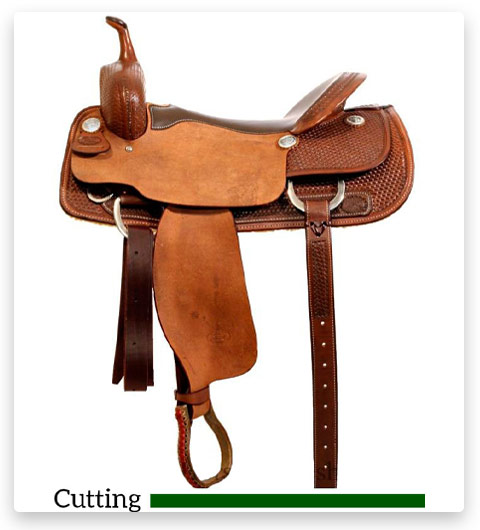 The lightweight and durable wood construction allows for a huge range of movement. The Billy Cook saddle is the choice of true professionals. The pretty basket chasing and bull stirrups have already been appreciated by millions of buyers around the world.
78# Billy Cook Classic Ranch Cutting Western Saddle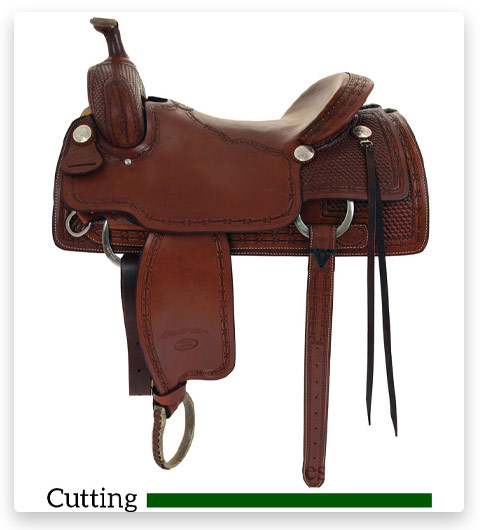 The beauty of the traditional style is unchanged. Rig detailing, full double rigging and tackle guarantee a perfect fit. Design feature in basket embossing and wire border.
Ranch Cutting Western Saddles
Ranch cutting saddles have the best qualities of the ranch and cutting saddles alone. They're quite versatile and designed so that you can easily ride in the arena all day or do the ranch doom.
Best Ranch Cutting Saddle Review
These saddles are equipped with a narrow seat for comfort and freedom of movement for the rider and a durable thin rope horn.
79# Reinsman Ranch Cutting Western Saddle Free Pad 4823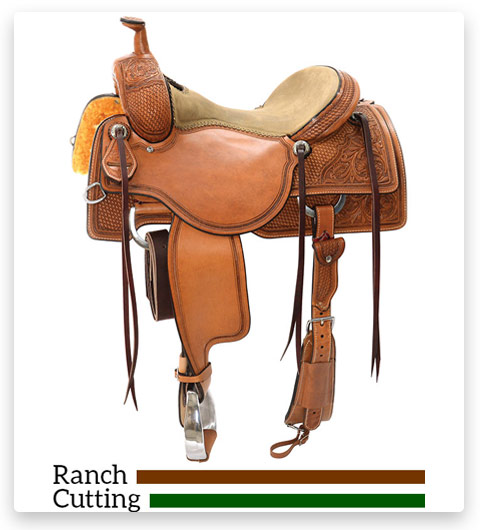 Reinsman created a cutter/ranch hybrid by hand. The suede seat is soft and comfortable, and under the square skirt, there's a very soft fleece. This skirt provides close contact with the horse. The set includes many strings and rings for all the equipment you need. The saddle is perfect for the show, work, or training.
Mounted Shooting Western Saddles
Mounted shooting saddles are made especially for mounted shooting competitions. Many of the features of these saddles mimic the design of barrel saddles because in this sport it's necessary to run a course over time.
Top 3 Best Mounted Shooting Western Saddles Review
These saddles usually have a double skirt and a horn of small size and profile so as not to interfere with the rider's drawing of the weapon.
80# Circle Y Kenda Lenseigne Running Mounted Shooting Western Saddle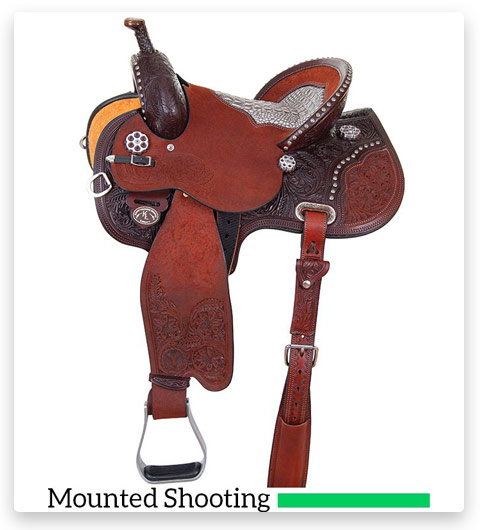 This is the development of the cowboy Kenda Lenseigne – the undisputed world champion in cowboy arrow. Circle Y Flex2 wood, Neo-Shock skirt, shock-absorbing neoprene filling – everything you need for a comfortable ride. Extremely lightweight for comfort for you and your horse. Antique finishes, custom-made shells, faux alligator inlay. Flex2 wood is freedom of movement, weapon clearance. Maximum comfort and contact with the horse.
81# Circle Y KL Big Iron Mounted Shooting Western Saddle Free Pad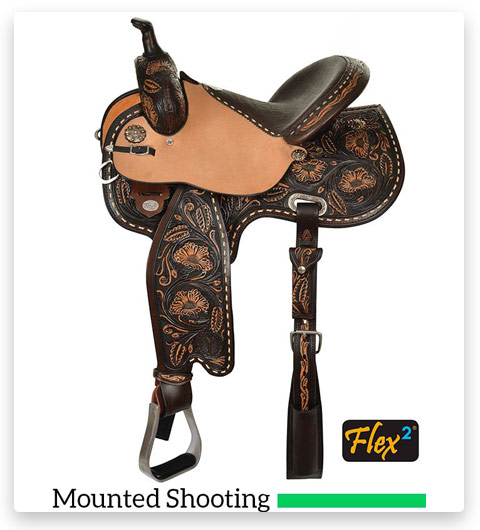 KL Big Iron Saddle by Circle Y has a retro-mounted shooter look with Flex2 tree technology. For greater strength, the wood is covered with Durahide. While on the move, this saddle will always match your horse's movements. The development took place with the participation of Kenda Lenseigne – this is a multiple record holder and world champion of the CMSA, so the saddle will not let you down in competition. The saddle is equipped with all the necessary features to keep you and your horse on the alert. The position of the stirrup skin can be adjusted to suit you.
82# American Saddlery Rough Out Mounted Shooting Western Saddle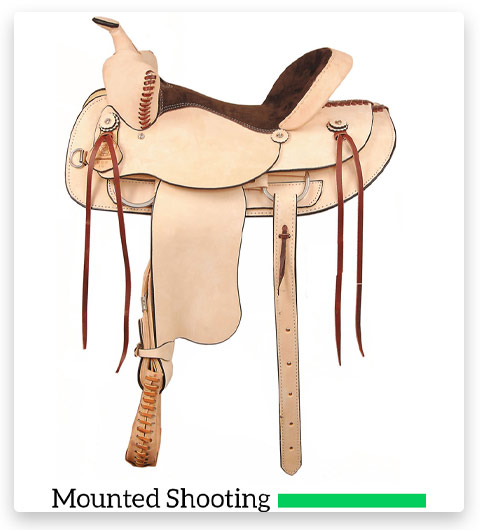 Riding in this saddle is even better than just looking at it. A comfortable suede seat with a side girth and extremely durable shooting gear.
English Saddles
English saddles are very different from western saddles. English saddles are used in English riding disciplines all over the world. There are many types of English saddles, depending on the purpose for which you are going to use them.
Best English Saddle Review
But what all English saddles have in common is that they give the horse more freedom of movement. Much more than Westerns or Australian saddles can do. This allows the rider to signal better.
83# Collegiate All Purpose English Saddle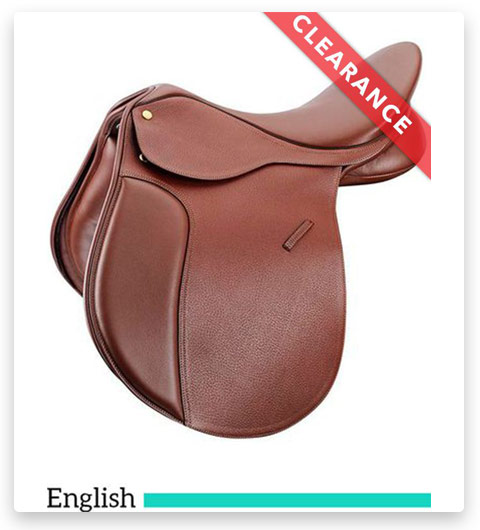 A versatile English saddle with a deep luxury seat for added safety. Knee inserts are integrated for added comfort. The Y-shaped girth system allows for easier and faster saddle installation. The width can be adjusted to suit your horse.
Penning Western Saddles
Penning saddles are very similar to ranch saddles but are designed more for sports and team penning competition.
Best Penning Western Saddles Review
Penning saddles are heavy, practical, and durable. Let's look at the best of them.
84# South Bend Saddle Co-Team Penning Western Saddle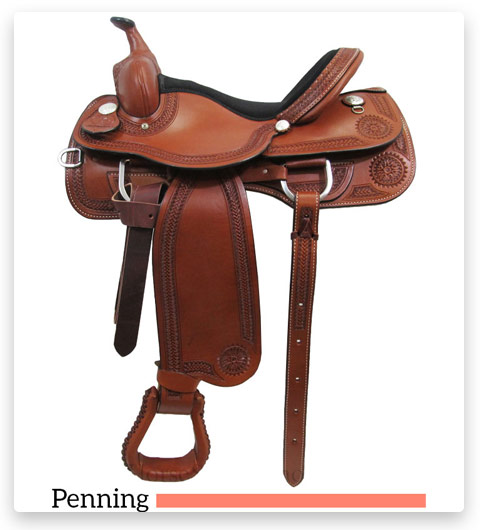 If you're looking for a piece of art among saddles, look no further than this penning saddle. Along with beauty, it is also very practical. Chestnut leather. Fiberglass Reinforced Wood with Double Rigging Drop D.
85# Dakota Penning Roper Western Saddle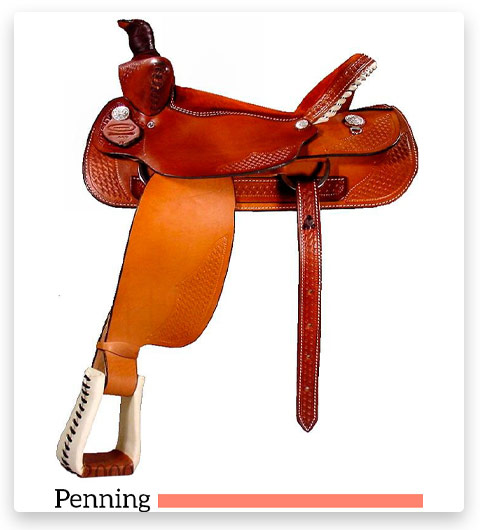 A saddle for serious riders. 5-year warranty on Steele Equi-Fit fiberglass coated wood. With such a saddle, the maximum range of motion is available, the rigging is made of stainless steel. The leather is golden brown with braided rigging.
Mule Western Saddles
At the heart of these saddles are trees that are slightly tapered at the front, have a flatter span to reduce rock, and have less pitch.
Top 4 Best Mule Western Saddles Review
Your mule will feel much more comfortable if you put on it not a standard horse saddle, but a special mule saddle from those that we have selected for you below.
86# Big Horn King Of Mules Cordura Western Mule Saddle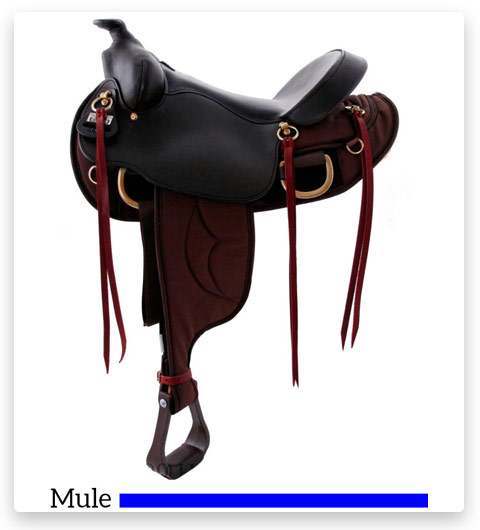 Big Horn knows how a saddle should fit a horse, so this saddle will adapt to any straight or flat back. The saddle was called "King of Mules" for a reason, and the owners of such breeds really love this saddle. Quality Big Horn Cordura and Fiberglass Wood. Grainy padded seat and brass hardware.
87# American Saddlery The Mule Tamer Western Mule Saddle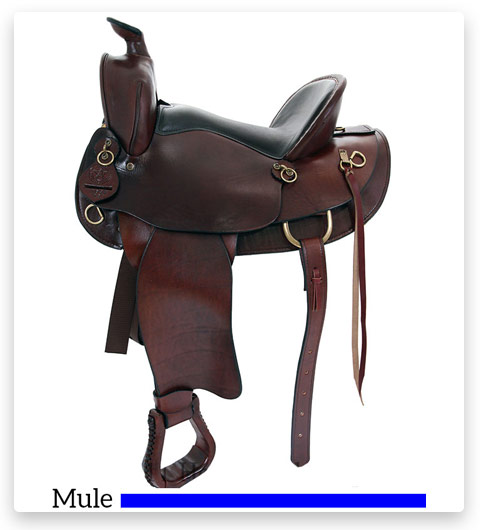 Taming a mule is not easy if he is stubborn, but he'll like this saddle. Leading tree supplier Steele Saddle Tree Company has engineered the saddle tree to match the tall, flat back of a mule. The skirt is short and round, as well as a large gap above the withers. The seat is soft and there is equally soft padding, which guarantees high performance even on a long track. The leather is durable, which is great for rough riding.
88# Big Horn Custom Choice Mule Fit Trail Western Mule Saddle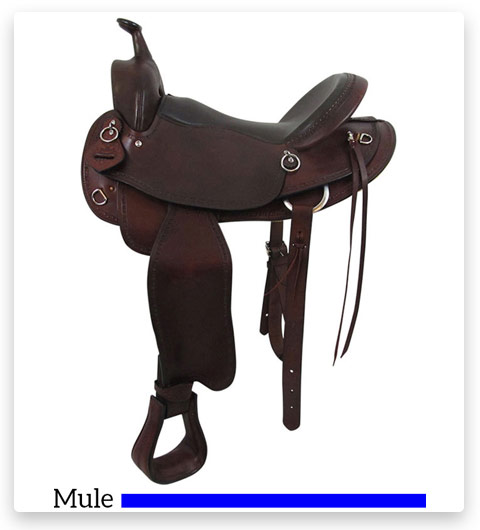 A saddle exclusively for the mule-wielding rider! For the saddle, Steele Equi-Fit wood was used – this wood is durable, due to the reinforcement with fiberglass. A tight, short and round skirt is the perfect solution for a short horse. The Winston/Hughes seat shape is non-standard and you'll love it. The padded stirrups are specially designed to preserve knees and ankles.
89# Big Horn Texas Best Hill Country Trail III Western Mule Saddle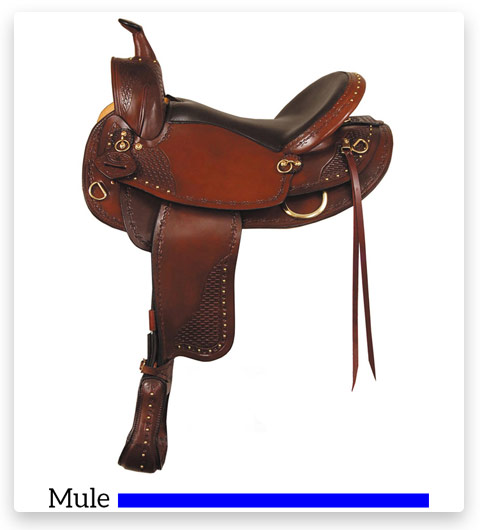 Ardent connoisseurs of western design and style, Big Horn's Texas Best Choice Fit is for you. You can choose the fit: Pacing, mule, or FQH. Amazing quality and convenience.
Pleasure Western Saddles
Pleasure saddles are the same trail saddles, but sometimes they are categorized into two different types, although they are very similar. Pleasure saddles also feature padded, padded seats with fenders that hold you in position, lightweight, and easy to install.
Best Pleasure Western Saddles Review
These saddles come in many different trims, colors, and rigs, but we've put together the very best for you.
90# American Saddlery The High Point Glo Western Pleasure Saddle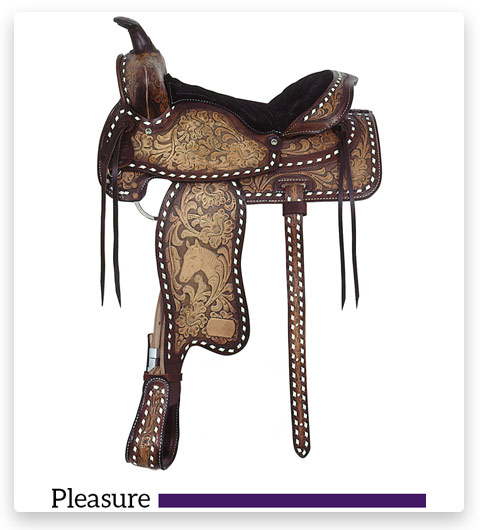 An extraordinarily beautiful saddle, so reminiscent of the era of the BuckStich saddle. Deer threads are incredibly eye-catching. Cheyenne scalloped roll, back blanks, stirrups – all in the same style. The rig is great – a horse's head in wild roses.
91# American Saddlery The High Point Pleasure Western Saddle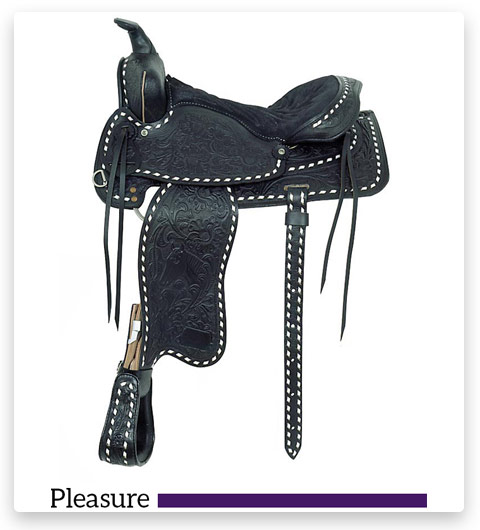 A stunning memory of the era of the BuckStitch saddle. The rig, on which the horse's head is shrouded in wild roses, the incredibly stylish stitching of reindeer thread stands out so contrastingly against the black.
FAQ
We have collected for you the most popular questions that arise from users interested in western saddles. If you have a question, most likely you will find an answer here, if not – our comments are always open for you.
Our Final Verdict
As you can see, there is a huge difference between English and Western saddles. There are thousands of western saddle models available on the market today, and not all of them are cheap. We really want to save you from the wrong choice and make you know that you are buying a high-quality, durable, and most importantly, comfortable saddle, with which you and your horse will feel comfortable throughout all trips.
Let's summarize and select the winners for each saddle category:
We hope our guide was helpful for you. Have a nice trip!
Tags: #best western saddles / #best western trail saddles / #best western saddles for trail riding / #best rated western saddles / #best synthetic western saddles / #types of western saddles